What is Bangkok Known For? 17 Reasons Why Bangkok is Famous!
I've had the pleasure of backpacking through Bangkok – Thailand's capital city – and all around Thailand. During my time there, I got to witness first hand why Bangkok is so famous.
Bangkok is famous for busy streets, incredible street food, and fun nightlife. It's the perfect city to get acquainted with Southeast Asian culture, and a very welcoming destination for solo travelers. After spendnig time here, it's no wonder Bangkok is ranked as the most visited city in the world!
Bangkok is packed with grand temples such as Wat Arun and Wat Pho, which are definitely a must-see when you're here.
As a full-time solo traveler I backpacked all around Thailand, and even lived in the Northern City of Chiang Mai for several months! I've been to over 50 countries, and Bangkok remains one of the highlights. I am passionate about this city.
So, if you want to know what is Bangkok known for, let me fill you in!
1. Most Visited City in the World
Bangkok is a special kind of destination, and it's no wonder that it has been the most-visited city in the world for several years in a row.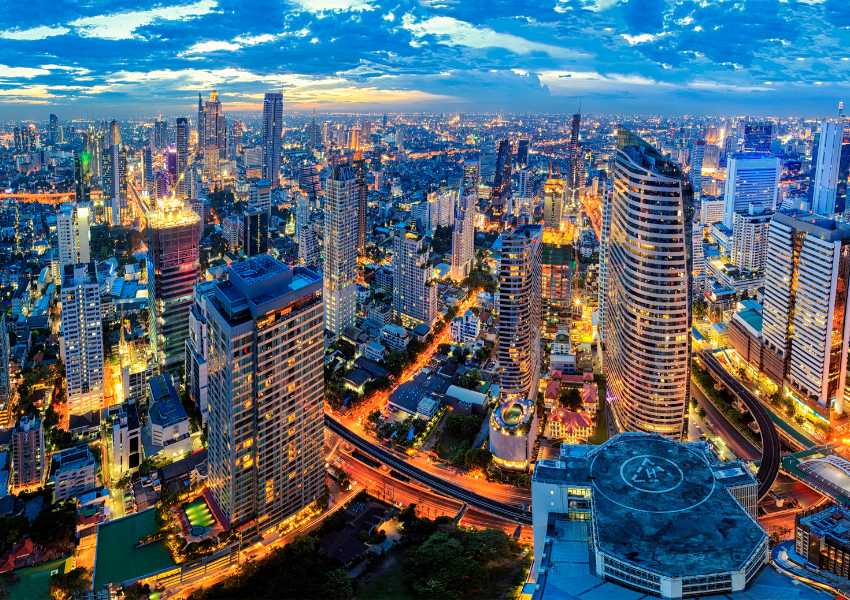 Bangkok is a hub for backpackers kicking off their journey through Southeast Asia. Newlyweds pass through here on their way to their tropical honeymoon destinations in the south. And business people come from around the globe to do business in the bustling metropolitan area.
Tourists (more than 30 million visitors annually!) come from all over to experience everything this vibrant city has to offer: the culture, food, history, and stunning architecture. And they often return again and again (although even locals like to take a break in the cooler regions of Thailand from time-to-time)!
2. The Grand Palace
The Grand Palace in Bangkok is one of the most iconic attractions in the city—and for good reason!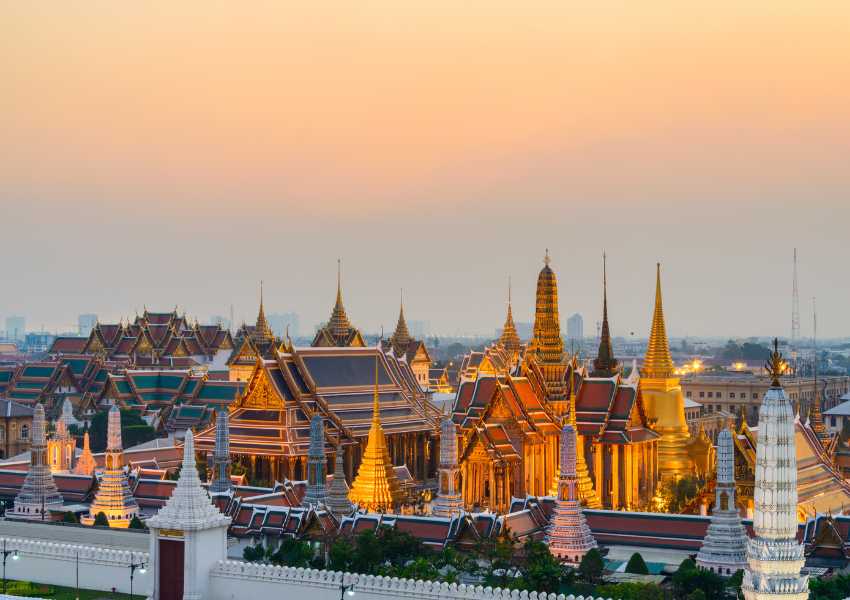 The palace was home to the royal family, and it's now a popular spot for tourists. As you walk around the grounds, you'll be surrounded by gardens and buildings that display both traditional and modern Thai architecture.
Inside the palace walls, visitors admire stunning golden-roofed spires, grand courtyards, dazzling sculptures, and vivid murals.
To get the most out of your visit to the Grand Palace, make sure to dress respectfully (no tank tops or shorts), leave your shoes at any entrance hallways, and arrive early in the day when temperatures are cooler and crowds are smaller.
3. Wat Arun (Temple of Dawn)
Wat Arun, or the Temple of Dawn, was constructed on the west bank of the Chao Phraya River during the reign of King Taksin in 1768 as a symbol of his victory over the Burmese people.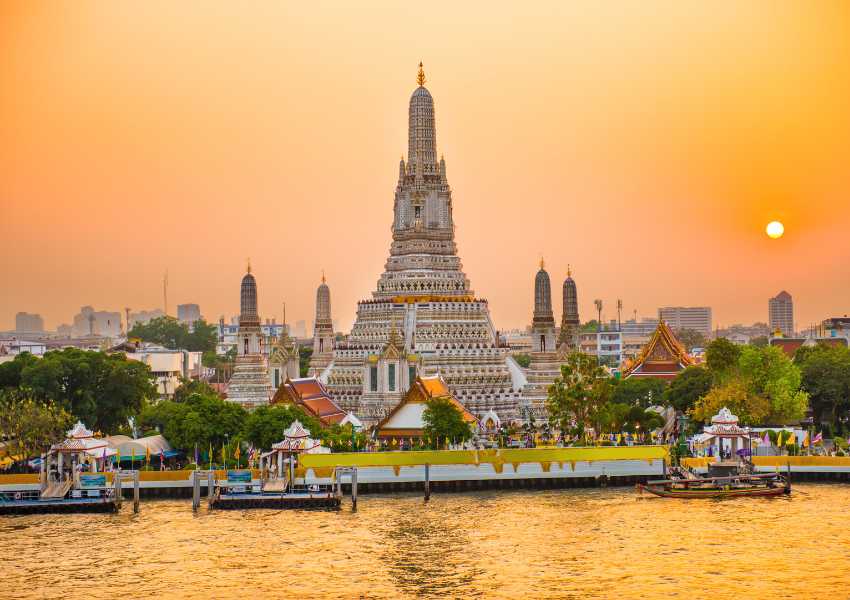 The temple is made up of five prangs (towers) that represent Mount Meru, the center of Hindu and Buddhist cosmology. It's central prang soars 86 meters into the sky.
Throughout its history, Wat Arun has been restored and renovated by various kings and rulers throughout the centuries in order to improve its grandeur. It's decorated with intricate ceramic tiles and porcelain pieces, featuring a vibrant combination of blues, greens and yellows that make it sparkle when sunlight hits it.
If you're planning to visit Wat Arun, remember to dress modestly (no tank tops or shorts) and take off your shoes before entering any prayer hallways. Taking a temple tour is always interesting when in Thailand, too – I took a tour of Doi Suthep in Chiang Mai and learned so much about Buddhism!
4. Wat Pho (Temple of Reclining Buddha)
After visiting the Grand Palace, walk about 10 minutes to Wat Pho.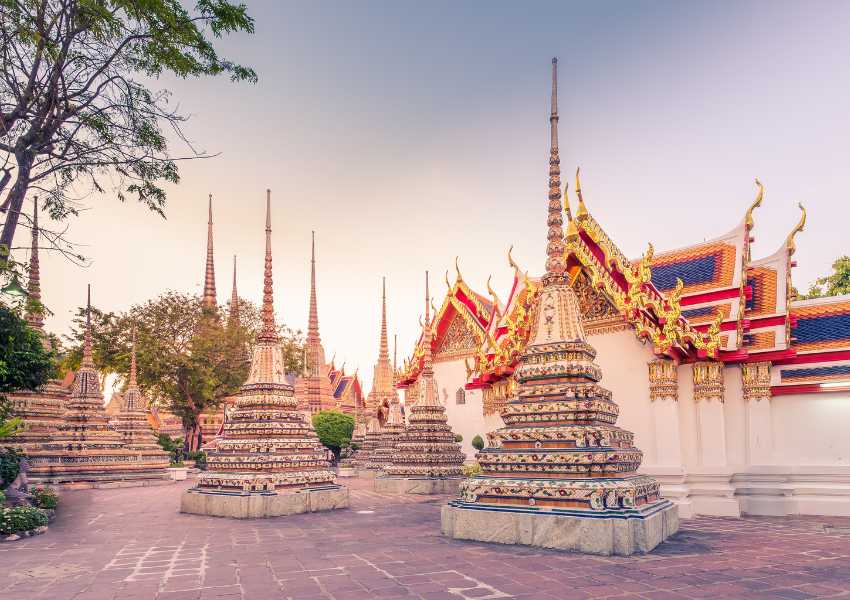 Wat Pho's rich history dates back to the 16th century when it was built by King Rama I, and it houses a massive reclining Buddha statue that is 45 meters long and 15 meters high, making it the largest of its kind in Thailand.
A reclining Buddha symbolizes the Buddhist concept of nirvana, or perfect peace. It's believed that when a person enters nirvana, their mind and body become liberated from all suffering and they no longer need to be reborn into this world of pain. The reclining pose is meant to represent the state of perfect tranquility one can achieve in nirvana.
Wat Pho is also known for its massage school, where traditional Thai massage techniques have been taught for centuries. And it's famous for being the first university in Thailand! You can also visit the nearby temple of the Emerald Buddha while you're there.
5. Delicious Street Food
Bangkok is famous for its delicious street food, and it's one of the best places to find it in all of Thailand.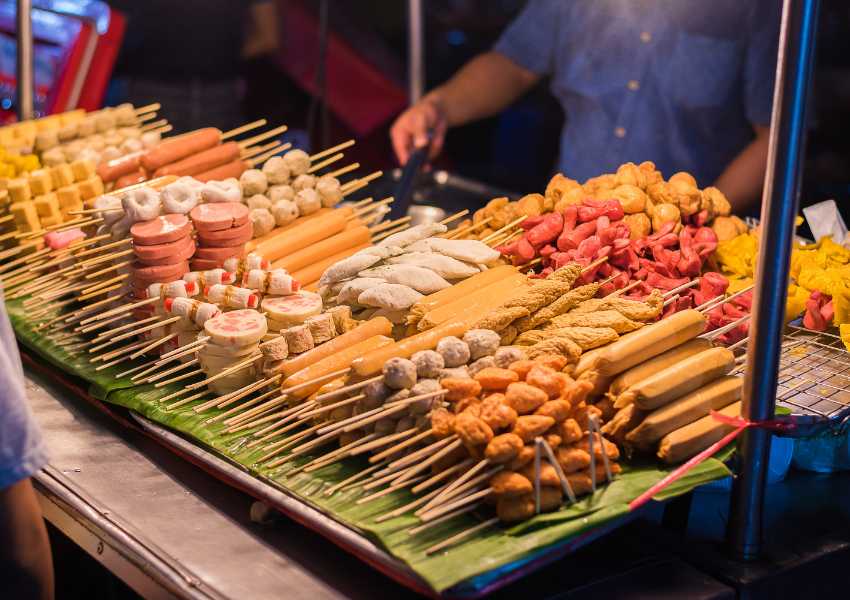 One of my favorite things to do when exploring a new city is to try all of the local dishes. Here, you'll find all sorts of Thai dishes. You can find everything from Pad Thai to fried insects.
Bangkok is famous for its seafood dishes such as Pla Rad Prik – fried mackerel covered in sweet and sour sauce – or Tom Yum Goong – a hot and sour spicy prawn soup seasoned with lemongrass and lime juice.
Taking a food tour is a great idea for exploring the Bangkok food scene, which feels overwhelming when you first arrive.
If you're worried about getting sick from eating street food, just choose the vendors with the most people eating there, especially if those people are locals – that's a sign that the food is safe to eat, and hasn't been sitting around too long.
6. Khao San Road
Khao San Road is one of the most famous places in Bangkok, especially for backpackers looking for a good time for cheap. Backpackers from the US enjoy Thailand's legal drinking age, which is slightly lower here, but if you're from Europe, you will be disappointed!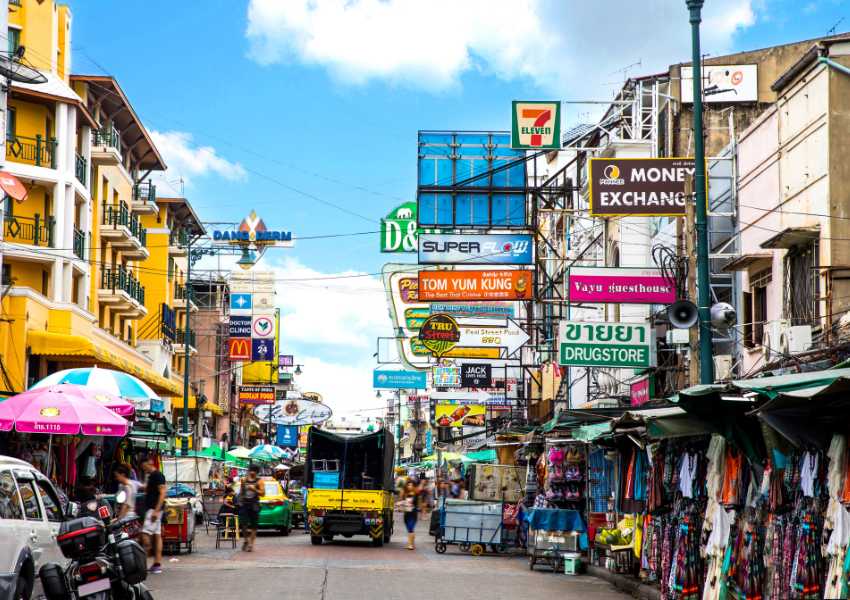 Located near the Grand Palace, this street is home to a bustling nightlife scene and plenty of shopping opportunities. It's a great destination for backpackers and tourists looking to explore Bangkok's lively nightlife.
The vibrant atmosphere on Khao San Road is full of street food vendors, bars, and live music. People come here to shop for souvenirs, clothes, and traditional Thai items like Muay Thai shorts and Buddha amulets.
If you're looking to experience Bangkok's nightlife while saving money, and want to meet other travelers, Khao San Road should definitely be on your list.
Tip: While partying on Khao San Road is fun, it's not always fun to stay right where the action is since it can be loud late into the night. I learned this the hard way, and made a much better decision for choosing a neighborhood in Chiang Mai when I got there!
7. Sex Tourism
You can't answer the question "what is Bangkok known for?" without talking about the dark side of its reputation: sex tourism.
Although Khao San Road is less associated with this form of tourism, sex workers frequent the area and can be found near other popular nightlife destinations.
Sadly, sex tourism continues to be an industry in Bangkok and throughout Thailand, and it is important to remember that the workers involved are often vulnerable people from marginalized communities. If you do encounter any sex workers in Bangkok, please treat them with respect.
Despite Bangkok's reputation for sex tourism, there are many other wonderful and unique things to see and do in Bangkok that make it a great travel destination.
8. Patpong Night Market
Patpong Night Market is a vibrant night market located in the Silom red light district, known for its wide selection of items and unique atmosphere.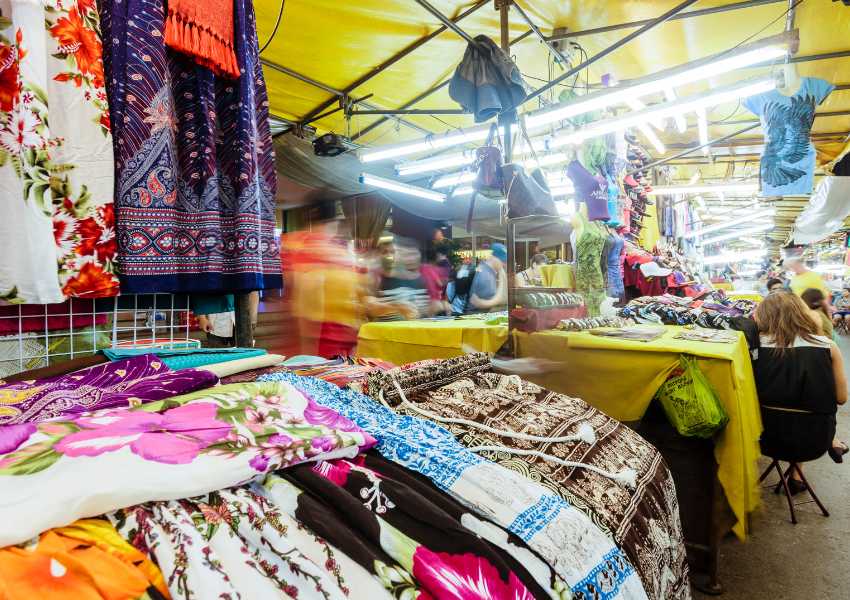 After being closed for 3 years following the pandemic, it has reopened with new life!
You can find just about anything at this chaotic market, from clothes to electronics and souvenirs. It's the perfect place to pick up some bargains if you're looking for something cheap, and is famous for designer brand knock-offs.
9. Floating Markets
What is Bangkok famous for? Without a doubt, Bangkok is famous for its floating markets.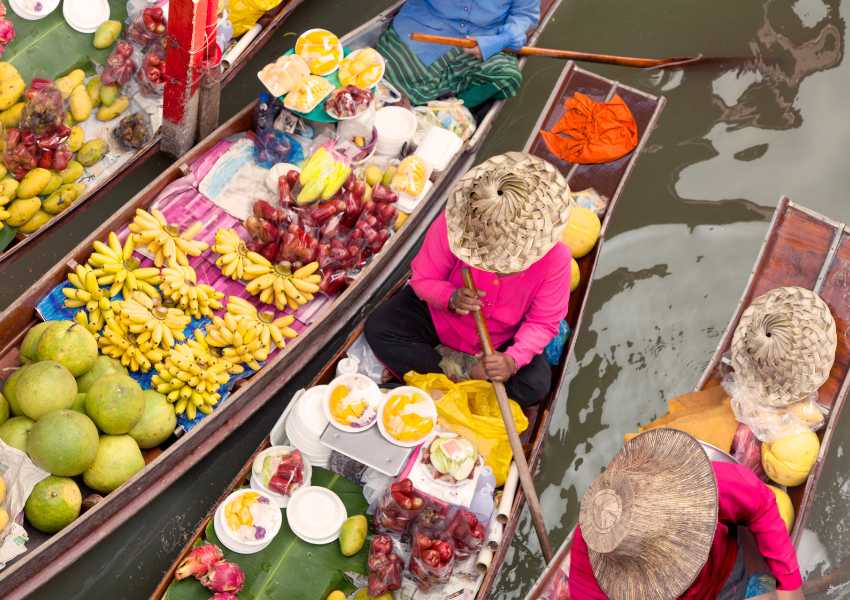 A floating market is essentially a marketplace on water, where vendors and customers float down the river in boats to buy and sell goods. The most famous of these includes Damnoen Saduak, Amphawa and Taling Chan Floating Market.
The most famous floating market in Bangkok is Damnoen Saduak, located about 100km outside of the city. Here, you can find everything from souvenirs to fruits and vegetables.
You can also take a boat tour around the river and explore some of the surrounding villages.
Visiting a floating market can be an incredibly unique experience – haggling with boat vendors while surrounded by canals and wooden homes is unlike anything else!
You may also like:
10. MBK Center
Bangkok is famous for its giant shopping malls – visiting one while you're in town is quite the experience!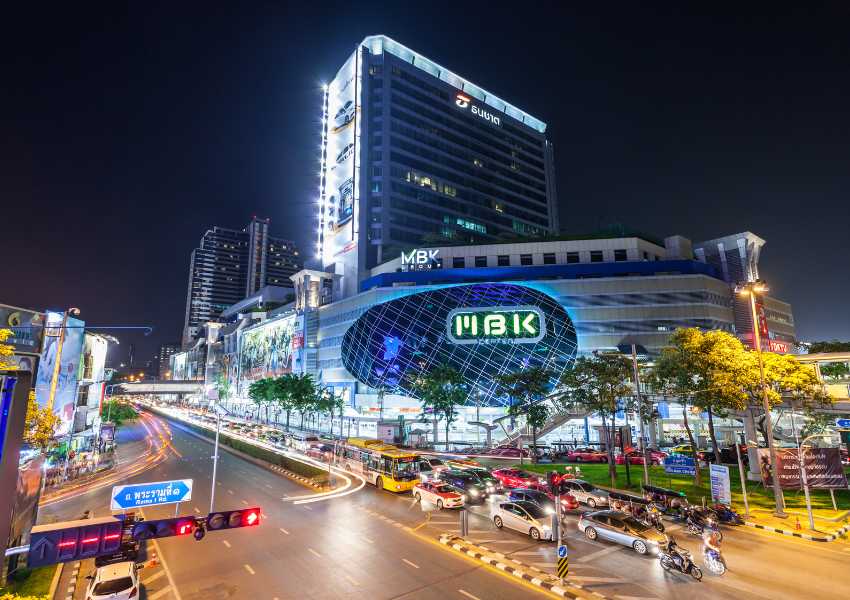 The MBK Center is one of the most popular shopping centers in Bangkok. With hundreds of shops and stalls, it offers anything from electronics to clothes to souvenirs at competitive prices. A lot of people come here for the designer knock-offs aka replica clothing.
The center also has a variety of restaurants, cafes, fast food outlets, entertainment and even bowling alleys. I love hitting up the food court and tasting a few different Thai dishes.
As it is located close to public transport networks, getting there is easy and convenient. And it's air-conditioned!
11. Chinatown
I'll never forget my first time visiting Bangkok's Chinatown! Chinatown in Bangkok is made up of busy narrow streets, full of colorful shopfronts and stalls selling everything from spices to antiques.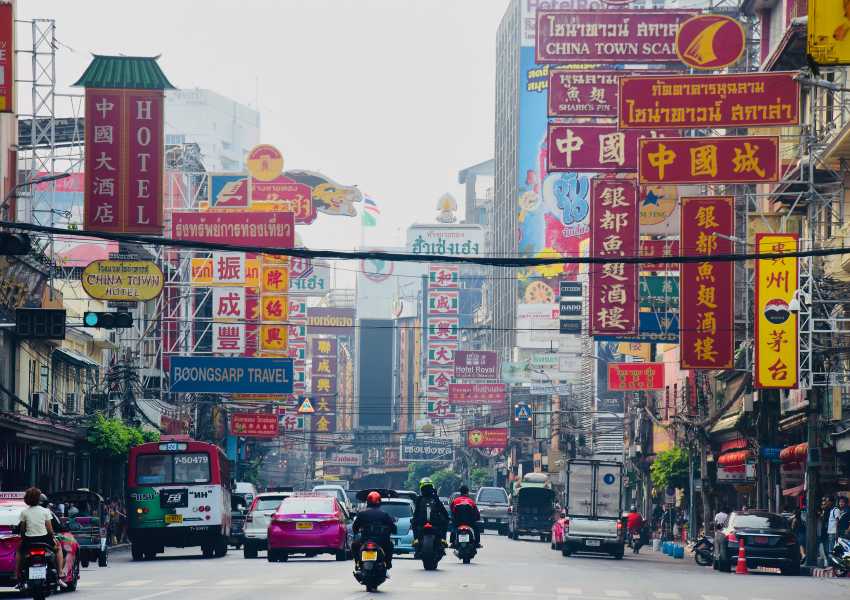 At night, Chinatown really comes alive – one of the reason why it's such a well-known place to visit in Bangkok!
You can find all sorts of delicious food here, including spicy noodles and sweet pastries.
To get the most out of your visit, make sure you join an organized tour so you can learn about the history and culture of Chinatown.
12. Lumpini Park
Lumpini Park is one of the most iconic and beautiful places in Bangkok. It's a popular hangout spot for both locals and tourists, with its lush gardens, peaceful lake, and plenty of outdoor activities like jogging and biking.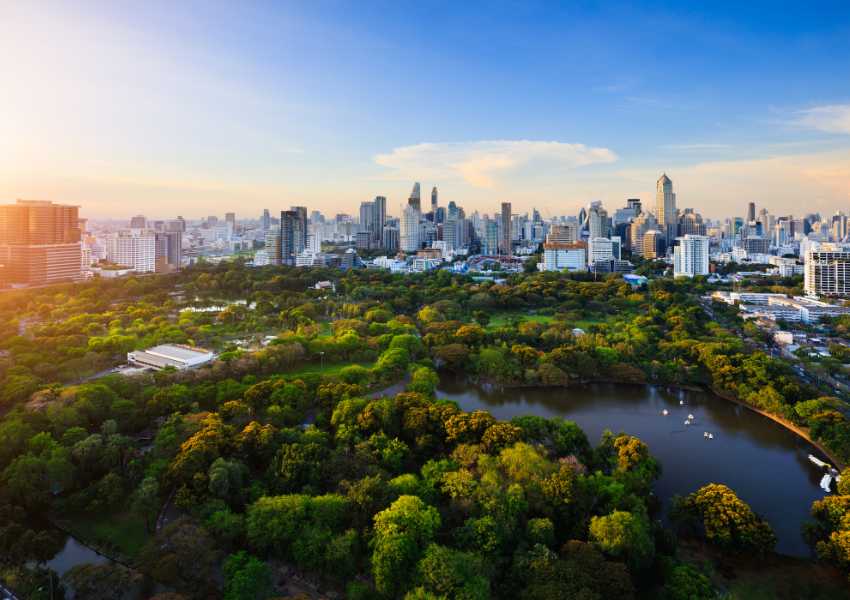 Lumpini Park is well-known for its weekend concerts and annual events that attract visitors from all over the world. For those looking for an escape from the hustle and bustle of city life, Lumpini Park is the perfect place to relax and take in some fresh air.
Bangkok's biggest park offers visitors the chance to relax amidst lush greenery as well as take part in activities such as tai chi or jogging around its lake.
13. Chatuchak Weekend Market
Chatuchak Weekend Market is one of the most renowned attractions in Bangkok. It's the world's largest weekend market, covering an area of over 35 acres with 15,000 stalls offering a variety of goods and services.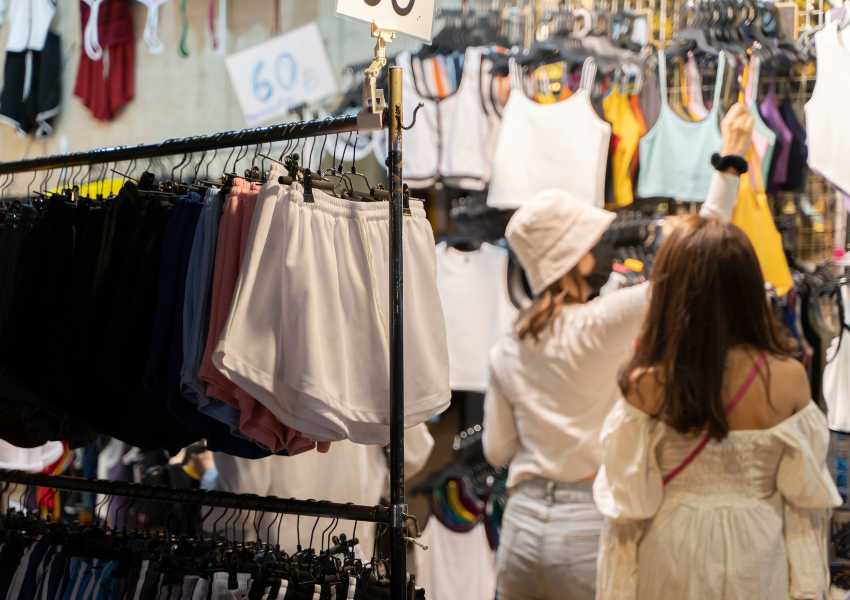 Visitors from around the world come here to shop and explore the vibrant market atmosphere – the market gets more than 200,000 visitors in a single week!
There are plenty of food stalls to choose from and visitors can also enjoy performances by local artists.
For those looking for an authentic experience, Chatuchak is the perfect place to find unique bargains and get a taste of local culture. To make the most out of a visit there, it's best to go early in the morning before it gets too crowded and plan an entire day for shopping – since it can take quite some time to wander around this massive market!
14. Lumphini Stadium Muay Thai Boxing
Muay Thai, or Thai boxing, is a popular and famed martial art from Thailand that is often associated with Bangkok. One of Thailand's national sports, Muay Thai boxing dates back hundreds years ago giving viewers exciting fights between contenders!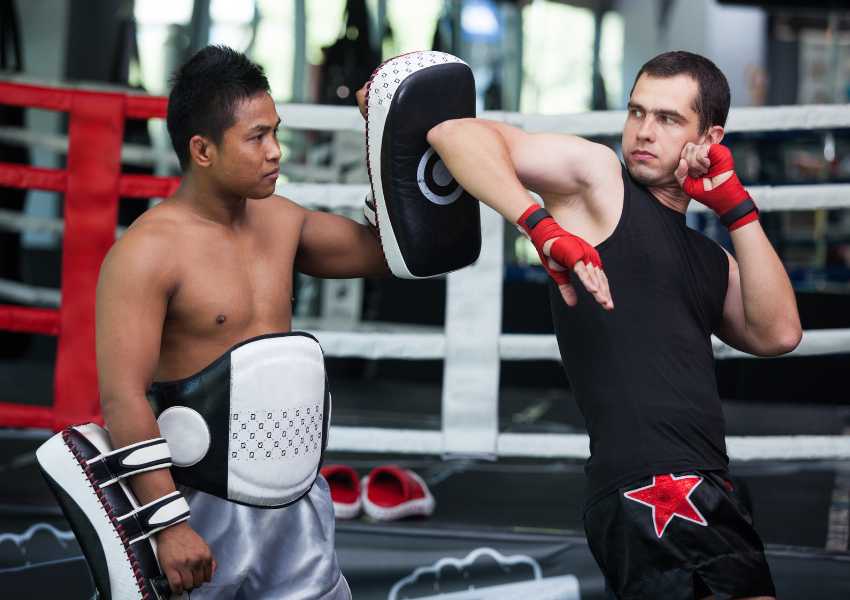 Visitors to the city can witness Muay Thai matches at the iconic Lumphini Stadium, where traditional fights occur regularly. Watching a Muay Thai match is a great way for tourists to get an authentic taste of the culture in Thailand, and it's also a fun night out!
It could be said that Muay Thai symbolizes the strength and spirit of Bangkok – no trip to this vibrant city would be complete without experiencing it firsthand.
15. Jim Thompson's House
Jim Thompson's House is a museum and tourist attraction in Bangkok that celebrates the legacy of Jim Thompson, a prominent American who helped revive the Thai silk industry in the mid-20th century.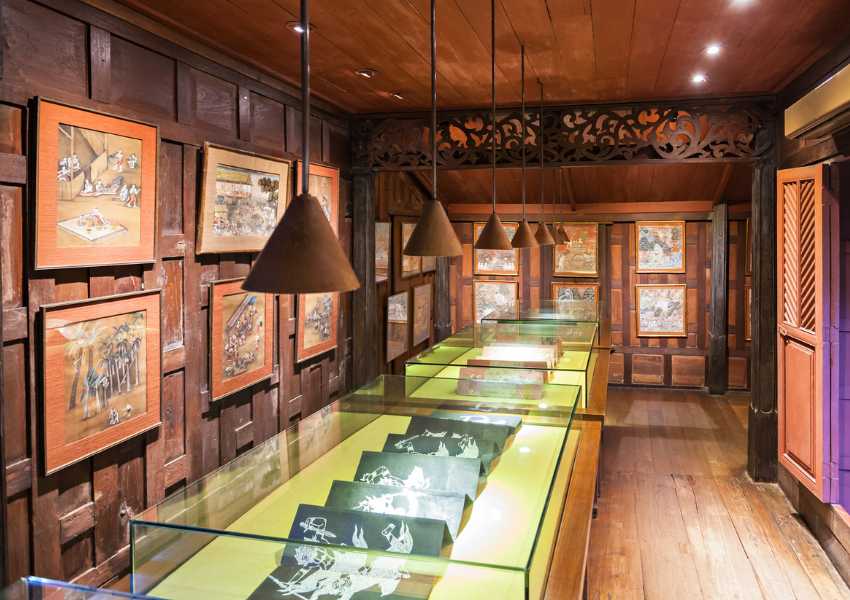 This stunning complex of traditional Thai homes, originally built by Jim himself, is an ideal place for visitors to explore and get a glimpse into the golden age of Bangkok culture.
The house itself is filled with antiques from Thailand's past, as well as artworks from Jim's personal collection. Visitors can also learn about Jim's work reviving the Thai silk industry and his contributions to Bangkok's economy. As they explore the grounds, guests can appreciate its beautiful gardens filled with lush greenery and colorful flowers.
For those interested in learning more about Thailand's past from an insider perspective, there are guided tours available at Jim Thompson's House that offer an in-depth look into its rich heritage.
16. Thai Massage
Thai massage is something that Bangkok is known for worldwide and those visiting the city should definitely experience it.
Dating back thousands of years, Thai massage is a unique form of massage in which the therapist uses their hands, knees, legs and feet to move your body into different positions in an effort to apply pressure onto specific energy lines located throughout the body. It's a bit different from regular massage as it involves more stretching and active range of motion than just simply applying pressure onto the muscles.
To ensure a positive experience, make sure you research reputable parlors before booking a session – there are plenty of legitimate establishments that offer high-quality massages in Bangkok. And a good massage costs about $7 USD.
17. Great Public Transportation
Bangkok is widely regarded as one of the best cities in the region for its public transportation system.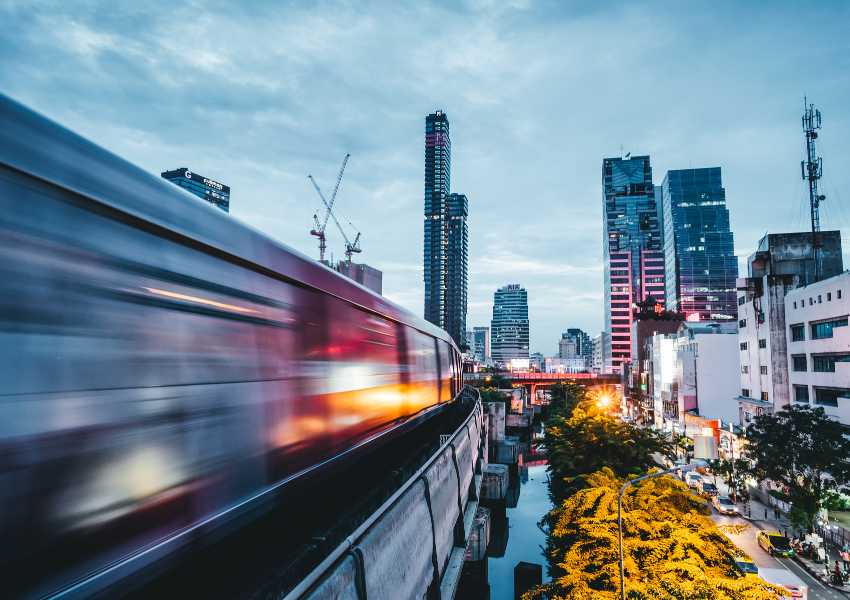 Its skytrain (BTS) and subway (MRT) networks are a haven for locals and travelers, providing efficient connections to major attractions throughout the city. While the rabid bus system (BRT) may not be the most efficient in the world, they can get you anywhere you want to go.
This combination of convenience and affordability makes it easy to explore Bangkok without breaking the bank or having to worry about navigating traffic.
For those who want an even cheaper way to get around, take advantage of Bangkok's motorcycle taxi system – they're fast, reliable, and often cost less than a dollar per ride!
FAQs: What is Bangkok Known For?
What is unique about Bangkok?
Some unique things about Bangkok are: its vibrant culture, amazing street food, bustling nightlife, world-famous shopping malls and markets, historic temples and shrines, beautiful natural parks and gardens, incredible architecture, and much more. Bangkok is also known for its friendly people and welcoming atmosphere. It's truly a city unlike any other!
What is the city of Bangkok also known as?
Bangkok is affectionately known as the "City of Angels" or Krung Thep in Thai.
Why is Bangkok a tourist attraction?
Bangkok is a tourist attraction because of its cultural attractions and world-class shopping and dining, The city's bustling nightlife and vibrant street culture are also major draws for tourists looking for an unforgettable experience.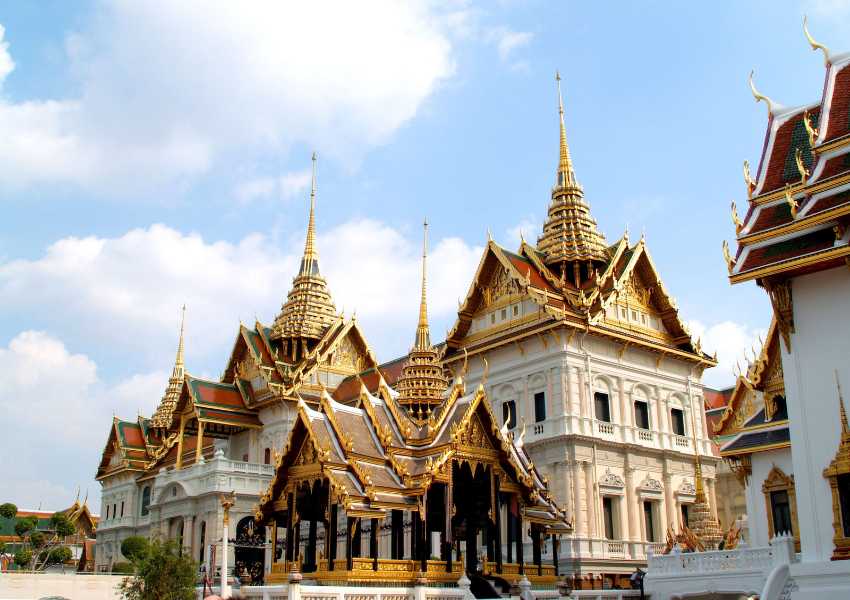 What is Bangkok's famous food?
Bangkok's most famous foods are Pad Thai, Tom Yum Goong (hot and sour shrimp soup), Gaeng Daeng (red curry) and Khao Pad (fried rice). Other famous dishes include Massaman Curry, Som Tum (green papaya salad), and Moo Satay (marinated grilled pork skewers).
Why is Bangkok called Sin City?
Bangkok is called Sin City because of its all-night revelry, lively nightlife, and abundance of bars and clubs. This has earned it a reputation as an "anything goes" destination for visitors looking for adventure and excitement. Unfortunately, this also includes sex tourism.
What is Thailand best known for?
Thailand is best known for its stunning beaches, ancient temples, lively markets, and delicious street food. It is also known for its vibrant culture, friendly people, and exciting nightlife. Additionally, Thailand has some of the world's best diving locations and water sports activities.
Conclusion: Why is Bangkok Famous?
If you're planning a trip to Southeast Asia, there's a good chance you'll pass through Bangko at some point. What is Bangkok known for?
Bangkok is one of the top tourist destinations in Asia – and the most visited city in the world. It's a city filled with culture and tradition, vibrant nightlife, amazing food, historical sites, and plenty of shopping opportunities.
You'll want to explore the beautiful Grand Palace and take a boat ride along the Chao Phraya River to marvel at some of Bangkok's oldest canals and bridges. When you're not sightseeing, enjoy some of Thailand's famous dishes like Pad Thai or Som Tam or go bargain hunting at one of the many night markets.
In Bangkok, you can experience the best of both worlds – traditional Thai influences combined with modern amenities. Bangkok is an ideal destination for travelers looking to embrace its unique atmosphere and discover its fascinating culture.
Now that you know the answer to what is Bangkok known for, check out the most unique hotels in Bangkok!
ABOUT THE AUTHOR
Cat is a very hungry solo female traveler in her 30s, who left a 6-figure job in NYC to travel (and taste!) the world. Cat is determined to prove that there are ways to backpack the world on a budget without fully sacrificing the "grown-up" lifestyle you love. Check out her blog at Cat Is Out Of The Office.