Guide To Eating In Florence
If you are traveling to Tuscany you are going to need to learn the basics about eating in Florence to get the most of your experience. One of the best parts about Florence is its amazing food, no matter what your agenda or dietary restrictions are.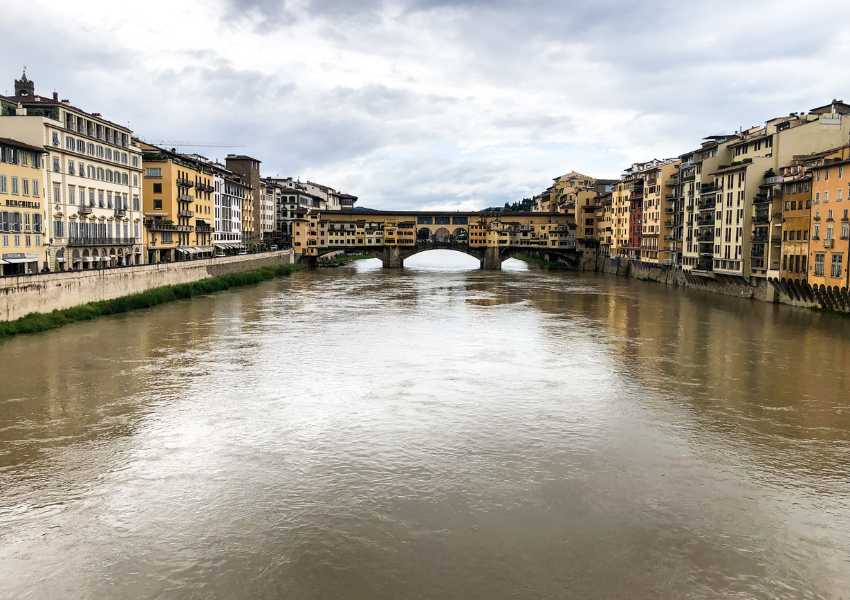 In this article, I will cover how best to eat in Florence, what to try, where to go and all my top tips to get the best out of Florence's food scene. I have been traveling and living in the city for over 15 years now, making it possible to share my inside tips on eating in Florence.
All About Florence Food
Food in Florence is very simple yet satisfying and rich. The food you will come across is, for the most part, the same you will find across the whole region of Tuscany, except for a few dishes unique to the city.
Historically, Tuscany is a poor area. Tuscans and Florentines learned to survive on what they could find seasonally without allowing even a crumb of bread to go to waste. In fact, many dishes were created out of a necessity to recycle leftovers. Meats and cheeses were not a part of the regular diet in the past but today play an important role in Florentine cuisine.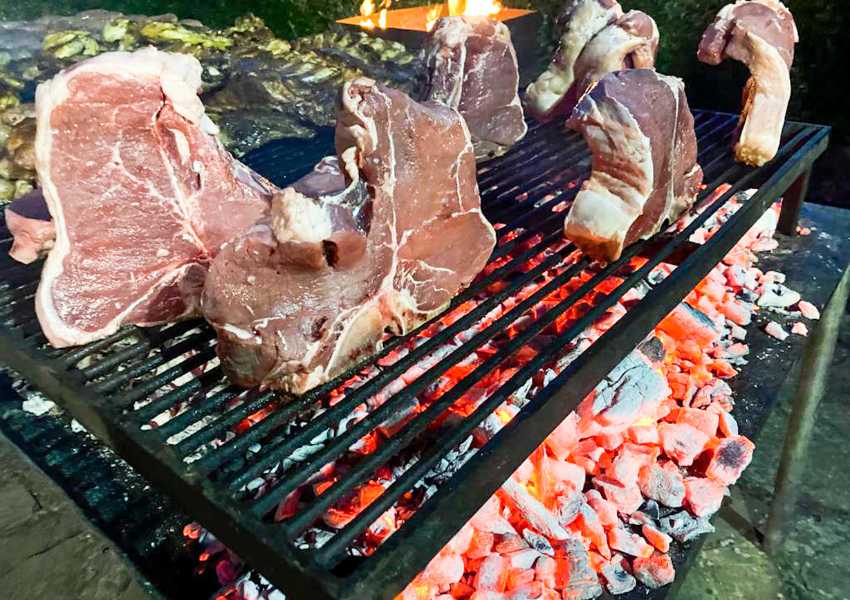 Tuscany is very temperate and Florence in particular has very nutrient-rich soil perfect for growing fruits, vegetables, grains and legumes 12 months a year. These are the base ingredients for most of the classic Florentine and Tuscan dishes you will come across while traveling in this area.
Because of this, Tuscany is a great place to eat if you are pregnant or vegan. So many of their dishes are by nature vegan and very nutrient rich. Be sure to double check with your waiter or server before ordering if you have dietary restrictions but you can always count on finding something!
This concept of cooking with what could be grown and foraged to make hearty, rich meals is known as la cucina povera or the poor man's cooking. Today, the diet in Florence is still very rooted in traditional dishes, primarily vegetable and legume based, but with the addition of cheese, cured meats, pork, chicken, and beef.
Famous Tuscan Dishes
Pappardelle al Cinghiale
Pappardelle al cinghiale is a wide ribbon egg pasta that is served in a wild boar ragù. This is a typical winter dish in Florence but you can find it year round.
Peposo
Peposo is a beef stew made from nothing more than beef, red wine and plenty of black pepper. Look for this winter stew in any trattoria but don't expect to see it in the summer months.
Pecorino di Pienza
Pecorino di Pienza is more of an ingredient than a dish in Florence. This sheep's milk cheese can be aged anywhere from just a month to a couple of years. The very best comes from the Val d'Orcia region in Tuscany. Enjoy it with a glass of wine at any wine bar on a cheese board, known as a tagliere di formaggio.
Olive Oil
Tuscany is world famous for their extra virgin olive oil, harvested every year starting in October. Freshly pressed olive oil is peppery and spicy, great for dressing salads and eating with bread.
Fettunta
Fettunta is grilled Tuscan bread drizzled with freshly-pressed olive oil from that year and sprinkled with salt. This is a classic Italian afterschool snack for kids in Florence but only in the fall when the new oil is ready.
Schiacciata
Schiacciata is Tuscany's version of focaccia, crusty on the outside and pillowy on the inside. You can get it plain, called schiacciata all'olio or opt for toppings such as olives, tomatoes, rosemary or even slices of hot dogs for kids!
It's commonly used to make sandwiches with cured meats such as prosciutto crudo and pecorino cheese. Stracchino cheese and grilled vegetables is a good choice for vegetarians.
Pane Toscano
Pane toscano is a very rustic white bread made without salt. This is what you will find on every bread basket at any restaurant in Florence.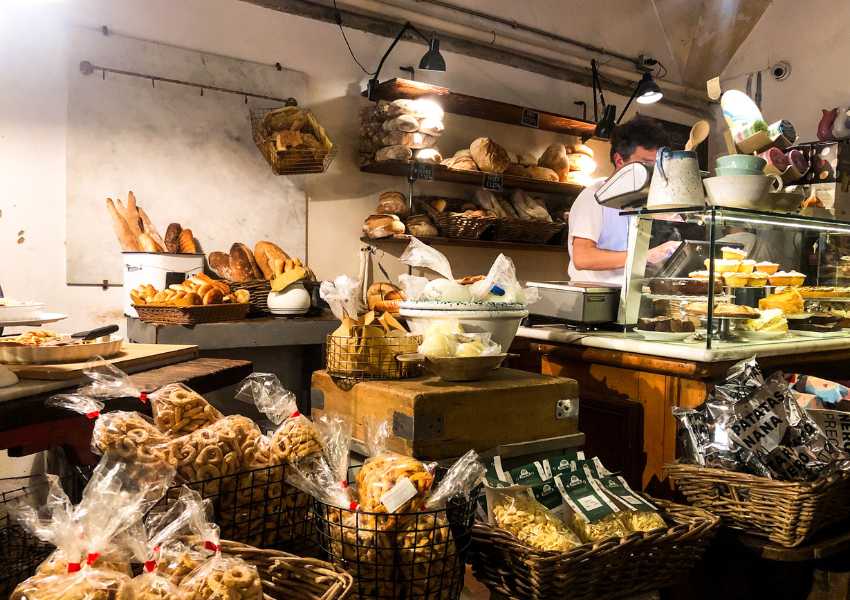 Fagioli All'Uccelletto
White beans are used for a variety of dishes in Florence and in this recipe, they are stewed with tomatoes, garlic and sage, served as a side dish to any secondo or second course dish you order.
Fegatelli di Maiale
Fegatelli di maiale is pig liver cooked with spices. This isn't for everyone but it's a staple in the new year after the annual pig slaughter.
Crostini Neri
Crostini neri, also called crostini toscani, is one of the most iconic appetizers in Florence. These small toasted bread rounds are topped with chicken liver patè. Try them in an antipasto misto or mixed appetizer platter before your meal while in Florence.
Panzanella
Panzanella is a bread salad dressed up with summer vegetables such as tomatoes, cucumbers and onions.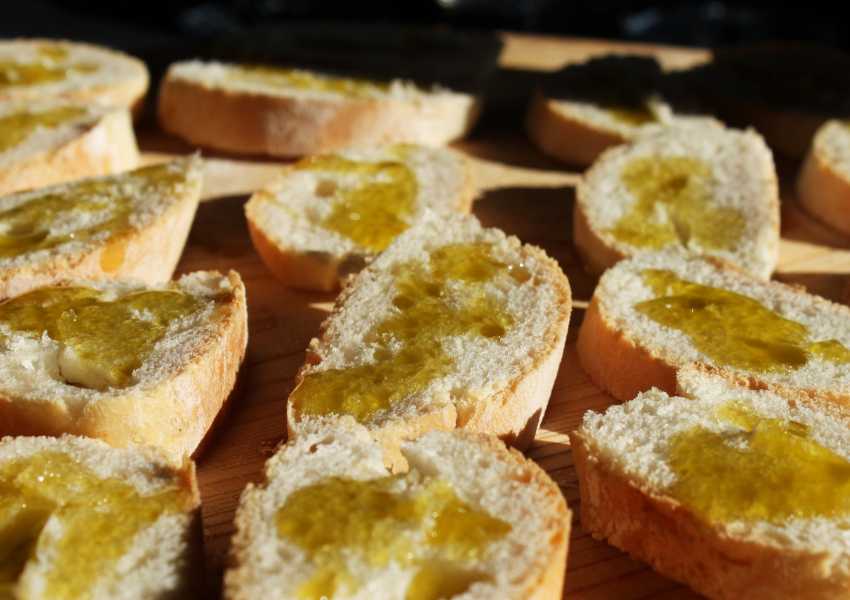 This is the quintessential Tuscan dish highlighting how old bread is repurposed for another meal. Enjoy Panzanella in the summer when tomatoes are in season and you are looking for a cool, refreshing lunch.
Pappa al Pomodoro
Pappa al pomodoro is another iconic dish made from leftover bread and tomatoes. This bread soup is hearty and simple, embodying the region's simple yet hearty cuisine.
Ribollita
Ribollita is one of the most famous Tuscan dishes and particularly easy to find in Florence. This bread and vegetable soup is hearty and filling, ideal for winter evenings. Chalk full of leafy greens such as kale and swiss chard, you can feel good about eating bowlful after bowlful
Cantuccini e Vin Santo
Cantuccini are Florence's most popular cookie, originally from the neighboring town of Prato. Enjoy them with locally produced sweet wine, Vin Santo, for a traditional Florentine treat after dinner.
Ricciarelli
Ricciarelli are vegan almond cookies originally from Siena but popularized in Florence as well. They are particularly popular during the Christmas holiday.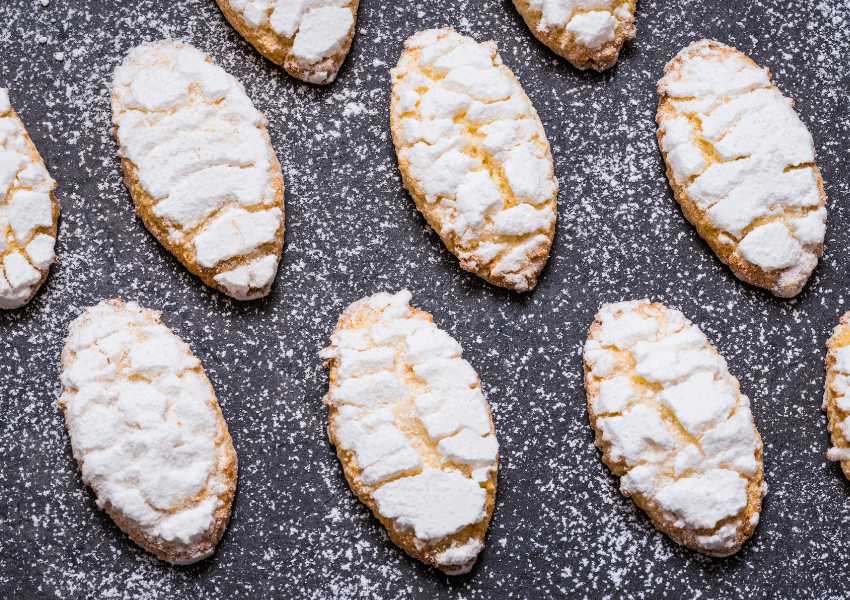 Panforte
This chewy dried fruit and nut cake can be found at any market or bakery in Florence. It lasts for months, making it a perfect souvenir to bring back with you.
Castagnaccio
Castagnaccio is a chestnut cake, very dense and rich, studded with raisins and pine nuts. Look for this cake in the fall when chestnuts are in season. You won't find it any other time of the year!
Schiacciata alla Fiorentina
Schiacciata alla Fiorentina is a sweet, leavened cake unique to Florence eaten during Carnival. It's either served plain with a heavy dusting of powdered sugar or filled with chantilly or custard cream.
Pici
Pici pasta is a thick, hand rolled spaghetti from Southern Tuscany, loved by all Florentines. Most traditionally, it's served with a garlic tomato sauce or a meat ragù.
Bistecca alla Fiorentina
Bistecca alla Fiorentina is Tuscany's most iconic dish and cannot be skipped. Enormous steaks from the famous Chianina cow are grilled and served rare with roasted potatoes, white beans and stewed greens.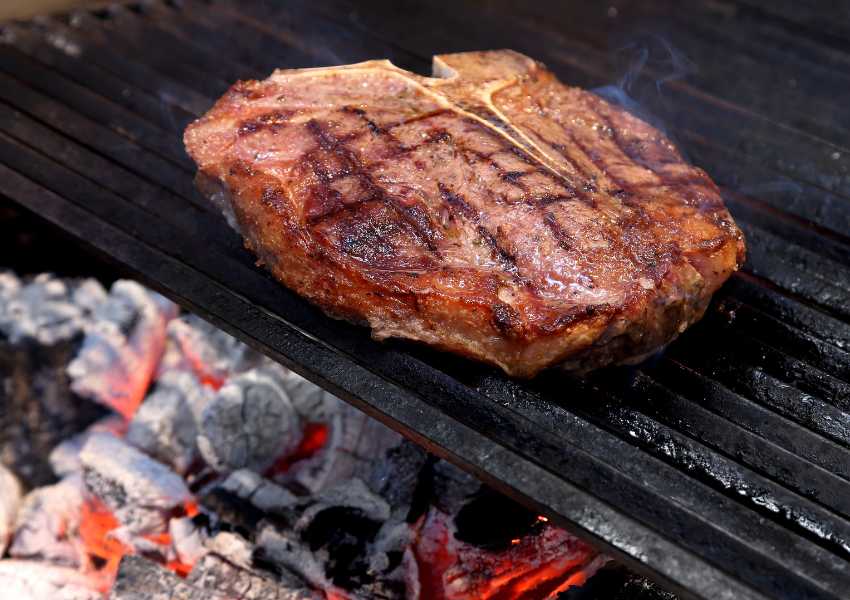 Cecina
Cecina is a vegan chickpea flatbread served in slices at bakeries and pizzerias. It makes for a great, healthy snack but try to get it straight out of the oven!
Where to Find the Best Florence Food
Trattorias
Trattorie (plural of trattoria) are casual, rustic and usually family-run restaurants that specialize in regional dishes. Although trattorias were historically considered higher quality than an osteria (a similar style eatery in Italy), today, they are used interchangeably and often serve the same dishes at the same price point.
The food at trattorias is simple and very seasonal. What you find will depend on the region you are in and what is available that time of year. In Tuscany, this means you will find things like panzanella during the summer and ribollita during the winter.
Menus at a trattoria will change periodically throughout the year. There may be staple dishes and house specialties but you can expect other dishes to change at least two or three times a year.
While trattorie are very casual, you won't find communal tables and some might even have white table clothes.
Good To Know: While tipping isn't expected in Italy (instead you will be billed a coperto charge per person), it's a nice thing to do if you are very happy with your service.
Famous Trattorias in Florence:
Cammillo (Ponte Vecchio area): sophisticated and expensive but worth it for a special evening.
Trattoria La Casalinga (Santo Spirito): one of the most authentic places filled with Italians.
Il Cinghiale Bianco (Ponte Vecchio area): traditional Florentine trattoria with local fare.
Trattoria Mario (Mercato Centrale): cheap, delicious, authentic trattoria also serving up half portions
Trattoria del Carmine (Piazza del Carmine): authentic and reliable more expensive trattoria
Trattoria Da Rocco (Sant'Ambrogo): authentic and inexpensive joint inside the market to enjoy side-by-side Italians at comunale tables
Trattoria 4 Leoni (Piazza della Passera): cutest square to have lunch or dinner.
Tip: Always book ahead at these places except at Da Rocco and Mario who don't take reservations.
Restaurants in Florence
Restaurants are general eateries in Italy that are generally of higher quality or more chic than a trattoria or osteria.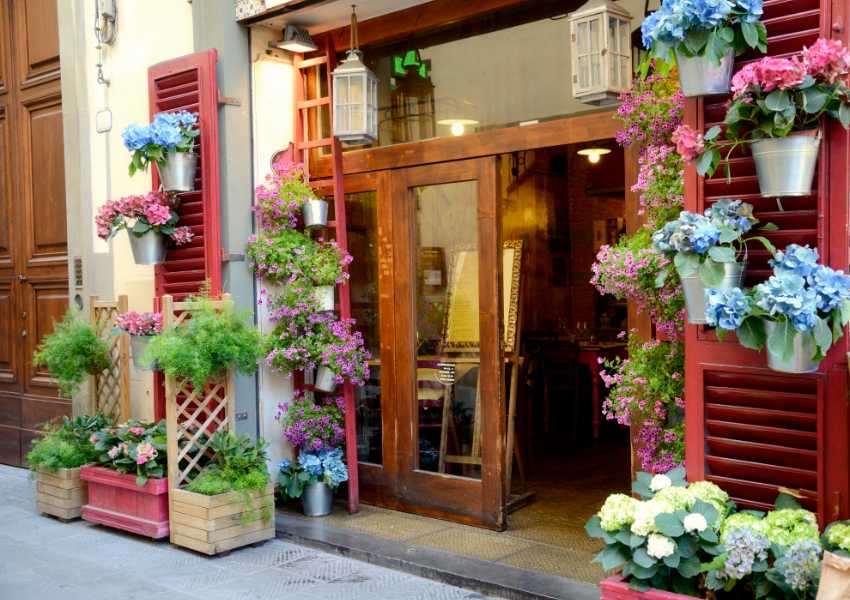 The food at a ristorante as we call it in Italian, doesn't necessarily have more refined or higher quality food than other eateries but it's defined by its service, ambiance and long menu with more options catering to dietary restrictions or with an international influence.
While a trattoria or osteria will serve regional dishes, a restaurant will expand beyond its region's boardres and serve Italian food even from other areas of the country.
Fact: Prices are generally higher at restaurants than at trattorias or osterias.
Famous Restaurants in Florence:
Regina Bistecca (Duomo): serving up some of the best bistecca alla Fiorentina in town
Nonna Chic (Duomo): Florence's newest contemporary restaurant on the scene and worth a visit for their classics with modern dishes
L'Angolo del Mare (Santa Maria Novella train station): best for fish specialities
Il Santo Bevitore (Santo Spirito neighborhood): traditional Italian food with a twist
Osteria dell'Enoteca (Palazzo Pitti): don't be fooled by its name, this is a very fancy and contemporary restaurant in Florence
Cibreo (Sant'Ambrogio neighborhood): one of Florence's most famous restaurants with a price tag. I have been twice and loved it each time but I wasn't paying the bill! It's extremely good but you can't be on a budget to dine here. Try the Cibreo trattoria next door for a more laid back and less expensive experience.
Street Food in Florence
Street food is one of the best ways to taste Florence if you are on a budget. Some of the most traditional and authentic Florentine dishes are available from street venders or at open air markets such as at the Mercato Centrale Firenze and Sant'Ambrogio Mercato.
The most traditional dishes in Florence to try as street food are lampredotto, trippa, porchetta, gelato and schiacciata.
Lampredotto
Lampredotto is perhaps Florence's most unique and original dish, made from the cow's stomach (the abomasum) that is stewed for a long time and usually served on a roll with salsa verde or green sauce. If you try only one street food in Florence it should be Lampredotto.
Head to Da Nerbone in the Mercato Centrale closeby to San Lorenzo but get there early (around noon) to avoid long longs.
Another authentic stop is at Sergio Pollini outside of the famous Cibreo restaurant in Florence. Here you will find the locals chowing down.
Trippa
Although many regions throughout Italy have their own versions of tripe, Tuscany's version is one of the most famous. The cow's stomach is slowly cooked in onion, carrot, celery and tomatoes for hours. It's served piping hot, sometimes with a sprinkling of parmesan cheese and of course, Tuscan bread or pane toscano to mop up all the sauce.
Visit the same stalls for trippa as recommended for Lampredotto. Many restaurants will also serve it, including Trattoria da Rocco in the Sant'Ambrogio market.
Porchetta
The famous roast pork can be found throughout Italy but here in Florence it's spiced with plenty of fennel seed and served on a unsalted white roll. Most famously you can get porchetta at sandwich shops throughout the city center of Florence but you will also find vendors selling it at outdoor open air markets.
One of the most famous spots in Florence to eat porchetta is in a great location, perfect for snack break between visiting tourist attractions. Antica Porchetteria Granieri 1916 is right off of Piazza della Signoria by the leather market of the Mercato del Porcellino.
Gelato
Gelato can be enjoyed throughout all of Italy but in Florence it's particularly good. Some of the best gelato in the whole world is made right here, the birthplace of gelato itself!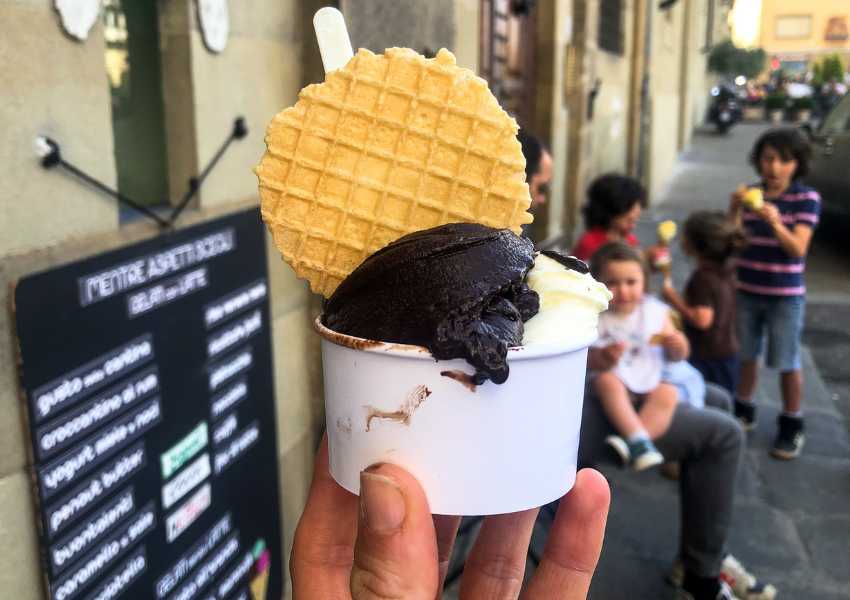 Don't miss the most famous flavor of gelato in Florence, buontalenti, a custard-based gelato that pairs well with chocolate, nut flavors or red fruits such as strawberry and raspberry.
Famous Gelaterias in Florence:
Perché No! (Piazza della Signoria): one of the best in this area
Vivoli (Santa Croce): the most historic gelateria in Florence
Edoardo (Duomo): famous for their organic gelato
Carabè (Academmia): best for Sicilian specialties
Sbrino (Santo Spirito neighborhood): great seasonal flavors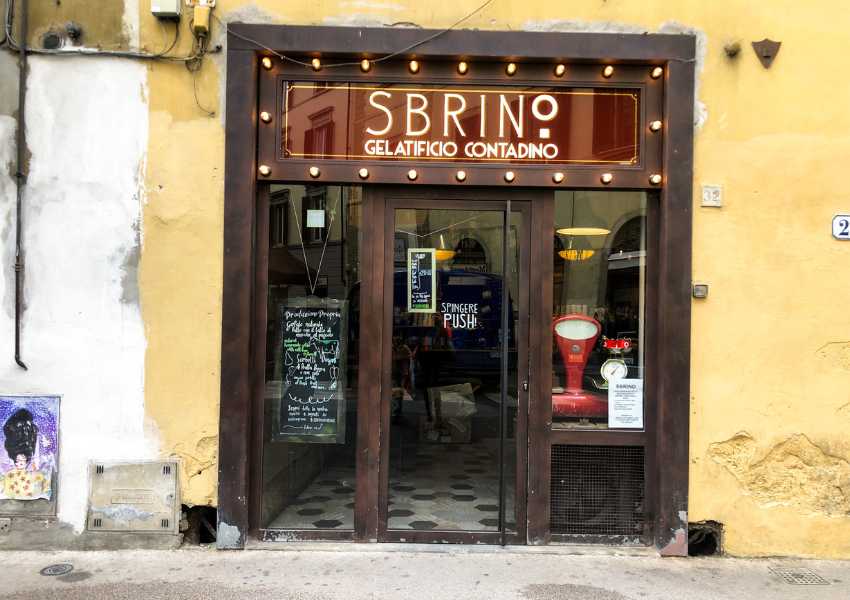 Schiacciata
The best schiacciata is straight from a bakery and eaten in strips between meals.
Schiacciata is a favorite snack among Italians, especially children but also a great vehicle for other flavors. Don't miss the countless paninoteche making sandwiches with schiacciata.
I can promise you that after living in Florence for 10+ years, they are all very good. You don't need to go to the Antico Vinaio and wait in an hour line. The one next door is just as good, if not better!
Tip: You don't need to go to a sandwich shop to get a schiacciata sandwich. Instead, you can also go to a deli, called a pizzicheria or a small grocer called an alimentari and they will most likely make sandwiches to order.
Enotecas
What better way than to spend your evenings at an Italian wine bar? The art of the Italian aperitif cannot be missed while in Florence. Usually, enotecas will have a very extensive wine list with the possibility to try several wines by the glass.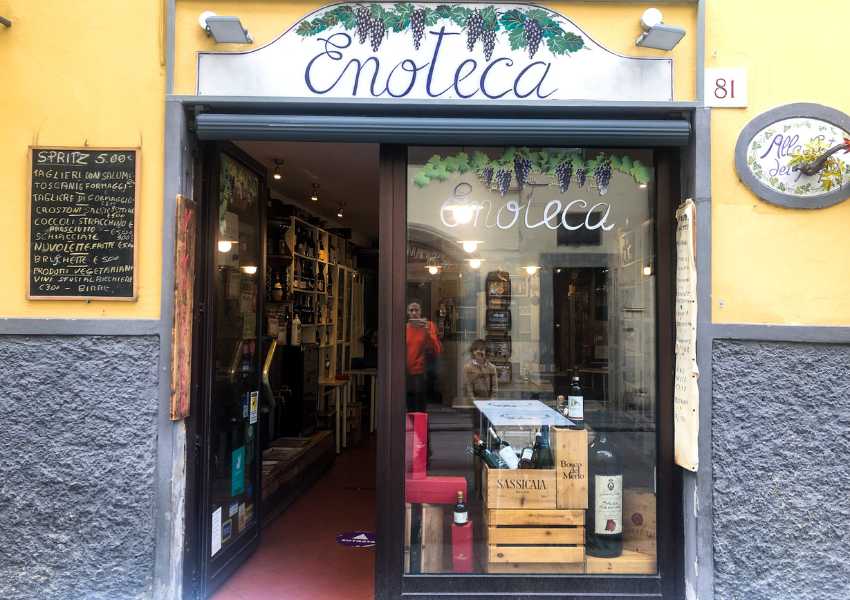 If you are looking for souvenirs, be sure to get the rundown on what they recommend you bring home. Most enotecas in Florence will carry not only a wide selection of regional Tuscan wines but also stock a long list of domestic and sometimes foreign wines as well.
Some enotecas are only wine shops and don't have tables to sit down and order a glass such as Alessi (close to Piazza del Duomo), a very good store not only for wine but souvenirs, candies and chocolates as well.
Best Enotecas in Florence:
Fuori Porta (San Niccolò): great for wine and light lunches
Pitti Gola e Cantina: great wine list in a fabulous location overlooking Piazza Pitti
Le Volpi e l'Uva (Ponte Vecchio): a great nook hidden on the side streets just off of the iconic bridge. Amazing charcuterie and cheese boards
Bars
Bars are the holy pit stop for food in Italy because they are always open. If you didn't know it already, any authentic Italian eatery is going to close for a mid-afternoon break between serving lunch and dinner, creating slight complications for hungry tourists who missed the window.
Bars are the one spot where you can really order whatever is displayed at any time and no one will deny you or give you a strange look.
An Italian bar is basically a very casual lunch joint, sandwich shop, breakfast hub, a bar and after-dinner hangout, usually open early in the morning from 6:30 or 7:00 to either right before dinner, around 8:00 pm or even after dinner until midnight.
Between opening and 11:30, enjoy Italian breakfast with a pastry and coffee beverage either standing at the bar or sitting down. There is nothing more Italian than this if you want to fit in with the locals.
Pay first at the cash register and bring your receipt to the bar counter, asking the barista for what you have just paid for.
Good To Know: Sandwiches and savory bites can be purchased usually throughout the day, including at breakfast..
From around noon to 2:00 pm you can eat either a sandwich or a simple first or second course meal. This is a very casual lunch option. The bar will usually give you a paper placemat and a little paper bag with your cutlery. It's very cheap and if you are at a good bar, it's pretty good as well.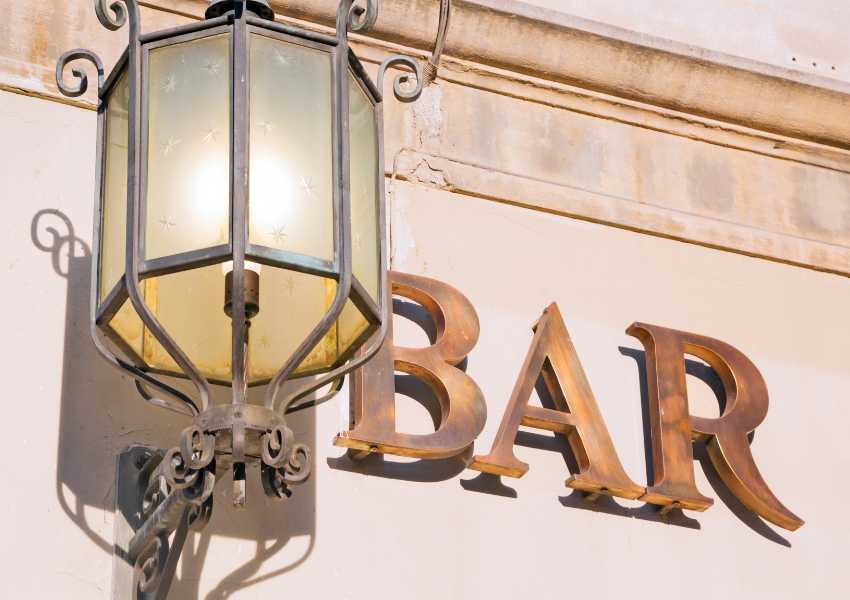 After lunch, expect a rush of Italians as they pour in for their post lunch coffee and then another peak as school lets out around 4:30 for snacks.
Bars also serve pre-dinner drinks known as an aperitivo with small nibbles such as chips and nuts. Be aware that prices may change, however, depending on whether you sit down or not.
Famous Bars in Florence
Gilli (Piazza della Repubblica): the most famous bar in Florence
Caffe Concerto Paszkowski (Piazza della Repubblica): a close second to Gilli serving up a similar menu with the same view
Rivoire (Piazza della Signoria): famous for their hot chocolate
Café Scudieri (Piazza del Duomo): great pastries
Cibreo (Sant'Ambrogio): the cafè full of locals owned by Cibreo restaurant and trattoria.
Gilda (Sant'Ambrogio): amazing breakfast served by a darling elderly couple
Pitta M'Ingolli (Santo Spirito): ideal location for people watching
Loggia Roof Bar (Santo Spirito): best for intimate setting in an authentic neighborhood
Pizzeria
While seemingly obvious what a pizzeria might serve in Italy, it's not quite as simple and basic as you might think. Most traditionally a pizzeria in Italy does serve pizza but nowadays you can often get simple appetizers, first courses and sometimes even second courses. In this case, the pizzeria will most likely be called a Ristorante e Pizzeria.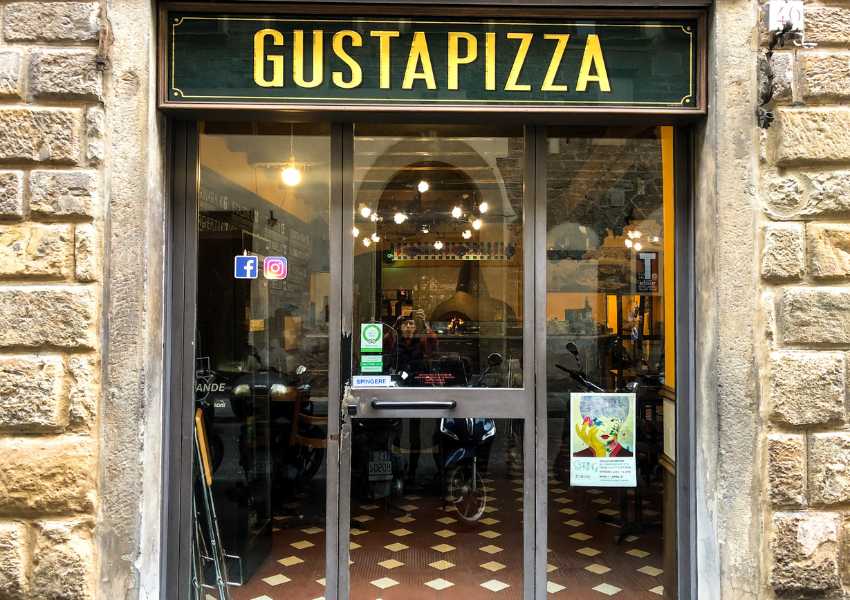 In Southern Italy (especially in Campania), it's tradition to eat something fried before your pizza while you wait such as a bit of fried polenta, mozzarella, potato fritter, fried rice ball or even fried bread balls.
Famous Pizzerias in Florence:
Gustarium (Piazza della Signoria): best for on the go pizza
Gustapizza (Santo Spirito): best for students and rowdy, large crowds
Il Pizzaiuolo: best for Neapolitan-style pizza
Mister Pizza (Arco di San Pierino): best for gluten free pizza
Forni
Forni are Italian bakeries (plural form of forno) where you will find all things baked including savory breads, local schiacciata, cantuccini, other cookies and pastries.
Tip: During the fall, look for schiacciata all'uva, only available from September through October. Meanwine during Carnevale, ask for schiacciata fiorentina, a sweet cake sometimes filled with either a chantilly cream or custard, unique to Florence.
Head to forni pick up goodies for the day to keep you going between meals. Forni tend to be very well stocked in the early morning and sell out quickly so be sure to stop by earlier rather than later.
Famous Forni in Florence
Cantinetta dei Verrazzano (close to Piazza della Signoria): best central location
Pugi (Piazza San Marco): famous for their schiacciata and pizza by the slice (a taglio)
Antico Forno Giglio (Piazza Beccaria close to Sant'Ambrogio): absolute best schiacciata and whole wheat breads
Forno Ghibellina (Sant'Ambrogio neighborhood): amazing pastries
Forno La Pagnotta (Piazza dei Ciompi area): great pizzette
Tip: Although a bit of a chain now, Eataly, just off Piazza del Duomo in Florence makes very good bread of all different kinds, including schiacciata that is packaged into individual bags as it comes out of the oven.
Mercati
Open air markets are the absolute best way to shop for ingredients while you are in Italy. If you have any intention of cooking while in Florence, don't miss either of their two famous markets to stock up on meat, fish, sausage, fresh bread, preserved goods, cured meats, and fruits and vegetables.
Famous Markets in Florence
Mercato Centrale Firenze: The most famous market located nearby the San Lorenzo Chapels. Enjoy shopping for ingredients on the ground floor and for authentic Italian street food. Upstairs you will find their newly renovated food court with amazing stalls selling delicious pizza, fresh pasta, Sicilian and truffle goods, Florentine specials, cheese and baked goods, just to name a few.
Sant'Ambrogio Mercato: This is Italy's most famous market for the actual residents of Florence. My family shops here when we can and trust every single vendor. You can count on freshness and quality, no matter who you choose. Don't miss the covered section as well with meat, fish, preserved goods, bread and cheese. Outdoors you can buy fruits and vegetables, other homegoods and antiques.
Sagras
Sagras are food festivals, designed as temporary outdoor eateries in celebration of a particular ingredient or local dish that is a speciality to that location. Sometimes, they will be called food festivals or feste instead of sagre.
In all my time in Italy, the sagra still remains one of my favorite dining experiences in Italy. There is nothing quite like it anywhere else in the world. Culinary traditions die hard here in Italy and any excuse to celebrate a century old recipe is a good one!
You can expect sagras to take place on weekends outside of city centers. There are several just outside of Florence, especially in the summer and fall. Because they cater to a ton of people, they are often set up in athletic fields or other such large spaces. Assume you need a car to get to many of these.
Sagas are usually open for dinner but sometimes for lunch on Sundays as well. Look for brightly colored posters throughout the city advertising the food or dish, location, date and time.
Famous Sagras Around Florence
Sagra del Cinghiale: wild boar celebration
Sagra della Schiacciata all'uva: focaccia with red grapes
Sagra del Tortello: a large ravioli stuffed with various fillings
Sagra del Vino: wine celebration
Sagra del Tartufo: truffle
Good To Know: Sagras offer other items on their menu not revolving around the celebrated ingredient or dish so don't worry if your whole party or family wants to go and you don't. You will find something you like!
Eating In Florence Conclusion
Needless to say, you might be overwhelmed with the choices in Florence but there is no need to be. Just choose what kind of experience you want and always book a table if they take reservations.
Florence is a hub for some of the best food in Italy and thus, you should be spending a significant part of your time chowing down. Whether it be pizza, pasta, freshly baked schiacciata, gelato or good wine that you crave, Florence has it all and it's all easily accessible in the city center, close to the most famous sites and monuments.
This guide has the best of the best but the real secret to eating well in Florence is to ask a local. If the restaurant you want is fully booked, there will always be a great second choice around the corner.
Simply stop an Italian by saying Mi scusi and then ask for a recommendation in English. Italians all speak a little English and there is nothing a Florentine is willing to speak about more than their cuisine!
About the author
Louisa Loring has been traveling to Italy since her teenage years when she first fell in love with the Italian way of life, leading her on a path to an Italian Language and Literature degree. She now resides in Tuscany where she has worked in tourism, as a content creator, creative writer and with food and wine for 10+ years, most recently for her online publication EatingAroundItaly.com.