The Ultimate Packing List for Europe in Fall
I love traveling to Europe during the fall.
The summer crowds are gone, queues are shorter, hotel prices are significantly lower, and the weather is still warm enough that I don't have to dread walking outside.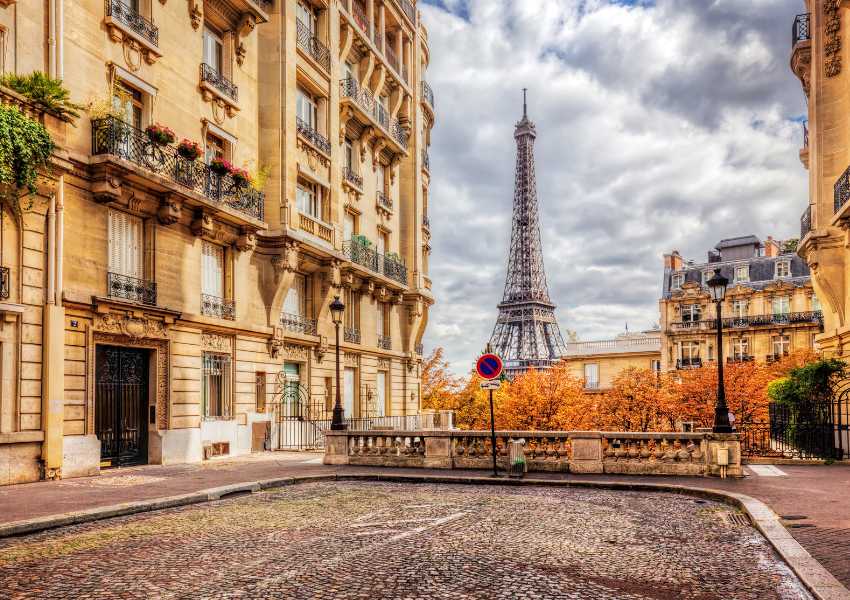 I find creating a Europe fall packing list kinda tricky.
While countries in the north begin dropping temperatures and getting covered in glorious foliage, southern countries like Portugal and Spain are still warm enough to wear short dresses and tank tops. That's why layers are awesome, right?
So, I've put together a packing list for Europe in fall that will hopefully help you forget your packing woes and focus on planning your route.
My main tip is to keep your wardrobe colors neutral and to make sure you bring layers if you're doing a multi-country trip.
This list was made for women (sorry, guys!), but I'm sure my male readers will find a few useful tips in here as well :).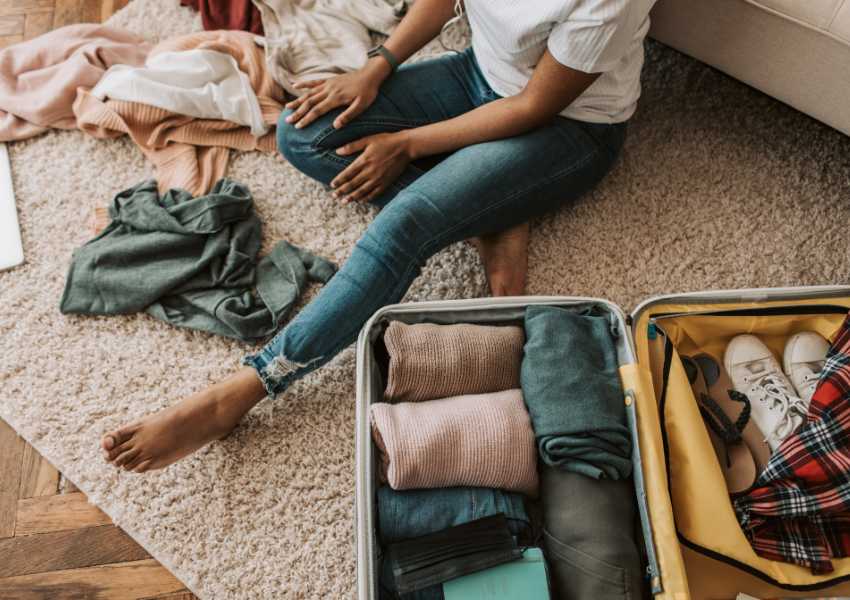 Here's my packing list for Europe in fall:
Clothes
Jeans/pants
Skirts and/or dresses. They're great if you have a multi-country itinerary. In southern Italy or Spain, you can still get away with wearing dresses and skirts as the weather is still quite warm during autumn.
In the cooler countries in the north, you can wear them by pairing them up with tights to keep yourself warm while still looking dressed up.
Shirts. Make sure to pack a few long-sleeves and a few short sleeves for warmer days.
Two jackets/coats. A thick one for the cooler days and one lighter one for the days when the sun comes out (let's hope there'll be plenty!).
1-2 sweaters. Make sure they match with the rest of your clothes. Black, gray, or brown are always safe colors.
1 pair of trackpants
1-2 scarves
Shoes
Boots. Either long boots or ankle boots like these ones. This is just an example, but they're great because they're comfy, warm, and versatile.
1 pair of sneakers. I always bring white sneakers. I always feel more pressured to look a bit more fashionable in Europe than in other places, and these kind of sneakers are actually in trend there, so you won't stand out as a tourist. I love these Nike for walking long distances.
Dressier shoes (if you plan on going out to nice restaurants or events)
Lots of socks (the more the merrier!). 100% cotton socks like these are best, especially if you plan on walking a lot!
Extra: Flip flops if you plan on staying in hostels (for showering purposes). I love these Sidekick foldable flip-flops.
What to Wear in Europe: Fall 2023 Edition
To make things easier for you, I decided to put together a visual guide on what clothes I'd pack for a trip to Europe!
These are all trending right now and thanks to the fact that the colors are neutral, you can mix and match them to create plenty of different looks.
Moreover, you can wear them both during the day and night – it's all up to how you style them! (PS – all the items here are shoppable!)
Simply add accessories and a few tops (long sleeves + short sleeves). Try to pack as many neutral colors when it comes to tops as well, but feel free to add a few colorful ones for when you want to add a pop of color!
Accessories
Travel-sized umbrella and/or poncho. It can rain, and an umbrella like this one is always a good idea to add to your Europe packing list.
Anti-theft Day bag. I recommend getting an anti-theft back for when you plan on visiting super touristy and crowded spots because pickpocketing in some cities in Europe like Paris and Rome is rampant, especially around concurred spots. I love love love this anti-theft bag, I've owned it for years and wear it regularly for travel and it's still going strong! It also looks small but can fit A TON.
Purse
Beanie or hat
Glasses (optional)
Don't forget to get travel insurance for your trip! As always, I recommend Safety Wing for great prices and coverage abroad. It starts at only $45 USD per month and will have you covered with everything you may need during your trip! Check them out here.
Technology
Universal travel adapter. Most of Europe uses a Type C plug, so you'll need an adapter. In the UK, they use a type G. I recommend getting a universal travel adapter like this one (it will work everywhere in Europe, including England).
Portable charger. You'll need a portable charger to be able to use your phone and get access to maps, etc. I use this one from Anker.
I'm also currently a bit obsessed with this phone-charging passport cover by Lovie Style.

Kindle (optional)
Camera + accessories
SD Card. You're going to take thousands of pictures while in Europe, so I recommend bringing a 256GB card so you don't have to worry about space!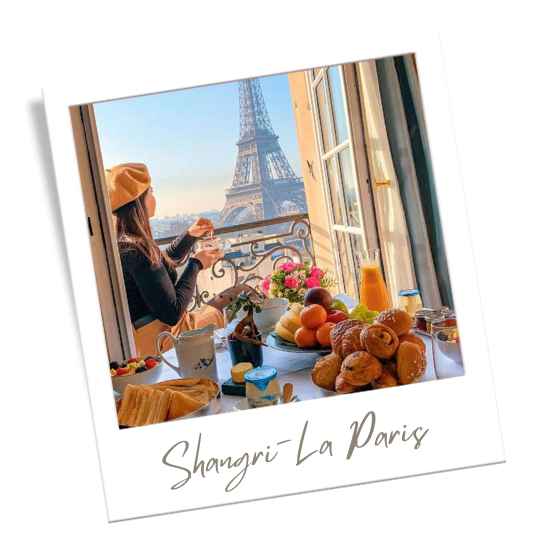 TOP HOTEL PICK IN EUROPE: shangri-la paris
The Shangri-La Hotel in Paris is offers some of the best views of the Eiffel Tower. Many of the rooms and suites have private balconies with views of the tower! Book here.
Toiletries
Travel-sized toothpaste + toothbrush.
Travel-sized shampoo.
Travel-sized conditioner
Skincare
Makeup
SPF. Don't forget it, even if it's cloudy.
Tip: If you are very particular about a shampoo or conditioner and you're not sure they sell it in Europe, get this set of travel bottles and fill them with your shampoo or conditioner of choice if you plan on traveling only with a carry-on (this is ideal if you're planning to fly within countries in Europe, as most low-cost airlines charge a fee to check your luggage).
TSA-friendly toiletry bag. By law, you'll need to put your liquids into a ziplock for a security scan at European airports.
It gets kind of annoying having to take your liquids out of your toiletry bag and into a ziplock all the time, so I just keep my toiletries into this TSA-approved bag.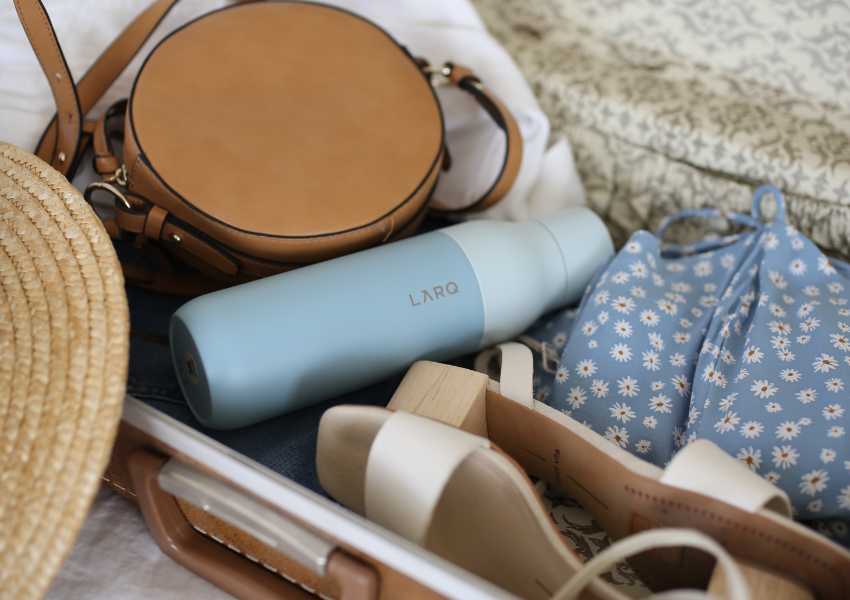 Really Useful Extras
Travel towel. Regular towels take up tons of space and take ages to dry, so I decided to give travel towels a try and wow!
They're super light to carry, take almost no space in my luggage, and they dry super quickly. A huge bonus is that they can double as blankets if you find yourself in a cold plane or train. I recommend this one by Youphoria.
Packing cubes. They'll save you tons of space because they compress air and they're also a great way to stay organized.
You can use one cube for one set of items. Bottoms go into one cube, tops into another, and my underwear + socks into the third one.
You can unpack easily and always know where to find things instead of having to scramble through your bag. This set from Ebags is great!
Custom Lanyard
You can also take a custom lanyard with you on your Europe trip. It's versatile enough to hang your camera on it, and it can also be used to hang small, easy-to-lose items like keys (which are easy to lose when traveling!). You can even customize it to fit your style!
Travel Insurance for Europe
I always recommend Safety Wing. It covers any accidents that could happen while traveling in Europe, as well as things like stolen electronics and delayed flights. You can easily book it, extend it, and make claims online. Check them out here.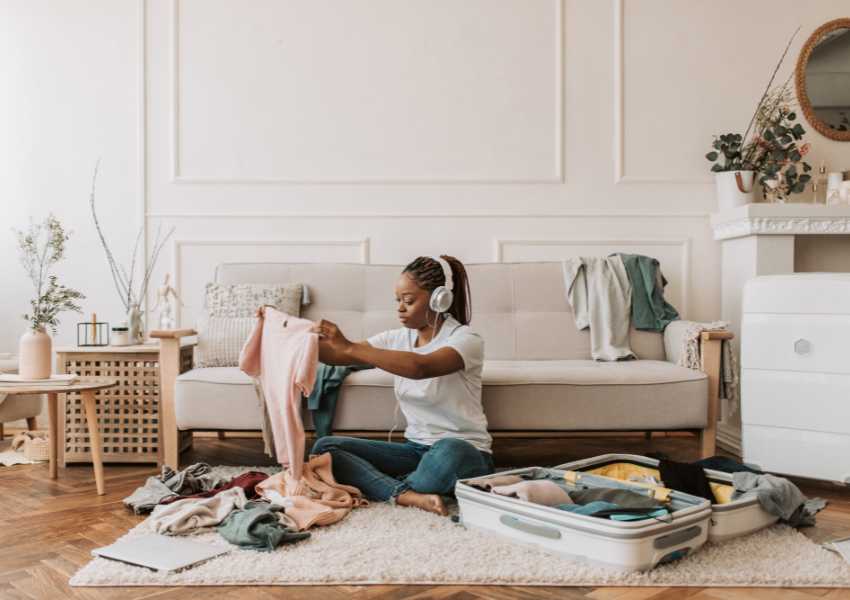 Tips for packing for Europe in Fall
Here are some tips for packing for Europe in the fall:
Layering is key: Fall weather in Europe can be unpredictable, so it's important to pack clothes that can be layered. Bring a mix of light and heavy layers that can be easily added or removed as the temperature changes throughout the day.
Bring comfortable walking shoes: You'll likely be doing a lot of walking in Europe, so make sure to pack comfortable shoes that can handle cobblestone streets and uneven terrain.
Pack a waterproof jacket: Fall weather in Europe can be rainy, so make sure to pack a waterproof jacket or raincoat to stay dry.
Don't forget a scarf and hat: A scarf and hat can help keep you warm on chilly days and can also add a stylish touch to your outfit.
Bring a versatile bag: A backpack or crossbody bag is a great choice for Europe in the fall, as it can hold all your essentials and is easy to carry around.
Pack for the activities you'll be doing: If you plan on hiking, bring appropriate gear. If you plan on going out to nice restaurants, bring dressier clothes. Consider your itinerary and pack accordingly.
Bring a travel adapter: Europe uses different electrical outlets than North America, so make sure to bring a travel adapter so you can charge your electronics.
Pack a reusable water bottle: It's important to stay hydrated while traveling, and a reusable water bottle can help you save money and reduce waste.
Leave room for souvenirs: You'll likely want to bring home some souvenirs from your trip, so make sure to leave some extra space in your luggage for them.
Extra packing tips
Make a packing list: Before you start packing, make a list of all the things you need to pack. This will help you stay organized and ensure that you don't forget anything important.
Use packing cubes: Packing cubes are a great way to keep your clothes organized and easy to find. They also help you maximize space in your luggage.
Roll your clothes: Rolling your clothes instead of folding them can help you save space in your luggage. Plus, it can help prevent wrinkles.
Use vacuum bags: Vacuum bags are a great way to compress bulky items like jackets and blankets. This will help you save space in your luggage and make it easier to pack everything you need.
Pack strategically: When packing your luggage, be strategic about what you pack where. For example, put heavy items at the bottom of your suitcase to prevent them from crushing lighter items.
Use packing accessories: Packing accessories like shoe bags and toiletry bags can help you keep your things organized and easy to find.
Don't overpack: It can be tempting to pack everything you think you might need, but try to resist the urge to overpack. Only pack the essentials to avoid carrying around extra weight and making your luggage too heavy.
Europe fall packing: Final thoughts
In conclusion, packing for a trip to Europe in the fall requires some careful planning. The weather can be unpredictable, so it's important to bring layers and versatile clothing items that can be mixed and matched.
Consider the activities you'll be doing and the culture of your destination when choosing what to pack.
With these tips and a comprehensive Europe fall packing list, you'll be ready for an unforgettable adventure in Europe. Enjoy the beautiful fall foliage, delicious seasonal cuisine, and charming autumn festivals that Europe has to offer!
Disclaimer: This packing guide contains affiliate links, including links to Amazon. As an Amazon associate, I earn a commission if you purchase something via my links. This comes at no extra cost to you!