19 Best Restaurants In Tulum
Tulum is not only famous for its white-sand beaches, fancy beach clubs and vibrant nightlife, but it is also a fantastic foodie destination!
From beachfront cafes serving delicious vegan treats to cosy downtown joints with mouthwatering Mexican cuisine, Tulum has it all.
To help you add to your Tulum itinerary as many awesome places to eat as possible, I've put together a list of the absolute must-visit restaurants in Tulum.
Get ready to embark on an exciting journey through the vibrant culinary scene of Tulum!
Best Restaurants in Tulum Beach and Zona Hotelera
#1 Matcha Mama
Matcha Mama is a must-visit for Instagram enthusiasts and smoothie bowls lovers. With three locations – downtown, Aldea Zama, and one in Tulum Beach, you can get there no matter where in Tulum you stay.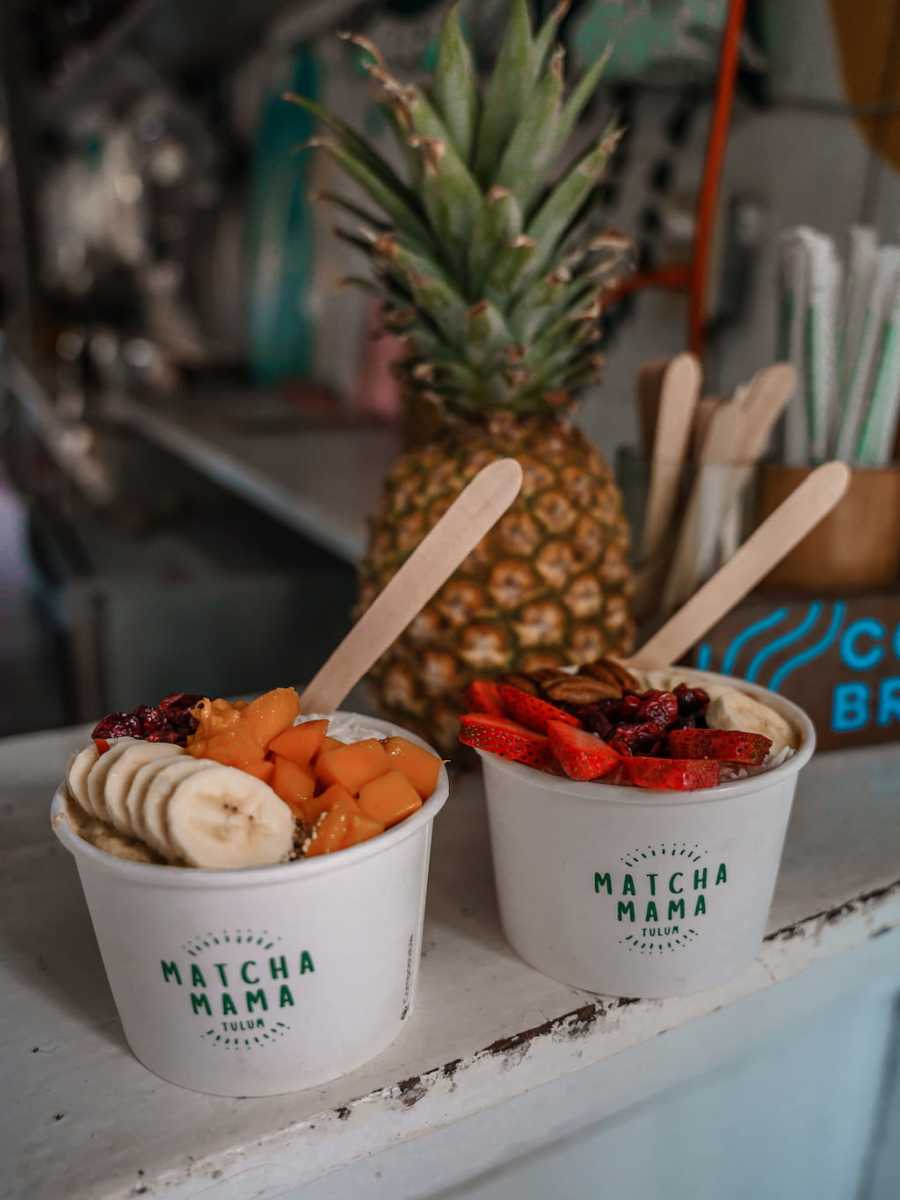 Its Tulum Beach location, in particular, is known for being one of the most visited Instagram hotspots, where you can have your morning smoothie bowl fix and snap some cool shots for social media.
The cafe is located at the southern edge of Zona Hotelera, so if you're not renting a car in Tulum, you may have to take a taxi to get there.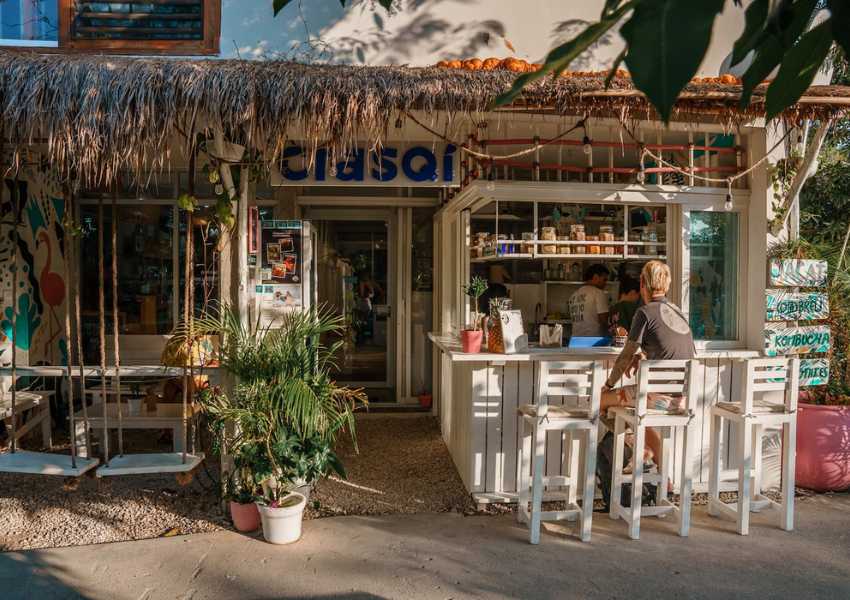 The Matcha Mama cafe is super picturesque with its tropical vibes, colourfully-painted walls and cute swings. But, it is definitely not a budget place for breakfast, with smoothie bowls costing around $12.
Location: Tulum Beach, Downtown & Aldea Zama
#2 Kitchen Table
If your dinner budget is healthy, visit Kitchen Table for dinner, located in the heart of the fancy Zona Hotelera. The restaurant is surrounded by trees, giving it a jungle-like feel.
The restaurant offers a unique menu of seafood and meat dishes, along with inventive cocktails. If you're unsure what to order, their tasting menu is a great choice. They're more than happy to modify it according to your taste.
Another dish to consider is daily fish catch accompanied by cauliflower mash. They also serve fantastic craft cocktails and fabulous desserts. Don't miss out on their banana chocolate pudding!
Location: Zona Hotelera
Don't forget to get travel insurance for your trip! As always, I recommend Safety Wing for great prices and coverage abroad. It starts at only $45 USD per month and will have you covered with everything you may need during your trip! Check them out here.
#3 MEZE Tulum
For something a little bit different from your usual ceviche and tacos staples, head to Meze Tulum, which is a fabulous Greek restaurant located in the centre of Zona Hotelera, right by the beach.
The outdoor area has a charming ambience with low lights, soft ambience music and surrounding palm trees. Since the owner of the restaurant is Greek, you can expect authentic Greek flavours and good hospitality.
Location: Zona Hotelera
#4 GITANO Tulum
Kitchen Table is one of the best restaurants in Tulum's Zona Hotelera. The atmosphere here is lively, with fun music and stylish decor, creating a unique 'jungle disco' environment.
But the real star here is the food! Despite being busy, the staff remains upbeat and attentive and gives excellent service and spot-on recommendations.
For a memorable meal, share small dishes like guacamole, shishito peppers, truffle flatbread, and a watermelon and tomato salad. End on a sweet note with the chocolate lava cake.
And don't forget – disco night is a must-attend! Definitely a top pick for a fun night out in Tulum.
Location: Zona Hotelera
#5 BAL NAK
For a taste of modern Mexican cuisine, head to BAL NAK, located in the heart of Zona Hotelera near Vagalume Beach Club and the Instagram-famous wooden statue Ven a la Luz.
What's great about this place is its relaxed atmosphere and friendly staff, who lets you savour your meal without rushing, even at closing time.
Apart from friendly staff, you will also enjoy the food here. The standout dishes include the octopus, short rib with potatoes, clams and young chicken dishes.
Don't forget to try the churro dessert or the creamy, juicy coconut ice cream. Plus, if you're a cocktail enthusiast, you will love their mezcal-based cocktails.
Location: Zona Hotelera
#6 Atila
Atila, located in Zona Hotelera of Tulum, is another excellent choice for dinner in style.
Don't be fooled – it's not just a wine bar but an exceptional restaurant with top-notch service and a great atmosphere.
Each dish and cocktail is a culinary adventure, with standouts like the clams, tomatoes, crudo, and a sweet fig tart for dessert.
Location: Zona Hotelera
You may also like:
Best Restaurants in Tulum Downtown
#7 Burrito Amor
Burrito Amor is another excellent place to eat in downtown Tulum that won't break the bank.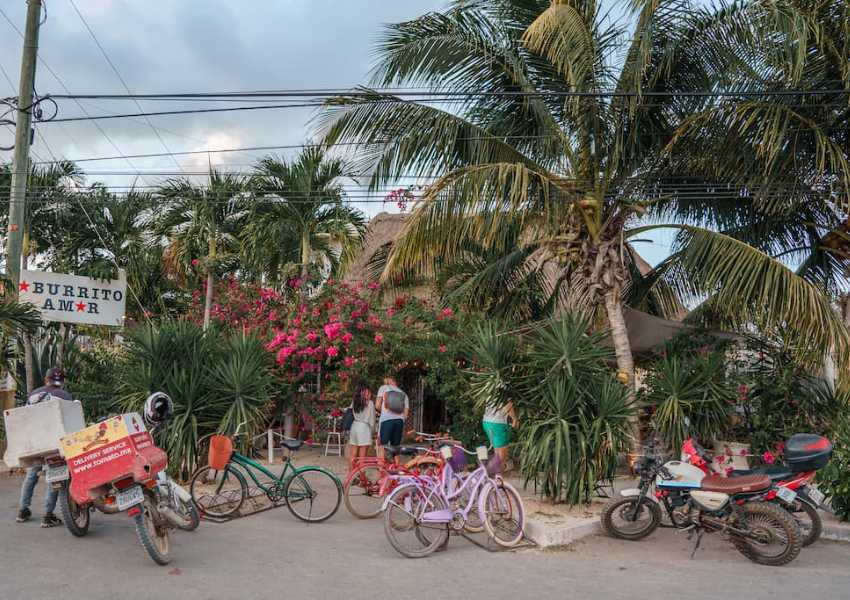 Known for its mouthwatering burritos and tropical vibes, this popular restaurant is a must-visit for any foodie. Trust me, the burritos we savoured here were simply the best we've ever tasted!
The choice of burritos is huge – from egg burritos for breakfast to grilled gourmet burritos with seafood and fantastic veggie burritos wrapped in a banana leaf and accompanied by four different salsas.
Burrito Amor gets really busy, so either book your table in advance or come early to make sure you get a table.
Location: Downtown
#8 Restaurante Estrada
If you're staying in downtown Tulum, a visit to Restaurante Estrada is an absolute must. This family-owned seafood restaurant offers not only mouthwatering dishes but also a warm and welcoming atmosphere.
Estrada is a great place to try ceviche. It comes with fresh ingredients and a generous portion. Another dish not to miss is the garlic octopus – it's cooked to perfection and bursting with flavour.
What sets this place apart is its personal touch. Carlos, the owner, along with his team, pour their heart into every dish they serve. And the owner's family are fishermen who supply the restaurant's seafood, which explains the freshness and quality of their food.
Location: Downtown
#9 Ki'bok Tulum
Located in La Valeta, on the western edge of Tulum Pueblo, Ki'bok Cafe was actually recommended to us by some local expats that we have met here as a non-touristy and good value for money place.
They have a large seating area in a shaded garden that surprisingly stays cool even on a hot day, and if you're a cat lover, you will love the furry residents that hang out in the garden.
The food and drinks are top-notch here – the molletes and choco and nut smoothie are a must-try.
Location: La Valeta
Best Restaurants in Tulum's Aldea Zama
#10 Mamazul Tulum Mezcaleria
If you're looking for a little more up-market dining experience, head to Mamazul Tulum Mezcaleria, located in Aldea Zama.
The restaurant has fancy decor, and the menu combines Italian and Mexican cuisines with dishes such as ceviche, beef ragu and a selection of seafood dishes.
Location: Aldea Zama
#11 Norita Tulum
Another great spot for dining in Aldea Zama is located near the Aldea Zama Cenote, Norita Tulum. The restaurant has laid laid-back ambience, and you can either sit indoors if you prefer air conditioning or by the pool outside.
We saw a few people on their laptops, so if you need to do some work during your Tulum stay, this is not a bad place.
If you're visiting for brunch, try their eggs benedict or veggie burger and sweet potato fries, which were really tasty.
If you're looking for a dinner spot to enjoy with your other half, come back in the evening when the pool area is beautifully lit up, creating a romantic atmosphere.
Location: Aldea Zama
#12 VINTAGE CAFE TULUM
If you're staying in the Aldea Zama neighbourhood in Tulum, Vintage Cafe is a great breakfast spot! It is located just off the main road that runs through the neighbourhood, and it's a cosy cafe to enjoy your morning coffee while people-watching.
The menu consists of sandwiches, croissants, bagels and smoothies. And the best part – they offer 2-for-1 mimosas in the morning! The prices are fair, and the restaurant is dog-friendly, so you can come with your furry friend.
Location: Aldea Zama
#13 Safari Comedor Zama
Another great restaurant is the bohemian-style Safari Comedor Zama in Aldea Zama. You can choose to be seated either in their chic restaurant or outside in the garden among lush greenery.
This trendy spot serves up traditional cuisine from the Yucatan with a twist – think shrimp tacos on green bread and mezcal cocktails to die for!
The open-air seating adds a laid-back touch, perfect for soaking up the chill vibes during happy hour. The menu includes a selection of tacos, ceviche, mole verde, tamale and fantastic desserts.
Location: Aldea Zama
Best Vegan Restaurants in Tulum
#14 Raw Love
If you're looking for amazing vegan food in Tulum coupled with awesome vibes, then Raw Love Cafe, with two fantastic locations, should be on your list.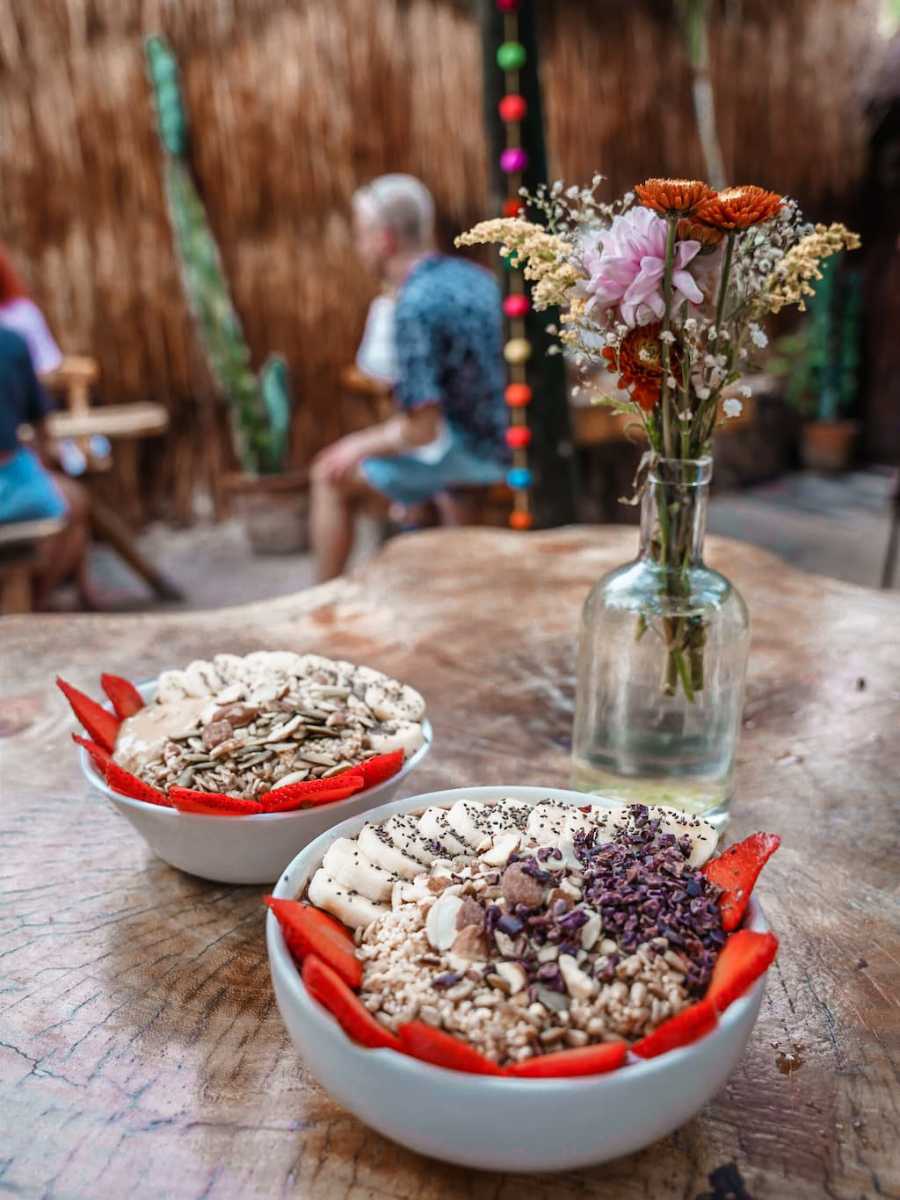 One is nestled in the heart of downtown, perfect for a brunch spot after visiting local shops, and another in the Zona Hotelera, famous for its all-inclusive Tulum resorts, by the beach where you can relax with your toes in the sand.
My partner and I visited Raw Love multiple times during our stay in Tulum and loved their colourful smoothie bowls, especially their Maca Vanilla Milkshake bowl, topped with strawberries and nuts.
If you're not into smoothie bowls, try their avocado toast, stacked high with toppings. Raw Love is also a great spot for decent coffee; try their cold brew coffee – it's simply unbelievable.
The beachfront cafe is slightly smaller but equally charming, with hammocks for a relaxing experience.
And, when it comes to the prices, yes, they are definitely a tad higher compared to other restaurants, but their food and the atmosphere make up for a higher cost.
Location: Downtown & Tulum Beach
#15 Pasha Tulum Downtown
If you're looking for a break from tacos and burritos, Pasha in downtown Tulum, serving Middle Eastern cuisine, is a great choice. The restaurant's Bedouin tent setting with red cushions and hanging lanterns creates an intimate atmosphere, perfect for special occasions.
Their food is outstanding, with the best falafel I've ever had. They also have a great selection of vegan dishes. Try their vegan meze consisting of 8 different plates. They also offer complimentary pineapple juice, spicy green sauce, tzatziki, and pita.
Location: Downtown
Don't forget to get travel insurance for your trip! As always, I recommend Safety Wing for great prices and coverage abroad. It starts at only $45 USD per month and will have you covered with everything you may need during your trip! Check them out here.
#16 Santo Vegano
Santo Vegano is a small cafe and shop which are a haven for vegans and health-conscious individuals in downtown Tulum.
If you're in the area, pop in for a refreshing fresh juice. They even let you create your own blend, with the owner offering friendly advice to ensure maximum enjoyment.
There is also a fully vegan mini-supermarket, which offers an array of plant-based foods, superfoods, and earth-friendly personal care products. They also stock speciality items like vegan chorizo and plant-based yoghurt.
Location: Downtown
#17 El Bajon Vegan Tacos
If you're looking for affordable places for a tasty lunch, El Bajon Vegan Tacos, located in downtown Tulum, is a great option, even if you're not a vegan.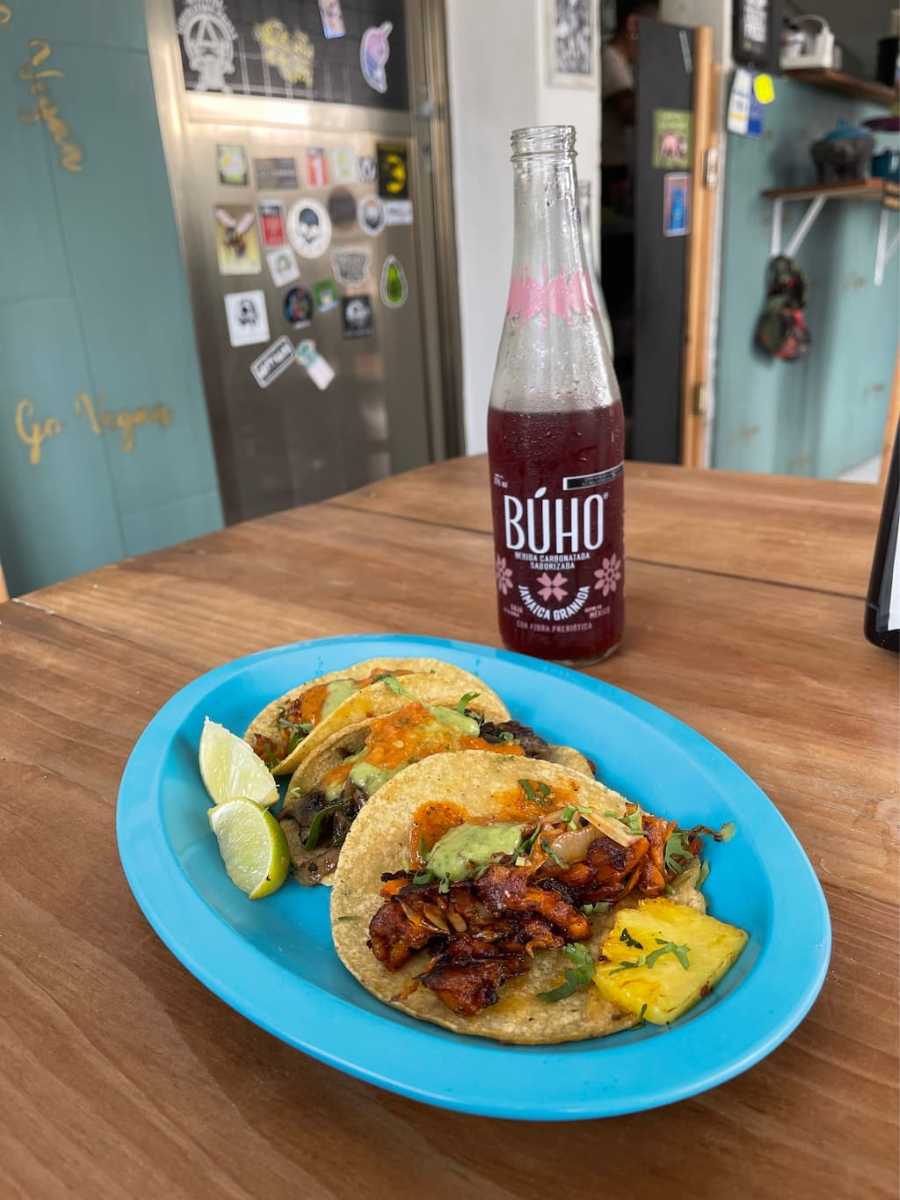 Their selection of tacos, particularly the green chorizo and al pastor, are packed with flavour. They also offer a range of help-yourself fresh salsas to add extra zest to your meal.
Despite being a popular spot, it's still very budget-friendly. You'll likely find yourself visiting more than once during your stay in Tulum – it's that good!
Location: Downtown
#18 El Vegetariano Mar y Tierra
Another awesome vegetarian restaurant located in downtown is El Vegetariano Mar y Tierra, a great spot for lunch or dinner. The restaurant has a small indoor space and also an adorable garden.
Their menu features dishes like burrito bowls, tacos, enchiladas and guacamole, all made with fresh ingredients. The food here is some of the best veggie Mexican food you'll find in Tulum.
They also have a range of vegan desserts, including a delicious vegan cheesecake. Prices are very reasonable too – only around $10 per plate with a drink!
Location: Downtown
#19 La Vegan Taquería
Another great place for vegan tacos in the centre of Tulum is La Vegan Taqueria. It is another very affordable place for lunch or dinner and a great place to watch the lively streets of Tulum.
The menu is entirely vegan, featuring an array of flavorful tacos made from fresh, non-processed ingredients and handcrafted tortillas.
Particularly recommended are the Tofish and Coliflor Con Mole Tacos. Don't forget to ask about their daily special water!
Location: Downtown
Best Restaurants in Tulum: Conclusion
Tulum is an amazing place to explore and sample the local foods. In addition to tacos, burritos, ceviche and other Mexican favourites, there are plenty of vegan-friendly restaurants, international eateries and gourmet restaurants.
So, if you're a foodie, you are guaranteed to have a fantastic vacation in Tulum!