New York at Night: Things to Do in NYC After Dark
New York at night is an absolute wonderland. NYC is a wonderful place to be any time of day, but there is a reason it's known as the City That Never Sleeps.
Even though you can find incredible activities to do during the day, the city takes a special twist as soon as the sun goes down. Fun in New York City doesn't ever end, and if you enjoy exploring cities after dark, you'll be in for a real treat when you find out all the amazing things to do in New York at night.
If you're looking for New York bucket list ideas past dark, we've got you! From world-renowned art museums to vegan markets and clubs that will take you back in time to the Jazz Age, here are some of the best things to do in NYC at night as recommended by travel bloggers who know the city well:
Things to Do in New York at Night
Essex Market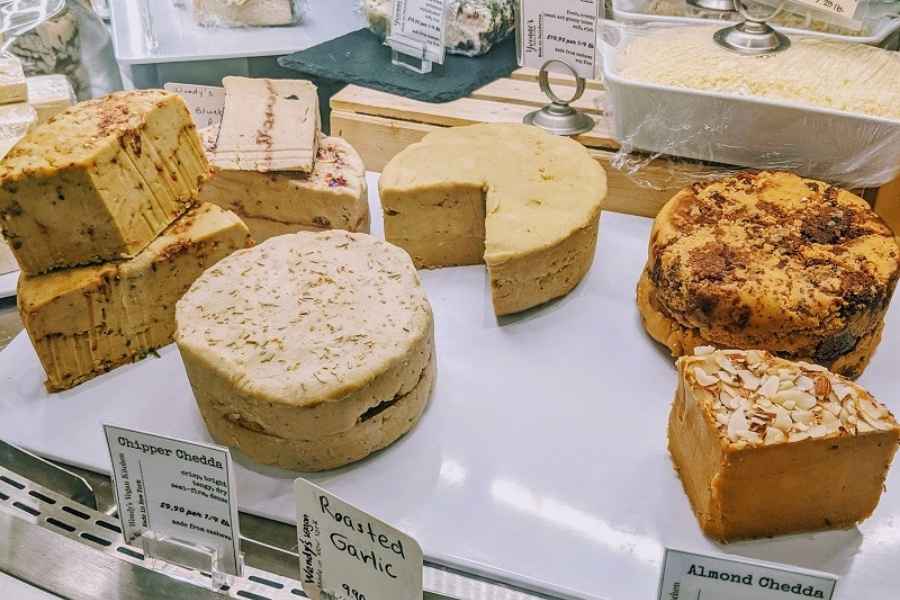 For a quick snack or even dinner, make sure you don't skip by Essex Market on NYC's Lower East Side.
For over 100 years, this bustling market has served the community with various fresh grocery items, prepared foods, flowers, and more! Today, visitors can sit and sip beer in the mezzanine café, stock up on an array of spices, enjoy authentic house-made tacos, and even indulge in creamy vegan cheeses from one of the best vegan cheese shops in the US — Riverdel. Essex Market is one of the best places to visit in NYC to sample a mix of world-inspired cuisine.
Aside from food, you will also find a barbershop that's been in operation for over 50 years, a nonprofit art gallery, and one-of-a-kind handmade and Fairtrade gifts from LES Girls Club. There is something for everyone to enjoy here!
The market is open Monday – Saturday from 8 AM – 8 PM and 10 AM – 6 PM Sunday.
Recommended by Rebecca from Veggies Abroad
Comedy Cellar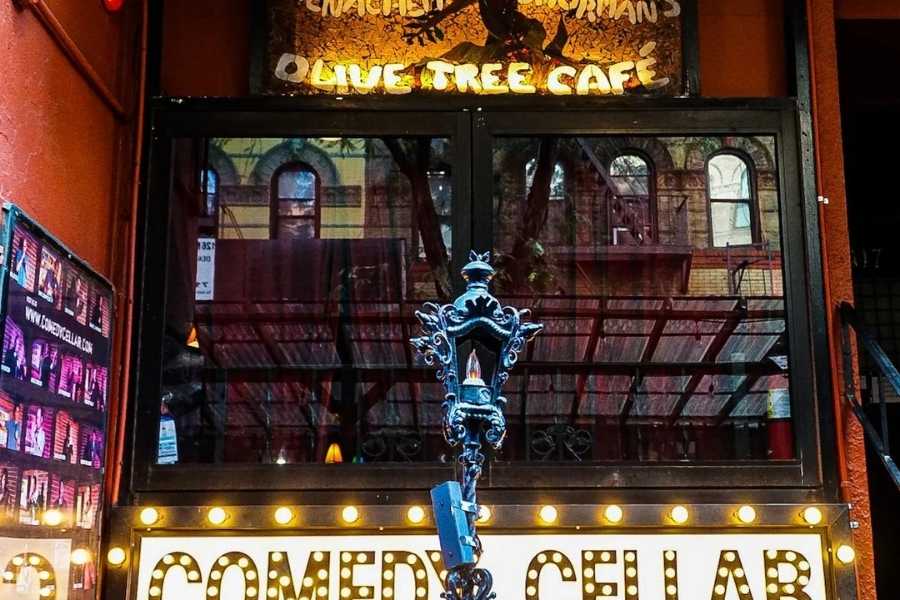 Looking for one of the best things to do in NYC at night? If so then grab some tickets to see an amazing comedy show at the Comedy Cellar in Greenwich Village.
Yes, you will be packed into a crowded basement but tickets are reasonably priced at around $17 per person.
This is also one of the best places in the city to see top-notch comedians perform – especially since Robin Williams, Dave Chapelle, and Amy Schumer have all performed here.
This show is popular though so be sure to book your tickets well in advance. There's also a two beer minimum and three beer maximum – which can get pricey since this is New York.
Then, after the show, head upstairs to the Olive Tree to catch a glimpse of the comedians after the show.
Or, stop by Mamoun's Falafel and inhale some of the best falafel in the city as you partake in one of the best New York City date night ideas of them all.

Recommended by Kelly of Girl with the Passport
Admire the views from the Empire State Building
The Empire State Building is one of the most iconic structures in the United States.
At night, the Empire State Building is illuminated by a dazzling display of colorful lights. While the view from the ground can be impressive, it is nothing compared to the views from atop the building. With its towering height and central location, the Empire State Building offers some of the best views of the city, making it one of the most iconic things to do in NYC at night.
On a clear night, you can see for miles in every direction. The twinkling lights of the city create a scene that is both beautiful and breathtaking. Whether you are watching the sun set over the Hudson River or taking in the sights of Times Square, there is no doubt that the Empire State Building offers some of the best views of New York.
The Empire State Building is located on Fifth Avenue between West 33rd and 34th Streets. Today, it is one of the most popular tourist destinations in the city. The Empire State Building is an iconic symbol of New York City and a must-see for any visitor to the city.
Recommended by Debbie Fettback from WorldAdventurists.com
See a Broadway Show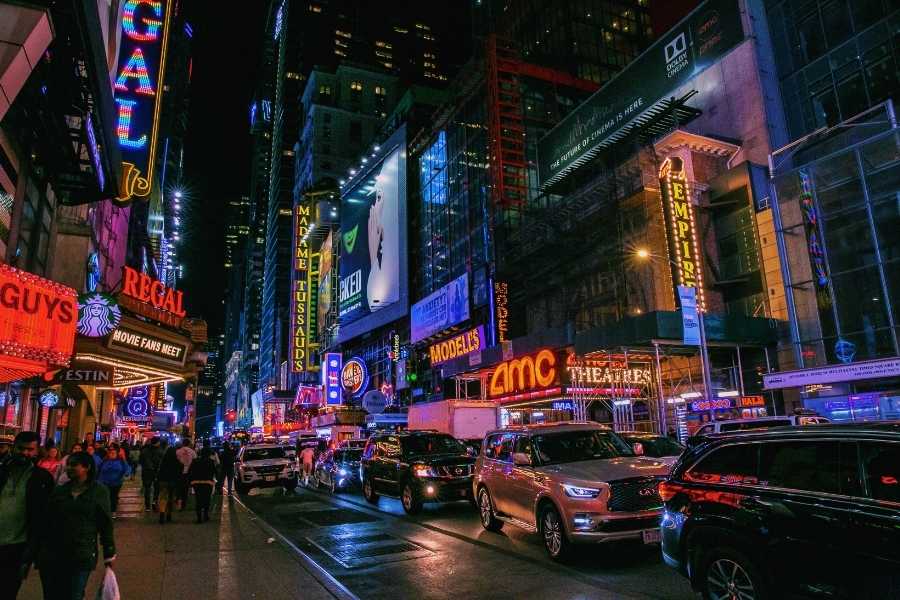 Every night of the week, Broadway shows are running in Midtown Manhattan. Going to see a show on Broadway is one of the most quintessential things to do in NYC at night. The theatres are spread out near Times Square, between Hells Kitchen and Midtown East in an area known as the Theatre District.
Broadway shows tend to start between 7 and 8 pm, depending on the day of the week. With more than 30 shows running at any given time, there is a Broadway show for every interest and budget.
Not only is it a wonderful New York City experience to see a show on Broadway, but seeing a show at night is the perfect end to a day in New York City. After walking throughout the city and experiencing the crowds, it is nice to be able to sit and relax and enjoy a show.
Last-minute discount tickets are available at the TKTS booth in Times Square, and day-of tickets are often available at the individual theatre. More popular shows usually offer a lottery system for steeply discounted seats.
Whether you choose to eat before or after the show, there are plenty of options nearby the theatres. Midtown is easy to reach by public transportation, and the area will remain lit up and busy long after the show ends. There are family-friendly hotels near the theatres for those who want to be able to go straight home after the show.
Recommended by Lanie van der Horst from Make More Adventures
Check out the views from DUMBO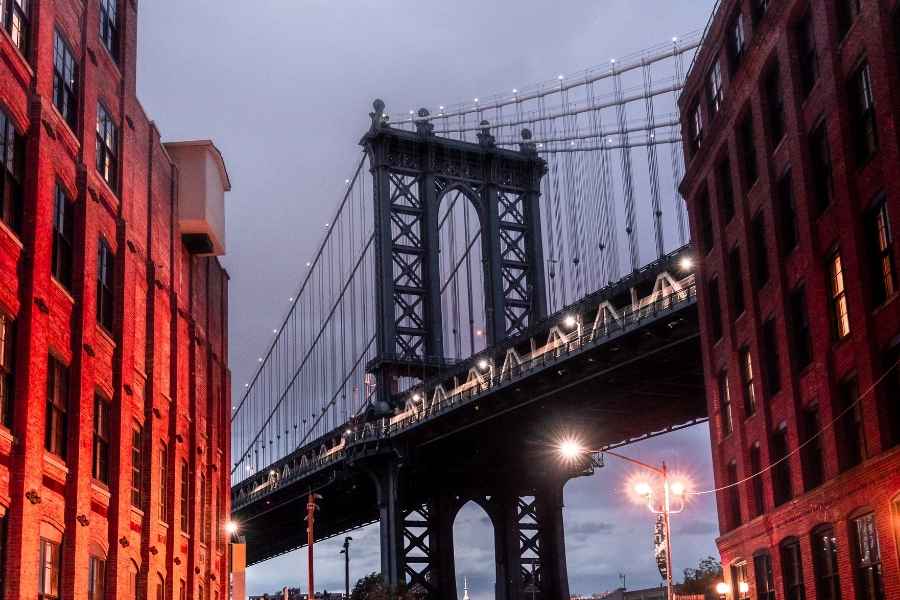 NYC is full of stunning vistas where you can relax and enjoy the beautiful landscape the city has to offer. One of the best ones is in DUMBO in Brooklyn. Just across the East River, the vista includes the gorgeous skyline of East Manhattan, along with two of the most iconic bridges in NYC – the Brooklyn Bridge and Manhattan Bridge. It is truly one of the best things to do in NYC at night, especially if you're looking for Instagrammable spots.
Not only does DUMBO offer the picture-perfect views, but it has a nice cute park along the waterfront where visitors can stroll along and enjoy the sound of the crashing waves. At night, it is super calming, offering locals that have been living in New York City for a long time a refuge from the chaos of the city. If you are looking for something more relaxing to do in NYC at night, definitely consider visiting DUMBO!
Recommended by Sean from LivingOutLau
Don't forget to get travel insurance for your trip! As always, I recommend Safety Wing for great prices and coverage abroad. It starts at only $45 USD per month and will have you covered with everything you may need during your trip! Check them out here.
YOU MAY ALSO LIKE:
Gotham Comedy Club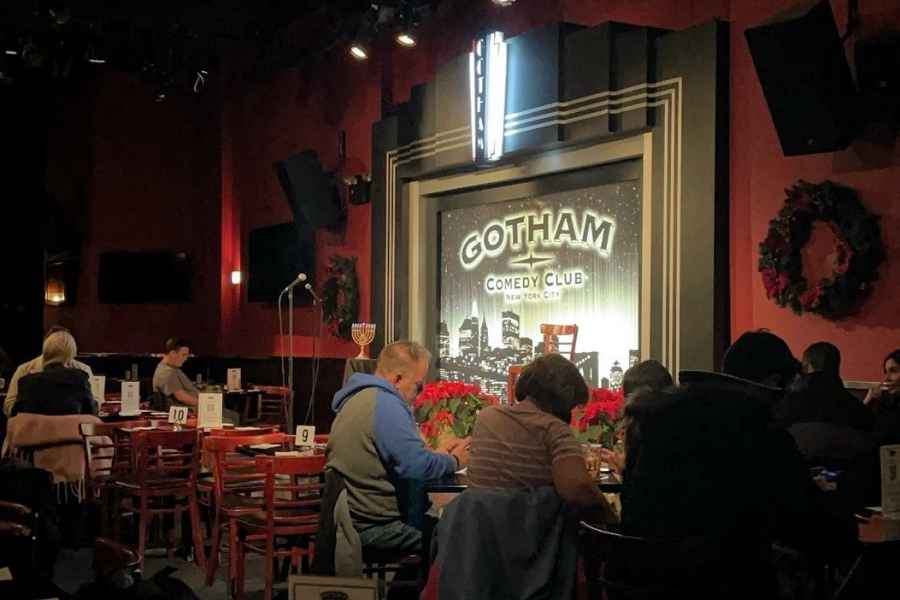 Gotham Comedy Club is one of New York City's most famous and popular comedy clubs making it an absolute must visit if you're in New York.
What makes Gotham stand out from all the other comedy clubs in New York is its ability to attract famous acts such as Chris Rock, Dave Chappelle and Rosie O'Donnell. A lot of these acts will test their new material in venues like Gotham so you can see it live for a fraction of the price!
Located on 208 West 23rd Street between 7th and 8th avenues in Chelsea, Gotham CC has a show every few days and prices start at $30 a ticket. Their website is very easy to book from and has a range of shows you can pick from. It's also worth noting that Gotham has a minimum two beverage spend per person and you must present a valid ID (US or foreign) in order to purchase alcohol. However, as the show lasts a few hours, two beverages are easily reachable.
As with all comedy shows, if you sit right at the front you're guaranteed to get picked on and it's no different with Gotham. Conversely, if you sit too far back or on your own, you'll also likely get picked so it's a tough balance of getting your seat placement right! The seating layout at Gotham CC is really good and you get a great view of the stage from anywhere you sit.
There is no better place to let your hair down for an evening of laughter!
Contributed by Alex and Leah of Alex and Leah on Tour
Sleep No More
One of the most unusual adventures to have in New York City at night is attending Sleep No More, based in the Chelsea neighborhood.
The production is loosely based on the story of MacBeth, with a hearty dash of film noir mixed in. Sleep No More is an interactive play, meaning the audience members are free to roam around the set, the three-story McKittrick Hotel, which includes an insane asylum, a graveyard, and ballroom.
While you explore this spooky setting, you'll also get to observe the actors, who dance, run through the halls, and interact around you. Each audience member will have a completely unique experience, depending on where they choose to wander throughout the night- the actors even intermittently pull audience members into secret rooms and hidden chambers, casting spells on them and whispering secrets in their ears.
To add on to the mysterious and spooky vibes, audience members are also expected to wear a full face mask throughout the production, allowing the audience to remain totally anonymous and drawing complete focus on the ethereal performance by the actors. Sound a bit weird? It is, but it's also sexy, mysterious, and a total blast.
Recommended by Jessica from Uprooted Traveler
Take the Staten Island Ferry and get beautiful views of the skyline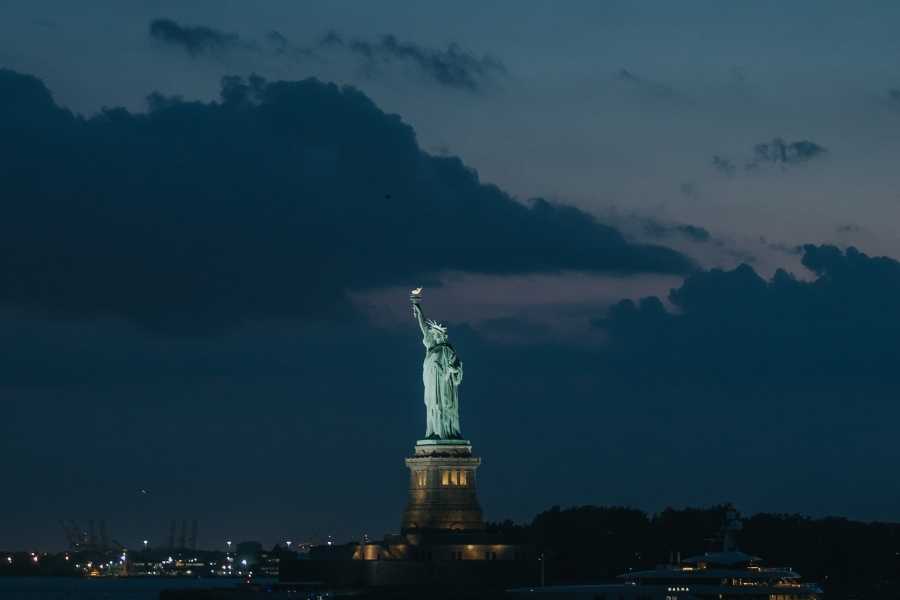 The Staten Island ferry is used by thousands of New Yorkers every day commuting from the outer boroughs into Manhattan. It's also a little local secret that the ferry is one of the best places to get great views of both the New York Skyline and the Statue of Liberty. Bonus, this is a free activity you can do in New York at night!
The Staten Island Ferry runs 24-hours a day, 7 days a week, so you never have to worry about missing the last train. It's the perfect romantic ride to cap off a first date, or a nice place to relax after a fun night out at the bars.
You can take the Staten Island Ferry from the Whitehall Ferry Terminal, address: 4 Whitehall St, New York, NY 10004.
I hope this guide to the best things to do in NYC at night helped you plan a perfect evening in the Big Apple! Do you know of any other fun things to do in New York at night? If so, let me know about them in the comment section below! 🙂
Recommended by Katie from KatieCafTravel.com
Brooklyn Botanical Garden
If you want something relaxing, romantic, and cheap, head to the Brooklyn Botanical Garden next to Prospect Park. The bus to Brooklyn lets off about a block away for budget-friendly commuting, and the Garden itself has free admission on Tuesdays. Plus, the Brooklyn Botanical Garden extends its hours to close at 8:30 p.m. on Tuesdays and Thursdays, making it the perfect option for a mid-week mini-retreat.
The botanical garden itself features meandering paths going through and around various types of mini-gardens, each with its own unique type or category of plant. Stroll along a babbling brook in the Water Garden, with Hibiscus and Black Tupelo. Bask in the natural perfume of the Fragrance Garden with sections for scented leaves, plants meant to be touched, fragrant flowers, and delicious herbs. Find your zen at the Japanese Hill-and-Pond Garden, featuring a waterfall and Japanese architecture. Wherever you wander, check the Garden's guide for plants in bloom so you know the must-see attractions for the month you're going, and be sure to swing by in spring to see the cherry blossoms!
Recommended by Rachel of Bucketlist Places
Enjoy the views from Top of the Rock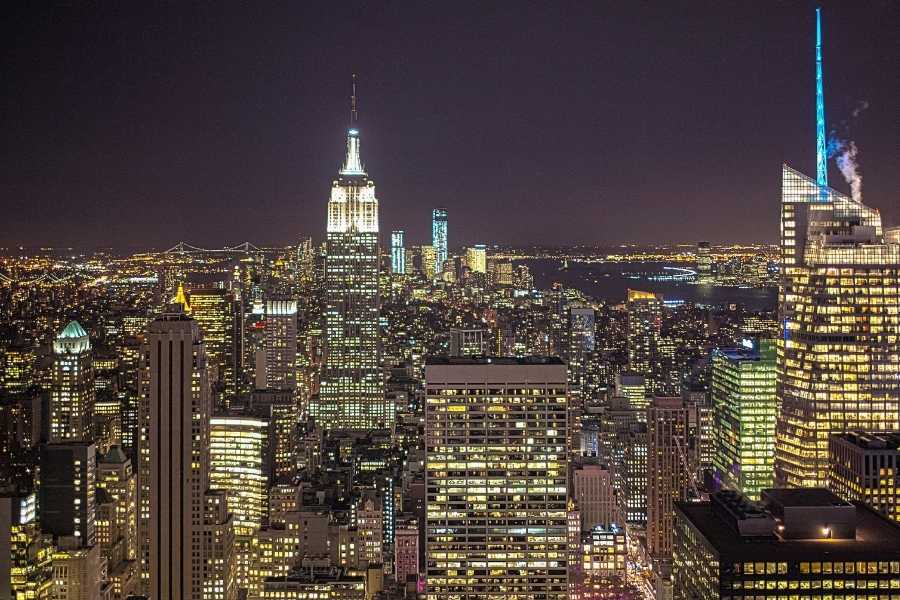 Although there are plenty of viewing spots all across the city, there's something special about this one. Located 70 floors above Rockefeller Center, with terraces offering panoramic views in all directions, the "Top of the Rock" enables 360-degree views that should be on any New York City itinerary.
I'd recommend heading up to the "Top of the Rock" around an hour before sunset. This not only guarantees one of the best views of New York City, but also enables you to see the transformation from day into night. However, this is also the most popular time to visit, so be sure to book your tickets as soon as possible.
As well as being less busy than the Empire State Building, the view from the Top of the Rock includes iconic landmarks such as Times Square, the Hudson River, the Statue of Liberty, Brooklyn Bridge, and of course, the Empire State Building. On the 67th and 68th floors, large glass panels allow you to get a bird's eye view of the city.
Tip: If you have purchased the New York Pass, entry to the observation deck is free!
Recommended by Lana from Wallflower in Wanderland
See the skyline from the Brooklyn Bridge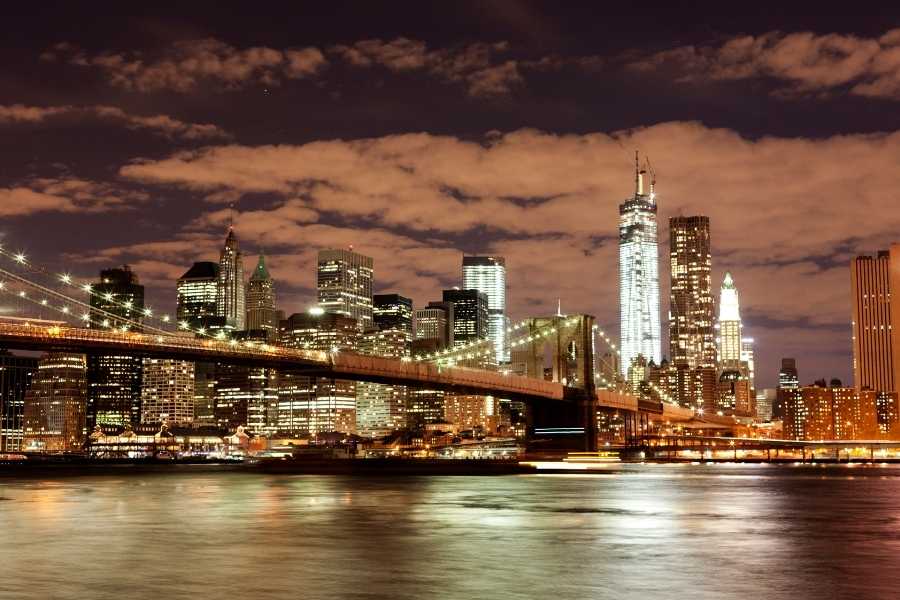 The Brooklyn Bridge is one of the most iconic landmarks in New York City. Spanning across the East River, it connects the boroughs of Manhattan and Brooklyn. The Brooklyn Bridge is one of the oldest suspension bridges in the United States.
At night, the Brooklyn Bridge is especially beautiful. The lights of the city reflect off the river below, and the bridge itself is illuminated against the dark sky. Walking across the bridge during the evening offers a stunning view of Lower Manhattan and a chance to appreciate the majesty of this historic structure.
For many New Yorkers, the Brooklyn Bridge is an essential part of the cityscape. It is a place to admire the skyline, reflect on the hustle and bustle of city life, and enjoy the peace and quiet of the river.
Walking across the bridge at night is an experience that everyone should have. It is a chance to appreciate the beauty of one of New York's most famous landmarks and to reflect on the city's unique history.
Recommended by Rebecca from Charlotte Unlimited
Times Square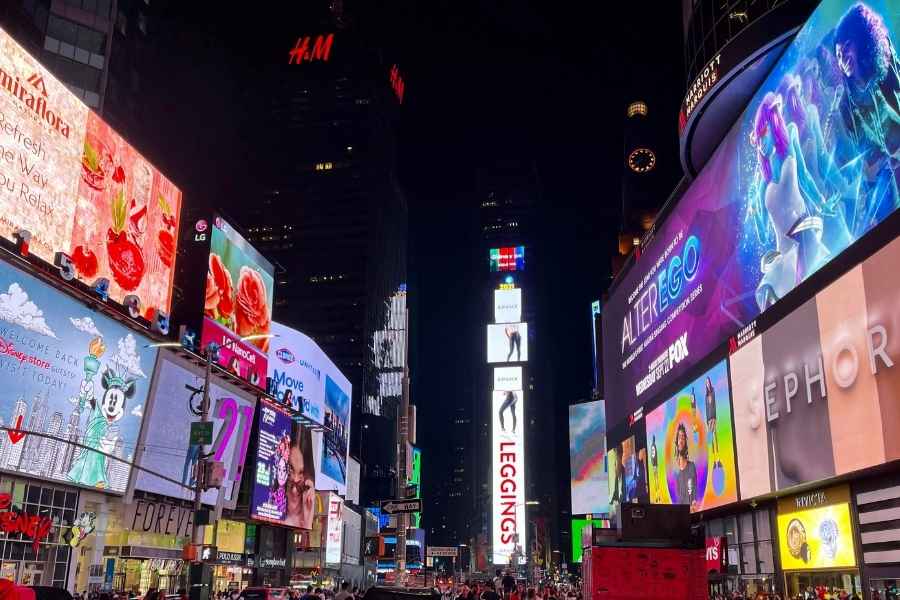 When you look at photos of New York City, you've most likely come across the beautiful and one-of-a-kind Times Square at night. The bustling streets that never grow silent are always lit because of the various display billboards that flash the latest fashion, broadways, products, and news.
All the more reason to visit Times Square at night is that it's at its most beautiful and aesthetic value when the sun goes down, and the lights brighten the streets.
Times Square is also located in Midtown Manhattan and is centrally located for easy access via public transport. First off, you'll want to snap an iconic photo near the center of Times Square. After that, grab some delicious food at the City Kitchen, where there are various food joints to try, such as burgers, Indian, and desserts.
Then after you have had your fill, head back out to Times Square and watch the late-night events that street performers put on for the public.
These shows can range from live musical concerts, dance performances, and insane athletic ability performances where they jump over groups of people and do breakdances and gymnastics tricks. Times Square is a black hole of possibilities at night, so make sure you're well-rested to ensure you have the most fun and memorable experience.
Recommended by Yesenia and Sierra of The Sisters Who Voyage
The Met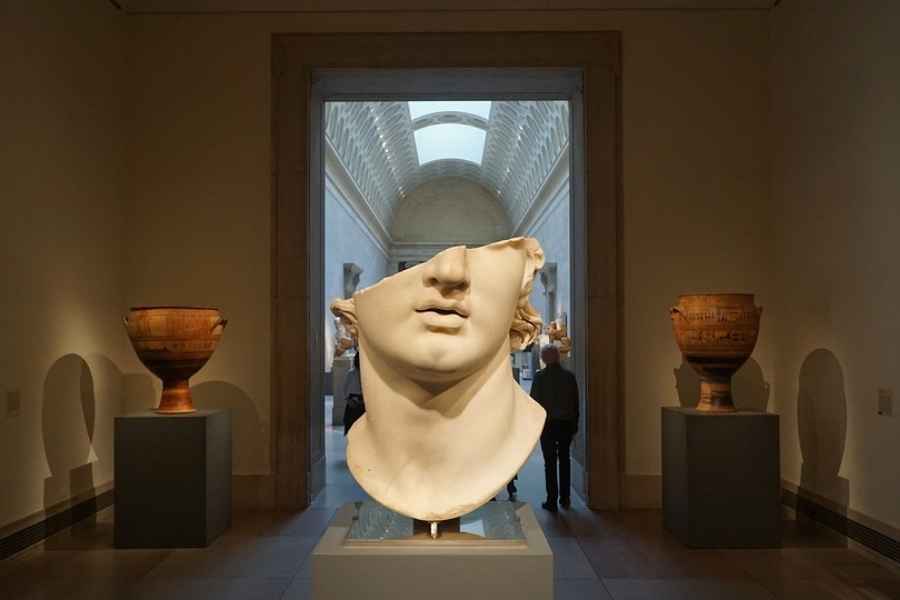 New York City is a bucket list place any time of day, but there is a reason it's known as the City That Never Sleeps. And if you've ever dreamed of your own night at the museum, the Metropolitan Museum of Art delivers.
The Met is located on 5th Avenue, along what is known as Museum Mile on the eastern edge of Central Park. Most days, the museum closes at 5pm, but on Fridays and Saturdays, the museum's extended hours go until 9pm.
Since the Met is the largest art museum in the U.S., you probably won't get to see everything all in one night. But if your Go Buses trip or Uber ride from the airport arrives after dark, make sure to plan out your can't-miss exhibits. Popular choices are the two-story sculpture court, European paintings by Degas and Van Gogh, and the ancient Temple of Dendur in the Egyptian wing.Once the museum closes at 9pm, stroll down 5th Avenue, dotted with opulent apartment buildings and museums lit up at night. There's nothing wrong with being a little nosy about how the Upper East Siders live!
Recommended by Mary King of Bucket List Places
Hit a few jazz clubs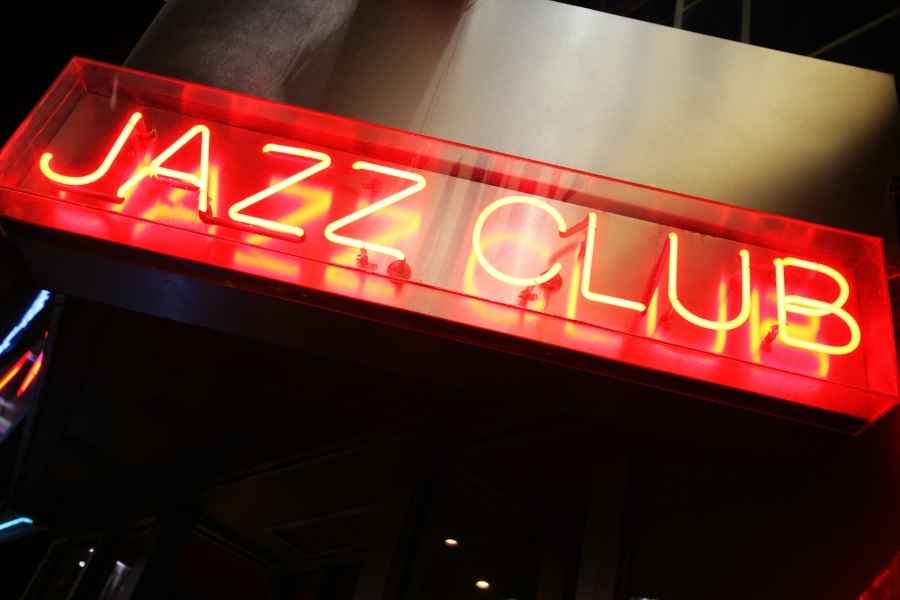 Wildly considered the jazz capital of the world, New York City has a huge number of jazz clubs and visiting one is a must during your stay. Spend a leisurely evening enjoying a drink while taking the time to truly appreciate the music around you. In some venues, the musicians are just steps away from the audience, and you watch them play their instruments up close. The best part of a night out at a jazz club is the ambiance which is created between the musicians and the audiences.
There are jazz clubs in many of the neighbourhoods in New York City which are popular with travellers, from small, intimate spaces to large venues. Saying that, if you aren't sure where to go, try Birdland, Dizzy's or Blue Note in Manhattan. Otherwise, if you don't mind venturing a bit further, Bill's Place in Harlem is a basement venue with a 1920s vibe (it was a speakeasy during Prohibition). It's very popular with visitors and even allows you to bring your own drinks.
Recommended by Roxanne of Faraway Worlds
PIN FOR LATER: BEST THINGS TO DO IN NEW YORK AT NIGHT