Located on the southern shores of Lake Powell, Page is a small town with so much to offer. As the gateway to some of the most striking desert highlights in Arizona, Page is a wonderland when it comes to all things adventure and desert magic.
If you're wondering what to do in Page, you can rest assured this town has plenty to offer on its menu. From the hiking trails of Sedona to the other-worldly-looking landscapes of Lake Powell and the Mars-like scenery of White Pocket, here are just a few of the best things to do in Page, AZ as recommended by top travel bloggers!
Things to do in Page, AZ
Jerome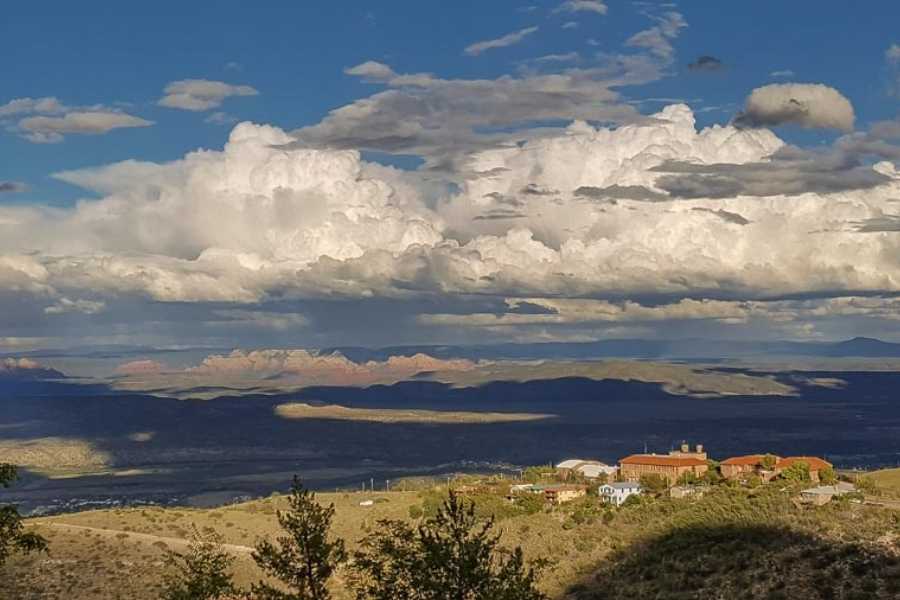 An easy day trip from Page Arizona is the cool and quirky town of Jerome, Arizona located around mining communities in the region. Originally Jerome was a typical western outpost that sprang up overnight with the success of copper mining in the area the city sprung up with bars, and clubs and was known as the wickedest town in the west. After the demise of the copper mines, the town became sleepy and became more of a ghost town.

This changed the appeal of the town with an influx of artists and creatives that wanted to get back to nature and the small town appeal of the region. Today, Jerome is a thriving tourist hub with easy access from Page, Phoenix and Sedona and features fantastic art galleries and boutique stores, cool wine tasting rooms and brew pubs and a burgeoning dining scene and exploring the quirky and cool venues in the city along with touring the various mining quarries and museums from the region.
You'll enjoy taking an easy road trip from Page to discover the cool town of Jerome and tour around the city, enjoy a meal and absorb the small town vibe of this creative and fun city.
Recommended by Noel of The Mature Traveler
White Pocket, Arizona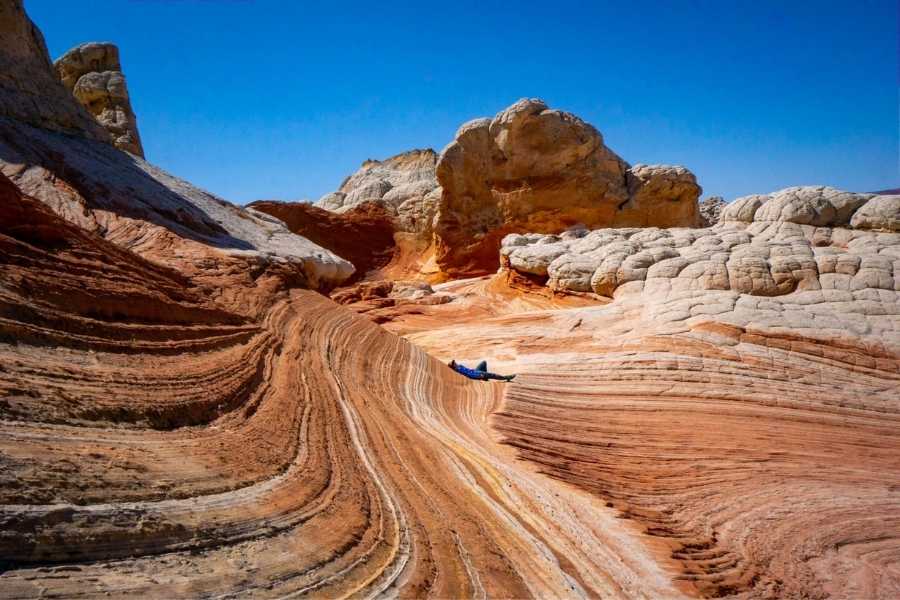 A little over two hours away from Page, Arizona is White Pocket – an awesome, one of a kind hike in Arizona that visitors should do at least once.

After all, is a great place to go if you want to avoid the crowds of the Vermillion Cliffs Wilderness area and if you can't get your hands on a coveted permit for the Wave.

So, put on your best pair of hiking boots and visit this incredible outcrop of white-capped rocks. After all, it's an easy 0.5 mile to some weirdly wonderful, one-of-a-kind rock formations that are unlike anything you've ever seen. Just watch where you step since these formations are fragile and can get damaged very easily.

And if you see some hoofprints in the stone, those are from the cows that inadvertently "discovered" this place when they were out looking for some water. Before you go through, you will need a 4WD vehicle since this place is 60 miles away from any major highway.

It's also near the Utah border, so be sure to change your clock after the South Coyote Buttes parking area.
Recommended by Meg of Fox in the Forest
Driving the Vermillion Cliffs Scenic Highway
If you're looking for a gorgeous scenic drive near Page Arizona, be sure to check out the Vermillion Cliffs Scenic Highway. This 92-mile stretch of road between Bitter Springs, Arizona and Kanab, Utah follows U.S. Route 89A past the distinctive red rock formations of the Vermillion Cliffs National Monument.
The drive starts in Bitter Springs at the junction of Highway 89 with U.S. Route 89A. Views of the Vermillion Cliffs are distant at this point but still lovely. From here the path heads west across the plateau towards Marble Canyon.
An undisputed highlight of the drive is the historic Navajo Bridge over Marble Canyon. One of the highest bridges in the United States, Navajo Bridge consists of two steel arches spanning the Colorado River at an incredible height of 470 feet.
The best views of the Vermillion Cliffs are just west of Marble Canyon. Here, visitors get a close-up view of these towering scarlet rock formations. The shoulders are pretty wide along the highway so it's easy to pull over if you want to snap a photo or get a closer look.
Highway 89A continues west along the edge of the cliffs until reaching Kaibab National Forest. From here, the road climbs into the mountains. For a shorter trip, you may want to return to Page at this point, but if you're up for an adventure the route continues all the way to the city of Kanab in Utah.
Recommended by Katy of A Rambling Unicorn
Kayak to Lower Antelope Canyon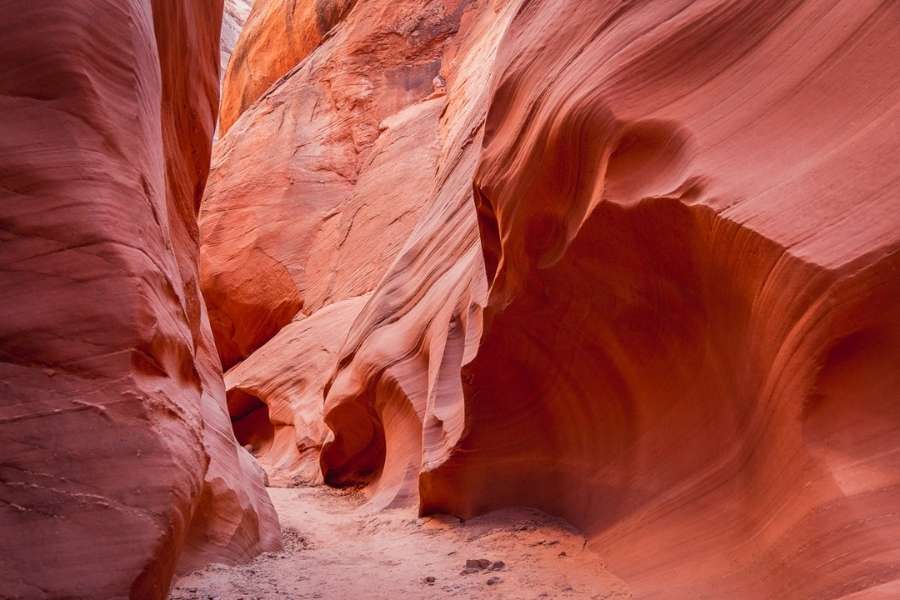 Lake Powell is a popular destination in Northern Arizona, thanks to its wide variety of canyon formations and ample opportunities for swimming and water activities. But did you know you can kayak Lake Powell to an unregulated stretch of Antelope Canyon, one of the most iconic slot canyons in the world?
Page offers two main boat launches: the Antelope Point launch, which is closest to the slot canyon, and the Wahweap Marina launch, situated further west. In the winter months, water levels in the lake may drop significantly, making Wahweap the only launch that can be used.
To reach the canyon, kayak the gorgeous waters of Lake Powell for about one hour, meandering through cliff-side water passages until you reach a sign that says "Antelope Canyon wakeless area." Kayak past the sign and dock at the sandbank. From there, you can start your hike through the lower section of Antelope Canyon.
The first mile winds along the canyon unseemingly before it suddenly narrows and beautiful orange rock walls reflect intense shades of terracotta. Prepare to be blown away by this incredible slot canyon!
Expect this excursion to take at least 4 hours. Guided tours are available and last around 5 hours.
Recommended by Catherine Xu of Nomadicated
Houseboating on Lake Powell
Houseboating around Lake Powell is one of the best things to do in Page, AZ.
Wahweap Marina, located on the southern end of Lake Powell, is only about a fifteen-minute drive from Page. At the marina, you can rent houseboats in various sizes to accommodate your family or group of friends. Not an experienced boater? No worries, they'll give you some quick lessons and then you'll be on your way.
Traveling Lake Powell by houseboat allows you to slow down and experience nature – but without giving up all the comforts of home. If the fish are biting, cook up a lake-to-table meal in your houseboat's kitchen. Then, dine al fresco on the deck while watching the rays of the setting sun reflecting on the calm waters of the lake.
Explore Lake Powell's endless shorelines and stunning canyons. See amazing geologic formations like the Rainbow Bridge National Monument, one of the world's largest natural bridges.
One of the best things about Lake Powell is that it is far from major cities and their bright lights. This means that you can enjoy incredible views of the constellations of stars in the night sky!
Recommended by Lisa Garrett of Waves and Cobblestones
Don't forget to get travel insurance for your trip! As always, I recommend Safety Wing for great prices and coverage abroad. It starts at only $45 USD per month and will have you covered with everything you may need during your trip! Check them out here.
Kanab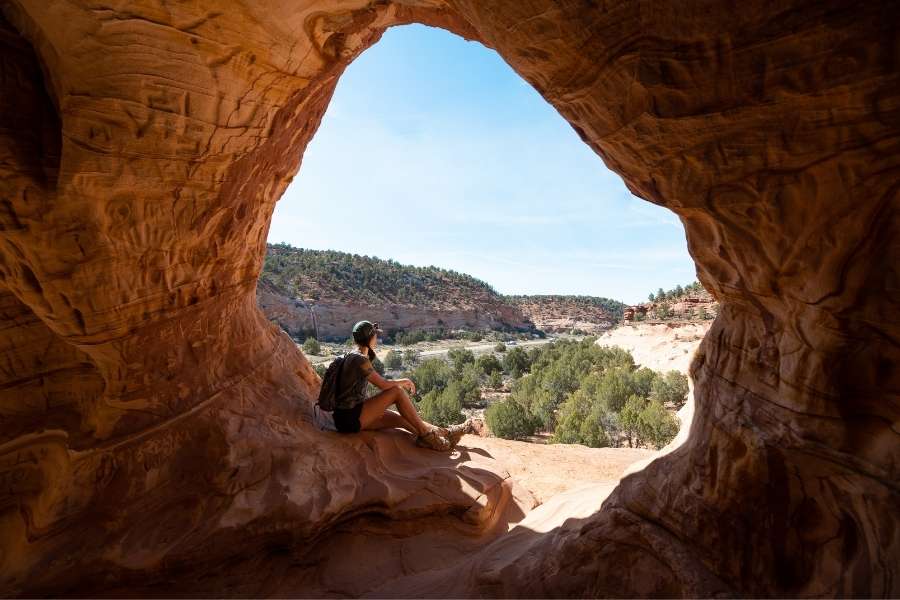 For those looking to explore beyond Page, AZ, Kanab, UT is the perfect place to start. Just a little over an hour away, Kanab offers a wide variety of things to do, from hiking and camping to visiting world-famous National Parks. Whether you're looking for a weekend getaway while exploring Page, or an adventurous vacation, Kanab is sure to please.
Kanab may be a small town, but it packs a big punch when it comes to outdoor recreation. Visitors can hike to their heart's content in the surrounding area, which is full of beautiful red rock formations like the infamous Wave. There are also numerous slot canyons to hike, including one of the world's largest —Buckskin Gulch.
In addition, Kanab is home to a rich history including the Paria townsite—an old western outpost that was used as a film set for many successful western films. Kanab also boasts an indigenous heritage site history buffs can explore at the Moqui Cave. While there, visitors can go on a short hike to the popular Sand Caves created by miners who excavated sandstone from the hillside and left behind large caverns that are interesting to see.
In addition to its many outdoor attractions, the town of Kanab is also home to a number of unique shops and restaurants. Visitors can find everything from handcrafted Native American jewelry to vintage Western wear. There are also several excellent eateries, ranging from cozy cafes to upscale dining experiences. Whether you're looking to pick up a souvenir or enjoy a meal, Kanab has something to offer everyone.
Recommended by Nicoll Davis of Living Tiny With a Wolf
Sedona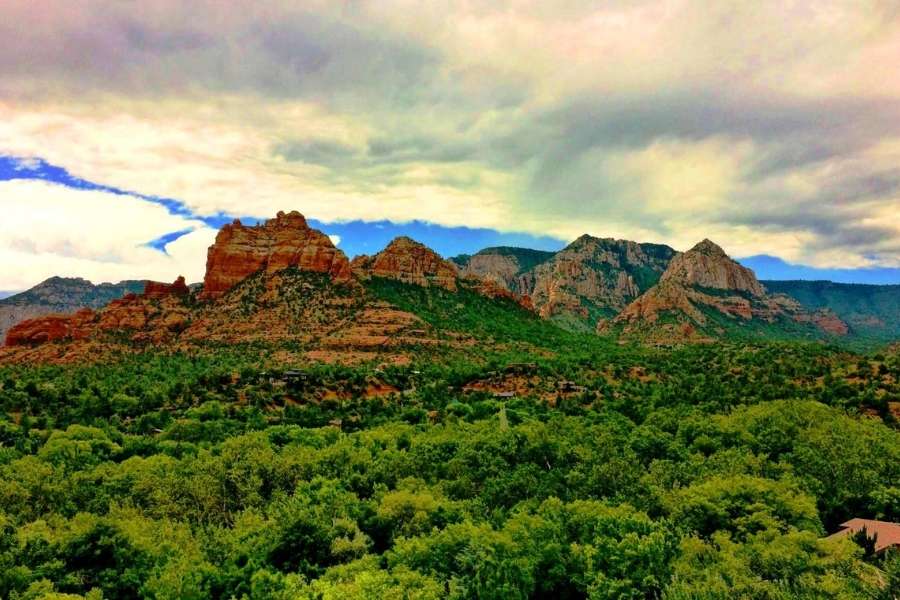 Sedona is the land of red rocks, buttes, and vast canyons. This desert region of Arizona is famous among adventure enthusiasts for its beautiful hiking tracks. The red rock, contrasting with the green vegetation, is a fantastic sight to behold. It's a city that has preserved its natural beauty and cultural heritage for decades.
Sedona has several places to explore and varieties of activities to try out. Bell Rock and Cathedral Rock are the most famous among the rock buttes. Years of rain and wind have created beautiful patterns on the rock surface.
You can hike to the top of these rocks to get a complete view of the Rockland. However, the most popular trail is the natural arch bridge named Devil's Bridge. The view from the middle of the bridge is breathtaking. Some fantastic caves are hidden within the canyons, such as the Subway Cave and Soldier Pass Cave.
The bank of Oak Creek is suitable for a relaxing picnic. Here you can enjoy your break while watching different birds and listening to their whistles. Sedona is also known for its energy centers or vortex, which are said to have a calming and healing effect.
Witnessing the mesmerizing Sedona sunset is a must when visiting. The orange sun rays over the red rocks will put you at peace after a day of desert exploration.
Recommended by Ruma of The Holiday Story
Explore Lake Powell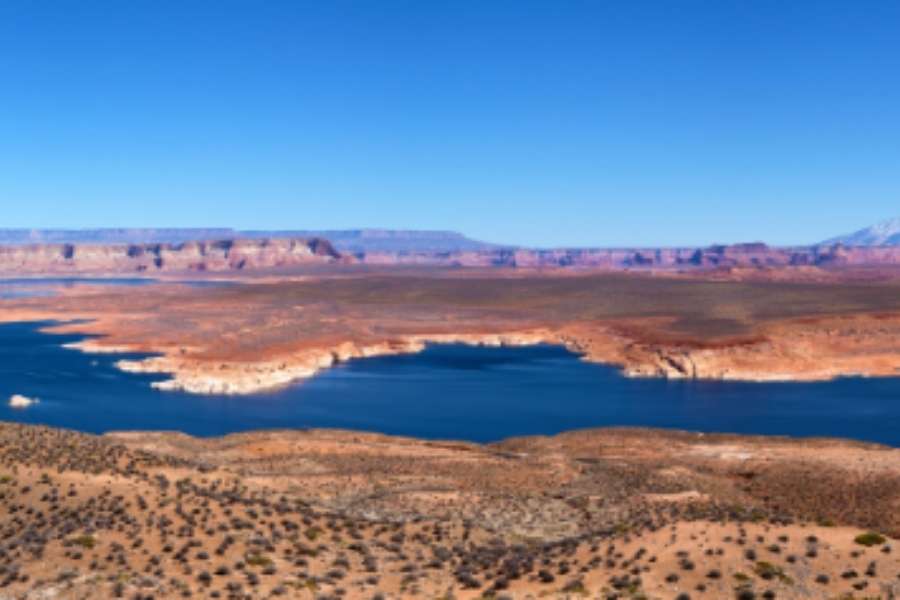 Located north of the Grand Canyon and just a few miles from the famous Horseshoe Bend is Lake Powell's 2000 miles of shoreline. Lake Powell is part of Glen Canyon National Recreation Area. It's actually a reservoir located between massive canyons, making it a unique and beautifully serene stop on your trip.
You can rent kayaks, paddle boards, and boats to spend the day in the water. There are tours available to see Rainbow Bridge or Navajo Canyon. If you want to spend the weekend there, there are campgrounds set up around the lake and houseboats available to spend a few secluded days floating around the canyons.
Lake Powell is a hidden gem with activities for everyone. No matter the season, you will find a breathtaking adventure. If you're heading to the Grand Canyon, Horseshoe Bend, or Antelope Canyon it should be a no-brainer to take the time to experience everything Lake Powell has to offer.
Recommended by Rachel Grenis of Caribbean Uncovered
Cottonwood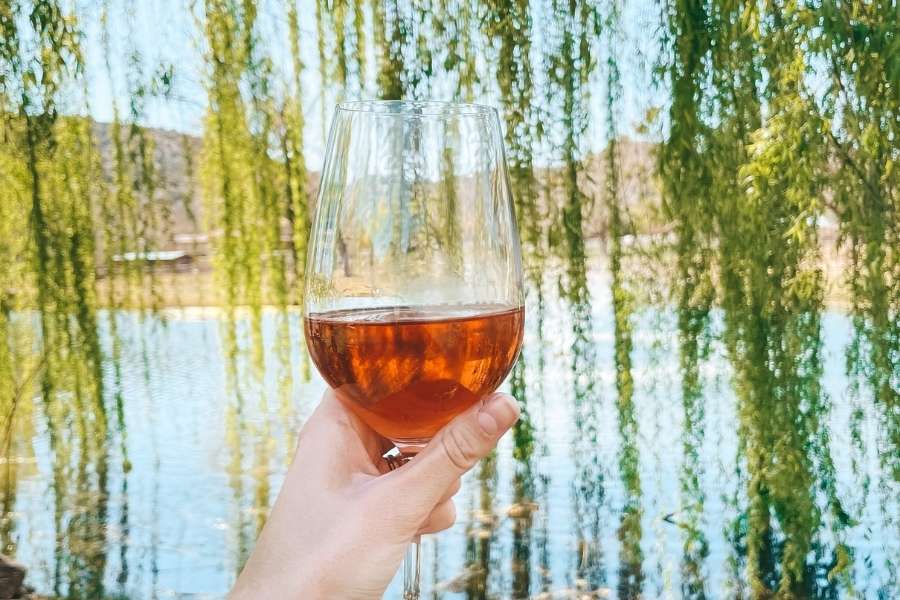 Page, Arizona, is an excellent place to visit, with so much natural beauty to explore. However, there are so many other places, like Cottonwood, that make the perfect day trip from Page to give you a new vantage point of Arizona!
Cottonwood is situated between Sedona and Jerome—but Old Town Cottonwood is the quaint area of the town you'll want to explore during your day trip! Old Town Cottonwood is filled with many fun boutiques to shop at and locally-owned restaurants, like Crema Craft Kitchen & Café and The Tavern Grille, where you can grab a meal.
Old Town Cottonwood is also home to several wine tasting rooms on the Verde Valley Wine Trail—a collection of wineries, vineyards, and tasting rooms in Northern Arizona. You can sample a wine flight at one of the best Verde Valley wineries in Old Town Cottonwood, like Pillsbury Wine Company or Merkin Vineyards, or drive a few miles away to Cornville, where you can visit beautiful vineyards like Page Springs Cellars and D.A. Ranch.
Recommended by Brittany of Travel by Brit
Horseshoe Bend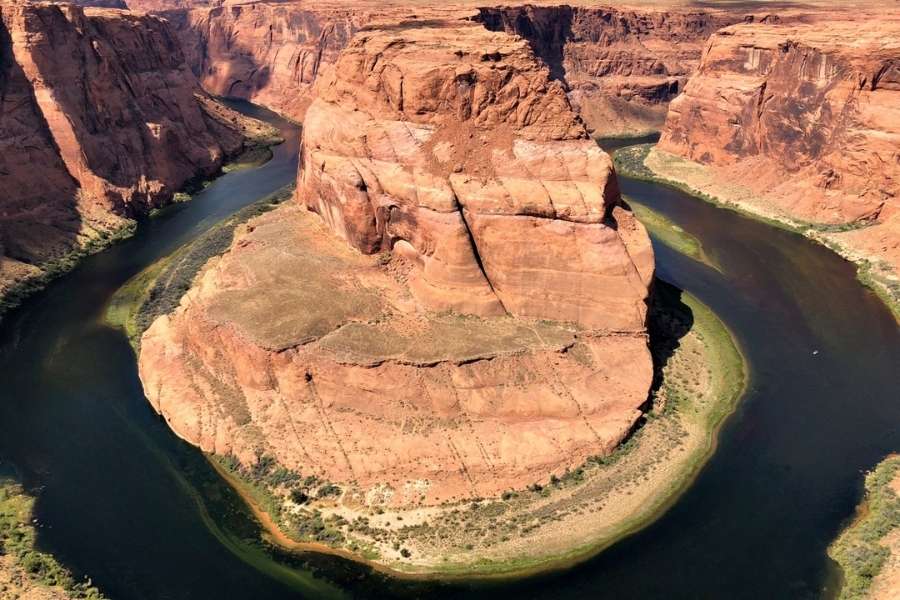 Horseshoe Bend is an incredibly scenic bend in the Colorado River and the Grand Canyon, just a few miles from Page.
From the parking area, it is a 1.5-mile round trip hike to get to the overlook. The Horseshoe Bend Trail starts with a small sandy hill but is then mostly flat. However, there is no shade, and the windy path can be quite tiring. There's a shelter along the way where you can rest in the shade if you're feeling the heat.
The view from the overlook is sensation. The 270° bend in the Colorado River features prominently on postcards and posters for a reason.
There are a couple of official lookouts, but plenty of other places around the area to enjoy the view. To see the view without shadows, try to visit around noon when the sun is directly overhead. If you want to get the whole vista in your photo, a wide-angle lens is best.
The trail is open year-round from sunrise to sunset. The trail and overlook are not part of Grand Canyon National Park – most of the overlook is actually part of the Glen Canyon National Recreation Area. It costs $10 per vehicle to park a regular vehicle. If the parking lot is full, you will need to come back later; parking along the highway is illegal and dangerous.
James Ian from Parks Collecting
Conclusion: Things to do in Page, AZ
I hope this list of the best things to do in Page, AZ helped you plan the perfect itinerary to this gorgeous region in Arizona.
What are some other amazing things to do in Page, Arizona? If you know of any others, feel free to leave your recommendations in the comment section below!
PIN THIS POST