8 Remarkable Dining Experiences in Valencia (For True Foodies!)
Are you tired of the same old tourist traps and are searching for some truly unique dining experiences? Look no further!
During my time living in Valencia, I've made it my mission to explore the city's vibrant culinary scene and uncover its best-kept secrets. Yes, it's truly been a struggle, as I'm sure you can imagine…!
That's why, in this article, I'll take you on a gastronomic journey through some of the most extraordinary and unforgettable restaurants that Valencia has to offer. From centuries-old walls to dining under the sea, I promise to reveal the hidden culinary gems of Valencia that you won't find in any ordinary travel guide.
So, get ready to tantalize your taste buds, immerse yourself in history and culture, and create unforgettable memories with each bite!
1. Alma del Temple
Start your gastronomic adventure by stepping back in time at Alma del Temple, an extraordinary restaurant nestled within the ancient Arabic wall of Valencia.
This stunning venue offers a truly unique dining experience, allowing you to savor the flavors of the city while immersed in its rich heritage.
For centuries, Valencia was a melting pot of cultures, with the Arab period from the 8th to the 13th century leaving an indelible mark on the city's architectural and cultural landscape.
The beautifully preserved part of the Arabic wall that houses Alma del Temple is a symbol of this fascinating past, inviting you to dine amidst the echoes of bygone eras.
Enjoy a masterfully crafted menu that pays tribute to Valencian culinary traditions while incorporating contemporary twists, all within the embrace of the ancient wall's storied stones.
2. Bon Aire
Get ready for an unforgettable gastronomic adventure at Bon Aire, a charming restaurant situated in the picturesque town of El Palmar within Albufera, one of the best day trips from Valencia you can do when visiting.
This stunning lagoon area is a stone's throw away from the bustling city center and is teeming with diverse wildlife and lush scenery that'll take your breath away.
Albufera is also the birthplace of paella, so it's probably no surprise that, at Bon Aire, you'll be treated to the quintessential Valencian culinary experience.
Delight in the famous paella, of course, but don't forget to taste the local specialty, all i pebre, a delicious eel dish served in a spicy garlic and olive oil sauce.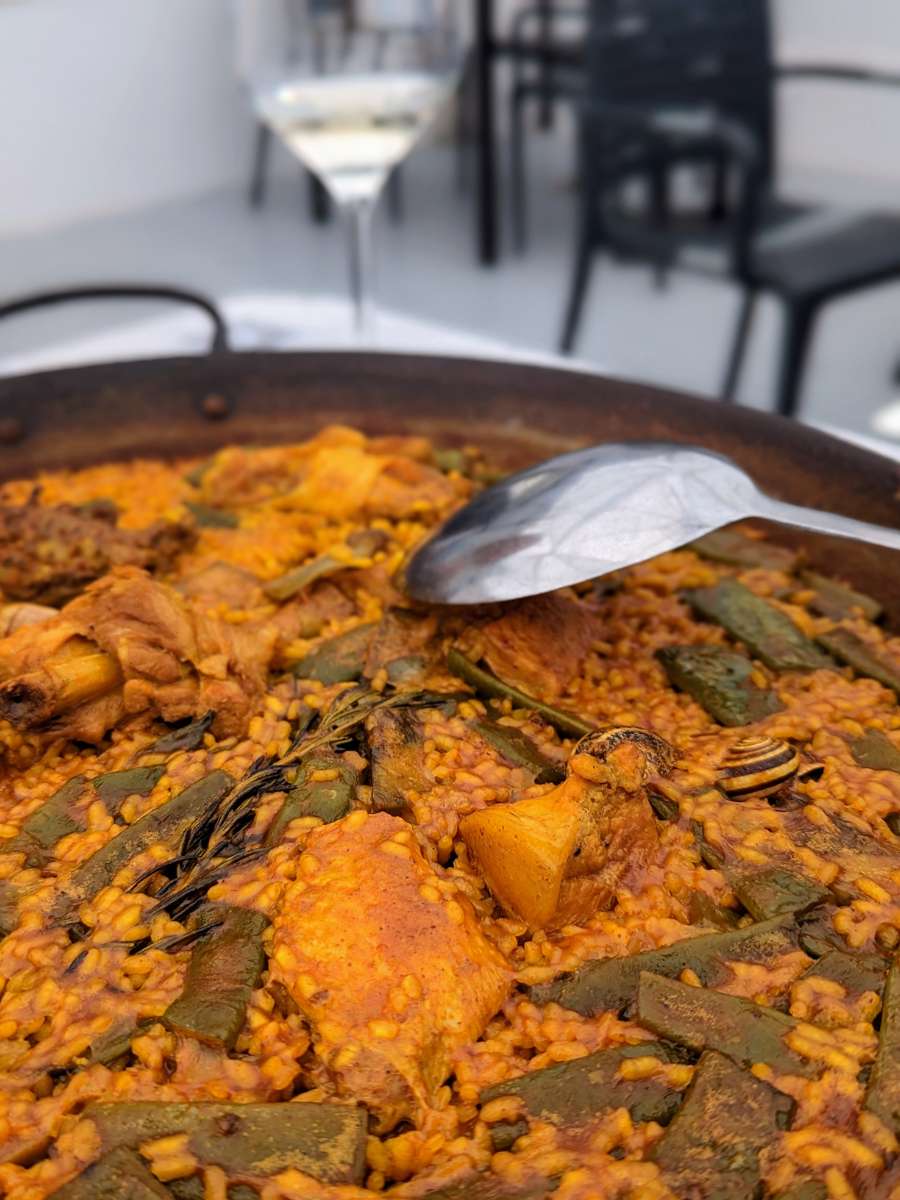 As you relish these delicacies, you'll be captivated by the panoramic views of the vibrant lagoon and rice fields – which, in fact, are exactly where the ingredients to make your meal have come from, so you know they're the very definition of locally sourced!
3. Voltareta Bali
Whisk yourself away to a serene Indonesian haven at Voltareta Bali, a unique dining experience nestled in the heart of Valencia.
This enchanting restaurant offers a one-of-a-kind culinary adventure, incorporating the exotic essence of Bali into its decor and menu.
But it's not only the food that makes this an incredible dining experience. The decor is, in every sense of the word, awesome, as with just a few steps inside, you'll feel like you're suddenly in the rainforests of Indonesia as the hustle and bustle of the city fades away behind you.
Traditional Balinese elements and lush greenery create a tranquil atmosphere, perfect for those looking for an escape.
Indulge in a menu that showcases the rich flavors of Indonesian cuisine, featuring a variety of dishes crafted with authentic spices and ingredients.
As you enjoy the sumptuous offerings, let the ambiance of Voltareta Bali transport you to a world of tranquility and tropical beauty.
4. Horchatería Santa Catalina
Immerse yourself in the time-honored traditions of Valencia at Horchatería Santa Catalina, an iconic establishment renowned for its delectable horchata and fartons.
Horchata is definitely something that Valencia is known for around Spain. A deliciously refreshing beverage made from tigernuts, sugar, and water, it's a quintessential Valencian delight (and is completely different from the Mexican counterpart you may have heard of).
It's perfectly complemented by the airy, elongated pastries known as fartons which you're meant to dip into the horchata, making for a great break after a few hours of sightseeing.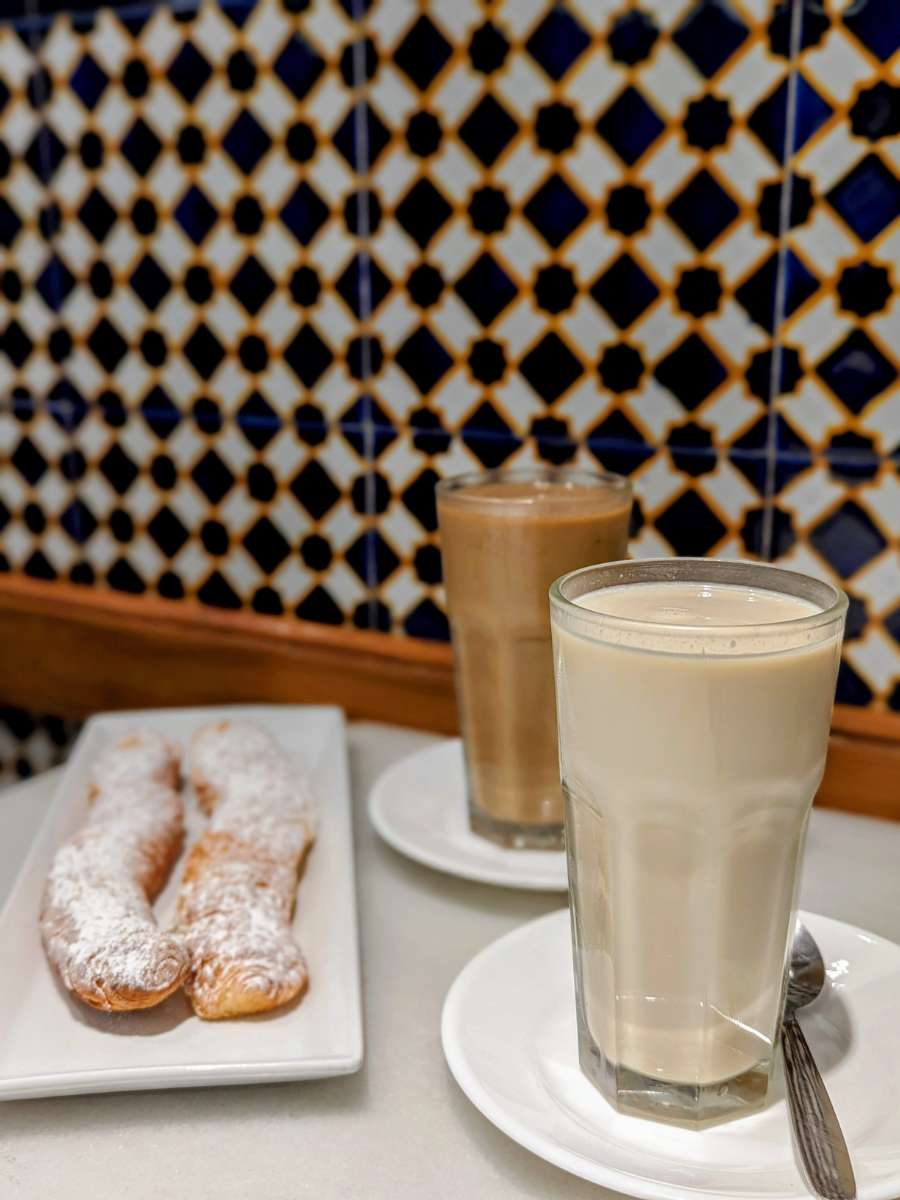 At Horchatería Santa Catalina, you'll find these mouthwatering treats prepared with passion and expertise, staying true to the city's culinary heritage.
In fact, as you enter this charming horchatería, you'll be greeted by stunning tiles and a captivating mural on the history of Valencia that sets the stage for an unforgettable gastronomic journey.
Horchatería Santa Catalina stands out as one of the best places in the city to indulge in these mouthwatering treats, prepared with skill and love using time-tested recipes and allowing you to fully appreciate the essence of Valencian culture.
YOU MAY ALSO LIKE:
5. Ricard Camarena Restaurant
If you're looking for a unique restaurant experience in Valencia from one of the best chefs in the world, then why not embark on an extraordinary gastronomic journey at Ricard Camarena Restaurant.
This prestigious dining destination in Valencia showcases the culinary mastery of renowned chef Ricard Camarena.
A recipient of two Michelin stars, Camarena is celebrated for his innovative approach to cooking, melding cutting-edge techniques with the finest seasonal ingredients to create dishes that are nothing short of spectacular.
Prepare to be captivated by a menu that pushes the boundaries of traditional cuisine while staying true to the flavors of Valencia.
Each beautifully presented dish is a testament to Camarena's dedication to exceptional quality and artistry, weaving a tapestry of tastes and textures that will leave you spellbound.
The modern, sophisticated ambiance of the restaurant further elevates your dining experience, providing the perfect setting for this culinary extravaganza.
6. BAR X by Ricard Camarena
Who says you can't enjoy the culinary creations of a renowned chef without breaking the bank? At BAR X by Ricard Camarena, you'll discover the more accessible side of Valencia's esteemed culinary scene, all while delighting in the artistry of the two Michelin starred chef.
This great venue brings Camarena's signature culinary style to a wider audience, presenting a delectable menu that showcases the best of Valencian flavors and ingredients in a more relaxed atmosphere.
Nestled in the stunning Modernist building of the Colón Market, one of the best markets in Valencia to visit, BAR X by Ricard Camarena proves that exceptional dining experiences don't have to come with a hefty price tag.
Don't miss the opportunity to savor the brilliance of one of Valencia's finest chefs in a casual and inviting setting.
7. Restaurante Submarino
Get ready for a once-in-a-lifetime dining experience at Restaurante Submarino, nestled in the heart of L'Oceanogràfic, which is the largest aquarium in Europe.
This awe-inspiring restaurant is part of the stunning City of Arts and Sciences, a must-visit attraction for anyone exploring the city.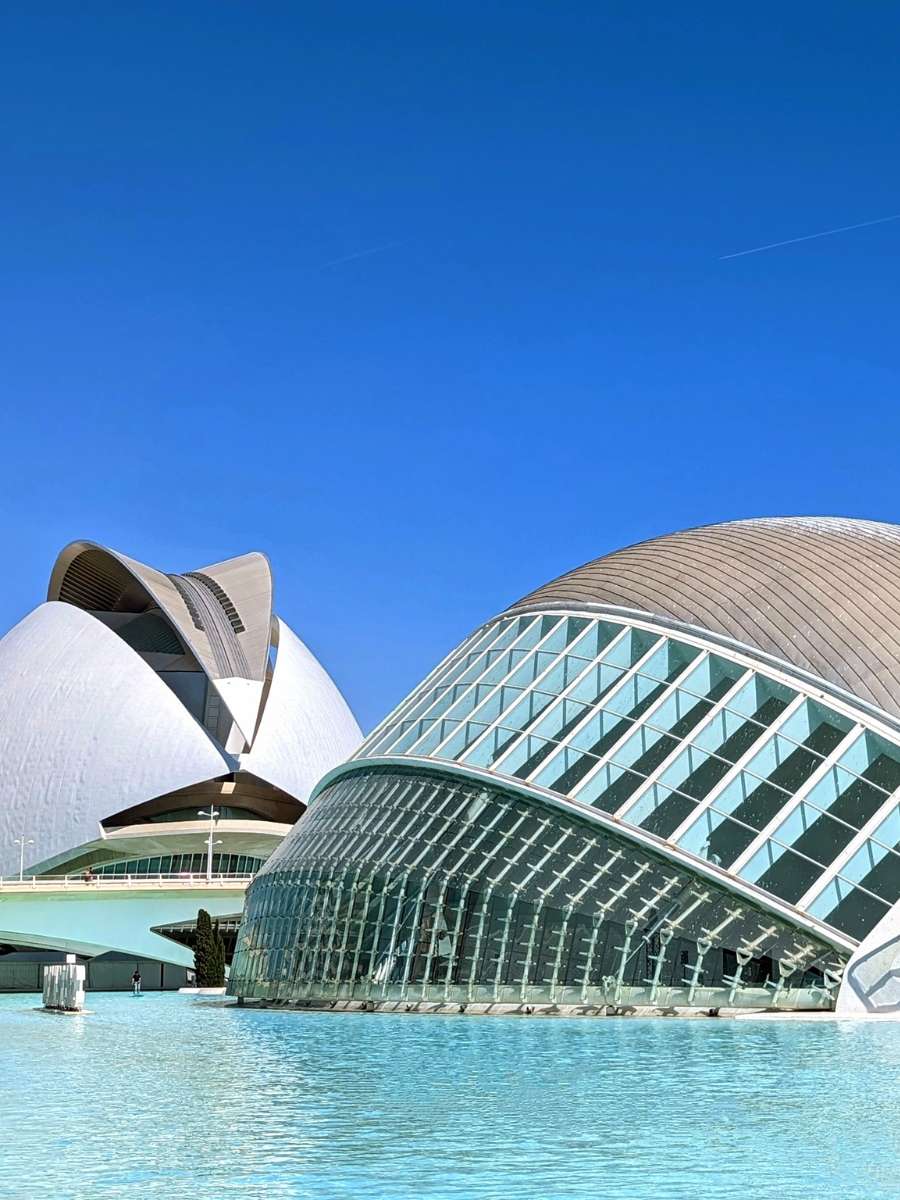 Prepare to be amazed as you dine in the company of colorful marine life, gracefully swimming past your table – and I mean that literally, as you'll be dining as if you yourself are in the middle of an aquarium.
Restaurante Submarino offers an exceptional menu featuring fresh, local seafood and Mediterranean-inspired dishes, allowing you to savor the best of Valencia's culinary scene while marveling at the wonders of the underwater world.
8. Pelayo Gastro Trinquet
Step into the world of trinquet, Valencia's cherished traditional sport, at Pelayo Gastro Trinquet – a unique restaurant that combines the excitement of the game with the exquisite flavors of local cuisine.
Trinquet is a beloved Valencian game, played on a narrow court with a small ball and either a racket or bare hand, and it's captivated the hearts of locals for generations.
Pelayo Gastro Trinquet embraces this sporting legacy through its beautifully curated decor, showcasing memorabilia and artwork that pays tribute to the game's rich history.
The restaurant even offers access to an active trinquet court, allowing you to witness the sport firsthand.
Despite its dedication to trinquet, Pelayo Gastro Trinquet is far from a simple sports club eatery – it's a sophisticated dining venue that prides itself on exceptional cuisine.
Savor an enticing menu that highlights the best of Valencian gastronomy, crafted with skill and passion, as you soak in the vibrant atmosphere that celebrates trinquet's enduring appeal.
What food is Valencia famous for?
The most famous food in Valencia is definitely paella, given that this is the birthplace of the world-renowned rice dish that's captured the hearts and stomachs of people across the globe.
Prepared with locally-sourced ingredients like saffron, rabbit, chicken, snails and seasonal vegetables, this iconic dish is an explosion of flavors that reflects the city's rich culinary heritage.
(Yes, that's right – while seafood paella may be more well known internationally, it's actually this meat-based version which is the typical one found around here!)
But paella is just the tip of the iceberg. As mentioned earlier, Valencia is also famous for its delicious horchata, a refreshing, milky beverage made from tigernuts, and its amazing counterpart, fartons – fluffy, elongated pastries perfect for dipping.
And there are other delicious Valencian dishes worth discovering include arroz a banda, a seafood rice dish simmered in fish broth; fideuá, a noodle-based cousin of paella made with seafood; and esgarraet, a delightful salad of roasted red pepper, salted cod, garlic, and olive oil.
No matter how long you're able to spend here, trust me when I say that you definitely won't be spoiled for choice when it comes to food.
What's a typical Valencian dish best eaten in Valencia?
Craving an authentic taste of Valencia? You simply can't leave the city without indulging in its most iconic and delectable dishes. Paella, the city's culinary claim to fame, is a must-try for any food lover.
But there are plenty of other dishes you really should try while you're here. These include:
Fideuà: Similar to paella, but made with short, thin noodles instead of rice. If I'm being honest, I actually like the taste of fideuà more than paella…but I guess you'll have to try it yourself to see if you think the same!
Arroz al Horno: Baked rice dish made with pork ribs, sausages, chickpeas, and potatoes.
All i Pebre: A traditional fish stew made with eels, potatoes, garlic, and paprika. Don't let the mention of eel turn you away – this dish is seriously yummy.
Bunyols de Calabassa: A usually sweet or but sometimes savory pumpkin fritter that is a popular snack or dessert. It's sort of like a donut and is especially popular during Las Fallas Festival in Valencia that's held in March.
Espencat: A cold dish of roasted red peppers, eggplants, and onions, dressed with olive oil and vinegar.
Coca de Llanda: A sweet cake made with sugar, eggs, flour, and lemon zest.
Horchata: A refreshing drink made with ground tiger nuts, sugar, and water. As mentioned earlier, Santa Catalina Horchateria is the quintessential place to try this.
Olla de Blat: A hearty soup made with wheat, vegetables, and meat.
Turrón: A sweet almond nougat that's a popular dessert during the Christmas season.
Final thoughts
While Spain as a whole may be a foodie's dream, Valencia is really one of the jewels in that crown, offering a smorgasbord of mouthwatering dishes that showcase the city's rich culinary heritage.
From the iconic paella to the refreshing horchata and fluffy fartons, there's something to suit every palate.
There are plenty of amazing restaurants throughout Valencia, whether you want a round of tapas or something more substantial. But the places on this list are a step above the rest, offering something that you truly won't find anywhere else.
So the next time you find yourself in this vibrant city, take the opportunity to immerse yourself in its gastronomic wonders, and indulge in the tastes and flavors that make Valencia a culinary hotspot. Your tastebuds will thank you!
ABOUT THE AUTHOR
Anna is the founder of Spain Inspired, a website dedicated to everything that Spain has to offer. Now living in Valencia, she's loved exploring (and tasting) every corner of the country and she's now out to ensure that everyone else gets to experience the same thing!