37 Wonderful Day Trips From Tampa
Wondering what are the best day trips from Tampa? Here are a few suggestions!
Despite not having as many visitors as Miami or Orlando, Tampa is currently growing and becoming more popular as a destination in Florida.
Tampa is a great place to work, play, and unwind thanks to its combination of historic architecture and contemporary landmarks, a culture infused with Cuban and Spanish flavors, vibrant business districts, and lovely waterways.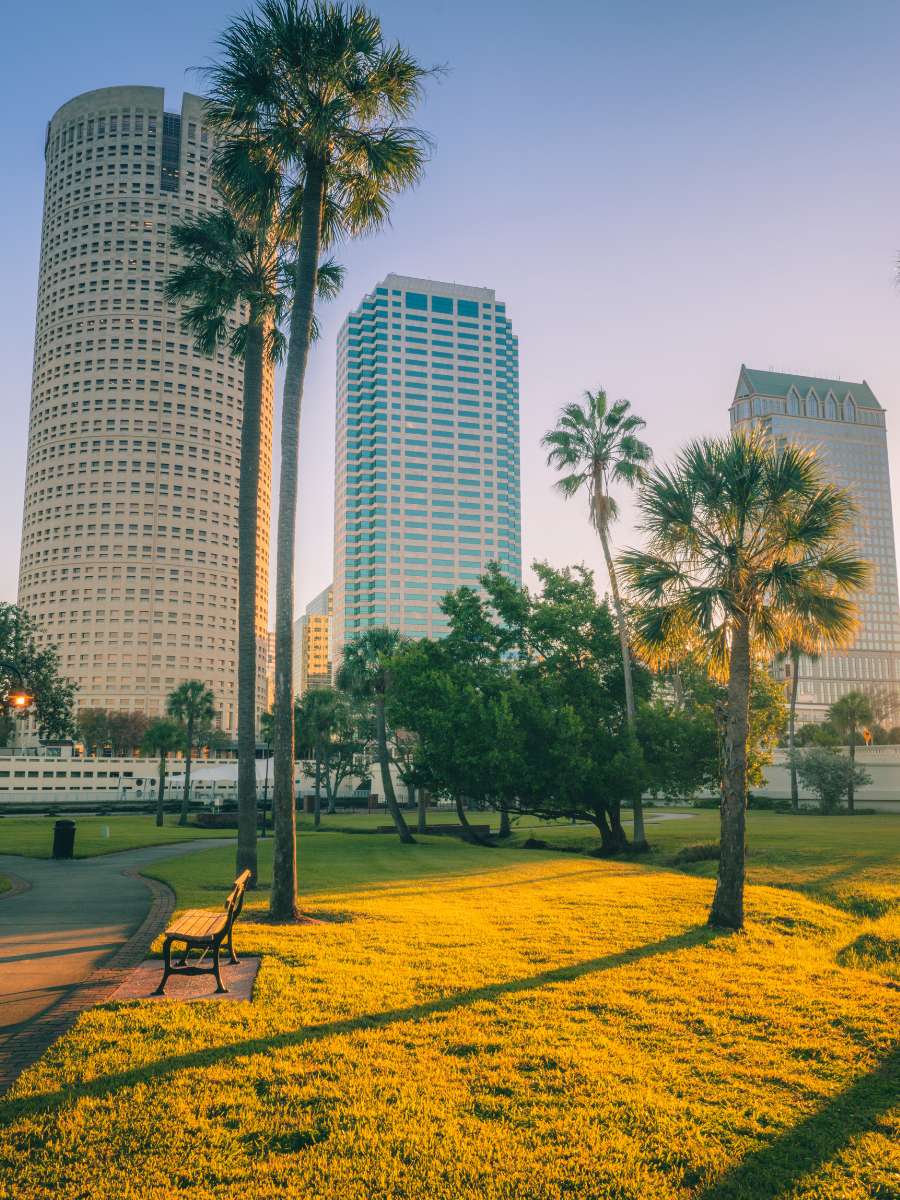 The city is also renowned for its stunning beaches, vibrant cultural scene, and year-round warm weather, making it a favorite destination.
Another thing that makes Tampa great is the fact that it is located in plenty of great locations in Florida that are worth checking out, so you can expect your itinerary to be pretty full!
We asked some of our favorite travel bloggers to suggest their favorite day trips from Tampa and these were their recommendations.
What are the best day trips from Tampa?
From dreamy natural springs you can swim in to access to some of the best amusement parks in the world, there is a plethora of incredible day trips from Tampa to choose from.
It's all up to you and your interests, but rest assured that no matter what day trip or place you wind up choosing, you're bound to think the detour was definitely worth the effort.
Some day trips are just a short drive away while some require a bit more driving, but each and every one of them will provide an experience that will become the highlight of your trip to this part of Florida.
35 Wonderful Day Trips From Tampa
1. Sanibel Island
Sanibel Island is well known for its laid-back atmosphere and undeveloped, shell-filled beaches, making it one of the best day trips from Tampa for a relaxed day.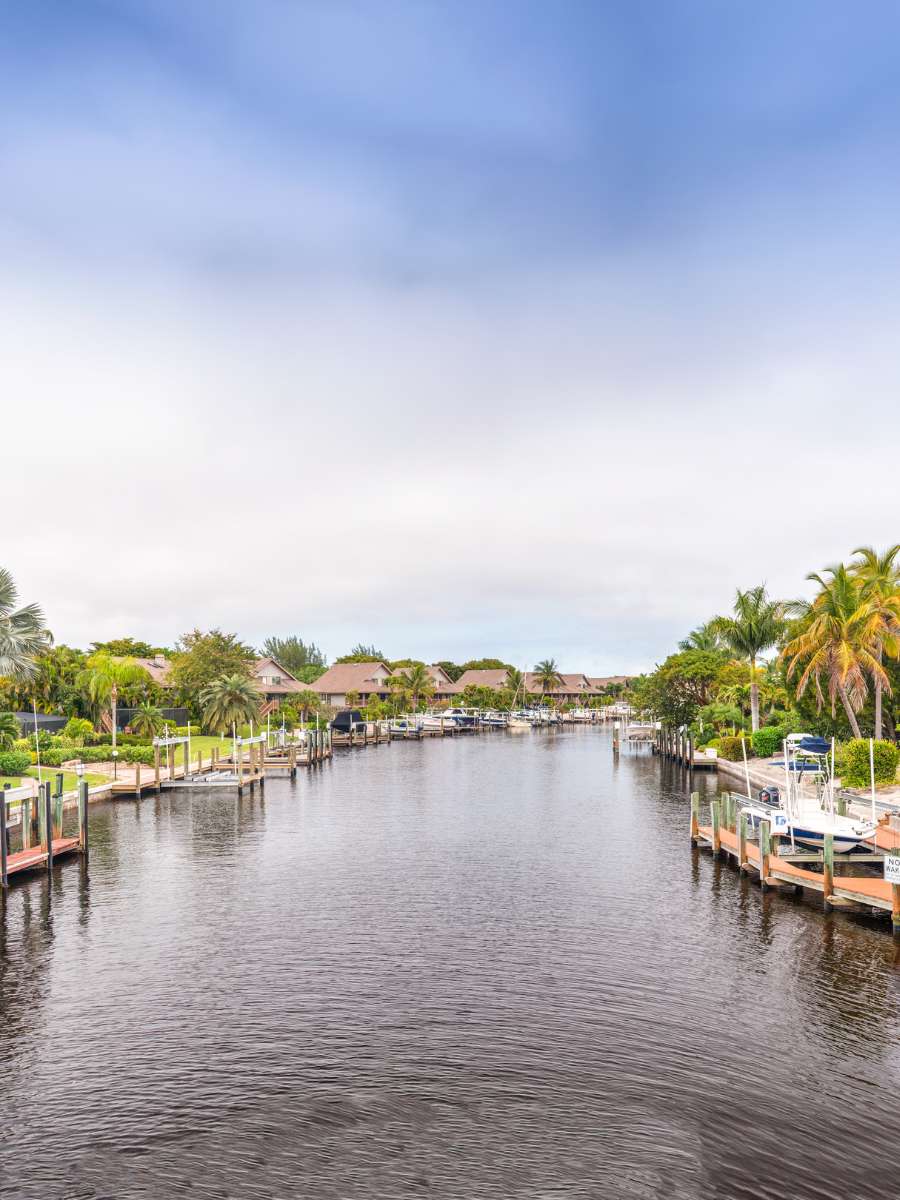 Due to the island's development from west to east, both the Caribbean and the Gulf of Mexico regularly wash thousands of shells ashore, making it a popular beach destination for families and shell collectors. Even a shell museum, the Bailey-Matthews National Shell Museum, exists there where you can study marine biology and shells.
Sanibel provides a wide range of outdoor activities. There is plenty of space for swimming, snorkeling, fishing, hiking, biking, and birdwatching thanks to the area's 15 miles of undeveloped beaches, 25 miles of bike path, and excellent hiking trails. There are golf courses available as well for golfers.
2. Hillsborough River
For those seeking outdoor adventure near Tampa, Florida, a day trip to paddle the Hillsborough River is a perfect experience.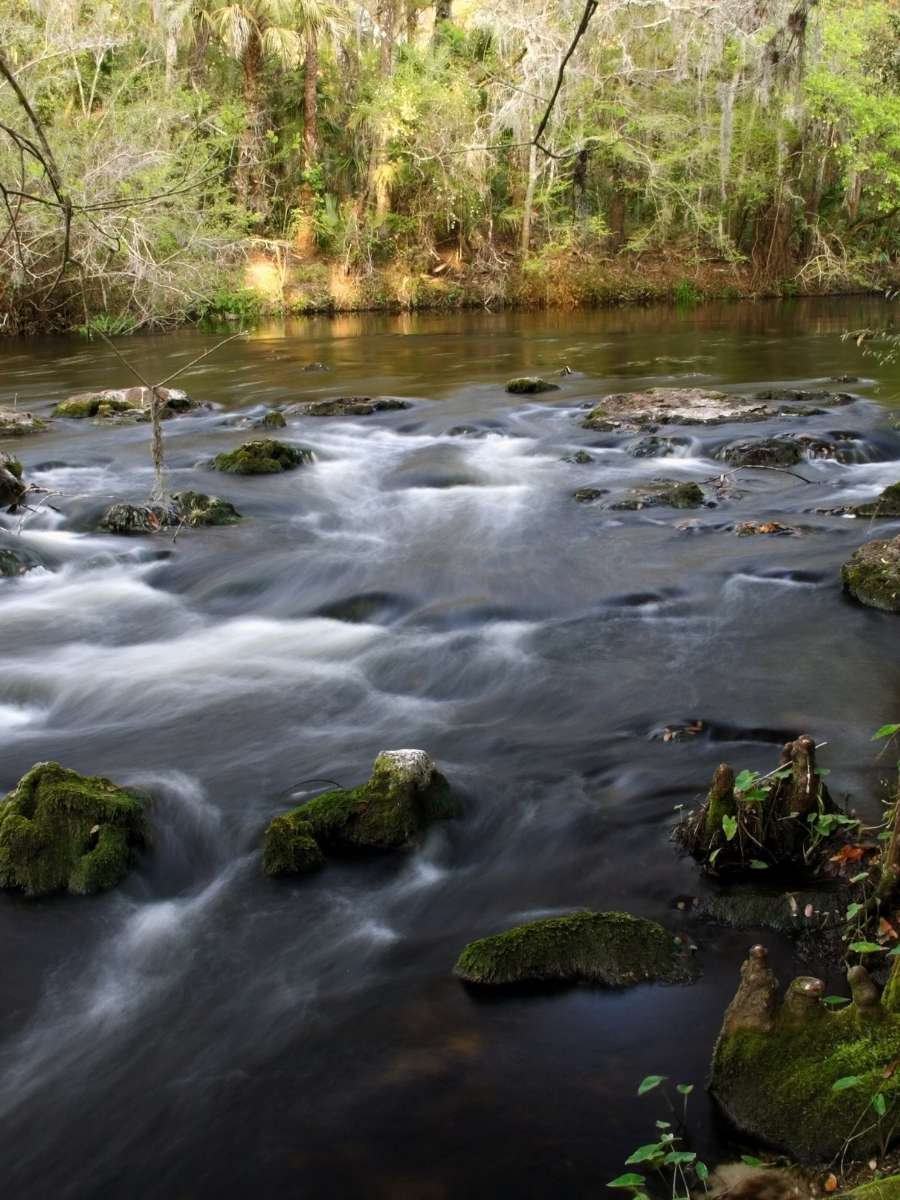 The canoe trip is a chance to see the "real Florida" as you paddle past wild alligators and majestic Spanish moss draped trees.
You'll also see white ibis perched in trees, deer and wild hogs venturing through the swamp, and turtles sunning on logs. If you are lucky, an otter will pop up in the water.
The start for this day trip from Tampa is at Hillsborough State Park. The park is located 12 miles north of Tampa. Canoe rentals, shuttle service, and trip planning advice are available from local outfitters in Thonotosassa, FL. Trips range from an hour to a full day of paddling.
If you have never had a chance to paddle past an alligator in the wild then this canoe trip is for you. As you cruise around the many twists and turns on the river, sunning alligators will be resting amid the knees of bald cypress growing on the banks. Don't worry, the alligators will leave you alone, but they are exciting to see.
The park also has 7 miles of hiking trails and a dedicated biking path if canoeing with alligators is not your thing. All in all, Hillsborough State Park outdoor adventures are a wonderful, nearby alternative to the city adventures in Tampa.
Recommended by Karen at Outdoor Adventure Sampler
3. St. Augustine
St. Augustine is not only a stunning coastal destination, but it also has nearly 500 years of history and heritage.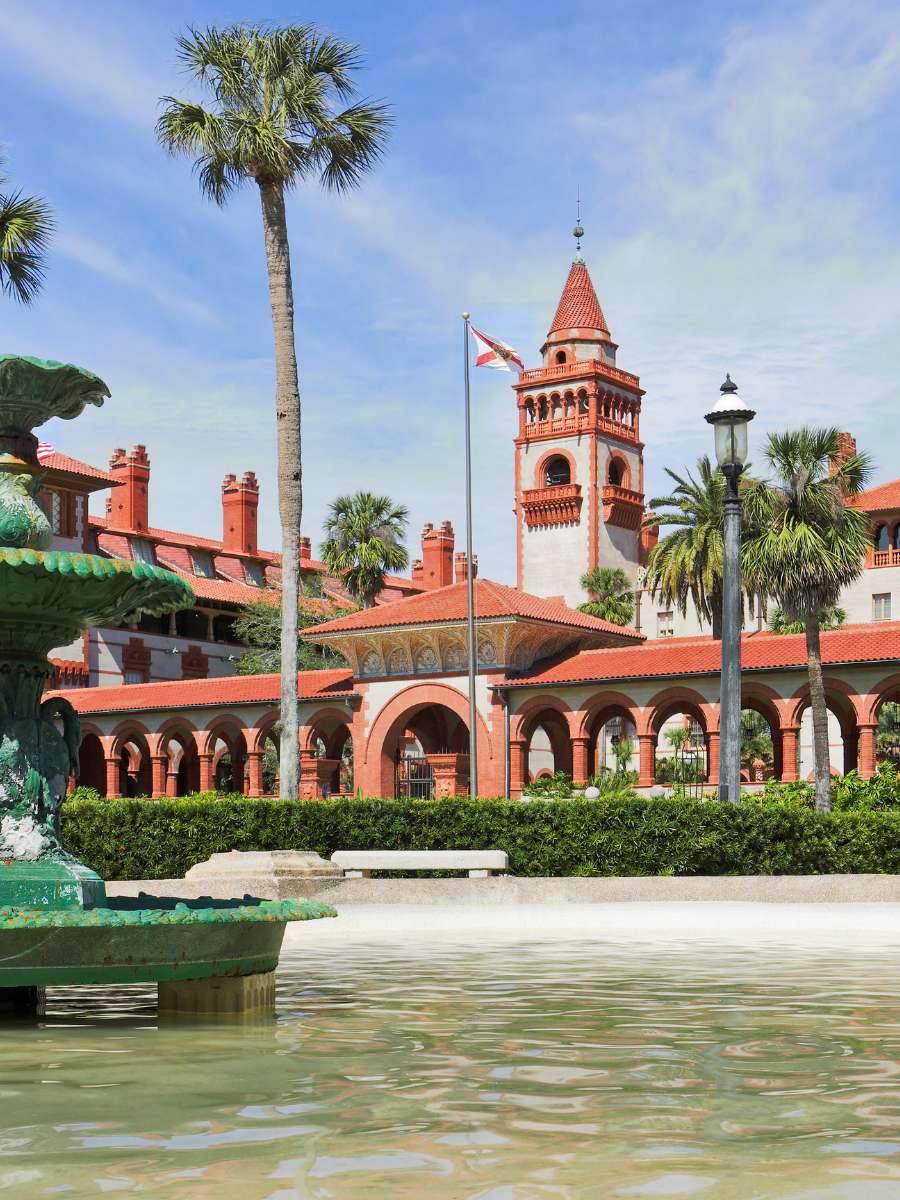 The oldest city in the continental United States, it was founded by the Spanish in 1565 and is home to many historical sites that peacefully coexist with lovely beaches, a vibrant restaurant and bar scene, and historical landmarks.
Once you're inside the city, you can essentially leave your car parked there and forget about it because exploring lovely St. Augustine by foot or on the Old Town Trolley is the best way to get around.
The Castillo de San Marcos, which has a view of the Atlantic Ocean, the Bridge of Lions, Ponce de Leon's Fountain of Youth, the Lightner Museum, and the St. Augustine Distillery are all well-known historical sites.
4. Rainbow Springs
In addition to being a beautiful natural area with Florida's fourth-largest spring, Rainbow Springs State Park is also a historically significant location that dates back more than 10,000 years to the time when the area was inhabited by native people.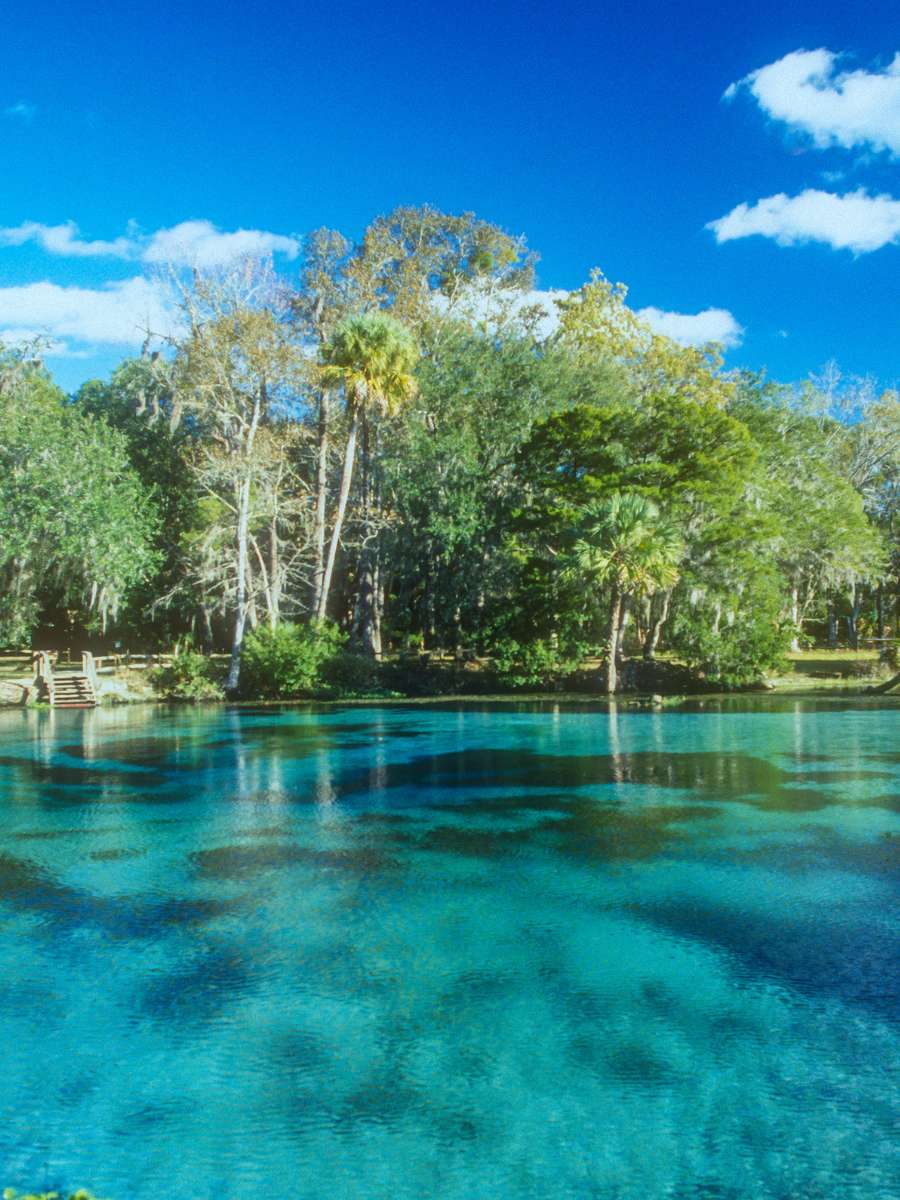 You can go hiking here among five different natural springs, stunning waterfalls, moss-covered cypress trees, and lovely floral gardens. After that, you can go swimming in the hot springs, tubing, or paddling down the river while getting a chance to see some of the local wildlife, such as deer, foxes, and wild turkeys.
5. Sarasota
Known for its lovely beaches and its trendy, artistic atmosphere, Sarasota is another great day trip from Tampa.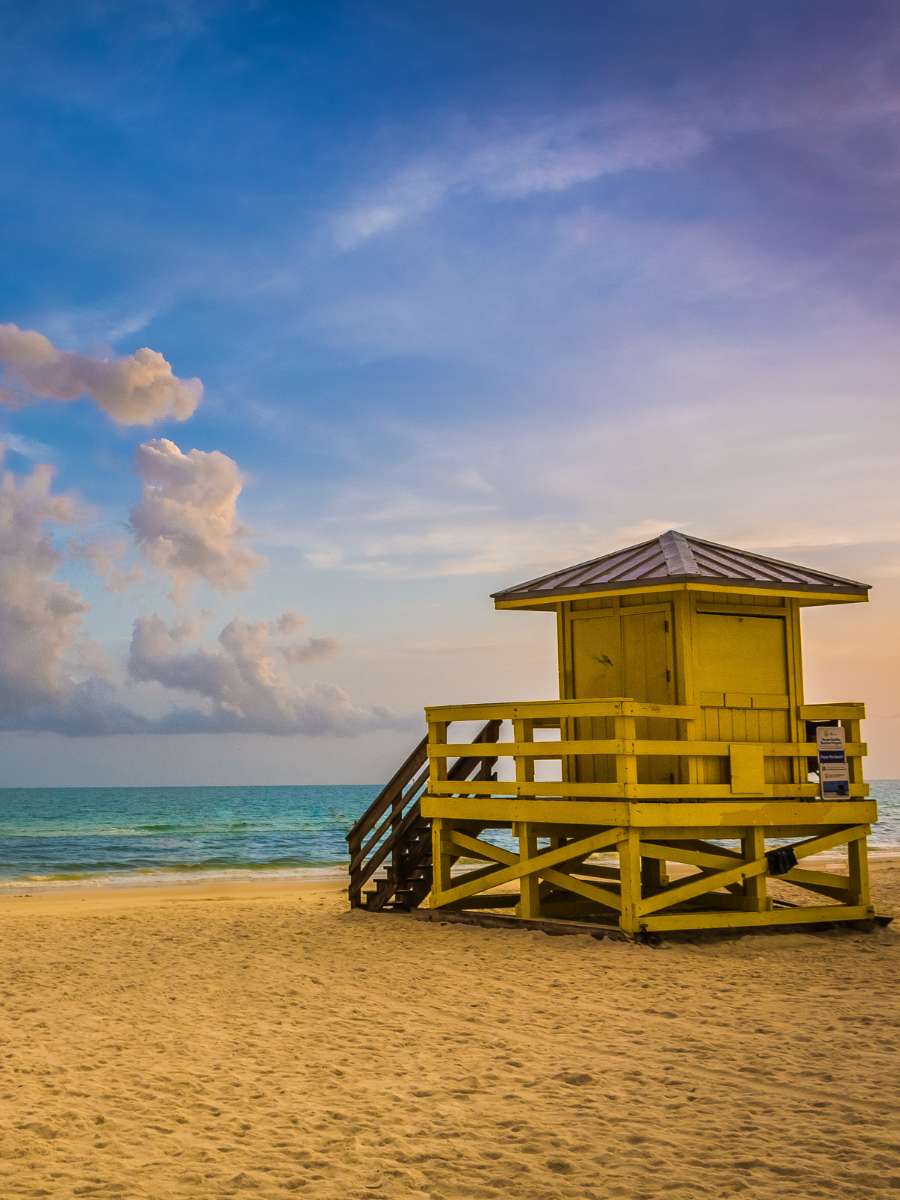 The city, which is home to the renowned Ringling Museum of Art, has developed a thriving community of performers, artisans, and artists who regularly produce original works.
Although Sarasota Beach is a short distance from the city's center, beachgoers of all kinds can choose from a variety of cool beaches.
The Marie Selby Botanical Museum, a bayside area with a waterfall, hanging bridges, an Amazonian village, and an adventure trail packed with tropical plants, is a must-see attraction in Sarasota. Among other natural treasures, you can find over 6,000 orchids and butterflies here.
6. Siesta Key
Only 7 miles separate Siesta Key from Sarasota on the Gulf of Mexico. The beaches on this island are renowned for having only pure white sand, making them perfect for leisure and water sports.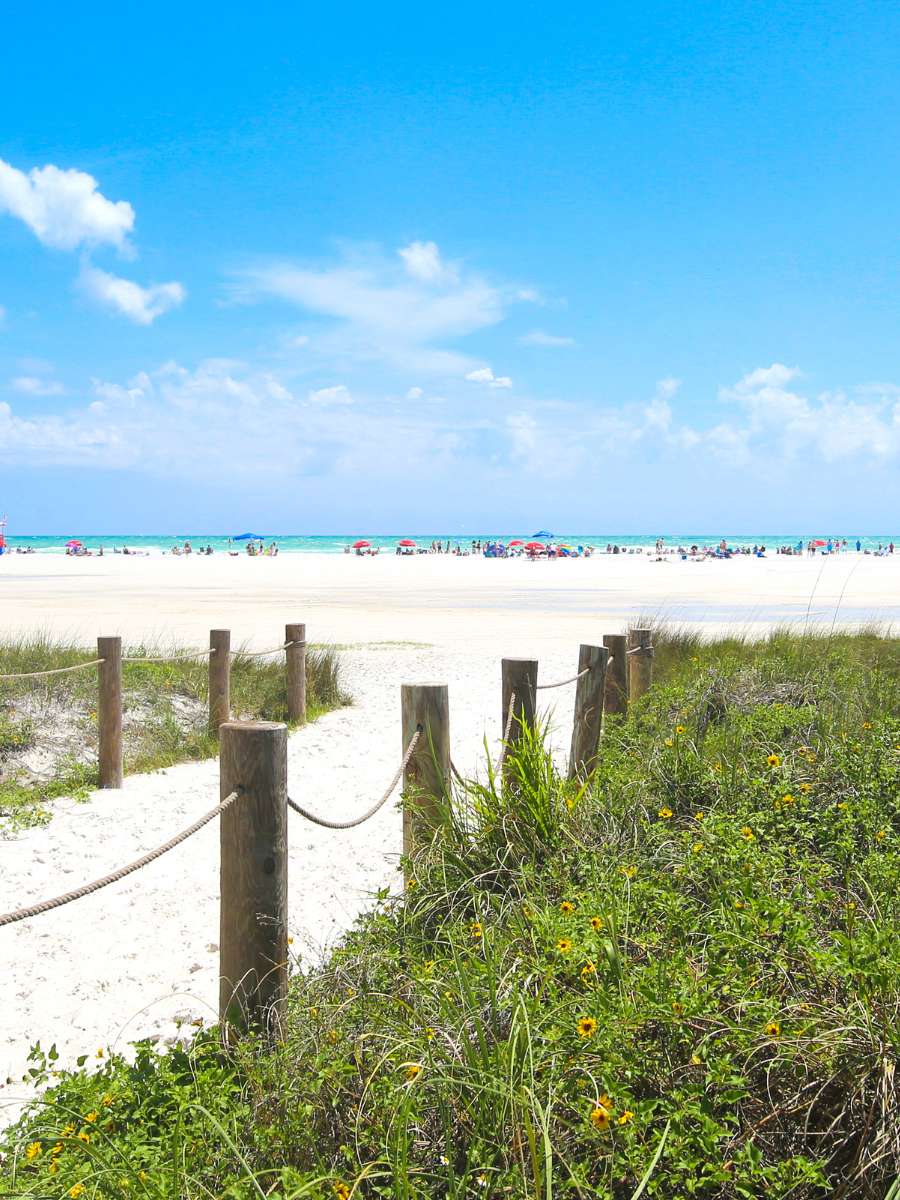 The enormous variety of feathered creatures that swoop over the eight-mile-long island will delight bird watchers. Crescent Beach is the best place to snorkel, while Turtle Beach is great if you enjoy wildlife viewing and tend to avoid crowds.
7. Ocala National Forest
The Ocala National Forest is a haven for all things natural and is home to the largest contiguous sand pine scrub forest in the world.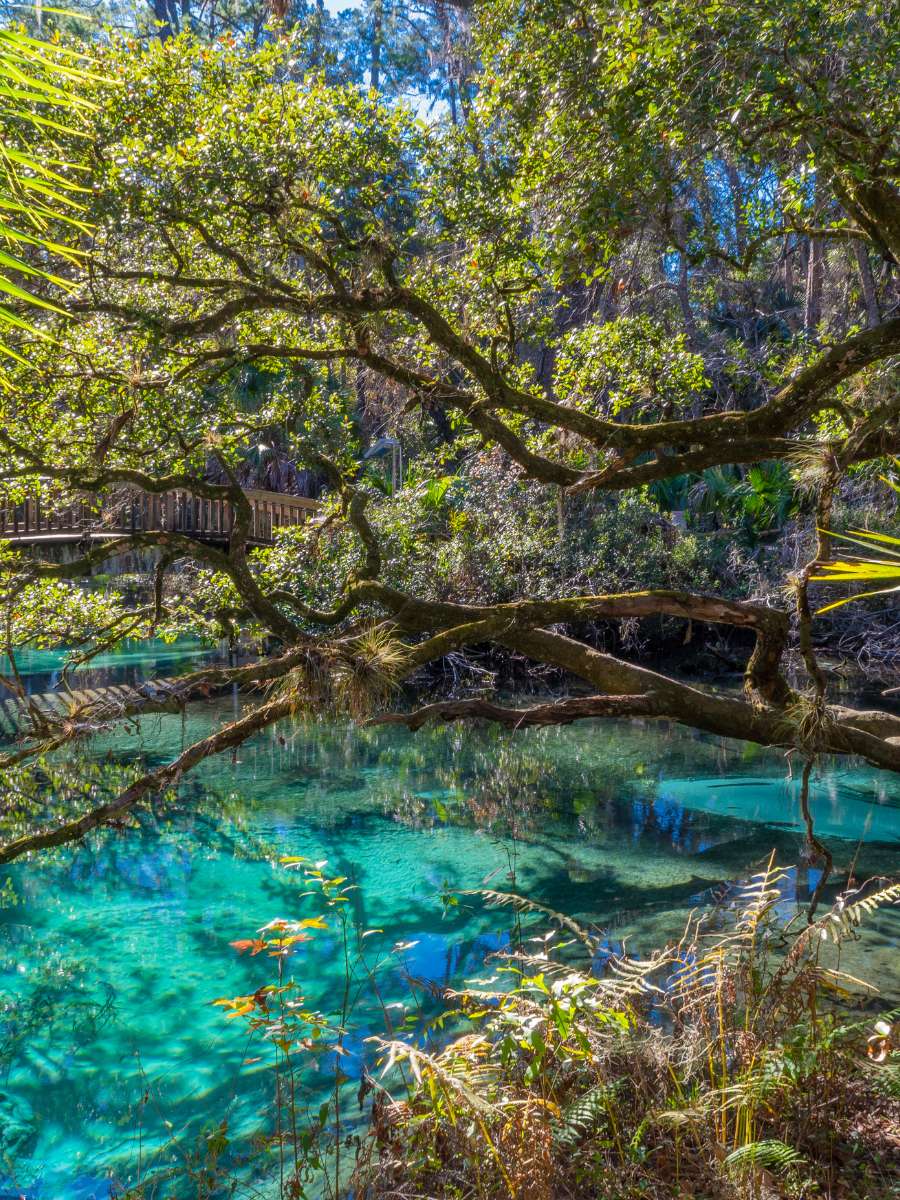 Ocala is a hidden gem in northern Florida and the ideal place to spend a day trip if you want to escape the hustle and bustle of Tampa. It has beautiful hiking and equestrian trails, as well as crystal-clear freshwater springs where you can swim or even snorkel in search of marine life.
8. Devil's Millhopper Geological State Park
Florida has a lot of sinkholes, but Devil's Millhopper is special because it's one of the few locations in the state where more than 100 feet of rock layers are exposed. It's a fantastic location to observe how geological features influence ecosystem development!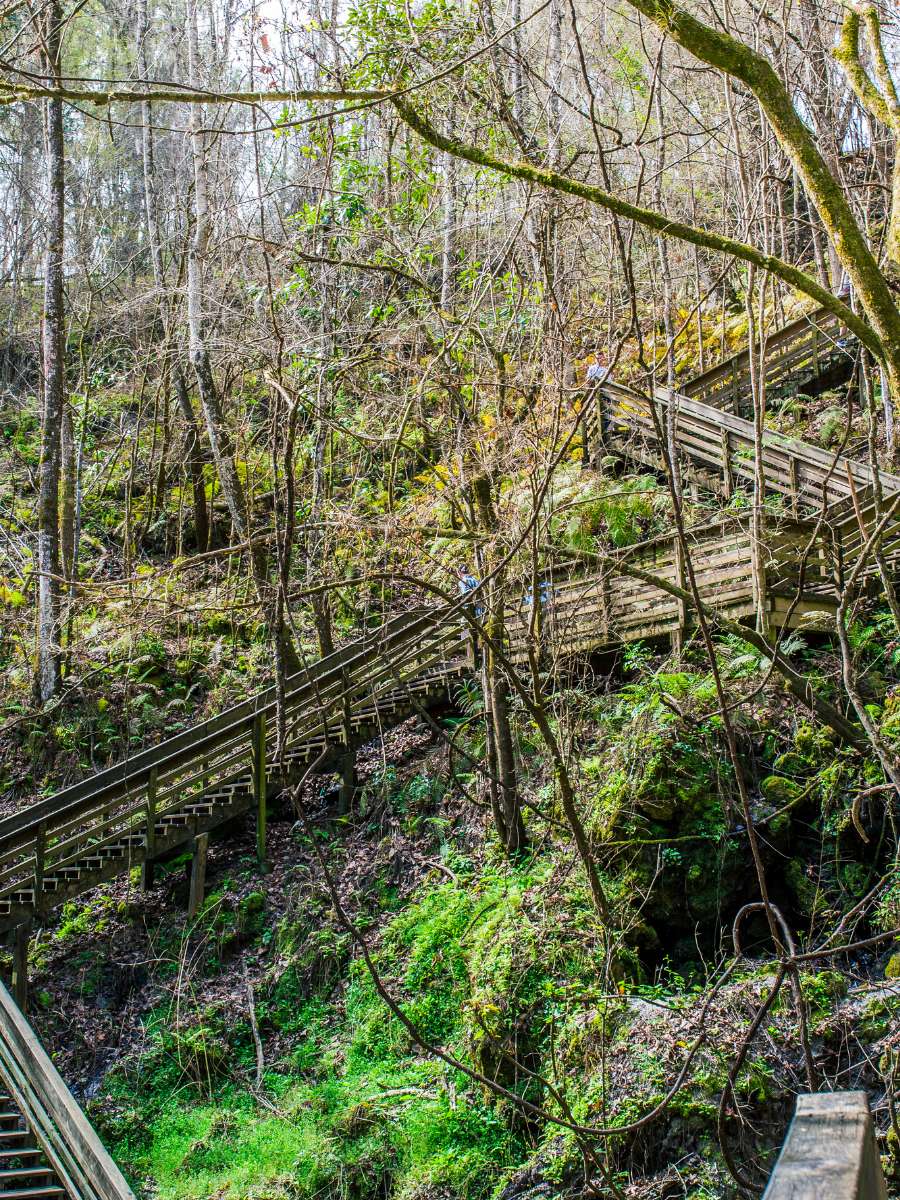 Simply put, Devil's Millhopper is a 120-foot-deep cavity that descends into a small rainforest, creating a scene that will make you feel as though you're in a Jurassic Park movie (actually, a ton of fossilized remains of extinct species have been discovered here!).
9. Matlacha Island
One of Florida's most picturesque locations is Matlacha Island and it makes for one of the best day trips from Tampa!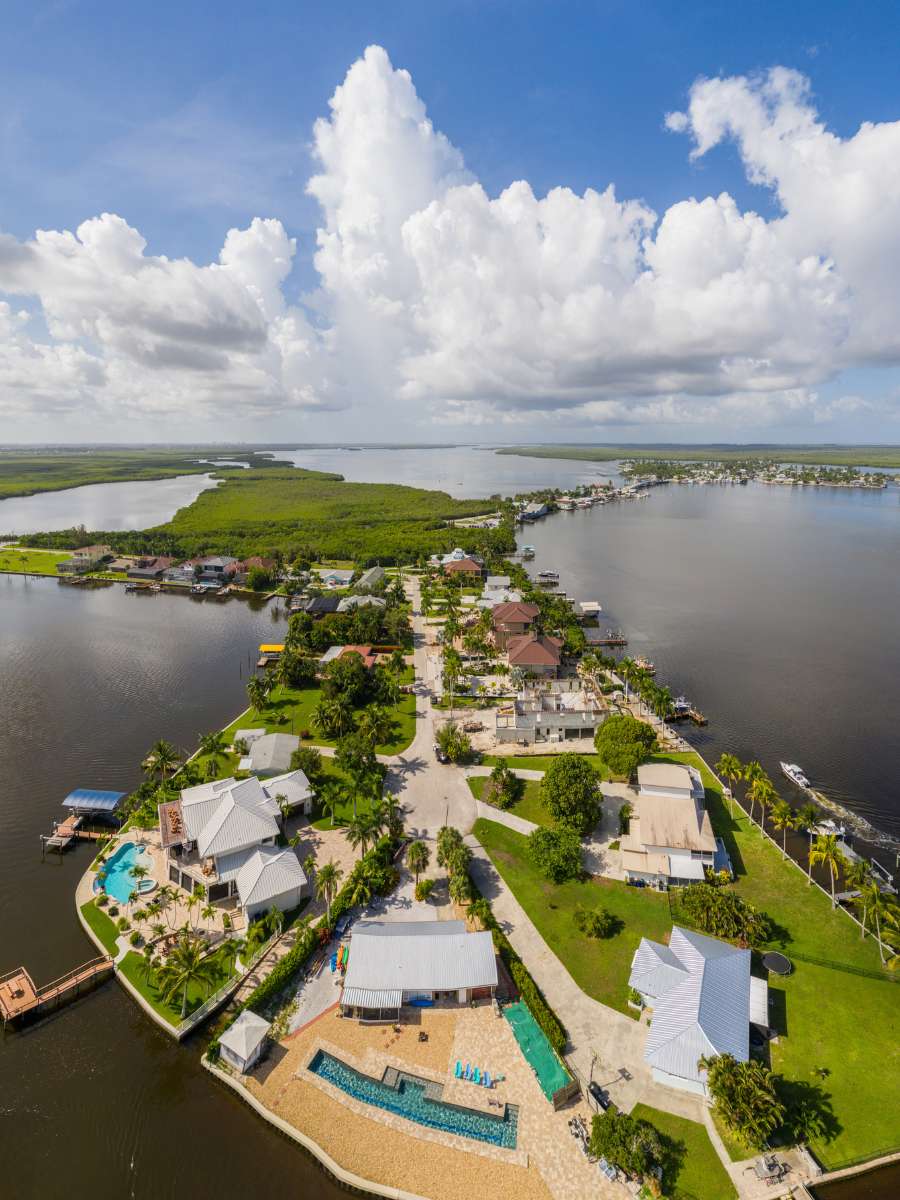 This tranquil island is one of the happiest places in the state because of its unrivaled small-town charm.
The only road in the community is lined with bright fishermen's shacks that have been painted in the liveliest hues and decorated with kitsch. To understand what we mean, picture stuffed bears, bicycles, and dolphins with polka dots on them!
It's also fascinating to learn how this tiny island in southwest Florida came to be so colorful. Commercial fishing suffered terrible losses in the 1990s. Residents of Matlacha made the decision to control their own destiny and literally went outside with buckets of paint to transform their fishing community into a hip tropical tourist destination.
The island is now a charming location where you can relax on the beach, go fishing, and eat tasty seafood!
10. Venice Beach
Scavenger hunts are a very unusual way to spend the day in Venice Beach because the area is known for having ancient shark teeth.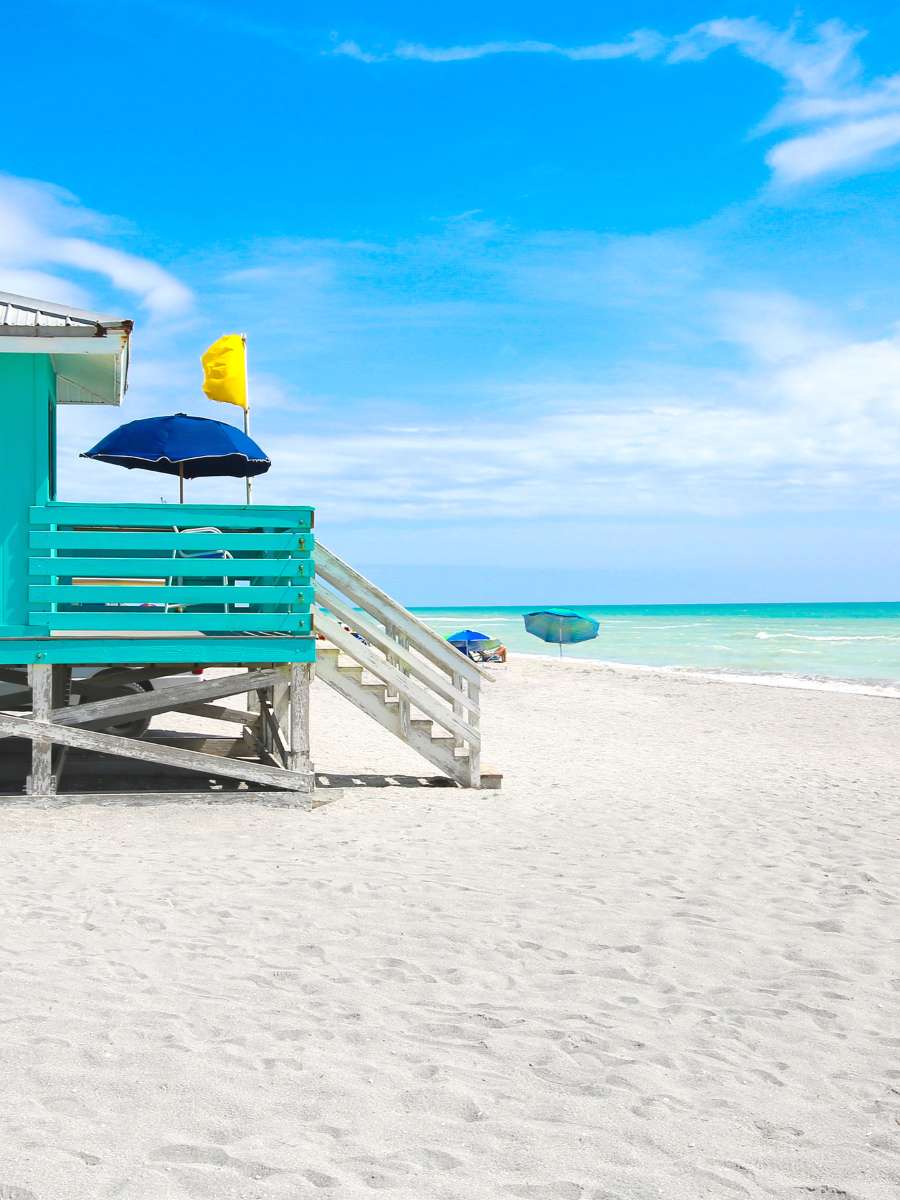 Along with being a great place to practice your paleontology, Venice Beach is also a great place to see wildlife, with many species such as shorebirds, turtles, and dolphins being simple to spot. The beach offers many facilities for visitors to take advantage of, such as a picnic area, boardwalks, and volleyball courts.
At the foot of the fishing pier is the renowned Sharkey's Restaurant, where you can stop for a quick meal and beverage on a hot summer day.
11. Blue Springs State Park
One of the most visited springs in Florida is Blue Springs, the largest spring feeding the St. Johns River.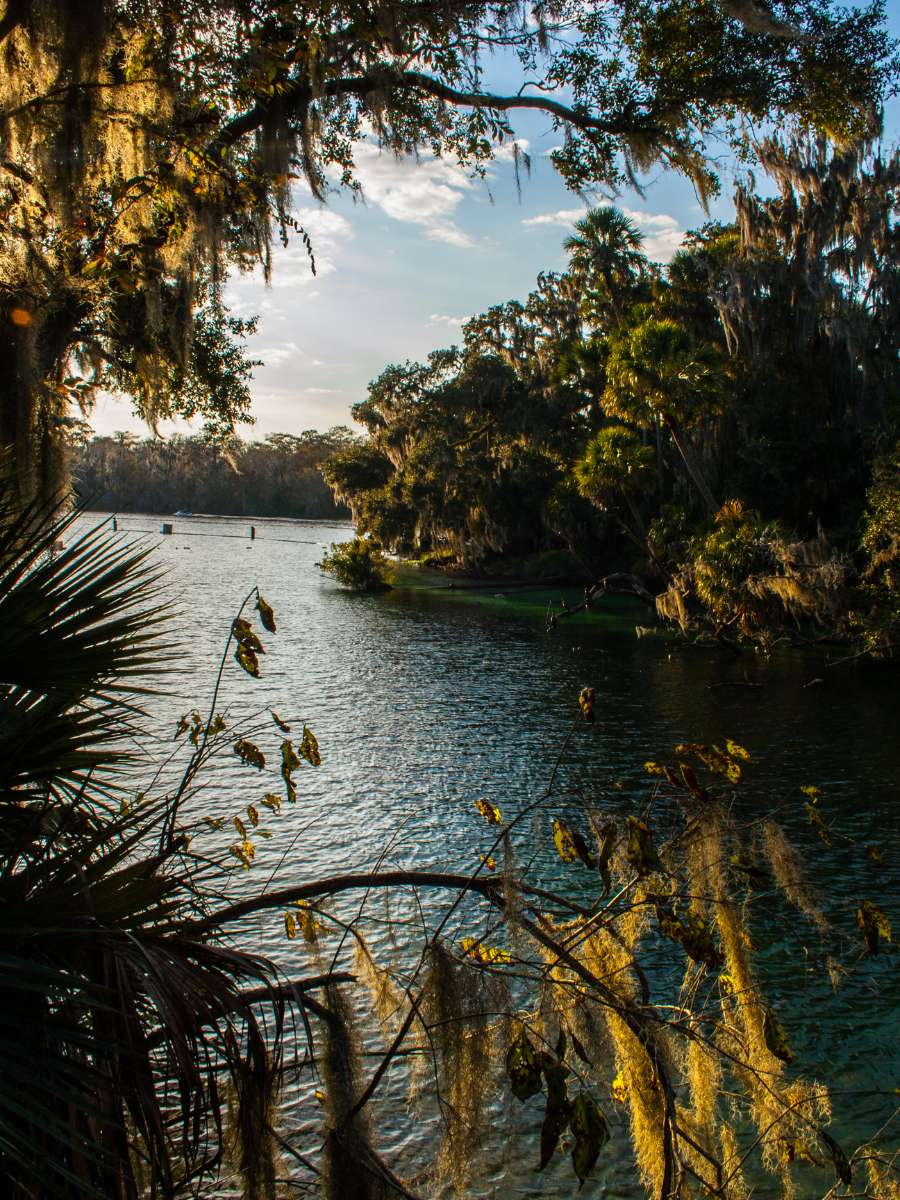 Its warm 73-degree waters and 2,600 acres of lush forested land make it a natural manatee refuge area in the winter.
The park offers a variety of activities all year long, including hiking, kayaking, canoeing, camping, cabin rentals, and picnicking, even though swimming is prohibited during the manatee season.
12. Sebastian Inlet State Park
Although surfers from all over the world and the United States swarm to Sebastian Inlet's pristine beaches to ride its world-famous "Monster Hole" and "First Peak" waves, there is more to this surfing mecca than meets the eye.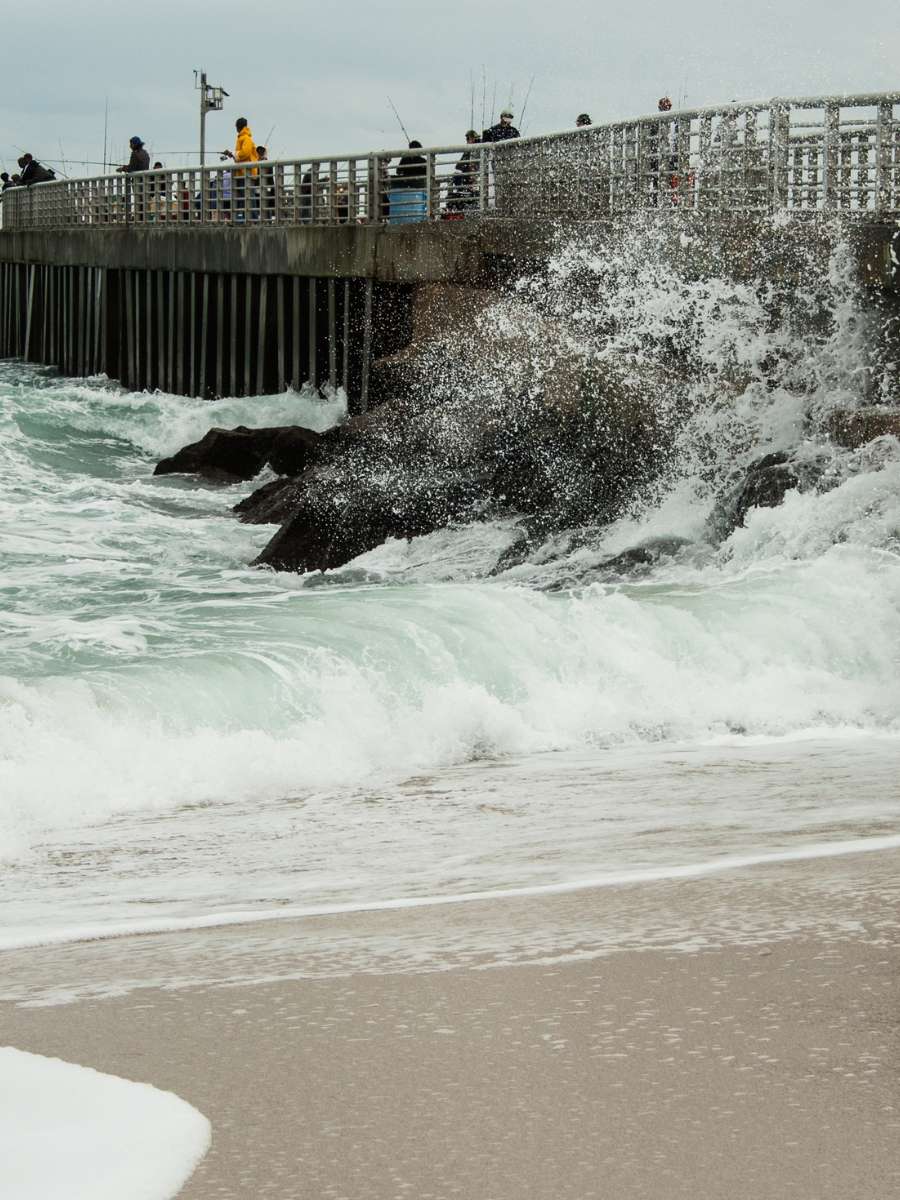 The state park has three miles of undeveloped beaches where you can see turtle nests, go fishing, gather beautiful seashells, and camp nearby.
It also has two museums that are interesting to check out. The McLarty Treasure Museum focuses on the Spanish exploration fleet of 1715, while the Sebastian Fishing Museum features exhibits that trace the region's history of fishing.
13. Myakka River State Park
In addition to being a fantastic outdoor adventure in a breathtaking natural setting, a day trip to Myakka River State Park from Tampa is also like taking a trip back in time to see how the local Native Americans and Spanish explorers lived.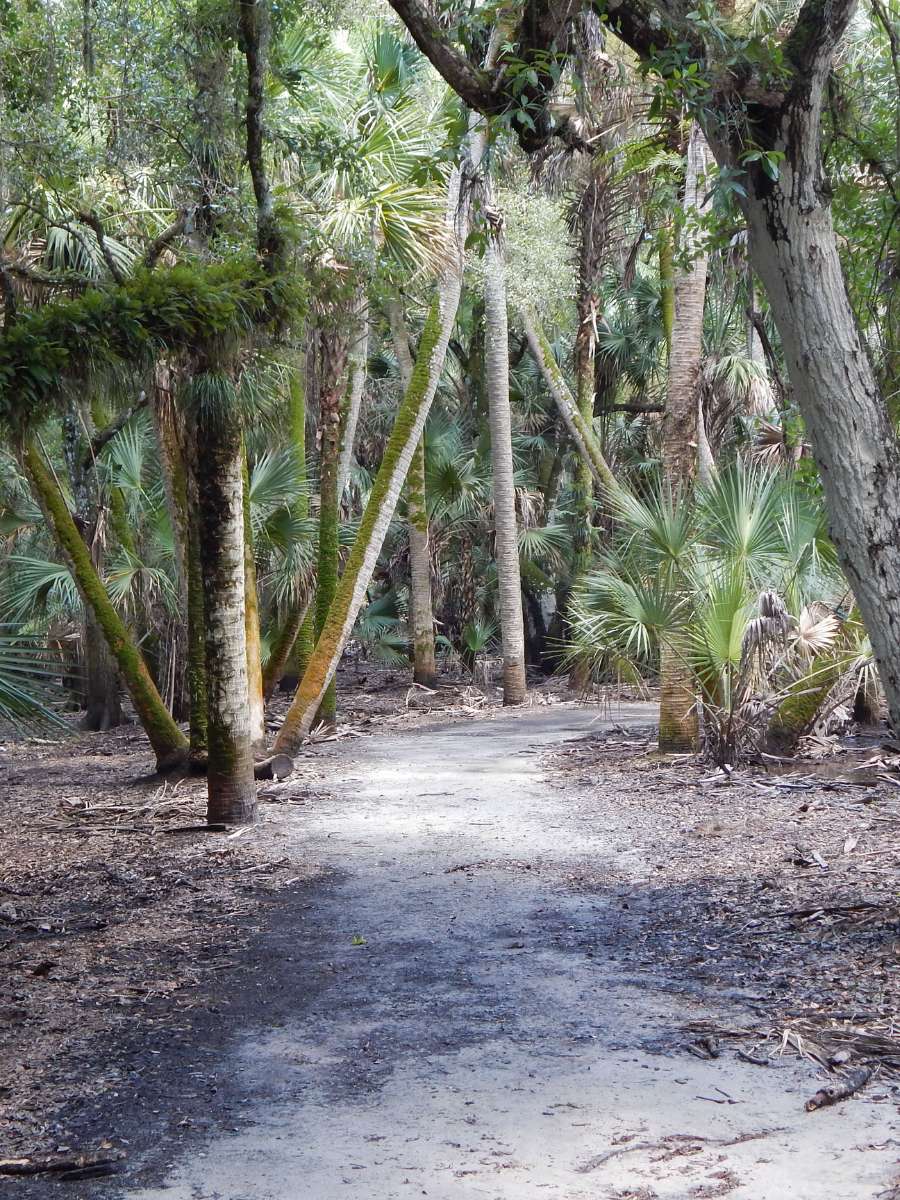 This is Florida's first state park with the designation of a wild and scenic river, and it includes a river as well as prairies, hammocks, wetlands, and pinelands. Boating, fishing, canoeing, and kayaking are popular local pastimes, as are hiking and biking on the backroads and nature trails.
14. Paynes Prairie State Park
If you think of Florida, wild horses and bison probably don't come to mind right away, but Paynes Prairie State Park is a great place to spot wildlife, making it one of the best day trips from Tampa for animal lovers.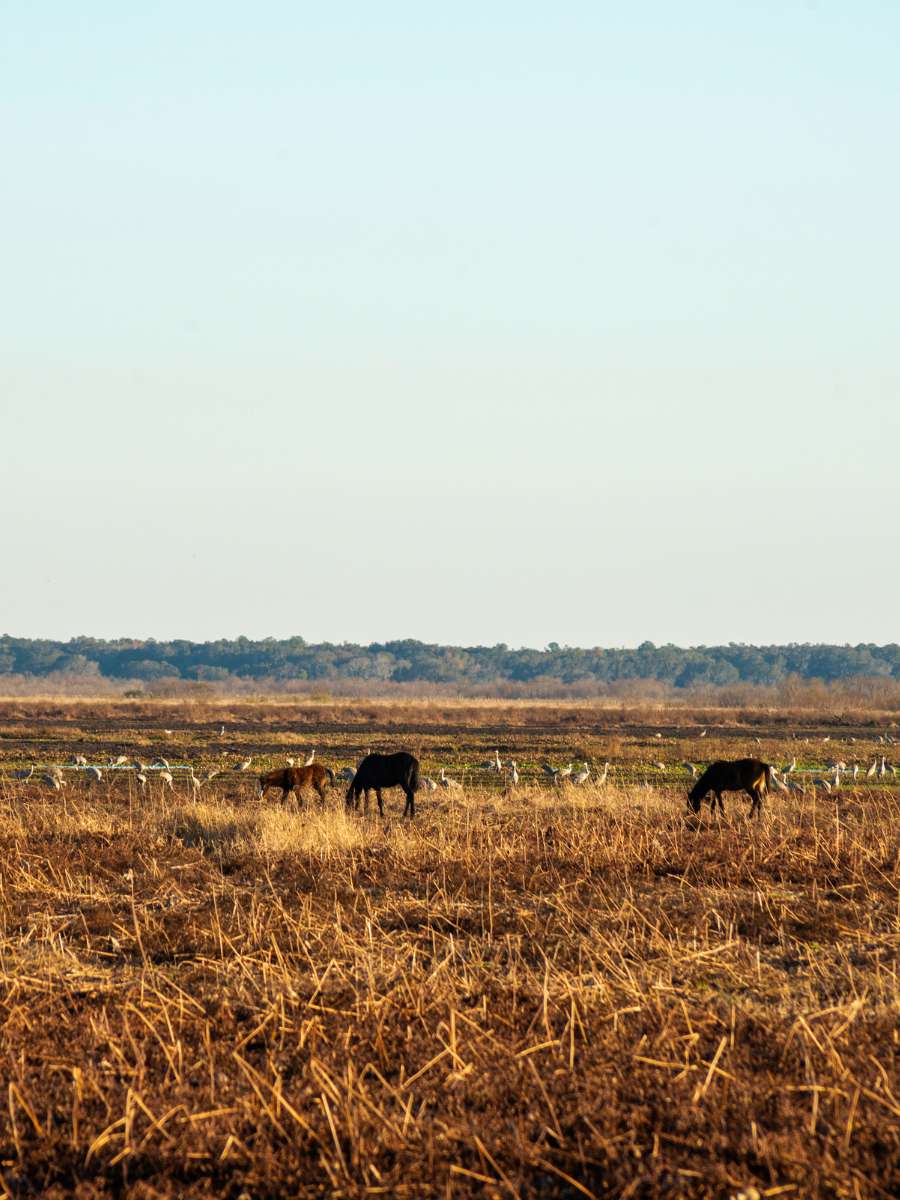 Hiking along one or more of the preserve's eight trails will give you the chance to see over 300 different bird species as well as other astounding wildlife, which will help you fully understand why the Seminoles valued this land so highly.
15. Ichetucknee Springs State Park
Ichetucknee Springs State Park is home to eight springs that are crystal clear and run along the Ichetucknee River. In the midst of dense pine forests, you can engage in a variety of aquatic activities, such as swimming and river tubing.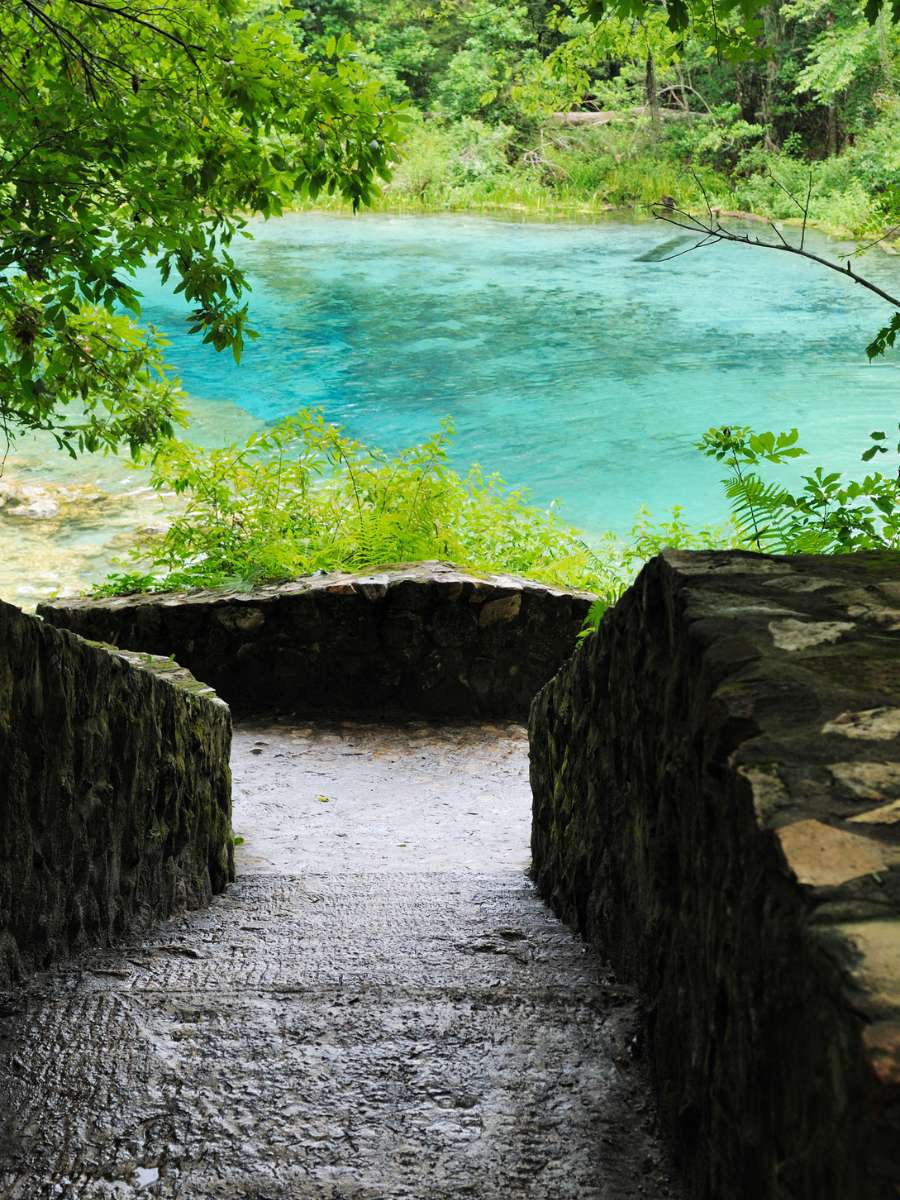 In addition to hiking three different nature trails, there are also wildlife viewing opportunities. The park is a great place to visit if you want to see some of Florida's best wildlife because it is home to beavers, otters, turtles, wild turkeys, ducks, and more!
16. Alexander Springs Recreation Area
Alexander Springs, located in the Ocala National Forest, is a paradise for water sports enthusiasts, particularly stand-up paddleboarders, kayakers, and snorkelers.
Alexander Springs is also a fantastic location for outstanding snorkeling if you want to see a turtle swimming among lilies or thousands of colorful fish. With its easy trails and gently sloping spring pool, this location is also great for hiking and swimming if you're traveling with kids.
17. Ginnie Springs
Located just 2.5 hours away from Tampa, Ginnie Springs makes for one of the most amazing day trips from Tampa.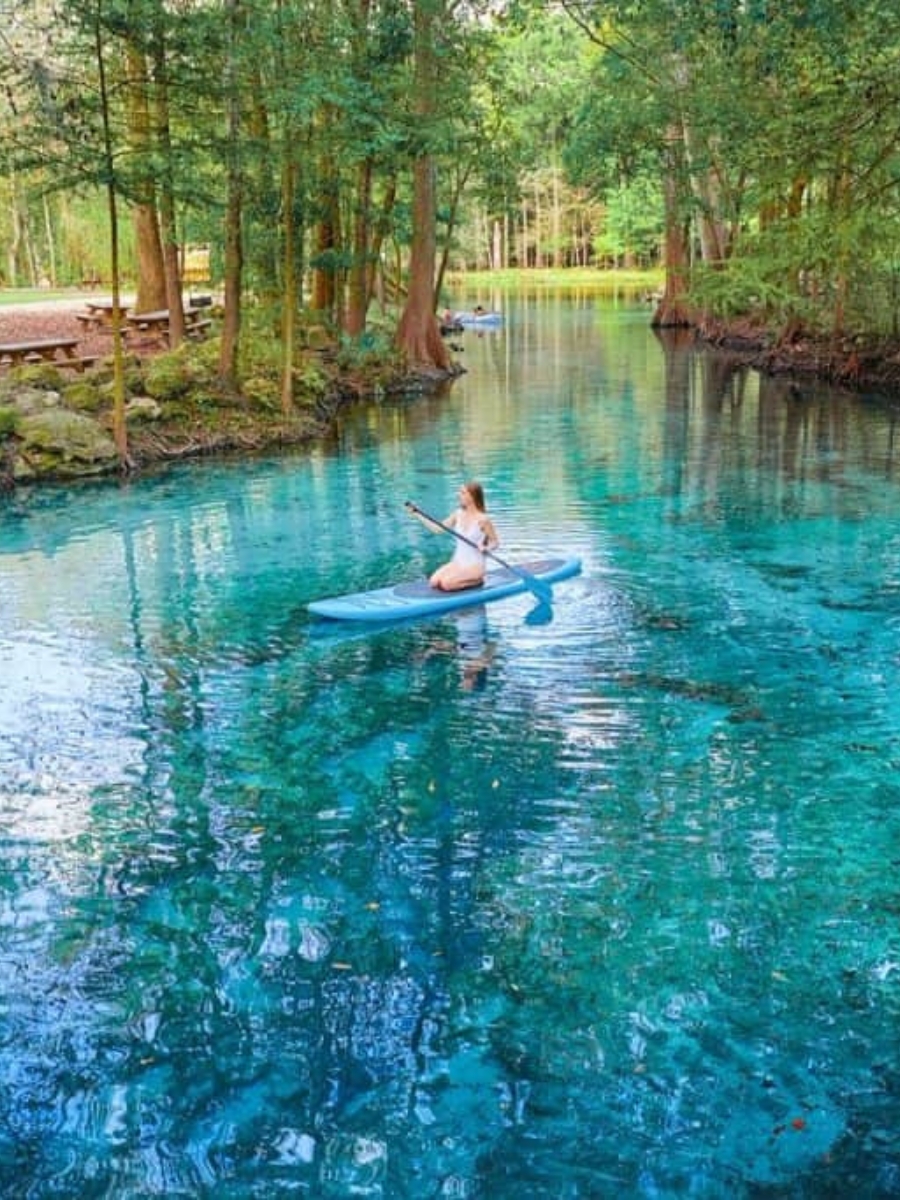 Not only is this a privately owned park that is known for its cold (think 72 F), crystal blue waters, but this is a great spot to enjoy SUPing, tubing, swimming, and kayaking.
Plus, if you're into scuba diving then you have the unique opportunity to dive beneath underwater caves here.
In fact, the water is so clean and translucent that diving at the Ginnie Ballroom, the Devil's Spring System, and in the Santa Fe River are a must for anyone who loves this activity.
So, if you'd like to visit for yourself then tickets start at $15.00 per adult during the off-season and $20.00 per adult during peak season.
You can also visit any time between sunrise and sunset. Although, if you're camping in the park itself then the natural springs here are available to you 24/7.
Additionally, because this is a private park, drinking alcohol is allowed on-site. So, it's best to avoid this area during spring break and busy weekends since raucous college students like to come here to party the day away.
Recommended by Victoria of Florida Trippers
18. Tarpon Springs
A day trip from Tampa to Tarpon Springs is one of the most unique Florida adventures you can have. Tarpon Springs, a short 45-minute drive from Tampa, is known as the sponge capital of the world.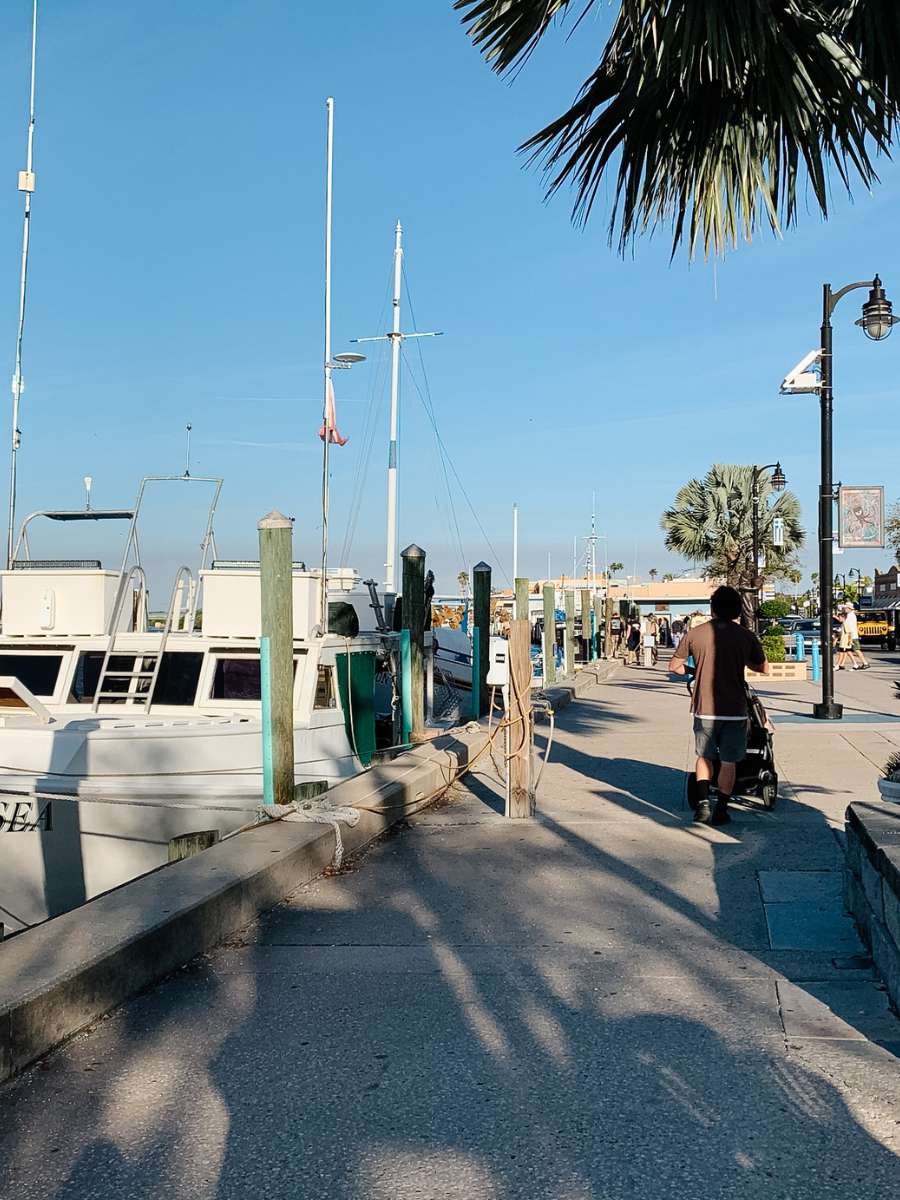 Natural sponge beds kept this town busy for decades from the late 1800s to 1946, when a toxic algae outbreak wiped out the industry.
The Tarpon Springs Sponge Docks is where all the action happens in Tarpon Springs. Some sponge is still harvested today, and this is where you can see it all happen.
You can catch a boat tour, go searching for manatees in a kayak or check out the fun and unique sponge shops. An excursion to Anclote Key or a dolphin cruise is another fun way to enjoy your time in Tarpon Springs.
Greek immigrants were a solid portion of the population as Tarpon Springs came to be, and you can still feel their influence today, especially through the tasty Greek restaurants on the Sponge Docks.
The best thing about this day trip is that after a long day of exploring the sponge docks or spending time on the water, you only have to travel less than an hour to get back to your home base. Enjoy the history, sights, sounds, and flavor of Tarpon Springs!
Recommended by Candice of Exploring the Gulf
19. Anna Maria Island
Anna Maria Island (AMI) is a bustling destination popular with sun seekers looking for a chilled vacation and day trippers planning to sink their feet into the sand.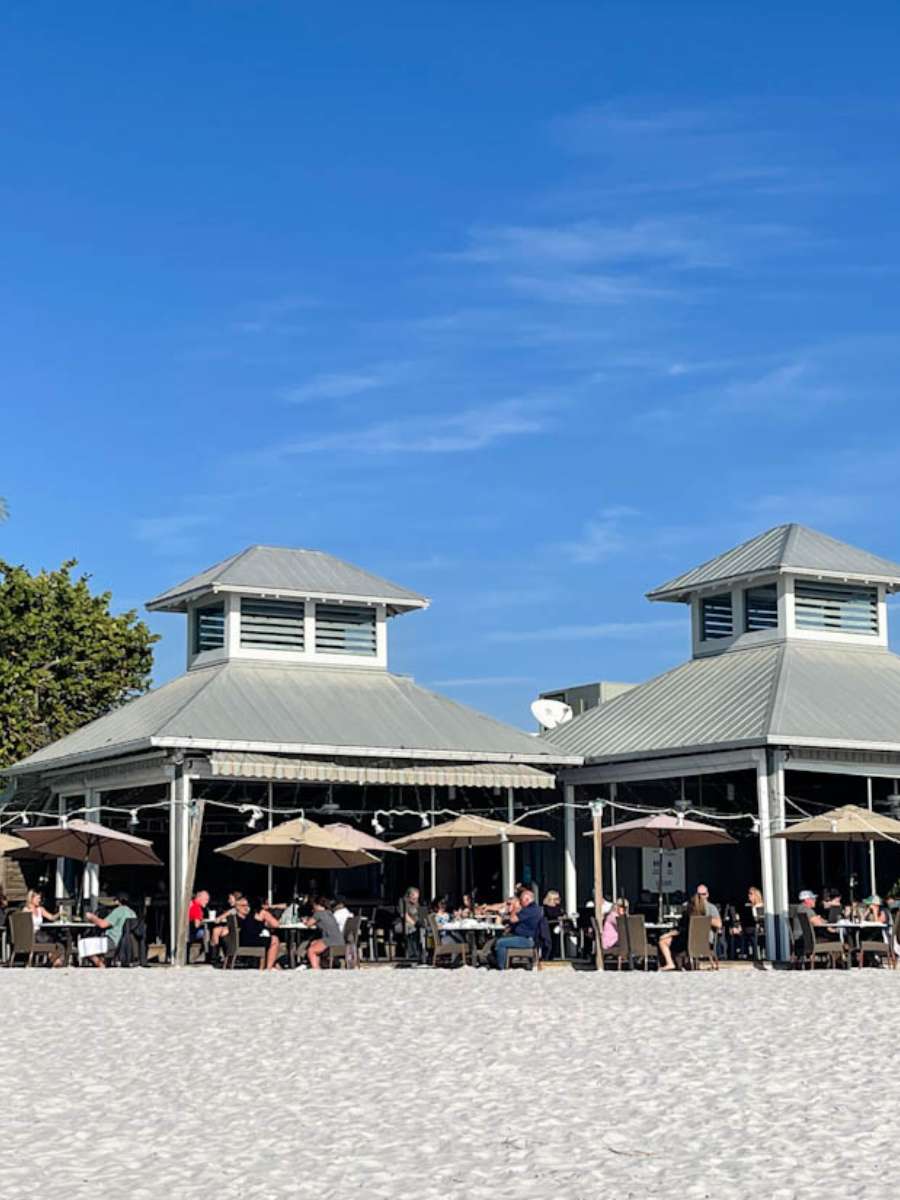 This barrier island is surrounded by water, lots of it, with the Gulf of Mexico to its west, Anna Maria Sound to the east, Tampa Bay in the north, and Longboat Pass in the south.
The island comprises three cities, Bradenton Beach, Holmes Beach, and Anna Maria, so even if you've visited before, there are plenty of reasons to return.
The most popular activity revolves around the beaches, all 7 miles of it. These beaches are unique because they have sugar-like sand and stunning sunsets.
Visitors who like a bit of action during their beach trips should consider Cortez Beach, as it is close to the historic Bridge Street, where you'll find lots of entertainment and restaurants. Alternatively, further north is Manatee Beach, which has the Anna Maria Island Cafe, restrooms, and volleyball nets.
Bean Point Beach is a lesser-known, quieter option with views over Passage Key, the Sunshine Skyway Bridge, and St Pete. However, parking is a challenge, and there are no public restrooms.
Aside from beach hopping, visitors can shop at the Bridge Street Market, play crazy golf at The Fish Hole Miniature Golf, catch a show at The Island Players, fish at the many piers, and hike at Leffis Key Preserve.
Recommended by Amanda of Hey! East Coast USA
20. Frank Lloyd Wright Architecture at Florida Southern College
Located less than 1.5 hours to the east of Tampa, you can find yourself emersed in the most extensive single-site collection of Frank Llyod Wright Architecture in the world!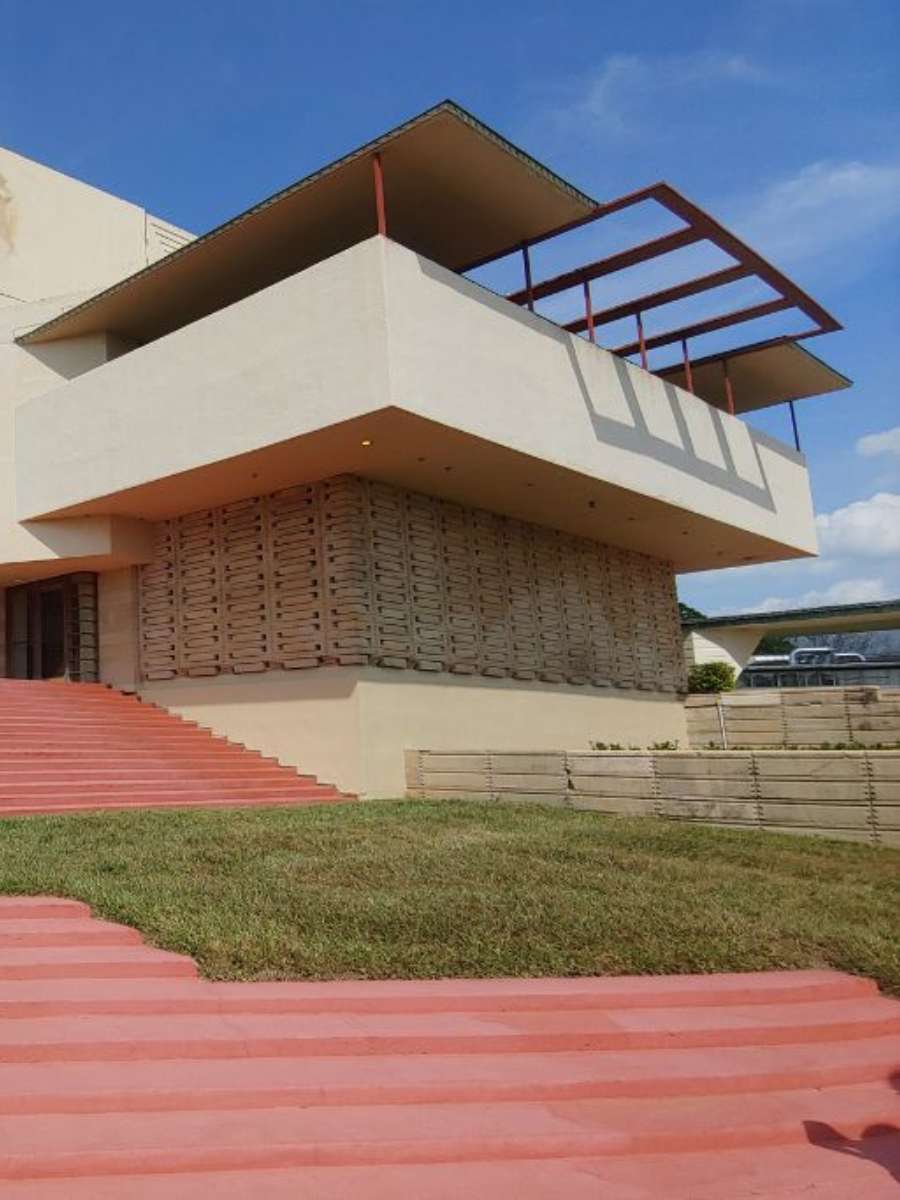 The group of buildings, which Wright called the "Child of the Sun," is also on the National Historic Landmarks registry.
The Florida Southern College (FSC) in Lakeland has 13 distinct buildings that Wright designed. The buildings share the common theme of organic architecture, meaning they were designed to blend seamlessly with their natural surroundings.
The Annie Pfeiffer Chapel is one of the most iconic buildings in the FSC collection. The Chapel has a distinctive geometric design and a soaring spire – a true masterpiece of modern architecture.
The Frank Lloyd Wright architecture collection at FSC is not just a static display like many of the Wright-designed buildings available for tour. The buildings on campus are used by students and faculty alike – for everything from classes to performances.
The climate has not been favorable to the Child of the Sun collection, and restoration is underway to preserve the structures. Currently, the Miller Planetarium is under renovation. The planetarium was the only Wright-designed planetarium ever constructed and was the last Wright building completed on campus.
Self-guided (consider purchasing a map for $5) and guided options (start at $10) are available seven days a week. I suggest, at a minimum, that you take the Usonian Faculty House Tour ($10), which includes a film overview of all Wright-designed buildings on campus.
Booking a tour at least a day in advance is recommended.
Recommended by Teresa of An Acre in the City
21. Crystal River
At just over one hour from Tampa, Crystal River is the perfect day trip! Most people head to Crystal River to swim with the famous manatees, but there are many other exciting things to do in this beach town to fill your day.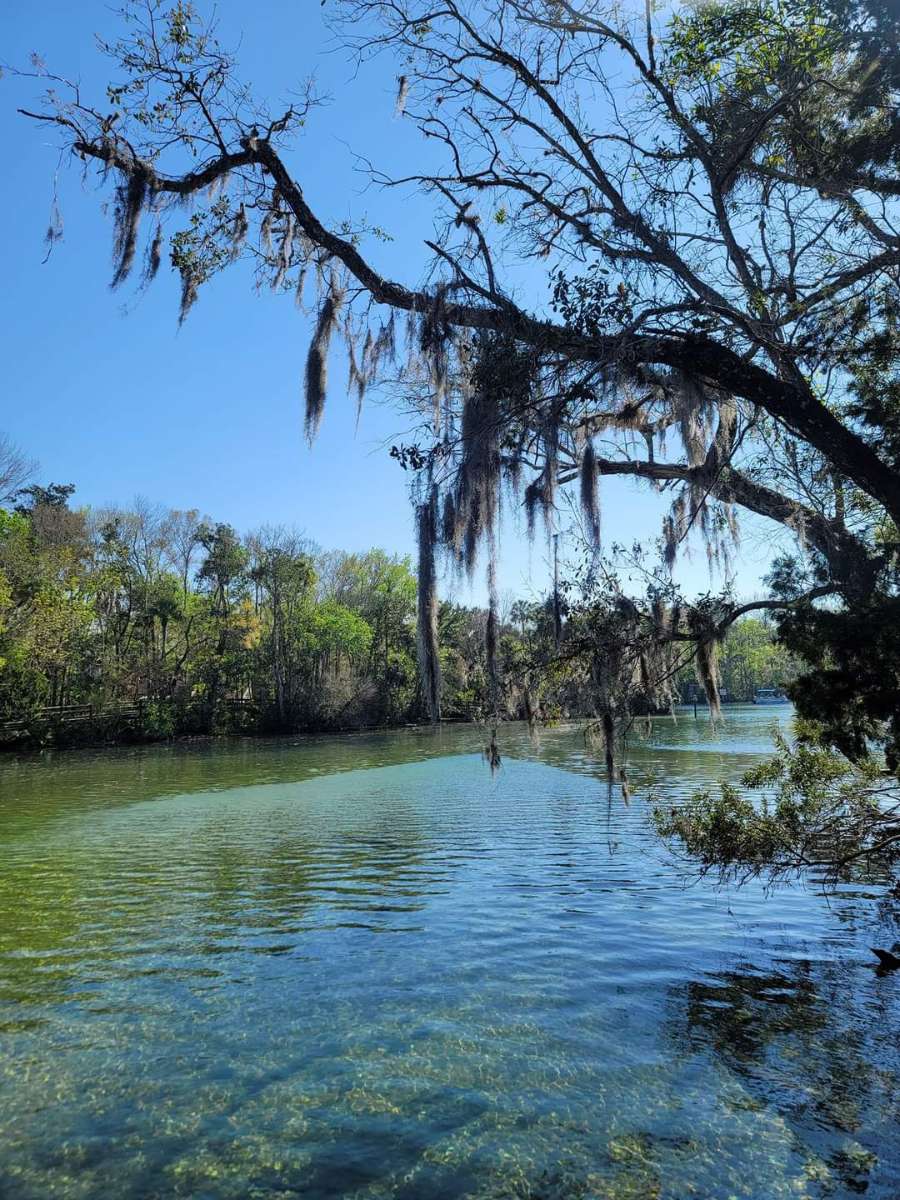 It is important to note that if you are hoping to see the manatees, you will need to plan your trip between November and April.
First and foremost, start your day with a morning snorkel with the docile manatees. There are many (many) tour companies that offer guided tours.
They'll provide you with the needed education and equipment and you can spend the next few hours floating above these magical creatures.
After your morning snorkel, head to the nearby Three Sisters Springs where you can view more manatees and the sparkling blue water from above on the boardwalk. Or, if you are still feeling adventurous, you can rent a kayak or canoe and explore the springs via paddling.
Now that you've definitely worked up an appetite, head to the Florida Cracker Kitchen for some pizza and to watch the monkeys play on the nearby island.
Finally, end your time in Crystal River with a trip to Homosassa Springs State Park. Here you can walk the trails, take a boat tour, and do some more wildlife viewing.
After a fun-filled day, you'll be ready to head back to Tampa for a good night's rest. It will surely be a day trip from Tampa you won't soon forget.
Recommended by Jordan of The Homebody Tourist
YOU MAY ALSO LIKE:
22. Clearwater Beach
In just under an hour's drive from Tampa, you can find yourself relaxing on a beach of sparkling white sand that consistently shows up on the "Best Beaches in Florida" lists.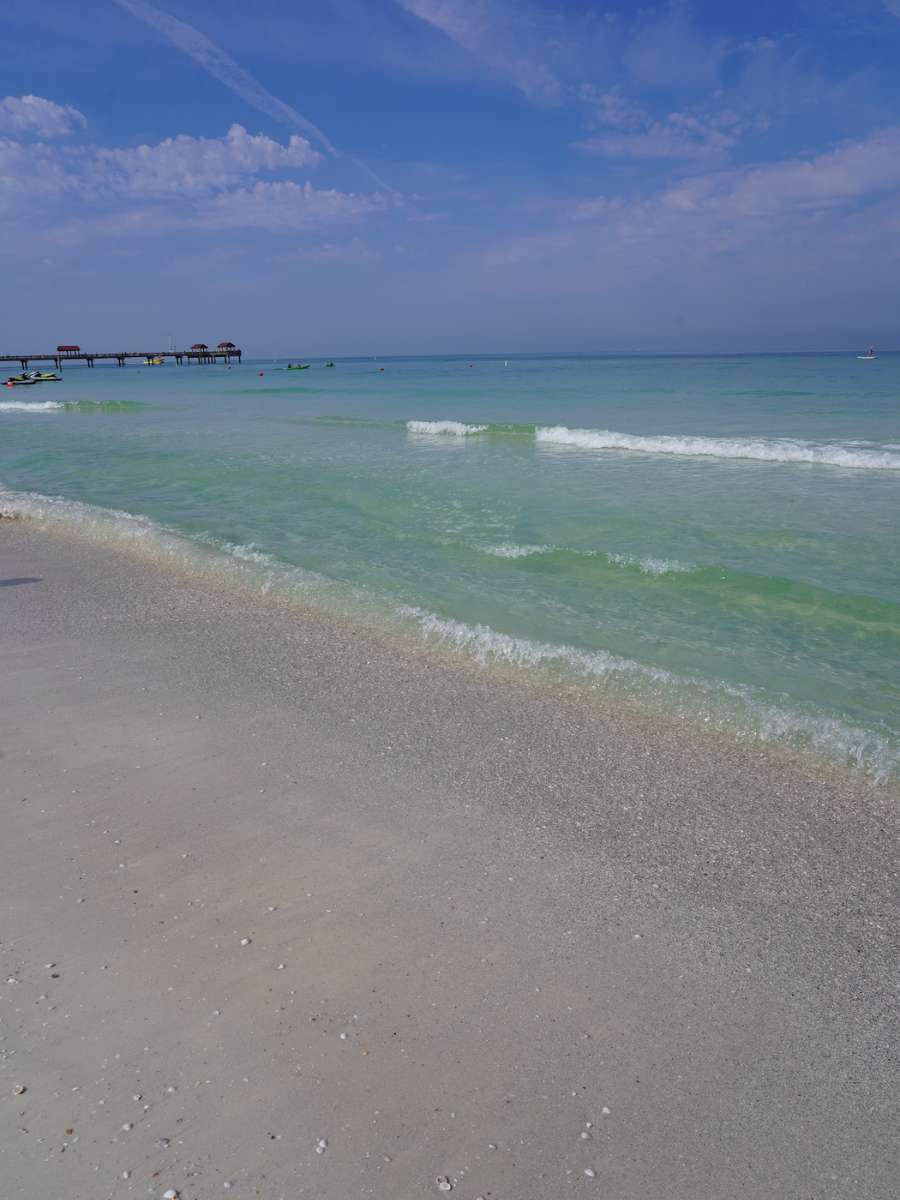 Clearwater Beach has a laid-back island life vibe that is perfect for a relaxing day. Of course, Clearwater has fantastic swimming and sunbathing opportunities, with Clearwater Beach and Sand Key being two favorite beaches in the area.
Take a promenade along the Beach Walk and enjoy the sights and sounds of both the beach and the town. One of the most popular things to do in Clearwater is to head to Pier 60 to watch people fishing try to bring in their catch.
At the pier, you'll also find live performers and local vendors where you can pick up a little souvenir of your day. If you'd like to be on the water, look into renting a boat or joining a cruise tour, which is also a lovely way to enjoy the sunset.
Slightly north and only accessible by boat (though worth the effort to get there!), Caladesi Island State Park has nice beaches and great kayaking opportunities through mangrove-lined waterways.
For some energy, hit up Caffeinated Bakery for some fantastic pastries and a cup of coffee. And after a long day of sand and sun, dig into a delicious meal at one of the local dining staples like Frenchy's Rockaway Grill or Badfins Food + Brew.
Recommended by Megan of Megan Starr
23. Walt Disney World
Whether you have kids or you're a kid at heart, spending time at Walt Disney World is always bound to add a little magic to your day.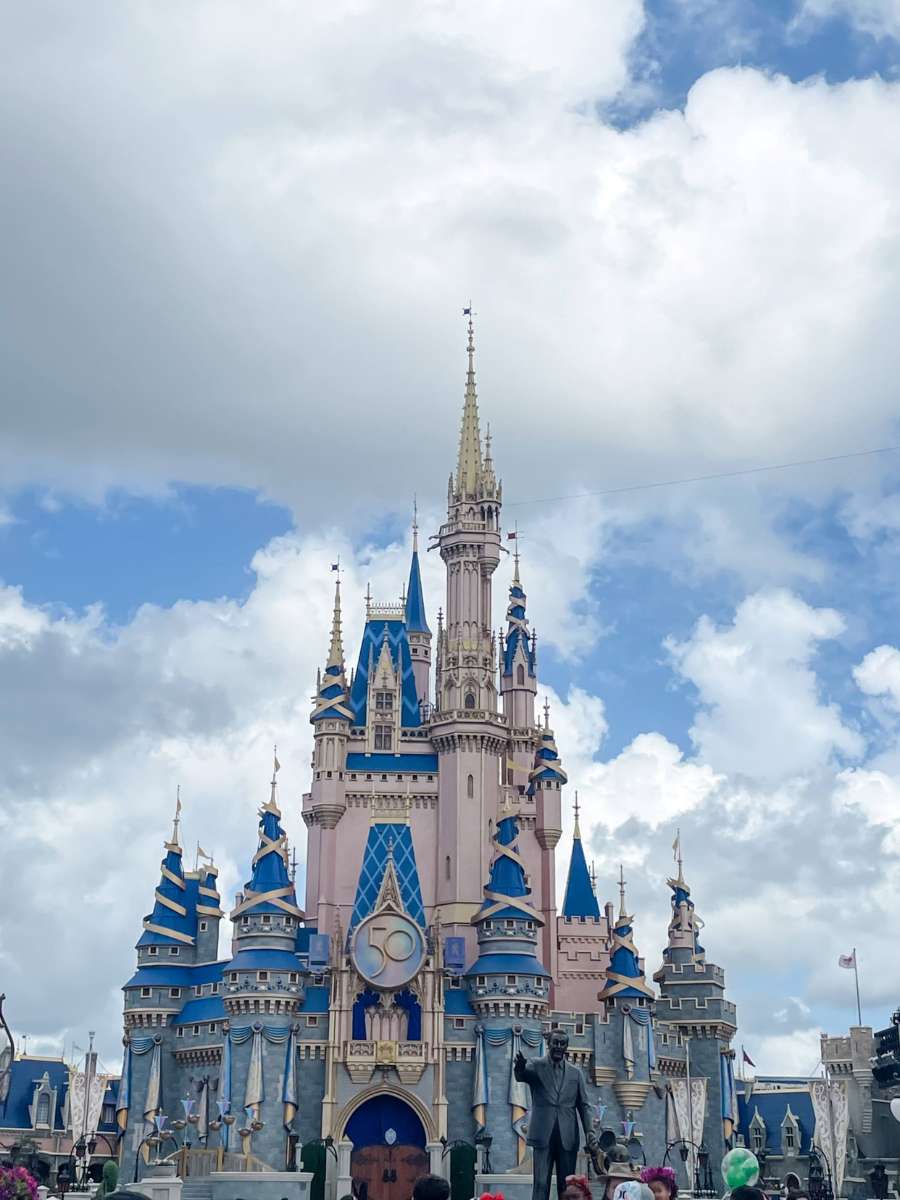 Located just about an hour away, Walt Disney World is an easy drive from Tampa, making it a perfect day trip.
With 4 Disney World theme parks plus a large shopping and dining area at Disney Springs, you'll be able to find something for everyone in your group.
From taking a ride on the back of Slinky Dog to experiencing food and drinks from around to world, from going on a safari adventure to seeing Tinkerbell fly across the night sky, this day trip from Tampa is sure to bring a smile to your face.
Walt Disney World may be full of nostalgia, but there are always new attractions, experiences, and festivals to check out. Download the My Disney Experience app or visit Walt Disney World's website to see what will be happening at the parks during your visit.
Plan to purchase your Disney World park tickets and make your park reservations ahead of time, so you can jump right into the fun as soon as you arrive.
Recommended by Jenn from Those Johnson Boys
24. Legoland
Just an hour or so away from Tampa in Winter Haven, Legoland Florida Resort is a great family destination and very doable in a day.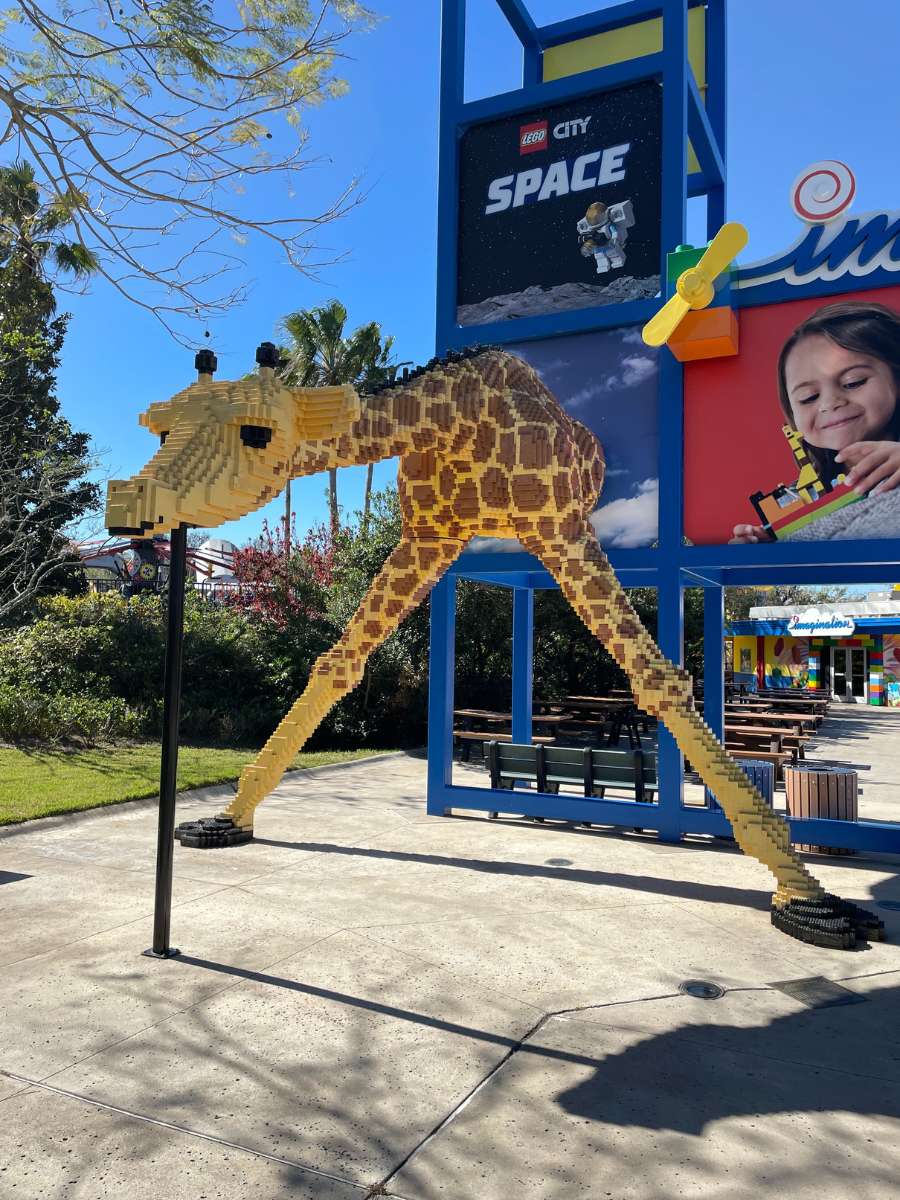 Less crowded than the big theme parks in Orlando, the rides and attractions at this Lego-themed park are especially suited towards kids in the 2-12 age range, but there are roller coasters and a water park (separate ticket required) that will entertain teens and adults as well.
Highlights of Legoland Florida include:
Rides such as Lego Ninjago (where you fight ninjas in virtual reality), the Battle of Bricksburg (fending off alien invaders with water guns) and Safari Trek (a drive past safari animals made out of Legos);
Duplo Valley play area for toddlers, featuring a splash pad and several gentle rides;
Lego sculptures, most notably Miniland, which features detailed models of Florida landmarks and major US cities;
Live action shows with swashbuckling pirates and water skiing stunts; and
Lego characters wandering the park for meet-and-greets.
Legoland is built on the site of the former Cypress Gardens, Florida's first theme park, and a section of the botanical gardens is preserved within Legoland, giving you more opportunity to get into nature than you'd normally have at a theme park.
A brand new ride in 2023, Pirate River Quest, takes visitors on a boat ride through the canals of the garden past cypress trees and egrets.
Families with toddlers and preschoolers who love the Peppa Pig children's TV show may want to check out the Peppa Pig Theme Park (also a separate ticket) on the Legoland property, which is small but thoughtfully designed and will delight little ones who watch the show.
Daily hours and admission prices for the Legoland parks vary; check Legoland's website for the most up-to-date information.
Recommended by Adrienne of Destinations & Desserts
25. Indian Rocks Beach
Indian Rocks Beach is an idyllic little beach town a short drive south of Tampa.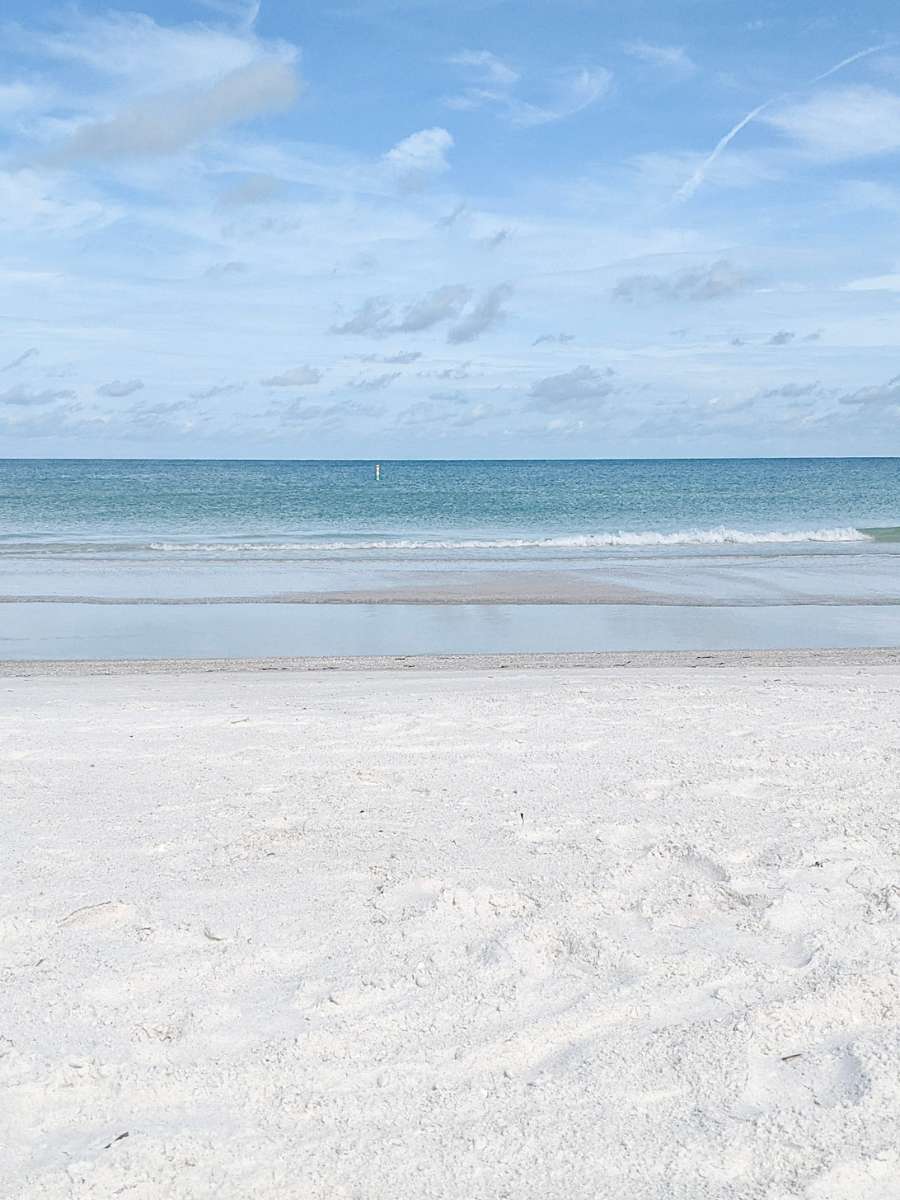 Indian Rocks is small and it may seem silly to drive away from Tampa for access to the beach. But, the beach at Indian Rocks is different.
You won't find large hotels or chains here. It's all very quaint and homey. It almost feels like you're stepping into a place that intentionally holds on to simplicity. The environment Indian Rocks creates is relaxing and fun.
With parking lots for public access to the beach, it's easy to spend a day in the sun. The 12th Avenue beach park is a good place to start. There are bathrooms and showers to make it possible to spend the whole day enjoying the sand.
Indian Rocks Beach is full of local restaurants to try for lunch. Guppy's is a good option!
At the Indian Rocks Beach Nature Preserve take a walk around the boardwalk and learn about the local ecosystem in a low-key way. You can even rent a kayak and go around the mangroves; which is similar to Biscayne National Park but much closer to Tampa
If you can hang around, or come later, sunsets at Indian Rocks Beach are ideal. Dinner at a local place and walking along the beach until sunset would be a fantastic way to spend an evening on your vacation!
Recommended by Jami of Celiac Travel Pack
26. Mount Dora
Mount Dora, Florida is a delightful small town located in Central Florida that has developed into one of the most beloved day trip excursions for tourists visiting the Tampa Bay area.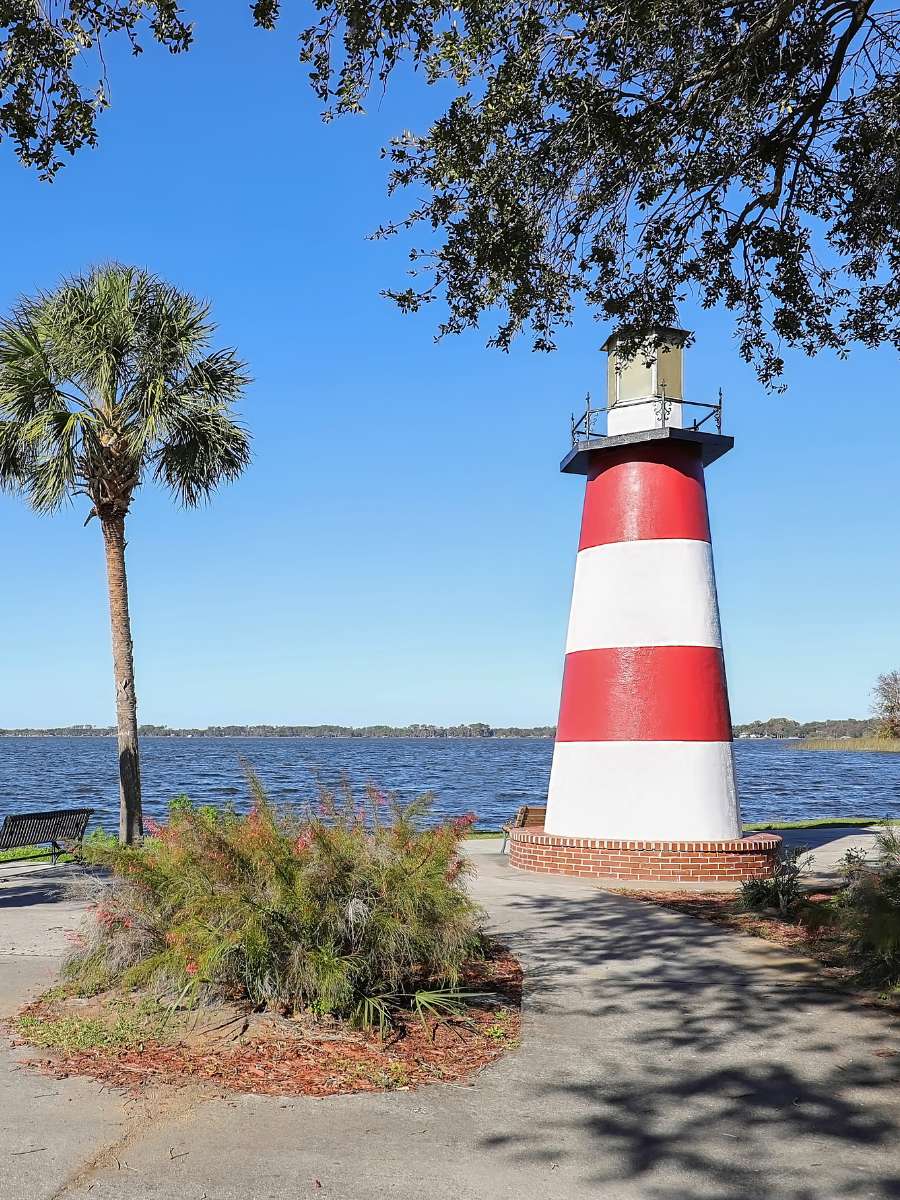 With its historic charm, endless antiques stores and unique shops, as well as world-class cuisine restaurants, there is something special for travelers to experience here.
The heart of Mount Dora lies in its picturesque downtown area with its old fashioned lampposts and vintage architecture.
Many visitors come for antiquing, window shopping or simply strolling along streets lined with incredible boutiques. Alongside this are numerous eateries that serve up a variety of different cuisines from all around the world.
On top of this, the town also offers plenty of outdoor activities on the lakefront shores of Lake Dora. Boaters will find rentals available to them while anglers can try their luck at catching bass and other fresh-water fish species.
Kayakers will also find plenty to love about Mount Dora as the town is situated at the north end of the Dora Canal which runs from Lake Dora to Lake Eustis.
This can be a great spot for a leisurely paddle or more adventurous maneuvers with its winding curves and shallow waters. All in all, kayaking on the Dora Canal is definitely something that should not be missing from any outdoor enthusiast's list when visiting Mount Dora!
Mount Dora, Florida is an ideal destination for travelers looking to take a day trip from Tampa that combines historic charm with modern amenities, quaint shops with world-class cuisine restaurants and outdoor activities perfect for a family fun time!
Recommended by Tonya of Detail Oriented Traveler
27. Universal Orlando
Universal Orlando Resort makes the perfect day trip from Tampa. It is approximately 90 miles and a 2-hour drive from Tampa.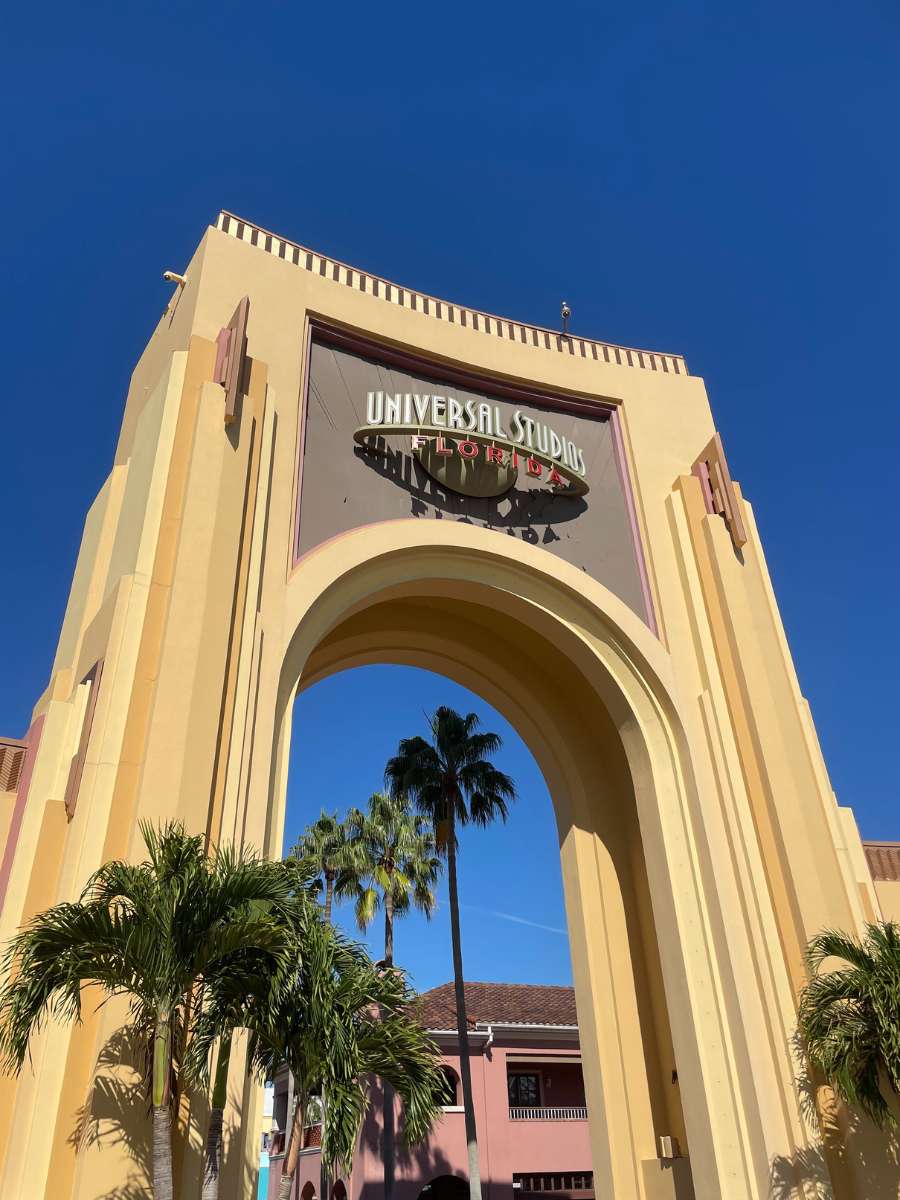 This day trip is great for those looking for a day of theme park fun. Unlike Walt Disney World, much of Universal Orlando can be experienced in just one day.
Universal Orlando Resort consists of 2 theme parks, a waterpark, and Universal CityWalk (a shopping, dining, and entertainment complex).
Both of its theme parks have rides, shows, and attractions for all ages. Islands of Adventure is the newer park of the two and has rides and attractions themed around superheroes and Jurassic Park.
To get the most out of your day trip at Universal Orlando Resort, get the One-Day Park-to-Park ticket. This ticket allows you to go to both Universal Studios and Islands of Adventure.
Plus, for Harry Potter fans, the park-to-park ticket is the only way to ride the Hogwarts Express. The Hogwarts Express takes you from The Wizarding World of Harry Potter of one park to the other.
Or if you're looking to get a little wet, Volcano Bay at Universal Orlando Resort would be a great way to spend your day. Volcano Bay is not your typical waterpark. This tropical-themed "water theme park" is super beautiful and super relaxing.
Recommended by Kim of Traveling Swansons
28. Silver Springs
If you're looking for a refreshing escape from the hustle and bustle of Tampa, look no further than Silver Springs – one of the most beautiful natural springs near Tampa.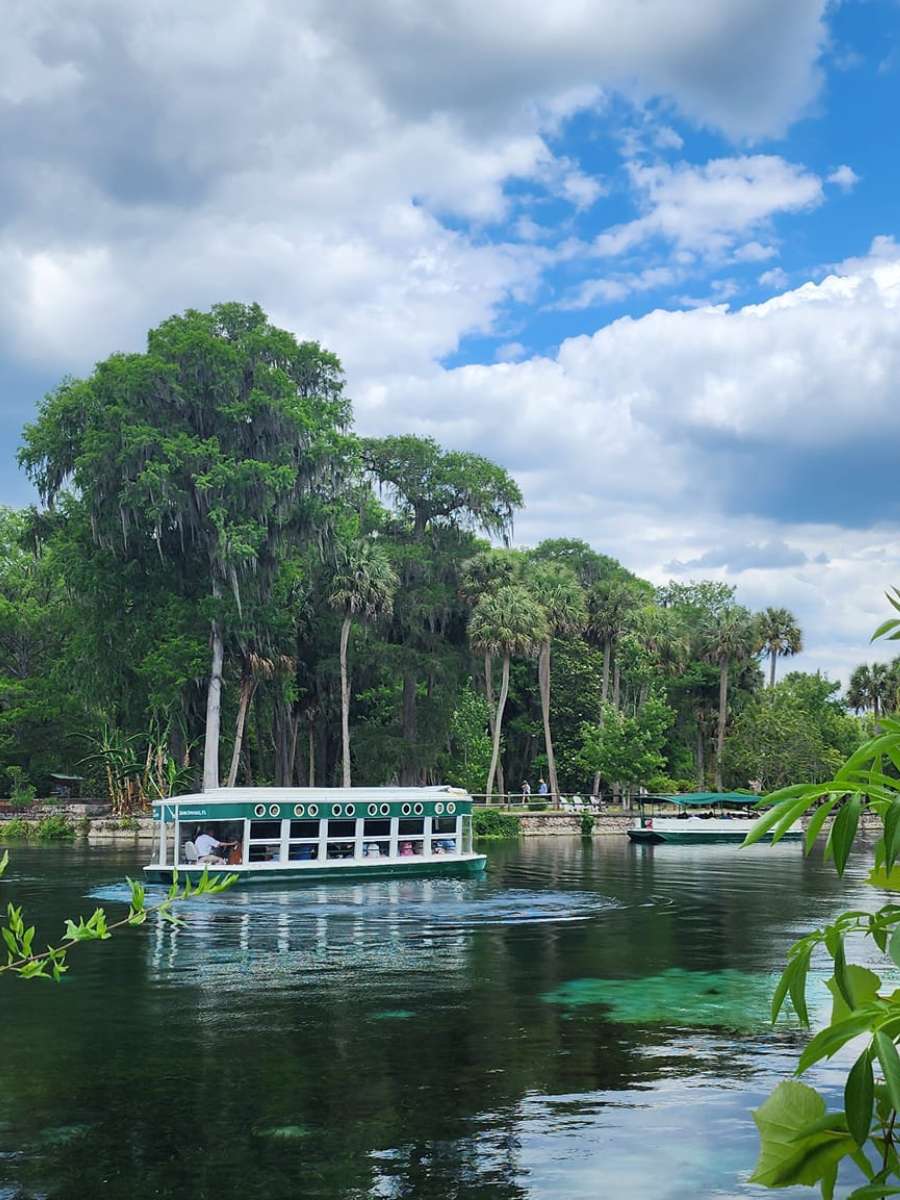 Located just two hours north of Tampa, this natural wonder boasts crystal-clear natural springs and a variety of wildlife that will take your breath away.
Silver Springs is one of the most iconic natural springs near Tampa, known for its stunning beauty and crystal-clear waters.
The park covers over 350 acres of land, and its main attraction is the Silver River, which runs for five miles and is home to countless species of fish, turtles, alligators, and birds.
Visitors can explore the river on a glass-bottom boat tour, where they can see the beauty of the underwater world without getting wet. The park also offers kayak and canoe rentals for those who want to get up close and personal with nature.
Aside from the water attractions, Silver Springs also has a variety of walking trails, picnic areas, and a petting zoo, making it an ideal destination for families with children.
Silver Springs is a must-visit destination for anyone who loves nature and wants to experience the best of what Florida has to offer.
With its crystal-clear natural springs, diverse wildlife, and various recreational activities, Silver Springs is the perfect day trip from Tampa. So, pack your bags, grab your camera, and get ready to experience the beauty of one of the most stunning natural springs near Tampa.
Recommended by Trijit Mallick of Budget Travel Buff
29. Ca' d'Zan
Ca' d'Zan in Sarasota is a great day trip destination from Tampa Bay. Any history, architecture, and art lover would enjoy this house museum.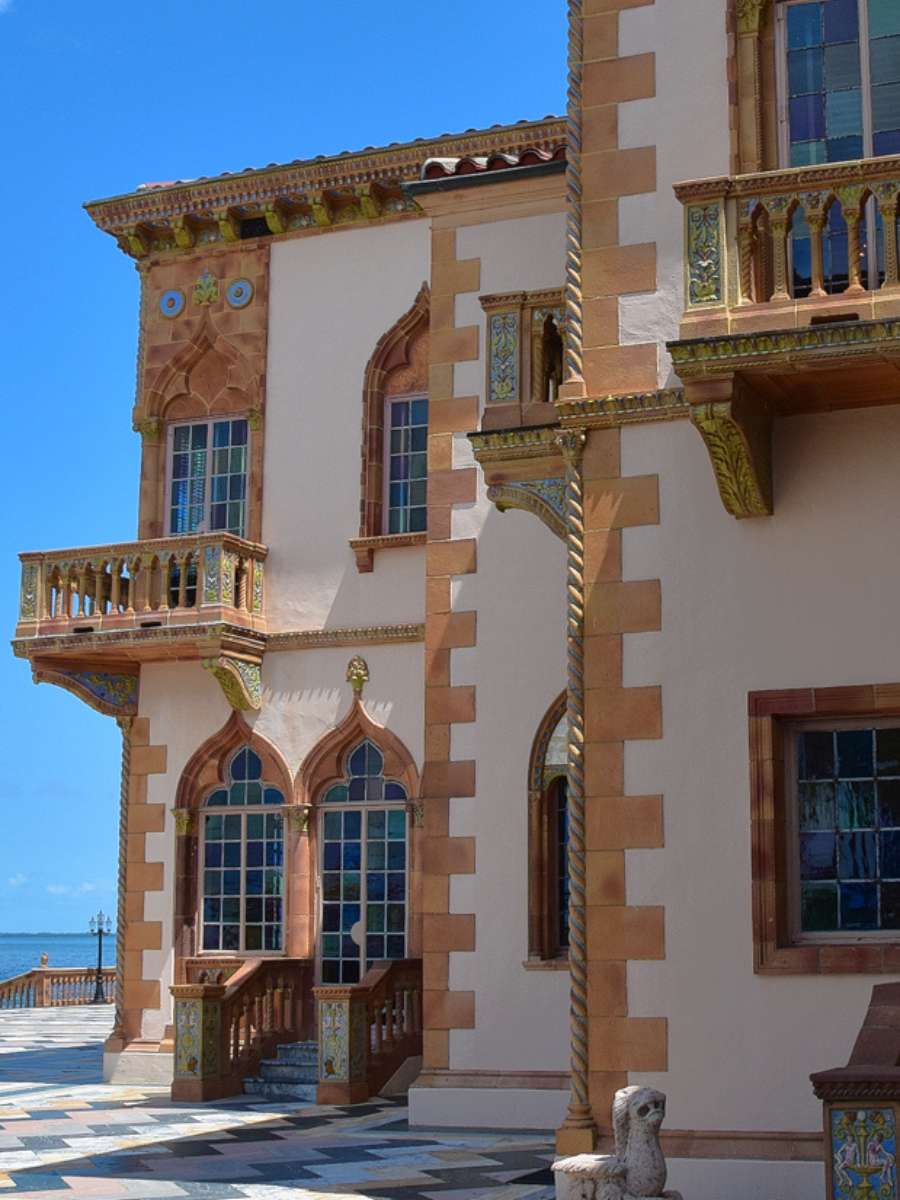 Ca' d'Zan is a crown jewel of the John and Mable Ringling Museum of Art. This mansion was once a winter home of the Ringlings, circus magnates and art collectors.
The owners built Ca' d'Zan in a Venetian Gothic style. Even the strange looking name comes from the Venetian dialect. It simply means the "House of John".
Ca' d'Zan became known as a Venetian Palace soon after its completion in 1926. The house has catchy elements, like stained glass panels and arches. They make Ca' d'Zan one of the most Instagrammable spots in all of Florida.
Inside you will find spacious chambers, luxurious furniture, and ceiling murals. Ca' d'Zan bears little resemblance with other house museums on the East Coast. In fact, this mansion's flamboyant design is most similar to the Winchester House in San Jose, CA.
There is a lot to see at the Ringling in addition to Ca' d'Zan. Art connoisseurs could visit exhibitions at the Museum of Art. Kids would enjoy the Circus Museum. And architecture lovers could stroll through the Bayfront Gardens.
Regular admission with a self-guided Ca' d'Zan exploration costs $35 per person. But there is a way to save if you visit the mansion on a Monday. Thanks to the free admission to Museum of Art and Bayfront Gardens, you can explore Ca' d'Zan for just $10.
Recommended by Anastasia of Travel Realist
30. Fort Myers
An easy two hour drive south of Tampa, FL on I-75 is the tourist friendly town of Fort Myers. Situated on the Caloosahatchee River, Fort Myers is upriver and minutes away from Sanibel Island and Fort Myers Beach if beaches are on your list. Both offer soft white sand, gentle surf, and incredible shelling.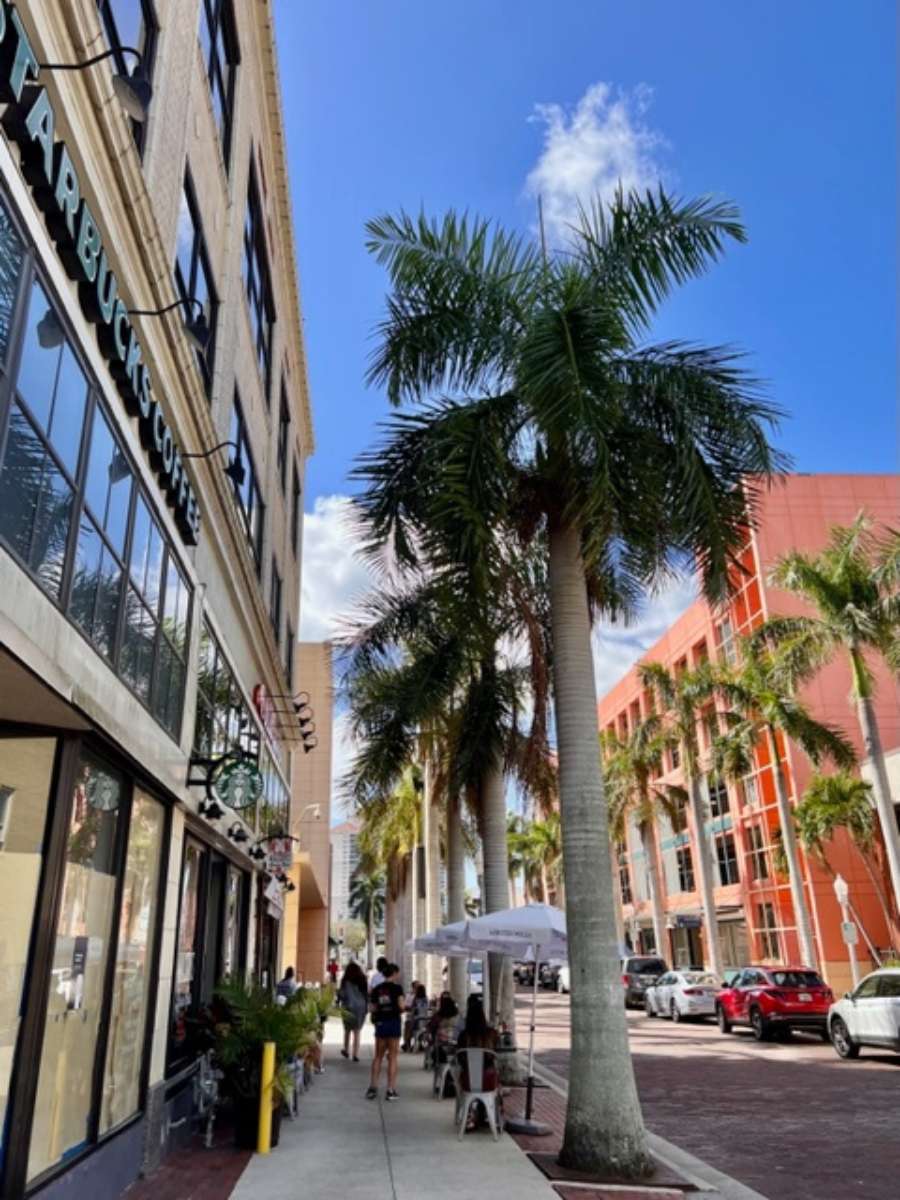 Some of the best things to do in Fort Myers aren't about the beaches, but more about the city's history and the revitalized downtown area. A great place to start especially for families is the IMAG History and Science Center, aka Imaginarium Fort Myers. There are 60 interactive exhibits including touch tanks with living sea critters.
The most popular historic site is the Edison Ford Ford Winter Estates dating back to 1880. You can visit the pristinely preserved homes and property as well as the original lab that still has testing equipment used in scientific experiments.
There's a garage housing some of Henry Ford's first vehicles as well as an air-conditioned museum with a vast collection of artifacts.
Downtown Fort Myers has been revitalized but maintains its vintage feel and appearance. The main street is lined with restaurants and casual eateries, brew pubs, boutique shops, and antique and art shops. The good news is that you can park and the downtown is all very walkable.
When you're considering a day or overnight trip from Tampa, put Fort Myers at the top of your list for a taste of southwest Florida.
Recommended by Lori of Naples Florida Travel Guide
31. Miami
While it might be a long day to travel from Tampa to Miami, the incredible attractions, food and general atmosphere of Miami are 100% worth the trip.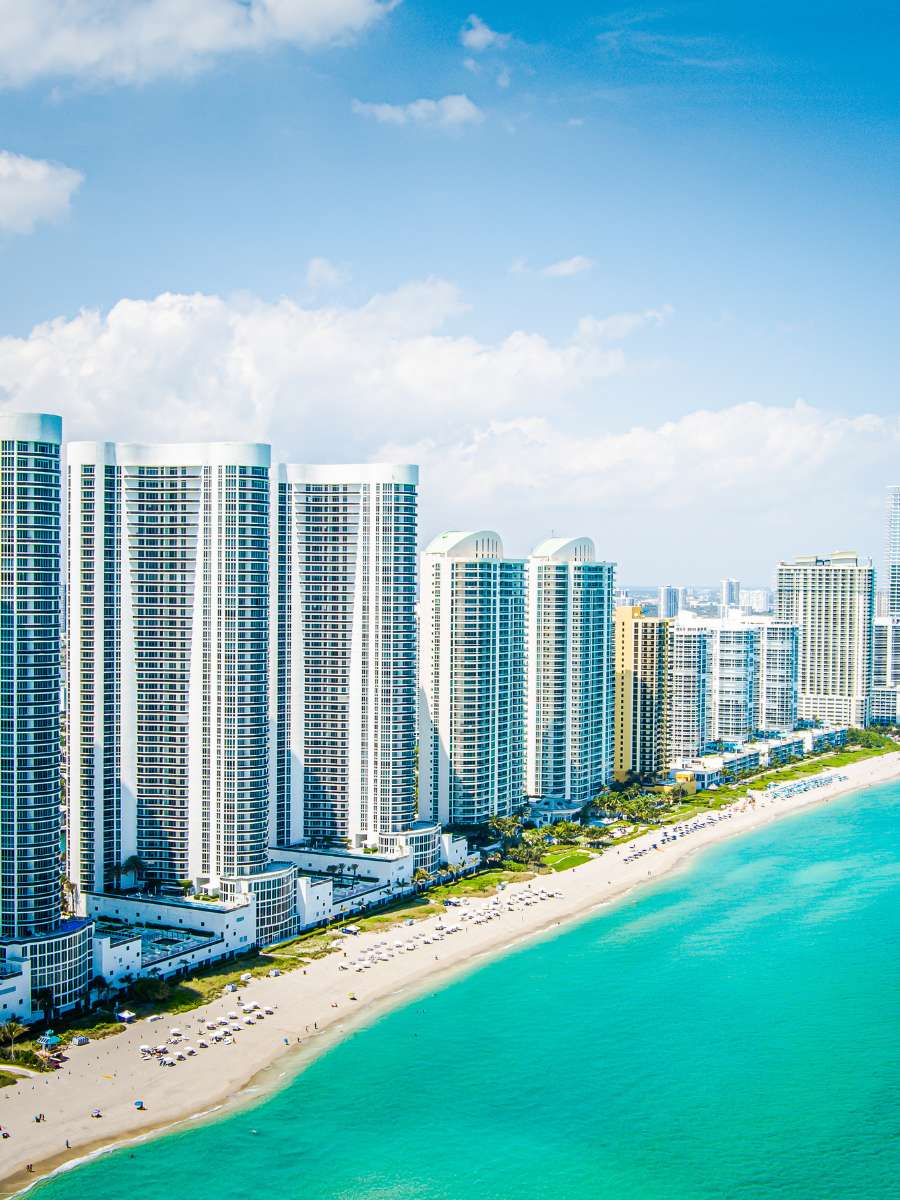 Miami is known for its beaches, especially the famous South Beach area with its art deco buildings, classic cars cruising along Ocean Drive, palm trees and all day parties bursting out of every hotel bar. You could easily spend your entire day here, walking along the beach, swimming or enjoying some cocktails.
However, limiting yourself to South Beach risks missing all the cultural attractions Miami has to offer. Little Havana is an absolute must-visit, whether you want to fill up on Cubano sandwiches, ropa vieja and churros, challenge some locals at Domino Park or dance in the streets.
There's also a ton of art to enjoy, whether your style is the graffiti murals or Wynwood Walls or the Spanish colonial architecture of the Vizcaya Museum and Gardens.
Miami is totally unique, unlike any other city you'll visit in the United States and it's a must do on any vacation whether it's an East Coast Road Trip or South Florida beach escape. No matter whether you make a day trip or spend 4 days in Miami you'll love the energy and vibrancy of the city.
By Kate of Kate Abroad
32. Dunedin
Dunedin may not be the most well-known spot in Florida, but it's certainly a hidden gem worth exploring as a day trip from Tampa. This small coastal city on the Gulf of Mexico is quaint and charming, but still offers plenty to explore.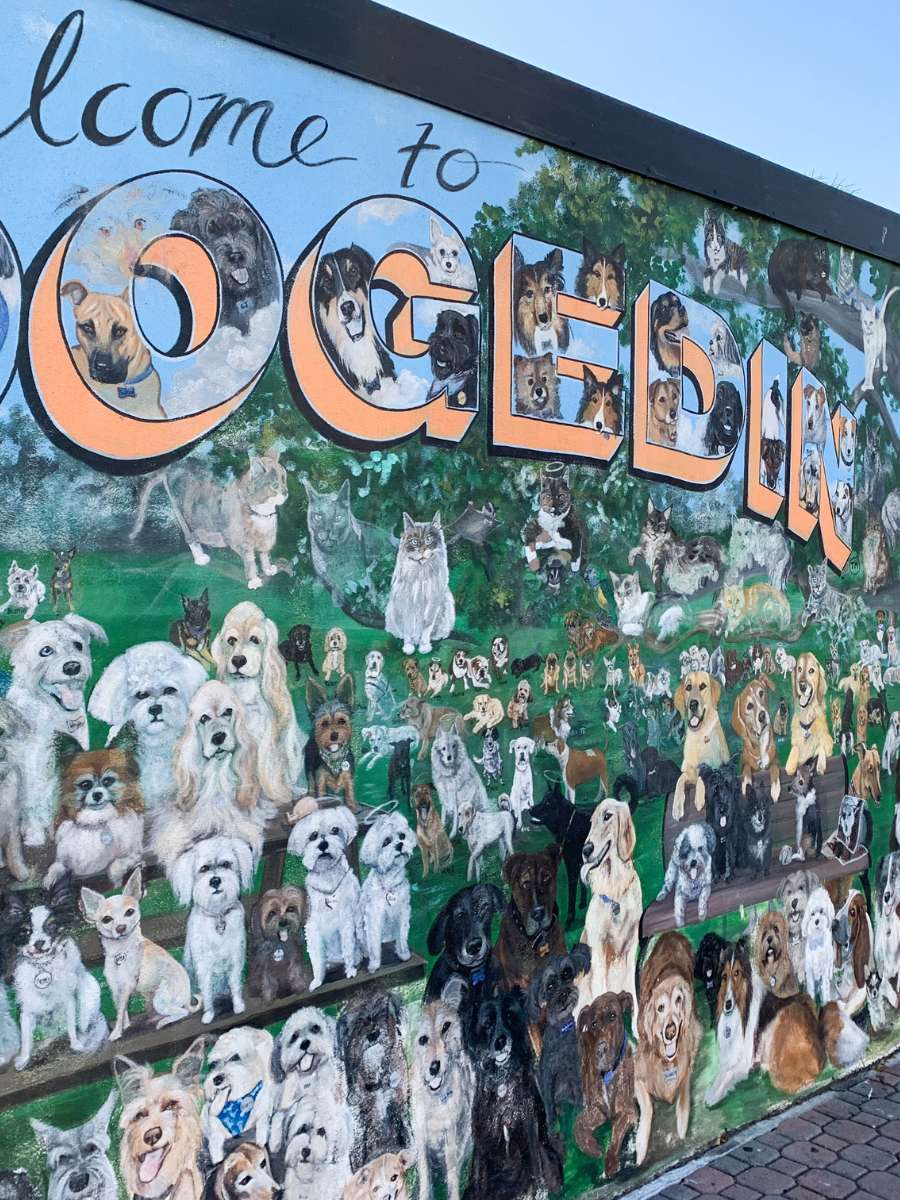 The first thing you'll notice about Dunedin is the charming downtown area, which is lined with locally-owned shops and restaurants. Take a stroll down Main Street, and you'll be greeted by unique shops, local art, and cozy restaurants.
Grab local house-made ice cream from Strachan's, tapas and small plates at Caracara Asian Tapas and Tacos, or grab a beer at the oldest microbrewery in Florida, Dunedin Brewery.
Most establishments in Dunedin are dog friendly. In fact, the town is so friendly to dogs that it was given the nickname "Dogedin" and decorated with several dog murals and watering stations around town.
One of the main attractions in Dunedin is Honeymoon Island, which was ranked Florida's #1 state park. You'll find four miles of pristine beaches, nature trails, and a dog-friendly beach. The park is also home to a nature center, where you can learn about the local wildlife.
If you're a fan of Major League Baseball, you can catch a game in Dunedin as it's home to the Toronto Blue Jays for spring training or the Dunedin Blue Jays year-round.
Dunedin may be small, but it's perfectly balanced with plenty to do while still offering a relaxing day strolling the town or beaches. Whether you're visiting as a couple, with kids, as a group, or with dogs, this town will offer an incredible day trip to any visitor looking for a one-day escape.
Recommended by Hannah of Plate & Compass
33. Wild Florida
One of the best day trips from Tampa is to Wild Florida. It's an animal park in the Everglades near Kenansville, which is approximately a 2-hour drive from Tampa.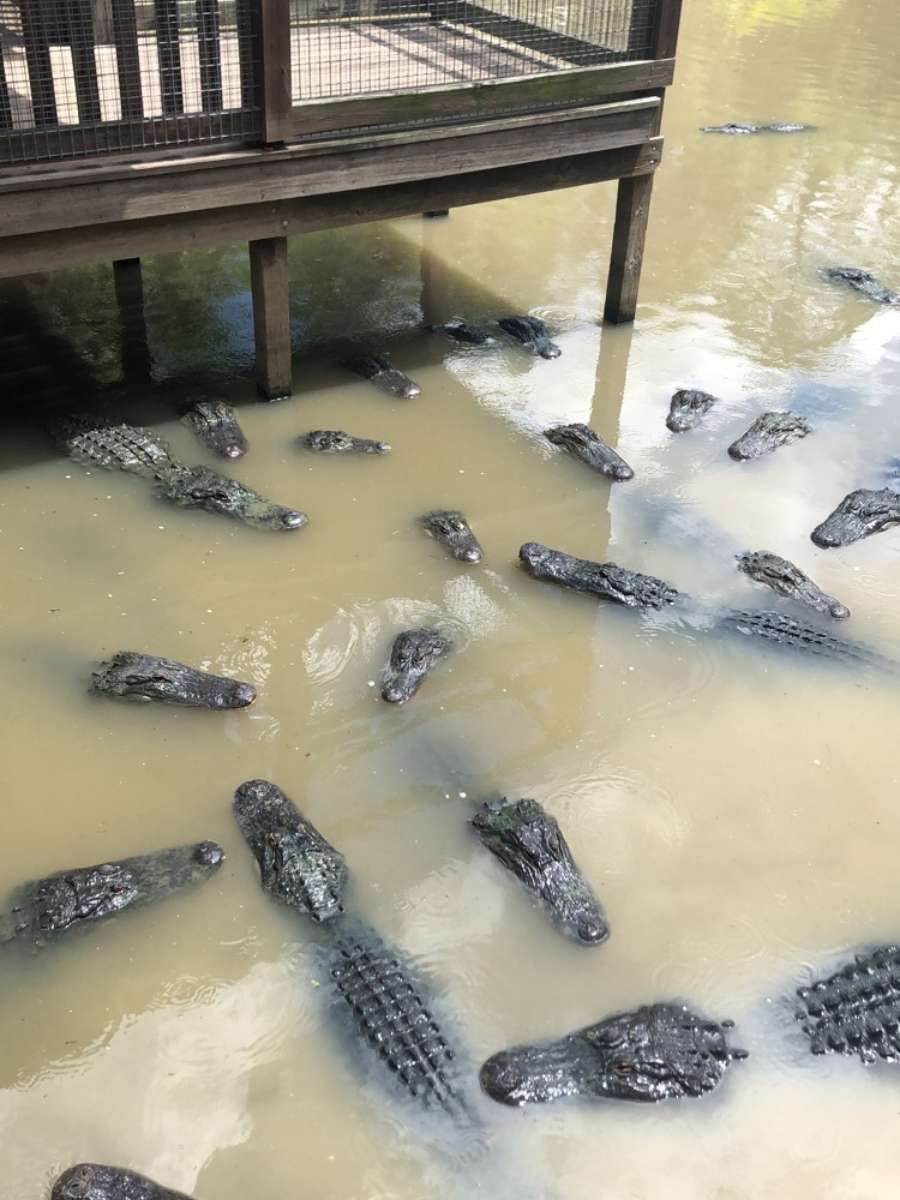 Wild Florida is more than just an animal park. The most popular attraction at the site is the airboat tours through the Everglades. They're a surreal experience and Wild Florida reviews consider it a must-do if you take the trip to Central Florida.
On top of the airboat tours, there is also a drive-thru safari, and also Gator Park, which is what it says on the tin.
Wild Florida offers so much more than any other zoo and it's severely underrated, but has been growing in popularity in recent years.
There are lots of opportunities to get up close to the animals, with the park offering over 10 different animal encounter experiences. There are also shows throughout the day where you can learn a little bit about the animals in question.
Don't miss out on the drive-thru safari either. It's as close as you can get to a proper African safari without actually going to Africa.
Driving through the huge open habitats is unforgettable and offers a unique way to see animals in their natural way of life instead of in small enclosures.
There's so much to do in Wild Florida and it makes the perfect day out. If you have a spare day in Tampa, be sure to head to Wild Florida. You're guaranteed to have an amazing time.
Recommended by Josh of A Backpacker's World
34. Everglades National Park
For an adventure into the wildness of Florida, head down to Everglades National Park. This beautiful park is only 3 hours away and offers a unique experience that you won't find anywhere else in Florida.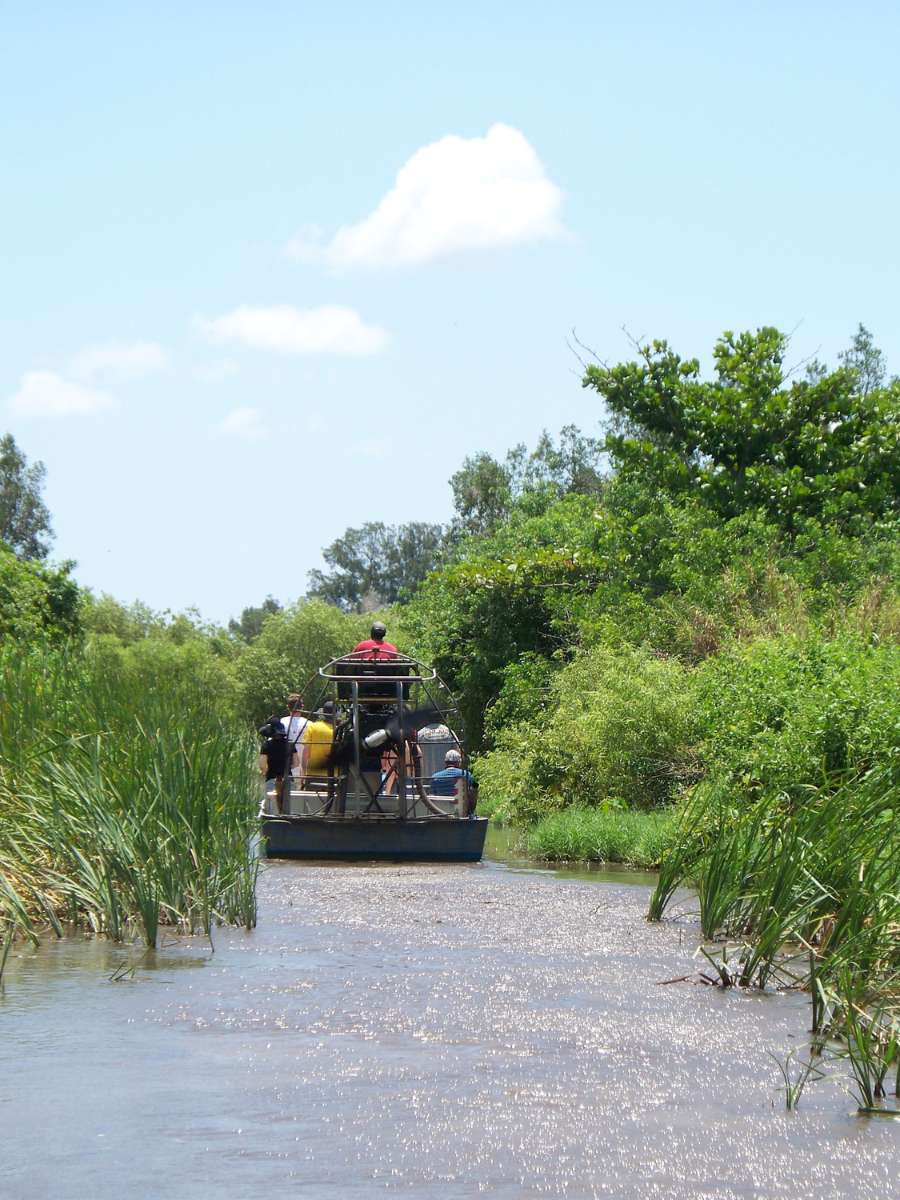 The 1.5 million-acre National Park is home to everything you think of when picturing the Everglades: alligators, panthers, tropical birds, swamps, and mangrove forests. You won't have time to explore it all on your day trip from Tampa, but by starting at the Shark Valley Visitor Center you can squeeze a lot of adventure into a day. The visitor center is located on Tamiami Trail (Highway 41).
From the visitor center, you can either rent bikes or relax on the tram as you explore the 15-mile paved Everglades Trail. At the halfway point there is a 45-foot observation tower which gives a view of the park for at least 20 miles in all directions.
Another 10-15 minute drive on Tamiami Trail will take you to Gator Park, a National Park-authorized airboat tour company. It's a fun way to explore the sawgrass swamp and get close to wildlife.
The most popular way to explore deep into Everglades National Park is by canoe or kayak which you can rent at the Gulf Coast Visitor Center in Everglades City. And if you are not that outdoorsy, they also offer more traditional boat tours through the Thousand Islands area.
After this taste of the Everglades, you'll want to come back to explore the southern half of the park, through the Royal Palm Area with the most popular hiking trails, and the Flamingo Area which is home to the gorgeous Florida Bay.
So pack a picnic lunch, bring your camera, and get ready for a day of adventure in the Everglades National Park.
Recommended by Ladona of Walking The Parks
35. Gainesville
One of the best day trips from Tampa is to Gainesville. In less than two hours, visitors to Gainesville can experience culture, nature, and amazing food.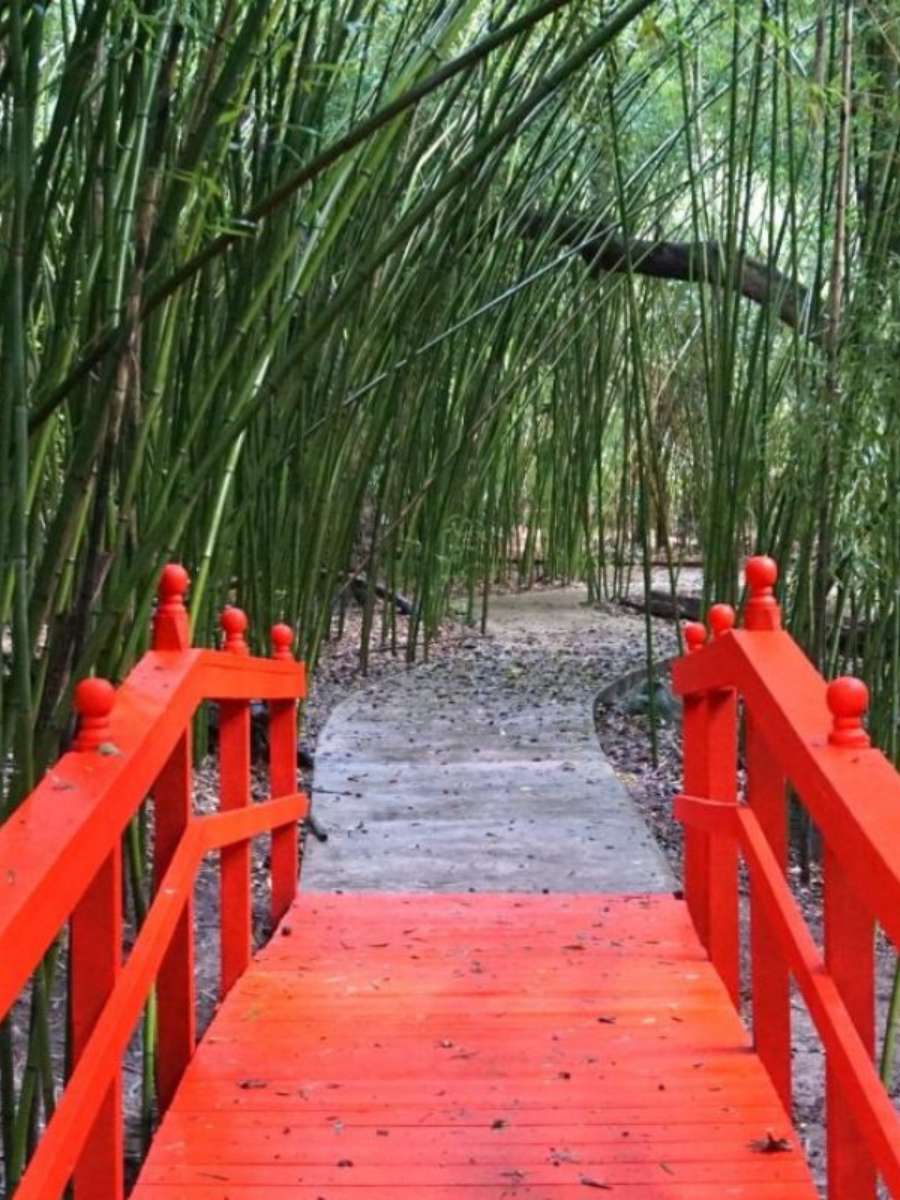 There are a lot of things to do in Gainesville, for adults and kids alike. Home to the University of Florida, Gainesville has world-class museums, including the Florida Museum of Natural History which has daily butterfly releases. The Harn Museum of Art has over 10,000 pieces of art ranging from ancient to modern, and objects from all over the world.
There are also beautiful parks and gardens, with both paved and unpaved trails. A favorite is Kanapaha Botanical Gardens which has the largest public display of bamboo in Florida. There are also two state parks where you can see sinkholes: Devil's Millhopper Geological State Park and Paynes Prairie Preserve State Park.
The food in Gainesville is also pretty incredible. It's a college town, so there is a large variety of restaurants. From pizza to Southern comfort, Gainesville has something for every kind of foodie. One especially popular spot is El Indio. This Mexican restaurant has been around since 1991 and has become so popular it now has two locations.
You can easily get to Gainesville from Tampa by driving north on I-75.
Recommended by Vicky of Buddy The Traveling Monkey
36. Biscayne National Park
Biscayne is one of the most unique parks in the beloved U.S. National Park System and is an excellent day trip from Tampa.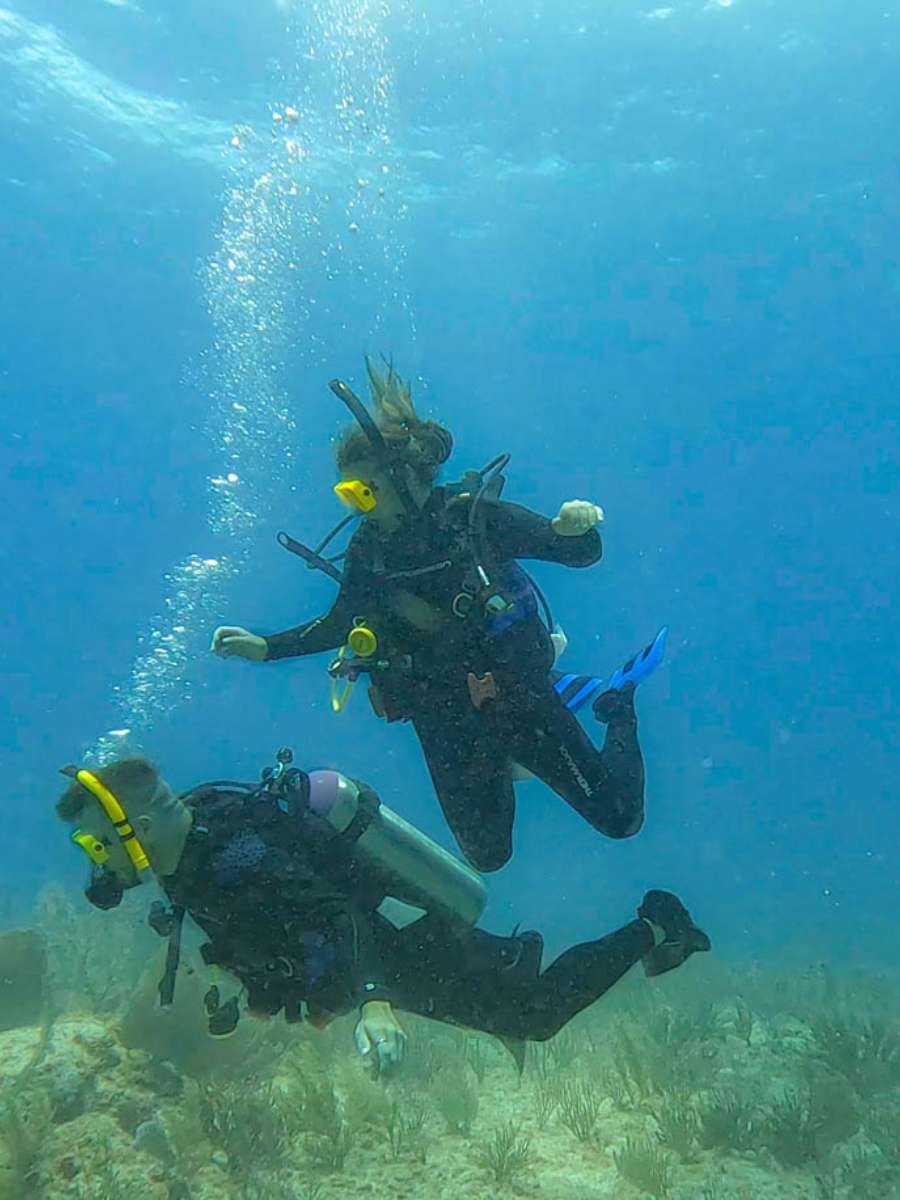 Biscayne's environment consists of limestone keys, mangrove swamps, and coral reefs, all of which make it the perfect home for a plethora of wildlife, like manatees, sea turtles, and American crocodiles. This not-to-be-missed park is located along Biscayne Bay, just south of Miami or a four hour and 20 minute drive from Tampa.
Every visit should start at the Dante Fascell Visitor Center to get acquainted with the park, which protects one of the largest coral reef systems on the planet! Don't miss the Convoy Point Jetty Trail from the center, where you'll take an easy stroll into the Colonial Bird Protection Area and have a good shot of viewing coastal birds.
Given that the majority of the park consists of water, the best way to explore will be to get out on it! There's tons of options to choose from—like paddleboarding in Jones Lagoon, through a beautiful mangrove swamp or snorkeling or scuba diving in the park's vibrant coral reefs.
Beyond the beautiful reef here, which is teeming with vibrant wildlife, Biscayne is considered one of the best shipwreck diving sites on the planet!
One of the best things about Biscayne is that it's wonderful to visit year round, whether you are looking to escape the heat of summer or for a unique adventure during winter in Florida. Regardless of when you make the trip here, you'll be blown away by its stunning coastal landscape and abundant wildlife!
Recommended by Jessica of Uprooted Traveler
37. Weeki Wachee Springs
If you're looking for a fun and unique adventure in Florida, add a visit to Weeki Wachee Springs State Park to your list! This historic attraction has been bringing smiles to visitors since 1947. With three main areas to explore, there's something for everyone!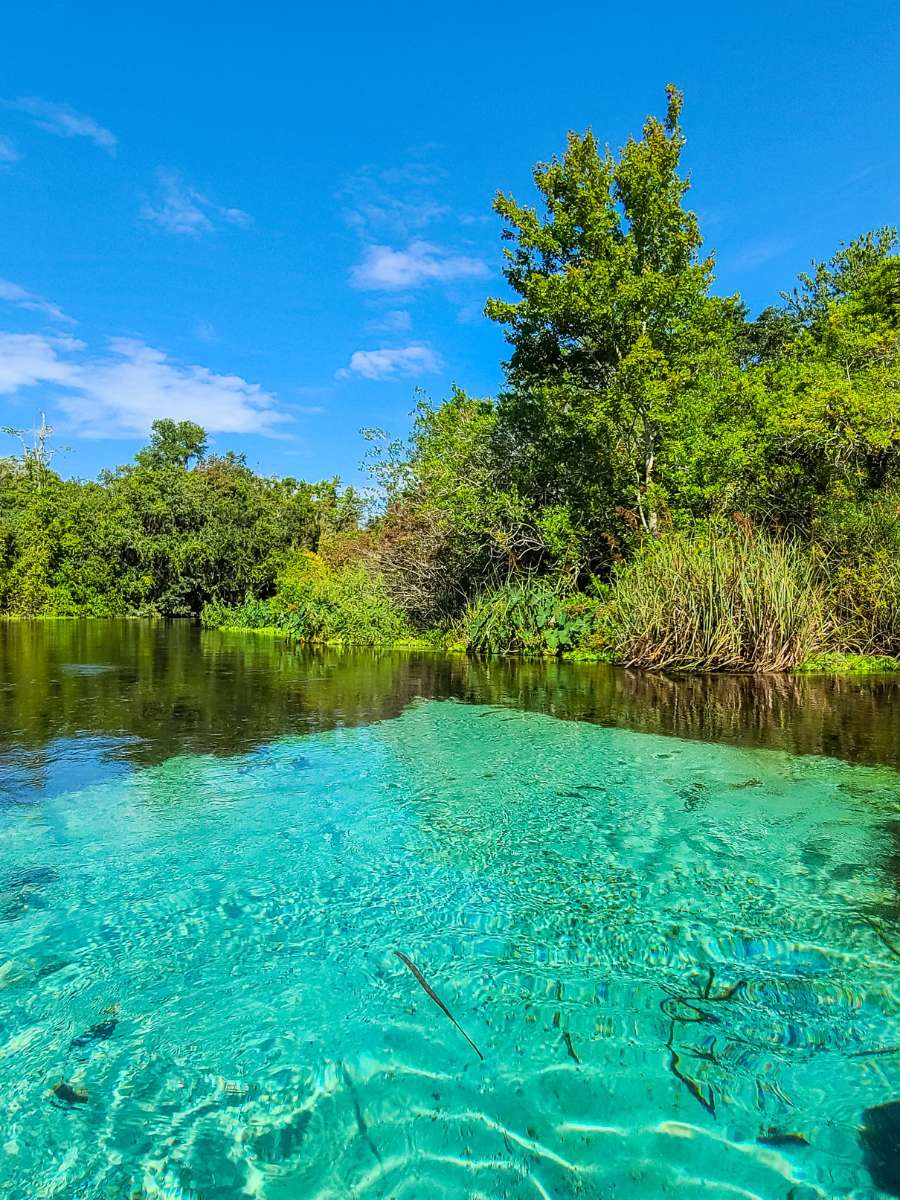 The park entrance fee includes access to the Buccaneer Bay water park, live underwater mermaid shows (yes, mermaids!), and swimming in the natural spring that remains a constant 72°F year-round.
Visiting Weeki Wachee Springs is a great option for a day trip from Tampa, coming in at just under an hour drive from downtown. One of Florida's most unique parks, Weeki Wachee contains the deepest natural spring in the country. It is also Florida's only spring-fed waterpark, with slides spilling into the natural spring.
The famous Weeki Wachee Mermaids have been dazzling visitors for over 70 years, including many celebrities.
In multiple performances throughout the day, the mermaids eat, sing, dance, and talk underwater while the audience gets an up-close view inside the underwater amphitheater. Or if mermaids aren't your thing, grab a spot on the white sand beach and pick up a cold drink from the tiki bar!
If you're feeling extra adventurous, consider renting a kayak or SUP for an additional fee. Experience the 12-mile-long Weeki Wachee River with occasional sightings of manatees and alligators.
It's the perfect adventure for a family of all ages, and the entire paddle is downstream. The clear water allows you to see fish, turtles, and other sea life during the trip.
Recommended by Erin from The Simple Salty Life
Where to stay in Tampa
Luxury
Tampa Marriott Water Street: Set in the heart of Downtown Tampa, this luxury hotel features two on-site restaurants serving traditional American fare, a 55-inch flat-screen TV in every room, and fully functional fitness and business centers that guests can use whenever they need them. See rates here.
Grand Hyatt Tampa Bay: Offers two outdoor swimming pools, three on-site restaurants, a 24-hour fitness center, a coffee maker, and a flat-screen cable TV in every room. See rates here.
Mid-range
Sailport Waterfront Suites: A lovely hotel in the Bay Harbor area with a volleyball court where visitors can play a few games, a poolside bar and grill, an outdoor heated swimming pool, and an outdoor fitness center. See rates here.
DoubleTree by Hilton Hotel Tampa: Offers free airport shuttle service, an outdoor pool with a sundeck, and a business center that is open around-the-clock. See rates here.
Best Tampa tours
Looking for wonderful tours to take in Tampa? Here are a few recommendations!
Wrapping Up: Best day trips from Tampa
As you can see, there are plenty of wonderful day trips from Tampa that you can take.
Even though there is so much to do in the city to keep you entertained, a trip to Tampa is also about exploring the rest that Northern Florida has to offer visitors.
No matter your travel style and interests, there are tons of beautiful day trips from Tampa you can take, be it to some of the best theme parks in the world to gorgeous spots in nature you may have never heard of before.