Visiting Corfu soon and wondering where to stay on the island? With so many villages and landscapes to choose from, deciding what area to stay in Corfu can feel a bit overwhelming.
The thing to know about Corfu, though, is that it has something to offer everyone. If you love chilling at the beach, Sidari will do, but if you prefer mountain settings and folklore, Ano Korakiana is for you! More in the mood for partying? then head south to Kavos instead.
That being said, knowing where you're staying in Corfu is extremely important. You don't want to book a relaxing holiday with kids and somehow end up surrounded by drunk Brits, right? Or maybe plan for days spent chilling at the beach and suddenly find yourself in the middle of a hilly spot with pebbly beaches.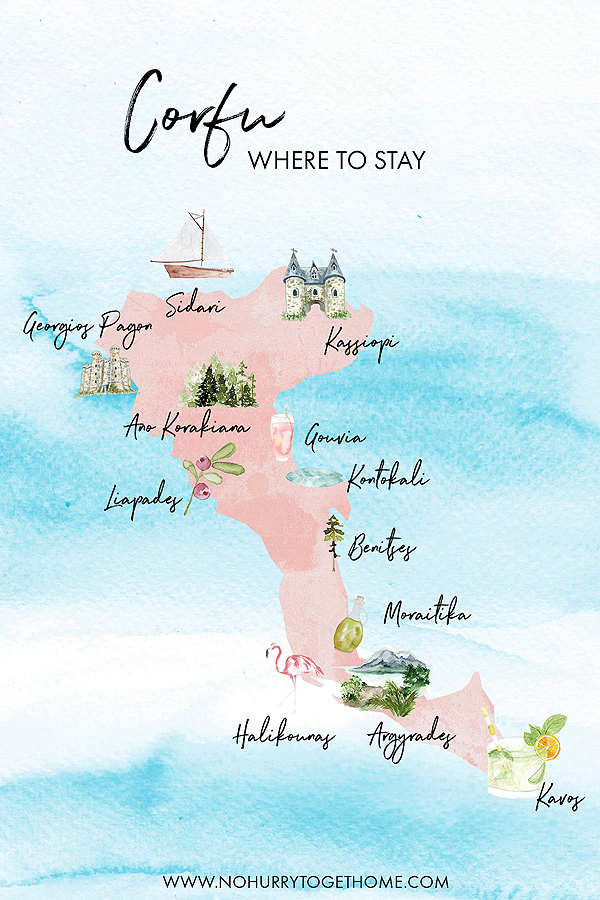 First of all, let's choose your priorities for your trip to Corfu: 
I'm visiting Corfu for…
I want a mix of nature hikes and beaches
Agios Georgios Pagon
A stunning resort town set on a valley offering incredible views of the bay below. The beach is made of soft sand and pebbles and offers crystal-clear waters that are great for swimming. Lined by cypress trees and cliffs, you can get the best of both worlds at Agios Georgios Pagon: Enjoy one of the best beaches in Corfu and then go for a hike to nearby villages through the forest.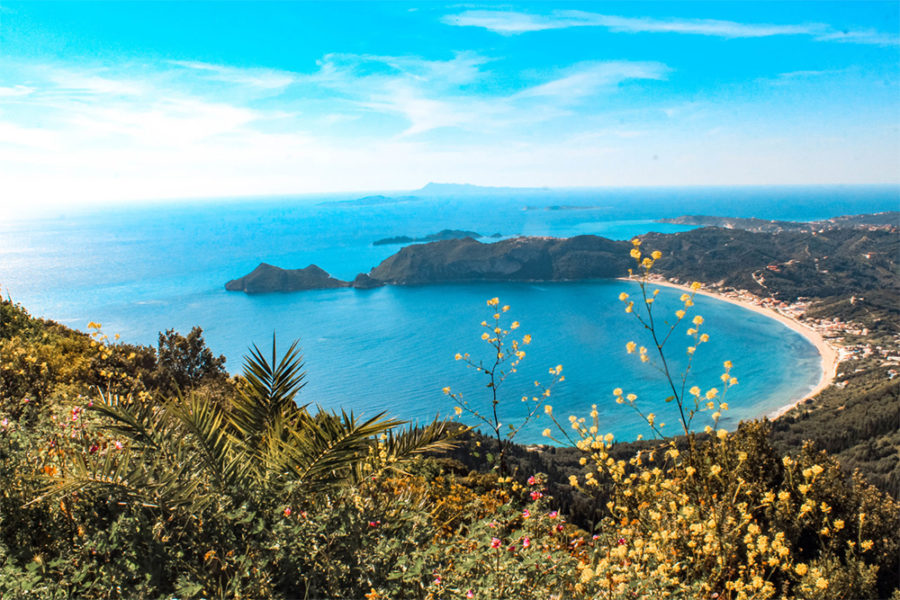 Where to stay:
Luxe: Porto Demo Boutique Hotel
Midrange: San Georgio Hotel
Lakones or Liapades around Paleokastritsa
Lakones village: A gorgeous traditional village set on the slopes of a hill. If you're up for a lazy beach holiday but also enjoy hiking and traditional settings, this is the best village to stay in Corfu for you! There are numerous hiking trails that you can follow to get insane views of Paleokastritsa, one of Corfu's most emblematic vistas as well as other popular sights like Angelokastro Castle.
Although Lakones is a popular village for tourists to base themselves in, its culture hasn't changed much. On a stroll through the village, you'll get to walk amid colorful 18th-century houses, old churches, and traditional olive wood shops.
Liapades village: Perched over a lush hill, Liapades is another great place to stay in Corfu for those who enjoy nature and quiet. The village is home to Venetian-style buildings and in the center, you'll find tons of local restaurants and taverns.
Also, if you love wine, you're in for a treat! Liapaes is known for its wineries and you'll find excellent local wine here. The main beach at Liapades is a beautiful stretch of sand backdropped by lush hills as well as a few restaurants.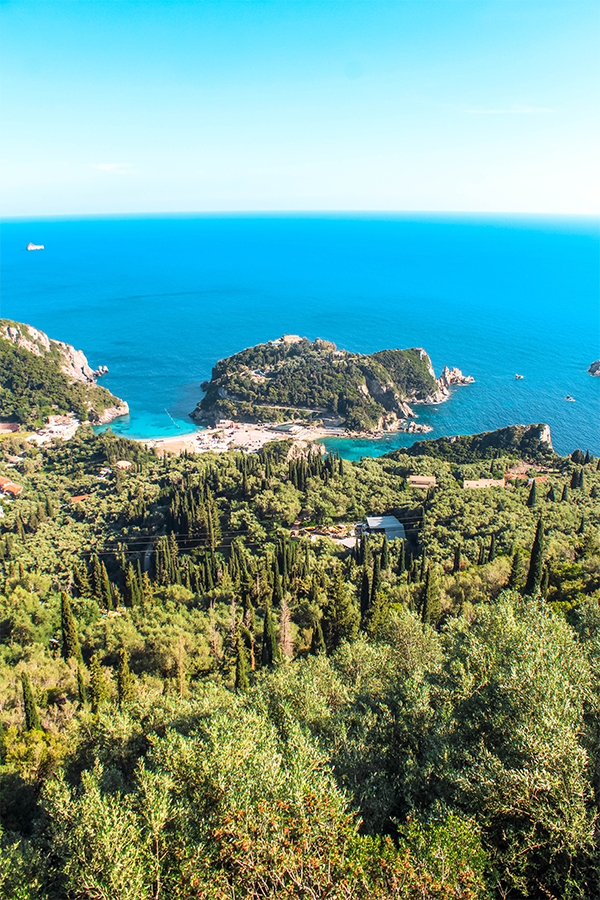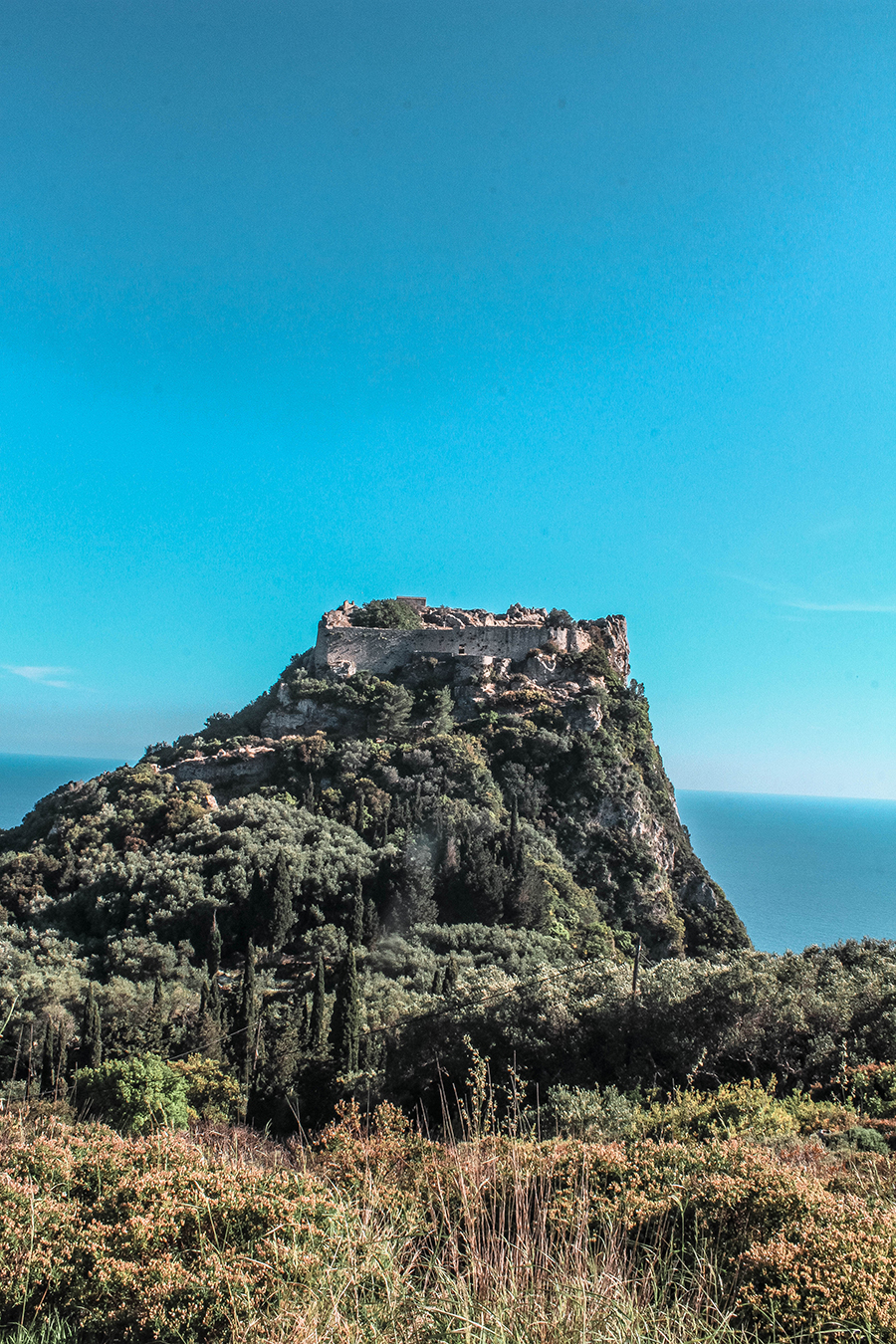 Where to stay:
Luxe: Napoleon On The Beach
Midrange: Arianna
Halikounas
Set on the edge of Lake Korrison, a nature reserve that is a must on any Corfu itinerary for those who love nature. Halikounas beach is huge, with sand stretching over seven kilometers along the lake and variating in the landscape as you walk along – from forest to lagoon, and sand dunes. If you want a unique area to stay in Corfu, then Halikounas is for you!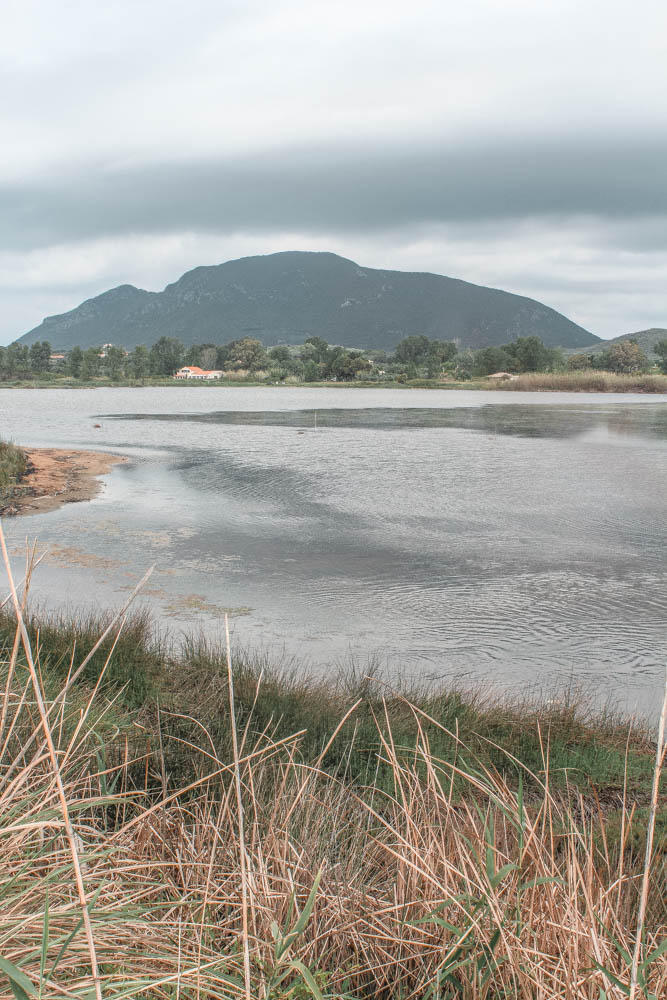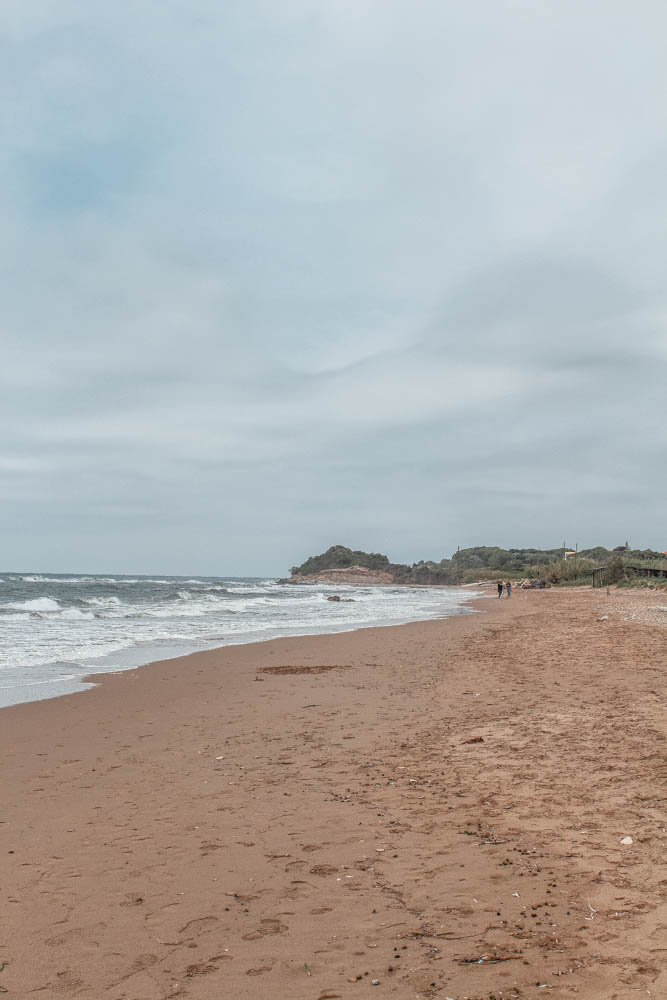 To be surrounded by nature and get to know the culture
Ano Korakiana + Skripero
Set inland amid the mountains, both of these villages are the perfect place to stay in Corfu if you're into mountainscapes, folklore music, and medieval settings.
Skripero is known for its philharmonic society from the 18th century that remains very much alive in the village. The village is by Venetian mansions and stunning views of the ocean thanks to its location up on the mountains.
Ano Korakiana is another village that brims with history and medieval culture. A stroll through it feels like traveling back in time! Back in the day, Ano Krokakiana was home to many noble families and many of their homes remain intact. The village is lined by olive groves, emerald trees, and a whopping thirty-seven churches!
The downside to staying in either village is that their location isn't that close to any beach. You can find yourself on the beach of Ipsos just a few kilometers away, but some of Corfu's best beaches are further away.
Argyrades
Set on the slopes of a hill, Argyrades is a great place to stay in Corfu for nature and culture enthusiasts who prefer a quiet getaway rather than a huge tourist resort. It's close to Korrison Lake, a nature reserve home to many birds (including flamingos).
Argyrades was declared a preserved area in the 70s due to its incredibly preserved old Venetian houses and its many cultural festivals.
Where to stay:
For quirky and quiet stay: Lianela Boutique Village House
For a traditional experience: Traditional House in Argyrades
To rent a car or scooter and see as much as possible, but I'd like to stay in a place with tourist facilities
Corfu Town
Corfu Town is the perfect place to stay on the island if you love culture and being in the center of everything. This town is considered one of the most romantic and beautiful towns in Greece and being here means being just a short drive away from all the other spots in Corfu!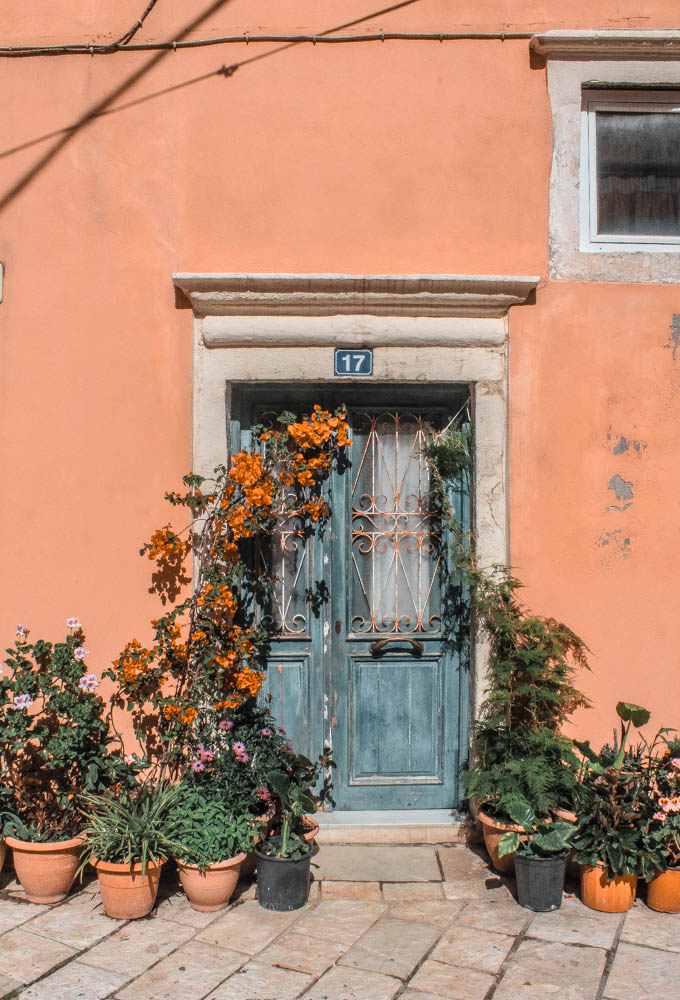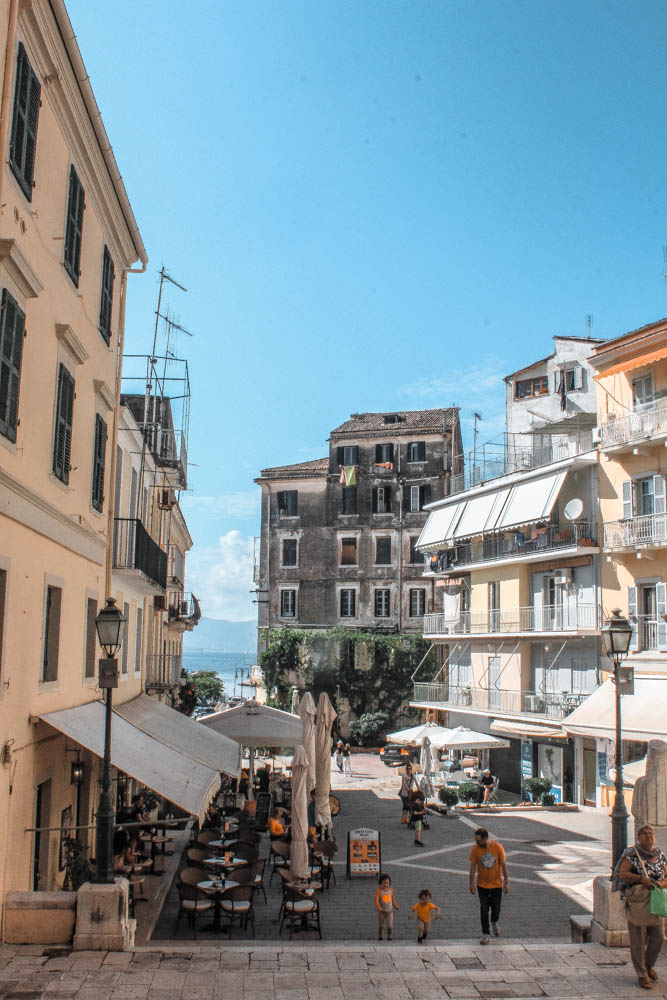 Benitses
A small fishing village with plenty to offer! Set south of Corfu Town, this is a great place to stay if you don't want to be too far from the airport.
Although Benitses has become a popular place for tourists to stay at, it still has a lot of traditional charms. Benitses is a popular base for families. There are many facilities in the center, including numerous restaurants, coffee shops, etc. The beach is a bit pebbly but the waters are calm and perfect for swimming.
An interesting attraction to check while in town is the Sea Museum, which is home to the biggest shell collection in Europe.

Where to stay:
Apartment: La Soffitta
Midrange: Casa Dei Venti
Kassiopi
Set 38 kilometers north of Corfu Town, Kassiopi is a cosmopolitan fishing village with plenty of bars, restaurants, cafés, and accommodation options. If historical sites are your thing, you'll find plenty of those here! A Roman Fortress, a quaint fishing port, and an abandoned castle are nearby.
Kassiopi is surrounded by several bays, although the beaches near Kassiopi tend to be quite windy and pebbly.
Where to stay:
Resort: Mareblue Beach
Boutique: Melina Boutique Hotel
To see the main sights and maybe relax at the beach, but I don't want to move too much
Moraitika
A popular tourist resort set on a bay offering everything you need for the perfect stay in Corfu as well as some seriously great places to eat offering local dishes. The main beach is sandy and great for swimming and there is also a diving center that offers courses for any level.
Where to stay:
Luxury Resort: Domes Miramare
Midrange: Flamingo Apartments
Sidari
Sidari is one of the most popular resorts spots in Corfu. If you love beachside restaurants, watersport centers, and hotels by the beach, this is the place for you. Sidari is also the place to be if you're up for exploring more Greek islands during your visit to Corfu, as boat trips to islands like Erikoussa and Othoni leave from here.
Sidari is also a popular day trip for visitors in Corfu, as one of the island's most famous landmarks is right here: Canal d'Amour.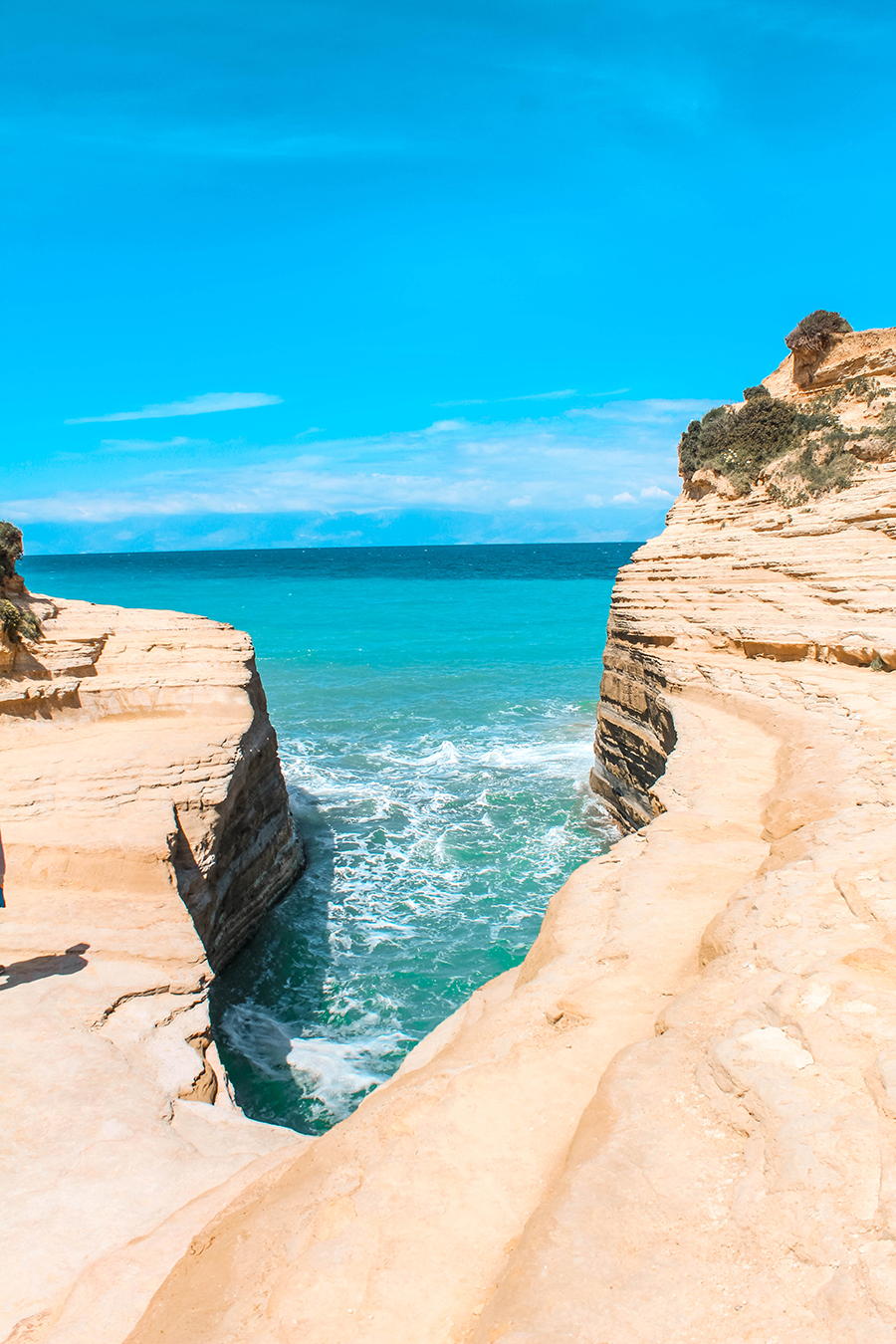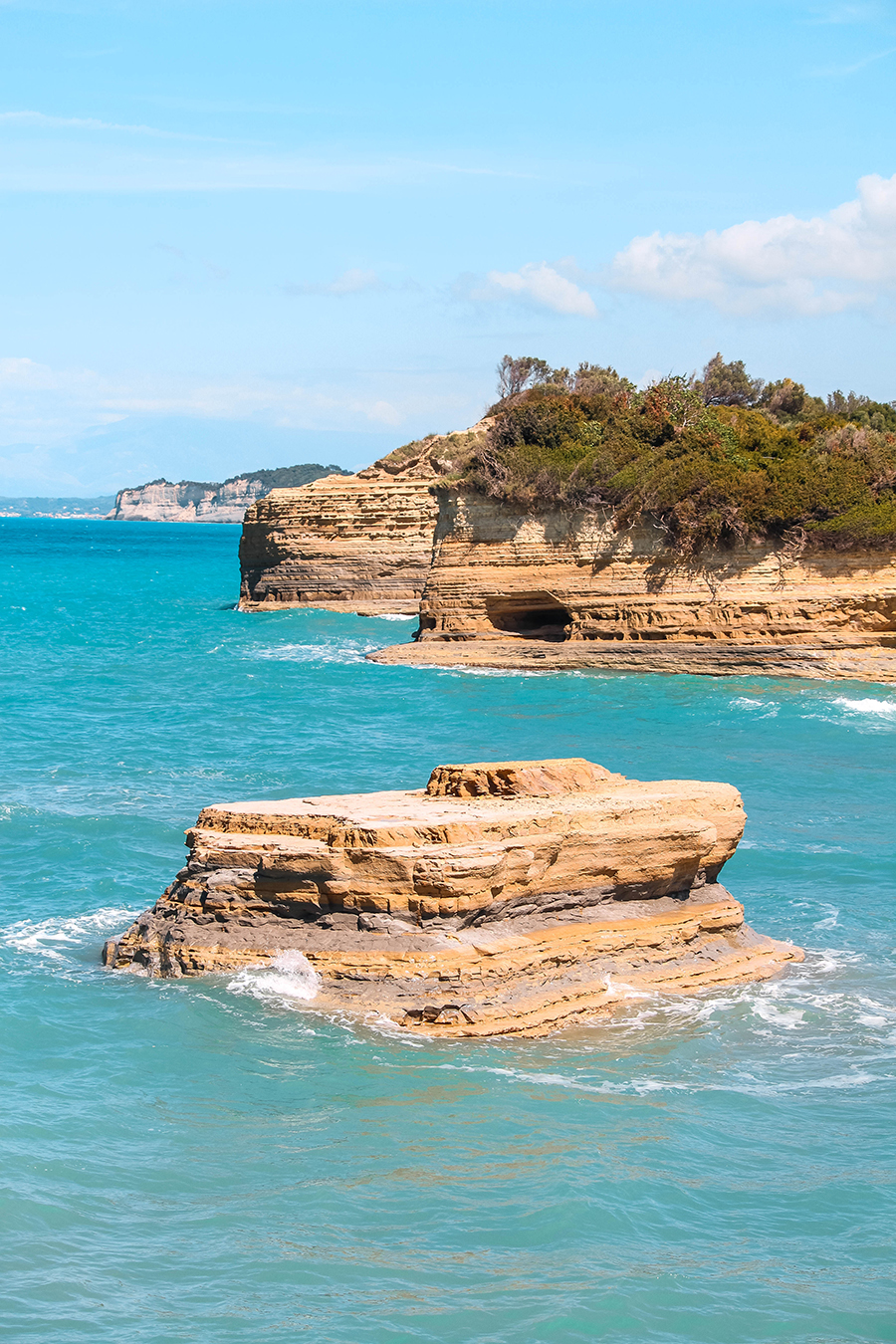 To travel with children
Kontokali
Set just 6 kilometers away from Corfu Town, Koktokali is another great place to stay in Corfu if you're traveling with kids. Kontokali's beaches are calm – some are sandy while some are pebbly but they are all great for swimming due to their shallowness. Numerous beach bars and restaurants line the beach.
Where to stay:
Luxury: Kontokali Bay Resort & Spa
Midrange: Takis Family Corfu
Petriti
Another great spot to stay if you like the ocean but are also into hiking and nature trails. Petriri is a very popular place to stay for families with children. The beaches are great for swimming but pebbly.
Great parties, bars, and nightlife
Kavos
If you love to party, Kavos is probably the best place for you to stay in Corfu. This popular resort town sits in southern Corfu and is a popular spot for British tourists. Kavos is also a good spot for budget travelers, as you'll find some of Corfu's cheapest accommodation options here.
The beach in Kavos is great for swimming and water sports, but if you're in the mood for something quieter, you can head over to other nearby beaches like Issos.
Gouvia
Another great place to stay if you love nightlife. It's home to the largest marina on the island, so the beach isn't really great, but Gouvia's popularity is all thanks to its numerous bars and night clubs.
And that's my guide to where to stay in Corfu! Did you find any village that sounded interesting?
Save this post on Pinterest for later!