Building a Capsule Wardrobe for a Month-Long Travel Adventure
Some people believe that to truly immerse themselves in the culture of a country, they'll need at least a month of continuous travel.
A month is enough to truly get to know the ins and outs of a culture—like its geography, cuisine, and the attitudes of its people—without feeling like one is rushing through the experience.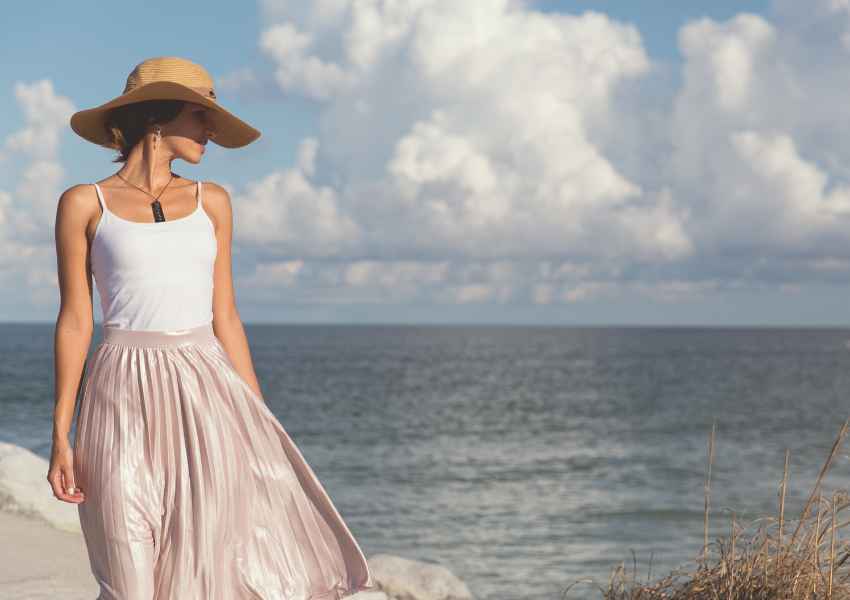 But packing for a month-long trip is considerably more challenging than packing for a short vacation, as there are more considerations that you'll have to make.
You'll want to bring around an optimal number of clothing items to be adequately prepared for different travel situations, like outdoor tours, while also remaining and clean stylish in front of the people you'll meet.
You'll find an ideal solution in the travel capsule wardrobe. Here are the benefits of adapting the "capsule" or minimalist approach to your luggage, and what your capsule wardrobe should consist of if you'll be hauling it around with you for a month.
What's a Capsule Wardrobe for Travel, and What Are the Benefits of Going the Capsule Route?
Put simply, a capsule wardrobe for travel is a carefully curated selection of clothing items designed to offer maximum versatility with minimal bulk. Unlike a conventional travel wardrobe, in which people tend to pack everything but the kitchen sink, a capsule wardrobe keeps the emphasis on the essentials and how they can be mixed and matched throughout your entire trip.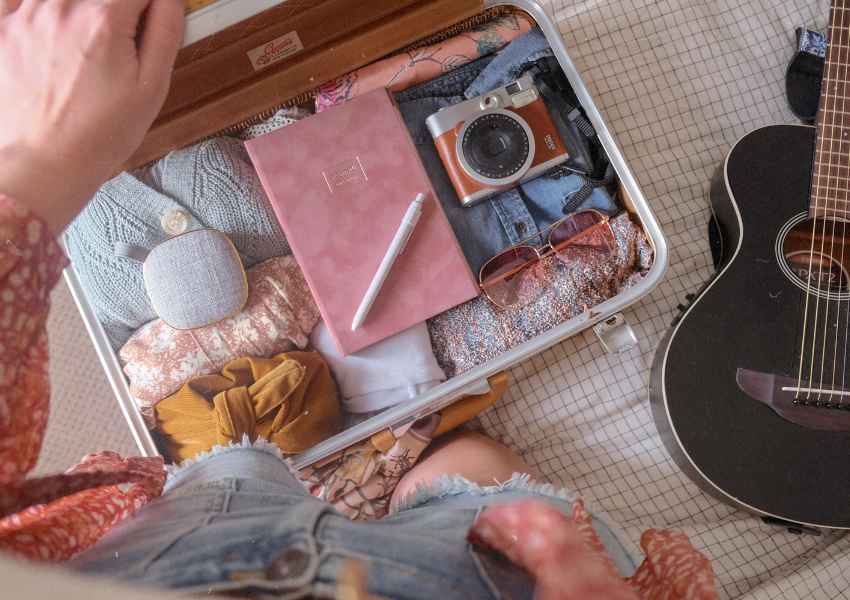 The advantages of choosing to pack a capsule wardrobe for a month-long vacation include the following:
It saves space. Traveling light is liberating. Remember that you don't always have to lug around a backpack or suitcase that's taller and heavier than you are. Going the capsule wardrobe approach will allow you to pack efficiently, leaving more room in your suitcase for travel essentials and souvenirs you'll likely collect over the course of your month-long trip.

It will reduce your decision fatigue. With a limited selection of well-chosen items in your suitcase, you'll spend less time deciding what to wear each day and spend more time thinking about more important things, like your travel adventure plans.

It promotes a more sustainable mindset. Capsule wardrobes align with sustainable fashion principles. You can reduce the need for frequent clothing purchases and minimize fashion waste by investing in high-quality, versatile pieces like denim leggings and linen shirts for your travel wardrobe.

It'll keep you adaptable. Capsule wardrobes are adaptable to various climates and activities, ensuring you're prepared for anything your trip throws at you. You may not always have access to a large closet or a shopping mall where you can get brand-new clothes that you like, so it's best to pack a minimalist wardrobe that you can already depend on to get you through the whole month.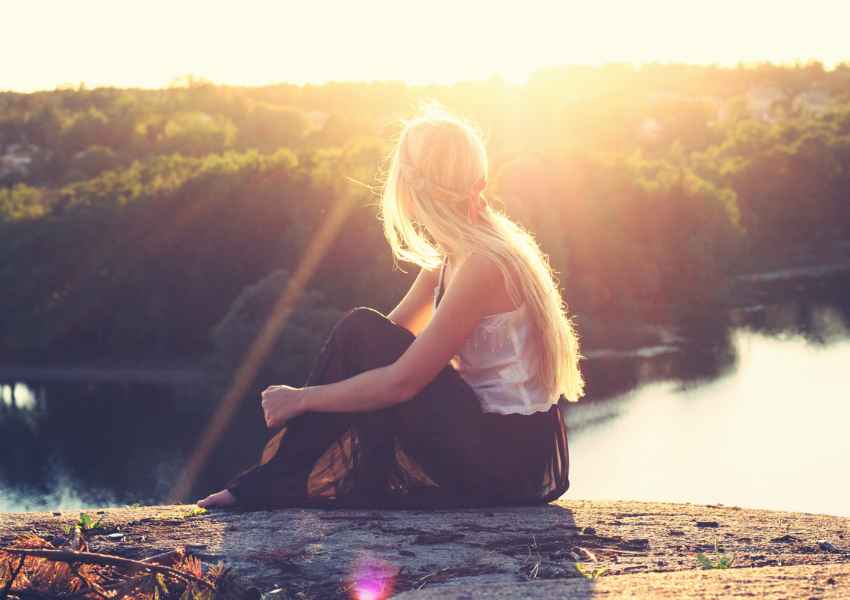 Tips for Putting Together Your One-Month Travel Capsule Wardrobe
First, make a checklist for your wardrobe that prioritizes the absolute essentials, including the following:
Tops. Select versatile tops that can be paired with multiple bottoms, including shorts and skirts. Depending on the weather and destination, a top can include everything from your favorite bikini tank top to your long-sleeved shirts. If you're headed to a tropical or temperate country, you'll be able to get through much of the month with a couple of white T-shirts, black T-shirts, a boyfriend shirt, and a lightweight sweater. Choose quick-drying and breathable fabrics to ensure comfort in warm climates.

Multipurpose Bottoms. Meanwhile, pick bottoms that complement your tops. You can bring a pair of jeans and a versatile skirt as well as some leggings. For better versatility, look for multipurpose items like convertible pants that can adapt to different situations. These can come in handy when you visit temples or other places of worship that have a strict dress code.

Dresses and Other One-Piece Outfits. Dresses are also great space-savers in capsule wardrobes, and perhaps all you'll need for the month are two dresses that go well with flats, sandals, or comfortable sneakers. You can also fall back on other one-piece wardrobe wonders like rompers or jumpsuits.

Outerwear. Outerwear is essential for adapting to varying weather conditions. If you expect to go on hikes, a lightweight jacket may be in order in case it rains. Consider adding versatile layers that won't demand a lot of luggage space, like infinity scarves or shawls. Choose outerwear that you know complements your capsule wardrobe's overall color palette.

Footwear. Shoes are bulky additions to any suitcase, so select only a few pairs—perhaps three at most—to cover all your needs. Comfortable walking shoes, sandals for warm days, and one slightly dressier option should suffice. Ensure that all your shoes are appropriate for the activities you plan to use them for.

Accessories. You can also add a few accessories to look smart and vary up the outfits you'll be using all throughout the month. Think a necklace with a simple pendant, a couple of pairs of earrings, and a dressy spare watch.
Next, prepare to plan your wardrobe along the country's climate or the activities you intend to do on the regular. Will you be basking in the tropical sun or exploring chilly mountain trails? Knowing this will help you select the right clothing items and leave little room for wasted space.
You can also opt for a color palette that complements your style and can be mixed and matched easily. For instance, neutrals like black, white, gray, and navy work well together, plus a few colorful pieces. Remember, too, that your fashion personality may not change very much even if you're spending a month in a foreign land, so pack clothes that you still consider wearable and to your taste.
Lastly, while building your capsule wardrobe for your month-long sojourn, remember to respect the local culture and dress codes of your destination. You can research these norms in advance to ensure your clothing choices are culturally sensitive and appropriate for regular wear.
Takeaway
Building a capsule wardrobe for a month-long travel adventure will require you to think about both practicality and style. Streamline your packing to keep your luggage light and your wardrobe easily workable, and you'll find yourself having an even better time in your extended visit to a home away from home!