15 Beautiful Places to See Cherry Blossoms in Paris
Looking for the best places to see cherry blossoms in Paris? Here's the ultimate guide!
Paris is a city that is known for its beauty and charm, and one of the most enchanting sights to behold in the city are the cherry blossoms.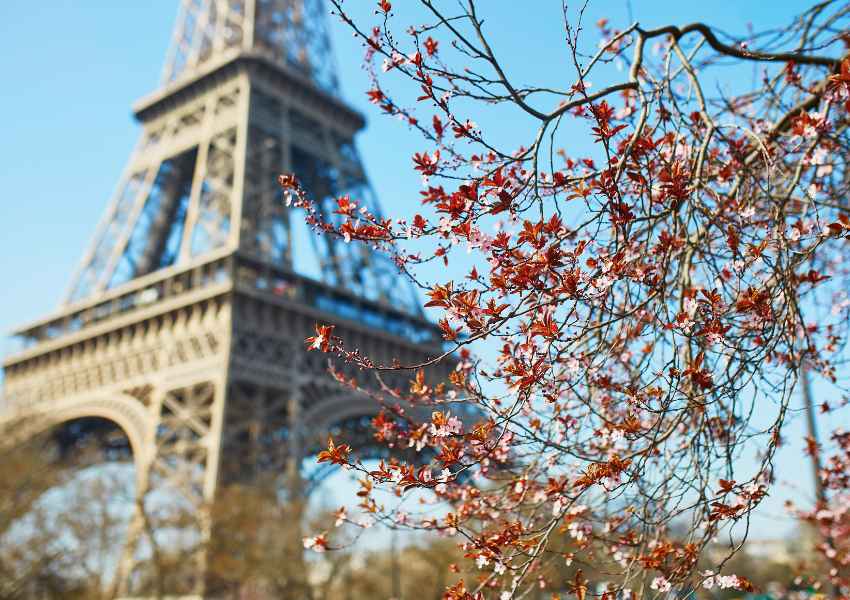 Every spring, the city is transformed into a sea of pink and white as the cherry blossoms bloom.
If you're planning a trip to Paris during the spring season, make sure to check out these 15 beautiful places to see cherry blossoms in Paris.
In this post about cherry blossoms in Paris, you'll find:
When it comes to visiting Paris in spring, planning is key!
Here's what you'll find on this guide to cherry blossoms in Paris:
History of Cherry Blossoms in Paris
You might be wondering how the cherry blossoms, native to Asia, made their way to Paris.
Well, it all started in the late 19th century, when Japan and France began to establish stronger diplomatic ties.
Gifts of cherry blossom trees were exchanged as a symbol of friendship and appreciation for each other's culture.
Over the years, Parisians embraced the beauty of these delicate blossoms, and they have become an integral part of the city's landscape.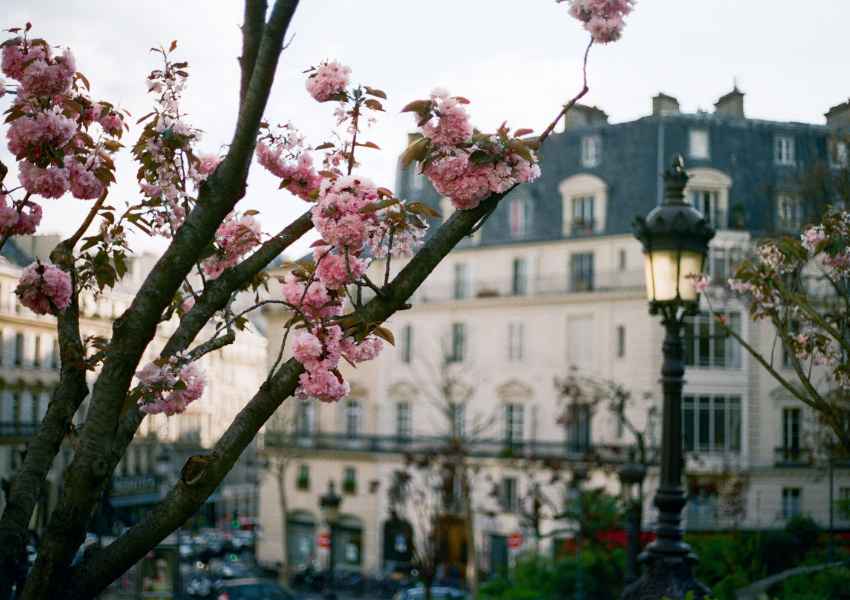 Various parks and gardens throughout the city have been adorned with cherry trees, offering a beautiful sight to visitors and residents alike.
One of the most famous cherry blossom spots in Paris is Parc de Sceaux, which boasts over 150 trees.
These were planted in the early 20th century, and when in bloom, create a magical ambiance with their pink and white hues.
Another top spot is the charming Jardin des Plantes, which features a mix of cherry blossom varieties, providing a stunning array of colors.
Best Time to Visit For Cherry Blossoms in Paris
Ah, Paris in the springtime!
That's when you'll find the city's parks and gardens brimming with beautiful cherry blossoms.
You'll want to target late March to mid-April for the perfect time as that's usually when these delicate flowers are in full bloom.
During your visit, make sure to explore the Parc du Champ de Mars, located near the Eiffel Tower.
Meander along the walkways and enjoy the pink and white floral display.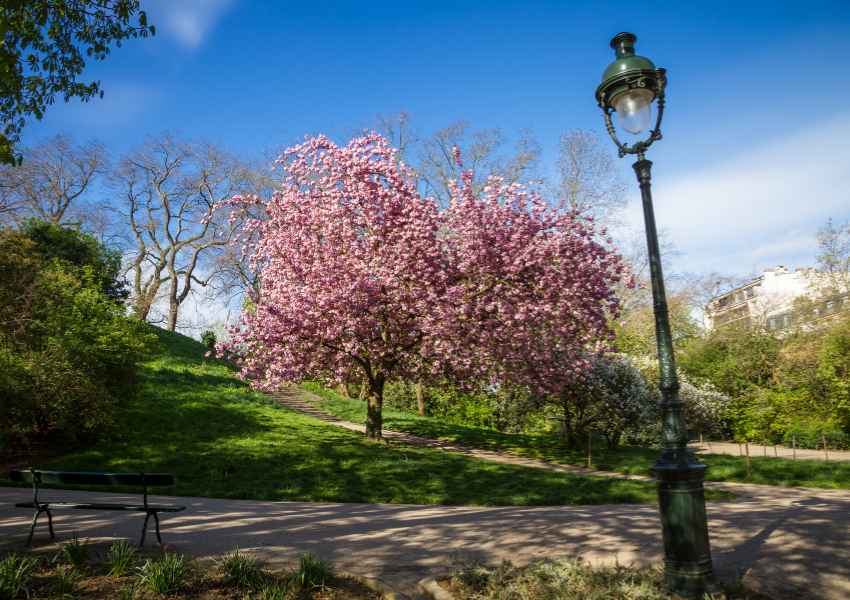 Another great spot is the Jardin des Plantes, where you can take a leisurely stroll surrounded by cherry blossoms and other seasonal blooms.
To experience a more local vibe, head on over to Square René-Viviani in the Latin Quarter.
This quaint garden hosts a variety of cherry trees and provides stunning views of Notre-Dame.
Remember, cherry blossoms are a fleeting beauty, lasting only about two weeks, so don't miss this window!
Best Places to See Cherry Blossoms in Paris
1. Parc de Sceaux
You can find a stunning collection of cherry blossoms at Parc de Sceaux.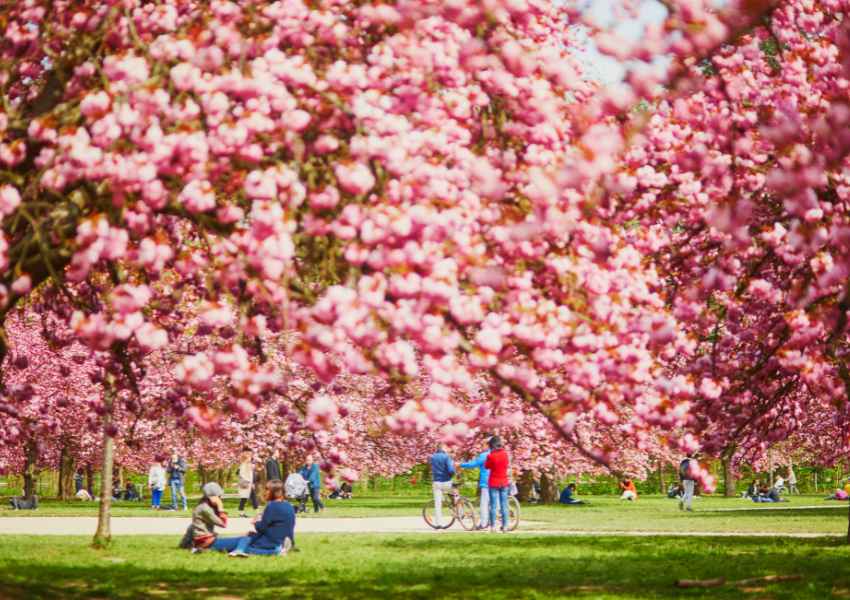 The park is home to two beautiful orchards – one with pink flowers and the other with white ones, offering a picturesque sight in April.
2. Jardin des Plantes
Jardin des Plantes is another great location to witness cherry blossoms.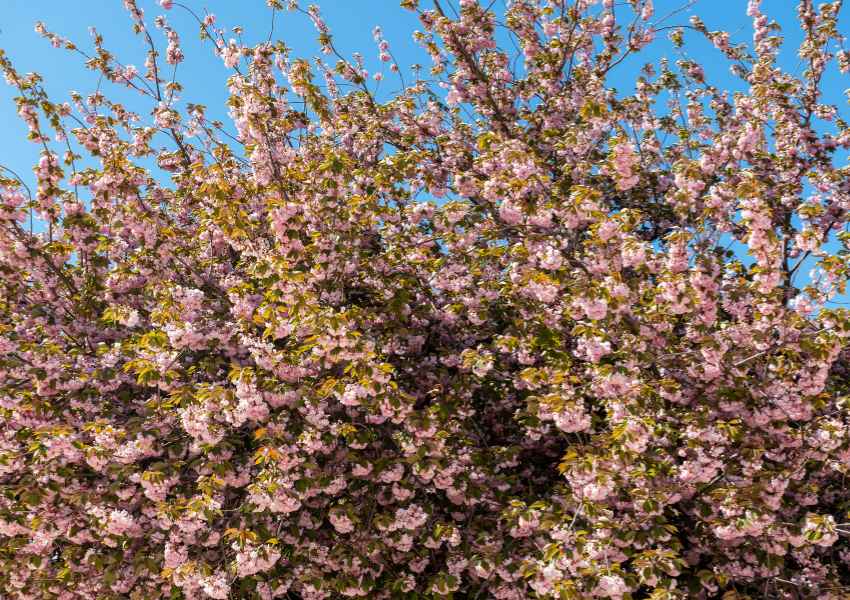 Here, you can enjoy a leisurely stroll through the botanical garden as you take in the captivating sight of the blossoming trees.
3. Eiffel Tower/Champ de Mars
The Eiffel Tower, paired with the blooming cherry blossoms at Champ de Mars, makes for an unforgettable sight.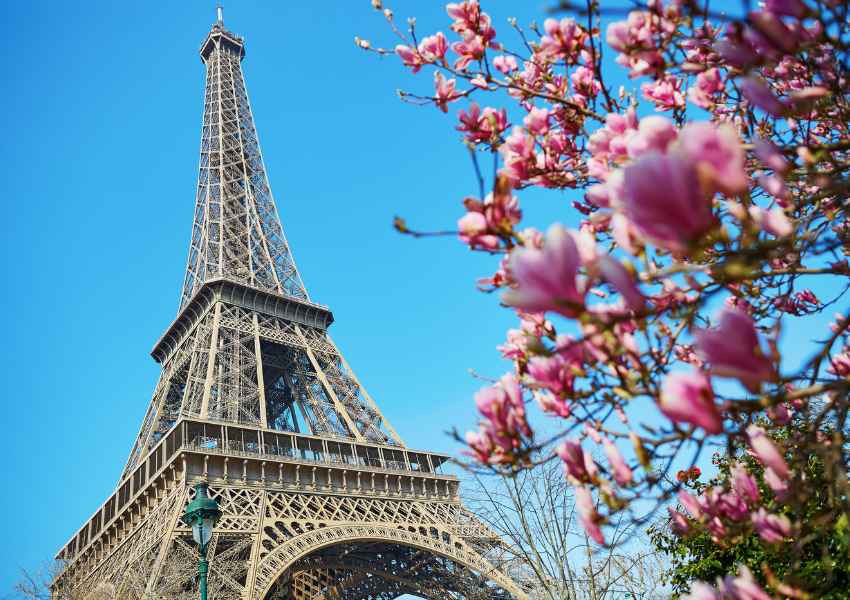 4. Tuileries Garden (Jardin du Tuileries)
Witness cherry blossoms engulfing the beautiful statues and fountains at the charming Tuileries Garden.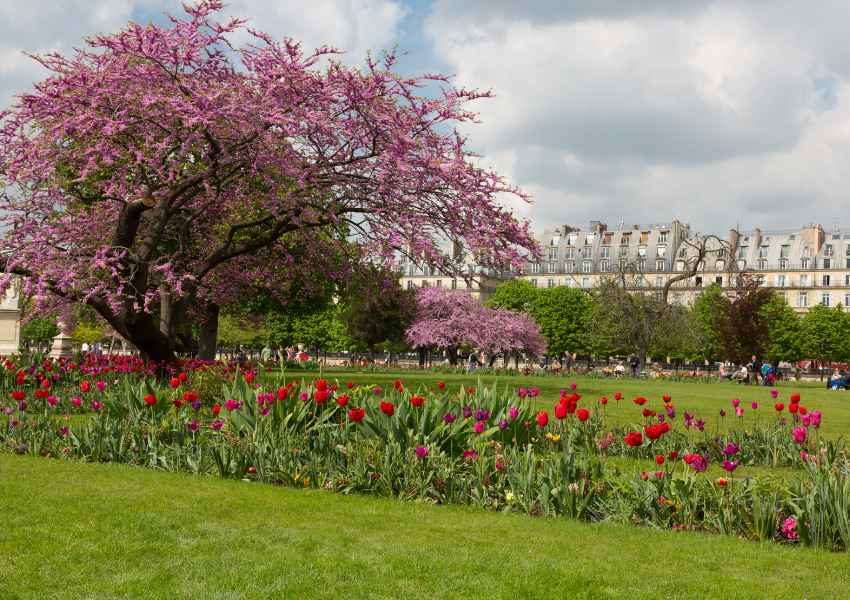 This iconic location is a must-visit during spring and one of the best Paris Instagram spots in spring.
5. Square Gabriel Pierne
Just a short walk from the Jardin des Tuileries, Square Gabriel Pierne offers a tranquil spot filled with cherry blossoms.
6. Jardin Anne Frank
Named after the famous diarist, Jardin Anne Frank is a hidden gem for cherry blossom viewing situated within the bustling city.
You may also like:
7. Jardins des Champs Elysees
As you stroll down the historic Champs Elysees, you'll find scattered pockets of cherry blossoms in various gardens, adding a touch of whimsy to your walk.
8. Petit Palais
The courtyard of Petit Palais boasts an enchanting display of cherry blossoms, amplifying the beauty of this historical monument.
9. Bois de Vincennes
Bois de Vincennes features an impressive Japanese garden adorned with cherry blossoms.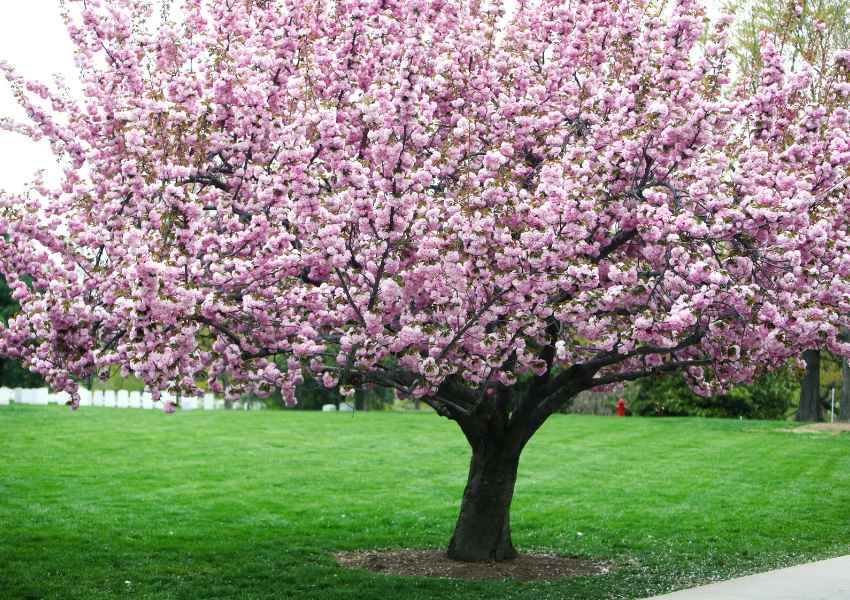 10. Jardin du Ranelagh
A lovely park bordering the Seine River, Jardin du Ranelagh provides a picturesque setting for cherry blossom viewing.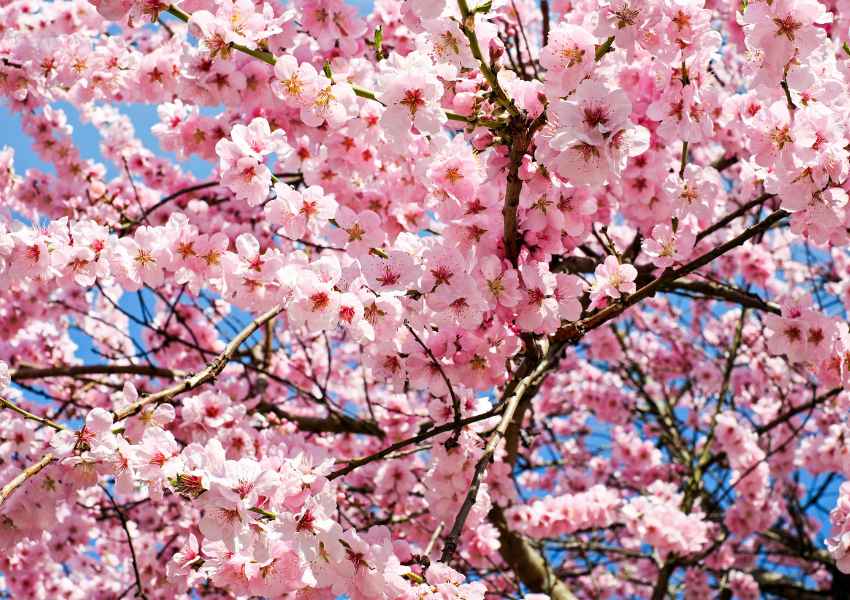 11. Parc Georges Brassens
Named after a famous French singer and poet, Parc Georges Brassens is a great location to appreciate cherry blossoms.
Tip: You can also visit the nearby vineyard for a unique experience.
12. Trocadéro Gardens (Jardins du Trocadéro)
Trocadéro Gardens offer a superb backdrop with the Eiffel Tower in view.
With cherry blossoms in full bloom, there's no better place to appreciate Paris in the spring.
Don't forget to get travel insurance for your trip! As always, I recommend Safety Wing for great prices and coverage abroad. It starts at only $45 USD per month and will have you covered with everything you may need during your trip! Check them out here.
13. Jardin Tino Rossi
Located along the Seine River, Jardin Tino Rossi displays delightful cherry blossoms, providing you with a pleasant spot to enjoy a riverside walk or a picnic.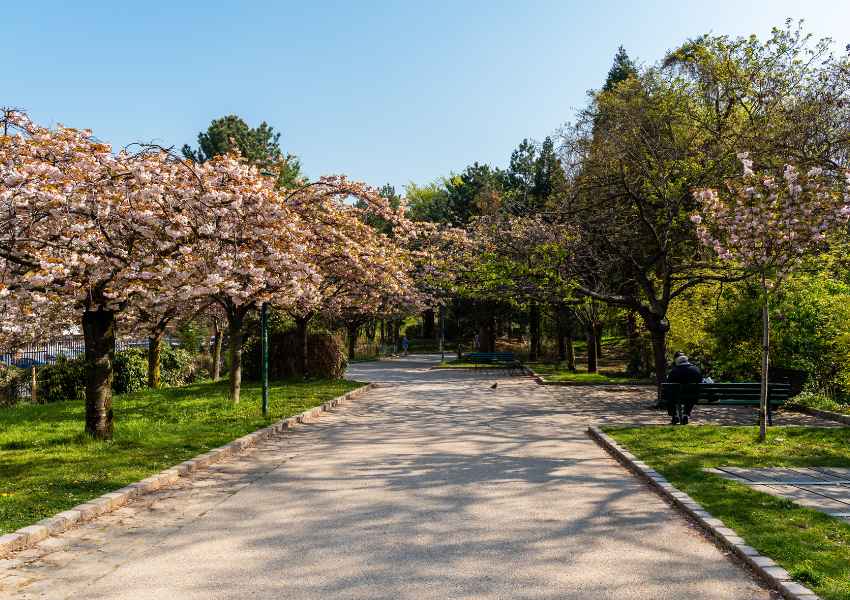 Cultural Events and Festivals for Cherry Blossoms in Paris
If you're planning to see cherry blossoms in Paris, there are a few special events that you simply cannot miss.
With beautiful pink and white blossoms covering the city, it's easy to get caught up in the magic of the season.
In this section, we'll look at two popular cultural events related to cherry blossoms in Paris: Hanami Picnic and Sakura Exhibition at the Jardin des Plantes.
14. Hanami Picnic
As a centuries-old Japanese tradition, Hanami is the act of appreciating cherry blossoms as a symbol of the fleeting nature of life.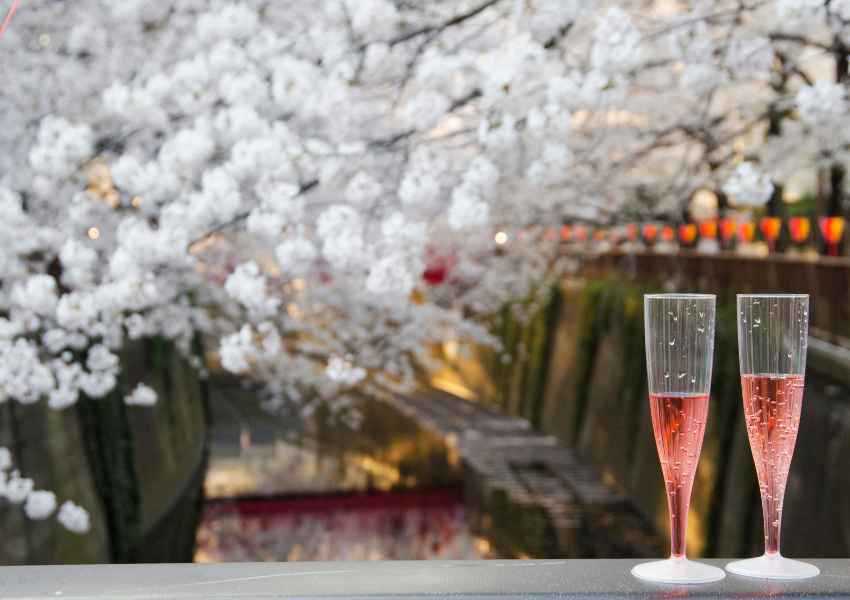 In Paris, you can join in on the festivities with a Hanami Picnic. Don a cute outfit, grab a blanket, and pack a basket full of French and Japanese snacks to share with friends or family.
Here are a few popular spots for a Hanami Picnic in Paris:
Champs de Mars: Admire the Eiffel Tower as you sit under the blossoming cherry trees.
Parc de Sceaux: Venture outside central Paris to experience over 200 cherry trees in full bloom at this stunning park.
Square René-Viviani: A hidden gem tucked away in the heart of Paris, enjoy your picnic amidst the gorgeous cherry blossoms.
15. Sakura Exhibition at the Jardin des Plantes
During cherry blossom season, pay a visit to the Jardin des Plantes for the Sakura Exhibition.
This is a fantastic opportunity to learn about the history and significance of cherry blossoms in Japan and France.
The exhibition showcases stunning photographs, traditional Japanese artwork, and beautiful cherry blossom arrangements.
In addition to appreciating the beauty of the Sakura Exhibition, take the chance to explore the rest of the Jardin des Plantes.
You'll find an impressive botanical garden, zoo, and multiple museums on site.
FAQs About Cherry Blossoms in Paris
When is the best time to see cherry blossoms in Paris?
The best time to see cherry blossoms in Paris is usually between late March and mid-April.
This can vary slightly depending on the weather, so keep an eye on local forecasts and blossom reports to pick your perfect moment.
Where can I find cherry blossoms near the Eiffel Tower?
You can find cherry blossoms near the Eiffel Tower at Champs de Mars park, just a short walk away.
The park has several cherry trees that bloom beautifully in the spring, making for an unbeatable backdrop with the iconic tower.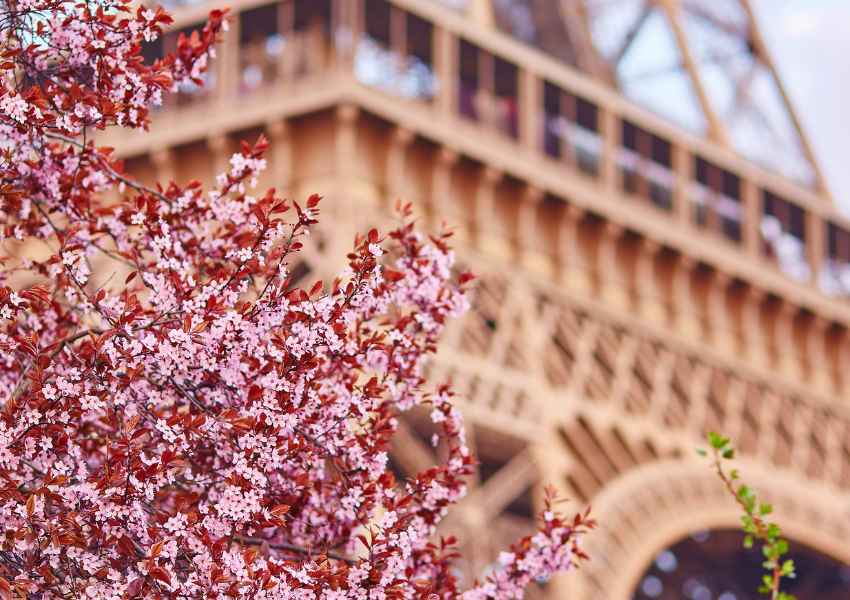 Which parks in Paris have cherry blossom trees?
In Paris, you'll find cherry blossom trees in several parks.
Some popular spots include Parc de Sceaux, Jardin des Plantes, Parc Monceau, and Square Jean XXIII near the Notre-Dame Cathedral.
What events celebrate cherry blossoms in Paris?
While Paris doesn't have a specific cherry blossom festival, local parks and gardens often host events during spring which highlight the beauty of these trees.
Keep an eye out for updates and announcements to join in the seasonal festivities.
Do cherry blossoms have a special meaning in Paris?
Cherry blossoms don't hold any unique symbolism in Paris, but they're admired by locals and tourists alike for their beauty and the sense of renewal they bring with the arrival of spring.
How long do cherry blossoms last in Paris?
Cherry blossoms in Paris typically last for about two weeks, depending on the weather.
You'll want to plan your visit accordingly to make sure you catch them at their peak!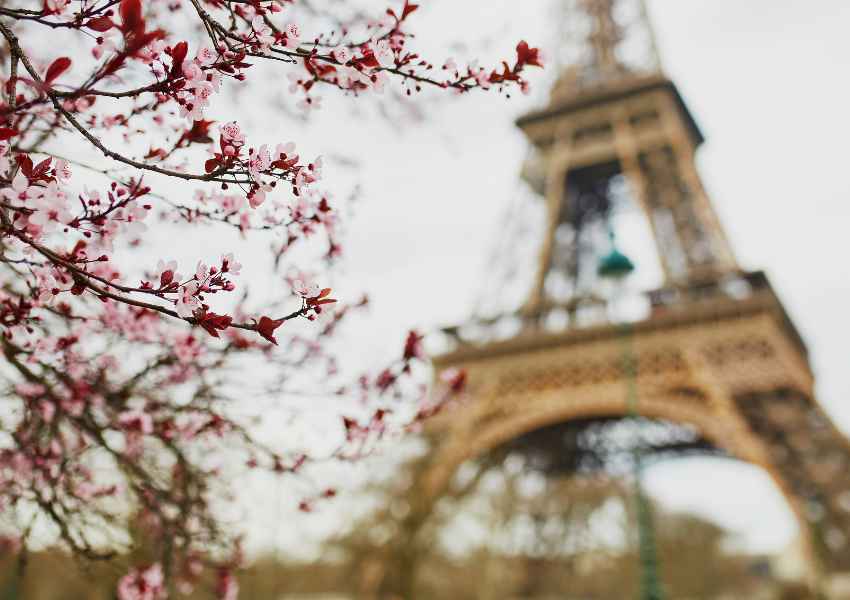 Cherry Blossoms in Paris: Conclusion
Paris is truly a magical city, and the cherry blossoms add an extra layer of enchantment to the already stunning scenery.
From the Jardin des Tuileries to the Parc de Sceaux, there are so many beautiful places to see cherry blossoms in Paris.
Whether you're a local or a visitor, make sure to take the time to stop and appreciate the beauty of these delicate flowers during your next trip to Paris.