How To Get From Mbeya To Malawi By Bus
Step One: Get from Mbeya to Malawi Border
The first thing you must do to get from Mbeya to Malawi by bus is to reach the Malawian border. This is easy enough, but there are so many scams at the main bus station in Mbeya that claim to have a direct bus to different cities in Malawi.
Don't go to the main bus station in Mbeya, there are no buses going to Malawi here! It's a well-known scam in Mbeya, and they'll go as far as actually making signs to confuse travelers and get them to pay for a fake bus ticket.
Get to Nane Nane station instead, This is where the real buses to the border of Malawi are found. It's located about 10 kilometers outside of Mbeya, over the main highway (A104). You can take a dala dala to Nane Nane station anywhere if you stand on the highway.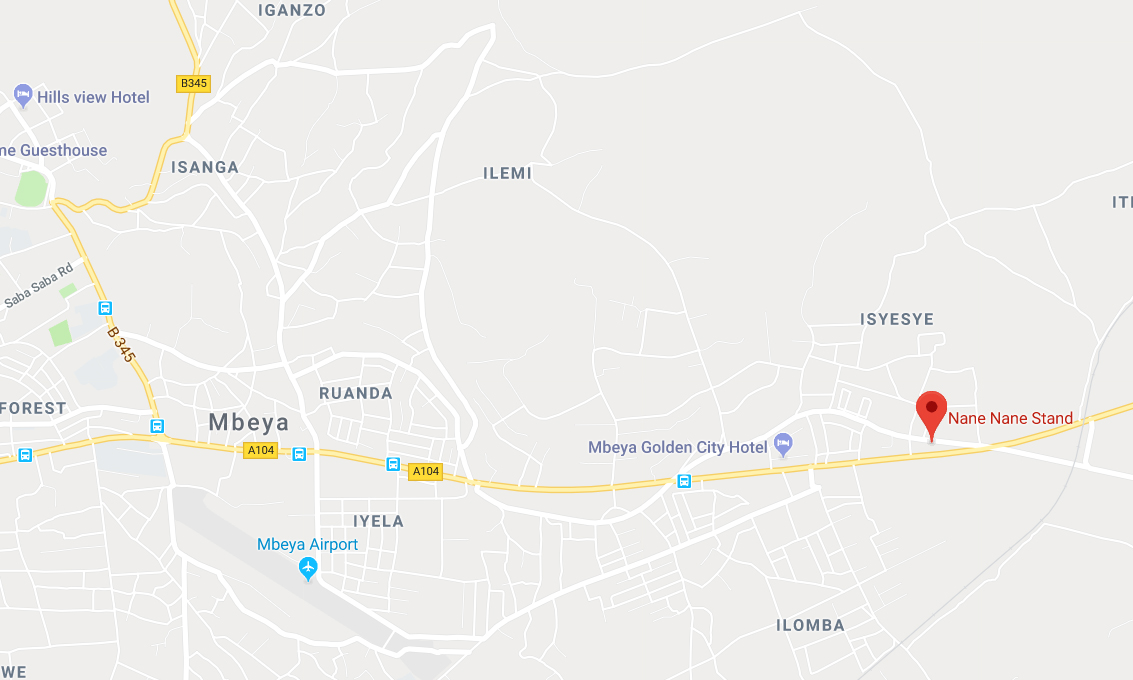 Once at Nane Nane, take a bus that goes to Kyela (cost: 5000 TZS). Get off a bit early in Ipinda (the junction, see map below). Just tell the driver you are going to Ipinda or say "Malawi" and he will get it.
Once at Ipinda station, you can either walk one kilometer or take a moto taxi to the border.
Step Two: Cross the Tanzania-Malawi Border by foot
Get stamped out of Tanzania and walk over the bridge to the Malawian side. The bridge is filled with cargo trucks and money-exchanging touts.
When you have officially stepped into Malawian soil, you will have to follow the regular procedure to get a visa on arrival: fill in an entry form, a visa application, and pay the visa fee. The whole out-of-Tanzania-into-Malawi process took me less than twenty minutes. They were very friendly at the border.
***Malawi has a different time zone than Tanzania, so adjust your watch accordingly – the upside of this is that you just saved a one hour journey from Tanzania, the downside is that it gets dark earlier (6 pm or so).***
***If you want to buy a Malawian sim card, you can do so at the bridge or right before the border.***
Step Three: Take a Bus To Karonga or Mzuzu and continue on to your destination of choice
You will need to find a minibus (locally known as "matola") to take you to either Karonga if you're starting your trip in the north or Mzuzu (fare: 1000 MKW) if your next destination in Malawi is further south.
Finding the minibus: Walk out of the Malawian immigration building and head to your right, where you will see a little hill. Walk up the stairs to the top of the hill and the minibuses will be waiting there. If you can't spot them, just ask someone and they will tell you where they are 🙂 It's better to ask an officer. Even though a local might try to be helpful, some could also ask you for a small payment.
You will likely have to wait a bit until the minibus is full. The way south is beautiful as it goes along the shores of Lake Malawi, you might even be able to spot baboons – choose a place next to the left window to make sure you can enjoy the landscape.
The drivers sometimes make multiple stops to buy groceries, have lunch, buy ten kilos of potatoes or whatever it is they need that is on the way, so don't expect this step to be a fast one.
Note that there are multiple roadblocks along the way in which officials might ask to see your passport or enquire about your destination. Some of them didn't ask me anything, others wanted to see my passport, one asked for a very detailed schedule of my next few days (so get creative) and one even demanded to see my Yellow Fever card even though it's not a requirement for Malawi.

Step Four: Take a Bus To Your Next Destination in Malawi
From Karonga or Mzuzu, you can get further transportation to the rest of Malawi or spend the night there if it gets late, here's a list of hotels and guesthouses in the city.
In Mzuzu, there are various basic guesthouses around the bus station that range between 2,500 – 4,000 MWK. There are ATMs close to the station near Shoprite in case you need cash.
---
Summarized steps to get from Mbeya to Malawi by Bus / Public Transport
Get to Nane Nane station in Mbeya and take a bus that says "Kyela" (price: 5000 TZS)
Get off at Ipinda
Walk one kilometer or take a moto taxi to the Malawian border
Cross the border
Catch a bus to Karonga (if you're going somewhere north) or Mzuzu (if you're traveling south)
In either town, you can find buses to further destinations in Malawi