Travel Like a Pro with 8 of Our Best Packing Advice for Women
Traveling is more than just moving from one place to another; for many women, it's a journey of freedom and discovery.
But to truly embrace this adventure, smart packing is key. It's not just about what to pack, but how you pack. Efficient and thoughtful preparation can empower you to focus on the experience, not the hassle.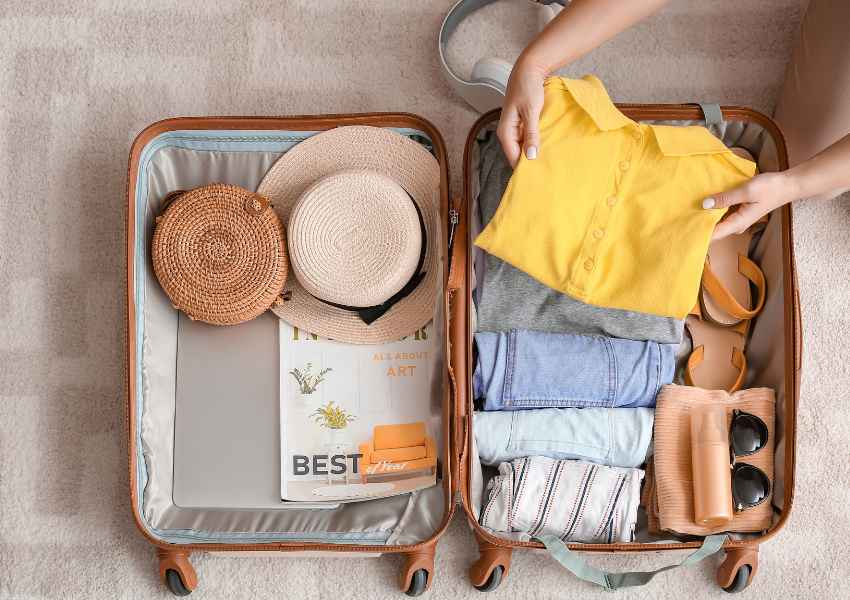 Whether you're jetting off to a business conference or backpacking across Europe, the way you pack can make all the difference.
Let's dive into how you can pack like a pro, leaving room for both essentials and spontaneity in your travels.
Packing Tips for Women
Choosing the Right Luggage
Selecting the right luggage is the first step to a hassle-free travel experience.
Consider the type of trip you're taking: a lightweight carry-on is perfect for short getaways, while a larger, durable suitcase suits extended travel.
Look for features like multiple compartments for organization, 360-degree wheels for easy maneuvering, and expandable options for extra space. The key is to balance size, weight, and functionality.
Your luggage should be light enough to handle comfortably but sturdy enough to endure the rigors of travel. Remember, the right luggage can make traveling through airports, train stations, and new cities a breeze.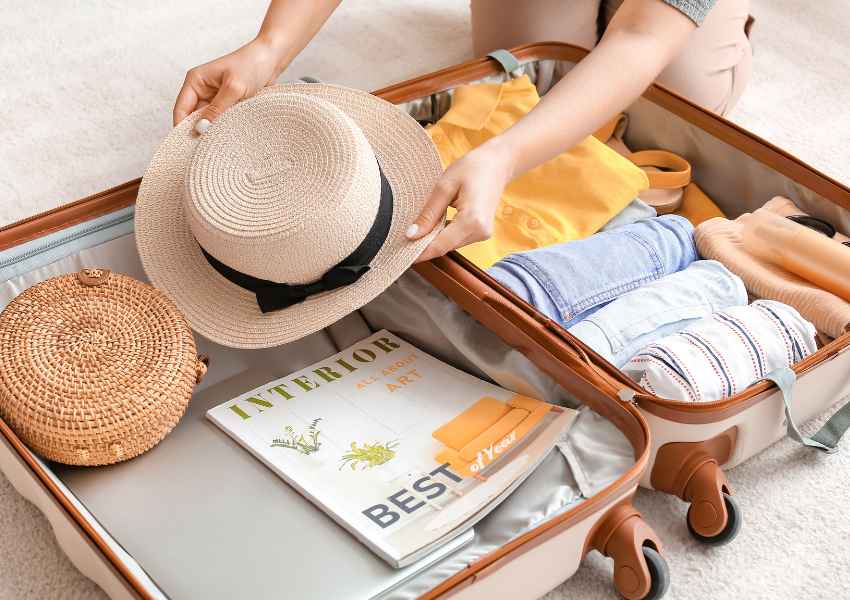 Versatile Clothing Choices
When it comes to packing clothes, versatility is your best friend. Aim for a capsule wardrobe that can be mixed and matched to suit various occasions and climates.
Start with basics like neutral tees, jeans, and a little black dress that can be dressed up or down. Layering pieces such as cardigans or scarves are perfect for adapting to changing temperatures.
For a splash of style, add a few statement accessories like a colorful belt or a unique necklace.
Fabrics that are wrinkle-resistant and easy to care for are ideal choices. Remember, the goal is to create multiple outfits from a few items, so choose pieces that coordinate well.
This approach not only saves space but also keeps you looking stylish and prepared for anything, from a casual day exploring to a fancy dinner outing.
Packing Accessories
Accessories are the secret to transforming basic outfits into something special and are essential in a travel wardrobe. They take up little space but make a big impact.
A versatile scarf can add color to your outfit and double as a wrap on chilly evenings. Jewelry should be kept minimal – a few key pieces like a watch, a pair of earrings, and a necklace can elevate any look. For sunny destinations, visors for women are both a fashionable and practical choice.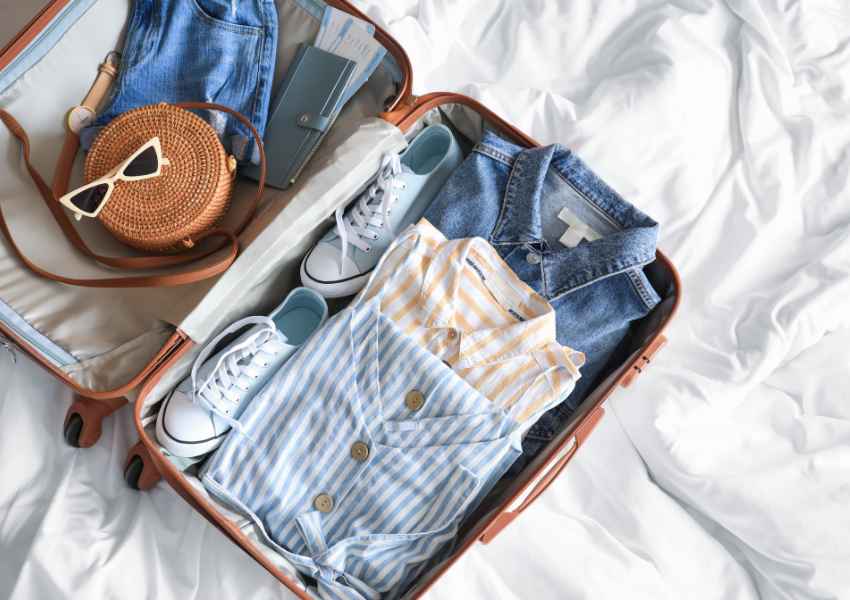 Essential Toiletries and Beauty Products
For toiletries and beauty products, think minimal and multipurpose. Essentials include a toothbrush, toothpaste, deodorant, shampoo, conditioner, and a basic skincare set.
If makeup is part of your routine, consider a versatile palette and a multi-use product like a tint that works for lips and cheeks. Travel-size containers are lifesavers – they save space and comply with airline regulations.
You can also look for solid versions of shampoos or soaps to avoid spills. Packing these items in a waterproof bag or compartment helps prevent leaks.
You may also like:
Footwear for Every Occasion
Choosing the right footwear is essential for travel comfort and versatility. Aim for shoes that can handle long walks and still look great for an evening out.
A pair of comfortable sneakers is a must for daytime explorations. Consider stylish flats or loafers that work well for both casual and dressier occasions.
If your itinerary includes a fancy event, a pair of classic heels or elegant sandals might be in order. And for beach destinations, don't forget your flip-flops.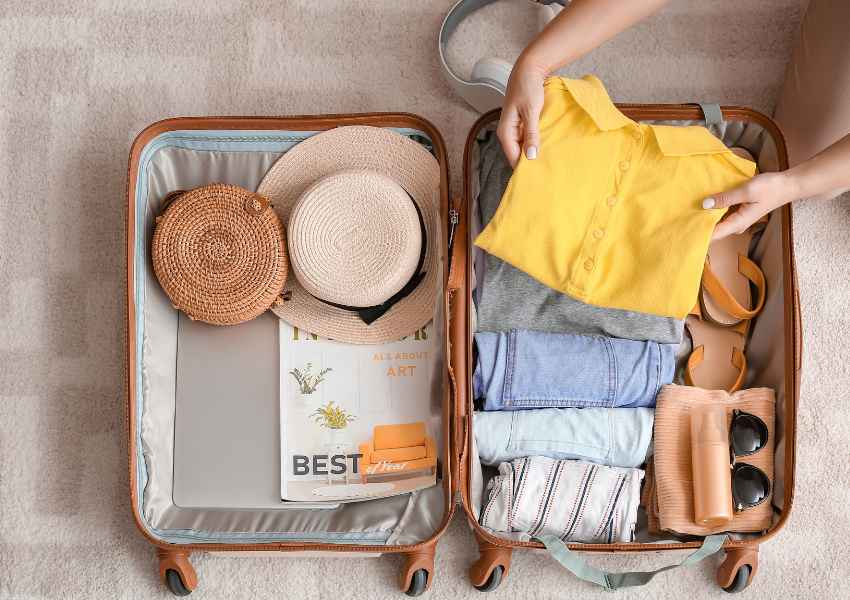 Organizing Your Travel Bag
Packing cubes are a game-changer; they help categorize your belongings, making it easy to find what you need without rummaging through everything.
Use different cubes for clothes, undergarments, and accessories. Compression bags can be a lifesaver for saving space, especially for bulkier items like jackets or sweaters.
For your smaller items and electronics, consider using zippered pouches or cases. Arranging your luggage in a way that keeps the most frequently used items easily accessible ensures efficiency and can reduce stress during your journey.
Staying Safe and Secure
Keeping your valuables safe is paramount when traveling. Use a crossbody bag or a money belt to keep important documents and money close to you and away from potential pickpockets.
Be mindful of where you keep your bag in crowded places and always use zippers or locks.
When exploring, only carry the essentials and leave other valuables in a safe at your accommodation. Additionally, be aware of your surroundings and avoid flashing expensive items in public.
Final Word
From selecting the right luggage to organizing your bag efficiently, each step is about making your travel experience as smooth as possible.
Remember, the right footwear, versatile clothing, and smart accessory choices like visors can elevate your travel game.
By staying organized and mindful of security, you ensure peace of mind throughout your journey.