11 Safest Caribbean Destinations in 2023 for a Safe and Relaxing Escape
Wondering what are the safest Caribbean destinations to visit this year?
With so many destinations to choose from, it can be tough to know which ones are the safest.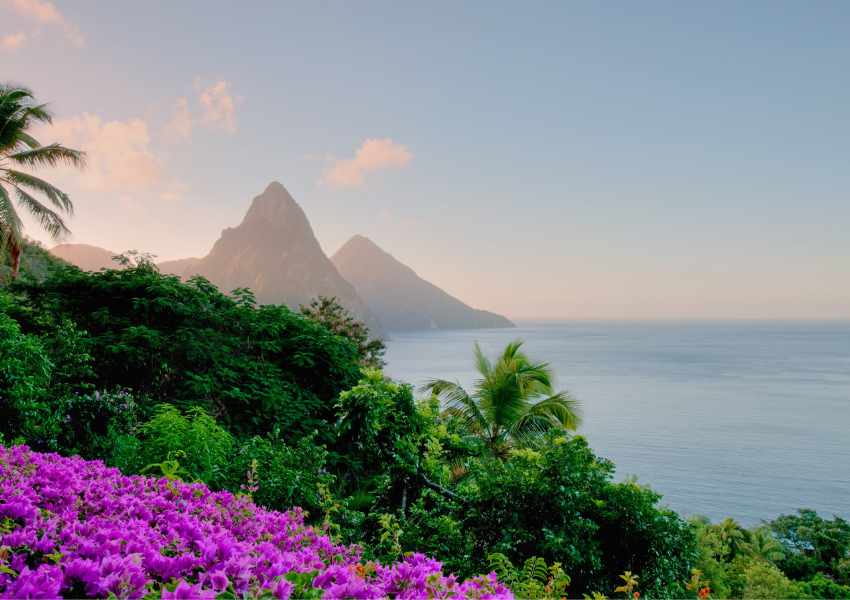 In this article, we'll explore some of the safest Caribbean destinations so you can enjoy your vacation with peace of mind.
Top Safest Caribbean Destinations in 2023
If you're planning a Caribbean vacation, safety is likely one of your top concerns.
Fortunately, there are plenty of destinations in the region that are known for their safety and security.
Here are some of the top safest Caribbean destinations:
1. Aruba
Aruba is a small island nation located just off the coast of Venezuela.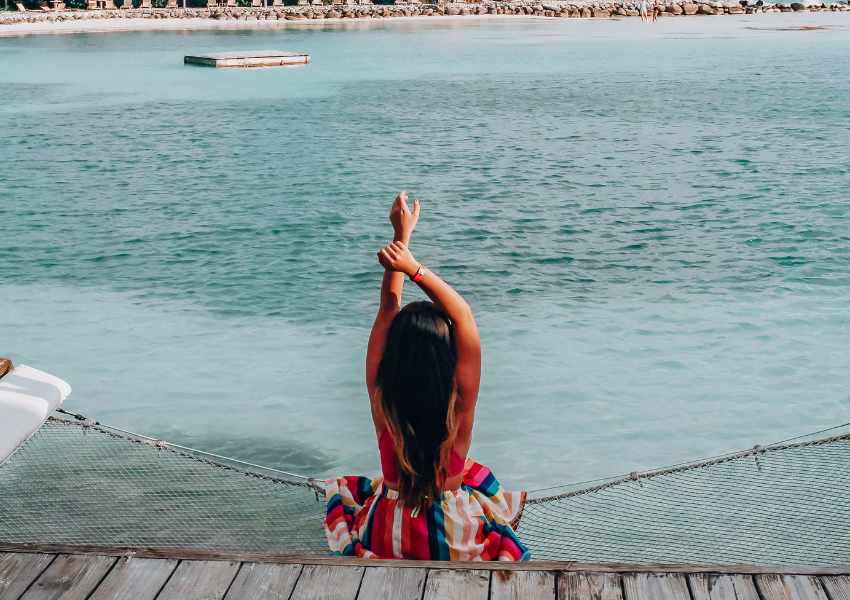 It's known for its beautiful beaches, crystal-clear waters, its famous Flamingo Beach, and its reputation as one of the safest Caribbean destinations.
As you stroll along the pristine shoreline or explore the bustling city center, you can put your safety concerns at ease.
Let's talk about some of the reasons Aruba shines as a safe destination.
First off, Aruba has one of the lowest crime rates in the region. When it comes to natural disasters, Aruba has an advantage too.
It's located outside the hurricane belt, so you are less likely to witness hurricanes or tropical storms compared to other islands on the Caribbean.
2. Curacao
Being a part of the Dutch Caribbean, this island boasts strong political and economic stability.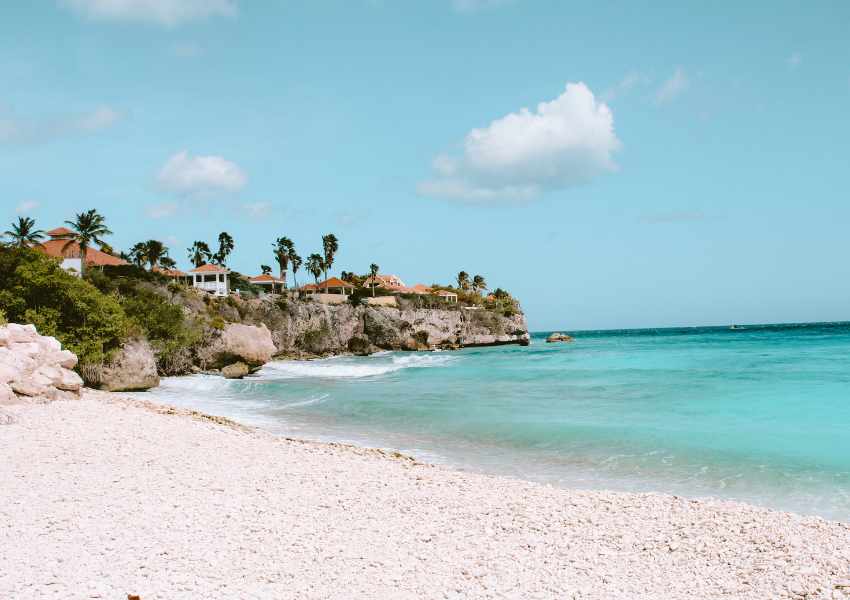 As soon as you land, you'll quickly see why it's considered one of the safest Caribbean destinations.
The pretty pastel-colored buildings in Willemstad, the capital of Curacao, are a delight to explore.
Stroll along the streets and discover various attractions, such as the Queen Emma Pontoon Bridge and the Kura Hulanda Museum.
While exploring, you'll find several police officers and surveillance cameras keeping a watchful eye on the area, ensuring your safety while you enjoy the vibrant city life.
Beaches in Curacao are some of the best in the Caribbean. You can easily find a secluded spot for your sunbathing session or a bustling beach with water sports activities such as snorkeling and diving.
While enjoying local dishes at the plethora of restaurants, don't be afraid to ask about meal ingredients.
Food safety is taken seriously in Curacao, where regulations are set in place to maintain high standards. You can savor the delicious flavors without worrying about your stomach later.
In case of a medical emergency, Curacao has a well-equipped and modern hospital called the Curacao Medical Centre.
Along with that, many pharmacies can provide you with the necessary medications. However, it's always wise to carry your own basic medication kit and an ample supply of any prescribed drugs.
Undecided? Check out this post if you're not sure whether to visit Curacao or Aruba!
3. Holbox, Mexico
Holbox is a small island off the coast of Mexico's Yucatan Peninsula.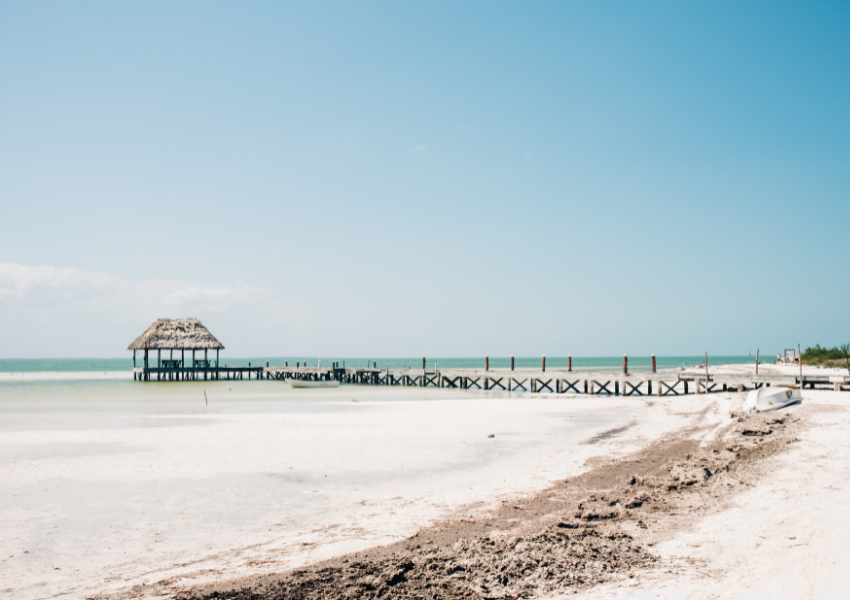 It's known for its pristine beaches, crystal-clear waters, and relaxed atmosphere.
With just 2,000 inhabitants, everyone here knows each other and crime is extremely rare.
4. Barbados
This beautiful island offers not only stunning views and lovely beaches, but also boasts a low crime rate, making it a desirable location for your getaway.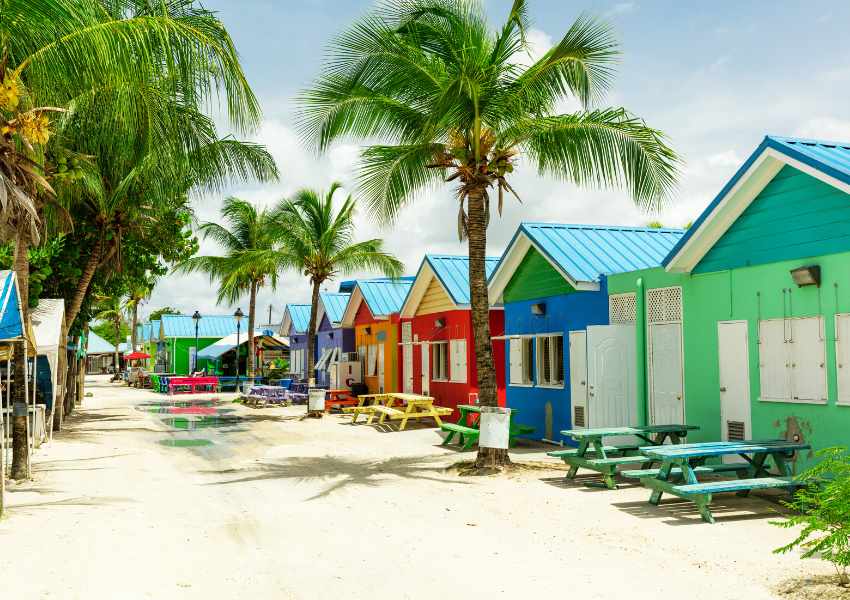 You'll appreciate the friendly and welcoming atmosphere of Barbados, where locals are generally warm and respectful towards tourists.
The island's well-established infrastructure contributes to your safety, as reliable transportation and communication systems are easily accessible.
When exploring the stunning coastline, don't hesitate to dive in and enjoy the crystal-clear waters.
Barbados takes pride in maintaining a clean and healthy environment in both land and sea, ensuring you have a fantastic time while keeping you safe.
While Barbados has an overall safe reputation, it's always a good idea to exercise some caution wherever you go.
Like in any travel destination, keep your personal belongings secure, avoid walking alone late at night, and stay aware of your surroundings.
5. Martinique
The Caribbean is full of beautiful destinations, and Martinique is definitely one of them.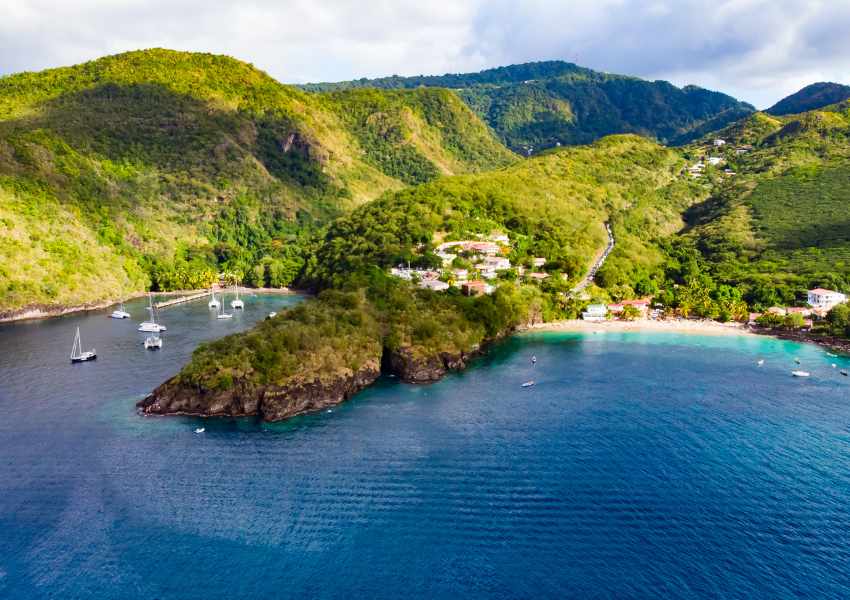 This French overseas territory will amaze you with its vibrant culture, stunning landscapes, and friendly locals.
Martinique has a low crime rate, making it one of the safest Caribbean islands in that area.
What about natural safety? Well, Martinique is relatively protected from hurricanes due to its location in the southeastern part of the Caribbean.
While hurricanes are not impossible, they are less frequent and less severe compared to other Caribbean islands. Earthquakes can happen, but again, they are rare and usually mild.
6. Cayman Islands
When you're looking to escape to the Caribbean, the Cayman Islands is a top choice for safety and relaxation.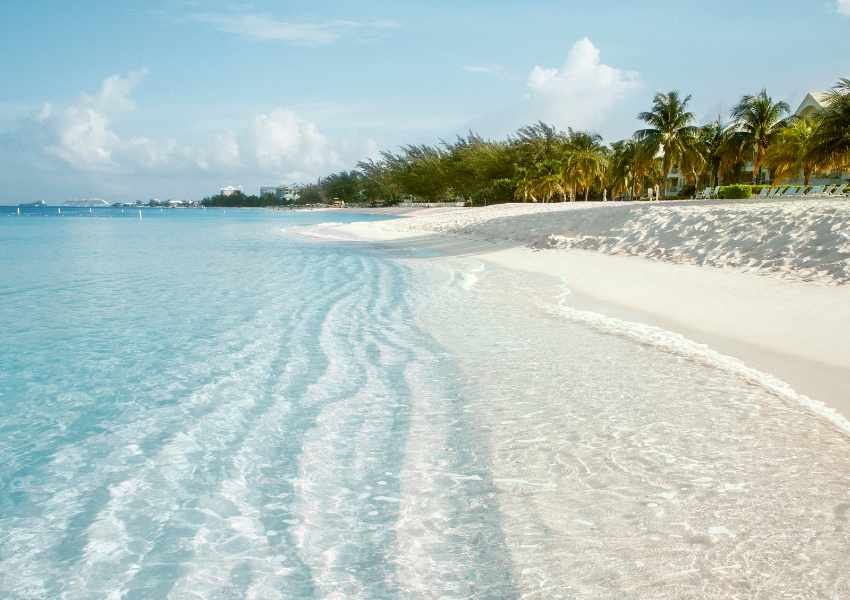 As a British Overseas Territory, you'll find that this destination offers a stable political environment and a low crime rate.
Upon arrival, take in the stunning turquoise waters and lush landscapes that await you.
With three islands to explore – Grand Cayman, Cayman Brac, and Little Cayman – you'll never run out of things to do.
Grand Cayman is the largest of the three islands and offers a variety of activities to enjoy.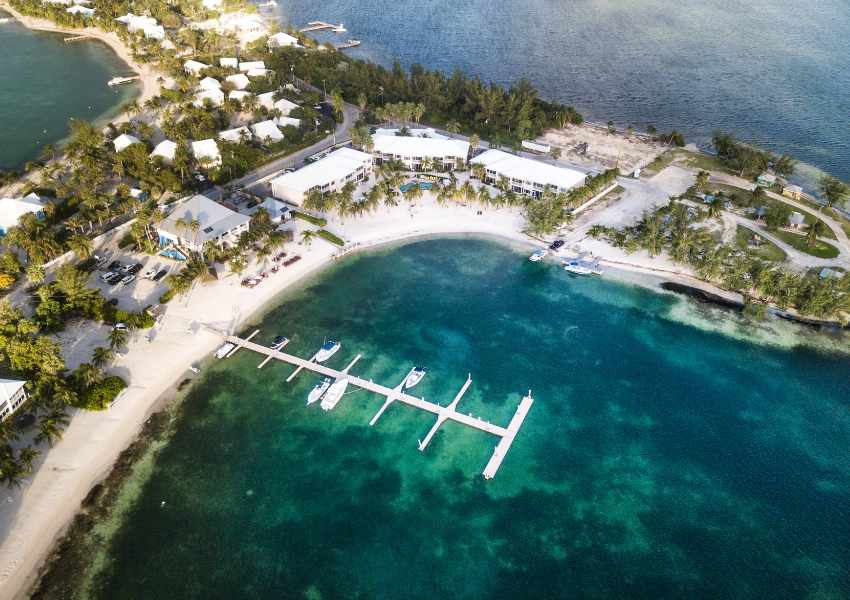 From lounging on the famous Seven Mile Beach to exploring the underwater world via snorkeling or scuba diving, there's something for everyone.
For a more laid-back experience, check out the colorful streets of George Town or sample some of the delicious local cuisine.
On Cayman Brac, immerse yourself in nature by visiting the island's numerous hiking trails and exploring its limestone caves.
This island is also particularly appealing to birdwatchers, as it's home to over 150 species of birds. Take a walk along the bluff and marvel at the breathtaking views of the Caribbean Sea.
If tranquility is what you're after, Little Cayman is the island for you. With a population of less than 200, it's the perfect spot to unwind and enjoy the natural beauty that surrounds you.
Some must-visit spots include the Point of Sand Beach and the Booby Pond Nature Reserve, which hosts one of the largest colonies of red-footed boobies.
The Cayman Islands also boasts an excellent healthcare system, making it an even more attractive destination for travelers – particularly in these uncertain times.
You'll find well-staffed and highly equipped medical facilities on the islands should you need them during your stay.
With fabulous weather, stunning scenery, and a safe atmosphere, the Cayman Islands is a Caribbean destination you'll want to experience for yourself.
7. St. Barts
St Barts, also known as Saint Barthélemy, should be on your shortlist when considering the safest Caribbean destinations.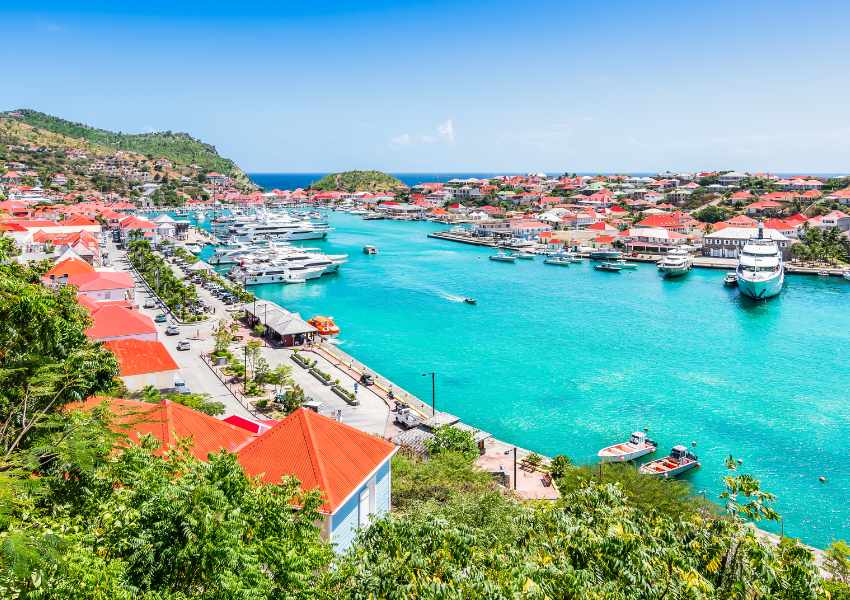 With its low crime rate and reputation as a luxurious playground for the rich and famous, you'll feel at ease in this charming island paradise.
You'll find pristine white-sand beaches and crystal-clear turquoise waters to explore during your visit.
Whether you're soaking up the sun at Shell Beach or shopping for designer threads in Gustavia, you can rest assured knowing your safety is a top priority on this island.
Also, St Barts has strict building codes ensuring that all constructions are well-equipped to handle the occasional hurricanes and tropical storms.
Moreover, the island's medical facilities are modern and efficient, giving you peace of mind in case of emergencies.
In terms of transportation, you'll get around easily in a rental car or by hiring local taxis or minibusses, which are safe and reliable options.
Just keep in mind that the roads in St Barts can be quite steep and narrow, so remember to drive cautiously.
Indulging in delicious local cuisine is another fantastic part of visiting St Barts.
The island's restaurants and bars are subject to high sanitary standards, ensuring you can enjoy your meals without worrying about foodborne illnesses.
While exploring St Barts, you'll notice that the locals are friendly and welcoming, always eager to assist you if needed.
This welcoming atmosphere and the island's overall sparkling safety record make it an ideal destination for a worry-free Caribbean getaway.
8. The Bahamas
Whenever you're planning a trip to the Caribbean, The Bahamas should be on your list of safest destinations to consider.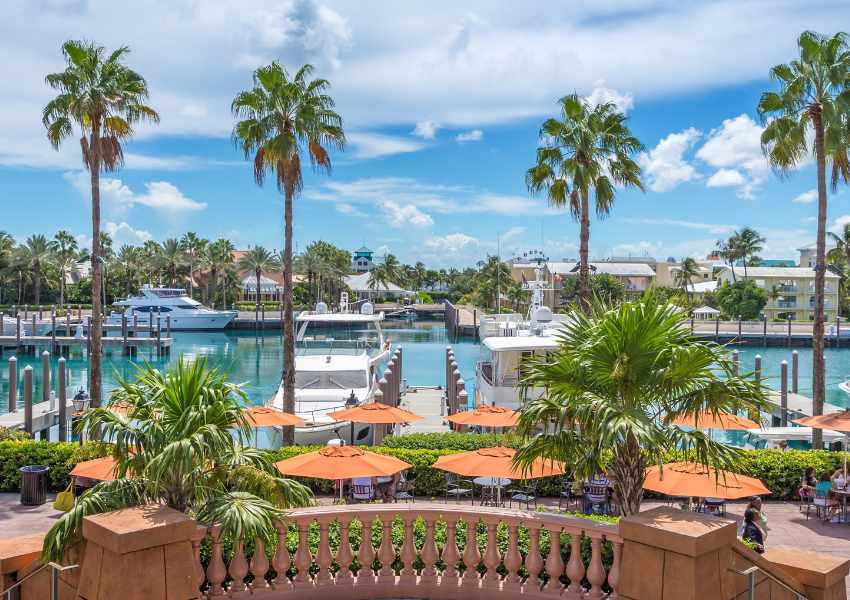 Comprised of about 700 islands, you'll find an array of choices for a tranquil and enjoyable vacation.
During your visit, you'll be amazed by the crystal-clear waters, stunning beaches, and friendly locals.
The Bahamas take pride in ensuring their islands remain safe for tourists, particularly in areas like Nassau, Paradise Island, and Grand Bahama.
As a result, you can confidently roam around bustling areas with your family and friends.
When it comes to activities, there's no shortage of things to do. Try snorkeling, scuba diving, or exploring the colorful underwater world of coral reefs.
You'll also find numerous restaurants showcasing the unique flavors of the Caribbean. Don't forget to taste the delectable seafood options available.
9. Turks and Caicos
Turks and Caicos is an excellent choice for a safe Caribbean vacation.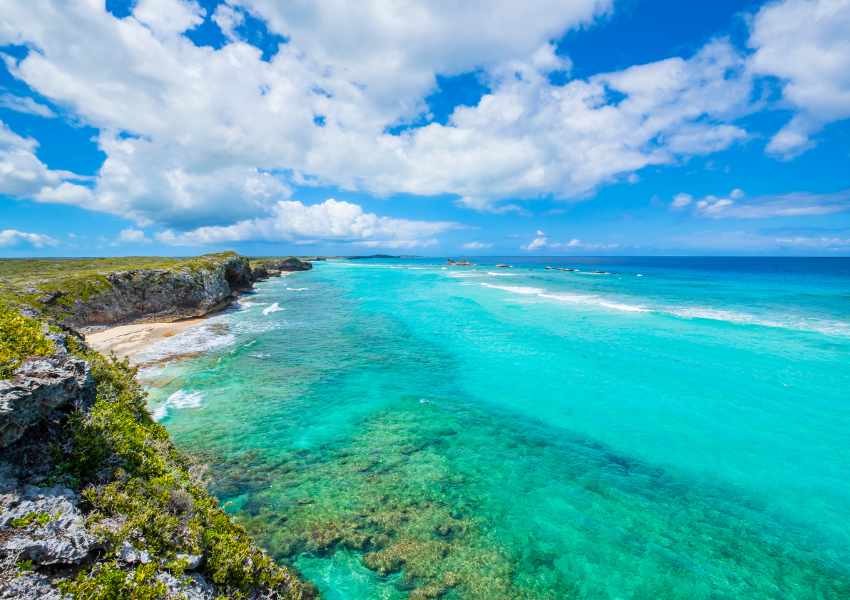 These beautiful islands offer crystal clear waters, pristine white-sand beaches, and a friendly atmosphere.
You'll find plenty of activities to enjoy while feeling secure in this peaceful paradise.
One of the reasons you can feel confident about visiting Turks and Caicos is their impressive track record when it comes to crime rates.
The islands have one of the lowest crime rates in the Caribbean, and local authorities work hard to maintain this level of safety.
It's also worth noting that Turks and Caicos experiences minimal hurricane risk.
While it's situated in the hurricane belt, the islands tend to experience fewer and less-severe storms compared to other Caribbean destinations.
10. Montserrat
Montserrat is a hidden gem in the Caribbean that offers you a serene and secure vacation experience.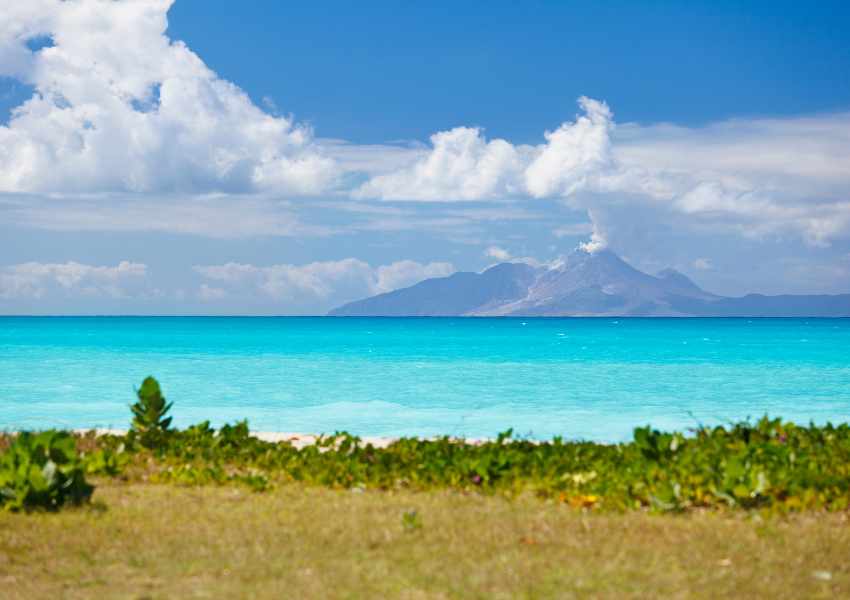 As you explore this British overseas territory, you'll feel at ease knowing that it's regarded as one of the safest Caribbean destinations.
Discover the natural beauty of Montserrat as you traverse through its lush landscapes, including the stunning Silver Hills.
These terrains harbor diverse wildlife and flora, providing ample opportunities for hiking and birdwatching.
Additionally, you can enjoy the captivating views of the Soufrière Hills volcano, which is closely monitored for your safety.
Take a stroll along the pristine beaches that line Montserrat's coastlines, such as Little Bay or Carr's Bay.
These spots are perfect for a quiet day of relaxation and a refreshing dip in the azure Caribbean waters.
You can also boost your adrenaline levels with water activities such as snorkeling and diving, all while feeling secure in this peaceful destination.
Montserrat's charming community welcomes visitors with open arms. Their warm hospitality adds to the safe atmosphere that makes this Caribbean getaway truly special.
11. St. Lucia
With its stunning beaches, lush rainforests, and friendly locals, St. Lucia offers both beauty and peace of mind.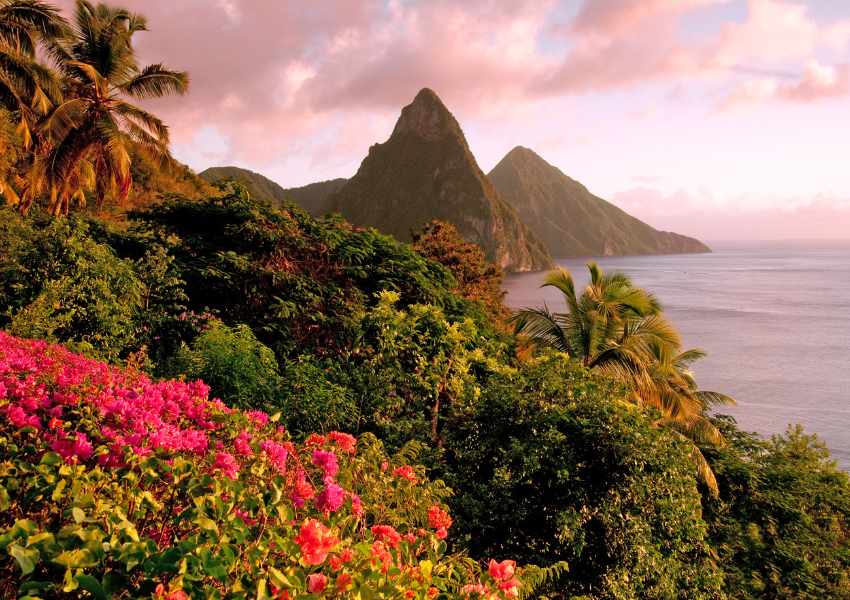 One reason you'll feel secure in St. Lucia is its low crime rate.
While no place is completely crime-free, St. Lucia is generally considered to be one of the safest Caribbean destinations.
To further ensure your safety, take common-sense precautions like not leaving valuables unattended and being aware of your surroundings, especially at night.
St. Lucia also takes care of your health during your visit.
The island boasts a range of modern healthcare facilities, including quality hospitals and pharmacies, which can cater to your medical needs if required.
As a bonus, St. Lucia is a great destination for eco-conscious travelers. The island actively promotes sustainable practices and offers various eco-friendly activities.
St.Lucia is also considered to be a great location for settling down and starting businesses. You can contact investment migration experts like Global Residence Index for further help and to plan a secure life on this picturesque island.
You can participate in things like guided nature hikes, birdwatching tours, and even visit a well-preserved historic cocoa estate.
Safety Tips for the Caribbean
When choosing a Caribbean destination, it's essential to consider the safety aspects. In this section, we'll discuss the factors that can help determine how safe a location is for your travels.
Crime Rates: Before you book your trip, look into the crime rates of your desired destination.
High crime rates might not necessarily make a place off-limits, but being aware of them allows you to take proper precautions and make informed decisions about where to go.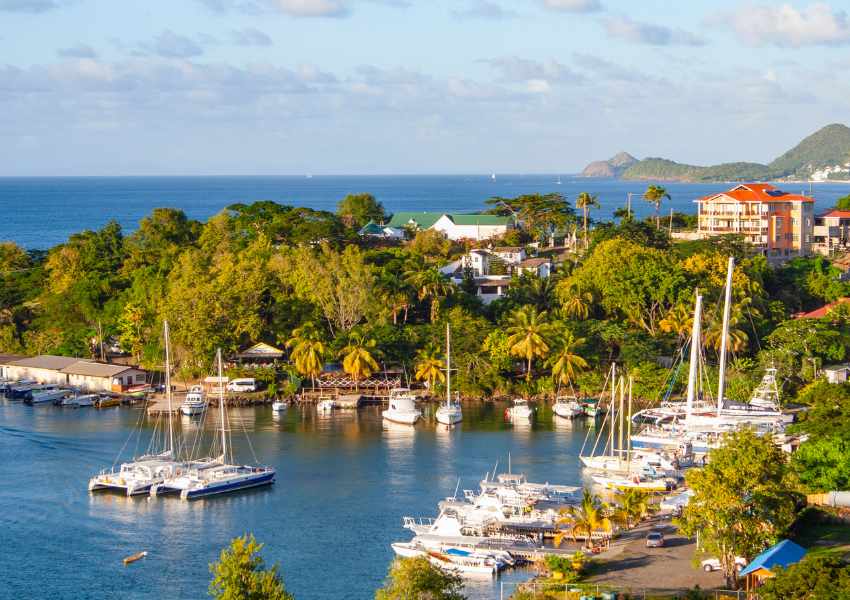 Natural Disasters: Even if the place you're visiting is considered one of the safest Caribbean destinations because of low crime rates, make sure to check if it's prone to natural disasters like hurricanes and earthquakes.
When planning your trip, it's wise to check the hurricane season and other potential weather-related risks. Remember to monitor regional weather forecasts throughout your stay.
Health Concerns: It's always good to be informed about any ongoing health concerns in the region you're planning to visit.
Research the prevalence of diseases like Zika, Dengue, and Chikungunya, and take necessary precautions.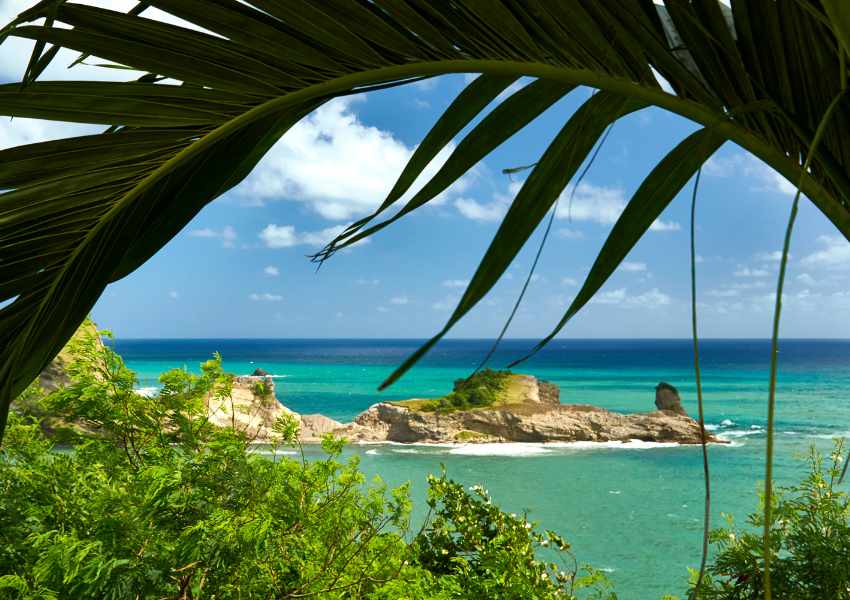 Political Stability: The political climate of a Caribbean destination can also impact safety.
An unstable government or tensions between ethnic or political groups might lead to unrest, affecting the safety of tourists. Keep an eye on current events and evaluate if political situations may impact your travel plans.
Respect Local Laws: When visiting the Caribbean, it's important to respect local laws. Familiarize yourself with the rules and regulations of your destination before you arrive. This includes understanding local customs, dress codes, and etiquette. By adhering to the laws, you'll ensure a smooth and enjoyable trip.
Research local laws and customs prior to departure
Dress modestly and appropriately for the area
Observe posted signs and regulations
Avoid Secluded Areas: To stay safe during your Caribbean vacation, be mindful to avoid secluded areas. Stick to well-traveled tourist locations, and avoid venturing off the beaten path. When exploring, it's best to travel with a companion or group, particularly at night.
Stay in well-populated areas
Do not wander off into unfamiliar places
Travel with a buddy or group, especially after dark
Conclusion: Safest Caribbean Destinations
You've now learned about some of the safest Caribbean destinations for your next vacation.
While there are many beautiful islands to choose from, safety should always be a top priority when traveling.
Remember to always take precautions such as staying aware of your surroundings, not carrying large amounts of cash, and avoiding unlit or isolated areas at night.
So pack your bags, grab your sunscreen, and head to one of these safest Caribbean destinations for a memorable and relaxing vacation.