Wondering how to visit the famous Flamingo Beach in Aruba? I recently visited and here's everything you need to know!
Ever since pictures of girls feeding pink flamingos started popping up all over Instagram, visiting Aruba's Flamingo Island has been high on my bucket list. It wasn't only until early this year that I finally got the chance to make that dream come true.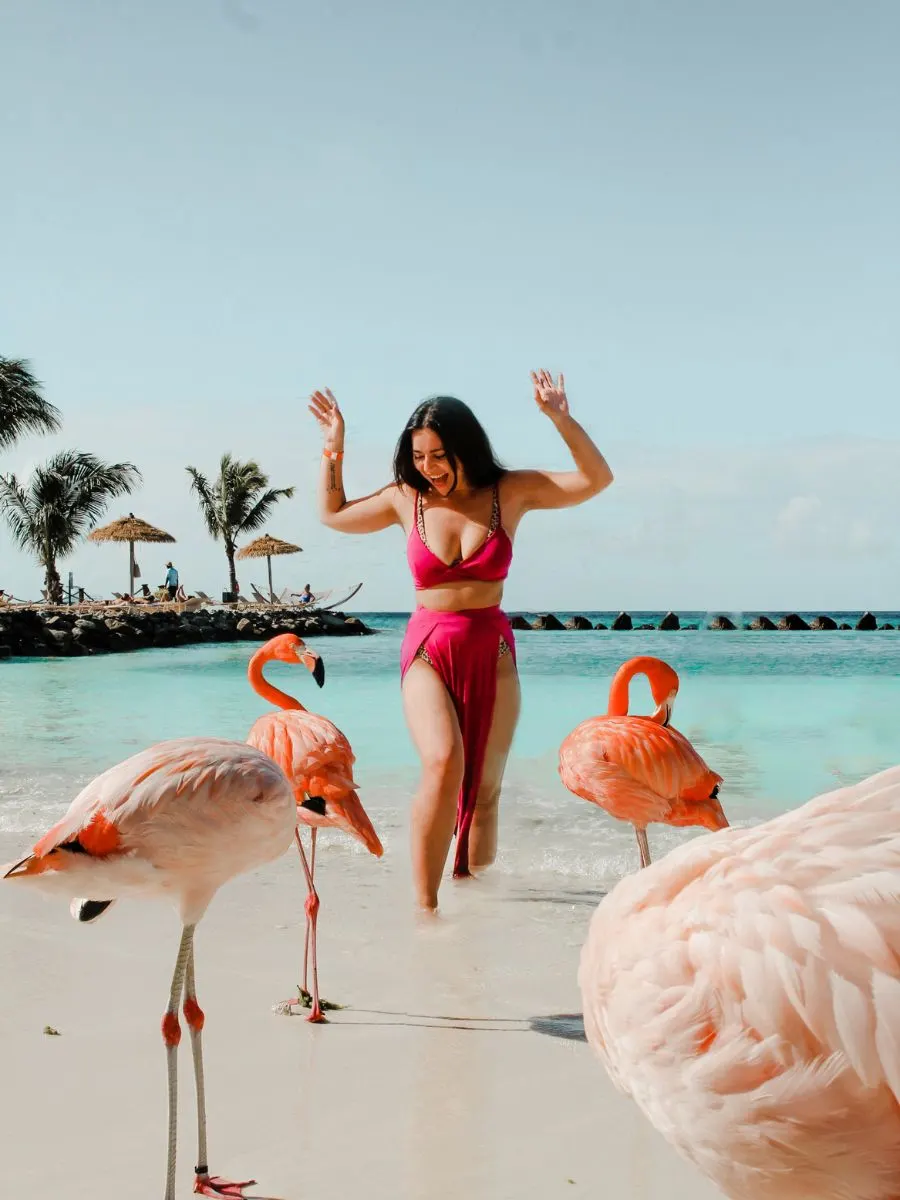 I'm not going to lie – I was a bit afraid the beach would be one of those Instagram vs. reality places. If you're feeling the same way and you're wondering if the real-life experience compares to those Insta-perfect shots and how to even visit the island, read on!
⛵ Getting to Flamingo Beach Aruba
Flamingo Beach Aruba is located on Renaissance Island, a private island in Aruba that belongs to the Renaissance Wind Creek Aruba Resort. Getting there requires taking a 10-minute water taxi available at the resort.
The Renaissance Aruba Private Island opens every day from 7 AM to 7 PM. The first water taxi departs from the resort to the island at 7 AM and the last one back from the island leaves at 6:45 PM. In between those times, they depart to and from the island every 15 minutes.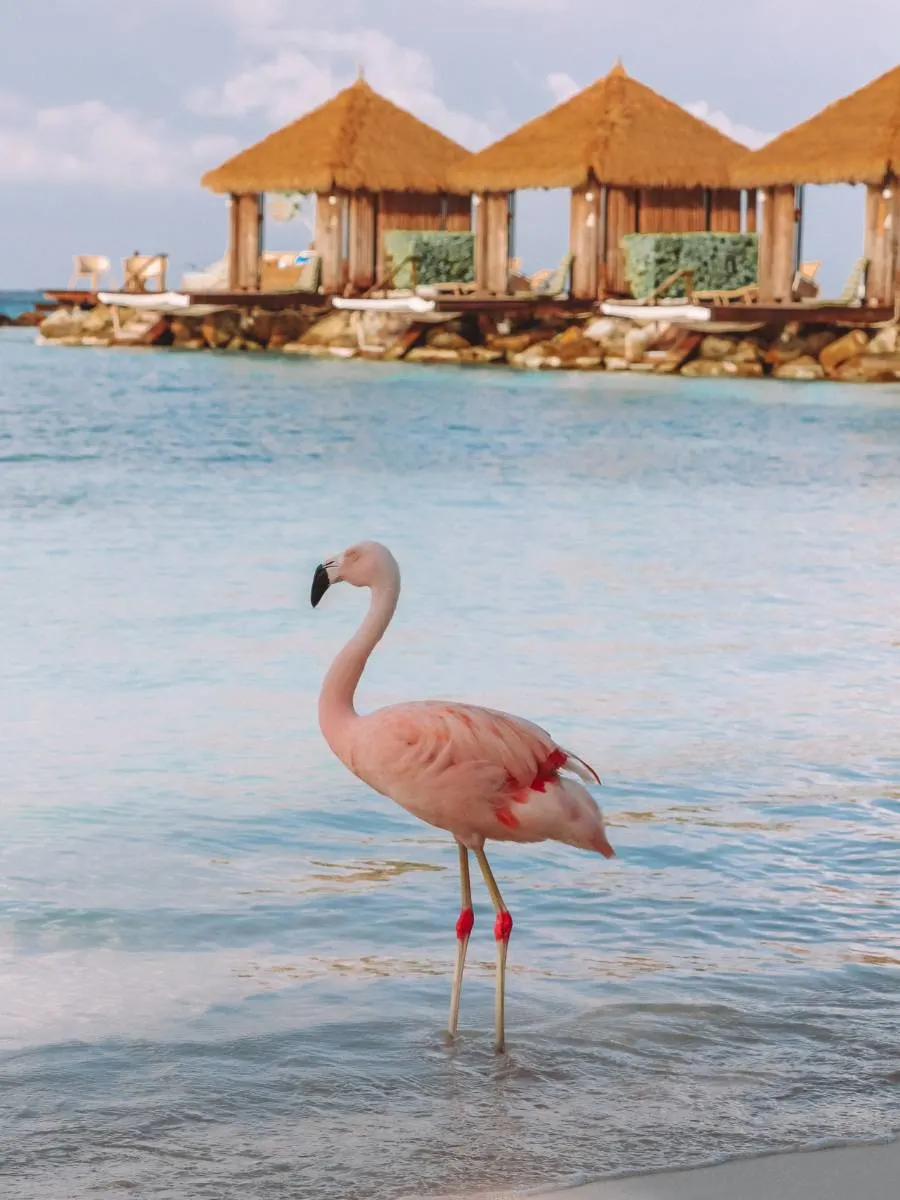 🦩 How to visit Flamingo Beach Aruba
Since Flamingo Beach Aruba is a private island, it's not really a "public attraction" everyone can visit. To see the flamingos in Aruba, you only have two options:
Stay at the Renaissance Wind Creek Aruba Resort
This is what I did and what I would recommend to anyone who has Flamingo Beach in Aruba high on their bucket list. It's essentially the only option you have to guarantee your visit.
Because the island is privately owned by the Renaissance Wind Creek Aruba Resort, only hotel guests are allowed to visit. Unlimited boat rides to the island as well as your entry are included on your reservation.
If you paid for the all-inclusive deal, you will also get access to the island's restaurant as well as service and unlimited drinks (including alcoholic beverages) at the beach.
Buy a Day Pass
Buying a day pass for $125 is also possible if you don't want to splurge on a night at the Renaissance Wind Creek Aruba Resort.
Your day pass includes access to the island, water taxi rides, and lunch + a drink at the island's restaurant.
However, day passes are only available when the hotel's occupancy is below 80%.
If you're visiting during the high season, I highly recommend having an open itinerary and visiting the hotel to enquire about day passes the day before to see if they have any available for the following day.
If you happen to be visiting during the low season, chances are you will be able to snag a day pass. If you have the budget for it, I would recommend booking a night at the resort to avoid not being able to go if there are no passes available.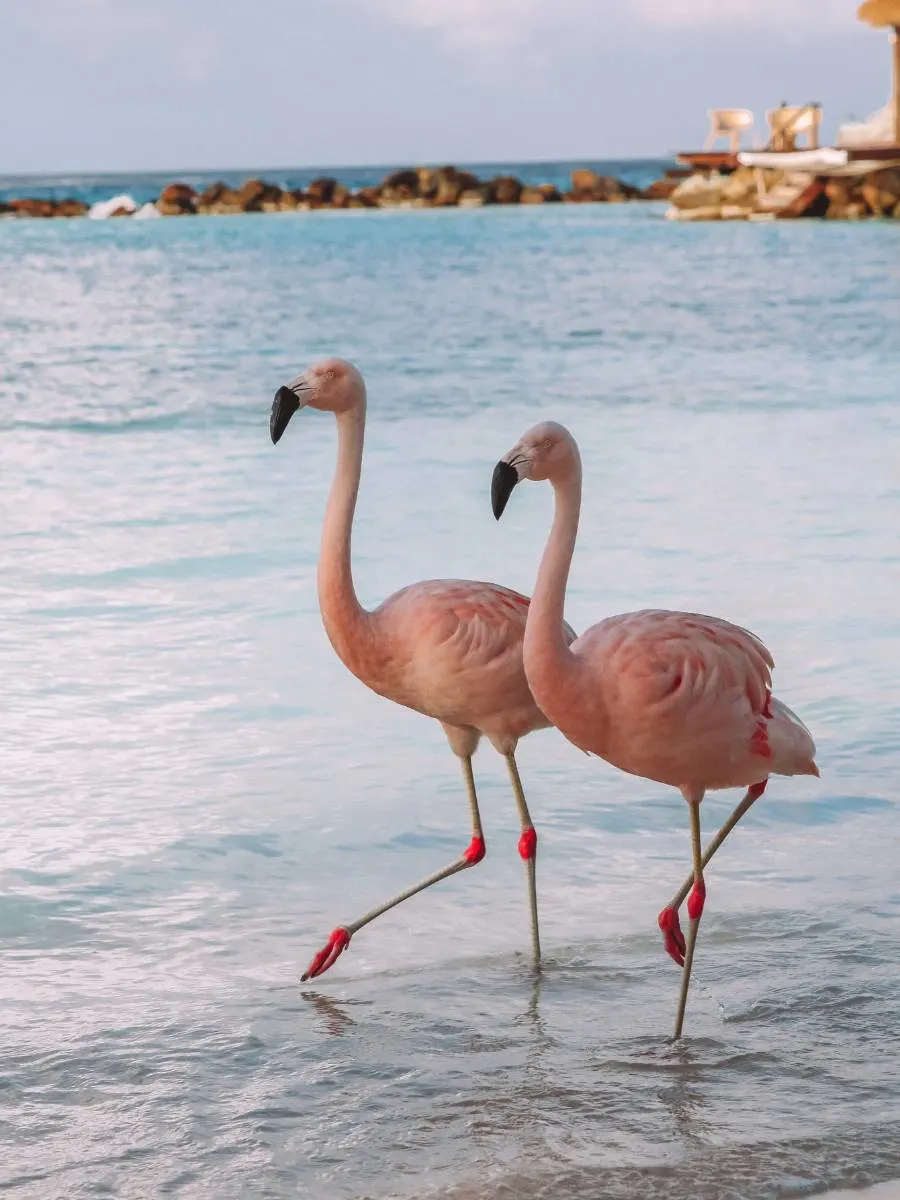 📅 Best time to visit Flamingo Beach Aruba
Weather-wise, the best time to visit Flamingo Beach is between December and March when temperatures are great and there are almost no chances of rainfall.
With that said, even during the "rainy season" (late October to December), rainfall is only over 20 inches in general in Aruba, so you can pretty much visit any time of the year.
YOU MAY ALSO LIKE:
🏝️ FAQs Flamingo Beach Aruba
Where is Flamingo Beach in Aruba?
Flamingo Beach is located on Renaissance Island, a private island that belongs to the Renaissance Wind Creek Aruba Resort in Oranjestad.
It's located just off the coast of Aruba and it takes a very short (10-minute boat ride) from the mainland to reach it.
Are there really flamingos at Flamingo Beach?
Yes!
While flamingos aren't native to Aruba, there are 8 flamingos in total at Renaissance Island. This means that Flamingo Island is the only place in Aruba where you can get this experience.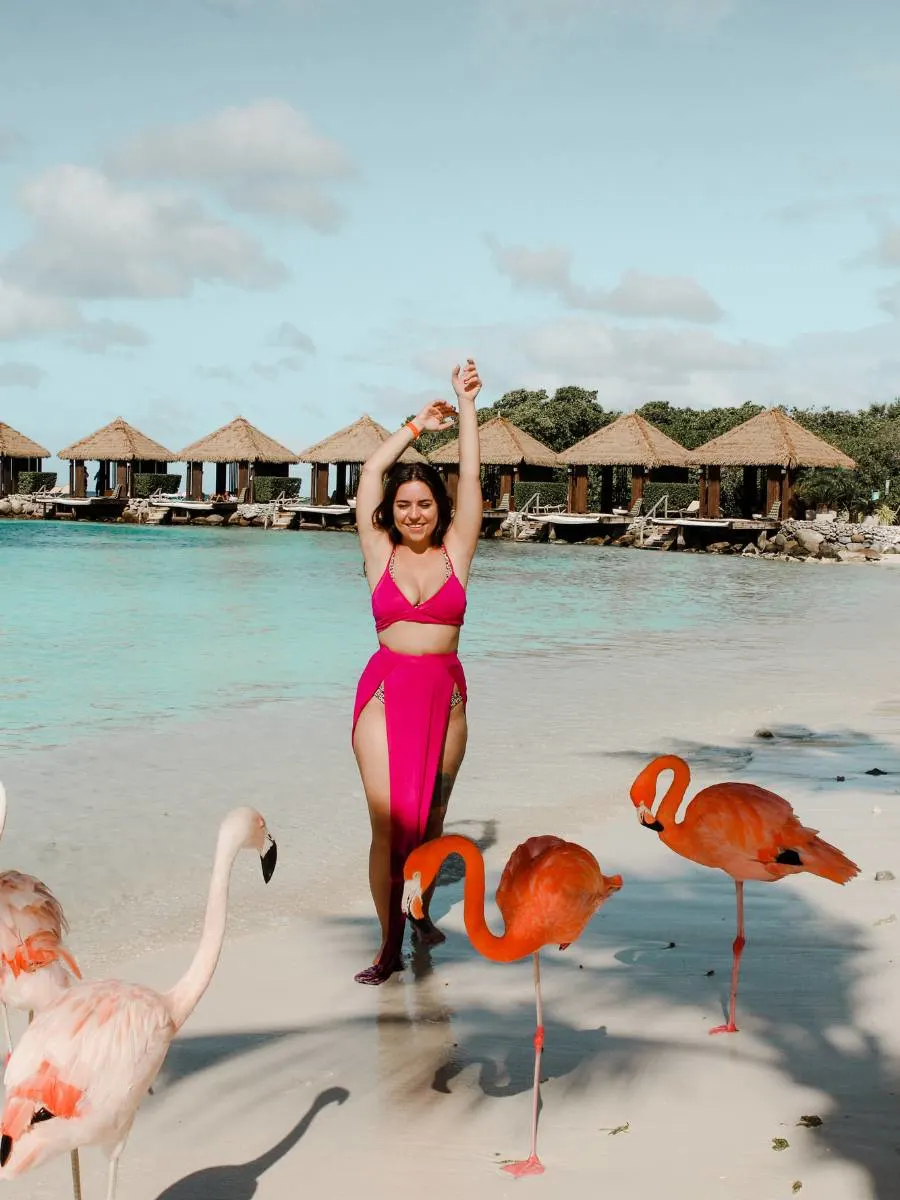 Is Flamingo Beach worth it?
In my opinion, I think it's 100% worth it, especially if what you're after on your Aruba vacation is to relax.
In all honesty, before my visit, I kept wondering if the real-life experience would compare to what I'd seen in pictures.
I was worried I'd plan an entire trip around that experience alone only to find the flamingos weren't even there or it'd be an incredibly unethical place. In reality, Flamingo Beach and the entire island it's set on are actually so much better than I'd originally expected!
Getting to see flamingos up close and walking beside them is an incredible experience in and on itself.
Add to that the fact that the island has two beautiful private beaches, a bar, and a restaurant and you've got yourself a perfect recipe for a place you can spend the entire day relaxing amid a setting that looks exactly what you'd expect paradise to look like.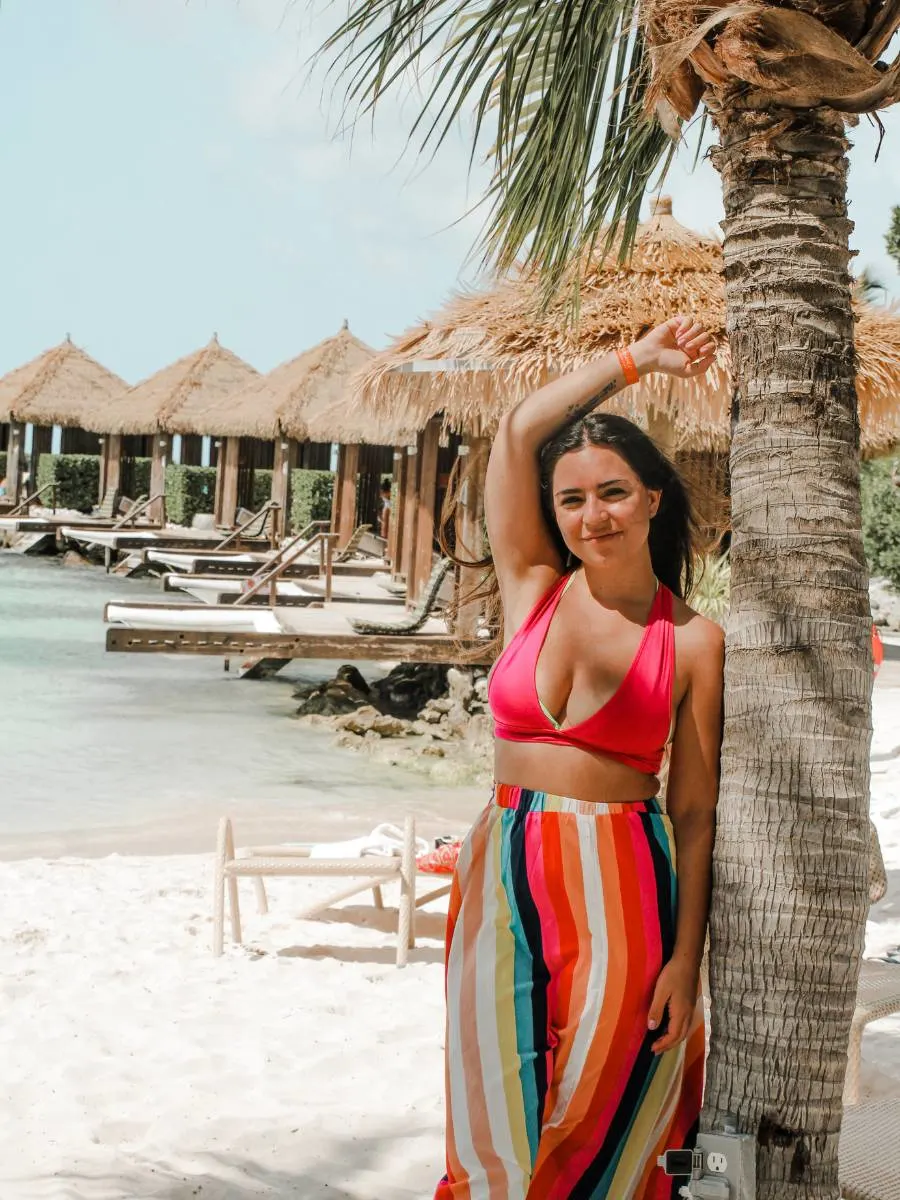 Can anyone go to Flamingo Beach Aruba?
Yes and no. Renaissance Island, the island where the beach is located, is private.
Visitors can't just pop up and visit the island – you need to either book a stay at the Renaissance Wind Creek Aruba Resort (access to the island is included on your stay as well as your boat trips) or get a day pass for $125.
Note that day passes to Renaissance Island are limited and not always available as they don't want the island to get too full.
Can you visit Flamingo Beach with kids?
Kids are only allowed to visit Flamingo Beach from 9 AM to 10 AM in order to minimize disturbance to the flamingos. Touching, chasing, or holding the flamingos is prohibited and they must be accompanied by an adult at all times.
Is there food at Flamingo Beach?
Yes.
Papagayo Bar & Grill is located on the island at Iguana Beach (which is almost right beside Flamingo Beach). It offers delicious cocktails and dishes like burgers, salads, and wood-fired pizza.
You can order at the restaurant/bar or have the service team bring them over to your chair/cabana. Breakfast is also served here.
At Flamingo Beach, you will find Mangrove Beach Bar, which serves delicious cocktails as well.
Note that if you booked an all-inclusive deal at the hotel, both Mangrove Beach Bar and Papagayo Bar & Grill are included in the deal.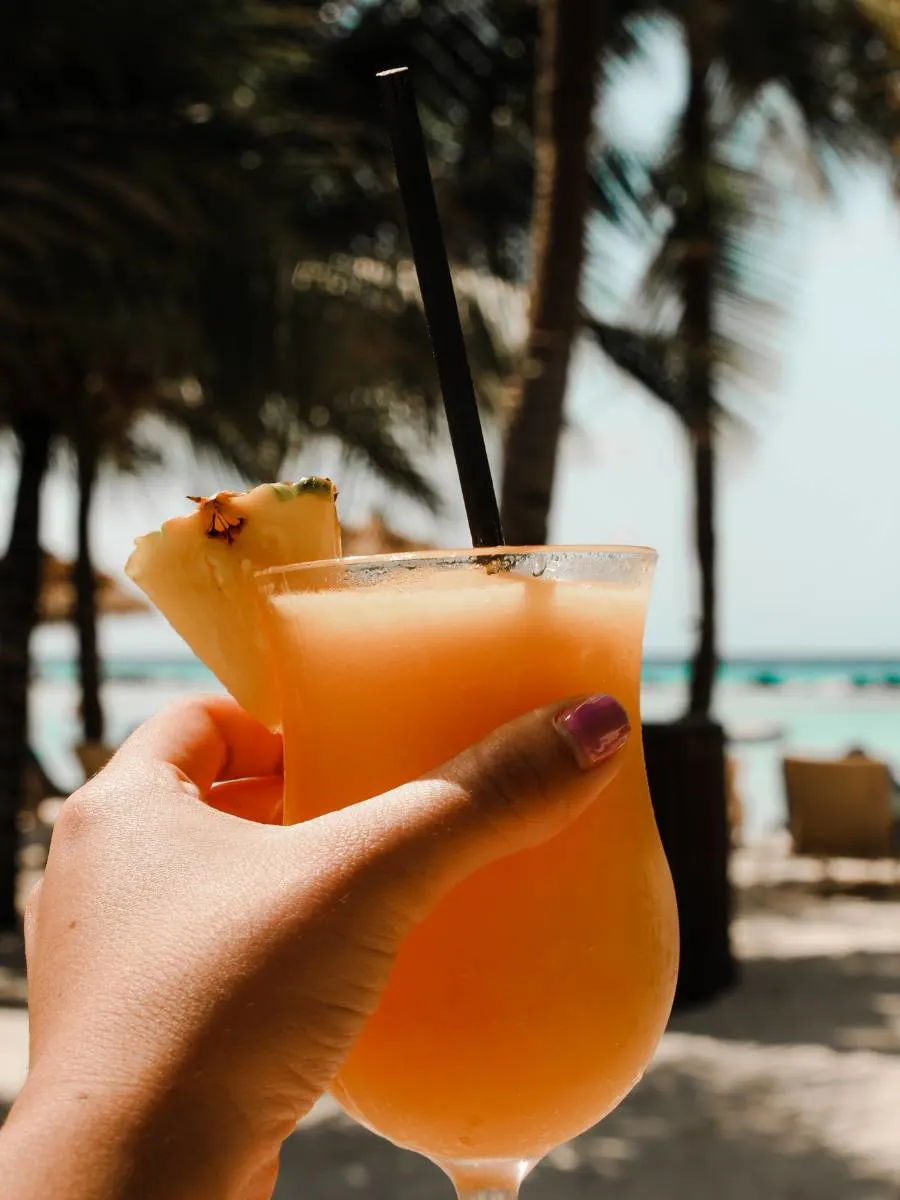 Is Flamingo Beach ethical?
In all honesty, this is a question I found myself asking all the time during my visit to Flamingo Beach.
I'm in no way an expert to talk, but I do like observing how animals are treated and coming up with my own conclusion.
If you've read any other posts on wildlife travel experiences, you'll know I'm always 100% honest if I see something that doesn't look right.
However, with Flamingo Beach, I found myself at loss as to what my conclusion was.
On one hand, the flamingos aren't native to the island and they were brought here from another place in order to attract visitors, but they did seem very well taken care of.
There are some rumors going around about the flamingo's wings being clipped in order to prevent them from flying away. I did observe them and they all had their wings all right BUT, I did see four of them try to fly and they didn't seem to be able to lift themselves up for more than a meter.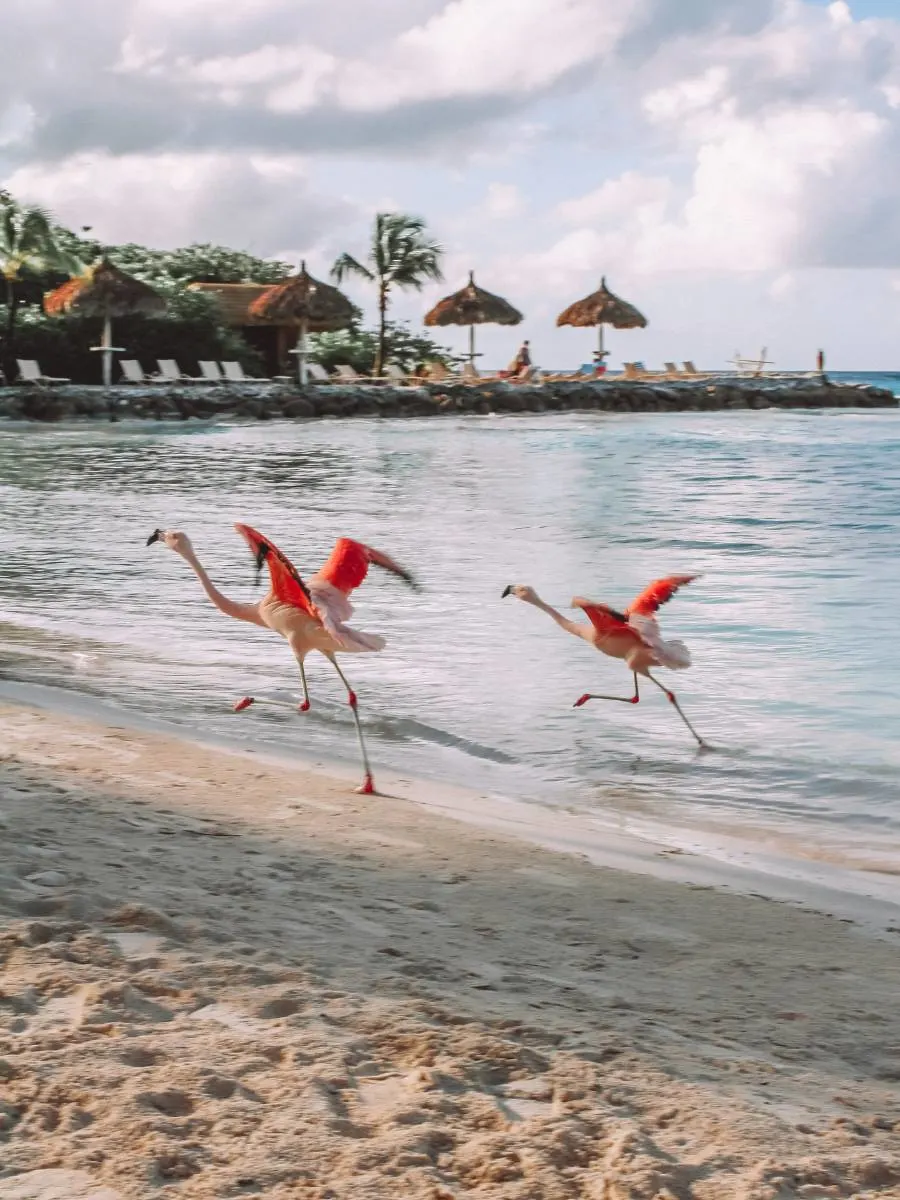 So… I don't know? Something didn't feel 100% right to me, but it didn't feel wrong either. I just couldn't figure things out nor did I find any information on where the flamingos were brought from.
There was an incident where a girl tried to hold a flamingo and the staff on-site quickly jumped in order to stop her. I did like how they worried about the flamingos not getting too stressed. They also don't "force" them to take pictures with visitors (taking that flamingo picture is harder than it looks!).
Is there more to do at Flamingo Beach Aruba?
Yes! Of course, the flamingos were the main reason I visited Flamingo Beach, but I found myself quickly getting over them after a while.
Still, I visited the island on three different days because it's simply gorgeous and a wonderful place to relax.
There aren't a lot of activities, but there are many beach chairs, hammocks, a bar, and a restaurant on site both at Flamingo Beach as well as Iguana Beach (which is right next to Flamingo Beach). They also offer overwater cabanas for rent.
Moreover, the water here is calm and a stunning turquoise blue, making it perfect for swimming.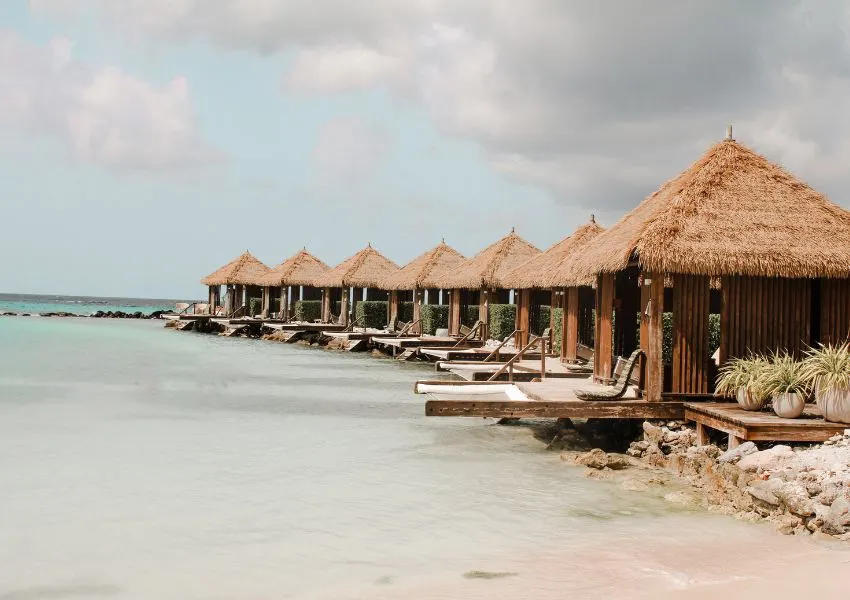 📷 How to get the perfect flamingo photo
As pretty as those Instagram photos of girls wearing pink bikinis look, getting that perfect photo isn't as easy as it looks (I have to admit I wasn't 100% happy with mine).
At the end of the day, flamingos are animals and not models, so if you want your shot, you will need to be patient.
Here are some tips on how to get the perfect shot with flamingos:
There are vending machines where you can get food to feed them. This will make the flamingos so much more eager to approach you so you can snap your shot. Bring American quarters as the vending machine only accepts those 🙂
Get to Flamingo Beach as early in the morning as possible (it opens at 7 AM). This will make it easier to get your photo because the flamingos will be hungry and there won't be as many people.
If you don't get your photo in the morning, wait until 6 PM or so. Most people have left the island by then and the flamingos start getting hungry again around this time.
Don't force the flamingos to pose for you. You will just scare them away.
Do not touch the flamingos or try to hold them. This is prohibited.
If you're staying several days at the resort, you can visit the island several times – you can always come back again if you aren't happy with your photos!
Don't distribute the flamingos if they clearly don't want to be bothered or when they're napping. It looks something like this: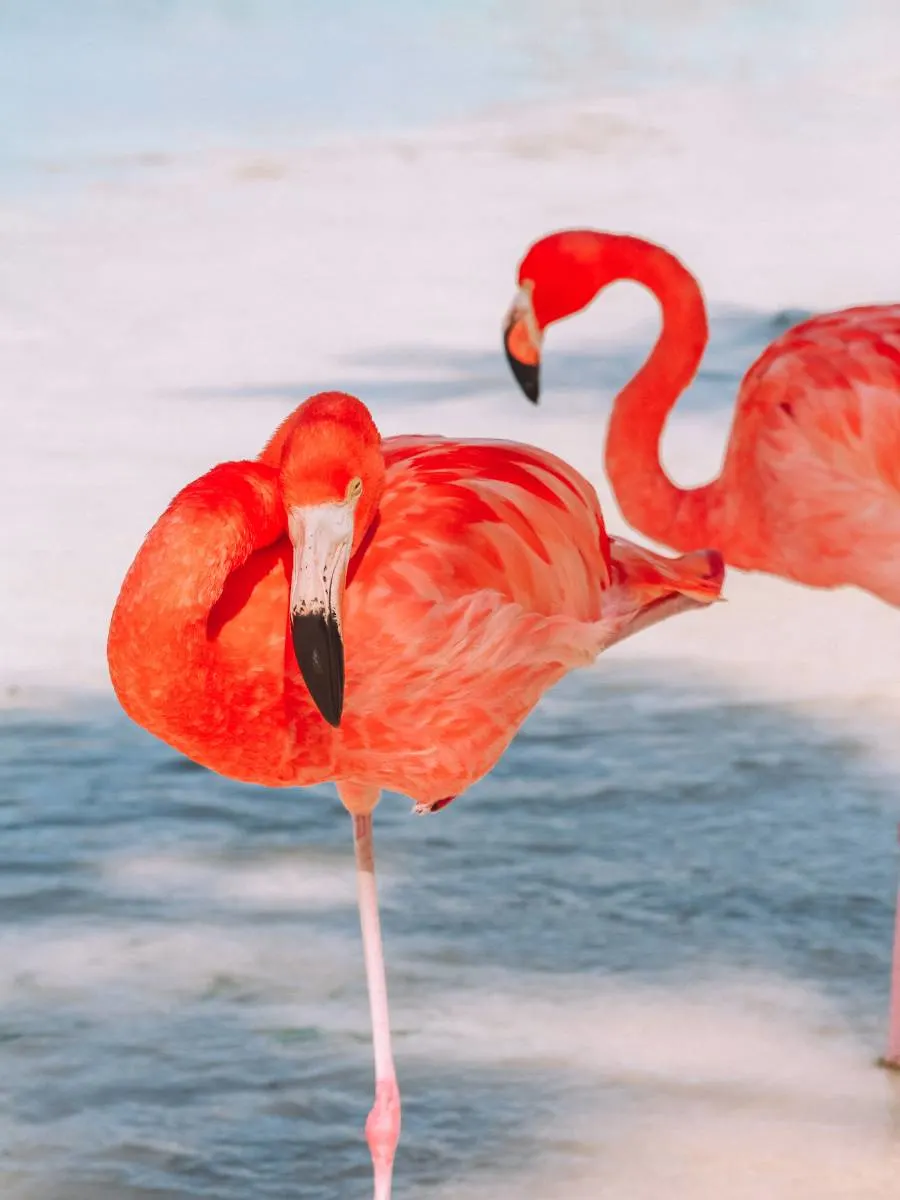 ☀️ Other things to do at Flamingo Beach Aruba
Relax at Iguana Beach
There are two beaches at Renaissance Island: Flamingo Beach (where flamingos are found most of the time) and Iguana Beach.
I personally found Flamingo Beach a bit too hectic, especially during the morning and early afternoon. I actually visited the island three times during my trip to Aruba and spend most of my time at Iguana Beach (you can walk from one beach to the other).
It's a lot more beautiful and relaxing. There are super comfortable beach chairs available as well as a restaurant.
The flamingos are super fun to look at and take pictures with, but after you've done that, you can spend the rest of the day relaxing under the sun at Iguana Beach.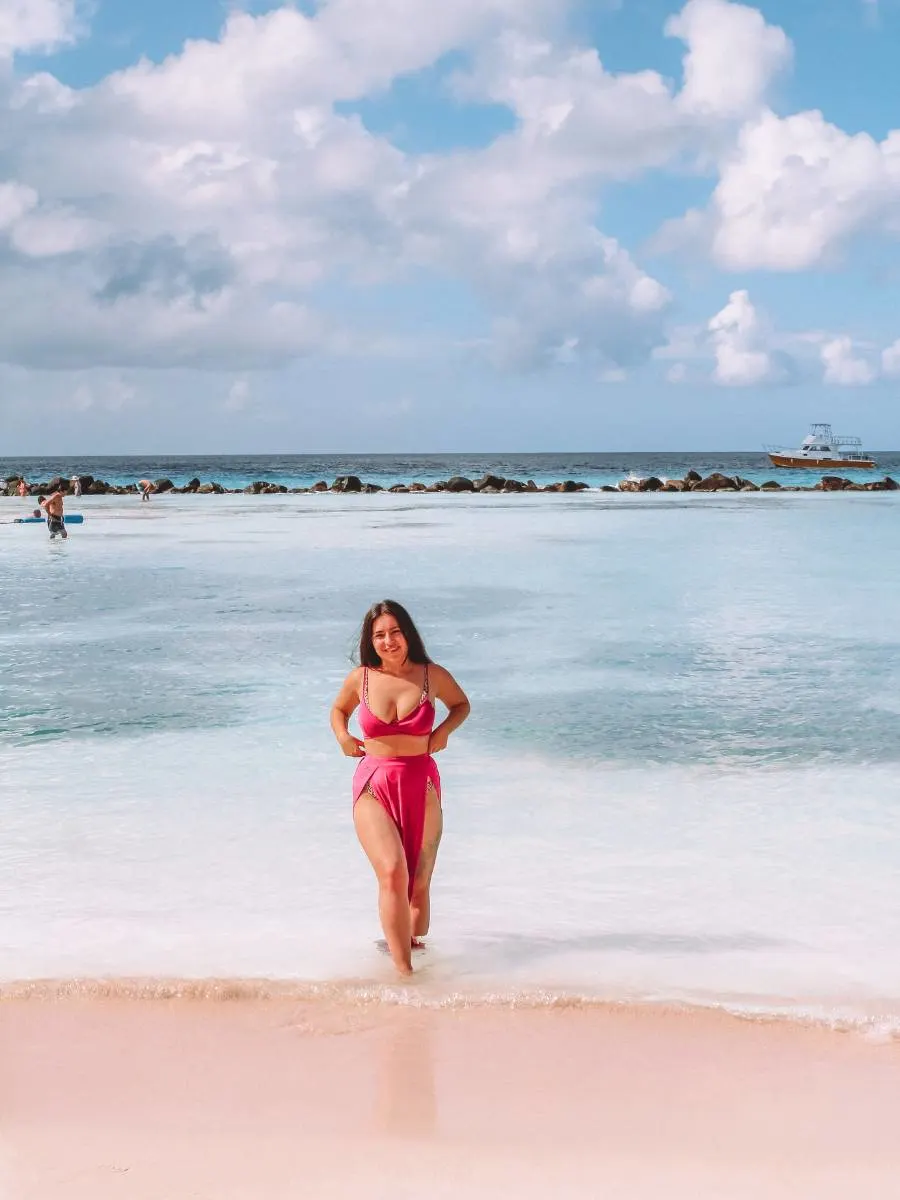 Book an overwater cabana
There are 20 beautiful overwater cabanas available for rent at Iguana Beach and you can rent them!
These aren't included on your day pass or hotel stay, but prices start at $400 USD for the day and can fit up to 10 people. The price includes plenty of things like a bottle of sparkling wine and more.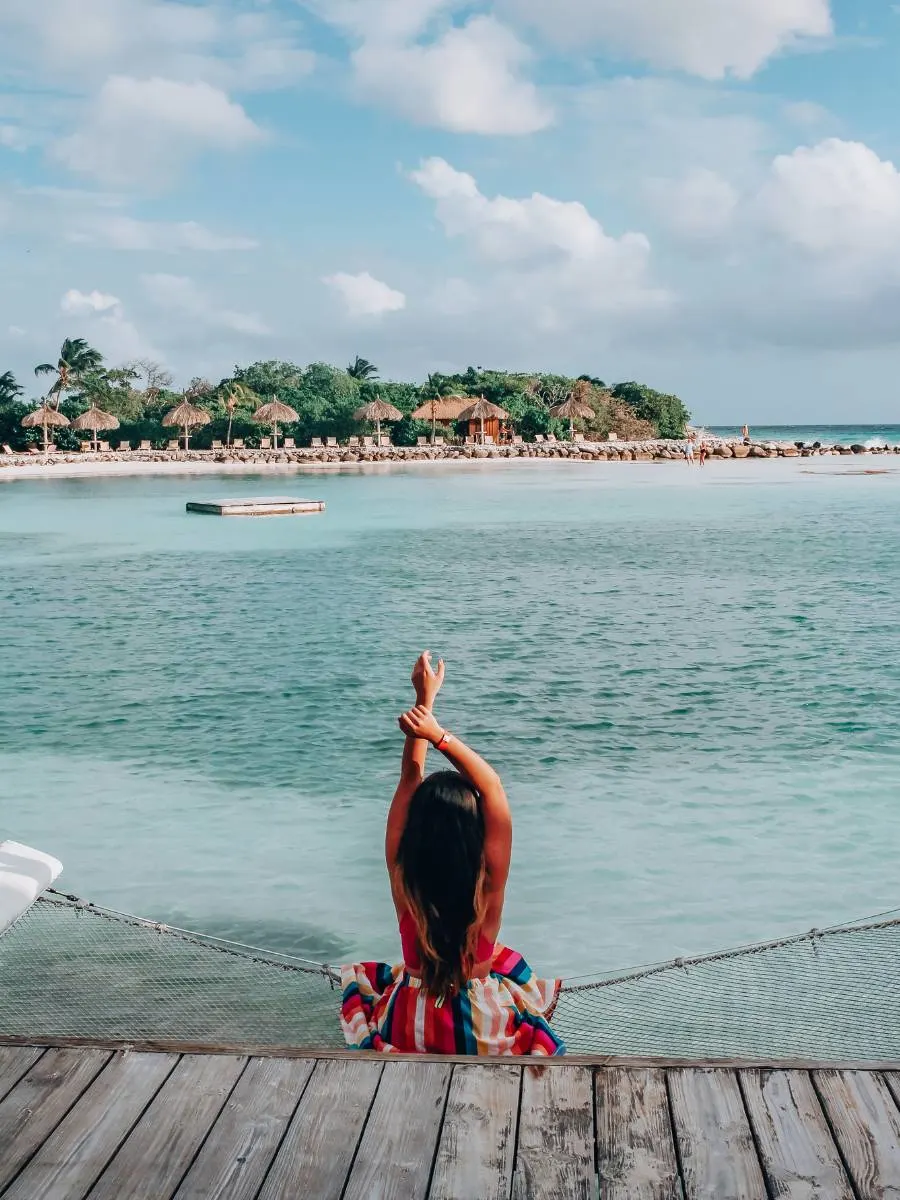 Get a massage at the spa
The hotel's spa, Okeanos Spa is located right on Renaissance Beach at a very private oceanfront location. They offer plenty of treatments you can enjoy with beautiful views of the sea included!