Wondering what are the most unique things to do in Aruba? Find out on this post!
I recently had the chance to visit Aruba and while I originally planned on spending that entire trip lounging at the beach, little did I know I'd end up dedicating my days to doing plenty of more things!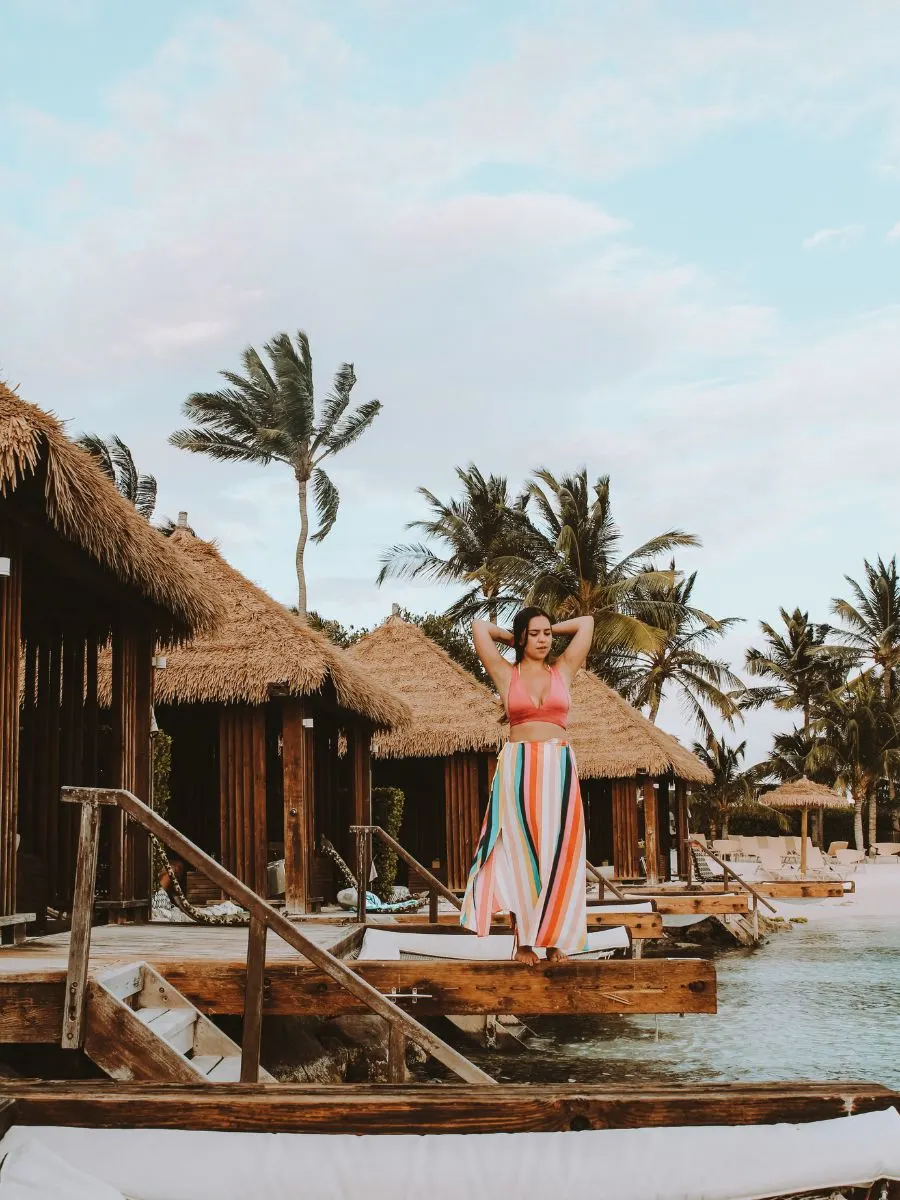 Even though the island is pretty small, there are plenty of amazing activities to do in Aruba!
From exploring caves to spending a day at the beach surrounded by flamingos, this post will give you ideas on the most unique things to do in Aruba so you can plot the perfect itinerary.
What are the most unique things to do in Aruba?
There are so many unique things to do in Aruba that it would be impossible to fit them all into one trip.
With that said, if it's your first time visiting One Happy Island, I would recommend focusing on seeing the highlights, spending time at the beach, and including a few visits to unique places on the island such as Arikok National Park.
List of unique things to do in Aruba
1. Flamingo Beach
Flamingo Beach Aruba is located on Renaissance Island and it's exactly what it sounds like – a beach where flamingos roam freely!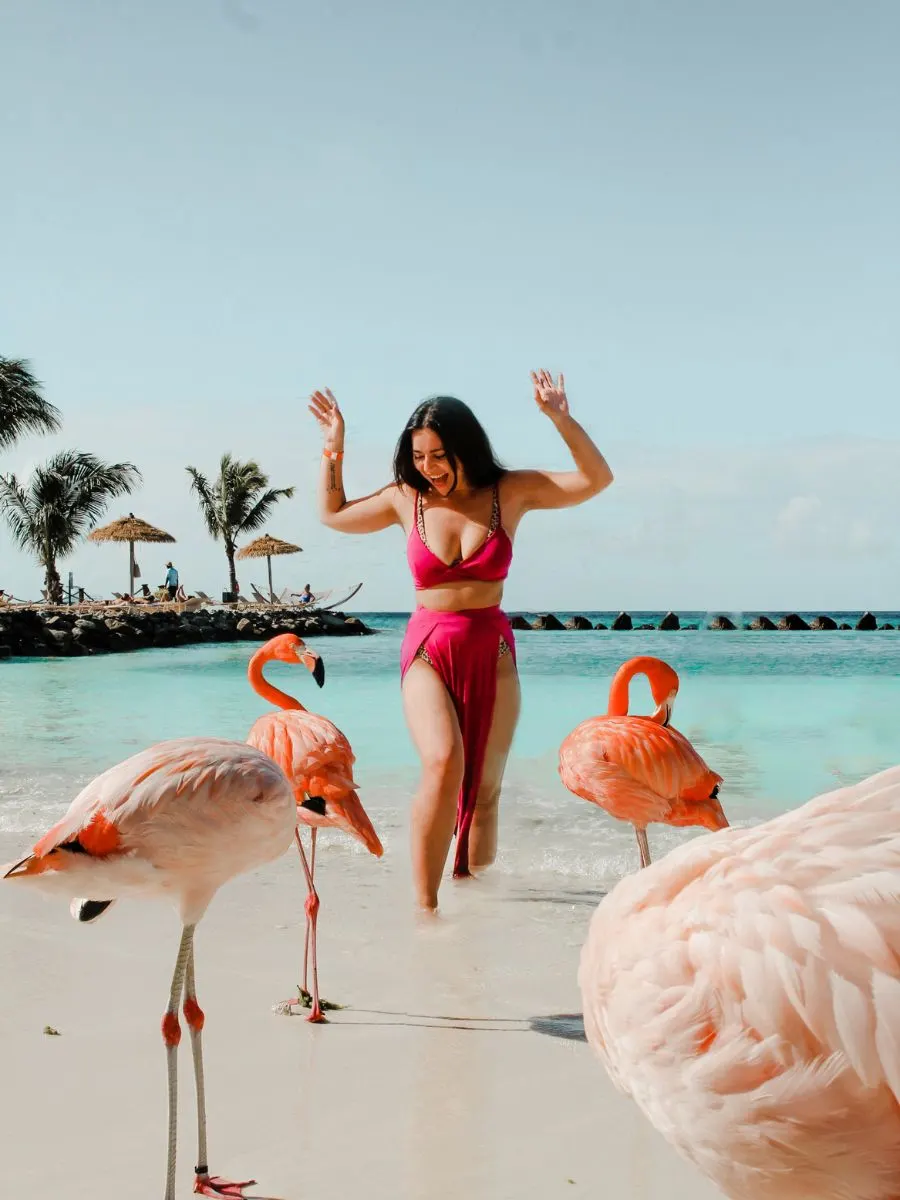 Flamingos aren't really native to Aruba, but there are 8 flamingos living at Renaissance Island. They're incredibly used to humans, so taking a picture and feeding them while you soak in turquoise waters or sunbathe over the island's dreamy white sand beach is possible!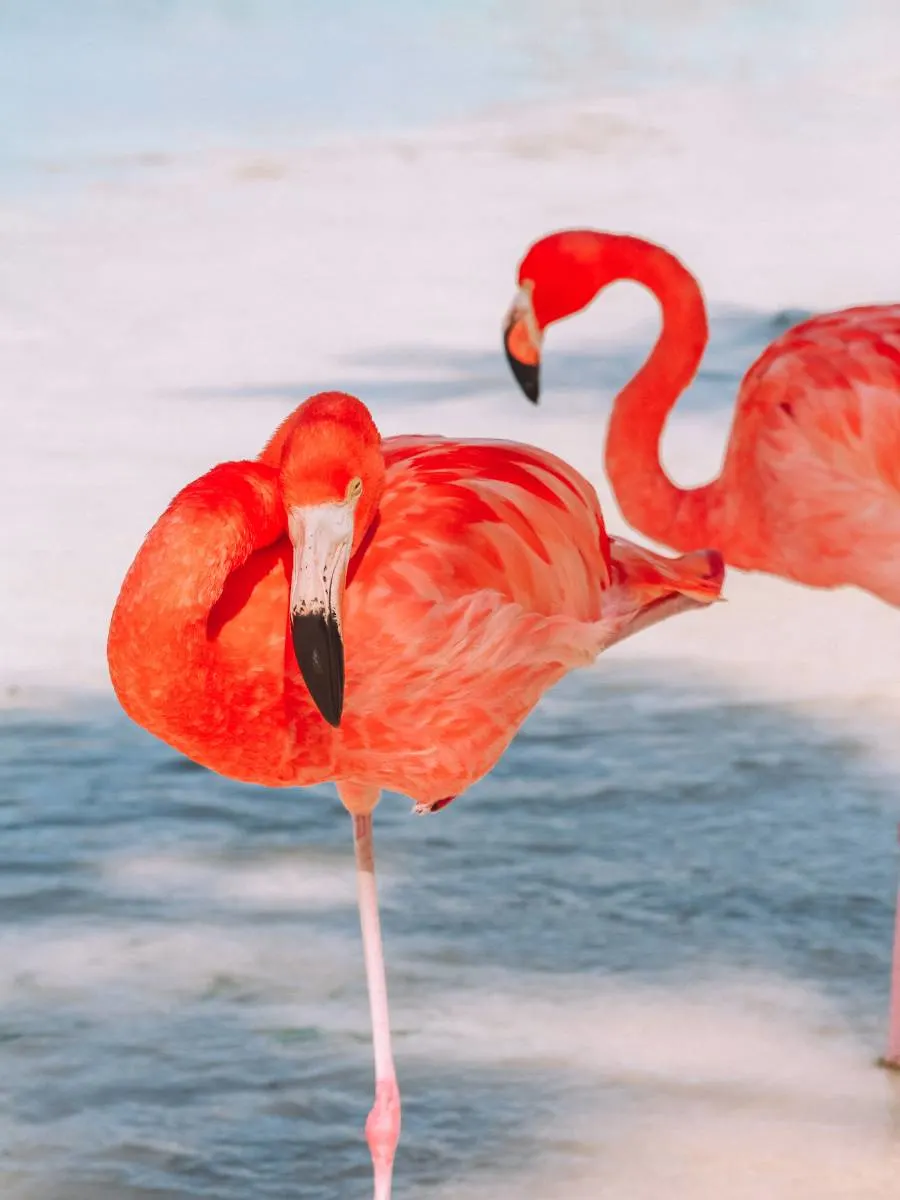 Reaching this island takes about a 10-minute boat trip from the mainland.
Day passes are possible to get depending on availability, but if you want to make sure you're able to go, you can book a night at Renaissance Wind Creek Aruba. This is because the island is private and belongs to the resort, so guests at the hotel get immediate entry.
2. Aruba Aloe Vera Farm
Aruba AloeVera Farm is a place where you can learn all about aloe vera and its importance to Arubian culture!
You can learn everything there is to know about aloe vera and its benefits during your visit. You can also take a tour of the estate to see how the plant is grown and processed into creams, ointments, and other products.
3. Eagle Beach
Rated among the best beaches in the world, Eagle Beach is the widest beach in Aruba and a favorite for most visitors due to its wide array of amenities and things to do.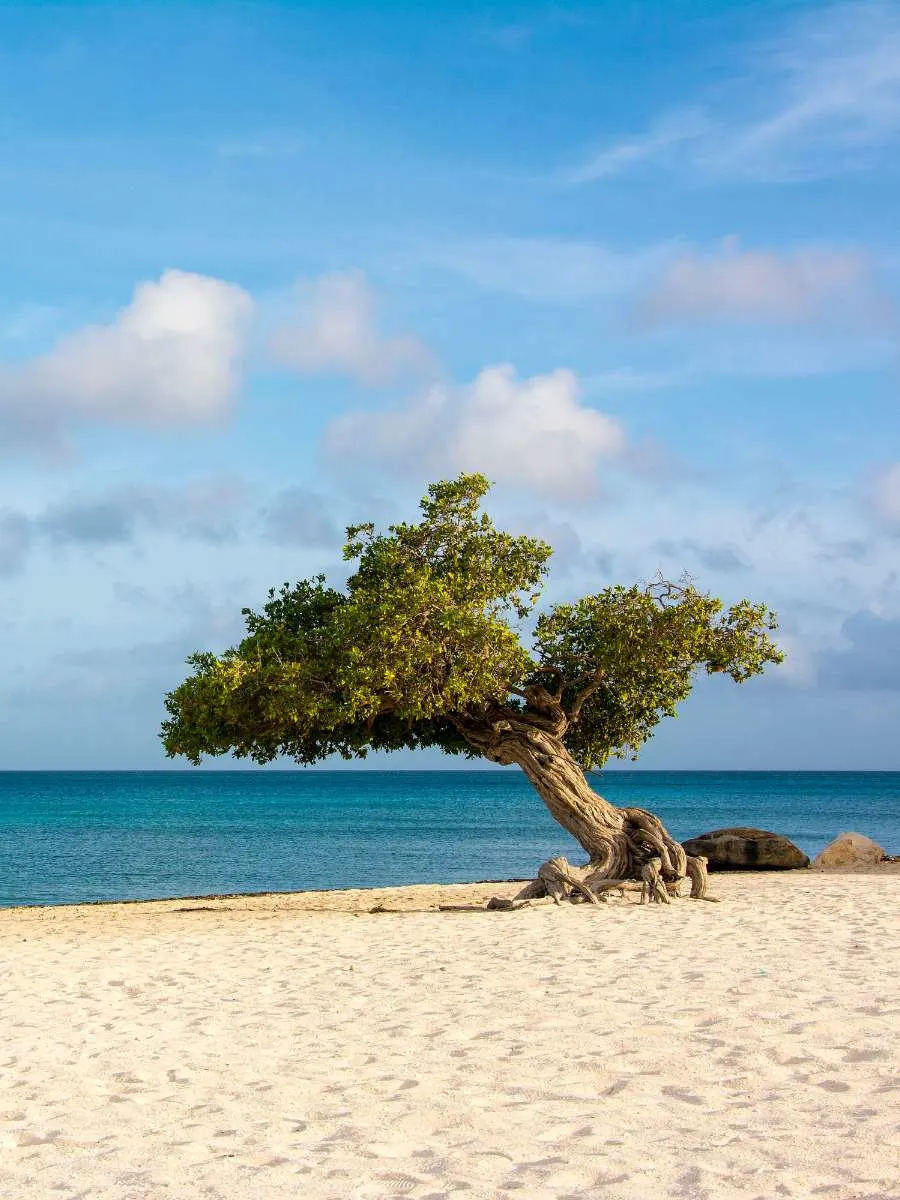 Eagle Beach is also known for featuring beautiful watapana trees. Watapanas, or Divi Divis, are a species of trees that act as a sort of compass because they're always curved towards the southwest! They're extremely cool to look at and two of the most iconic ones on the island are set right on Eagle Beach.
Despite its popularity, Eagle Beach doesn't feel at all crowded because it features plenty of space. You'll find plenty of beach chairs and cabanas for rent as well as bars and restaurants scattered along.
4. Arikok National Park
Since 20% of Aruba is made up of Arikok National Park, it's actually pretty difficult to miss!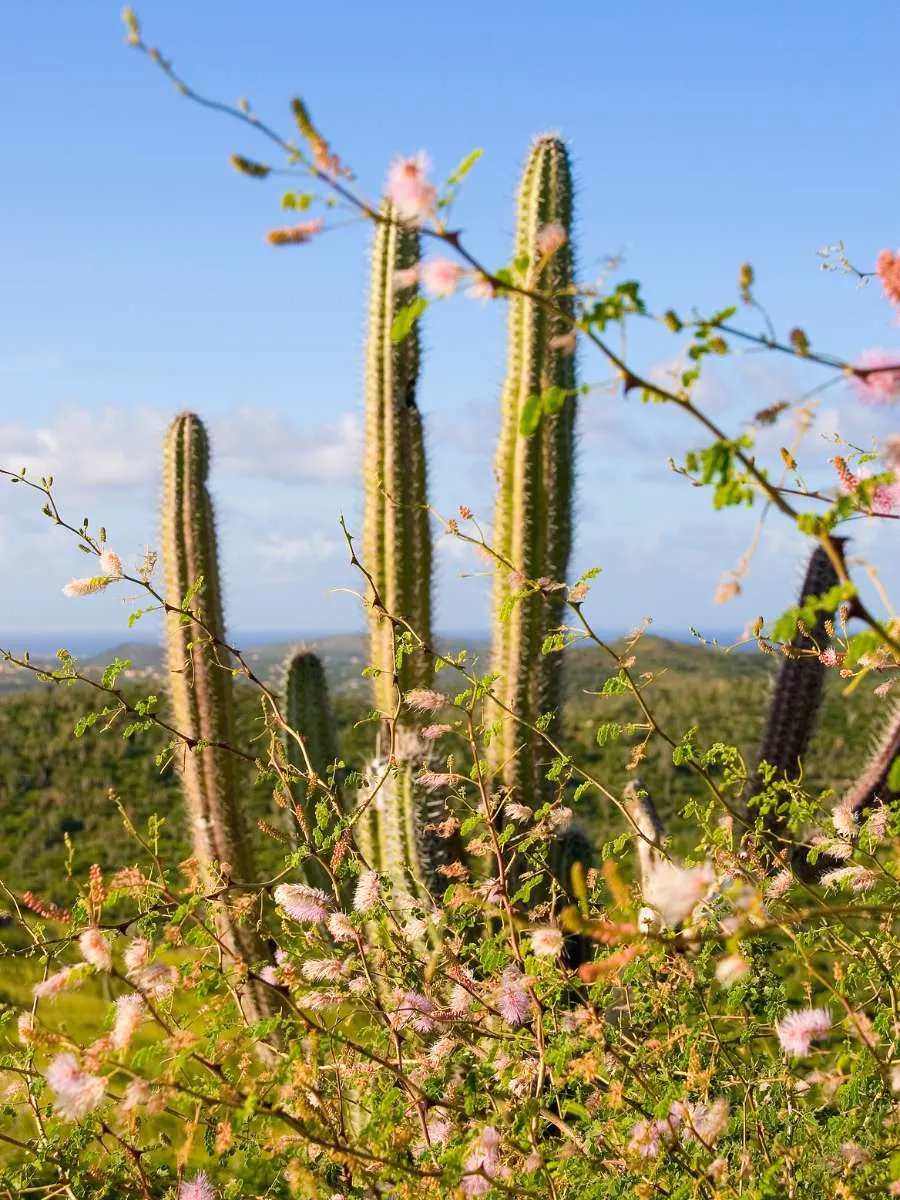 This stunning national park is ideal for a day spent outdoors. The park is home to plenty of stunning beaches, a turtle nesting site, rock paintings by Caquetío Indians, natural ocean pools, and plenty of stunning viewpoints and landscapes.
There are several ways to explore Arikok National Park:
Hiking
With over 20 miles worth of trails on offer, hiking is one of the best ways to get really close and personal with the park.
You'll be able to learn more about the flora and fauna in the area and even get to see some historical parks with this hiking tour.
Jeep tour
Get on a jeep and embark on a safari-style adventure to some of Aruba's more untouched regions. Arikok National Park, swimming at Natural Pool, viewing petroglyphs inside a cave, and other attractions are among the highlights of this wonderful tour.
ATV tour
You can explore a mysterious cave, see the remains of an old gold mill, and go to Baby Bridge, a lengthy natural bridge that spans the ocean, all while driving your own UTV deep inside Arikok National Park through this tour.
5. San Nicolas
San Nicolas, also referred to as the "Sunrise City," is a small city at the southernmost point of the island that is well-known for its vibrant homes, colorful buildings, and imaginative wall art.
Spending a few hours exploring the city's kaleidoscopic streets and admiring wall murals is the best way to enjoy San Nicolas. Moreover, there are also plenty of boutique shops and quirky art galleries to check out.
6. Wariruri Beach
Wairuru Beach is a beautiful sandy cove tucked away on a rocky coastline that is popular for surfers and fishing.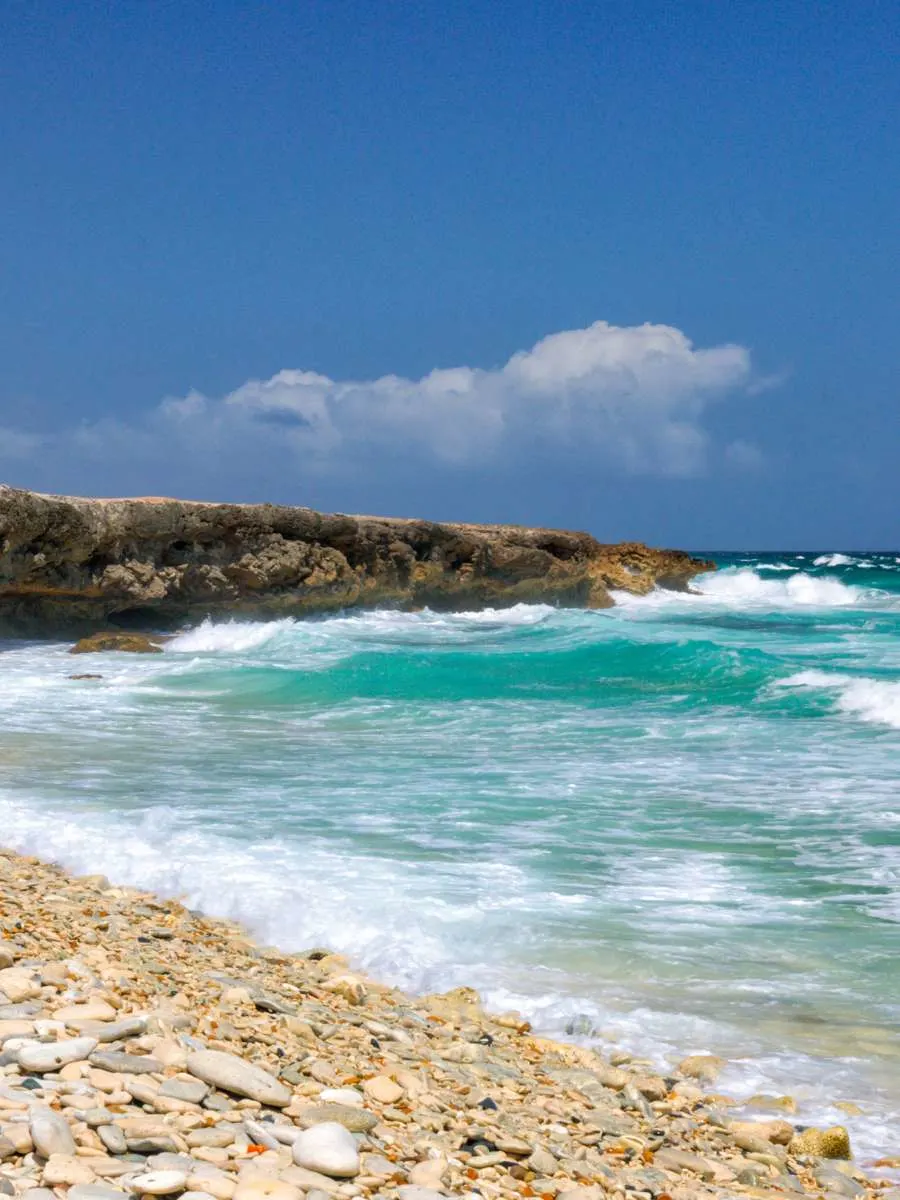 While swimming isn't really recommended here, Wairuru is great if what you're after is a beach in Aruba that is not as touristy. The beach isn't easy to access, but you can opt to take a horseback riding adventure in order to get there and explore! Here's a wonderful horseback riding tour through Wariruri Beach.
7. Oranjestad
Despite its small size, Oranjestad, the Aruban capital, isn't short of incredible things to see and do. Throughout the city, you'll stumble across beautiful colonial architecture, local art galleries, plenty of stunning wall murals, and lively entertainment options.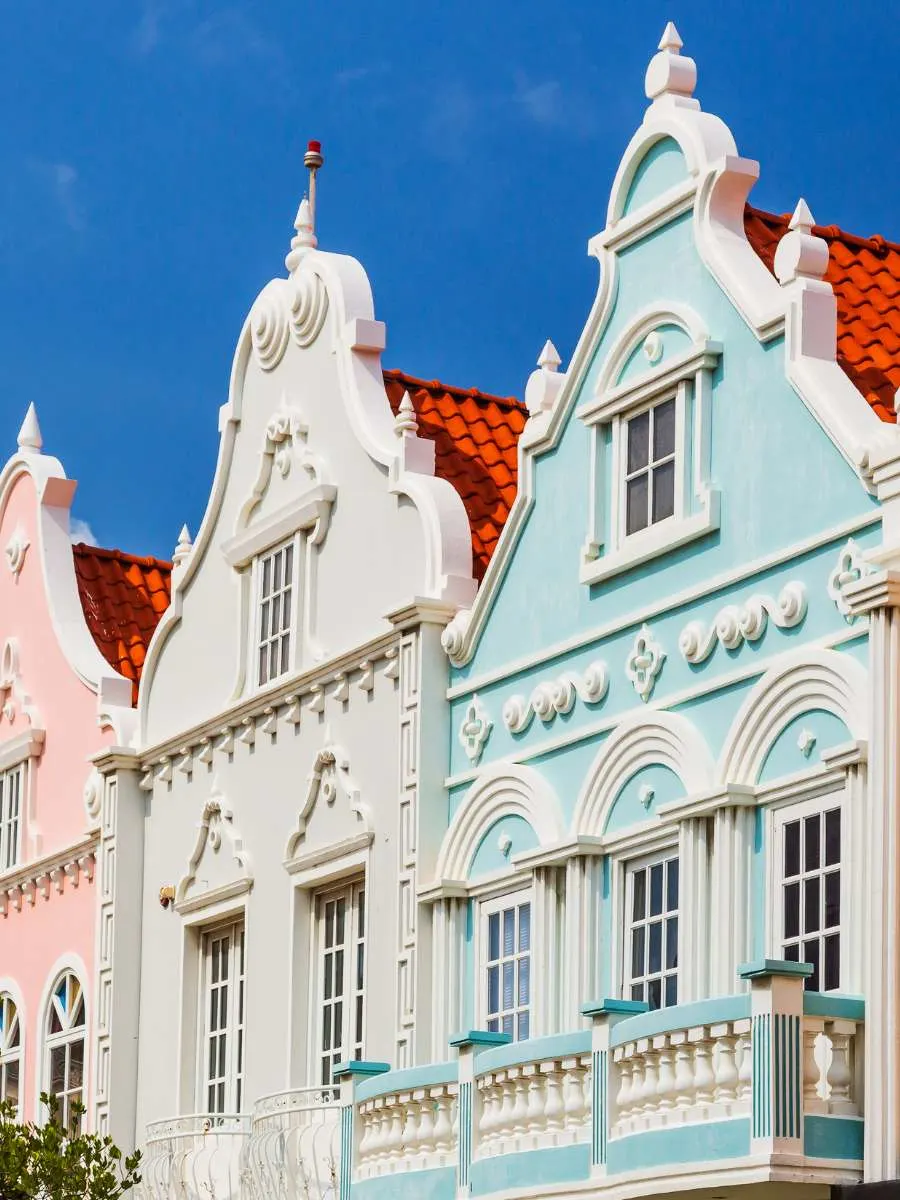 If you want to dive deeper, there are tons of tours you can take in order to get to know Oranjestad and its heritage a little better:
8. De Palm Island
De Palm is a small island you can visit on a day trip for lots of beach and water fun. Activities here range from banana boat riding, snorkeling, enjoying a waterfall, or simply lounging at the beach while sipping cocktails. The island is only a 5-minute boat ride away from the mainland, so it's pretty easy to visit it!
YOU MAY ALSO LIKE:
9. California Lighthouse
The California Lighthouse is the tallest and one of the most famous historical sites in Aruba. From the top, you'll get some of the most beautiful views the island has to offer.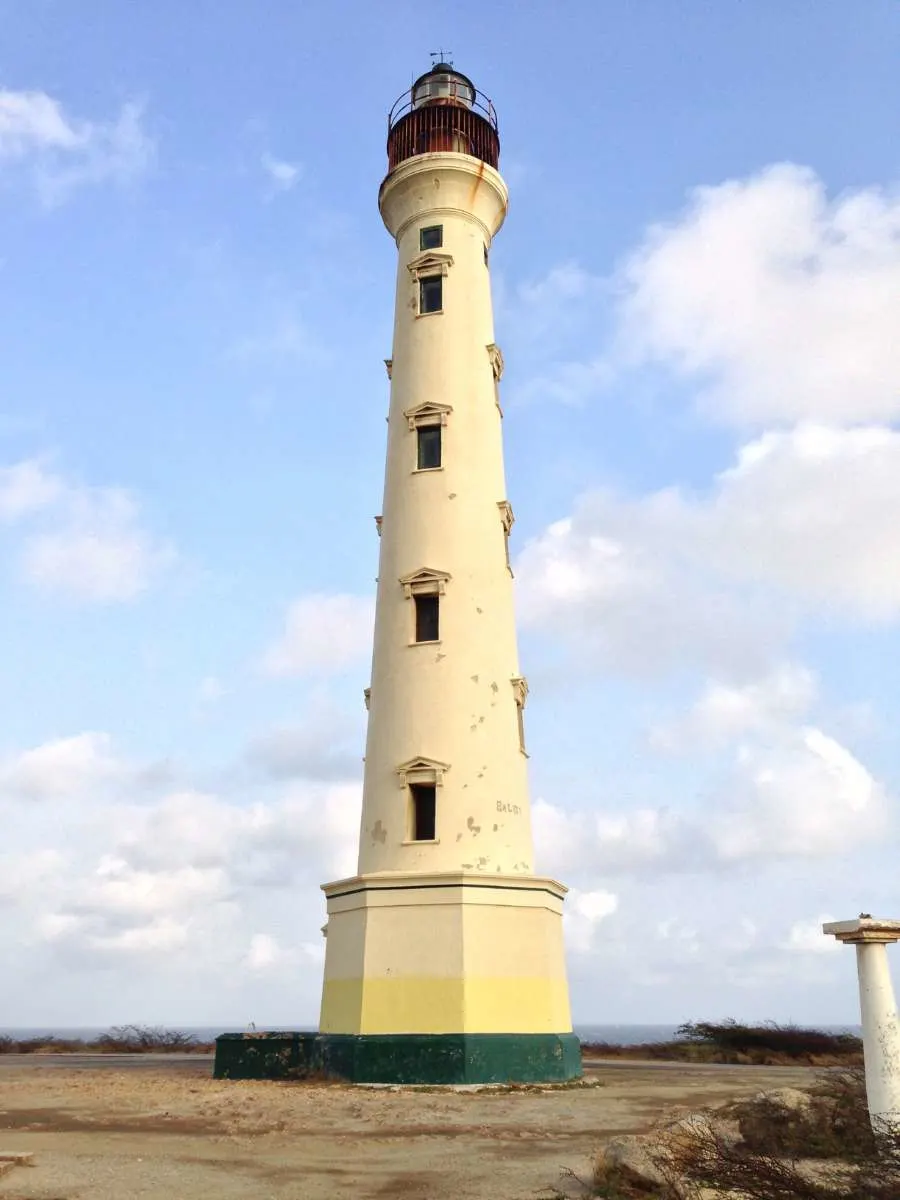 The lighthouse was constructed after a steamship California wrecked in the area in 1891 in order to prevent future wrecks.
Right next to the lighthouse, you will find a restaurant called La Trattoria el Faro Blanco, an Italian restaurant offering authentic recipes as well as a selection of over 100 wines. It's a fantastic place to have lunch after checking out the lighthouse!
10. Old Dutch Windmill
One of the most iconic examples of Aruba's Dutch heritage is the Old Mill, a centuries-old windmill that was brought here from the Netherlands.
The windmill is located at Palm Beach and is considered an important landmark of the island as well as a popular photo spot thanks to its vintage look!
11. Bon Bini Festival
Looking to spend a few hours looking at art and enjoying live music? The Bon Bini Festival is a weekly event taking place every Tuesday at the courtyard of Fort Zoutman. Here, you'll be able to enjoy folklore music, dances, local artworks, and delicious food.
12. Fort Zoutman Historical Museum
Fort Zoutman is the oldest building in Aruba. Back when it was constructed, it served as a fort to guard the island but these days, it acts as a museum where people can come in order to learn about the island's history through interactive exhibitions.
Recommended Aruba Tours
13. Ayo Rock Formations
The Ayo Rock Formations are huge boulders set close to Ayo Village.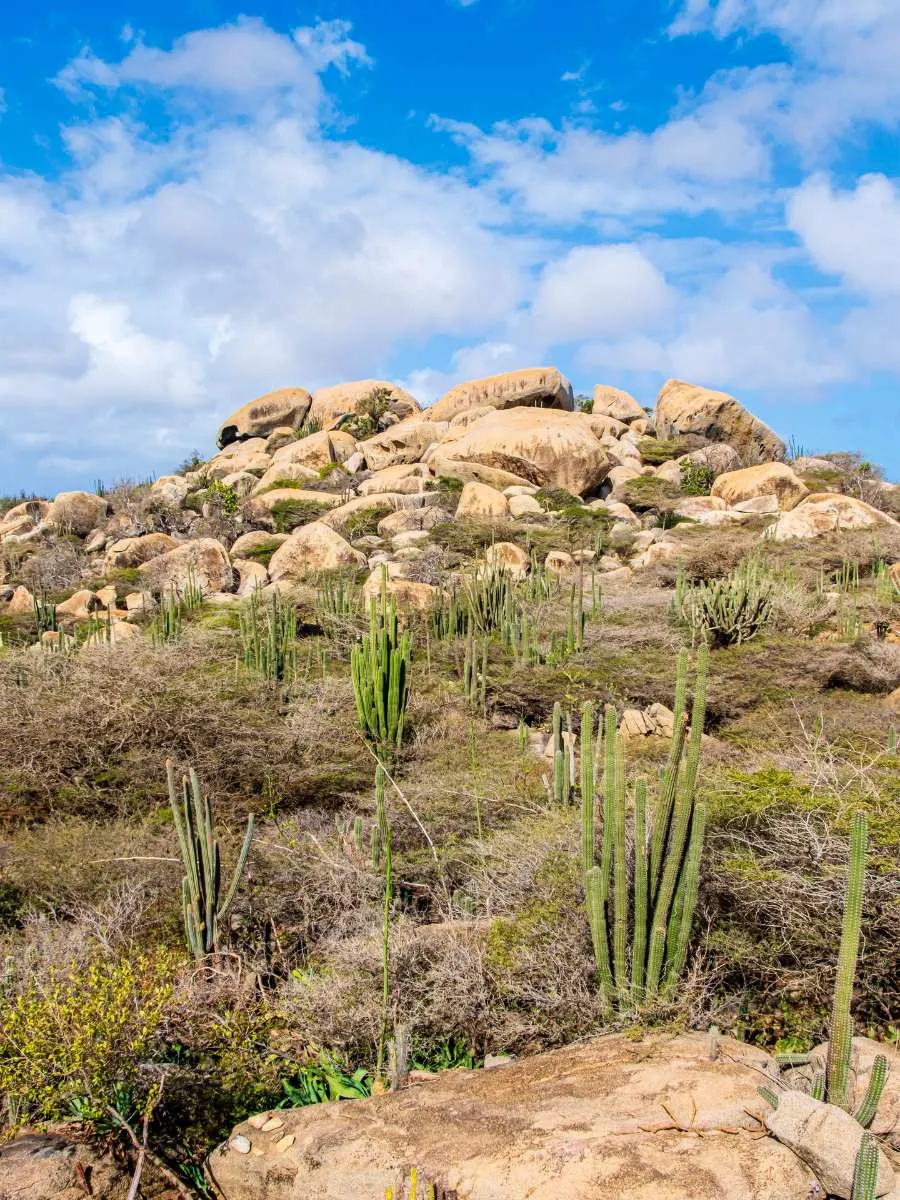 Long ago, the Arawak people, who were the first settlers on the island, would visit the rock formations in order to see if there were any thunderstorms approaching. They also painted the rocks, and even to date, you can still see the petroglyphs!
14. Butterfly Farm
Located in the Palm Beach area, the Butterfly Farm is one of the most unique things to do in Aruba.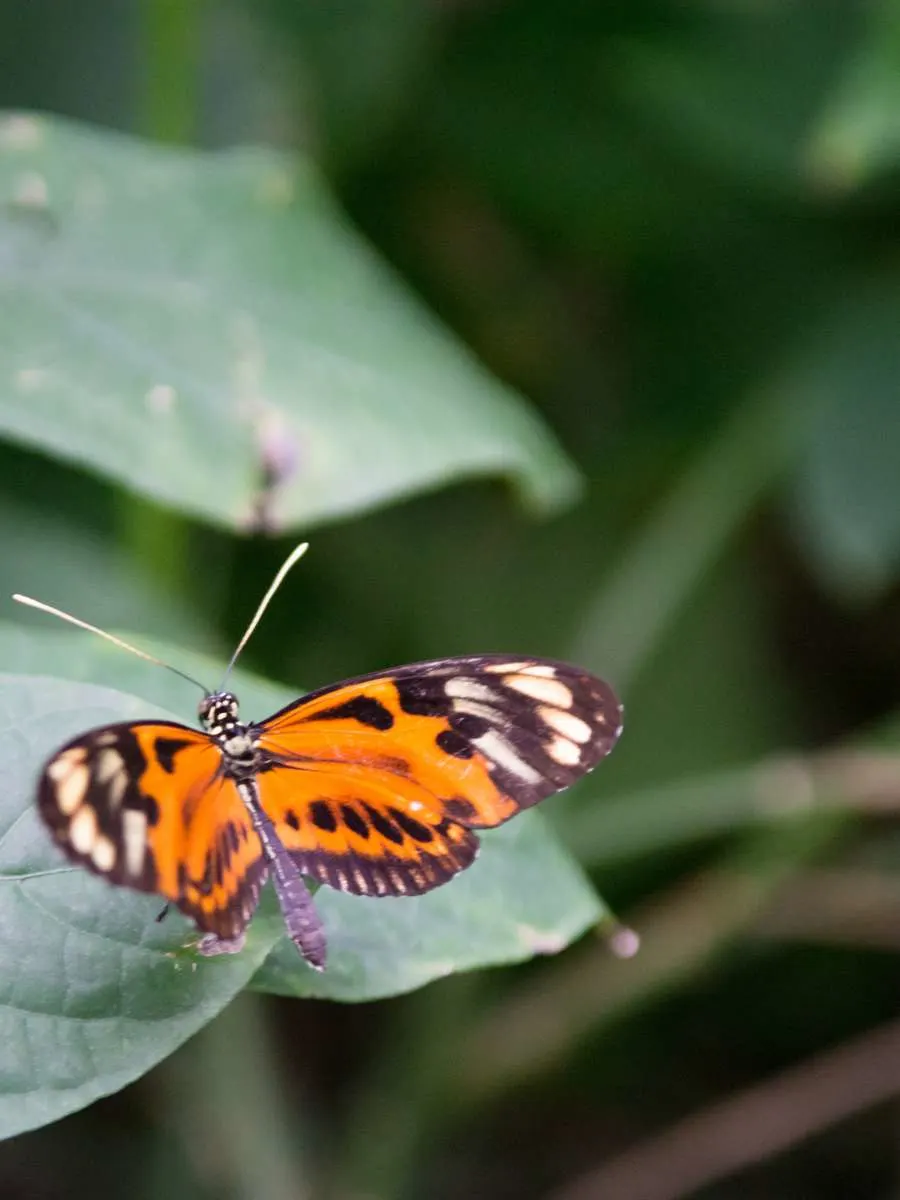 During your visit, you'll get to walk over a tropical garden that teems with butterflies. Aside from that, you'll get to learn everything about the way they live as well as the process they undergo to turn from caterpillars to butterflies alongside an expert!
15. Philip's Animal Garden
Founded in 2009, Philip's Animal Garden is a non-profit sanctuary for exotic animals in Aruba and other nearby islands.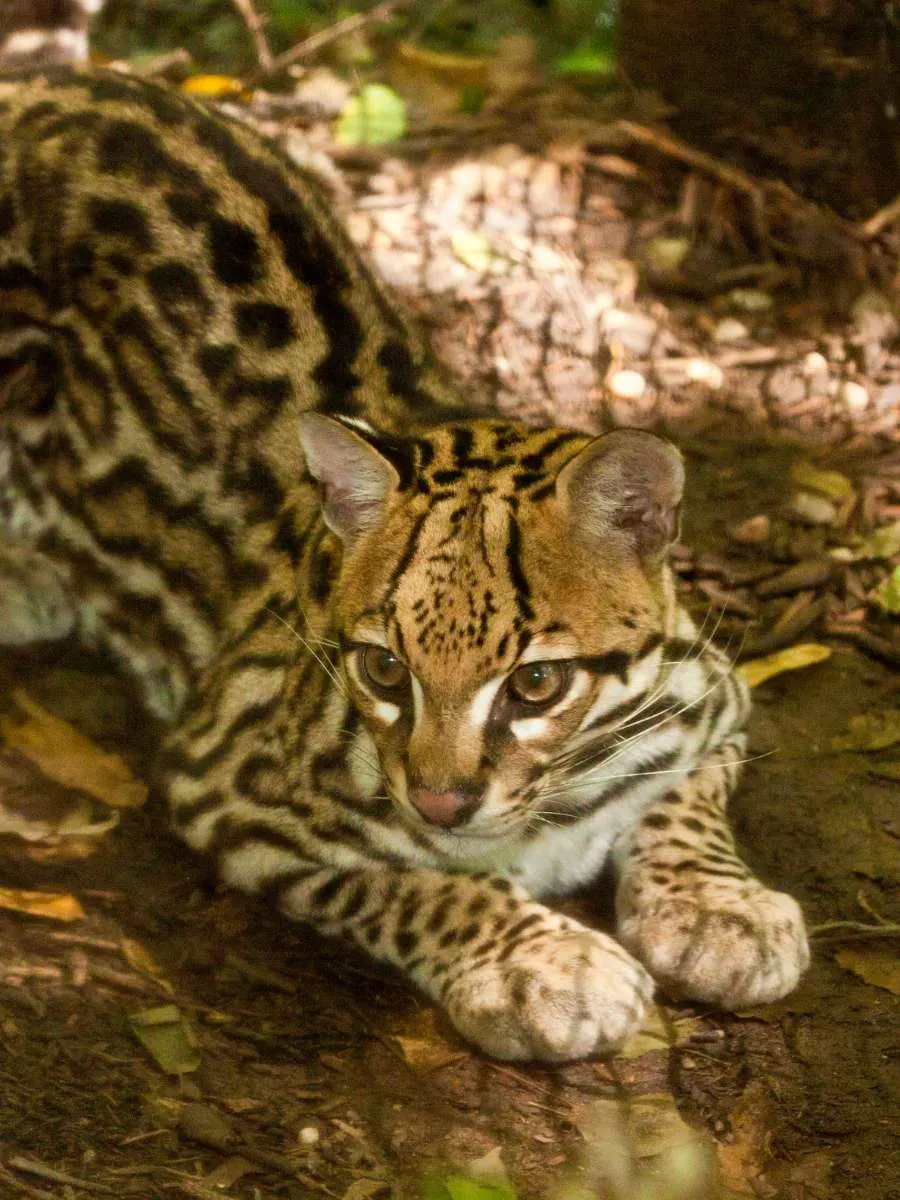 During your visit, you'll get to meet many of the animals that have been rescued by both Philip and his team, including jaguarundi, pot belly pigs, Aruban rattlesnakes, a red kangaroo, skunks, ocelots, Burmese pythons, and plenty more.
16. Bushiribana and Balashi Ruins
For a glimpse into the island's mining past and stunning ocean views to go with it, history buffs should visit the Bushiribana and Balashi ruins on the island's north coast.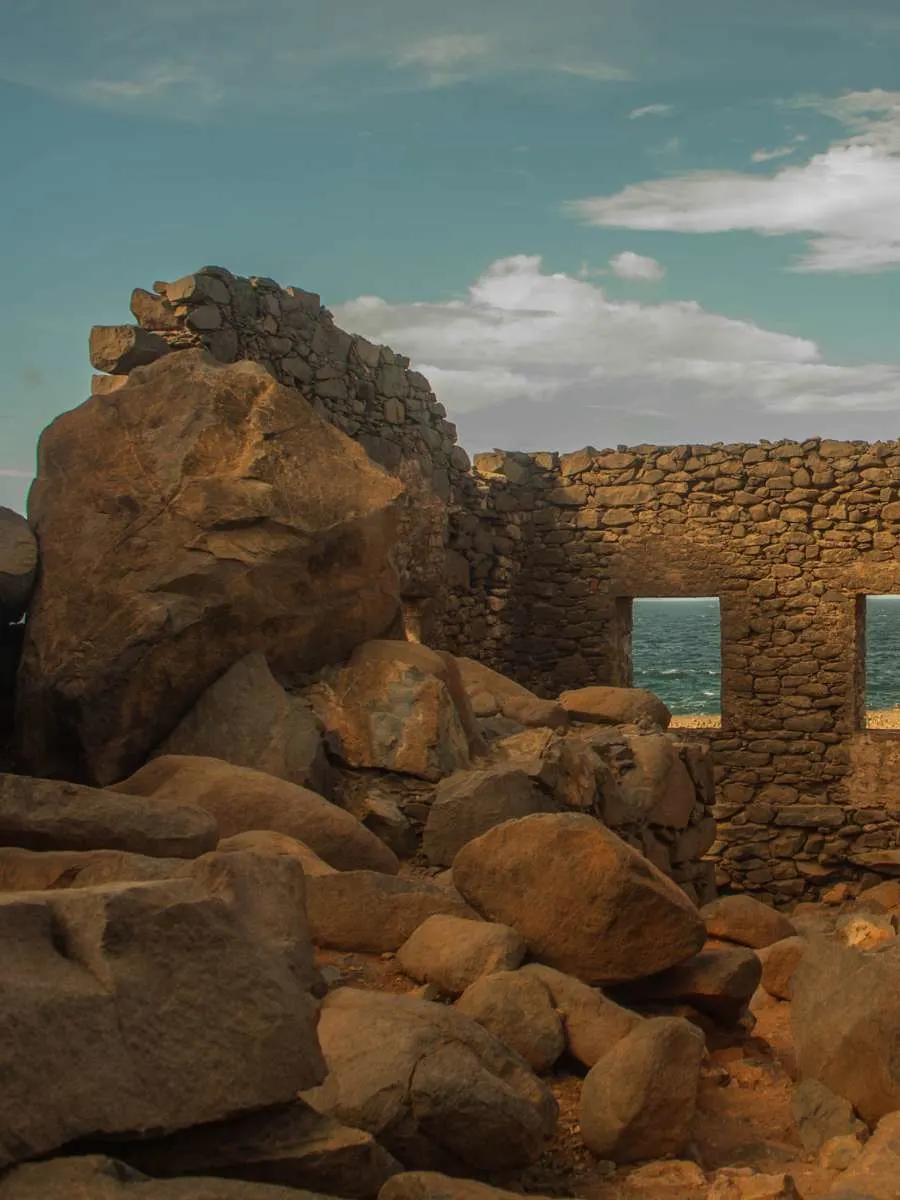 Back in the day, they both were the sites of gold smelters in Aruba and were in full operation for over 10 years. These days, visitors can take a peek into the ruins to take a step back in time, not to mention the site boasts beautiful views of the coast if you stand on top of the ruins!
17. Sasariwichi Dunes at Hudishibana
You wouldn't expect to find a desert on a Caribbean island, and this is why visiting the Sasariwichi Dunes is one of the most unique things to do in Aruba!
Located next to the California Lighthouse on the northeastern coast, this place boasts massive white sand dunes that will make you forget you're on an island altogether. Driving here isn't allowed, but you can explore the dunes on foot.
18. Aruba Donkey Sanctuary
If you love animals, you'll love this place!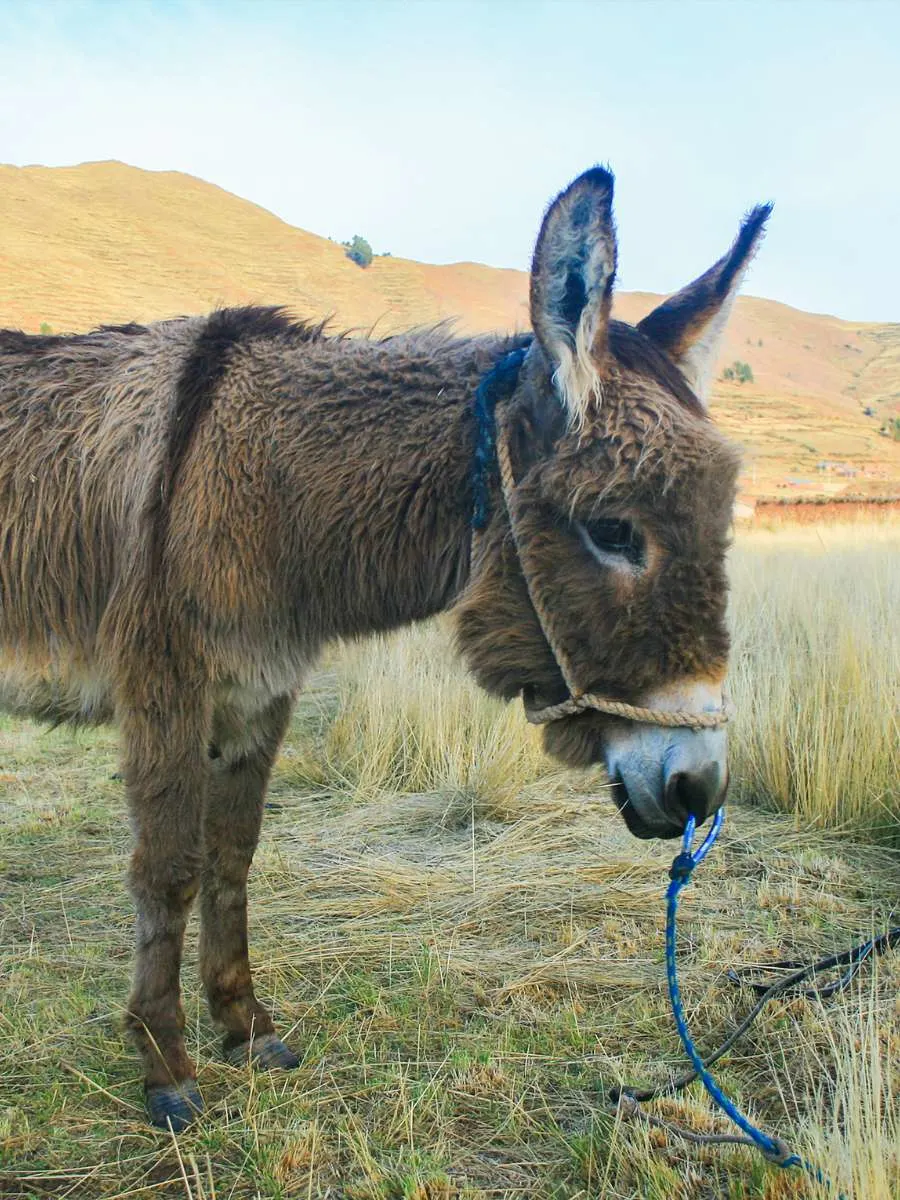 Donkeys have been an important aspect of Aruban culture and daily life for over 500 years. These days, many of them have found a safe home at Aruba Donkey Sanctuary, and visitors are welcome to come and meet them.
19. Quadirikiri Cave and Fontein Cave
Set inside Arikok National Park, Quadirikiri and Fontein Caves are two impressive caves where you'll find beautiful stalagmites, stalactites, bats, and ancient petroglyphs within their walls.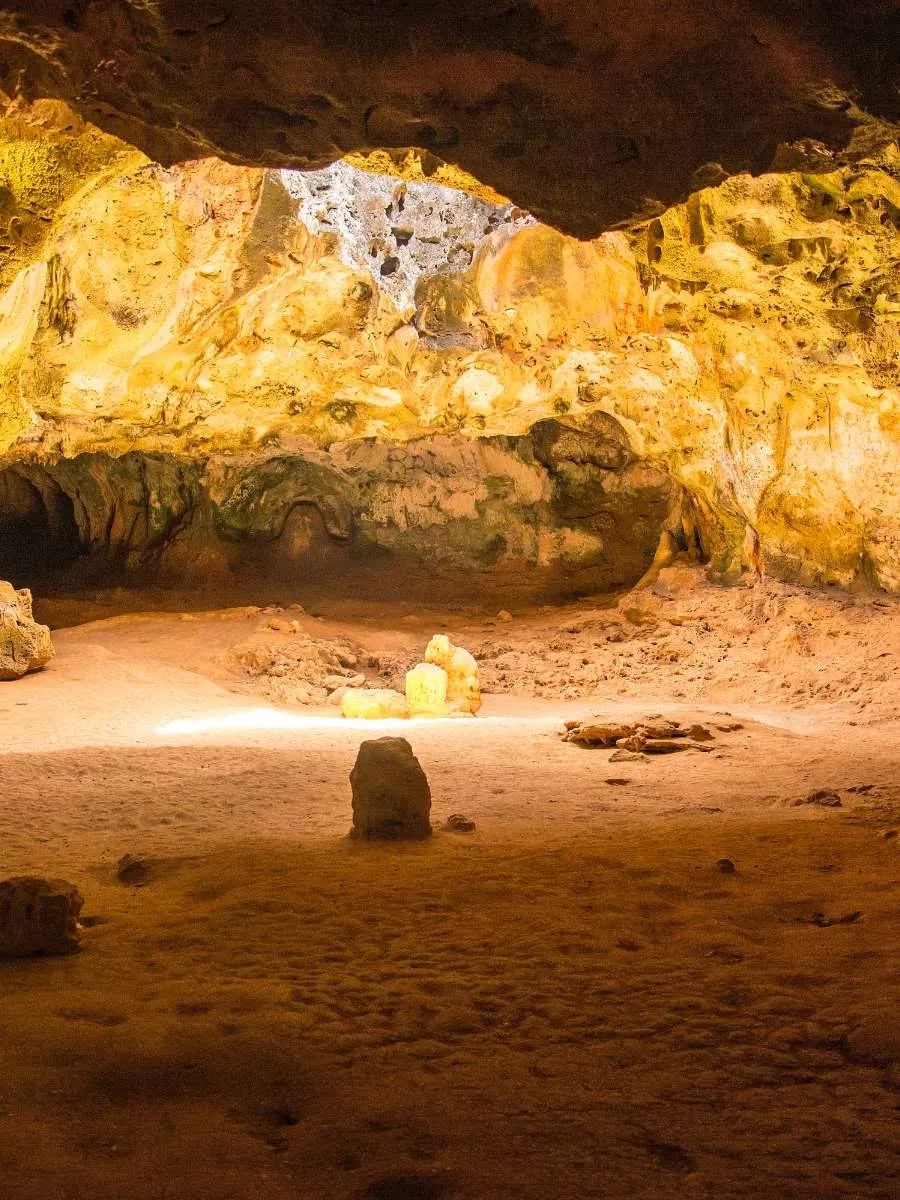 The Quadirikiri Cave is famous for its beautiful chambers that are illuminated by sunlight that streams through the roof of the cave, while the Fontein Cave is worth visiting because it contains petroglyphs by Arawak Insiands on the ceiling.
The caves are open to the public from 8:00 am to 4:00 pm.
20. Boca Catalina Beach
Known for its white sand, Boca Catalina Beach is a small bay in the Malmok Beach area perfect for those looking for a secluded beach experience, especially if you visit during a weekday (you may get to have it all to yourself!).
Snorkeling and swimming are great here as the water is very calm and clear.
21. Baby Beach
Located close to San Nicolas, Baby Beach is a shallow beach shaped like a half-moon that provides the perfect beach experience, especially if tranquil vibes are what you're after.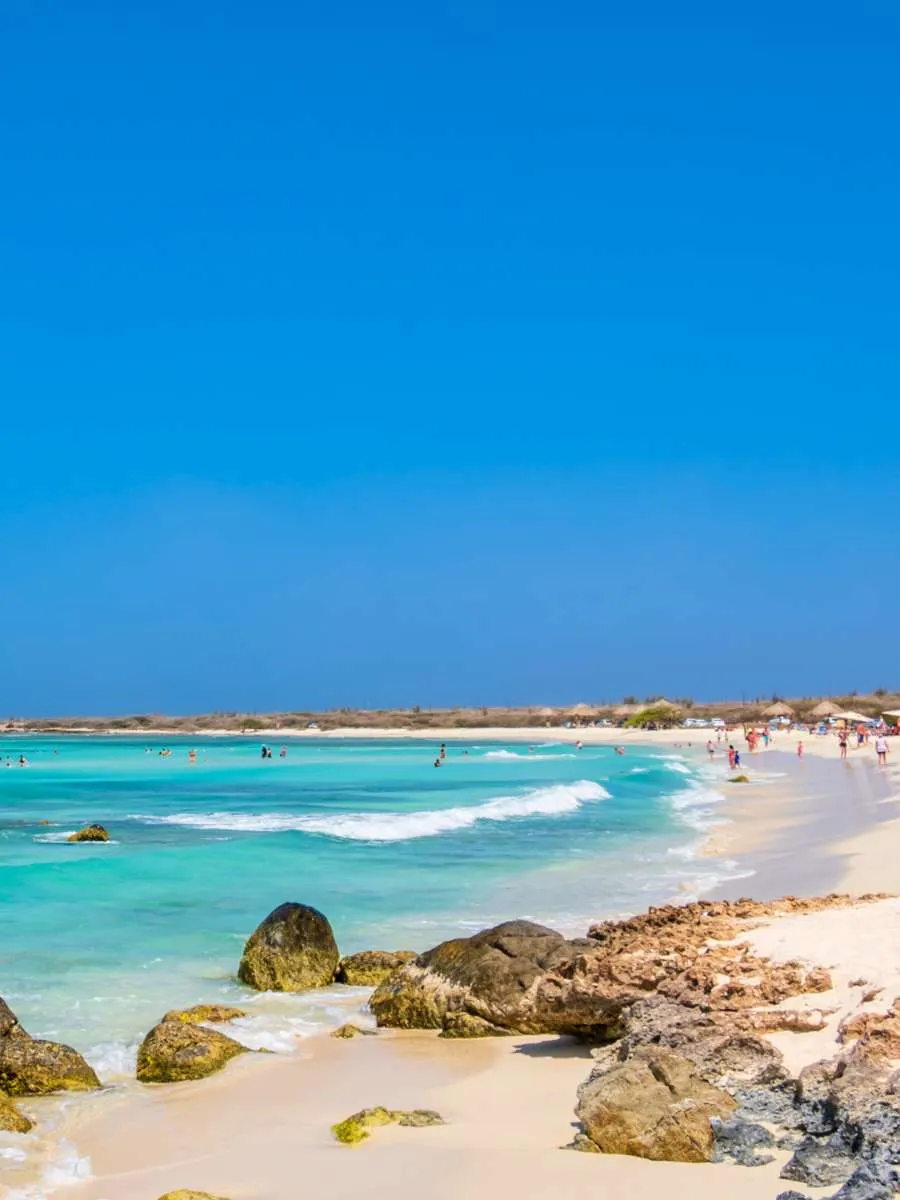 Here, you can wade along the water for long distances and still get to touch the bottom, making Baby Beach perfect if you're not an expert swimmer or if you're visiting Aruba with kids.
This beach is also great because it provides plenty of amenities, including refreshment and snack stands, beach beds, snorkeling gear, and more.
22. Hooiberg
If time spent in nature is what you're after, hiking to the top of Hooiberg is a wonderful activity to try in Aruba.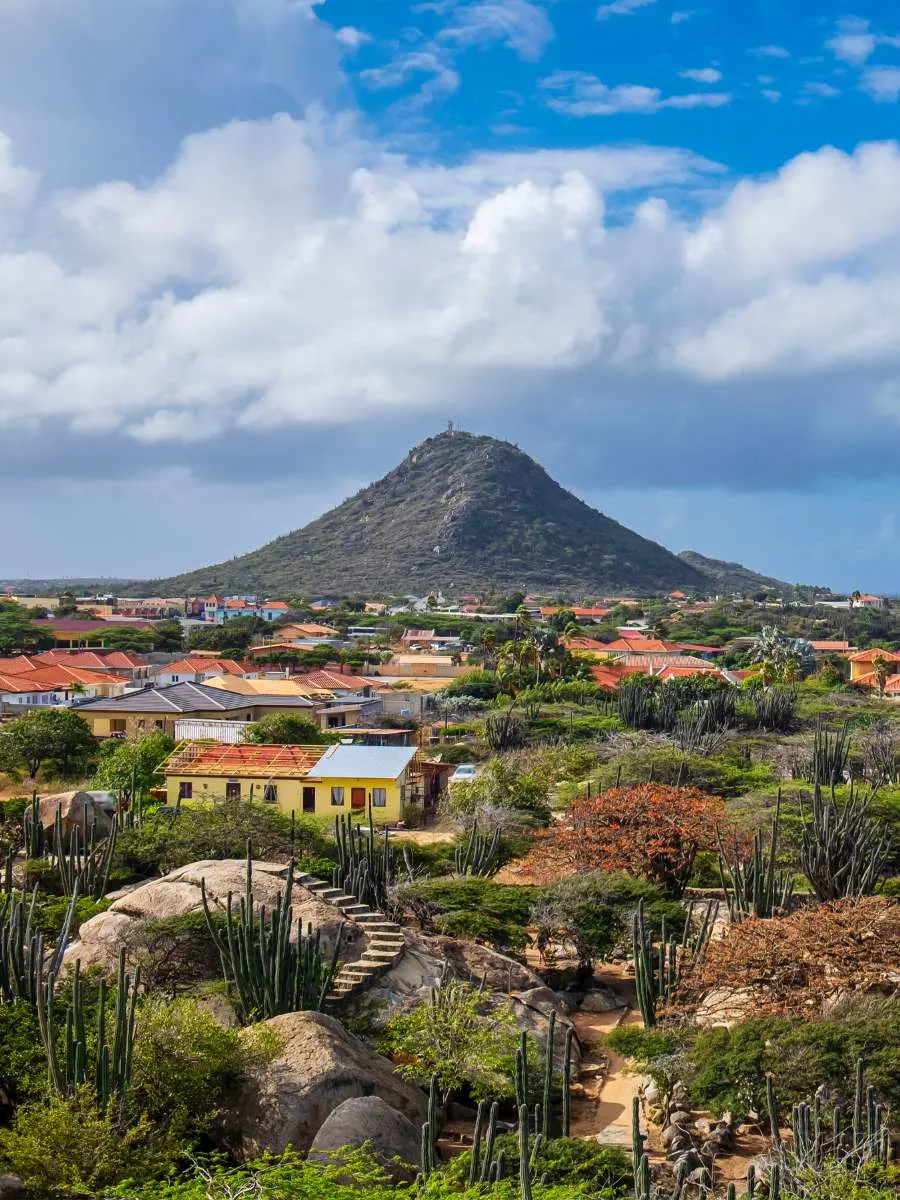 Located almost in the center of the island, Hooiberg is a volcanic formation and one of the most important natural landmarks on the island. Reaching the top requires a pretty modest, 30-minute hike.
23. Cave Pool Aruba
Set right outside Arikok National Park, Cave Pool Aruba is an open cave where you can swim and jump off the rocks! This is a great place to get refreshed after exploring the park.
24. Mangel Halto
Here, you'll find a gorgeous landscape of blues against white sand dotted, not to mention there are lots of mangroves, a swing, and plenty of colorful fish under the water.
25. Etnia Nativa
Etnia Nativa is an art gallery and museum that showcases artworks, musical instruments, and various other artifacts from the island in order to showcase Aruban culture and its heritage. Make sure to reserve in advance if you want to visit.
Best Aruba tours
Where to stay in Aruba
Luxury
The Renaissance Wind Creek Aruba is the ultimate place to stay in Aruba if what you're after is a luxurious stay. Your days at the resort will be filled with high-end dining (the resort features several restaurants), beach days, and poolside cocktails.
Moreover, being a guest at the Renaissance Wind Creek Aruba is the only way to guarantee a visit to Aruba's famous flamingo island. The island is part of the resort itself, and guests can hop on boats to reach the island on an unlimited basis as part of their stay.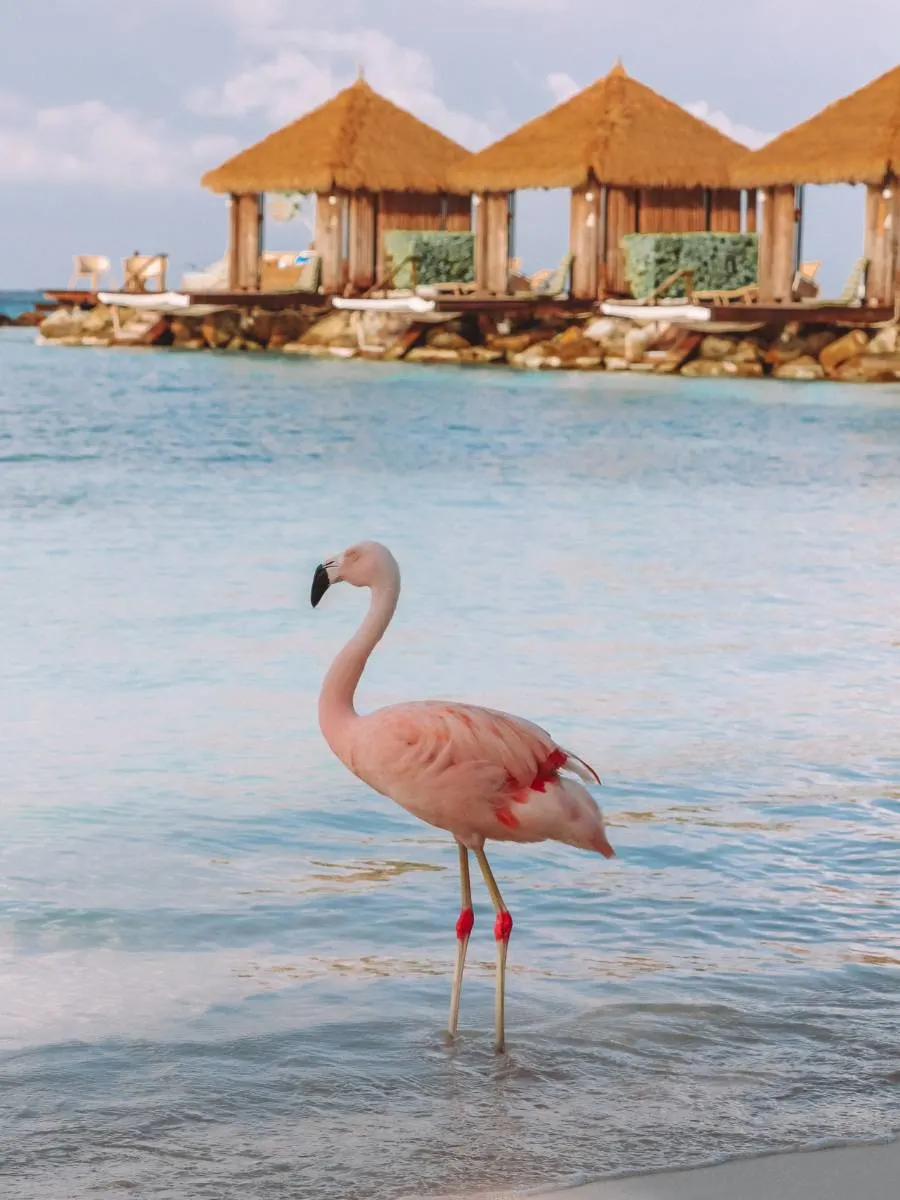 Mid-range
The Caribbean Palm Village Resort is located on the north side of Aruba, away from the mass tourism sites. It's perfect if you want to relax in a quieter atmosphere and has modern rooms, two pools, a restaurant, a bar area, and more.
Budget
The Coconut Inn is located 5 minutes away from bustling Palm Beach and features an extensive garden and a beautiful sun terrace. All rooms come with a fully-equipped kitchenette, too!
Best time to visit Aruba
When it comes to weather, December through March are the best months to visit Aruba because of the pleasant temperatures and low likelihood of precipitation.
However, even in the "rainy season" (late October to December), Aruba only experiences annual rainfall totals of over 20 inches, making the entire year a good time to travel there.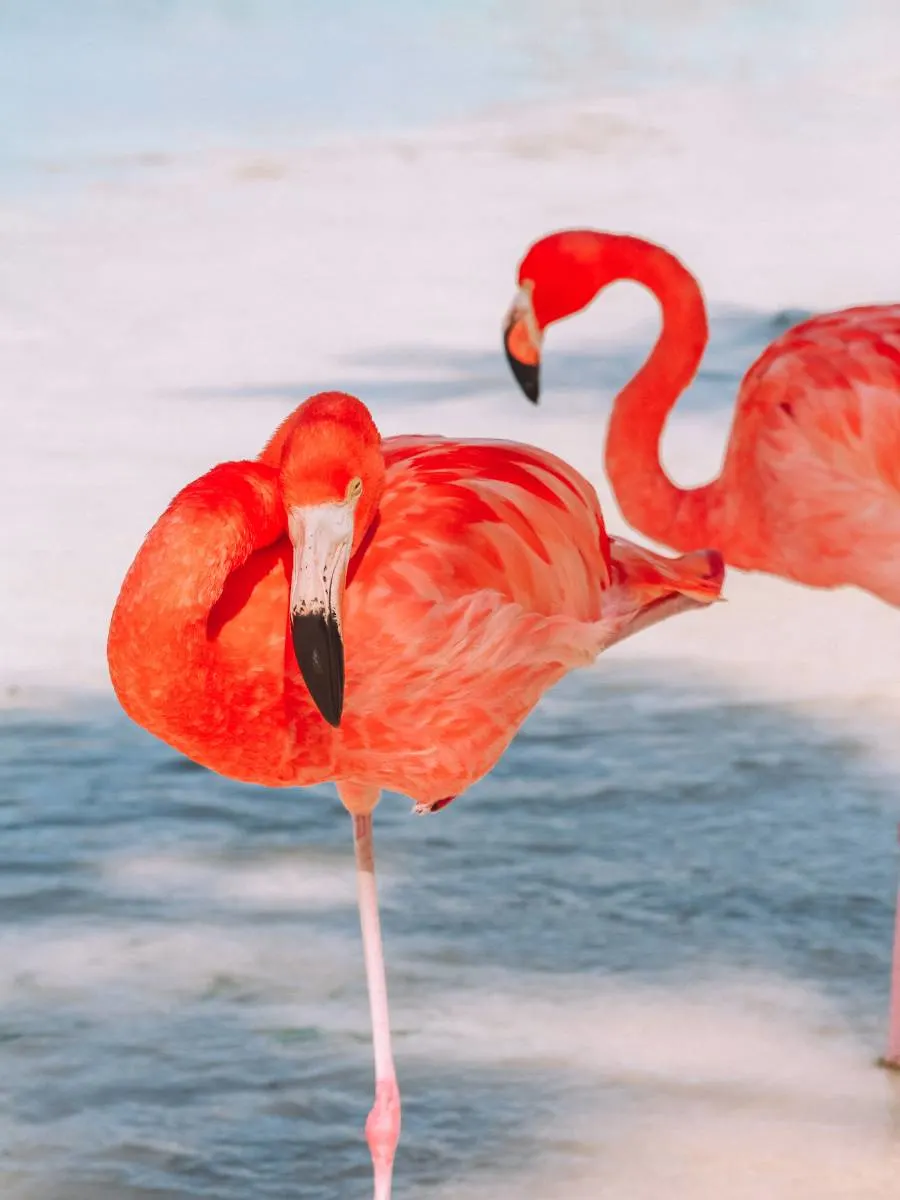 FAQs about the best things to do in Aruba
How many days are best to stay in Aruba?
Five days would be ideal in order to be able to relax while also being able to plan an itinerary that includes plenty of activities without having to rush around.
Do I need a car in Aruba?
This depends on how you want to explore the island and if you want to have the freedom to leave the resort area and be able to do some of the unique things to do in Aruba located outside.
With that said, a car is not 100% necessary as there are plenty of tours available. Public transportation and taxis are also an option.
What is the rainy month in Aruba?
Late October to December is considered the rainy season in Aruba. However, even during the rainiest months, there is barely any rainfall.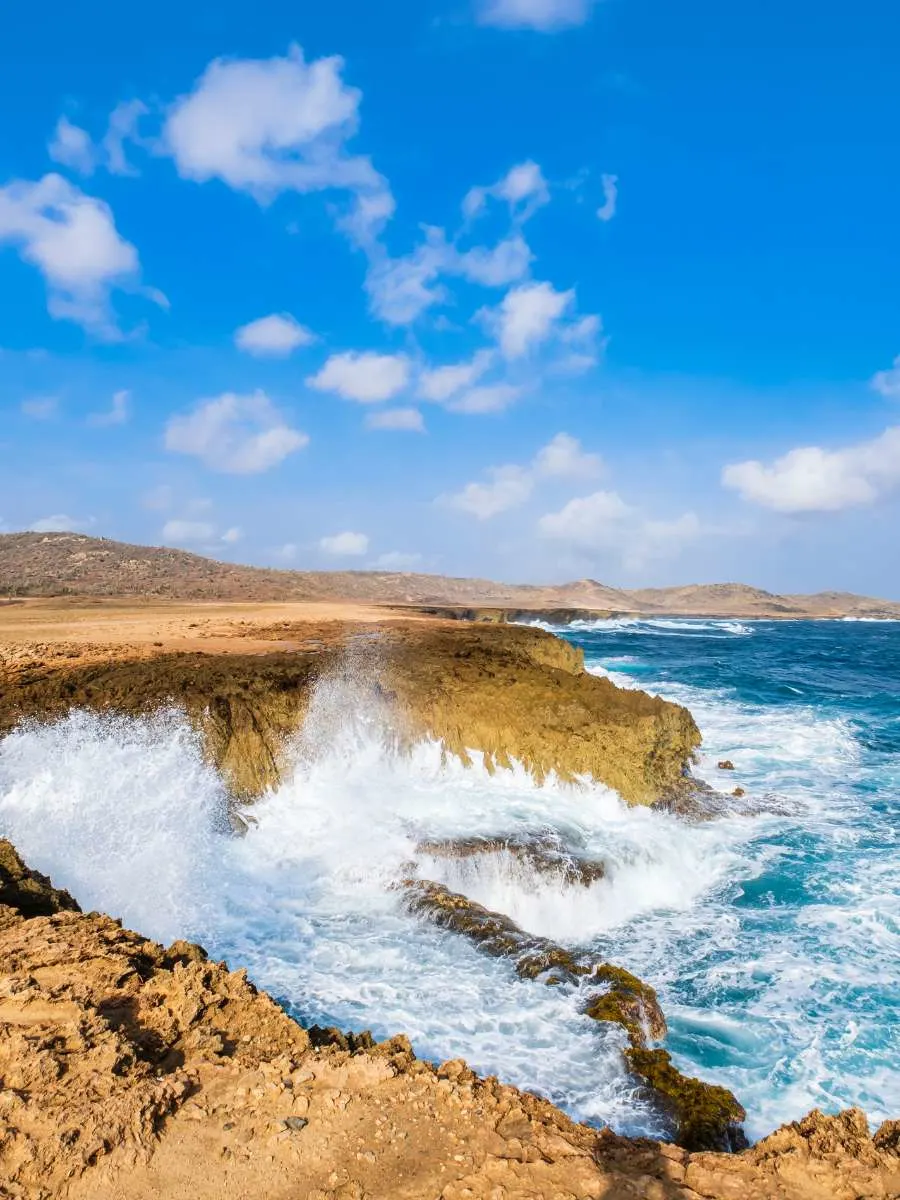 Do you need to tip in Aruba?
It's not mandatory to tip in Aruba, but usually expected. Some restaurants add 10% to 15% to your bill, so make sure you check before tipping extra unless you want to!
Does Aruba have Uber?
Uber and other ridesharing apps are not available in Aruba. However, there are lots of taxis everywhere which are very safe or you can opt to rent a car.
What language is spoken in Aruba?
The official language in Aruba is Papiamento, but most locals are able to speak Dutch and English. Spanish is widely spoken as well.
Can you drink tap water in Aruba?
Yes. The tap water in Aruba is very clean and perfectly safe to drink.
Travel insurance for Aruba
Medical care in Aruba is great, but it can get expensive if you don't have travel insurance.
Because Aruba has so many adventurous activities to offer, you'll want to make sure your current insurance will have your back. Honestly, you'll probably be fine, but the chance of something happening does exist, and having peace of mind is priceless!
If you're still on the lookout for insurance for your trip to Aruba, I highly recommend Safety Wing. They'll cover any medical expenses as well as delayed/canceled flights and any other thing you may need during your trip for just $45 a month! Check them out here.
Wrapping up: The best things to do in Aruba
Aruba is the ideal destination if you want to combine a beach vacation with culture and outdoor adventures because, despite its small size, it manages to blend seaside goodness, cultural offerings, nature escapes, and a distinctly European flair.
From taking in the local art scene in Oranjestad to going beach hopping and hiking through an expanse of desert that seems to go on forever, these unique things to do in Aruba will show you why it's nicknamed "One Happy Island!"