Things to Do in Andalucia Alone
Andalucia in southern Spain is one of the most wonderful solo travel destinations in Europe with plenty of different things to do no matter what your interests are.
This melting pot of cultures has been formed by its settlers throughout centuries and you can experience it in anything from the architecture to the cuisine.
The Moors were likely the ones leaving the biggest impact on Andalucia and you can tell by all the magnificent Moorish landmarks that dot the region, from the Alhambra to the Alcazaba de Sevilla or Malaga.
There is a wealth of things to do in Andalucia alone and in this post, we will go through some of the most bucket list worthy.
Things to do in Andalucia alone
Hike El Caminito del Rey
El Caminito del Rey is one of the most exhilarating hikes in the world. With a footpath pinned over 100 meters high on the gorge wall, it is not for the faint hearted.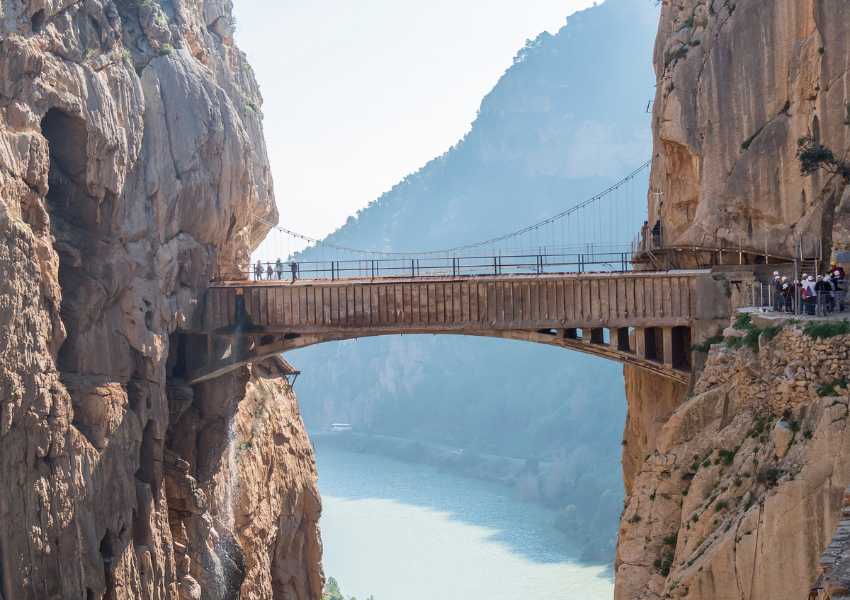 Yet Los Gaitanes Gorge is one of the prettiest natural spaces in Spain and mesmerizes everyone that dares to walk there.
The path used to be the most dangerous in the world and was closed for years until it was reopened in 2015, renovated with a new path built right above the old one.
You can still see the remains of the old path beneath, giving you an idea of how scary it must have been to take it on.
It is necessary to book tickets in advance and you must appear at your prebooked time slot, as there are regulations concerning how many people can walk the path at once.
Whether you choose a guided tour or not, there will be a security brief and mandatory helmets will be handed out. There are also several security guards along the trail.
That said, the path is easy to walk without much elevation and the only thing that would stop anyone from going is vertigo.
The hike is only 7.7 kilometers one way and there is a shuttle bus taking you the opposite direction.
There are trains from Malaga to El Chorro making it easy to get there. However, if you prefer hooking up with other travelers, join a guided tour with transfer from Malaga.
Boat trip in Malaga
One of the best ways to meet other travelers on a solo trip to Andalucia is to go on one of the fun Malaga boat tours, whether it is a party boat or a day full on the sea packed with activities like paddleboarding and snorkeling.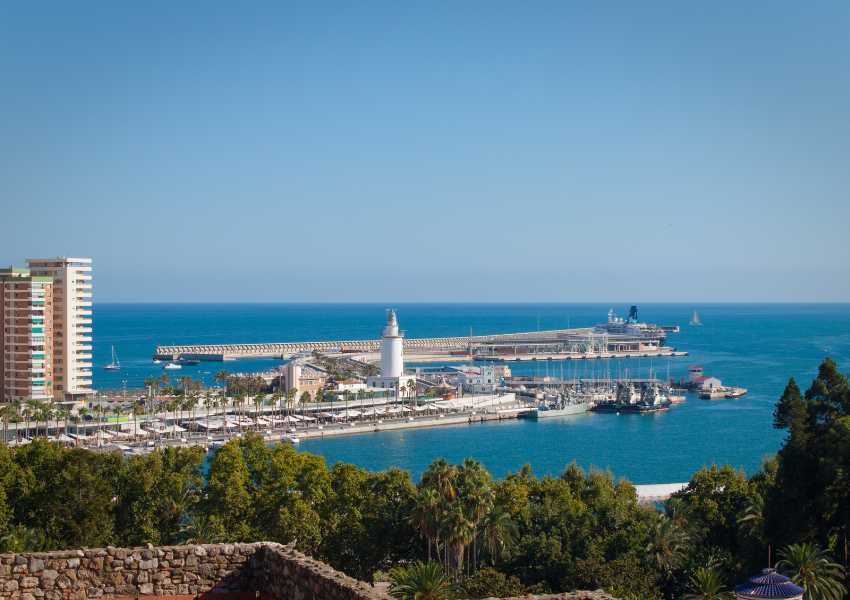 If you prefer a quiet and relaxing trip to reconnect with yourself, on the other hand, there are plenty of opportunities for that too.
Dolphin watching tours are wonderful and sunset cruises head out every evening offering peace of mind and a great way to wind down a busy day of sightseeing.
After all, Malaga is one of the best places to visit in Spain for first timers as a walkable and safe city.
Going on a boat trip is such a unique experience and in Malaga, the port is just a short walk from the historic center and having a drink at Malaga's fancy Muelle Uno after being on the sea is nothing but inviting.
Go to the Patio Festival in Cordoba
If you would like to experience something unique and beautiful on your solo trip to Andalucia, Cordoba Patio festival is the place to go.
Taking place every first two weeks of May, the city's picturesque patios open up to the public in a contest of the prettiest patios in the city. The streets are full of festivities, music groups dancing Sevillanas, and happy people.
But best of all, the patios that are included in the Patio Festival are all free to visit. While some are only open for the festival, especially the private homes, there are some that are open all year round, but for an entry fee.
So this is a fabulous opportunity to see the patios for free. If you want to meet other travelers and learn about the history of the patios, which date back to Moorish times, and the festival itself started in the early 1900s, you can join a guided tour which normally includes 5-6 patios before you head out on your own.
The most famous neighborhood for its patios is San Basilio, with award-winning patios. This is also where to stay in Cordoba if you want a unique experience waking up to trickling fountains and a color splash of flowers.
Go shopping in Marbella
Marbella is renowned for being the playground of the rich and famous and the place to go if you want to shop for luxury items like a new Rolex or the newest Prada bag.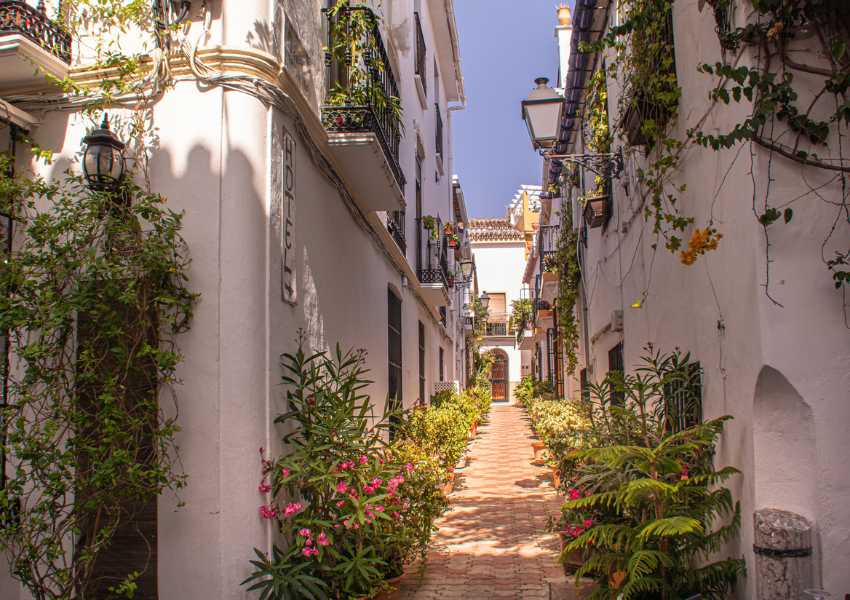 Yet, for most of us, that is just a dream and window shopping is more achievable.
Luckily, Marbella is more than upscale shopping. In the old town, you find unique boutique shops, handicrafts, and local ceramics.
There are also several shopping malls worth the effort of getting there, like La Cañada shopping mall. Altogether, Marbella is a shopaholic's paradise no matter your budget.
Hike Rio Chillar
One of the coolest hikes on the Costa del Sol is Rio Chillar in Nerja.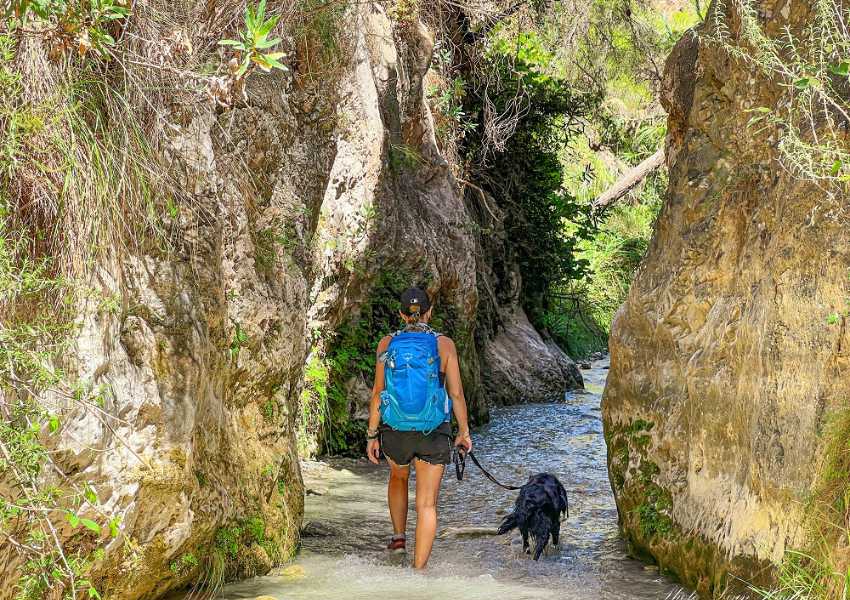 This is a great hike to do alone as there is no way to get lost and it is heavily trafficked, so if something should happen, you are not alone.
The 8-kilometer trail through the river requires that you wear good water hiking shoes that lets water flow easily in and out as you will walk in the water for most of the day.
It is a mesmerizing trail where the river closes in through narrow ravines and opens up to refreshing water holes and waterfalls, so it is just as important to wear your swimsuit to get the most out of this hike.
It is a summer hike, as it is basically too cold to walk in the water for that long in the shade in winter. Yet it is one of the best experiences to have in Andalucia.
Visit the Alhambra
A solo trip to Andalucia is not complete without visiting the 9th-century Alhambra in Granada, the majestic legacy of the Nasrid Kingdom and later home of the Christian Kings after the reconquest in the 13th century.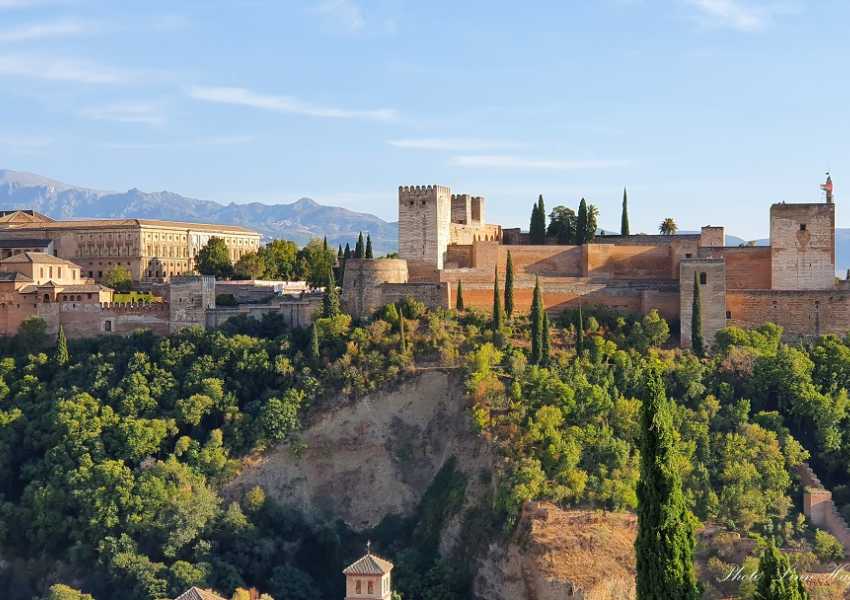 Located in the foothills of the Sierra Nevada National Park, the picturesque backdrop of the 3000-meter peaks is beyond beautiful, especially in winter when they are completely snowcapped.
A visit to the Alhambra must be booked in good time in advance and include the Alcazaba, the Nasrid Palaces, the Generalife Gardens, the public baths and mosque, and the Carlos V Palace. As you can tell, it is quite a large complex and you should allow at least 3-4 hours to explore it all.
Spend a weekend in Seville
Seville is one of the prettiest cities in Spain and a must-visit when exploring Andalucia alone.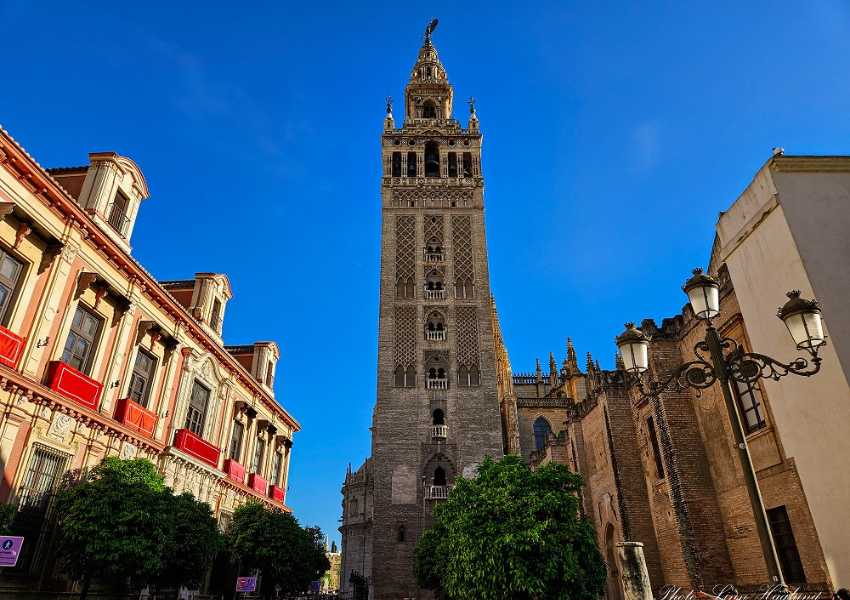 You should at least spend a weekend in the city to get time to visit the main attractions and make some space for tapas and sangria. Here's a wonderful guide to how to spend 2 days in Seville.
If you are more of a beer person, do not worry. Seville is home to Cruzcampo, one of Spain's most popular Lagers.
Among the best things to do is the Real Alcazar de Sevilla, one of the most complete Moorish heritages in Andalucia next to the Alhambra.
Together with the cathedral and the Archivo de Indias, it makes out Seville's UNESCO World Heritage site.
While the cathedral is beautiful, its clock tower La Giralda is every local's pride and if you want to enjoy sweeping city views, make sure you climb it.
Plaza de España is another great place to visit, the half circle square feature thousands of Andalusian tiles and is located right at the entrance of Seville's largest park, Maria Luisa Park.
Stroll through it and you get to the Guadalquivir River where you can climb Torre del Oro or go on a boat trip along the river.
Cross the Triana Bridge, try some fresh food in the Triana Market and watch a Flamenco show in the traditional neighborhood.
One of the newest attractions in Seville is the Setas de Sevilla, also known as the Metropol Parasol.
It is hated by the locals and loved by tourists. While the modern architecture surely does not match the rest of the buildings in the city, it sure offers splendid city views, especially at sunset.
You may also like:
Relax on the beaches in Costa del Sol
Going on a solo trip to Andalucia you probably want to soak in some sun too. The beaches in Costa del Sol are great for just that.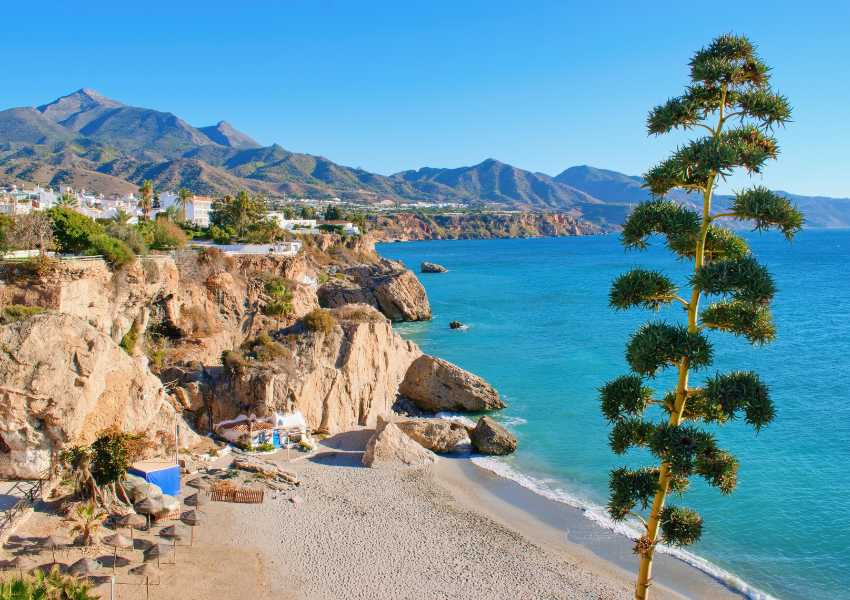 Most of them are well equipped and you can rent sunbeds and shade, as well as enjoy cold drinks at the beach bars, locally known as Chiringuitos.
Among the best beaches are the ones in Nerja, where you can kayak along the mesmerizing Maro cliffs where waterfalls cascade directly into the crystal clear sea and remote beaches invite you to make a stop.
Also Torrox Costa has a series of exquisite beaches and of course Malaga's Malagueta Beach is perfectly located off the city.
On the other side of Malaga, you can head to any of the beach towns to enjoy the beaches, but once you enter Marbella you will find some of the best beach clubs like Nikki Beach or go sprawling with the rich and famous at the Red Mile.
Go on a road trip across the whitewashed villages
A road trip to see the whitewashed Andalusian village is a great thing to do in Andalucia alone.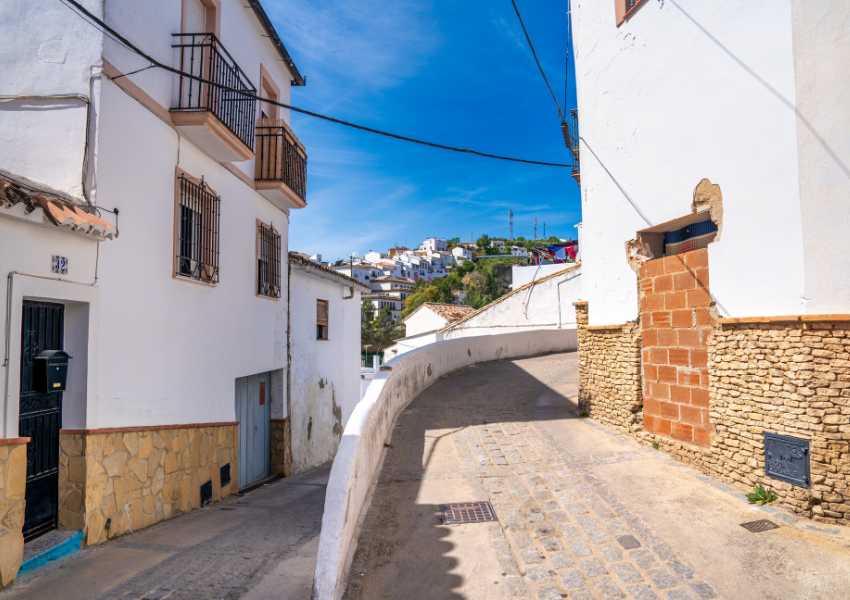 There are endless routes you can take from Serrania de Ronda where towns like Casares, Gaucín, and Ronda await, to Granada's Alpujarras where you can visit Lanjarón, Capileira, and Pampineira among others. But one of the most underrated areas for whitewashed villages is the Cordoba Province.
Places like Iznajar and Zuheros will take your breath away with their allure surrounded by nature trails.
Priego de Cordoba is a larger town with plenty of attractions and deserves at least two days. It is easy to rent a car both on Malaga Airport and Seville Airport.
Go on a day trip to Gibraltar
In the far south of Andalucia you find a small British territory called Gibraltar. It can be reached by walking or driving across the border from La Linea.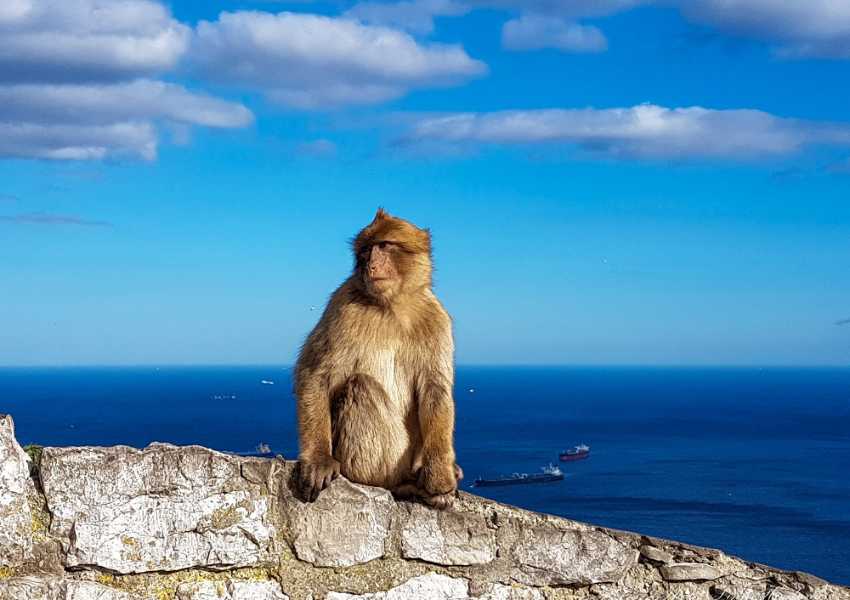 There, you can meet the only wild monkeys in western Europe at the Ape's Den and see the views of Spain and Morocco from the Rock of iconic Gibraltar.
While it is a small place, there are plenty of fun things to do besides the Rock and seeing the monkeys (hold on to your belongings, because these little fellas can be pretty cheeky!)
Visit the Moorish castle and get underground in the St. Michael's Cave (which some believe is the mouth of a secret underground passage to Africa – though this has never been confirmed.)
The town center is super charming, and you can enjoy small English book stores and high end shopping.
Besides, it is a great opportunity to take pictures with the classic red phone boots.
The strategic placement of Gibraltar in the Strait of Gibraltar also makes it the perfect place to go dolphin watching and even whale watching.
Dolphins are there all year round and Pilot Whales are also permanent residents all the year. In August, you have a unique opportunity to see Orcas as they migrate through the straight.
Where to Stay in Andalucia
Depending on where you go in Andalucia, there is different accommodation. In the Granada province, try to check in at a Cave Hotel for a unique experience.
But Andalucia also has a number of Paradores which are basically luxury accommodations in restored historical buildings which could be anything from a castle to a convent.
Some of the most beautiful Paradores in Andalucia are found in Jaen, Cazorla, and Carmona.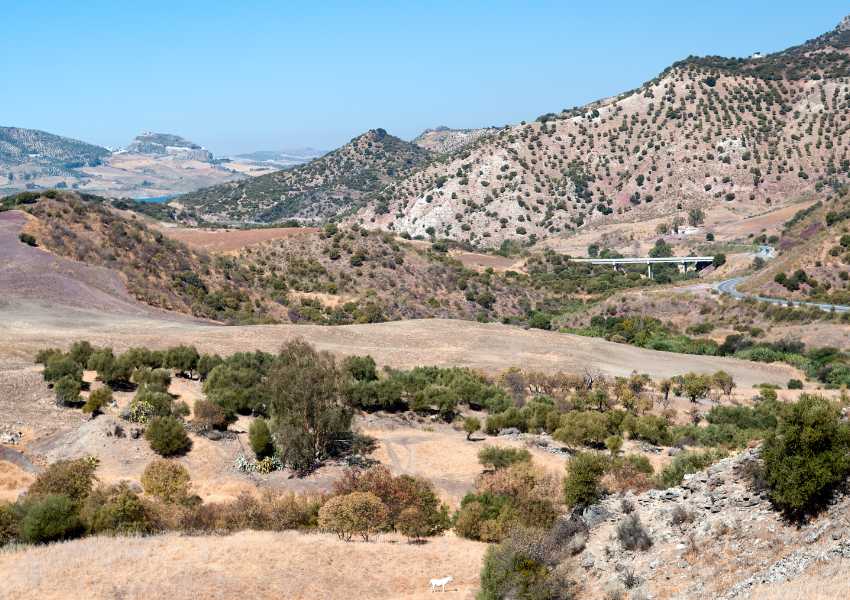 How to Get Around Andalucia
The best way to get around in Andalucia if you want to explore more than the big cities is by car.
However, there is a good bus and train connection between cities like Malaga, Cordoba, Granada, and Seville.
You can also download the Whatsapp app which is a great rideshare app for solo travelers and often the most affordable way to get around. Plus, you might just make new friends on your trip.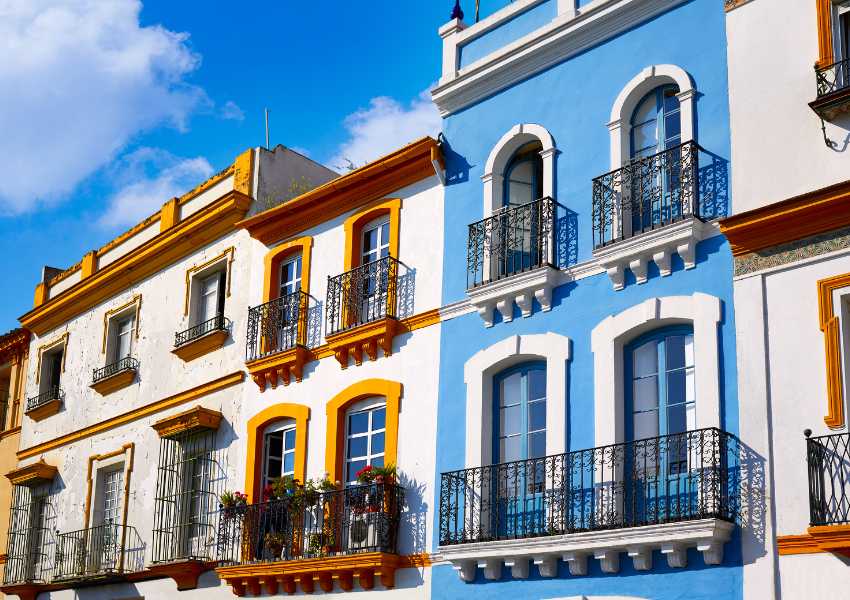 Best Time to Visit Andalucia
Andalucia is a wonderful city to visit all year round.
In the winter, you beat the crowds, you can explore Christmas lights and markets (especially the lightshow in Calle Larios in Malaga is worth seeing,) and you can experience the parades of the Three King's Day on the 5th and 6th of January. In February, there are also carnival celebrations throughout the region with Cadiz having the oldest carnival in Spain.
The spring and fall seasons are great for sightseeing and road trips to the villages as well as hiking (and so is winter) in the lower mountain ranges.
Spring also welcomes a unique easter celebration where Seville tops the list of best celebrations.
Seville also follows up two weeks later with a week of Feria de Abril where the fairground is full of Flamenco-dressed locals dancing their heart out all night. The first two weeks of May, you have the Patio Festival in Cordoba.
In the summer months, you can expect the beaches to be over crowded, but the weather doesn't really allow for anything else than dipping in the water. River hikes are also popular.
Besides Rio Chillar, you can enjoy epic river trails like Ruta de Los Bolos in Durcal, Granada and Ruta de Los Cahorros in Monachil, Granada.
Summer also brings a series of local fairs like Feria de Malaga and Feria de Priego de Cordoba that are worth visiting.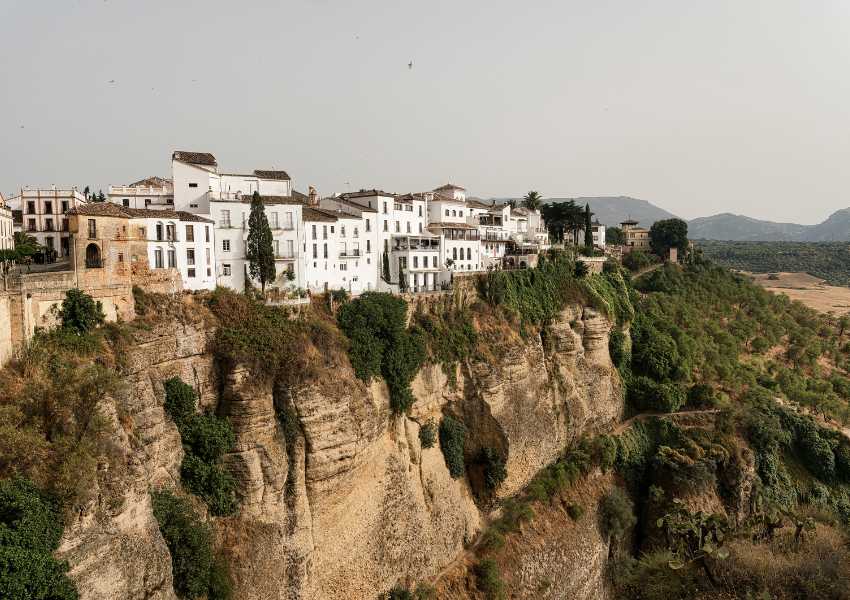 Tips for visiting Andalucia alone
Andalucia is generally a safe place to visit for solo travelers and crime rates are low, especially outside the cities.
However, there is some pickpocketing in crowded and touristy places, so make sure you watch your belongings.
There are also still quite a few places that do not take card payment, so you should always bring a little bit of cash with you to avoid unpleasant surprises.
Typical places that might not take cards are restaurants, cafés, and kiosks. Usually in smaller destinations, but even in the bigger cities it might happen.
Things to Do in Andalucia Alone: Conclusion
As you can tell, there is a plethora of fun things to do in Andalucia alone.
No matter if you are a shopaholic, history buff, or a beach dweller there is something for you.
The region is so varied that you can have an exciting trip no matter how long you choose to stay and a good mix of city life, culture, history, and nature will leave you with unforgettable memories of this captivating region in Spain.