20 Best York Instagram Spots
York is a city with hundreds of years of history. It has historic sites and buildings on every street, making it one of the most picturesque cities in England. In this article, you'll be shown some of the top York Instagram spots, perfect to add to every Instagram feed.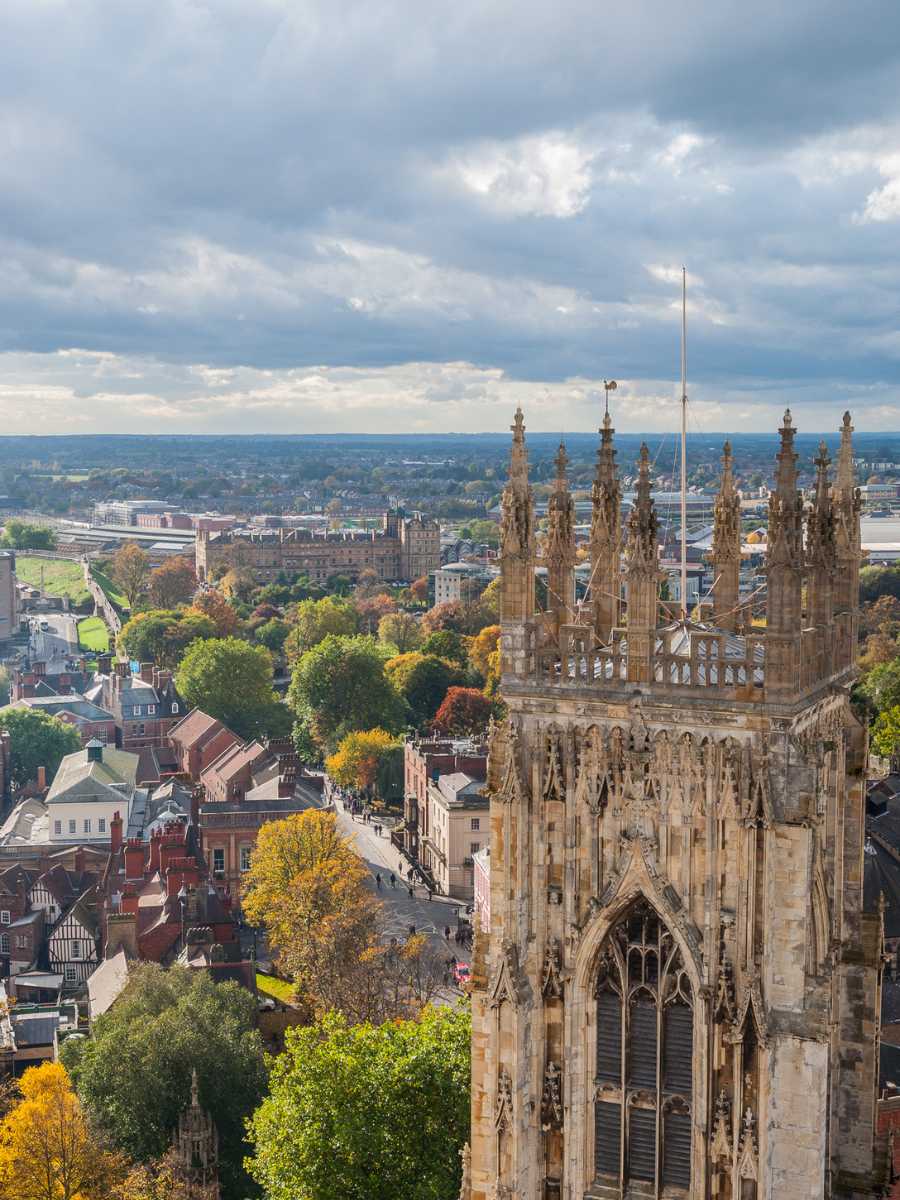 York is a great weekend destination, and all the main sites are within walking distance of each other. It's a photographer's dream to have so many cobblestone streets, medieval buildings, and stunning facades all so close together. Explore the many angles of the York Minster, and explore quaint streets like the Shambles which are like something from a fairytale.
With this post, not only will you find beautiful spots, but you will also discover some of the best things to do in York. York's rich history and culture will enrich your Instagram feed with captivating photos that tell intriguing stories.
20 Best York Instagram Spots
1. Low Petergate
Low Petergate is a charming street in the centre of York. The road is lined with cafes and shops in old, medieval buildings. Even the shop fronts make great Instagram backdrops.
However, the best photo opportunity on Low Petergate is of the Gothic York Minster. The stunning building dominates the skyline, and you can frame your shot with the beautiful York buildings in the foreground.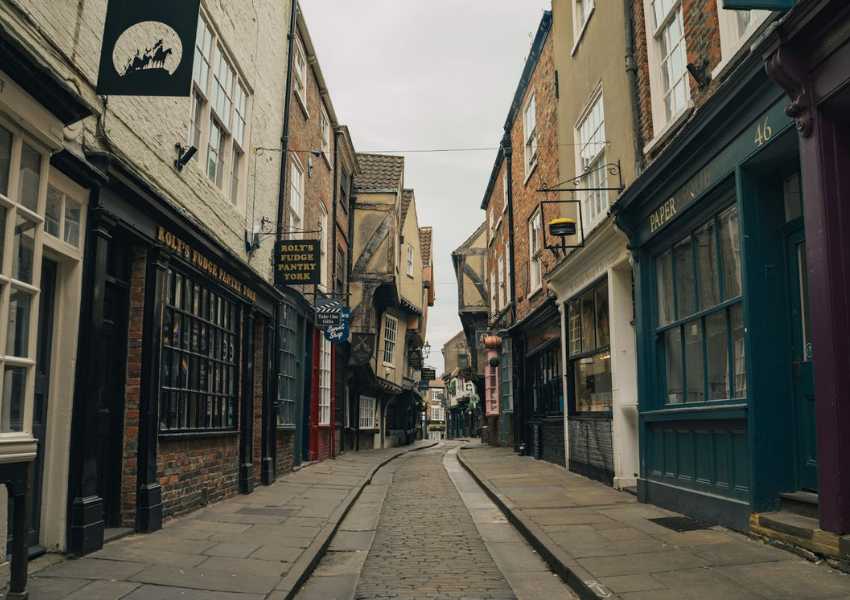 2. Shambles
As perhaps York's most famous street, you must visit the Shambles. This narrow street is lined with teetering buildings that seem a centimetre away from toppling over. Inside these buildings, you'll find beautiful independent shops inspired by the setting.
On the Shambles, you'll find a Ghost Merchant, an Alchemist with a giant animatronic dragon, and a handmade fudge shop where you can watch them made the delicious sweet treat. There's plenty of interesting and unique subjects to photograph down the Shambles.
To get the best photos for Instagram, head here early before the tourist crowds arrive. The photo above was taken at 7 am and was perfect for getting an empty, beautiful street. Once the shops open at 9 am, you'll struggle to get a crowd free picture.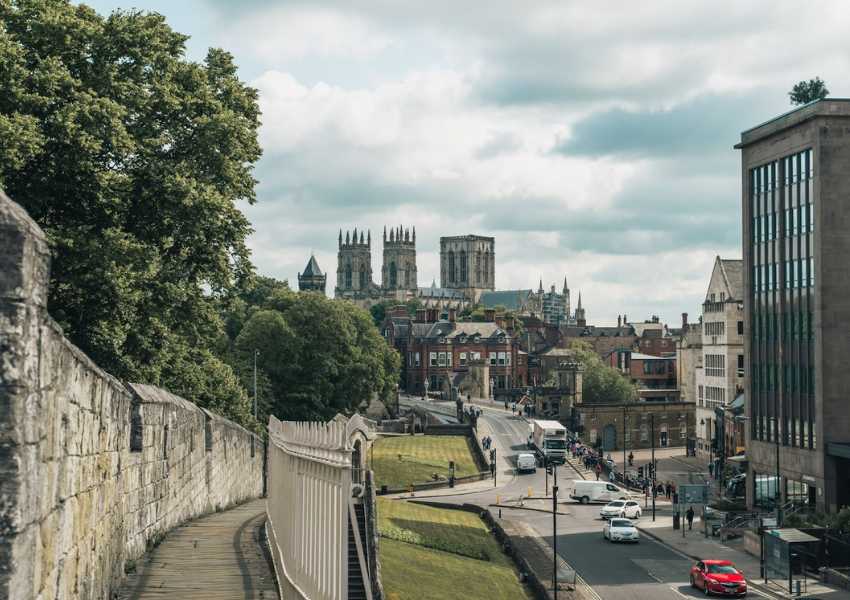 3. City Walls, entering at Baker Tower near Lendal Bridge
Walking around the York Walls is a great way to see the city and get some great Instagram snaps. It will give you a different perspective on the city below and there's many great spots around the walls. One of the best spots in between the Baker and Tofts Tower, which runs along Station Road.
Take a walk along here to capture two of York's most visited and historic sights: the York Walls and the York Minster. You'll also capture the beautiful Lendal Bridge which will be discussed more later on in this post.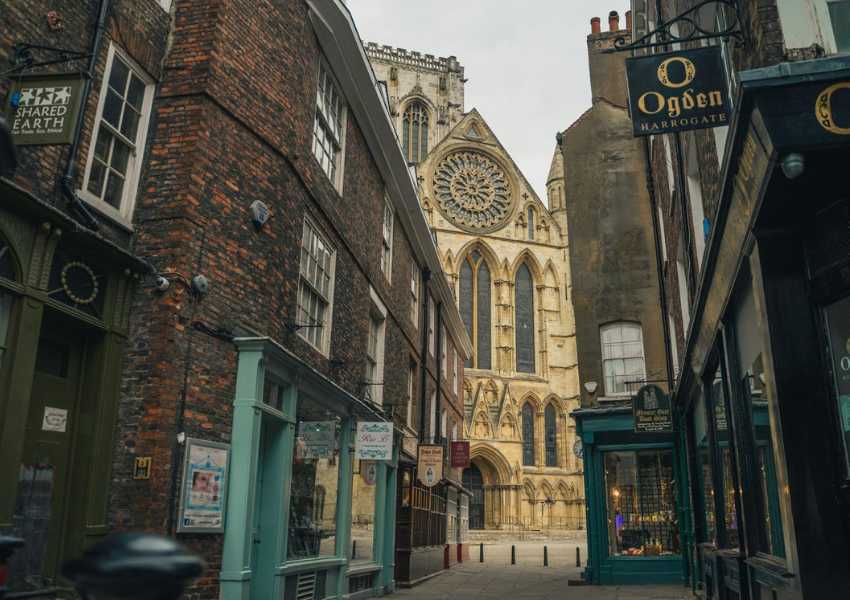 4. Minster Gate
Minster Gate is a small street between Low Petergate and the Minster. Obviously, this is another great location to get the mixture of old buildings and the beautiful minster in the background.
However, you'll also find the exquisite Minster Gate Bookshop. This bookshop is filled with stacks of very old second-hand books that tower above you on shelves all the way to the ceiling. They don't make books like these anymore, and the old-time collection would make a great Instagram shot.
5. York City Walls Between Bootham Bar and Monk Bar
Here we come to the second spot on the York Walls that is a must see destination for your Instagram shots. Head to the section of walls between Bootham and Monk Bar. Along this section of the wall, you'll find beautiful gardens and houses as well as a much closer shot of the Minster.
You'll also find the Gray's Court Hotel. Parts of this hotel date back to 1080, and have even housed royalty. Head to Chapter House Street to see its beautiful entrance, or enjoy its beautiful gardens from the York walls.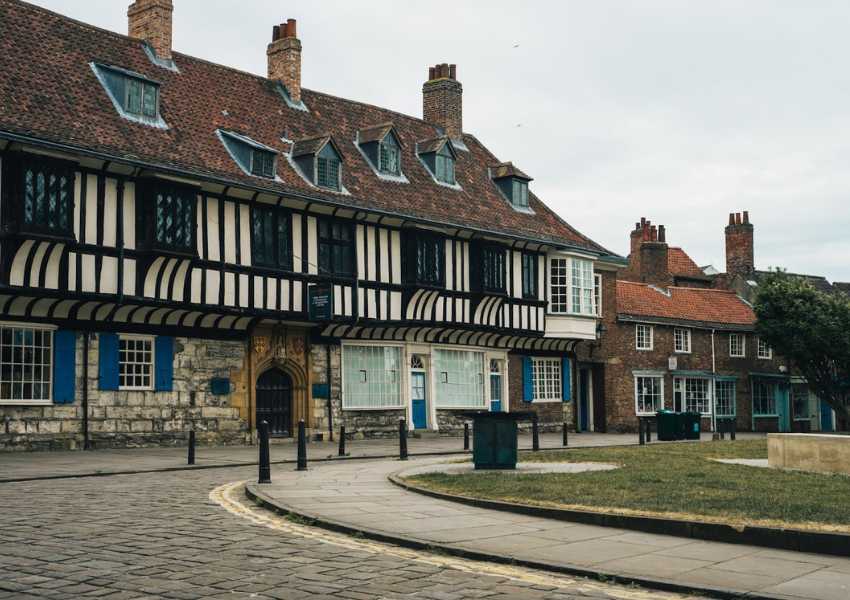 6. St William's College
St William's College is an absolute gem and a must-visit destination for any avid Instagrammer. You don't even have to step inside to see why, as the main entrance is stunning enough as it is. A timber-framed medieval building and carved front door make for a beautiful backdrop.
Head inside the college's courtyard for another great Instagram location. The charming cobbles add to any photo and it will feel like you've taken a step back in time.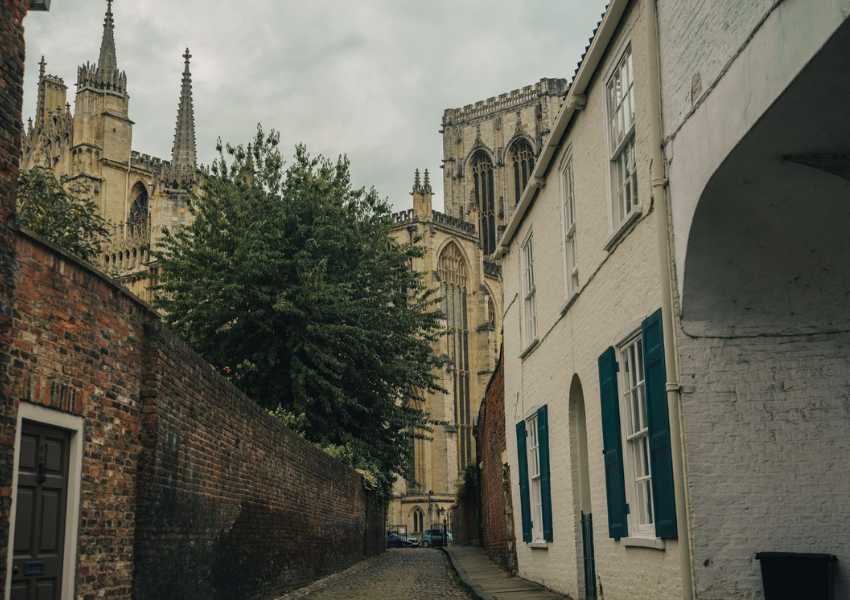 7. Chapter House Street
Chapter House Street is perhaps the best-kept secret to getting a beautiful Instagram shot of the Minster. A small side street tucked around the corner of St William's College, it's usually quite quiet here. This makes it a great place to get your next Instagram shot. Make sure to get some low angles to really get the immense size of the Cathedral in the background.
The cobbled street and stone work along Chapter House are stunning, and give you many backdrop options for your photos. Walking down here, you'll also pass the Treasurer's House and the entrance to Grays Court Hotel, which are both beautiful places to take some more lovely photos.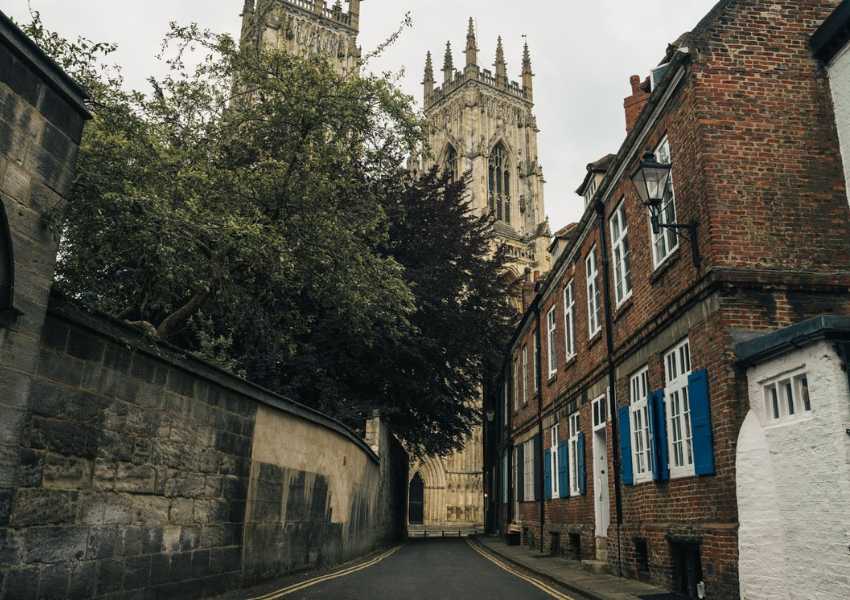 8. Precentor's Court
Whilst at a quick glance, Precentor's Court looks very similar to Chapter House Street. It is another small side street with a great view of the Minster. However, it sits on the Misnter's other side. Whilst some may say that Precentor's court doesn't have quite as much character as Chapter House Street due to its smooth paved road, it arguably has a better angle of the Minster.
You are treated to a much more forward-facing view of the Minster. So not only do you get the beautiful brick houses, but also the Minster's front entrance and two towers, creating a much more interesting skyline.
It can be busier here than Chapter House Street due to it being in a much more prominent location and close to the Minster's entrance.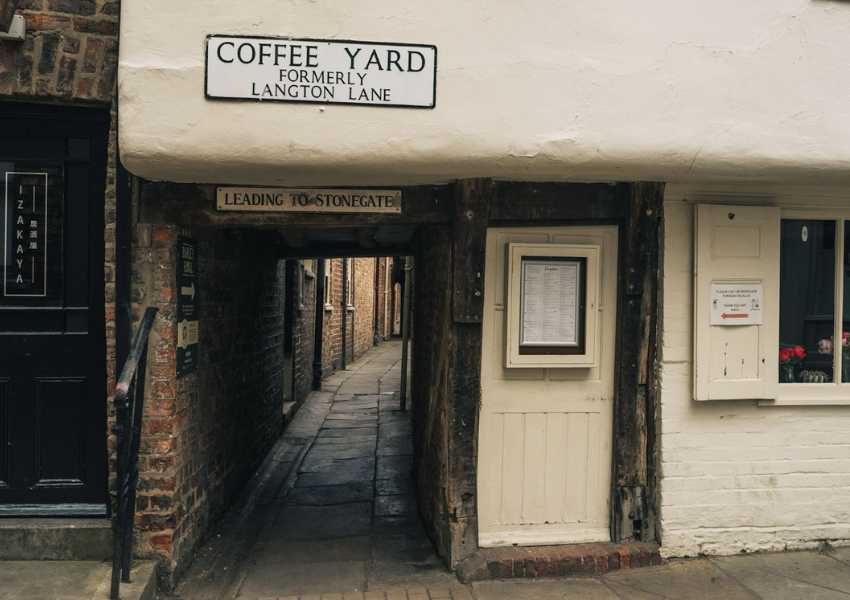 9. Coffee Yard
York is filled with small streets called Snickleways. These little paths link the larger streets and can make for great, undiscovered Instagram spots. This entrance to Coffee Yard, found on Swinegate, makes for a beautiful Instagram Backdrop.
The doorway is much smaller than you might expect and is a great visual representation of Yorks history. Head down the snickleway to find Barley Hall, the next Instagram destination on this list.
*Bonus Instagram Spot in York: Whilst not on this list, Lady Peckett's Yard is another great snickleway to visit for your York Instagram photos. Customary to snickleways, it is a very narrow street with towering buildings that seem to defy gravity in how they lean in on either side. You can get some really cool low shots of the teetering buildings for Instagram here.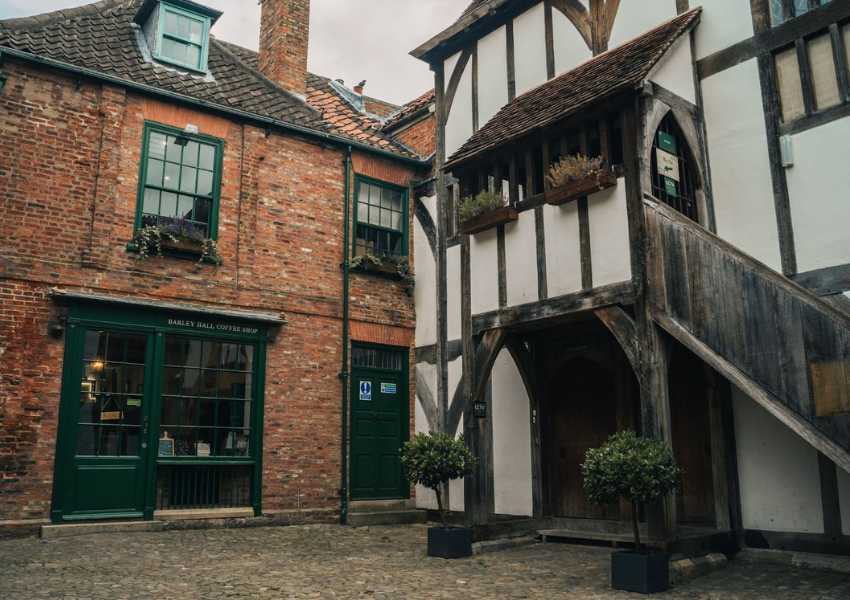 10. Barley Hall
Tucked down the snickleway Coffee Yard is Barley Hall. A medieval townhouse, visit here to see a snapshot of 15th-century history. Inside, you'll find a Great Hall furnished with authentic period pieces to restore it back to its former glory.
However, you don't have to go inside to get your Instagram shots. The exterior alone is incredible. Previously hidden behind a modern exterior, Barley Hall's medieval structure was rediscovered in the 1980s when it was stripped back to its former glory. It's unsure why anyone would want to cover something so beautiful, but we can be thankful that it has been recovered, if only for the beautiful Instagram shots!
11. Norman Court
Just off Swinegate, Norman Court is tucked away and often overlooked by passers-by. A collection of small, independent businesses like picture framing, a cheese shop, and an antique shop now use this courtyard. It's a quaint little place in York's city centre, and the outdoor seating makes it a great place to have a rest stop and take some lovely photos.
12. York Medical Society Gardens
York Medical Society Gardens is a lush, green oasis. A hidden gem, it is often overlooked by visiting tourists but is a firm favourite for many locals. It is a peaceful place to visit in the often bustling city, with lovely cultivated gardens and colourful flowerbeds.
When you visit to get your Instagram photos, it might be worth taking a book with you. Enjoy the benches dotted around this secluded garden, and soak up its tranquil atmosphere.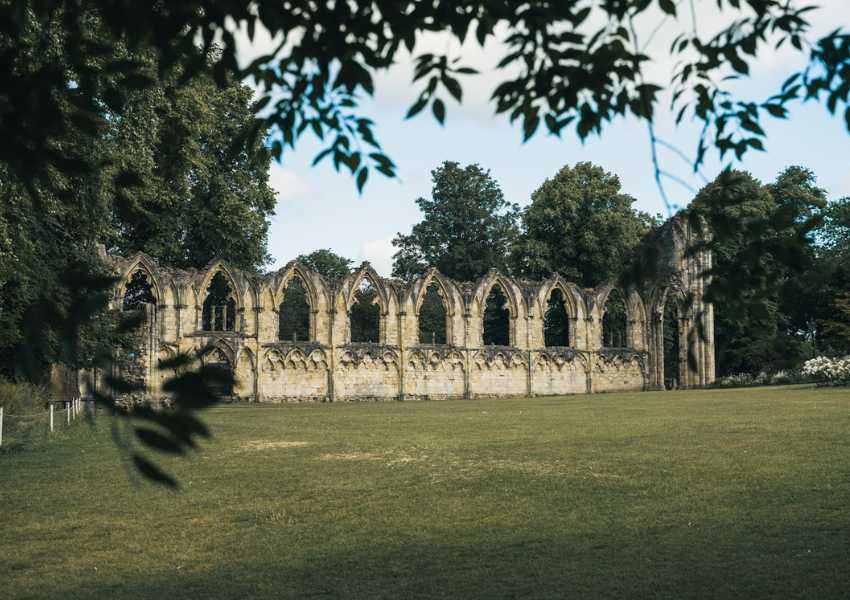 13. Museum Gardens
Another great outdoor area in York is the Museum Gardens. It is a free botanical garden and public park covering 10 acres of land in the centre of York. They contain a variety of plants, trees, birds, and squirrels. There are also several historic buildings such as the Yorkshire Museum. Make a pit stop here if you want to discover more of Yorkshire's extensive history.
The gardens have a rich history as they began as the grounds of St Mary's Abbey, the most important and powerful monastery in the north of England. The ruins of the abbey are still visible in the gardens and would make a great backdrop for any Instagram photo.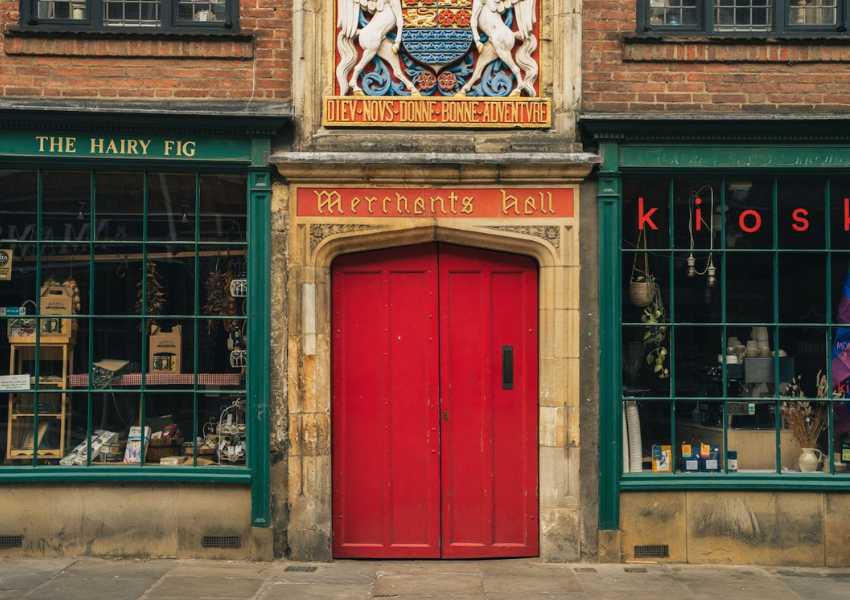 Merchant Adventurer's Hall
Perhaps the most beautiful door in York, make sure to stop by the Merchant Adventurer's Hall on Fossgate for a unique Instagram opportunity. Above the door, you'll find the Merchant Adventurer's coat of arms. The medieval Guildhall was built in 1357 and was originally used as a meeting place for the merchants of York.
Today, it is open to the public, so feel free to wander inside and see what it is all about. You can access the hall itself on Piccadilly, and its medieval Great Hall is another great photo opportunity. Walking underneath the dark wooden beams and high ceilings, you can almost hear the merchants of the past as they gathered together to conduct their business and socialise.
Gatehouse Coffee (Walmgate)
Located inside one of the original city gates is a small independent coffee house called, surprisingly enough, Gatehouse Coffee. Sip your drink and snack on some delicious freshly baked cakes inside a piece of York's history.
The stone walls and wooden interior make for a lovely, calming backdrop for your coffee photography. With cosey fairy lights bringing in a soft glow, you can be sure of a warming photo of your stay here. If you're visiting in summer, they will often have chairs in between the parapets. It makes for a unique setting for your coffee break, and an even better Instagram photo.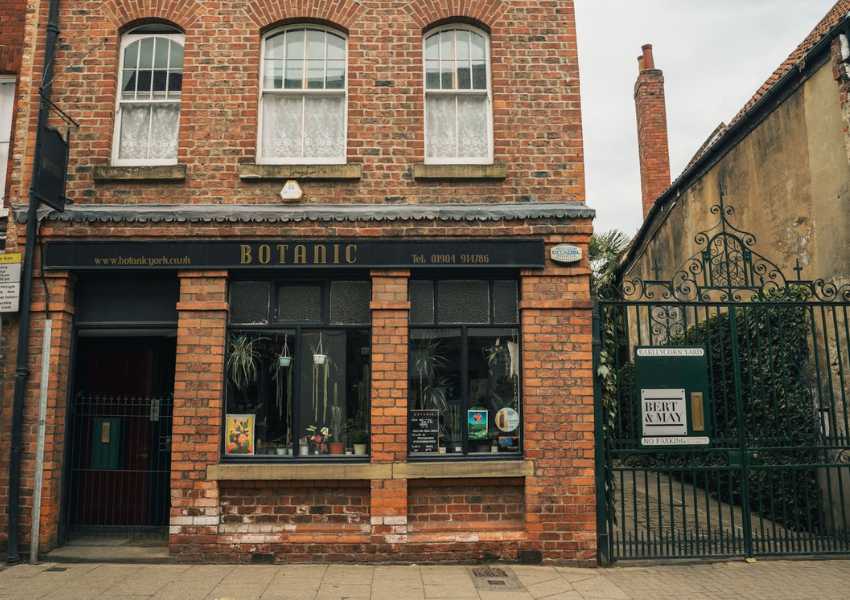 Botanic
The redbrick exterior of Botanic, a beautiful independent plant shop, makes for a stunning backdrop for any photo. Down to the shops right, you'll find an ivy-covered entrance that welcomes you in. This too would make a great backdrop for you photos.
However, the magic really happens inside. With two small rooms, you can browse the many plants at your leisure, and snap some photos of lovely lushes greeny as you go. Not many people would think to use the shop as a backdrop which makes it a great place to get some unique photos of your trip to York.
Malmaison
Fancy a cocktail? Head to Malmaison's rooftop bar, Sora Skybar. Sora serves cocktails and Asian fusion tapas, all of which are delicious. However, the real reason to visit Sora is for the view.
Located between the city centre and the train station, Sora Skybar has an incredible vantage point of the city below. You can get a great shot of a classy cocktail with the York Minster as your backdrop.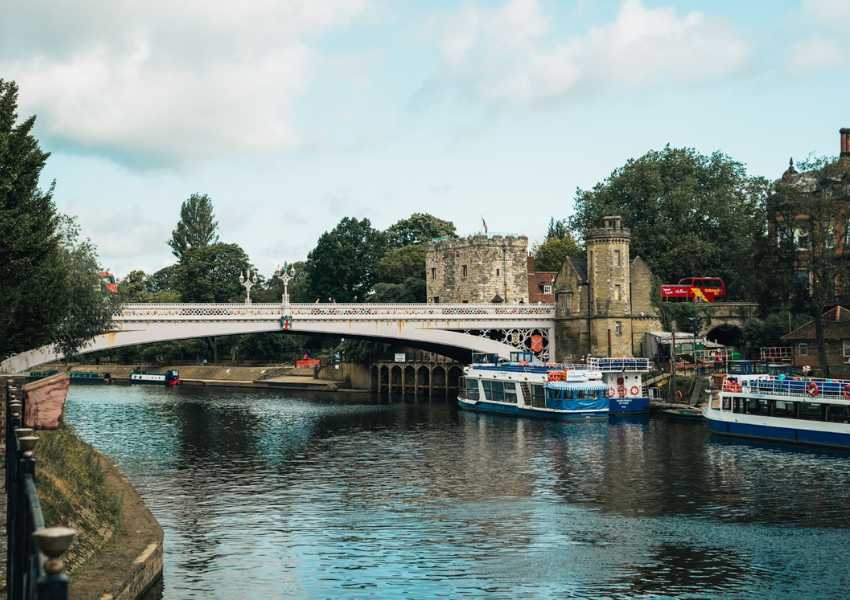 Lendal Bridge
One of the most beautiful places to catch the falling sun in York is on Lendal Bridge. A grade II listed bridge, this historic piece of infrastructure is made of cast iron and makes a stunning setting for your Instagram photos. It connects two medieval towers which only adds to the fairytale feel.
The Gothic, Victorian features and Yorkshire touches such as the white rose of York make this a unique and picturesque location. Capture it at sunset when the River Ouse turns red, and you'll be sure to take some scroll-stopping images.
York is a city full of charm and character, and its Instragrammable spots are no exception. The city has numerous photogenic spots for you to indulge in your passion for photography. From the historic City Walls to the charming timber structures of St William's College, there are plenty of opportunities to capture breathtaking shots.
The Shambles, Fossgate and the York Minster are among some of the most popular spots in York, but there's so much more to discover. York Medical Society Gardens and Barley Hall are also worth a visit and offer unique and charming backdrops.
By using this guide, you'll be sure to have a great time exploring the picturesque city of York. So, grab your camera and head out to discover the hidden gems, beautiful streets, secret gardens, and gorgeous cafes that make this town one of the most Instagrammable destinations in England.
ABOUT THE AUTHOR
Kizzi is the creator of Off to Get Lost. She has a passion for travel and strives to inspire others to get out there and achieve their travel goals. On Off to Get Lost, she shares her experience of travelling solo, tips on how to get more out of your time and money, and the best things to do across Europe.