22+ Amsterdam Instagram Spots: Can't Miss Photo Locations
Looking for the best Amsterdam Instagram spots? We've got you covered!
This city is renowned for its stunning architecture, picturesque canals, and vibrant street art that make it a haven for photographers and social media enthusiasts alike.
Whether you're a professional photographer or just someone who loves to share their experiences on social media, Amsterdam has something for everyone.
From picturesque canals to colorful street art, the city has no shortage of locations that will make your followers double-tap.
Here are some of the best Amsterdam Instagram spots for your camera's bucket list!
Amsterdam Instagram Spots
1. Begijnhof
The Begijnhof is a hidden courtyard in the heart of Amsterdam that's surrounded by historic houses and is home to a beautiful church. It's one of the best hidden Amsterdam Instagram spots out there.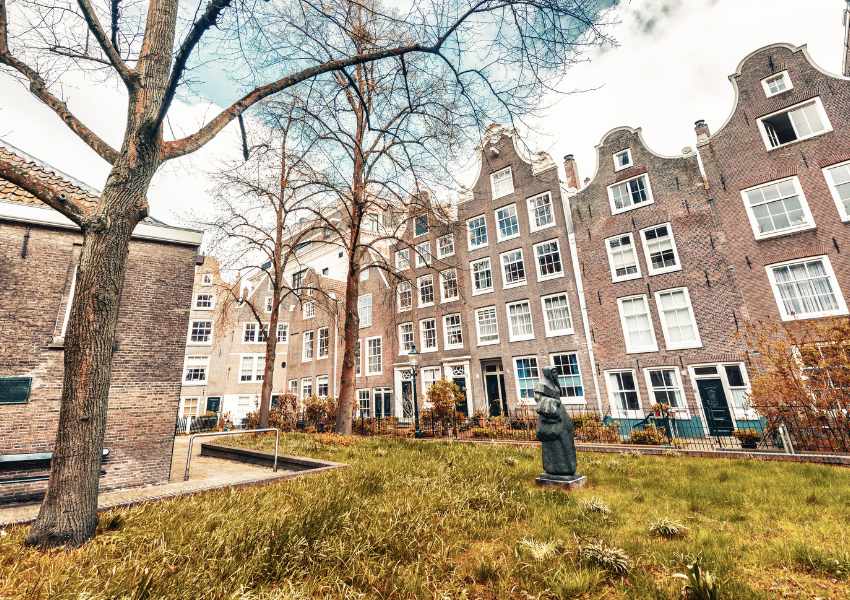 It's a peaceful oasis in the middle of the city, and its serene atmosphere makes it a great spot for photos.
Some of the best spots include:
Courtyard: The central courtyard is surrounded by historic houses and is especially beautiful in the spring when the flowers are in bloom.
English Reformed Church: This beautiful church is located at the edge of the Begijnhof and is a great spot for photos, especially at sunset when the light is warm and golden.
Gatehouse: The gatehouse at the entrance to the Begijnhof is a historic landmark and is a great spot for photos, especially if you're looking for a more dramatic backdrop.
2. Jordaan District
The Jordaan district is a trendy neighborhood that's known for its narrow streets, charming houses, and lively cafes. You'll find plenty of cute Amsterdam Instagram spots here, so make sure to plan at least half a day here!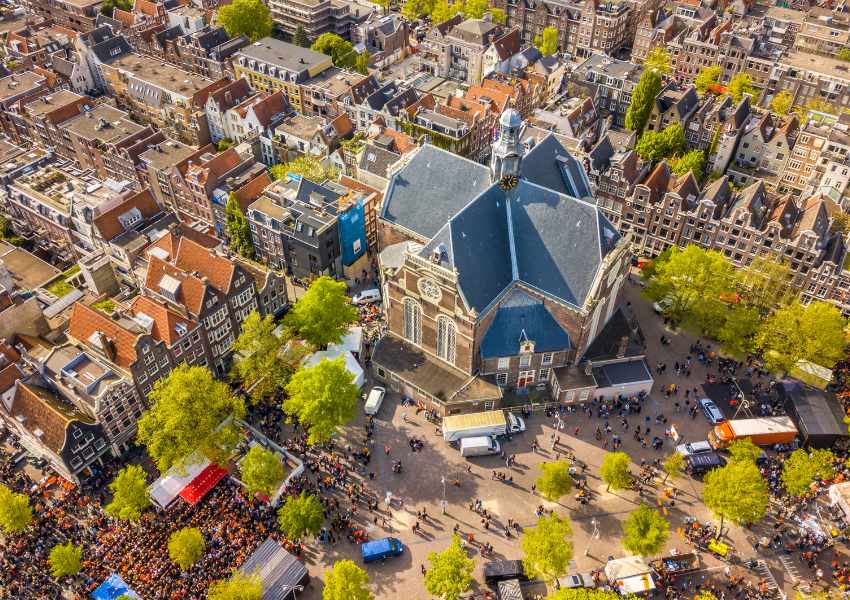 It's a great spot to explore on foot, and there are plenty of hidden corners that are perfect for taking photos.
Some of the best spots include:
Lindengracht: This street is home to a popular farmers' market on Saturdays, and its colorful stalls and crowds of people make for great photo opportunities.
Noordermarkt: This square is home to a weekly flea market on Mondays, and its historic buildings and lively atmosphere make it a great spot for photos.
Palmgracht: This narrow canal is lined with historic houses and is especially beautiful in the early morning or late afternoon when the light is soft and golden.
3. De Negen Straatjes
Located in the picturesque Jordaan neighborhood, these nine charming streets boast an array of colorful and historic buildings that make for some of the coolest Amsterdam Instagram spots.
As you stroll through this area, you'll stumble across stylish boutiques, cozy cafes, vintage shops, and lots of quirky street art to capture Amsterdam's artsy personality.
Some of the best spots include:
Wolvenstraat: This picturesque street is lined with historic buildings and is especially beautiful in the early morning or late afternoon when the light is soft and golden.
Reestraat: This narrow street is home to several cafes and boutiques, and its colorful facades make it a great spot for photos.
Huidenstraat: This street is lined with high-end fashion boutiques and is especially beautiful at night when the storefronts are lit up.
4. Bloemenmarkt
The Bloemenmarkt (Flower Market) is another vibrant location for an unforgettable Instagram shot.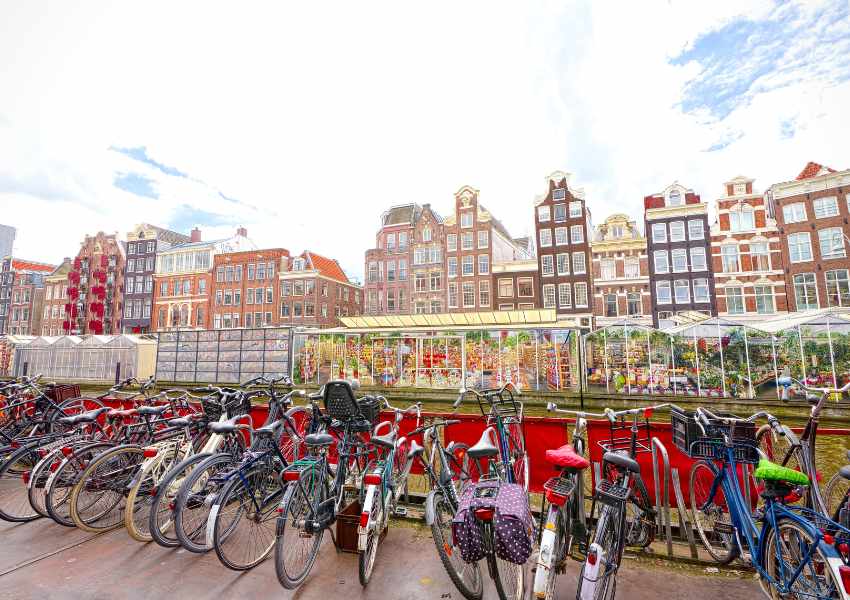 This unique floating market, located along the Singel canal, offers an explosion of colors and scents that is perfect for unique Amsterdam shots.
Take advantage of the variety of flowers and plants by experimenting with different angles and compositions. The tulips, in particular, make for an emblematic image of Dutch culture.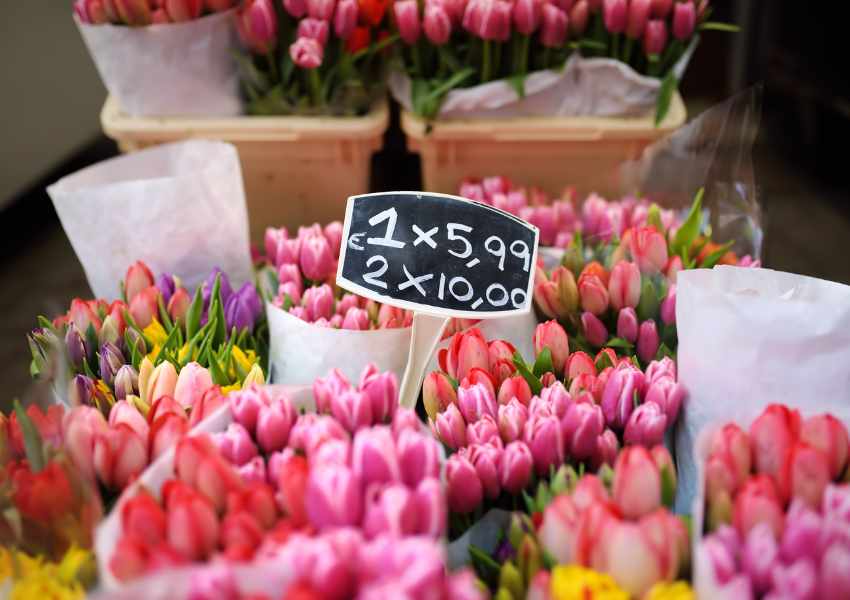 Moreover, keep your eyes open unique angles and moments. Ideas include taking photos of the reflection of flowers in the can't water, adorable flower arrangements in traditional wooden clogs, or picturesque houseboat framed by the floating market stalls.
Some specific spots to check out in the Bloemenmarkt include:
The Tulip Stands: Tulips are one of the most iconic flowers in the Netherlands, and you'll find plenty of them at the market. Look for stands that sell different varieties of tulips, or pick up a bouquet of mixed flowers for a colorful photo.
The Souvenir Shops: In addition to flowers, the Bloemenmarkt also has several shops that sell Dutch souvenirs. Look for items like wooden clogs, Delftware, and stroopwafels to add some Dutch flair to your photos.
The Canal View: The market is located on the Singel canal, so be sure to snap some photos of the colorful flower stalls with the water in the background. It's a quintessential Amsterdam shot.
5. The Bridges on Princengracht or Bloemengracht
It's not exactly a secret that some of the most classic Amsterdam Instagram spots are it's canals and bridges!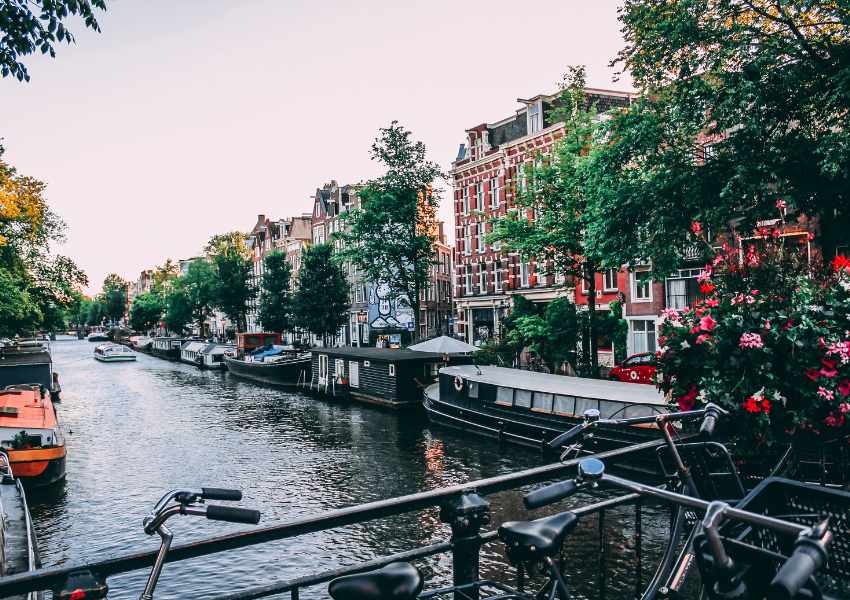 Two of the most beautiful and Instagram-worthy bridges can be found along Princengracht and Bloemengracht.
Both areas have a plethora of lovely canal views, but it's the bridges that are the real stars of the show.
On Princengracht, the Torensluis is an eye-catching sight.
This large and historic bridge is one of the oldest in Amsterdam, and the perfect backdrop for your next Instagram post.
There's even a tower right next to the bridge, adding to its unique charm.
Meanwhile, Bloemengracht boasts the Papiermolensluis, a bridge with its own distinct character.
With its idyllic arches and stone balustrades, this bridge offers a fantastic vantage point for taking snaps of the historic canal houses lining the waterways.
The reflections of the houses in the canal will make for a double Insta-hit!
Some tips for capturing these spots to their full potential:
Be aware of the lighting: The soft, golden hues during sunrise and sunset create a magical atmosphere, perfect for your photos.
Try different angles: Shoot from different positions along the bridges, like getting down low or finding a higher perspective to capture unique shots.
Include some greenery: Amsterdam is known for its lush plant life. Adding some flowers or trees to your frame can elevate your photos even more.
6. Canals (Take a boat trip!)
The city boasts over 165 canals stretching across 100 kilometers and there's no better way to soak in the city's architectural charm and grab stunning shots for your Instagram feed.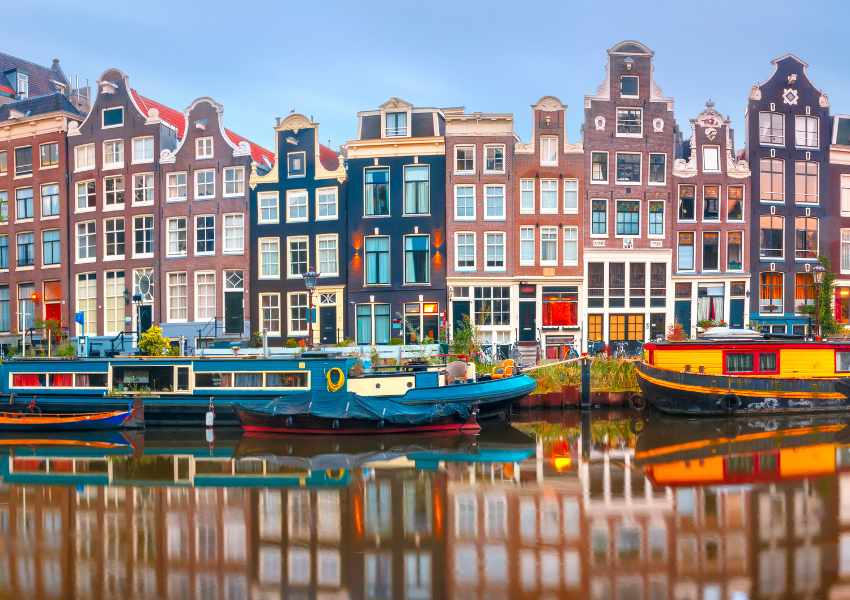 The most famous canals you should explore are the Herengracht, Keizersgracht, and Prinsengracht.
These "Golden Age" canals form a UNESCO World Heritage site and provide an enchanting backdrop for your photos.
While an organized boat tour will guide you through the highlights, renting a boat gives you and your friends the freedom to discover hidden gems at your own pace.
Drift through Jordaan and De Negen Straatjes, known for their cozy cafes, boutiques, and charming scenery.
You may also like:
7. Hortus Botanicus
Hortus Botanicus is one of the oldest botanic gardens in the world, and it makes for one of the most original Amsterdam Instagram spots.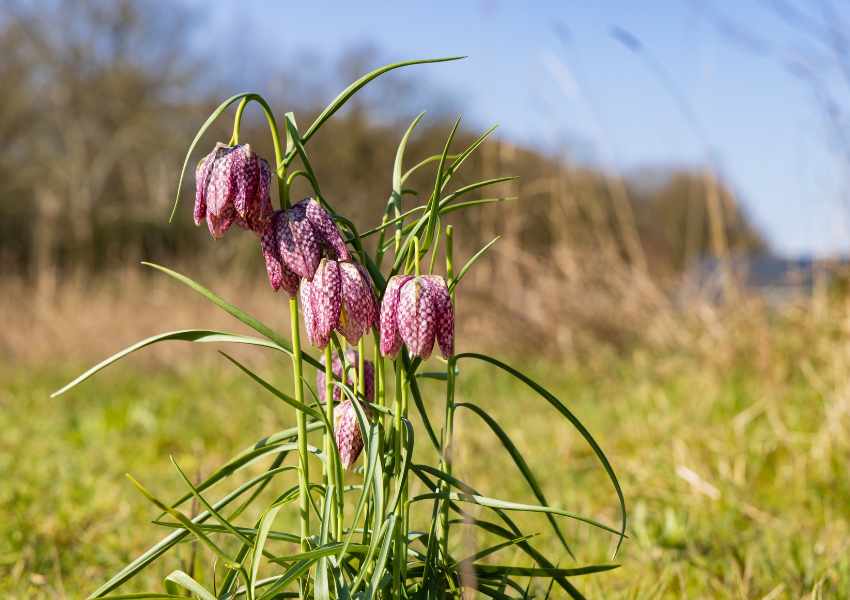 With its unique array of plants and serene atmosphere, Hortus Botanicus provides a fantastic backdrop for any type of social media content.
You can start your Hortus Botanicus journey at the stunning palm greenhouse, where tall, exotic plants and winding pathways create an otherworldly atmosphere.
Some other picturesque spots at Hortus Botanicus include:
The picturesque pond surrounded by diverse plant species
The sculpture garden boasting intriguing pieces of art
The medicinal garden, which showcases historically significant plants
If you visit during the warmer months, you'll be treated to a kaleidoscope of color from the various flowers in bloom.
8. De Beurspassage
De Beurspassage is a bit of a hidden gem when it comes to Amsterdam Instagram posts!
This passage connects the Damrak and Nieuwendijk areas, and it's home to some fantastic food and shopping spots.
While you're there, don't forget to look up and admire the intricately detailed ceiling, known as the Amsterdam Oersoep. It's a perfect spot for capturing that magical city atmosphere in your shots.
Experiment with different angles and perspectives to showcase the passage's unique blend of old and new architecture.
As you walk through De Beurs Passage, the lighting changes from natural light during the day to a lovely golden glow in the evening, so take advantage of these changing conditions for even more captivating images.
9. A'Dam Lookout Tower
This modern tower offers an incredible 360-degree view of the city from its observation deck, making it one of the best Amsterdam Instagram spots if you want to capture the city from up above.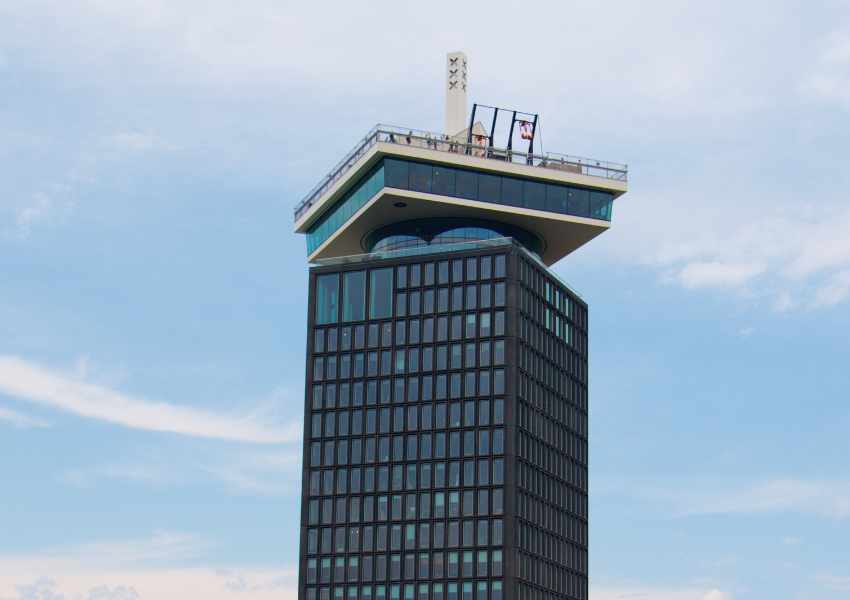 You'll get some fantastic shots of Amsterdam's skyline, the IJ river, and the bustling city below.
But that's not all – the A'Dam tower also features Europe's highest swing, Over the Edge!
If you're feeling adventurous, hop on and swing out over the edge of the tower at a thrilling 100 meters above the ground.
To get to the A'Dam Lookout Tower, you'll need to catch a short ferry ride from Central Station to the Amsterdam Noord district. T
he tower itself is easy to spot, just look for the 20-story high building. Once you arrive, you can access the observation deck and swing for an admission fee.
When you're done snapping photos, don't forget to explore the rest of the A'Dam tower.
It houses a rooftop bar where you can grab a drink and a bite while taking in the stunning view.
10. Museumplein Entry Tunnel Arch
This iconic spot has quickly become a must-visit destination for anyone looking to capture the perfect Instagram shot.
Walking towards Museumplein, you'll notice the entry tunnel arch leading you towards the square.
The tunnel, adorned with beautiful street art, serves as a great backdrop for your photos.
The mix of modern art and historical architecture creates a unique atmosphere that's sure to catch your followers' attention.
Inside the tunnel, you'll find a variety of colorful and striking murals created by talented local artists.
As you snap away at these vibrant pieces, don't forget to look for the perfect angle with the space's intriguing geometry.
But the fun doesn't stop there. As you emerge from the tunnel, the majestic Rijksmuseum building comes into view, towering over the square.
This iconic 19th-century building provides an amazing contrast against the eclectic street art found in the tunnel.
11. Damrak
Damrak is one of the most popular Amsterdam Instagram spots, and even though it's become a bit of a cliché, it's definitely worth visiting!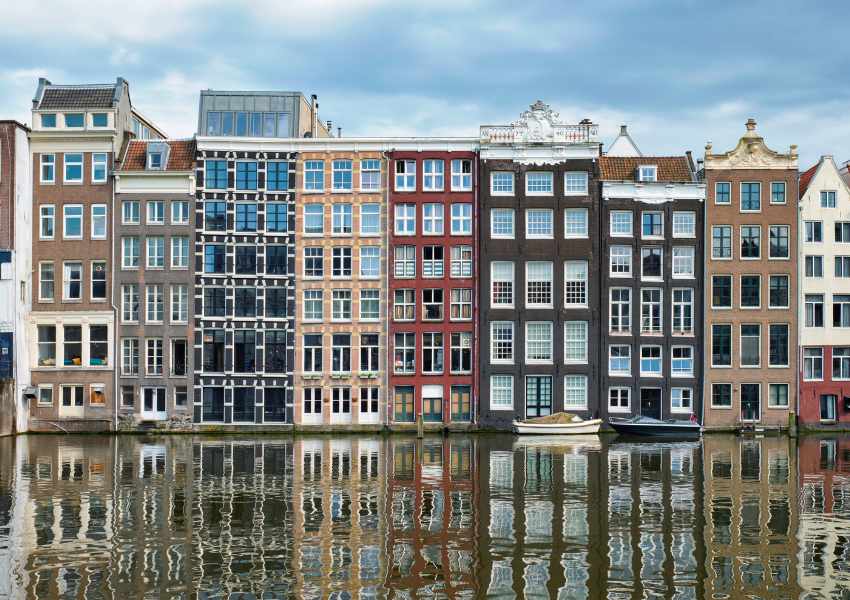 The beautiful gingerbread-like houses, reflecting on the still water of the canal, create an incredible backdrop. They have become synonymous with Amsterdam and represent the city's rich history.
Don't forget to snap a picture of the famous "Dancing Houses" – the row of slightly tilting buildings, which seems to defy gravity.
The wonky appearance of these buildings adds a fun and quirky element to your Amsterdam Instagram feed.
12. The Rijksmuseum Library
This magnificent library is not only the largest art history research library in the Netherlands, but also boasts jaw-dropping architecture and interior design that make for some seriously cool Amsterdam Instaram spots.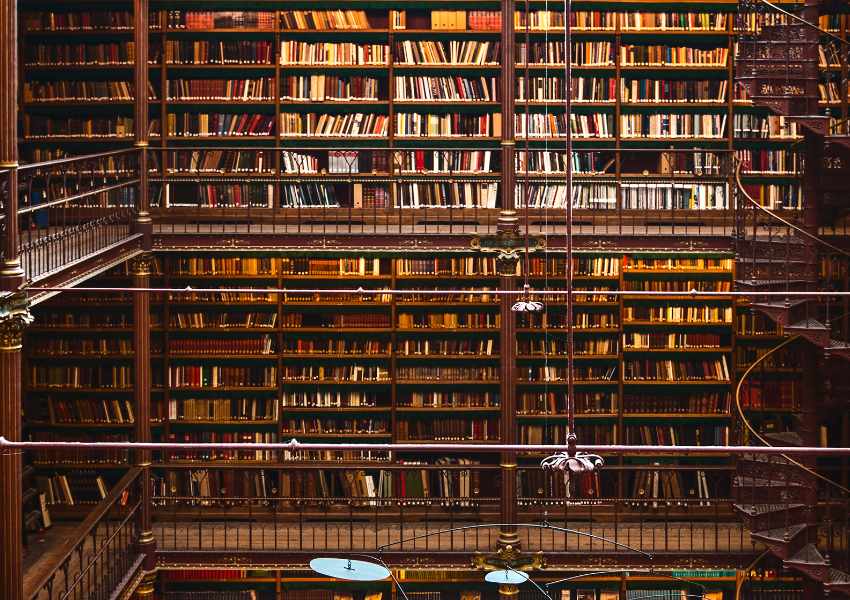 You'll find yourself captured by the soaring walls lined with books, the beautiful spiral staircase, and intricate detailing. It's a must-visit spot for anyone seeking an Instagram-worthy location in Amsterdam.
The magnificent stained glass windows are nothing short of breathtaking. Natural light streaming through these windows adds a magical touch to your photos. You'd also want to capture the exquisite reading table and antique globes placed gracefully around the room.
The Rijksmuseum Library is a treasure trove for art and history enthusiasts, and the perfect place to hang out if you like the cozy atmosphere of books.
With over one million titles in the collection, there's bound to be something that catches your interest.
Plus, you don't have to be an art historian to enjoy this marvelous space. Just bring your camera and let your photo creativity run wild!
To get the most out of your visit, try coming early in the day when it's less crowded.
This way, you'll have more freedom to set up your shots and explore various angles. Just make sure to treat the space with respect and not disturb other visitors who are there for research or reading.
13. Moco Museum
If you want your photos to look a bit more modern, the Moco Museum is modern and contemporary art museum is housed in a beautiful 20th-century villa, making it a pretty unique Amsterdam Instagram spot.
Here, you'll find incredible artwork from street artists like Banksy and Andy Warhol.
Snap a photo in front of the famous "Balloon Girl" piece or strike a pose with Warhol's classic "Marilyn Monroe" portrait.
The Villa Alsberg, where the museum is located, is surrounded by stunning gardens and manicured lawns.
Whether you're capturing the vibrant flora or the scenic view of the Rijksmuseum next door, you're bound to impress your followers with your Dutch adventures.
14. Vondelkerk
Vondelkerk is a gorgeous church and one of our favorite Amsterdam instagram spots, especially if a unique shot is what you're after.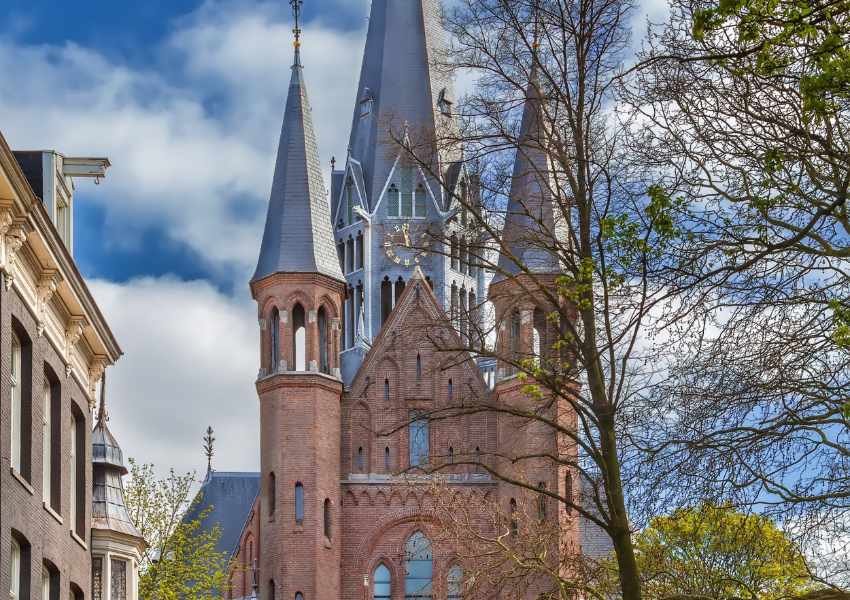 As you enter the church, you'll be mesmerized by its neo-Gothic architecture and stunning stained-glass windows that make for a moody, artistic shot.
15. I Amsterdam Sign
The I Amsterdam sign is one of the most popular Amsterdam Instagram spots.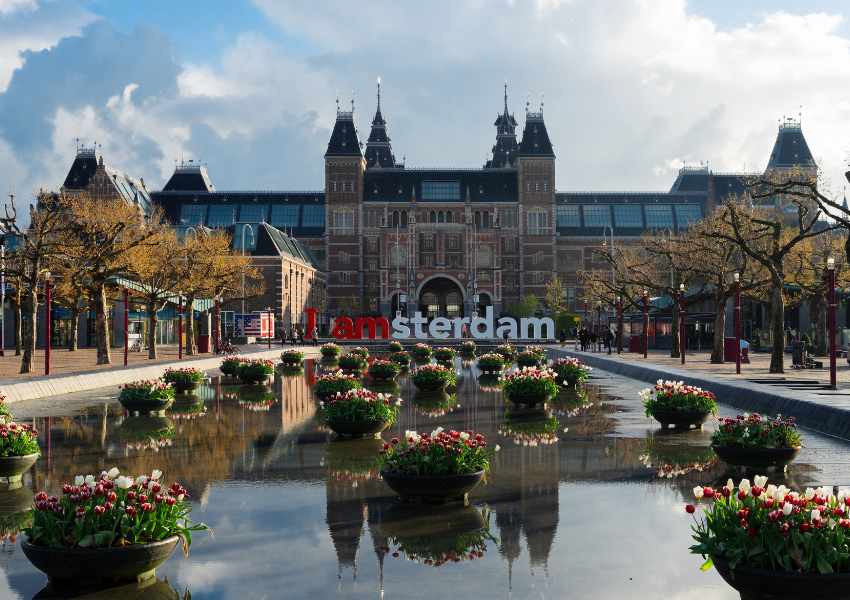 It's located in front of the Rijksmuseum and is a great place to take a slightly cliché but equally stunning photos.
The sign is free to visit and is open 24 hours a day.
16. Spui
In Amsterdam, you will find plenty of Instagram-worthy street art. One of the most popular locations is Spui.
Located in the city center, Spui is home to beautiful murals that are constantly changing.
Grab your camera and stroll around the area, capturing the unique and creative works by local and international artists.
17. NDSM Wharf
Another must-visit spot for street art aficionados is the NDSM Wharf. This former shipyard has been transformed into a thriving arts and culture hub.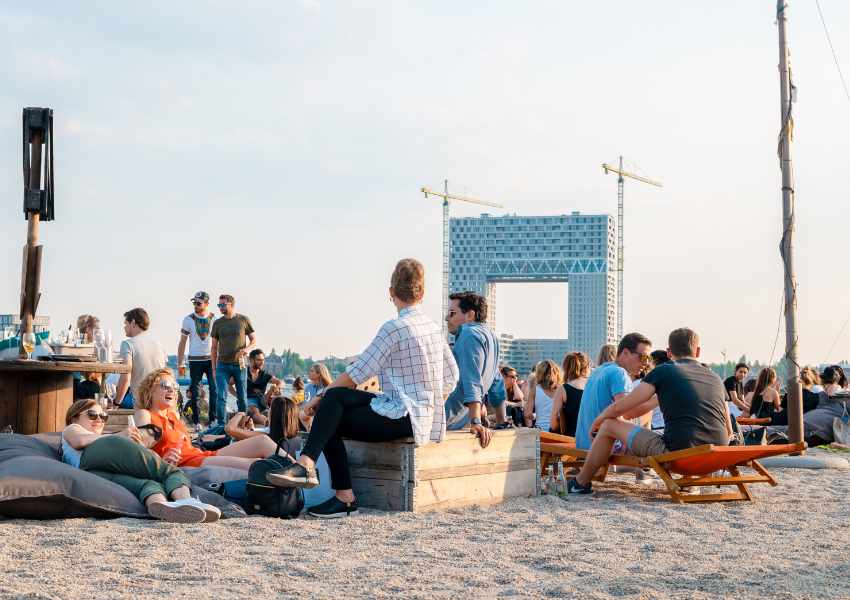 With its gritty industrial vibe, NDSM Wharf serves as a canvas for an impressive collection of large-scale murals and installations.
Artists like Shepard Fairey and Eduardo Kobra have left their mark here. Make sure to explore the entire area on foot and capture the variety of graffiti styles and techniques.
As a bonus, you might also stumble upon art events or workshops happening at this dynamic hotspot!
Amsterdam Instagram Spots: Cafes and Restaurants Edition
If you're looking for the best cafes and restaurants in Amsterdam to take Instagram-worthy photos, you're in luck.
The city is home to a variety of stylish and trendy spots that are sure to impress your followers.
Here are three of the best cafes and restaurants in Amsterdam that are perfect for Instagram.
18. Pluk Amsterdam
Pluk Amsterdam is a cozy cafe that's known for its delicious breakfast and brunch options.
The cafe is located in the heart of the trendy 9 Streets neighborhood and features a bright and airy interior with plenty of natural light.
The menu at Pluk Amsterdam features a variety of healthy and tasty dishes, including avocado toast, smoothie bowls, and fresh juices.
Be sure to snap a photo of your meal before you dig in, as the presentation is always on point.
19. The Avocado Show
As the name suggests, The Avocado Show is a restaurant that's all about avocados.
Located in the De Pijp neighborhood, this trendy spot serves up a variety of avocado-based dishes, including avocado burgers, avocado fries, and avocado smoothies.
The interior of the restaurant is bright and colorful, with plenty of greenery and playful decor.
Be sure to order one of their signature dishes and snap a photo for Instagram.
20. Cafe de Jaren
Cafe de Jaren is a classic Amsterdam cafe that's been around since 1990.
Located on the banks of the Amstel River, this spacious cafe features a beautiful terrace with stunning views of the water.
The interior of the cafe is cozy and inviting, with plenty of comfortable seating and natural light.
The menu at Cafe de Jaren features a variety of classic Dutch dishes, as well as international options.
Be sure to grab a seat on the terrace and snap a photo of the view while you enjoy your meal.
Amsterdam Instagram Spots: Nightlife
If you're looking for a night out in Amsterdam that's also super photogenic, you won't be disappointed.
The city is known for its vibrant nightlife scene, with a wide range of bars, clubs, and music venues to choose from.
Here are two of the best nightlife hotspots to check out:
21. Leidseplein
Leidseplein is one of the most popular nightlife areas in Amsterdam.
It's located in the heart of the city and is home to a variety of bars, clubs, and restaurants.
Whether you're in the mood for a casual drink or a night of dancing, you'll find something to suit your taste here.
Some of the top spots to check out on Leidseplein include:
Paradiso: This legendary music venue has hosted some of the biggest names in music over the years, including Prince, David Bowie, and The Rolling Stones.
Jimmy Woo: This stylish club is known for its VIP area and attracts a trendy crowd.
Melkweg: This multi-purpose venue hosts concerts, club nights, and other events throughout the year.
22. Rembrandtplein
Rembrandtplein is another popular nightlife area in Amsterdam.
It's located in the city center and has a lively atmosphere, with plenty of bars and clubs to choose from.
Whether you're looking for a relaxed drink or a night of partying, you'll find it here.
Some of the top spots to check out on Rembrandtplein include:
Escape: This large club has multiple dance floors and attracts a diverse crowd.
Club AIR: This modern club is known for its impressive sound system and hosts some of the biggest DJs in the world.
Bar 538: This popular bar is a great place to grab a drink and listen to music with friends.
Instagrammable Hotels in Amsterdam
Still not sure where to stay in the city? Some of the best Amsterdam Instagram spots are found inside hotels, so it may be a good idea to book your stay with that in mind!
Here are three hotels that make for incredibly Instagrammable spots in Amsterda:
The Hoxton Amsterdam
This trendy hotel is located in a historic canal house and boasts stylish rooms with unique decor, including vintage furniture and artwork.
The hotel also features a chic restaurant and bar, as well as a cozy lobby area that's perfect for snapping photos.
Pulitzer Amsterdam
This luxurious hotel is made up of 25 restored 17th and 18th-century canal houses, offering guests a unique and Instagram-worthy experience.
The rooms are elegantly decorated with a mix of modern and classic styles, and the hotel features a beautiful courtyard garden and an impressive art collection.
Sir Albert Hotel
This boutique hotel is housed in a former diamond factory and features sleek, modern rooms with industrial chic decor.
The hotel also boasts a stylish bar and lounge area, as well as a beautiful courtyard garden that's perfect for Instagram photos.
Amsterdam Instagram Spots: Conclusion
Amsterdam is a city with lots of incredible locations to help you get creative.
Whether you're looking for picturesque canals, vibrant street art, or stunning architecture, these incredible Amsterdam Instagram spots will definitely make your feed stand out!
From the iconic Rijksmuseum to the charming Jordaan neighborhood, Amsterdam is a city that is guaranteed to inspire your creativity and leave you with a collection of stunning photos.