Awesome Things To Do in Ella, Sri Lanka
Ella is a laid-back town in Sri Lanka where the jungle meets the mountains. Although small, this quaint hill town is a vibrant spot with so many things to do for nature and culture lovers alike.
My three-day stop in Ella was a highlight during my 2 week Sri Lanka itinerary, so it only made sense for me to write a post on my favorite things to do in Ella!
Here are my favorite things To Do in Ella, Sri Lanka:
Watch The Train Go By At Nine Arch Bridge
Set a thirty-minute walk through the jungle away from Ella, Nine Arch Bridge is a masterpiece of Colonial architecture hidden amidst the iconic green tea fields that make Ella so pretty.
Make sure you go early in the morning to avoid the crowds and ask your guesthouse or hotel when the train is coming so you can catch a glimpse of the world-famous train passing by!
Swim At Ravana Falls
One of the top things to do in Ella is swimming in rock pools at this 3-tier waterfall tucked away amid lush vegetation where macaques love to hang out in.
Getting to Ravana Falls: It's so easy to get to Ravana Falls. Head over to the Ella bus stop and catch any bus headed to Wellawaya for 28 Rupees (that's 16 cents!). The ten-minute drive will take you through some stunning views, but if you're afraid of heights, don't look down! Another option is to take a tuk-tuk from town, which should only set you back 300-400 Rupees.
Hike Up Little Adam's Peak
Summiting the original Adam's Peak is a must on any Sri Lanka itinerary, but if you aren't up for climbing 5,500 steps, a great alternative is braving its little brother: Little Adam's Peak in Ella!
The hike up is pretty easy and it takes you through some stunning tea plantations that you'll love! I recommend doing this activity right before the night falls – I got the place all to myself and the views were breath-taking.
Swim At The Top of Sri Lanka's Second Highest Waterfall (My Personal Favorite Thing to do in Ella)
Hiking up to the top of Diyaluma Falls is easily one of the best things to do in Ella, if not Sri Lanka! Climbing to the top of Sri Lanka's second highest waterfalls was a highlight of my time in the country, and while they're set an hour drive away from Ella itself, it's totally worth the day trip, so make sure you don't miss out!
Don't forget to get travel insurance for your trip! As always, I recommend Safety Wing for great prices and coverage abroad. It starts at only $45 USD per month and will have you covered with everything you may need during your trip! Check them out here.
Seeing this stunning waterfall cascading down is striking enough, but the real treat sits atop. A hike will get you to the top of Diyaluma Falls, where you'll find sets of natural pools that you can swim in! The hike is no walk in the park, but once you get there, it's worth every drop of sweat!
Visit Tea Plantations
Ella is renowned for being a tea mecca, and a visit is not really complete without checking out a tea factory or two. Halpewatte Tea Factory is one of the most famous plantations to visit in Ella, and you likely won't leave empty-handed (even if you aren't a tea person like me!)
Bonus: Listen to Live Music at 360 Ella Bar
A great way to end a perfect Ella itinerary is to head over for drinks and dinner to 360 Ella, a lively bar and restaurant where a music duo plays every night. The show was simply amazing – I visited every evening during my time in Ella and I couldn't get enough!
Where To Stay in Ella
Finding accommodation in Ella is incredibly easy regardless of your budget. Here are a few of my recommendations:
Hostels/budget: If you're backpacking, hostels in Ella abound. I stayed at Happy Laugh Hostel, which sits a bit out of town but is super close to most of Ella's major attractions. The hostel was pretty average, but super cheap and included a delicious breakfast.
Mid-range: For those on a mid-range budget, The View Ella is a great option!
Luxury: If you're in the mood for something more luxurious (and stunning views of the tea plantations), then stay at 98 Acres Resort & Spa. I didn't stay here, but I spotted their cottages from Little Adam's Peak and oh gosh, their private infinity pools looked heavenly! My friend and I decided to splurge for a day and stay at this hotel on our last night in Ella, but unfortunately, it was all booked out. Still, it looked incredible!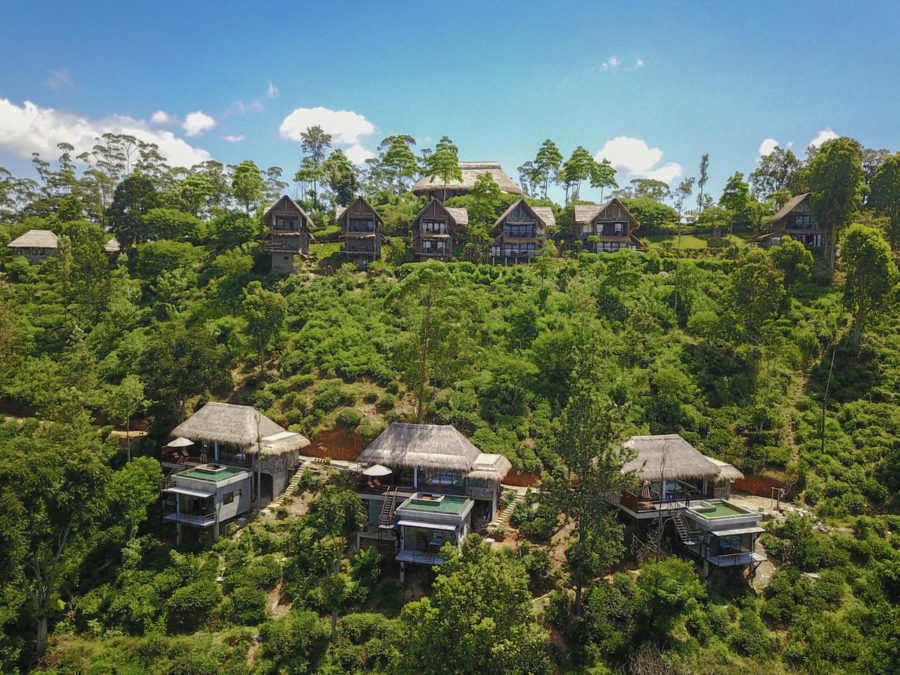 Things To Know About Travel in Ella
→ Ella is really tiny and both of its streets (yes, it's made up of just two streets!) boast cozy small town vibes. Still, though, don't let its small size put you off from visiting – there is so much to see!
→ Pack a hoodie! Ella can get pretty chilly in the evenings.
→ If you're still on the lookout for travel insurance for your trip to Tanzania, I highly recommend Safety Wing.
→ Tap water in Sri Lanka isn't safe to drink, so always make sure you buy bottled water in Ella! Another great alternative (and more eco-friendly one) is to bring a GRAYL water bottle with you. This water bottle purifies tap water by eliminating bacteria, viruses, and chemicals in just a few seconds.
→ Cover up when visiting temples and religious places. Guys, this goes for you too! Make sure to wear pants instead of shorts when visiting holy sites in Sri Lanka.
Where to next?
Depending on what route you're doing, you can continue your Sri Lanka itinerary by venturing deeper into the hill country area and visiting Nuwara Eliya and Horton's Plains. If you're headed south, your next steps should take you to a safari at either Yala National Park or Udawalawa! Check out this post for inspiration for your trip to Sri Lanka.
Have you ever visited Ella? What did you think of it?
Pin it for later?
Disclaimer: This post contains affiliate links. If you make a purchase through my links, I might earn a commission at no extra cost to you.