8 Reasons You'll Fall In Love With Sri Lanka
Brimming with rolling tea plantations, unbeatable wildlife sightings, and paradisiacal beaches, it's no wonder that I fell head-over-heels in love with Sri Lanka.
I think what I loved about Sri Lanka is how diverse it is despite its relatively small size and how it acts as a fantastic introduction to the best South Asia has to offer. From its diverse cuisine, its lush rainforests, and tropical beaches, there's something for every type of traveler here! More than that, I loved how simple it is to get around and how safe I felt there.
Whether you're thinking of visiting Sri Lanka as a family destination (yes, it's also very kid-friendly! I was surprised at how many families were traveling there with babies as young as a few months!) or planning a solo backpacking stint, here are all the ways Sri Lanka will steal your heart forever (just as it did mine!).
The food
Two weeks in Sri Lanka were enough for me to wonder why the hell there aren't more Sri Lankan-inspired restaurants all over the world.
From deviled potatoes to delicious vegetable kotthu and everything in-between, my tastebuds couldn't get enough of all the delicious dishes I stumbled across while traveling the country. If you're a vegetarian, you'll find yourself in paradise!

The beaches
Sri Lanka's beaches are where tropical vibes and South Asian culture meet.
With such an extensive coastline and countless beach towns to choose from, there's something for every type of traveler here! Head to Hiriketiya or Hikkaduwa for hidden beaches that are perfect to learn to surf in, to Mirissa if you love partying all night long, or Tangalle if you're traveling with kids!

The wildlife
Sri Lanka is a paradise for wildlife enthusiasts and I was thrilled at the number of animals I got to see during my time here! Head to Yala for the chance to see leopards, Udawalawe for herds of elephants, or the south coast to spot blue whales.
Aside from that, you can also head underwater for some more wildlife sights. Scuba diving in Sri Lanka is a dream – there are so many incredible sites for it and it's also one of the best places around to get your PADI certificate if you haven't already!
[easy-image-collage id=7777]
The people
Sri Lankans are some of the kindest people I ever met. From the lovely family who let me sit at their shop while I waited for the bus, to the girl sitting next to me at the bus to Matara who shared her candy with me and the endless greetings from children and adults alike.
[easy-image-collage id=7775]
The colors
My first impression of Sri Lanka was how colorful everything is. Even grimmer cities like Colombo boast some seriously flashy temples!
[easy-image-collage id=7760]
Don't forget to get travel insurance for your trip! As always, I recommend Safety Wing for great prices and coverage abroad. It starts at only $45 USD per month and will have you covered with everything you may need during your trip! Check them out here.
The incredibly varied landscapes
For being a somewhat small island nation, Sri Lanka boasts incredibly varied landscapes. If you're into beaches, travel the south coast slowly for all the tropical goodness, if you love culture and history, hit Kandy up, and if hiking mountains and chasing waterfalls is your jam, either Ella or Nuwara Eliya will do the trick!
[easy-image-collage id=7787]
It's easy on the wallet
Traveling Sri Lanka on a backpackers budget is ridiculously easy. A meal at a local restaurant usually costs around $1, long-distance buses never cost more than a few cents, and accommodation options start as low as $2!
Whenever I felt like treating myself at higher-end restaurants, I never paid more than $7 for a meal!
[easy-image-collage id=7793]
Nine Arch Bridge in Ella. Check out my guide to the best things to do in Ella!
And so simple to get around!
I love getting around countries using public transportation, and Sri Lanka is probably one of the easiest places to travel in. A pretty extensive railway covers a huge portion of the island and buses are an incredibly flexible and cheap option to get you to the next stop in your Sri Lanka itinerary.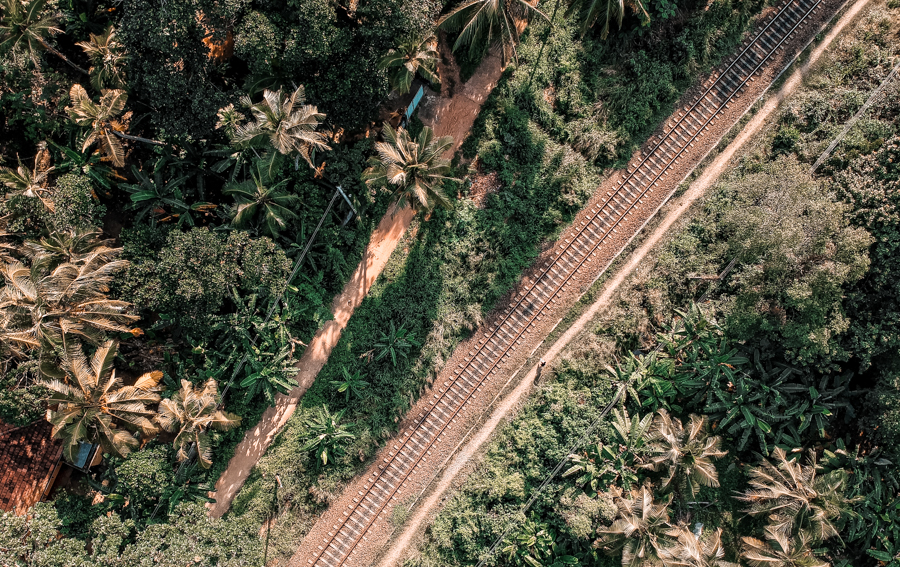 Have you been to Sri Lanka before? Did you love it as much as I did?
PIN IT FOR LATER?
[easy-image-collage id=7801]