Kandy was my first destination in Sri Lanka.
While I was a bit disappointed at its bustling scene (I was under the impression that Kandy was a quiet town tucked away in the jungle), its cultural significance and incredible sights kept me busy every day I spent here. Kandy was once the capital of the ancient kings, and today, this town set right in the heart of Sri Lanka remains a cultural paradise with plenty of things to do.
Here are the best things to do in Kandy:
Get The Best Views of Kandy From Its Iconic Temple
Perched up on a hill, this iconic Buddha statue seated in a Nirvana pose can be seen from almost anywhere in the city, but there's nothing like climbing up to get the best views of Kandy. On a clear day, you can even get glimpses of the endless rolling hills that surround Kandy from here.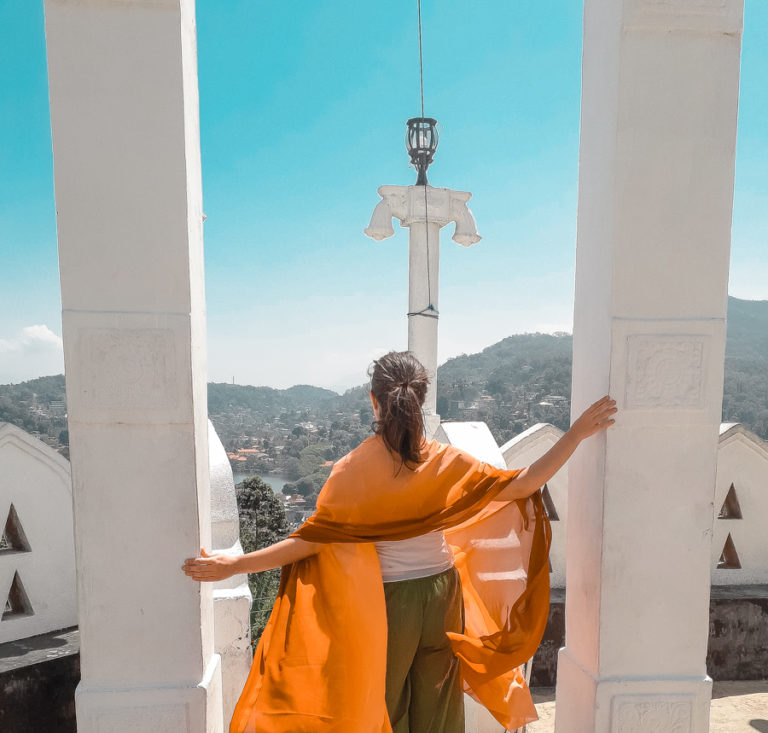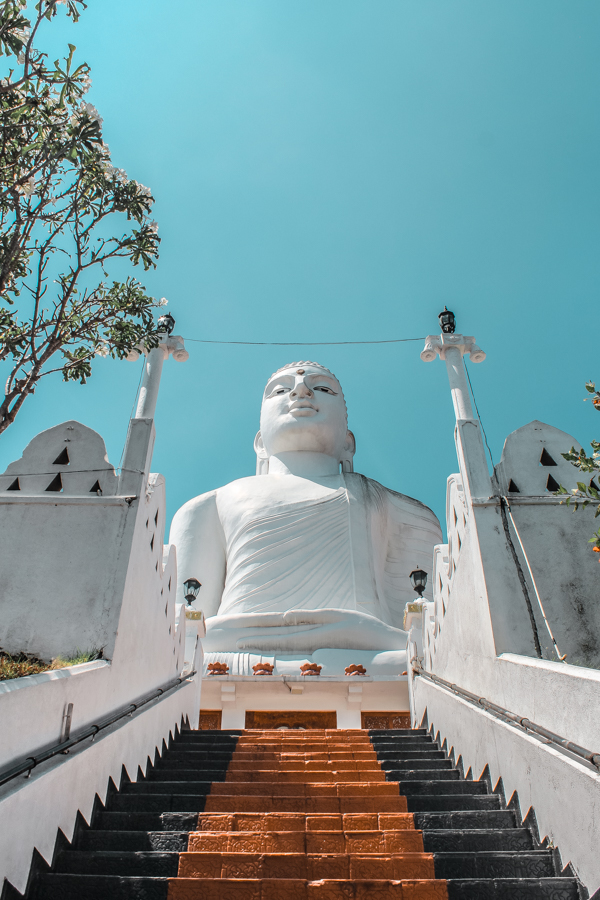 Pro tip: Visit this site twice, once during the day and once at night when it lights up!
The climb to reach the top of the hill isn't very steep, so don't be afraid to get there on foot, although hailing a tuk-tuk to drive you there is also possible.
Visit the Temple of the Tooth
The Temple of the Sacred Tooth is Kandy's main attraction, so a visit to this holy site is a must! The main temple sits inside the royal palace complex, and you can easily spend a few hours exploring this place!
Along with Adam's Peak, this temple is considered the holiest site in Sri Lanka and one of the most important places of the Buddhist world. The reason? It contains the tooth of the Buddha.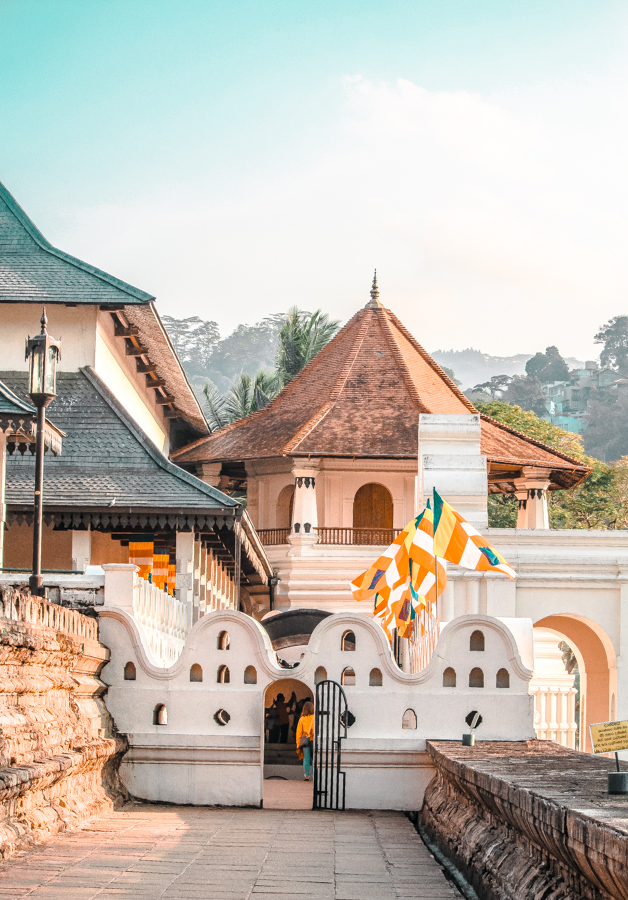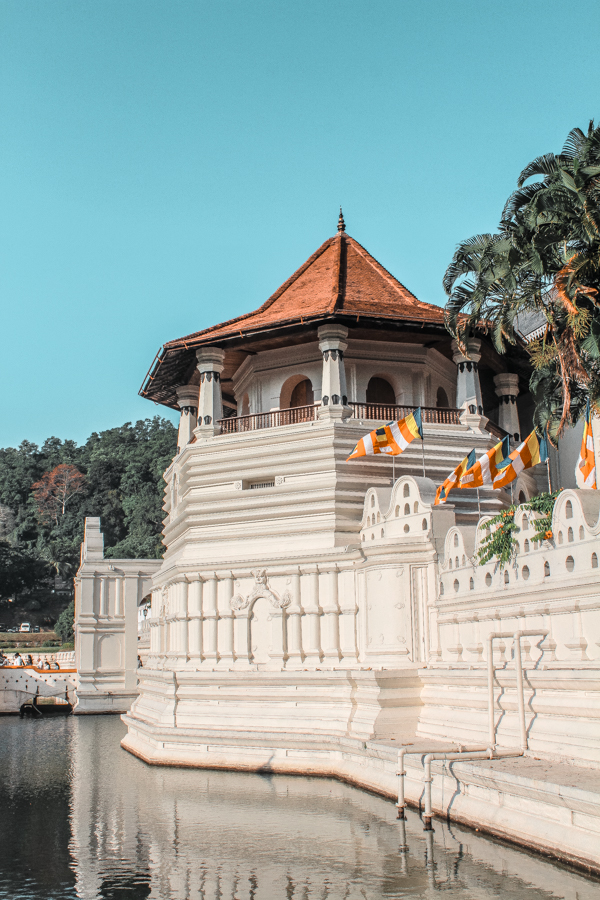 Pro tip: You'll need to cover your legs and shoulders in order to be allowed into the complex. Guys, this goes for you too! Wear long pants or bring a sarong.
Learn All Things Spices at Spice Garden
For thousands of years now, Sri Lanka has been a hub for spice trading, so getting an insight into this important aspect of Sri Lankan culture and history is one of the most fascinating things to do in Kandy.
Spice tours abound in and around town, but the most popular one to check out is Spice Garden.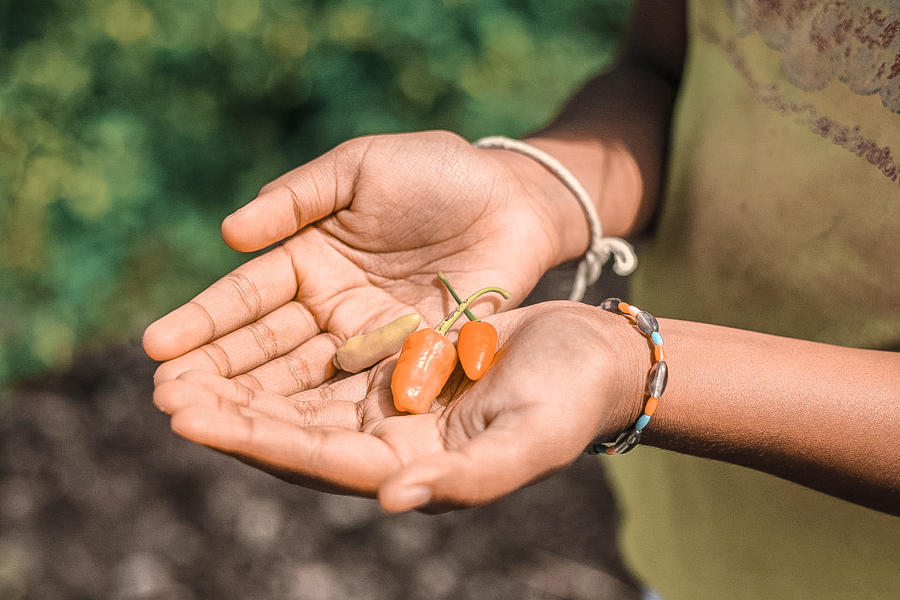 See a Traditional Kandyan Dance
Watching a traditional Kandyan dance is a great way to get immersed in one of the aspects that make Kandy the cultural mecca that it is. Shows involve a whole lot of drums, colorful costumes, and fire.
Daily performances are held every evening at Kandyan Art Association & Cultural Centre, Kandy Lake Club, and Mahanuwara YMBA. Shows usually start at 5 pm, but try to get there early to make sure you can get a ticket.

Take a Day Trip to Sigiriya
No trip to Kandy is complete without taking a little side trip to Sigiriya, an ancient palace and fortress that contains the ruins of an ancient civilization.
Sigiriya is possibly one of Sri Lanka's most famous attractions – and for a good reason!

Stroll Through Udawattakele Forest Reserve
One of my favorite things to do in Kandy was escaping the bustle and hustle of what feels like a concrete jungle to dive deep into an actual jungle.
Udawattakele forest (good luck pronouncing that!) is an oasis of nature in the middle of an otherwise busy town. Spending a few hours strolling through it is a real treat!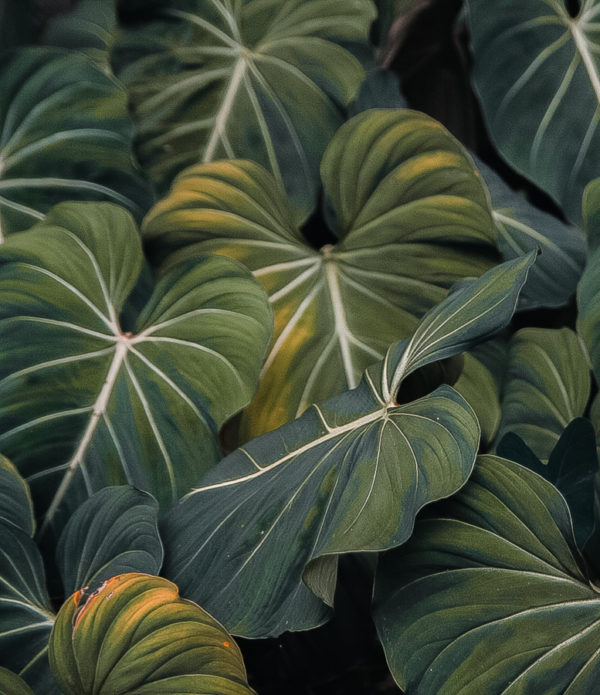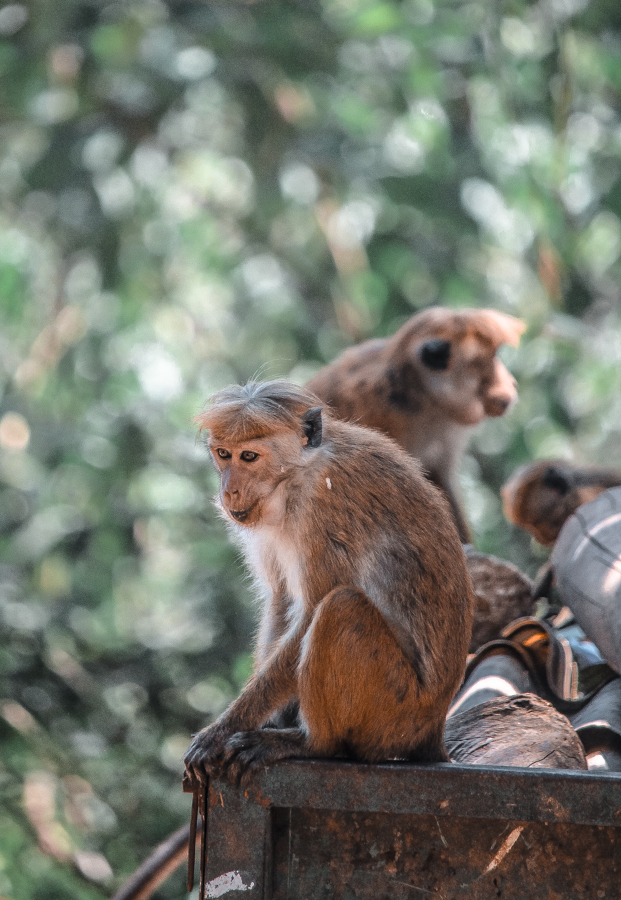 This reserve is a paradise for bird-watchers, but you'll also stumble across gigantic lianas, macaques, reptiles, and a whole lot of plant species.
Udawattakele also holds religious importance as it contains rock dwellings for Buddhist monks.
Visit the Botanical Gardens
No visit to Kandy is complete without checking out the Royal Botanical Gardens. Set a few kilometers outside of town, this humongous place boasts an incredible variety of plants, bamboo forests, spices, and yep – monkeys!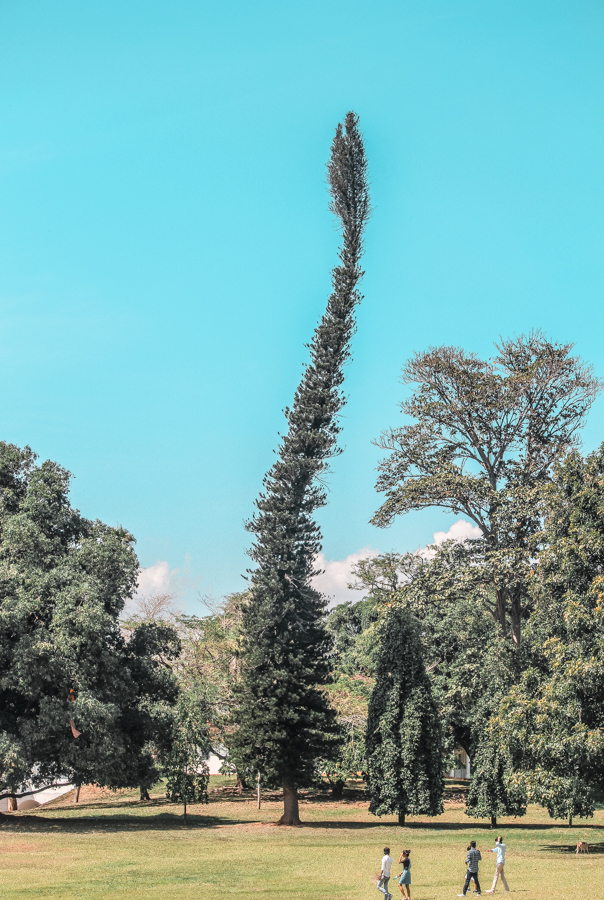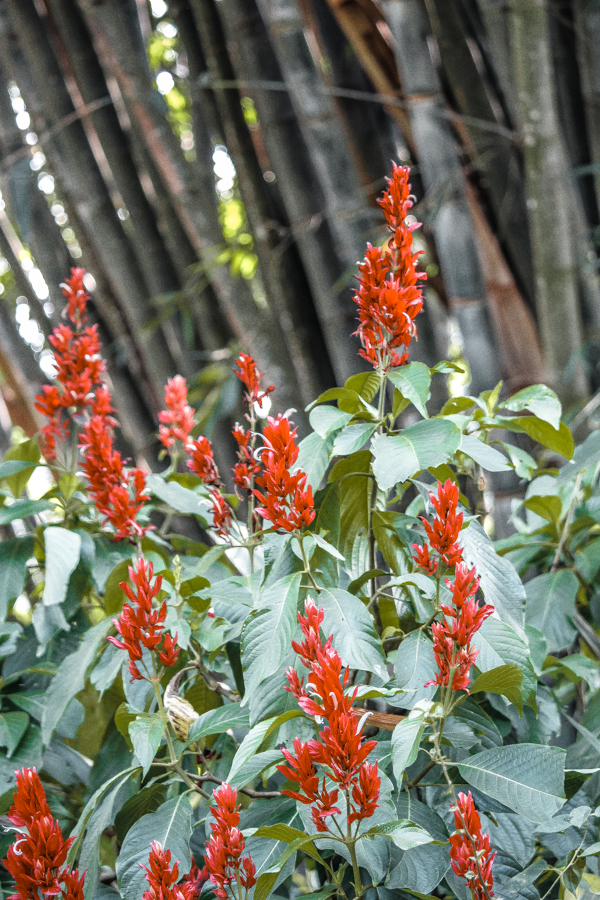 And while the plants were lovely and all, the reason I loved Kandy's botanical gardens was that it's the perfect place to get recharged.
If you ever travel with me, you'll quickly realize that I need my naps to get through a day of full-on sightseeing. I laid down on the grass under the shade of a tree and I was GONE for an hour after having lunch at the on-site restaurant. It was easily on one of the best naps of my life.
But seriously, visit this place and spend at least an hour walking through some of its sections. It's so huge that there's even a shuttle bus that takes you from place to place or you can rent a golf cart to get around independently.
Tips for your trip to Kandy:
→ Tap water in Sri Lanka isn't safe to drink. I highly recommend getting yourself a GRAYL water bottle with you. It purifies tap water by eliminating bacteria, viruses, and chemicals in just a few seconds. This is a great alternative to buying and disposing of water bottles during your time in Sri Lanka.
→ Cover your arms and shoulders when you visit holy places in Sri Lanka. This goes for men, too. I saw many guys being turned away from entering the Temple of the Sacred Tooth because they were wearing shorts.
→ Don't forget to get travel insurance for your trip to Sri Lanka. As usual, I highly recommend checking out World Nomads, especially when you consider you're visiting a country with so many activities in nature. World Nomads covers travelers on over 150 adventure activities and you can easily book, make claims, and adjust your insurance online.
Have you ever been to Kandy? What were your favorite things to see in town?
Pin my Kandy guide for later?
Disclaimer: This post contains affiliate links. If you make a purchase through my links, I might earn a commission at no extra cost to you.