How Much Does it Cost to Travel in Sri Lanka on a Budget?
I was surprised at how easy it is to travel Sri Lanka on a budget and how little I managed to spend backpacking the country.
When you consider all the activities I managed to cram into just under three weeks, spending less than $600 on the entire trip was incredible, especially when you take into account that I visited Sri Lanka in high season.
My 2 week Sri Lanka itinerary involved the well-trodden south, starting in Kandy and looping my way back to Colombo. During my time in Sri Lanka, I got to spot blue whales in Mirissa, saw wild elephants on safari, discovered the cultural richness of Kandy, enjoyed the natural eye candy Ella has to offer, and so. much. more.
In this post, I share the total cost of backpacking Sri Lanka, including actual examples of my Sri Lanka budget to put things into perspective. While my trip was the backpacking type, this post will give all types of travelers a good idea of how much to budget for Sri Lanka.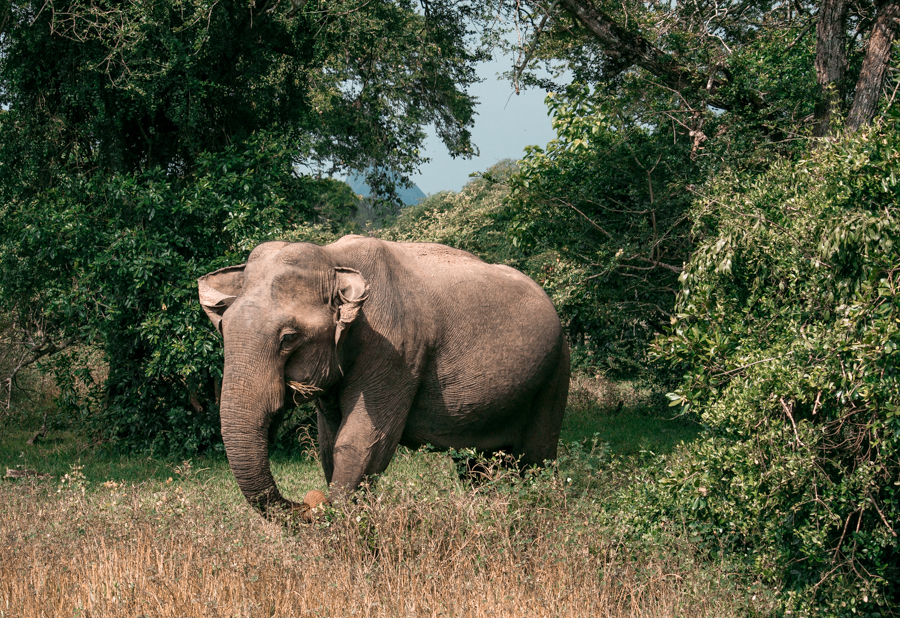 One of the highlights of backpacking Sri Lanka was getting to see elephants in the wild!
The Cost of Travel in Sri Lanka: A Budget Breakdown
Cost of Accommodation in Sri Lanka
Sri Lanka is a country where you can go extremely cheap when it comes to accommodation costs.
Hostels & basic guesthouses: Up in Kandy, I paid $2 to stay in a hostel. In Ella, I paid $4 with breakfast included. Down at the southern beaches, prices rise quite a bit, with hostels ranging from $6-$10 a night and private rooms in basic guesthouses usually starting at $9 throughout the coast.
Mid-range: If you are looking for something more mid-range, anything between $35 and $55 will get you a pretty comfy stay in a hotel at the beach. In the rest of Sri Lanka, anything starting at $17 will get you a pretty sweet deal.
Luxury: For those with higher budgets, $80 to $120 can buy you a really luxurious stay all over Sri Lanka.
My budget for accommodation in Sri Lanka came down to $102.
That's an average of $5.60 a day!
Keeping that in mind, I mostly stayed at hostels during my entire trip in Sri Lanka. Some weren't great, like that $2 hostel I stayed at in Kandy, but for that price, I can hardly complain (I honestly just booked there out of mere curiosity!). Down south at the beach in Tangalle, for example, I slept at one of the best hostels I've been to, which cost me $9 for the night – it was right at the beach. At Yala National Park, I paid $6 for a pretty cool hostel.
Cost of Activities in Sri Lanka
I found that doing most things in Sri Lanka is cheap as hell.
A lot of the best things to do in Sri Lanka have no entry fee at all, like hiking up to Diyaluma Falls near Ella or swimming at Ravana Waterfalls in Kandy.
But, there are a few experiences that you shouldn't miss out on that cost a bit more. My highest expense was whale-watching in Mirissa, which came down to $47. The second most expensive thing I did was a half-day safari in Yala National Park, which set me back $40 (including a car, driver, breakfast, and the entrance fee to the national park). My day trip to World's End at Horton's Plains cost me $37 in total.
Other than that, some attractions in Kandy had entrance fees, usually of around $8, which is not too shabby, either. The cost of entry to Sigiriya came down to $25 – this was the most expensive activity when it comes to value, but it's one of the main tourist attractions in Sri Lanka, so I didn't want to skip it.
My budget for activities in Sri Lanka came down to $180.
That's an average of $10 a day.

Cost of Food in Sri Lanka
When it came to food, I felt like I splurged.
In Kandy, I stuck to a strict few days of mostly eating at local restaurants, where you can easily get a meal for less than $2. In Nuwara Eliya, I spent a total of $10 in two days eating at small establishments and buying fruits at the market.
Once I got to Ella, I started getting a bit crazy with my food expenses. I spent $45 in three days because I mostly ate at touristy places and had a few cocktails here and there.
Down south, you can either spend as much or as little as you want on food. In Tangalle, I always ate at my hostel (because it honestly had great food and was, you know, right at the beach). Breakfast wasn't included, so that's something to consider. I spent $38 in total over three days.
Moving on to Hiriketiya, where I mostly ate at beach restaurants, I spent a total of $27 over two days. This didn't feel expensive considering I was dining right at the beach, but I did eat once at a family-owned restaurant where the bill came down to just $1.50.
In Mirissa, I spent $20 in total for food over two days.
Fruits and vegetables are extremely cheap in Sri Lanka. One kilogram of oranges costs around $2, a kilo of tomatoes usually goes for around 90 cents and so does a kilo of bananas.
An expensive to consider is good coffee. You can get Nescafé (powder coffee) at most establishments, but if you want something that is actually tasty, you're going to have to pay Western prices for it. Most places charged at least $3 for a cup.
Don't forget to get travel insurance for your trip! As always, I recommend Safety Wing for great prices and coverage abroad. It starts at only $45 USD per month and will have you covered with everything you may need during your trip! Check them out here.
My budget for food in Sri Lanka came down to $160.
That's $9 a day! This is considering I really wasn't being careful of how much I was spending on food. You can easily eat for way less in Sri Lanka if you stick to local restaurants.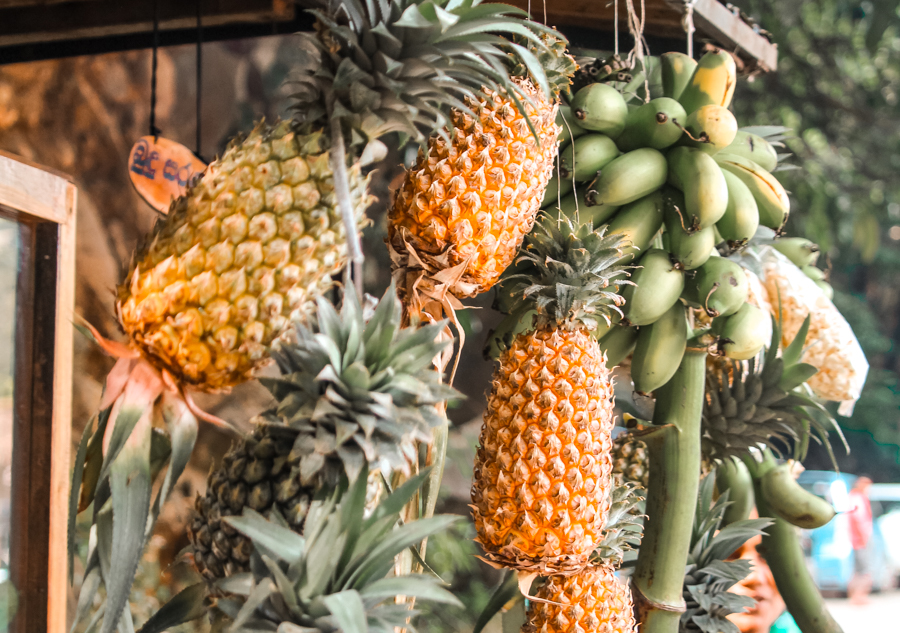 Cost of Transport in Sri Lanka
Here's one aspect of travel in Sri Lanka that will really rock your world.
If you stick to using trains and buses to get around, you'll rarely pay more than $1 to get from place to place. A train from Nuwara Eliya to Kandy in second class (that's a three-hour ride!) cost me 67 cents. From Ella to Wellawaya (one hour ride), I paid 40 cents for a bus. It's amazing how cheap public transport here is!
However, tuk-tuks can get expensive if you don't bargain. Officially, a tuk-tuk drive should cost 50 rupees/kilometer, but you'll rarely get down to that. I usually always paid at least 100 rupees more after bargaining, which isn't that bad, really. I mostly walked when in towns, but sometimes, when I was carrying my backpack, I did tuk-tuks.
I also opted to take a tuk-tuk from Tangalle to Hiriketiya, which cost me $6 for a half an hour, door-to-door drive. I could've taken a bus, but that would have involved a whole lot of walking under the scorching sun and $6 honestly wasn't that bad for the sake of comfort!
Another thing to consider when looking at my Sri Lanka budget is that I rarely took tuk-tuks between attractions. I either walked there if it was close enough or took a local bus – something that's incredibly easy and cheap to do! A good example of what I mean is: I took a bus to Ravana Falls in Ella, which cost me just 40 cents, whereas a tuk-tuk would have charged me at least $6 one way.
My budget for transport in Sri Lanka came down to $40.
That's $2 a day!
I'll be honest here and tell you guys that I didn't write down all my transportation costs in Sri Lanka, but putting together what I did note down and what I remember, I probably spent $40 in total over eighteen days. That is considering I walked a lot, took a bunch of buses, and did splurge on a few tuk-tuk drives here and there when out at night or when I was feeling too lazy to walk.
My biggest splurge on transport was that $6 tuk-tuk from town to town I mentioned previously, as well as a $5 dollar luxury bus from the coast to the airport (with air con and all!).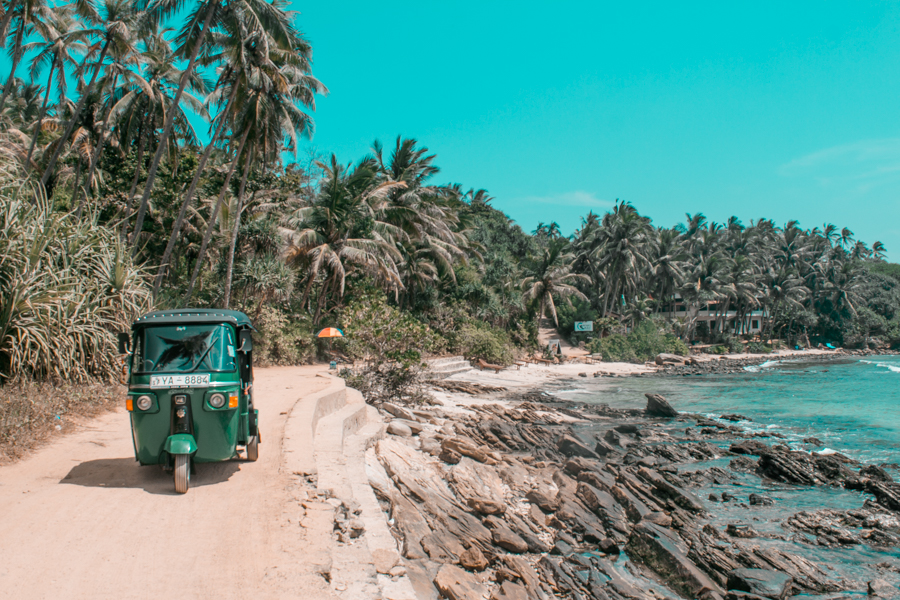 Cost of Travel Insurance For Sri Lanka
Considering you'll be involved in so many nature activities while in Sri Lanka, getting travel insurance is extremely important. You don't want to end up with a hospital bill in the thousands if anything were to happen, do you? Check your policy if you have insurance already, and make sure it will cover all the activities you plan on doing.
→ If you're still on the lookout for travel insurance for your trip, I highly recommend Safety Wing.
My budget for travel insurance for Sri Lanka came down to $82.
That's $4.55 a day! Totally worth the peace of mind!

Cost of Visas in Sri Lanka
Most nationalities can apply for an e-visa for Sri Lanka or get one on arrival at Colombo airport. The total cost for a single-entry visa is of $35 and it allows you to visit Sri Lanka for a total of 30 days (although you can extend it to up to two more months once you're in the country).
Getting the visa is a breeze. I highly recommend you get your visa online. This way, you don't have to queue up for hours when you arrive at the airport and you can head straight to the immigration counter and get stamped.

Views of my hike through Horton's Plains.
Miscellaneous Costs
There are other costs you'll want to consider when traveling or backpacking Sri Lanka. For instance, the cost of hygiene products, water, snacks, laundry, mosquito spray, a few trinkets to bring back home, etc. My total cost for extras came down to $40. This varies from person to person, so it's hard to give you an exact estimate of how much you'll spend on extras.
Tip: A great way to save money in the long-run is to skip buying bottled water at all and opt to get a GRAYL bottle instead. It's a water bottle that eliminates bacteria and viruses from tap water in just a few seconds. This is a great way to save money in Sri Lanka (and you can continue using it on other trips) and to reduce your plastic footprint on the island.
Smokers: Cigarettes in Sri Lanka are super expensive. Local cigarettes cost around $6 and imported brands can cost up to $9. Keep this in mind when planning your budget. I do realize this is a weird cost to include on this guide, but worth giving a heads up!
The total cost of travel in Sri Lanka: $585 (or $32.50 a day).
When I divide that up by eighteen (the number of days I spent backpacking Sri Lanka), that's $32.50 a day! Not too bad considering the number of things I did and the fact that I wasn't really that careful with my expenses on food. I definitely managed to keep my budget low in Sri Lanka without making a huge effort!
TL;DR:
Here's a breakdown of the average daily budget to backpack Sri Lanka:
Accommodation: $5.60 a day
Activities: $10 a day
Food: $9 a day
Transportation: $2 a day
Extras: $2.70 a day
Travel insurance: $4.55 a day
Visa: $35 (in total)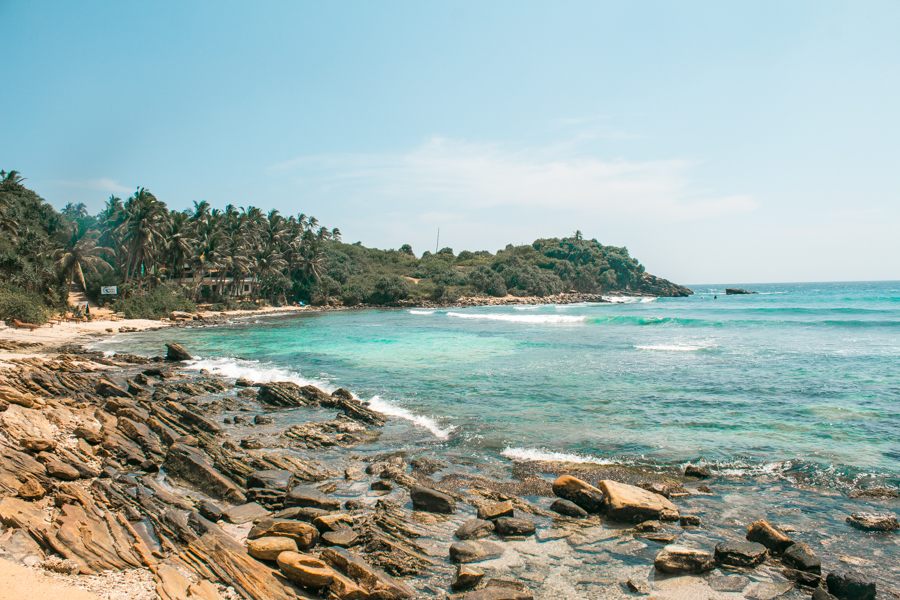 And that's the total cost of backpacking Sri Lanka on a budget! Was it what you were expecting? While there are certainly cheaper countries to travel around in, I felt Sri Lanka was an incredible value for money.
This amazing island crams a whole lot of things to do, but I felt two weeks was enough to see the highlights. When I visit again, I plan on checking out the less-traveled north and maybe revisiting a few favorites down south.
Want more Sri Lanka travel tips? Check out these posts:
Things to do in Ella, Sri Lanka
Things to do in Kandy, Sri Lanka
Pictures to inspire you to visit Sri Lanka
Disclaimer: This post contains affiliate links. If you make a purchase through my links, I might earn a commission at no extra cost to you.