15 Best Places to Visit in Vietnam in December
Looking for the best places to visit in Vietnam in December? Here's the ultimate list!
December is the perfect time to escape the cold and explore the wonders of Vietnam.
With an array of stunning landscapes, rich culture, and mouthwatering cuisine, you'll find it hard to resist the charm of this Southeast Asian gem.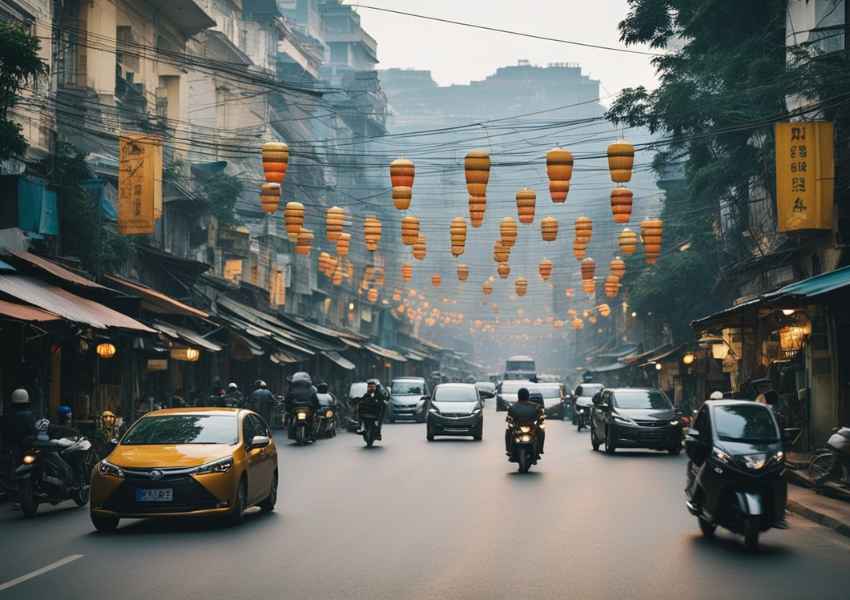 During this time, the country boasts an ideal mix of comfortable temperatures, sunny days, and minimal rainfall, making it a fantastic choice for your December getaway.
From the bustling streets of Hanoi to the serene beaches of Phu Quoc, Vietnam offers countless breathtaking spots just waiting to be discovered.
Ready to uncover the best places to visit in Vietnam in December? Let's dive into the must-see destinations that will make your trip a blast!
Why Vietnam is a Great Choice for December
Visiting Vietnam in December is a brilliant idea, and here's why.
First of all, the weather is perfect for travelers like you who are looking for a combination of cool and dry climates.
The north experiences cooler temperatures, usually around 10-15°C, while southern Vietnam enjoys a warm average of around 24-28°C.
Furthermore, December is an excellent time to explore Vietnam's remarkable landscapes.
With fewer chances of rain, your experience exploring some of the country's famed destinations like Halong Bay, Sapa, and the Mekong Delta will be a pleasant one.
You'll enjoy clear, blue skies as a picturesque backdrop to the stunning natural beauty Vietnam has to offer.
Another perk of visiting Vietnam in December is the opportunity to experience the festive atmosphere.
As both Christmas and the Western New Year approach, cities like Hanoi and Ho Chi Minh City light up with decorations and lively events.
Although these holidays are not traditional Vietnamese celebrations, you'll still find an array of entertaining activities, night markets, and impressive displays throughout the country.
Lastly, Vietnam's diverse and mouthwatering cuisine is something you'll relish year-round, but December brings some seasonal delights to the table.
Get ready to feast on traditional dishes like banh chung (square-shaped sticky rice cakes) and gio thu (pork head patties).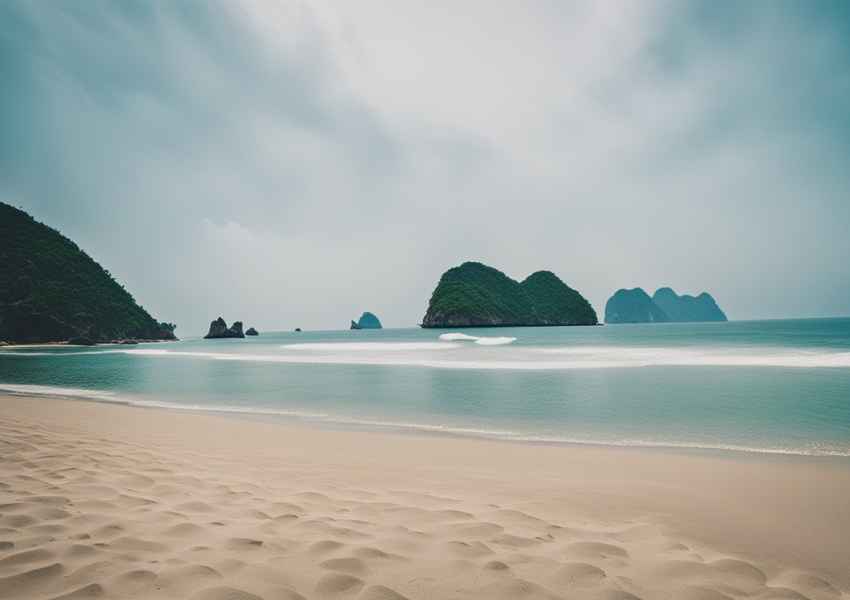 Vietnam Weather in December
December is a great time to visit Vietnam!
You'll experience cooler temperatures and less rainfall, making it a perfect time to explore the diverse landscapes this country has to offer. In this section, we'll discuss Vietnam's weather in December.
Weather in Northern Vietnam in December
In the north, temperatures can range from 14°C to 22°C (57°F to 72°F). Hanoi and Sapa are cooler, while Halong Bay and Ninh Binh enjoy milder temperatures.
Rainfall is minimal, with only a few drizzly days throughout the month. So, you can comfortably explore the cities, mountains, and countryside.
Weather in Central Vietnam in December
Moving to central Vietnam, the weather can be a bit unpredictable. The temperature is generally pleasant, ranging between 20°C to 25°C (68°F to 77°F).
Popular destinations like Hue, Da Nang, and Hoi An might experience occasional rainfall, but it doesn't last long. So, don't let it deter you from visiting these historical places.
Weather in Southern Vietnam in December
Lastly, southern Vietnam offers consistently warm temperatures, averaging around 26°C to 31°C (79°F to 88°F). Places like Ho Chi Minh City and the Mekong Delta tend to be drier in December. This makes it a fantastic time to explore the bustling streets of the city and navigate the scenic waterways of the Delta.
Here's a quick summary of December's weather in different regions of Vietnam:
North: 14°C-22°C (57°F-72°F), minimal rainfall
Central: 20°C-25°C (68°F-77°F), occasional rainfall
South: 26°C-31°C (79°F-88°F), drier and warmer
As you can see, December offers a variety of weather conditions throughout Vietnam, but overall, it's a fantastic time to visit.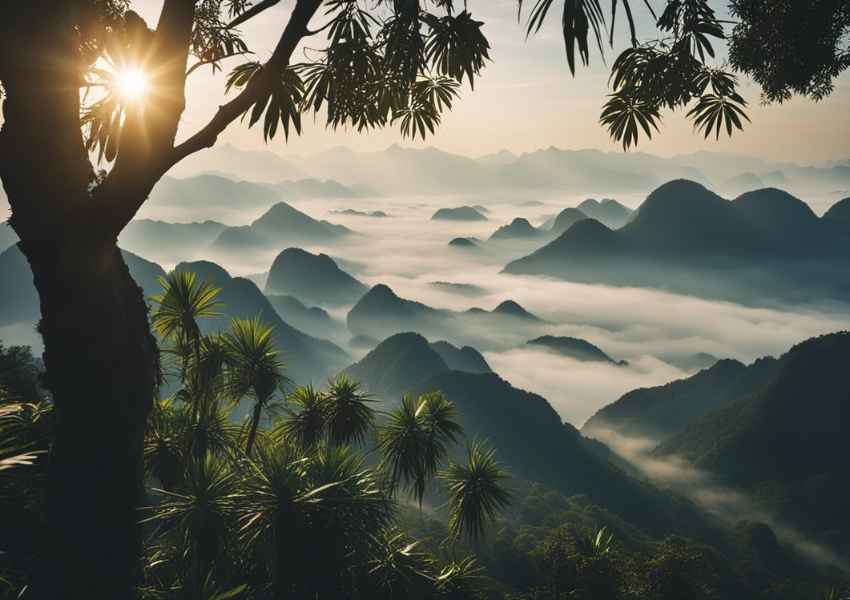 What are the Best Places to Visit in Vietnam in December?
December is an ideal time to visit Vietnam, and you're in for a memorable trip filled with pleasant weather and festive activities.
Here are some of the best places to visit in Vietnam in December to consider on your itinerary:
Best Places to Visit in Vietnam in December
1. Hanoi
Hanoi is one of the best places to visit in Vietnam in December if what you're after is to immerse yourself in Vietnam's culture, history, and cuisine.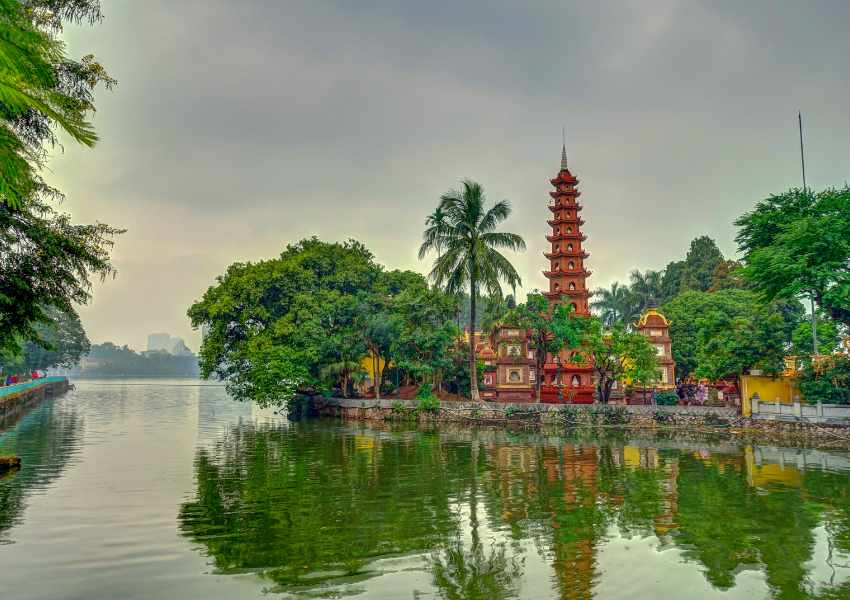 With cooler temperatures, you'll comfortably explore this bustling city.
As you walk through the picturesque streets of the Old Quarter, you'll find a range of shopping opportunities and delicious street food all over.
The quarter is a perfect blend of ancient architecture and modern buildings. Besides, don't forget to enjoy a cup of Vietnamese egg coffee at one of the local cafes.
For history buffs, a visit to Ho Chi Minh Mausoleum should be on your itinerary.
This remarkable site houses the embalmed body of former leader Ho Chi Minh. Adjacent to it, you'll also find the picturesque Presidential Palace and the historic One Pillar Pagoda.
If you're into culture and art, check out the Temple of Literature, a centuries-old temple dedicated to Confucius and home to Vietnam's first national university.
When you're ready for some tranquility, the picturesque Hoan Kiem Lake offers a serene refuge, complete with the iconic Ngoc Son Temple on a tiny island.
2. Ho Chi Minh City
Visiting Ho Chi Minh City in December is a fantastic experience.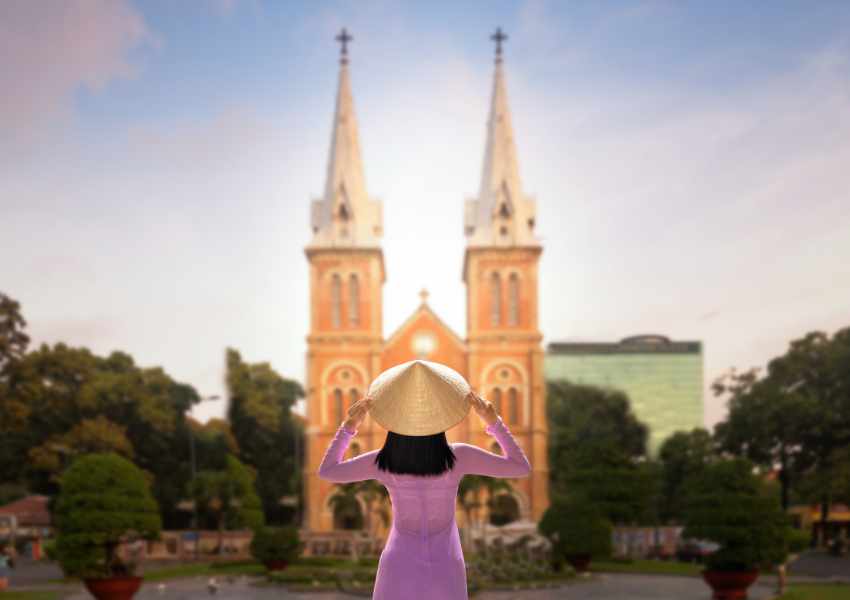 The weather is generally pleasant, with temperatures ranging from 22°C to 30°C, making it comfortable for sightseeing and outdoor activities.
Start by exploring the rich history of the city at the War Remnants Museum and the Reunification Palace.
These iconic sites offer a glimpse into Vietnam's tumultuous past, allowing you to appreciate the resilience and determination of its people.
When it comes to food, you're in for a treat. Hit up the streets of Ho Chi Minh City for delicious Vietnamese dishes like pho and banh mi.
Head to Ben Thanh Market or the various street food vendors to sample these mouth-watering delights, alongside other local delicacies.
For shopping enthusiasts, there are plenty of options, both affordable and high-end. Pay a visit to Dong Khoi Street or the Saigon Centre for a retail therapy session.
Lastly, immerse yourself in the city's nightlife. Bui Vien Street, affectionately known as "Backpacker Street," is populated with bars, clubs, and restaurants to suit every taste.
Enjoy a drink, dance the night away, or simply soak in the vibrant atmosphere here!
3. Da Nang
With its beautiful beaches, breathtaking landscapes, and rich culture, you'll find plenty to see and do as you immerse yourself in Da Nang.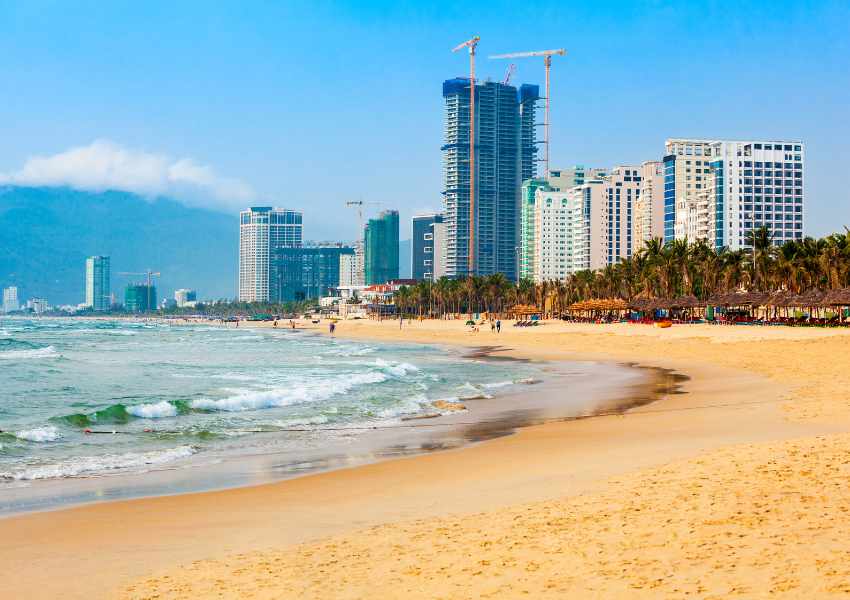 First things first, don't miss the opportunity to visit the picturesque Marble Mountains.
These five limestone formations are home to exquisite Buddhist sanctuaries that will give you an insight into the spiritual side of Vietnam.
If you're a beach lover, you'll enjoy laying on the soft sands of My Khe Beach or taking a refreshing dip in the water.
It's well-known for being a perfect spot for water sports enthusiasts, as the beach offers great options for surfing and jet skiing.
Culture enthusiasts, a visit to the captivating Cham Museum is a must. The museum exhibits a mesmerizing collection of ancient sculptures and artifacts from the long-lost civilization of Champa.
After a day of exploring, make your way to the vibrant Han River Bridge at night.
This unique rotating bridge is not only an essential transport route, but it plays an important role in the city's nightscape.
4. Ha Long Bay
Ha Long Bay is not only one of the best places to visit in Vietnam in December, but it's pretty much a must on any itinerary no matter the time of the year.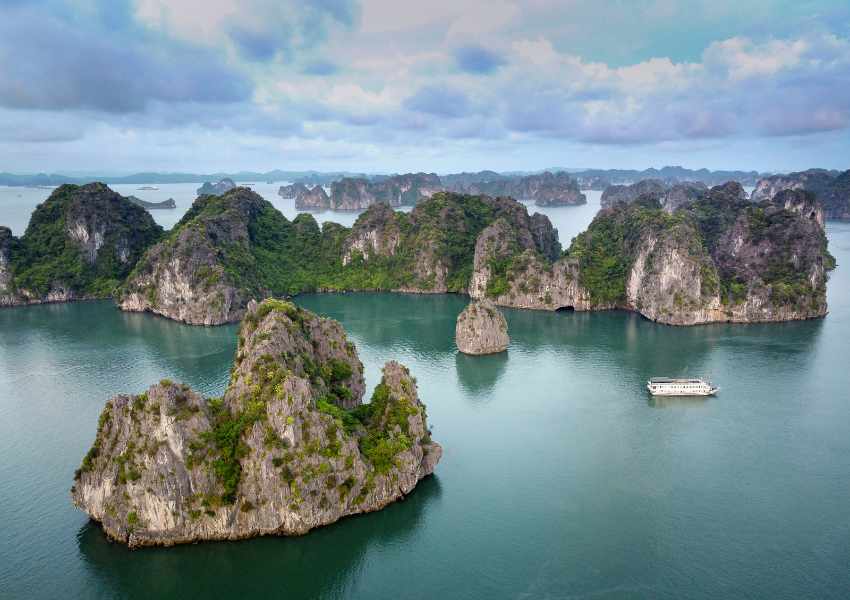 This UNESCO World Heritage site is famous for its stunning limestone formations rising from emerald waters.
In December, you'll enjoy cooler temperatures, which creates an atmosphere perfect for exploring this natural wonder.
The weather is quite comfortable, typically ranging between 18°C to 22°C, and there is less rainfall compared to previous months.
This means, you can fully enjoy the outdoor activities Ha Long Bay has to offer, such as kayaking, hiking, and of course, cruising!
Remember to book your cruise and accommodations well in advance, as December is quite a popular time to visit Ha Long Bay.
There are a range of options available to suit your preferences and budget, from luxury cruises to budget-friendly boats.
5. Phong Nha-Ke Bang National Park
This beautiful park is located in the Quang Binh province of central Vietnam. It is renowned for its massive caves, dense jungle, and wildlife.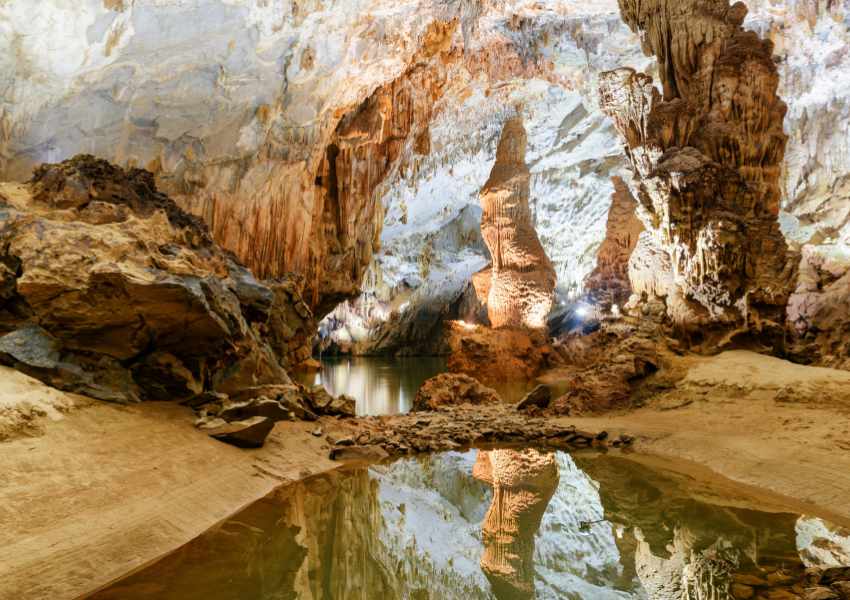 You can reach the national park from Dong Hoi City, which is just 50 km away.
The best way to explore the park and its stunning caves is by booking a guided tour. You can choose from a variety of packages that suit your adventurous spirit, ranging from day trips to multi-day expeditions.
Upon your visit, you'll be amazed by the Son Doong Cave, which is currently the largest cave in the world.
The Hang En Cave is another majestic site with its immense size and unique formations.
For a more adventurous experience, try the Paradise Cave, where you'll walk on an impressively constructed boardwalk and admire the fascinating stalactites and stalagmites.
In December, the weather in Phong Nha-Ke Bang National Park is generally mild and cool, making it the perfect time to visit.
6. Hoi An – One of the best places to visit in Vietnam in December because of the Lantern Festival!
Even though there are hundreds of reasons why Hoi An is one of the best places to visit in Vietnam in December, its Lantern Festival definitely takes the cake this time of the year!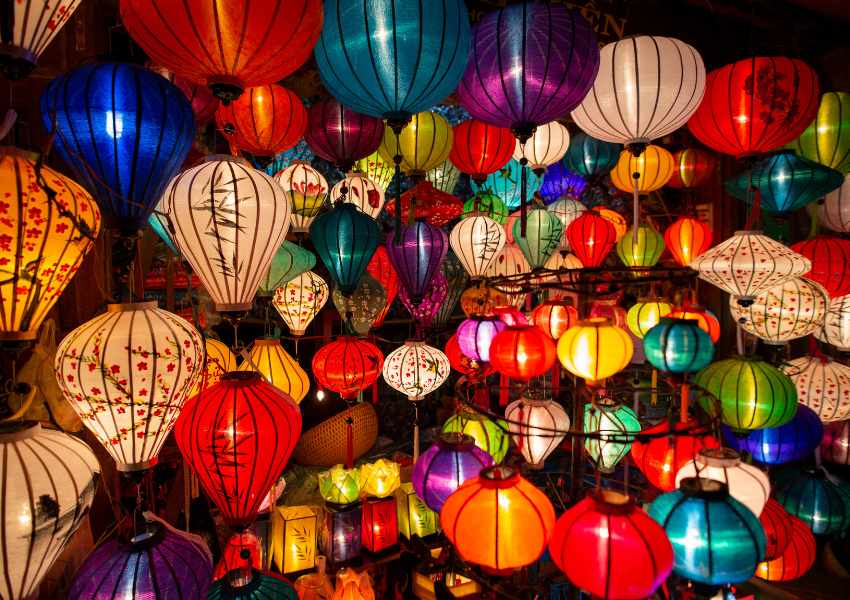 Get ready for a cultural experience, as you observe the locals lighting up and releasing floating lanterns onto the Thu Bon River.
While strolling along the riverbanks, don't forget to check out the various pop-up shops selling handmade lanterns.
Engage with the local artisans, and perhaps even try your hand at making your own unique lantern as a special souvenir.
Beyond the lanterns, you can also enjoy entertaining traditional games and exhilarating street performances.
Feast on mouthwatering local delicacies, such as Banh Mi and White Rose dumplings, at nearby food stalls.
7. SaPa
SaPa is a picturesque town in northern Vietnam, and one of the best places to visit in Vietnam in December.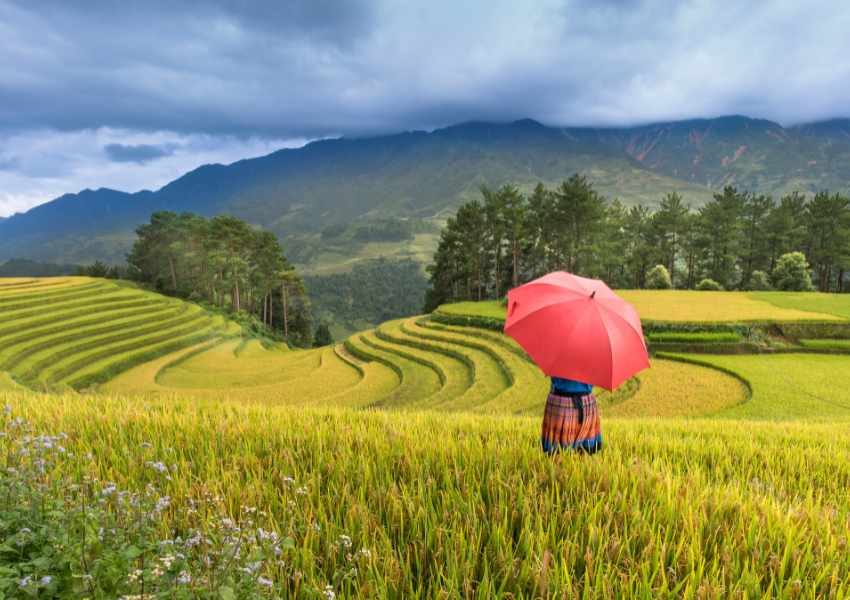 You'll be mesmerized by its breathtaking landscapes, terraced rice fields, and the warm hospitality of the local people.
When you arrive in SaPa, take a leisurely stroll around the charming town center, exploring quaint shops and vibrant markets.
Next, lace up your hiking boots and embark on one of the many trekking trails crisscrossing the scenic Muong Hoa Valley.
You'll trek past cascading waterfalls, stunning viewpoints, and remote hill-tribe villages. Keep an eye out for a glimpse of the Mt. Fansipan, Vietnam's highest peak.
During your journey, you'll also encounter members of the local ethnic minorities, such as the H'mong, Red Dao, and Tay.
Immerse yourself in the rich cultural traditions and learn about the area's unique history. Don't miss the opportunity to visit a local family and sip some homemade rice wine.
To make your SaPa experience even more unforgettable, consider spending a night or two in a cozy homestay. You'll have a chance to share a meal with the locals and gain deeper insights into their daily lives.
In December, the average temperature in SaPa ranges between 10-15°C (50-59°F), which makes it a perfect time to explore the area without getting too hot or too cold.
8. Ha Giang – One 0f the best places to visit in Vietnam in December for flower season
Ha Giang is a captivating destination you should definitely visit in December.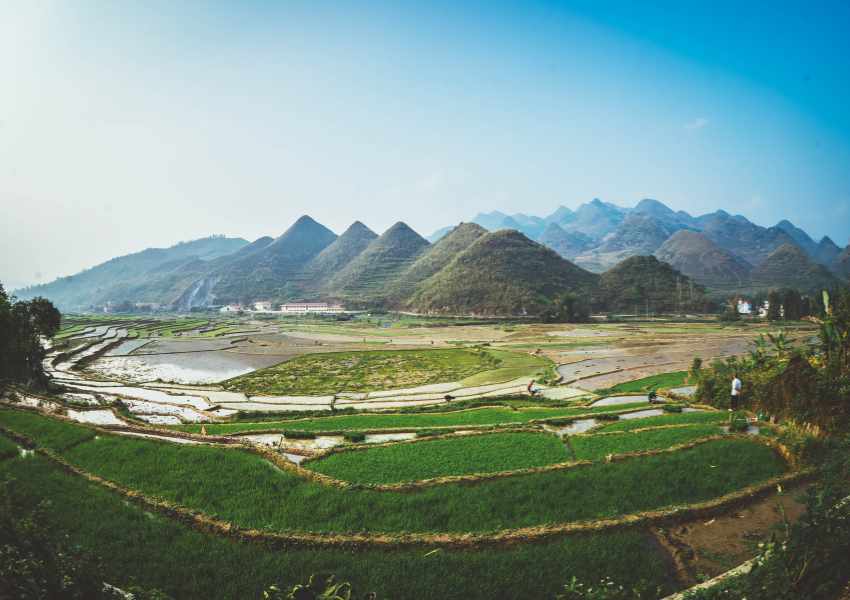 The cool weather offers an ideal setting for trekking and exploring the stunning scenery of this northernmost region of Vietnam.
The moment you step into Ha Giang, you'll be mesmerized by the breathtaking landscapes of limestone mountains, winding roads, and vibrant ethnic cultures.
Don't miss the opportunity to visit the impressive Dong Van Karst Plateau Geopark, a UNESCO Global Geopark, where you can witness the picturesque Nho Que River and Ma Pi Leng Pass.
One of the reasons Ha Giang is one of the best places to visit in Vietnam in December is because of the flower season. During December, the region is adorned with lovely buckwheat flowers, creating a gorgeous scenery.
9. Dong Thap
You'll fall in love with the breathtaking landscapes and vibrant culture of Dong Thap. December is the perfect time to explore its charm, as the weather is cool and pleasant.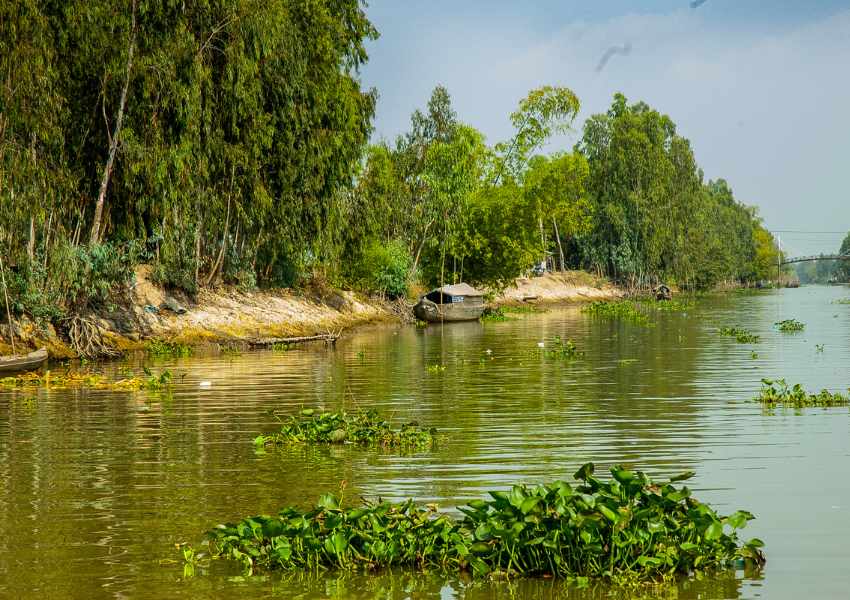 When visiting Dong Thap, be sure to take a trip to the Tram Chim National Park.
Home to over 200 species of birds, this park is a birdwatcher's paradise. You can take a boat tour to explore the park's beauty, and try to spot the majestic Sarus Crane.
In addition to Tram Chim, another must-see attraction is Xeo Quyt.
This preserved revolutionary base contains lush mangrove forests and narrow canals that you can navigate on a small traditional boat.
A trip to Vietnam wouldn't be complete without indulging in local cuisine.
In Dong Thap, you'll find delicious dishes such as Banh Tam Bi, a unique type of vermicelli served with herbs, pork, and fish sauce. Don't miss trying Banh Xeo too, a crispy Vietnamese pancake filled with shrimp, pork, and bean sprouts.
To experience the local culture, be sure to explore the colorful Cao Lanh Market.
Here, you'll find a variety of fruits, vegetables, farm-raised fish, and handicrafts.
10. Phu Quoc
The weather in Phu Quoc is great, with clear skies and pleasant temperatures, perfect for taking a dip in the azure waters or soaking up the sun on the sandy beaches.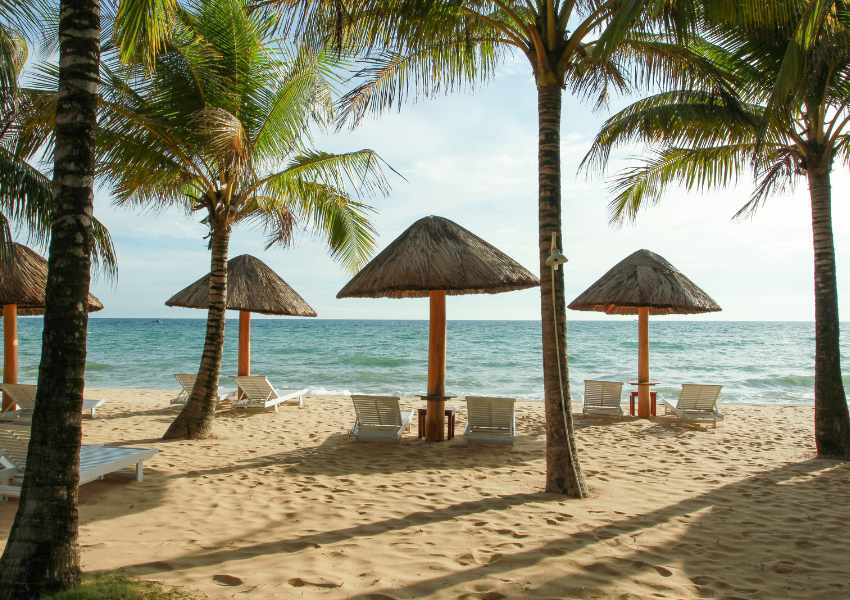 As you arrive on the island, you'll notice the lush tropical landscapes, offering numerous opportunities for adventure.
Don't miss the chance to visit the Phu Quoc National Park, where you can trek through gorgeous forests and witness the island's diverse wildlife.
While on Phu Quoc, your taste buds will be in for a treat as well. The island's famous pepper farms and pearl farms are not only interesting to visit but are also perfect places to pick up unique and top-quality local souvenirs.
Additionally, you should indulge in the exquisite seafood dishes offered in numerous beachside restaurants. The fresh fish, squid, and prawn dishes will keep you coming back for more.
No trip to Phu Quoc would be complete without basking on its beautiful beaches. Some of the best options include:
Sao Beach: Known for its white powdery sand and calm turquoise waters, Sao Beach is a must-visit for beach lovers.
Long Beach: Stretching over 20 kilometers, Long Beach is a lively spot where you can find exciting water sports, beach bars, and stunning sunsets.
These highlights are just a small taste of what Phu Quoc has to offer. From remarkable snorkeling and scuba diving experiences to laidback resorts to unwind, there's something for every traveler on this enchanting island.
11. Mui Ne
Mui Ne is another of the best places to visit in Vietnam in December.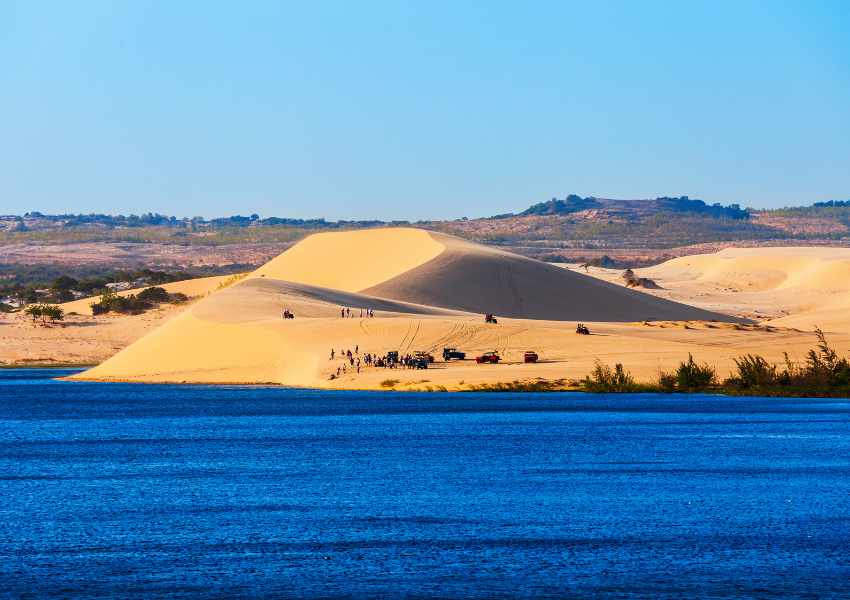 As soon as you arrive, you'll immediately notice the beautiful sand dunes the area is famous for. The stunning white and red dunes create a picture-perfect setting for your adventure.
You won't want to miss exploring the Fairy Stream. As you leisurely stroll through this shallow waterway, take in the sights of colorful rock formations and lush green vegetation surrounding you.
For the more adventurous, try renting a quad bike to tour the sand dunes, offering a thrilling experience you'll never forget.
For some relaxation, immerse yourself in Mui Ne's pristine beaches. December's pleasant weather invites you to spend a day soaking up the sun and dipping your toes in the warm sea.
The beach is also a kite-surfing hotspot, so don't hesitate to give this exciting water sport a try.
Finally, make sure to enjoy the local seafood dishes and vibrant nightlife, giving you a truly memorable experience in Mui Ne.
12. Ban Gioc Waterfall
As you watch the water cascade down over layered rocks and the misty mountains all over, you'll understand why this natural wonder one of the best places to visit in Vietnam in December.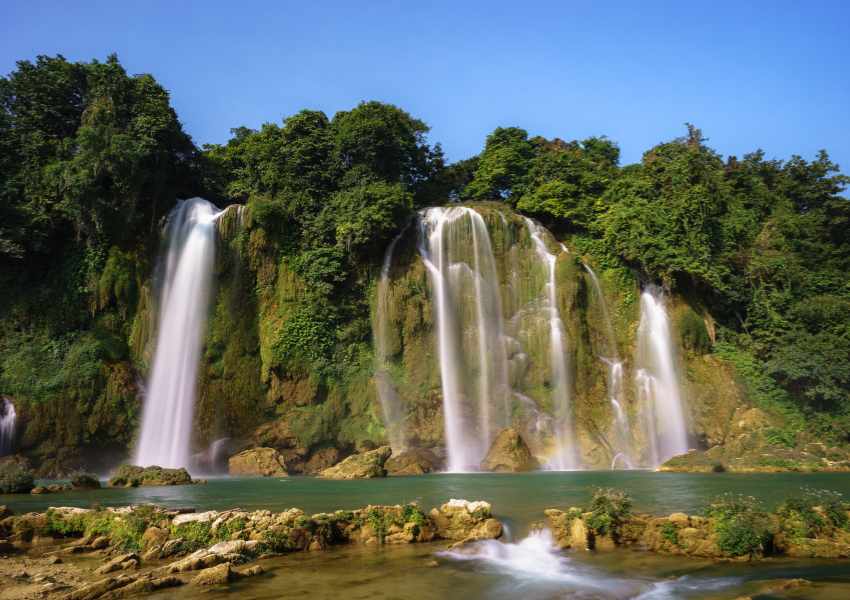 December is the perfect time to visit Ban Gioc Waterfall because the weather is cooler and there's less rainfall, allowing you to fully enjoy the surrounding landscape.
Located in the Cao Bang Province, near the border with China, this breathtaking waterfall ranks among the largest and most impressive in Southeast Asia.
The drive itself to reach the falls will take you through picturesque landscapes and charming villages, giving you a taste of authentic Vietnamese life.
Once there, take a bamboo raft ride close to the falls and immerse yourself in the refreshing mist.
Tip: Don't forget to explore the nearby Nguom Ngao Cave, a stunning limestone cave with impressive stalactites and stalagmites to admire.
13. Moc Chau
Moc Chau is one of the best places to visit in Vietnam in December if a hidden gem is what you're after.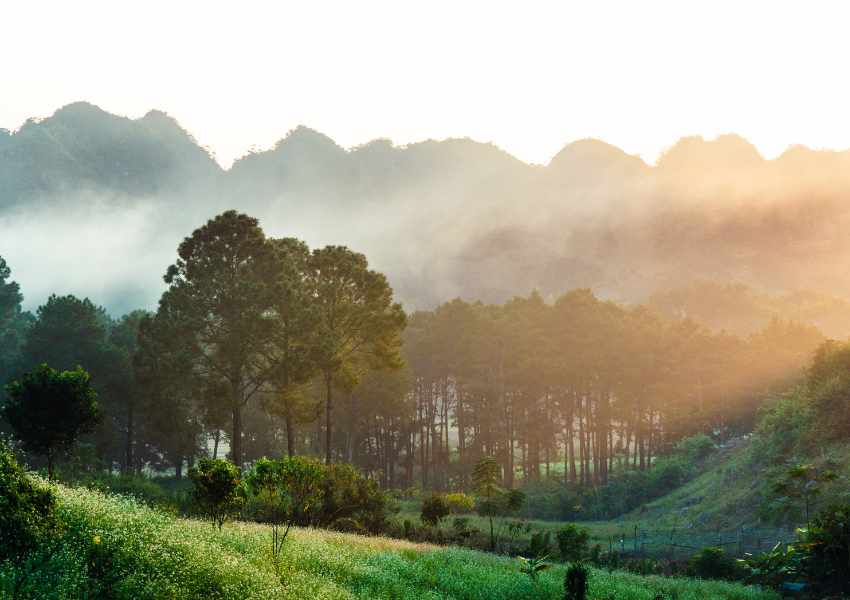 Located in the northwest region, this highland retreat offers the perfect blend of natural beauty, cultural experiences, and pleasant weather.
As you step foot in Moc Chau, you'll be treated to picturesque landscapes filled with lush tea plantations, colorful flower gardens, and stunning mountain ranges.
December is a great time to explore, as the weather is cool, with an average temperature of around 18°C (64°F). It's the perfect opportunity to enjoy pleasant hikes and admire panoramic views.
Don't miss the chance to witness the vibrant plum blossoms and peach blossoms, which are in full bloom during this time of year.
For an authentic cultural experience, visit the local ethnic villages such as Ban Ang and Loong Sap.
Here, you'll get a chance to interact with local communities, get a glimpse into their daily lives, and learn about their traditional customs.
14. Dalat
December in Vietnam is a great time to explore its enchanting destinations, and Dalat tops the list.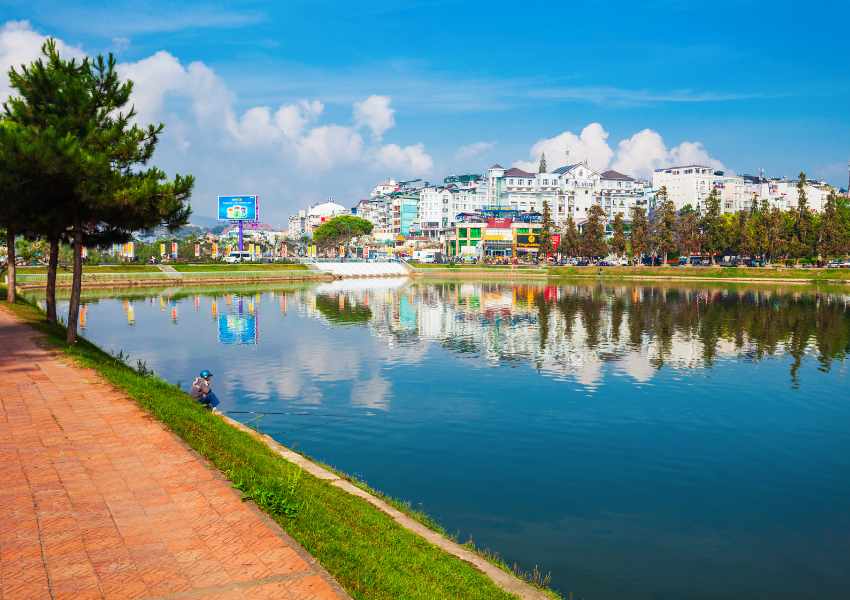 Nestled in the Central Highlands, this charming city welcomes you with pleasant temperatures and misty mornings, making it a perfect escape to unwind and recharge.
As you walk along the picturesque streets, you'll come across beautiful French-inspired architecture that adds a touch of nostalgia.
Don't forget to visit the iconic Bao Dai Summer Palace, the residence of Vietnam's last emperor. The palace offers a glimpse into the opulent lifestyle of the royal family and the city's colonial past.
Another must-see is Langbiang Mountain. Hop on a Jeep or put on your hiking shoes to make the most of the scenic trails that bestow you with panoramic views of the surrounding valleys and forests.
When it comes to food, Dalat won't disappoint. Get a taste of the local street food at the lively Dalat Night Market with its bustling stalls selling everything from scrumptious snacks and dishes to unique souvenirs.
Make sure to try the tasty banh mi xiu mai, a Vietnamese meatball sandwich, and warm up with a cup of freshly brewed Dalat coffee.
15. Hue
Hue is a charming city in central Vietnam, known for its rich history and beautiful landscapes. The weather in December is cool and enjoyable, perfect for exploring.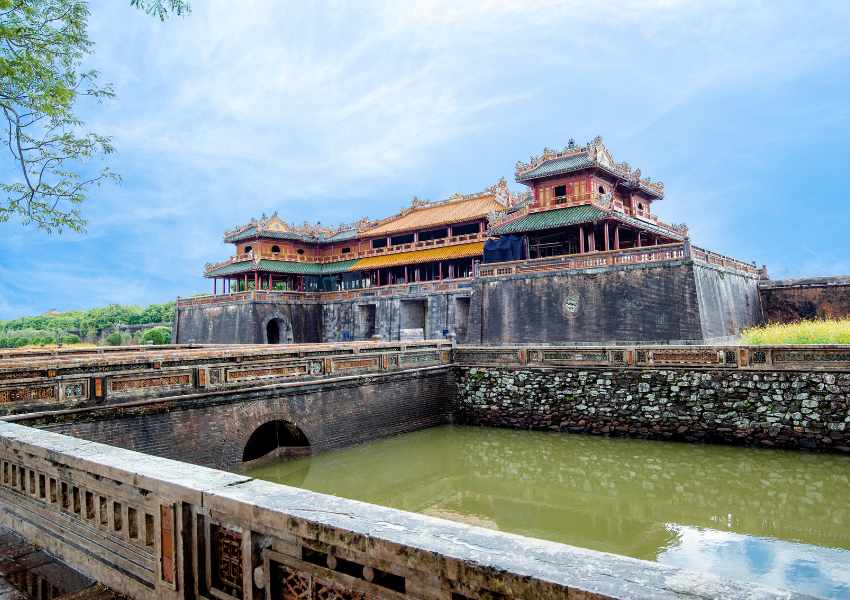 You'll absolutely love wandering around the Imperial City, the former political capital of Vietnam.
Walking through the ornate gates and the Thai Hoa Palace will send you back in time to the days of powerful emperors.
If you're a history buff, spend an afternoon exploring the Royal Tombs along the Perfume River, such as those of Emperors Minh Mang, Khai Dinh, and Tu Duc.
Eat like a local in Hue by trying some regional specialties that you won't find anywhere else in Vietnam.
Taste the delicious bun bo Hue, a spicy beef noodle soup with lemongrass and other flavorful ingredients. Don't forget to grab a plate of banh khoai, a crispy rice pancake filled with shrimp, pork, and beansprouts.
Remember to leave room in your schedule for a visit to Thien Mu Pagoda, the oldest and most iconic Buddhist temple in Hue.
The seven-story Phuoc Duyen Tower offers a panoramic view of the Perfume River, making for some excellent photo opportunities.
If you want a different type of adventure, spend a day biking or hiking through the picturesque countryside where you'll stumble across rice fields, local villages, and mountainous backdrops.
How To Get Around Vietnam
Getting around Vietnam is relatively easy and affordable, with a variety of transportation options available.
Here are some ways to get around Vietnam:
By Air
Vietnam has several domestic airports, making air travel a convenient option for getting around the country quickly.
Major airlines such as Vietnam Airlines, Jetstar Pacific, and Vietjet Air offer domestic flights to popular destinations such as Hanoi, Ho Chi Minh City, Da Nang, and Nha Trang. Tickets can be purchased online or at the airport.
By Train
Vietnam's rail network is extensive, with trains running from Hanoi to Ho Chi Minh City and many other destinations.
The trains are comfortable and affordable, with sleeper cabins available for overnight journeys. Tickets can be purchased online or at the train station.
By Bus
Buses are a popular option for getting around Vietnam, with many companies offering both local and long-distance routes.
The buses are comfortable and affordable, with air conditioning and reclining seats. Tickets can be purchased at the bus station or online.
By Motorbike
Renting a motorbike is a popular way to explore Vietnam, especially in the countryside.
Motorbikes can be rented from rental shops or through hotels, and prices vary depending on the type of bike and the rental period.
It is important to wear a helmet and have a valid international driver's license.
By Taxi
Taxis are available in most cities and are a convenient way to get around. It is important to choose a reputable taxi company and to agree on a price before getting in the taxi.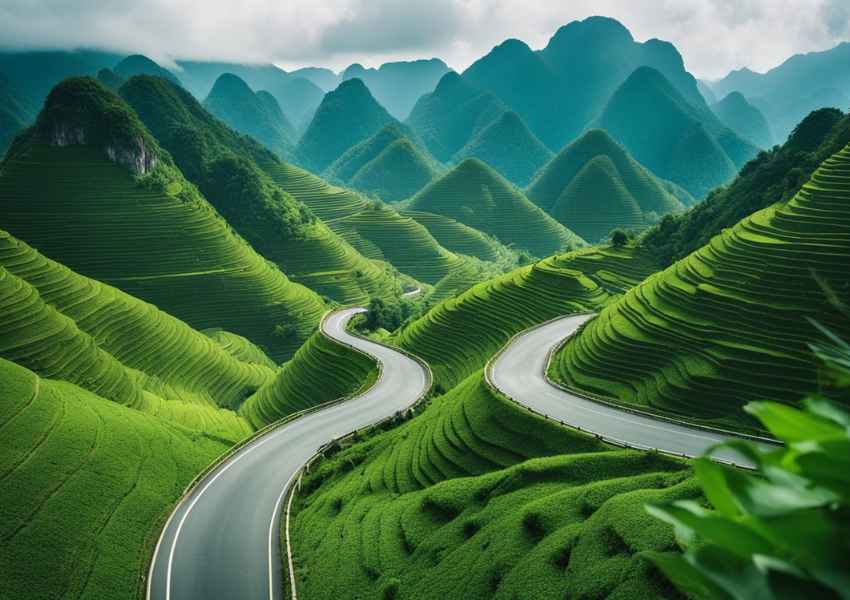 Travel Insurance for Vietnam
Safety Wing offers comprehensive coverage at an affordable price, with policies starting at just $1.32 per day.
Their policies include coverage for medical emergencies, trip cancellations, lost or stolen luggage, and emergency evacuation. Plus, their policies are flexible, allowing you to extend your coverage if needed. Check them out here.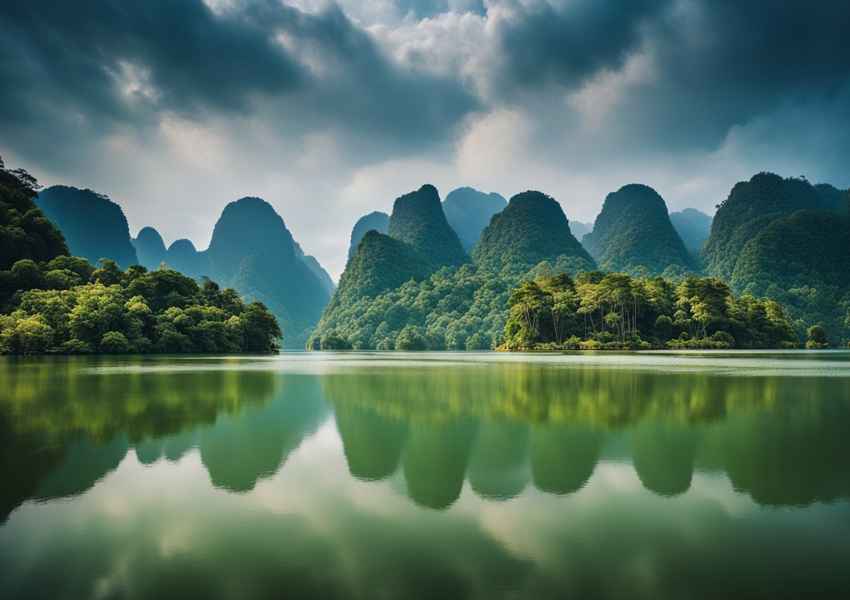 FAQs About the Best Places to Visit in Vietnam in December
What are some must-see places in Vietnam during December?
Vietnam has many beautiful destinations to visit in December.
Some of the best places to visit in Vietnam in December are Hanoi, Ho Chi Minh City, Hoi An, Da Nang, Nha Trang, and Phu Quoc Island.
Each of these destinations has its own unique attractions, such as historical sites, beautiful beaches, and delicious local food.
Is December a good time to travel to Vietnam?
Yes, December is a great time to travel to Vietnam.
The weather is generally cool and dry, making it perfect for outdoor activities and sightseeing.
Additionally, December is the peak season for tourism in Vietnam, so you can expect to see many festive events and activities during this time.
What is the weather like in Vietnam in December?
The weather in Vietnam in December is generally cool and dry, with temperatures ranging from 18 to 24 degrees Celsius.
However, the weather can vary depending on the region you are visiting. The northern regions can be colder, while the southern regions can be warmer.
What are some recommended itineraries for a two-week trip to Vietnam in December?
If you have two weeks to spend in Vietnam, some of the best places to visit in Vietnam in December are Hanoi, Halong Bay, Hue, Hoi An, Ho Chi Minh City, and the Mekong Delta.
This itinerary will give you a taste of Vietnam's rich history, culture, and natural beauty.
Where are the warmest places to visit in Vietnam during December?
The best places to visit in Vietnam in December for warm weather are the southern regions, such as Ho Chi Minh City, Nha Trang, and Phu Quoc Island.
These regions have warmer temperatures and beautiful beaches, making them perfect for a winter getaway.
Is Halong Bay a good place to visit in December?
Yes, Halong Bay is one of the best places to visit in Vietnam in December.
The cool and dry weather makes it a perfect time to explore the bay's stunning limestone cliffs and caves.
Additionally, there are fewer tourists during this time, so you can enjoy the beauty of the bay without the crowds.
Best Places to Visit in Vietnam in December: Conclusion
Vietnam is a beautiful country that offers a variety of destinations to explore during the month of December.
From the stunning beaches of Phu Quoc and Nha Trang to the cultural and historical sites of Hanoi and Hue, there is something for everyone and most of the best places to visit in Vietnam in December are incredibly diverse and different from one another.
Whether you're looking for adventure, relaxation, or a combination of both, Vietnam has it all.