14 Best Places to Visit in Africa in December
Looking for the best places to visit in Africa in December? Here are 14 destination ideas for your trip!
With warm temperatures, breathtaking landscapes, and vibrant cultures, there are plenty of great places to visit in Africa on a winter getaway.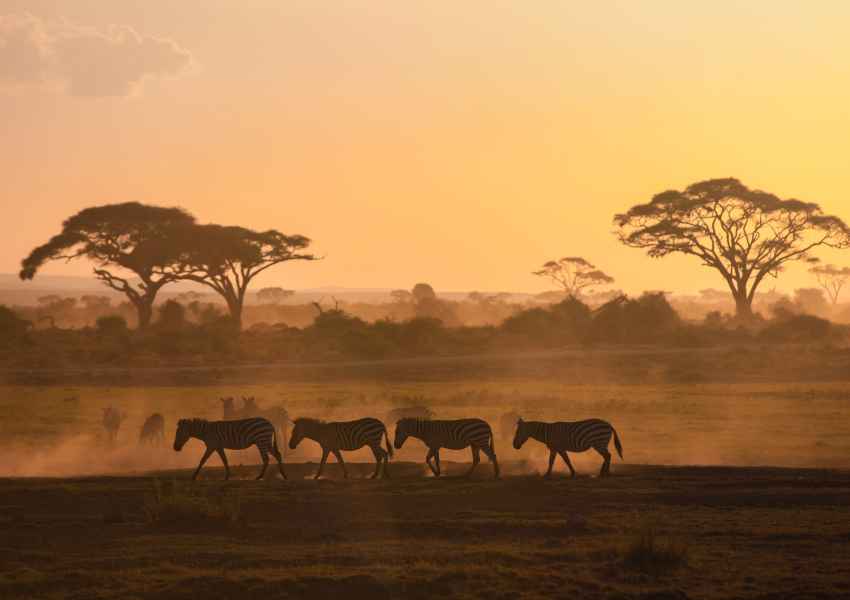 Whether you're a nature lover, a history buff, or a foodie, there's something for everyone on this wonderful continent.
In this blog post, we'll share our top 14 picks for the best places to visit in Africa in December, so you can start planning your dream trip today.
Is December a Good Time to Visit Africa?
December is an ideal time for you to visit Africa because of the continent's rich diversity and ideal climate conditions.
During December, many African countries experience warm and pleasant weather, making it very comfortable for you to explore and take in the striking landscapes.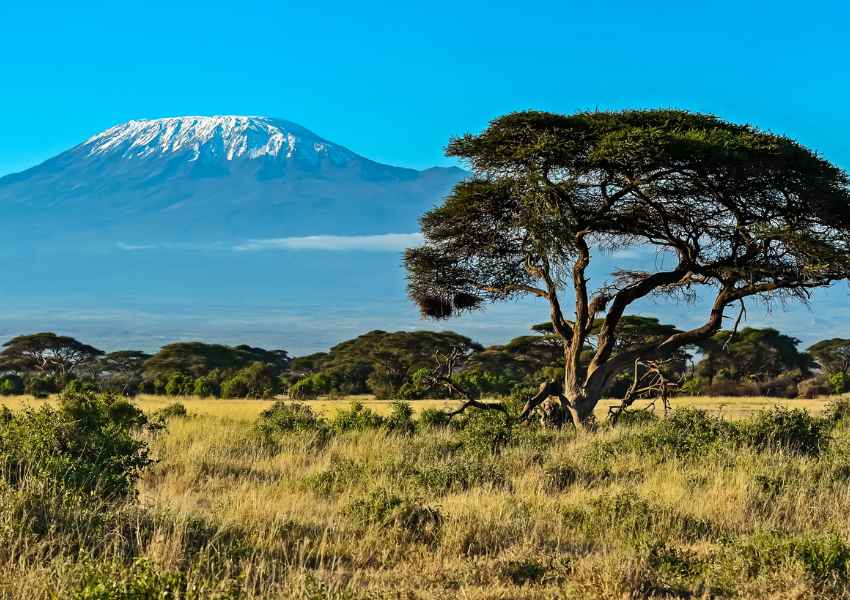 In some regions of Africa, December is considered the wet season. Don't worry, this often means brief showers and cooler temperatures, lending a refreshing break from the heat.
The rain also breathes new life into the surroundings, so expect lush greenery and blooming flowers. Plus, wildlife thrives during this period, offering you phenomenal safari experiences.
If you're a beach lover, December in Africa offers ideal conditions for your sun-filled holiday.
Whether you're surfing in South Africa or lounging in Zanzibar, the December sun and warm waters are waiting for you.
Additionally, the festive season can bring local events and traditional celebrations to your itinerary, adding an unforgettable cultural touch to your trip.
What are the Best Places to Visit in Africa in December
December is a magical time to explore Africa.
With pleasant temperatures, fewer crowds, and plenty of sunshine, it's the perfect time to enjoy the continent's natural beauty and cultural diversity.
Whether you're looking for a relaxing beach vacation or a thrilling safari adventure, Africa has something for everyone.
Here are some of the best places to visit in Africa in December:
14 Best Places to Visit in Africa in December
1. Kenya
Kenya is one of the best places to visit in Africa in December.
The weather is warm and mostly dry, making it perfect for exploring the country's diverse attractions.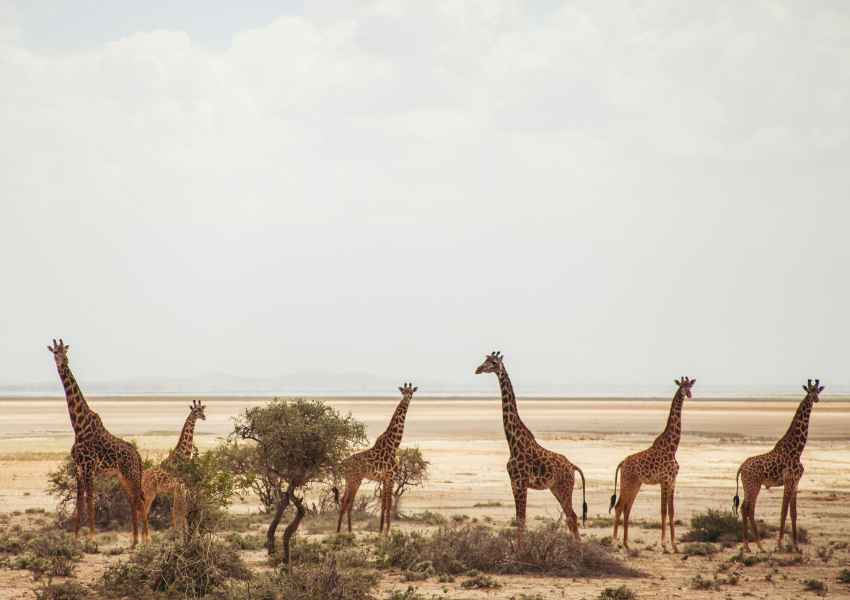 You'll be able to enjoy the famous Maasai Mara National Reserve where you can witness the abundant wildlife and vast landscapes.
While in Kenya, take the opportunity to explore the capital city, Nairobi. Here, you can immerse yourself in the local culture, visit museums, and dine at various eateries offering authentic Kenyan cuisine.
Don't forget to check out the Nairobi National Park, which is located just outside the city center, making it a unique place where nature meets the urban landscape.
For a beach getaway, head to the Kenyan coast, where you'll find the pristine white sands of Diani Beach.
Perfect for relaxation, this beautiful stretch of coastline allows you to soak up the sun and participate in various water activities such as snorkeling, diving, and even kite surfing.
Of course, when visiting Kenya in December, you'll want to embrace the local customs and traditions.
Take part in the festive celebrations during Jamhuri Day on the 12th of December, marking Kenya's Independence Day.
It's a great way to experience the lively atmosphere and witness the cultural performances throughout the streets.
No trip to Africa would be complete without experiencing the diverse landscape and natural wonders.
In Kenya, you'll definitely want to visit the Great Rift Valley, where you can witness the stunning views of the vast geological formation, hike through the escarpments, and discover the numerous surrounding lakes, such as Lake Naivasha and Lake Nakuru.
2. Tanzania
Tanzania is an excellent choice when it comes to places to visit in Africa in December. The weather is pleasant, the wildlife is active, and the landscapes are simply stunning.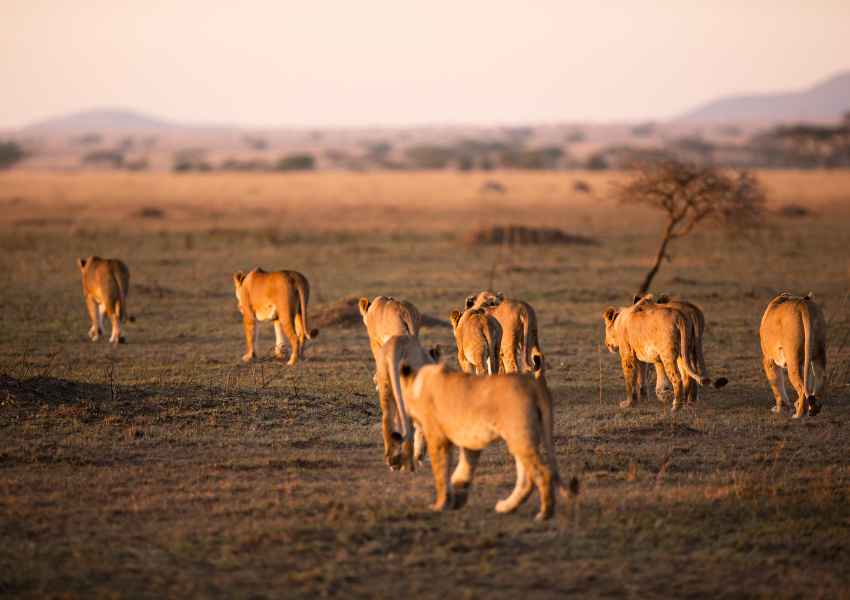 As you explore Tanzania, you'll be amazed by the wide range of experiences available.
Start your adventure with a safari in the Serengeti National Park, where you can witness the Great Wildebeest Migration and spot the iconic African Big Five: elephants, lions, leopards, rhinoceroses, and Cape buffalo.
This extraordinary ecosystem also provides you with a chance to see cheetahs, zebras, giraffes, and various bird species.
Take your trip to new heights by climbing Africa's highest peak, Mount Kilimanjaro.
It doesn't require any technical climbing skills, but you'll need to prepare for the physical challenge and changing altitudes.
For a slice of paradise, head to Zanzibar, a beautiful archipelago located off the coast of Tanzania.
Spend your days lounging on the pristine white-sand beaches, snorkeling in the crystal-clear turquoise waters, or exploring the historic Stone Town, a UNESCO World Heritage Site.
Discover the breathtaking Ngorongoro Crater, the world's largest inactive volcanic caldera, rich in diverse wildlife and captivating scenic beauty.
As you descend into the crater, you'll observe an array of animals, including lions, hyenas, and elephants, all thriving within this unique environment.
Moreover, in Tanzania, you'll find more than just incredible wildlife and natural wonders. Engage with the local culture by visiting Maasai villages or sampling flavorful Tanzanian cuisine.
3. Ethiopia
Ethiopia is a perfect destination for your December travels in Africa. With a rich history, diverse landscapes, and unique cultural experiences, it's a place that'll leave an impression on you.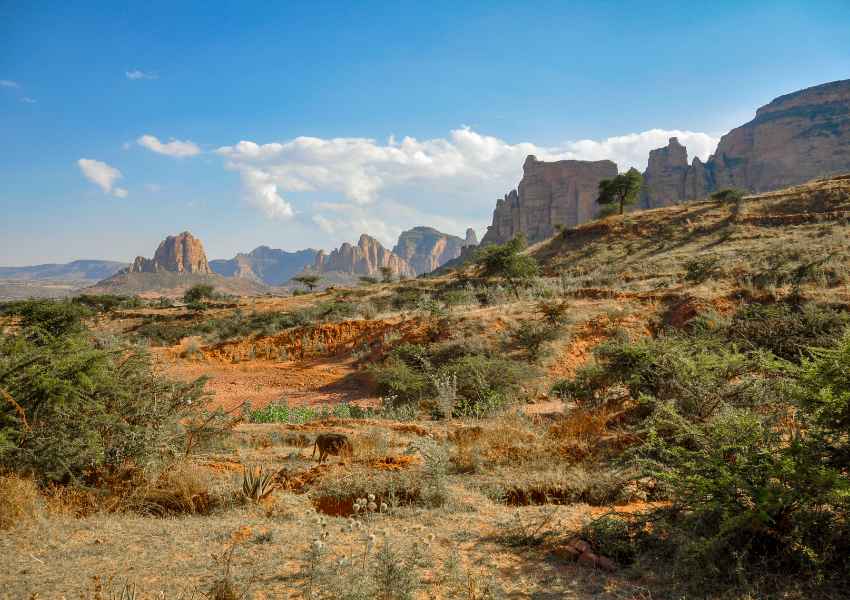 December is an excellent time to visit Ethiopia because you'll enjoy moderate temperatures ranging from 16 to 23 degrees Celsius.
This comfortable weather creates a perfect environment for exploring the country's natural and urban attractions.
When you're in Ethiopia, make sure to visit the ancient city of Aksum. This UNESCO World Heritage Site played a significant role as a political and religious center for centuries. You can marvel at its mysterious obelisks, royal tombs, and ancient castles.
Your trip wouldn't be complete without an excursion to Lalibela, another UNESCO World Heritage Site.
Here, you'll find breathtaking rock-hewn churches built during the 12th century. These stunning structures will make you wonder how they were constructed all those years ago.
For the nature lovers, the Simien Mountains National Park is a must-visit. Known for its rugged landscapes and diverse wildlife, this park offers breathtaking views and an opportunity to spot native animals like the Walia ibex and Gelada baboons.
If you're interested in exploring unique cultures, spend some time in the Omo Valley. This region is home to various local tribes like the Hamer, Mursi, and Dassanech, who maintain their ancestral traditions and customs.
And finally, don't miss the opportunity to try some of Ethiopia's most famous cuisine. Treat your taste buds to some injera, a sourdough pancake, served with various flavor-packed dishes.
4. Burkina Faso
If you're looking for the best places to visit in Africa in December that are slightly off the usual beaten path, Burkina Faso is a wonderful choice.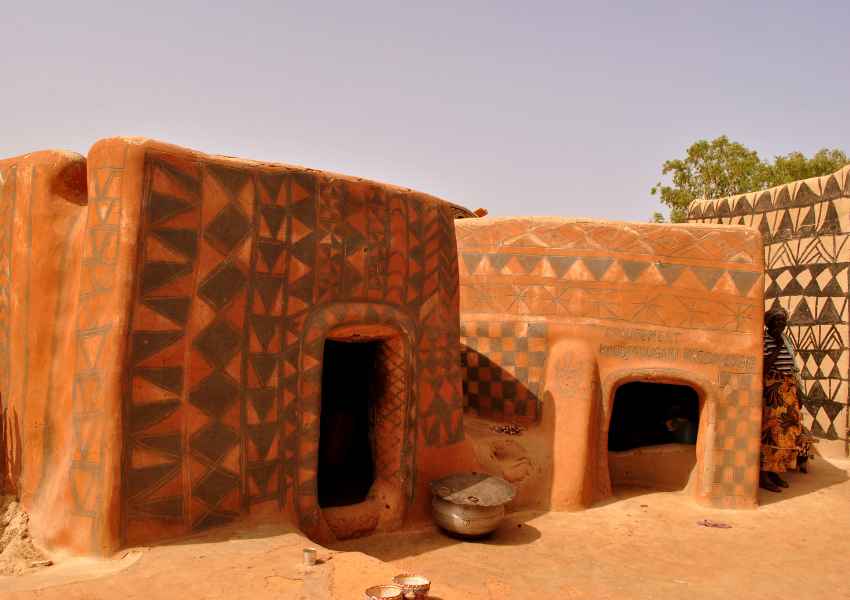 While December is considered the beginning of the dry season, you'll be pleasantly surprised by the temperate weather, making it an ideal time to visit this West African nation.
During your stay in Burkina Faso, consider visiting the vibrant city of Ouagadougou. You'll love wandering through the bustling markets brimming with colorful textiles, handicrafts, and aromatic spices.
For a taste of history and culture, plan a trip to Bobo-Dioulasso, Burkina Faso's second-largest city.
Here, you can admire the impressive Grand Mosque, built in the traditional Sudanese-Sahelian architectural style.
Art enthusiasts will appreciate the city's lively music scene, where you can catch live performances and immerse yourself in the rhythm of West African beats.
Nature lovers can't leave Burkina Faso without venturing into the Arli National Park.
This expansive park is home to a variety of wildlife, including elephants, various antelope species, and even lions.
Besides a thrilling wildlife experience, the park offers picturesque hiking trails that let you explore its beautiful landscapes.
Visiting Burkina Faso in December also gives you the opportunity to witness the Fespaco Film Festival held in Ouagadougou, showcasing African filmmakers and promoting African cinema.
This biennial event adds extra excitement to your trip, with movie buffs coming together to enjoy films from across the continent.
5. Senegal
Senegal should definitely be on your list of places to visit in Africa in December!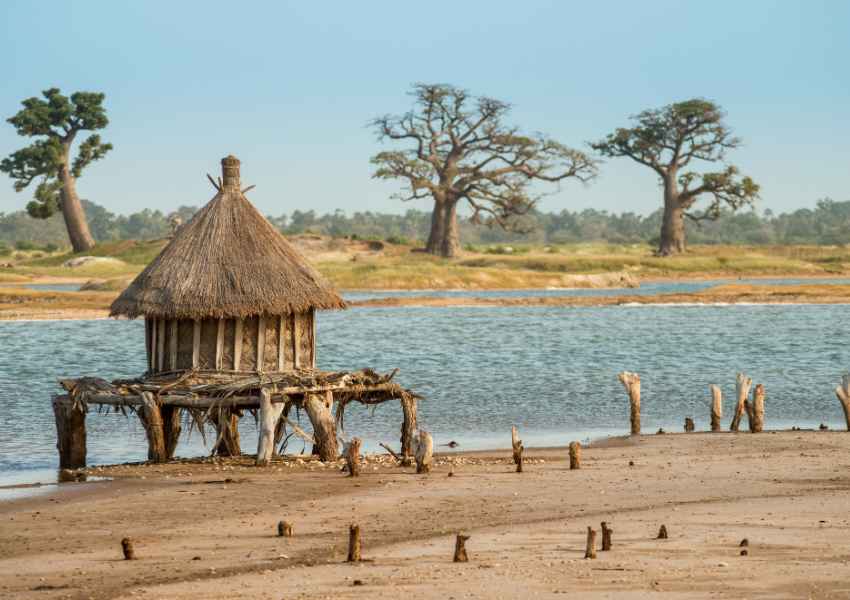 With its warm weather and welcoming culture, it's the perfect destination for a winter escape.
As you explore this beautiful country, you'll discover a mix of traditional African culture, French colonial influence, and modern urban vibes.
When you arrive in Dakar, the bustling capital city, don't miss out on visiting the African Renaissance Monument, which stands as a symbol of Africa's progress.
Wander through the lively markets, where you can shop for vibrant fabrics and local handicrafts. You should also try some delicious Senegalese dishes, like Thieboudienne, a tasty fish and rice meal.
For a more relaxed experience, head to the calm seaside town of Saly. This popular beach destination offers golden sands and crystal-clear waters, the perfect setting for sunbathing and swimming.
Nature lovers will be enchanted by the Saloum Delta National Park, a UNESCO World Heritage site where you can explore the unique mangrove forests and observe a variety of bird species. If you're lucky, you might even spot some dolphins!
In December, don't miss the Dakar International Jazz Festival, an exciting event that attracts musicians from all over the world. Enjoy the fantastic performances and immerse yourself in the cool jazz sounds.
Finally, take the opportunity to visit the House of Slaves on Gorée Island.
This important historical site provides an insight into the dark history of the slave trade in West Africa.
The striking red-coloured building, now a museum, stands as a powerful reminder of the past and is a must-visit during your trip to Senegal.
6. Gabon
This Central African nation offers an incredible mix of lush rainforests, pristine beaches, and a rich cultural heritage, making it another of the best places to visit in Africa in December.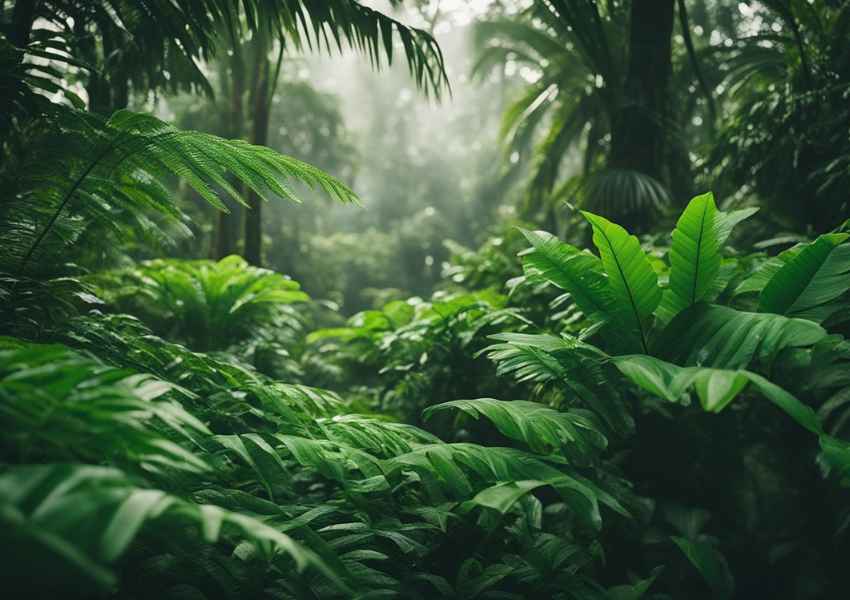 As you start your journey, you'll want to explore Loango National Park on the Atlantic coast.
This park, often referred to as 'Africa's Last Eden,' provides you with a unique opportunity to observe elephants, hippos, and gorillas all in one place.
You can even catch a glimpse of humpback whales as they migrate during this time of year.
Next, pay a visit to the vibrant capital city of Libreville. This bustling metropolis offers a variety of experiences for the curious traveler, from its lively markets to its impressive museums.
Don't miss the Musée des Arts et Traditions du Gabon, where you can learn about the country's rich cultural history and admire traditional artifacts.
Be sure to carve out some time for relaxation during your stay. Head to the tranquil beaches in Port-Gentil, where you can bask in the sun and swim in the warm Atlantic waters.
In addition to its natural beauty, Gabon is home to some fascinating historical sites.
Take a trip to the Ekom-Nkam Falls, a sacred site for the local Bantu people. Here you'll find ancient symbols carved into the rocks, offering an intriguing glimpse into Gabon's past.
7. Rwanda
With its lush green landscapes and remarkable wildlife, you'll be captivated by this small yet diverse country.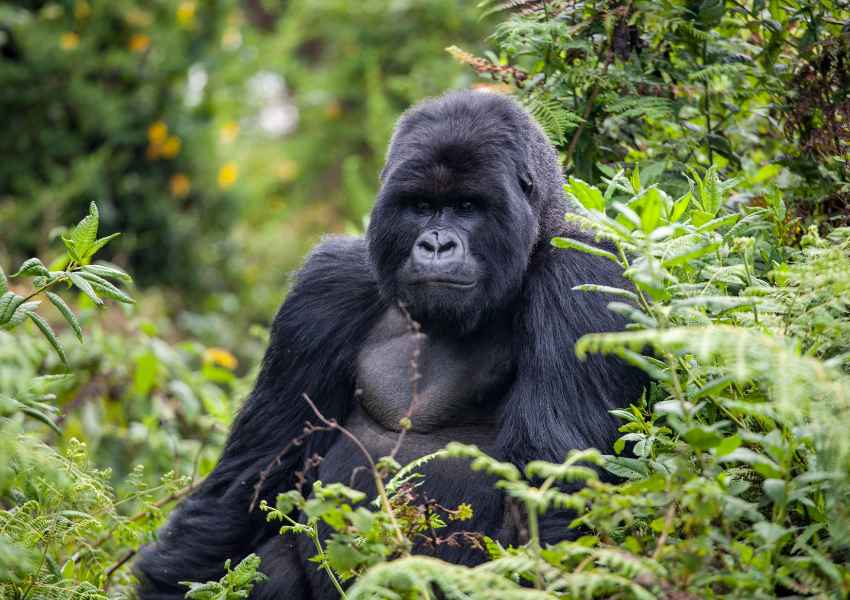 First, make sure to visit Volcanoes National Park. This is where you can embark on a thrilling trek to see the majestic mountain gorillas.
With a skilled guide leading the way, you'll have the opportunity to come face-to-face with these incredible creatures in their natural habitat.
Don't miss out on Akagera National Park, which offers a classic African safari experience.
This park boasts a wide variety of animals, including lions, elephants, and even rhinos. With its large lakes, savannah, and forests, you'll witness an awe-inspiring range of ecosystems.
Moreover, no trip to Rwanda would be complete without visiting the country's vibrant capital, Kigali.
This clean and bustling city will captivate you with its rich history and many cultural attractions. Make sure to visit the Kigali Genocide Memorial Centre, which offers a sobering yet essential insight into Rwanda's turbulent past.
Also, make time to explore Lake Kivu, one of the African Great Lakes. You'll enjoy relaxing on the picturesque beaches, trying out various water sports, or simply taking in the stunning scenery from the shores.
8. Namibia
Namibia is one of the best places to visit in Africa if otherworldly-looking landscapes, wildlife, and desert adventures are what you're after.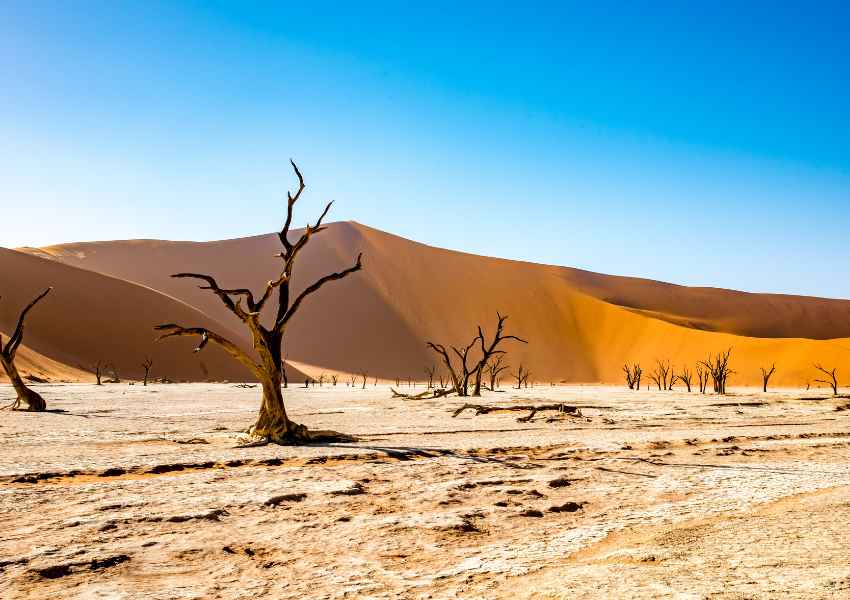 During December, you'll experience Namibia's summer season, with temperatures ranging from warm to hot, making it an ideal time to explore its various natural wonders.
If you're a fan of expansive deserts and sand dunes, the famous Sossusvlei is the perfect destination for you. Here, you'll witness the incredible contrasts between the bright blue sky and the deep red dunes.
Namibia is also home to Etosha National Park, one of the world's premier wildlife destinations.
Embrace your inner safari enthusiast as you get up close and personal with iconic species like elephants, lions, and zebras.
Don't miss out on the surreal experience of visiting the park's numerous watering holes, where you'll observe a diverse gathering of animals in their natural habitat.
For a more coastal experience, check out Swakopmund. This picturesque town, nestled between the Atlantic Ocean and the Namib Desert, offers a mix of adventure activities and leisurely strolls along the beach.
While you're there, consider trying some unique activities like sandboarding or quad biking in the desert.
9. South Africa
From wine to wildlife and seaside locales, South Africa is a country that has a little bit to offer everyone no matter their travel style, making it one of the best places to visit in Africa in December if what you're after is a well-rounded vacation.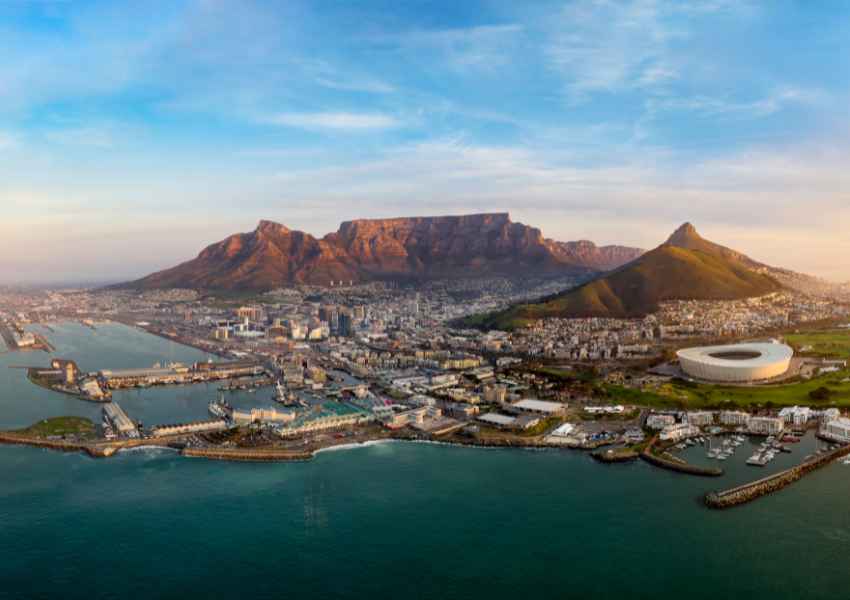 Start your journey in Cape Town, a city with breathtaking views, beautiful beaches, and rich history.
You can hike up Table Mountain or take a cable car for a panoramic view of the city. Don't forget to visit the historic Robben Island, where Nelson Mandela was imprisoned.
Next, head to the Winelands and experience some of the world's finest wines.
Stellenbosch and Franschhoek are popular spots with picturesque vineyards and cozy wine farms.
For wildlife enthusiasts, a visit to Kruger National Park is a must. In December, you can witness lions, elephants, buffalos, leopards, and rhinos here, to name just a few!
If you're a beach lover, South Africa's coastline offers pristine beaches and charming coastal towns.
Durban is a popular destination with warm Indian Ocean waters and golden sands. You can also indulge in water sports like surfing, diving, or simply soaking up the sun.
10. Botswana
Botswana is another fantastic destination to visit in December in Africa.
During this time of year, you'll get the chance to witness a variety of wildlife, experience thrilling activities, and enjoy the vibrant culture.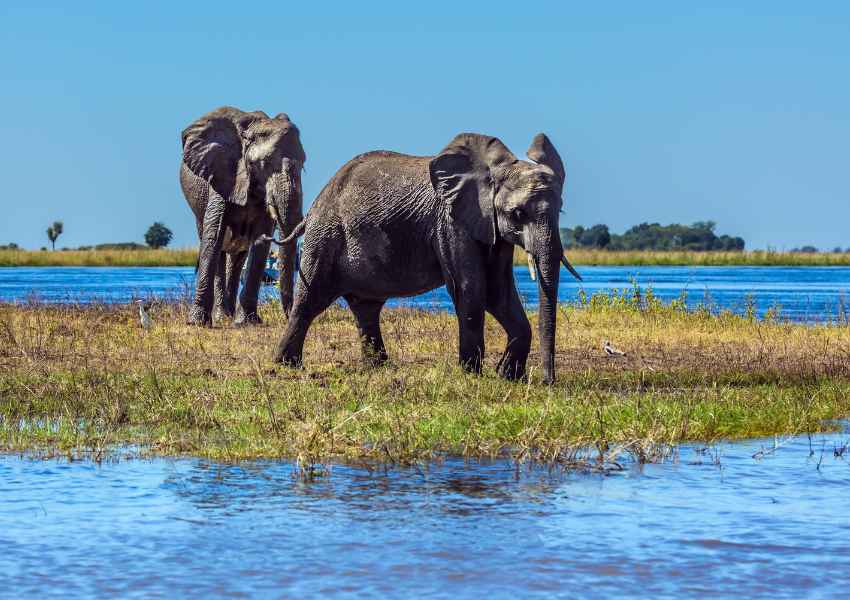 In December, Botswana offers lush green landscapes and impressive thunderstorms, allowing wildlife to thrive.
Be sure to head to the Okavango Delta, where you can experience game drives, water-based safaris, and mokoro trips.
Floating down the waterways in a mokoro (traditional dugout canoe) offers a unique perspective on the natural wonders of Botswana.
Your next stop should be the Chobe National Park, where you can see substantial herds of elephants, buffalos, and other animals.
The park borders the Chobe River, which provides a fantastic setting for river cruises and fishing opportunities.
While you're there, keep an eye out for the numerous bird species that call Chobe home, as Botswana is a birdwatcher's paradise in December.
With the weather being mostly warm and wet, it's advised that you pack lightweight clothing, a rain jacket, and insect repellent. December is part of Botswana's low season, so you might find fewer tourists and better deals on accommodation and activities.
11. Zimbabwe
Being the peak of summer in December, you'll experience warm temperatures and plenty of sunshine in Zimbabwe.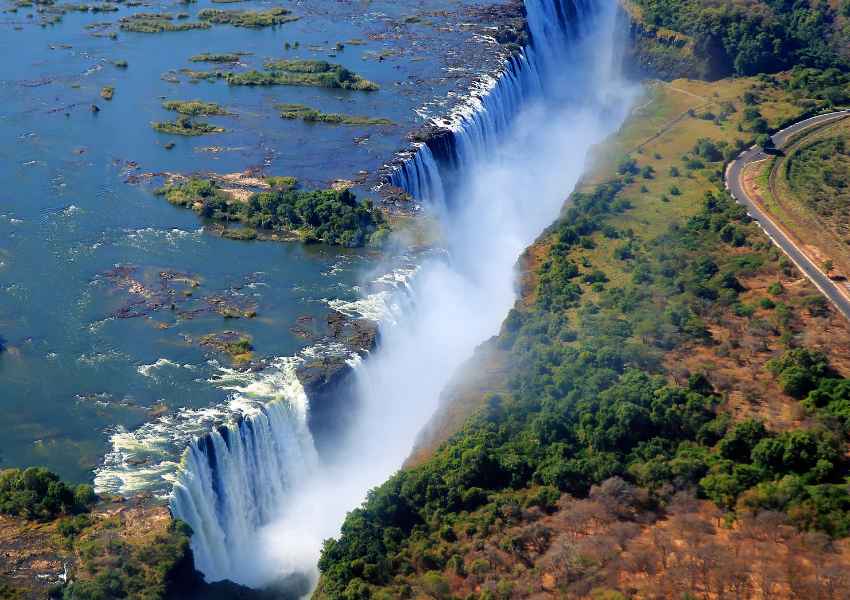 One must-visit attraction is the stunning Victoria Falls. While December is not necessarily the time of highest water flow, you'll still be treated to a spectacular and misty sight that will take your breath away.
Take a trip to Hwange National Park to get an authentic African wildlife experience.
As Zimbabwe's largest park, Hwange offers an incredible opportunity for game viewing and guided safaris.
In December, you might spot migrating birds, as well as other wildlife, like elephants and lions, visiting the waterholes.
To truly appreciate Zimbabwe's natural beauty, take a scenic drive through the Eastern Highlands.
This region offers breathtaking landscapes, lush forests, and majestic waterfalls. There are various viewpoints along the way, so be sure to grab your camera for some memorable shots.
Best Places to Visit in Africa in December: Islands
12. Madagascar
With its diverse wildlife and stunning landscapes, this unique island is definitely one of the best places to visit in Africa in December.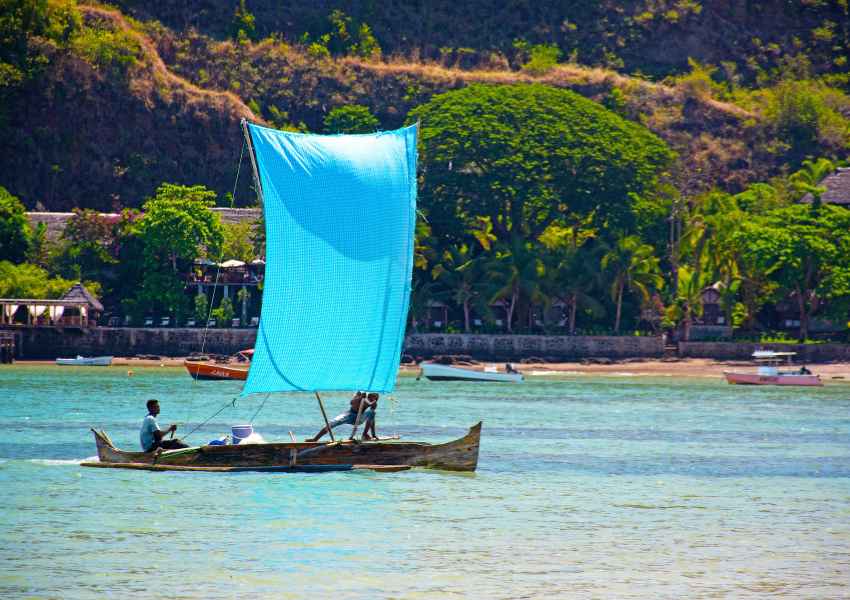 December is the start of summer in Madagascar, bringing warmer temperatures and making it an excellent time for outdoor activities.
Explore the dramatic Avenue of the Baobabs, where you can walk among these ancient, towering trees and feel truly humbled by nature's grandeur.
Head to the Andasibe-Mantadia National Park to immerse yourself in the lush rainforest, where you might catch a glimpse of the famous Indri, the largest species of lemur, along with a plethora of other wildlife.
Don't forget your camera and binoculars, as you'll have plenty of opportunities to spot endemic birds, chameleons, and other unique creatures.
No trip to Madagascar would be complete without visiting its pristine beaches.
Nosy Be, an island off the northwest coast, features crystal-clear waters and lively coral reefs perfect for snorkeling and diving.
If you're seeking a more tranquil experience, the paradise of Île Sainte-Marie offers serene and sandy shores.
13. Mauritius
With its white sandy beaches, crystal-clear waters, and lush green landscape, Mauritius is an absolute paradise that definitely deserves to be on our list of the best places to visit in Africa in December.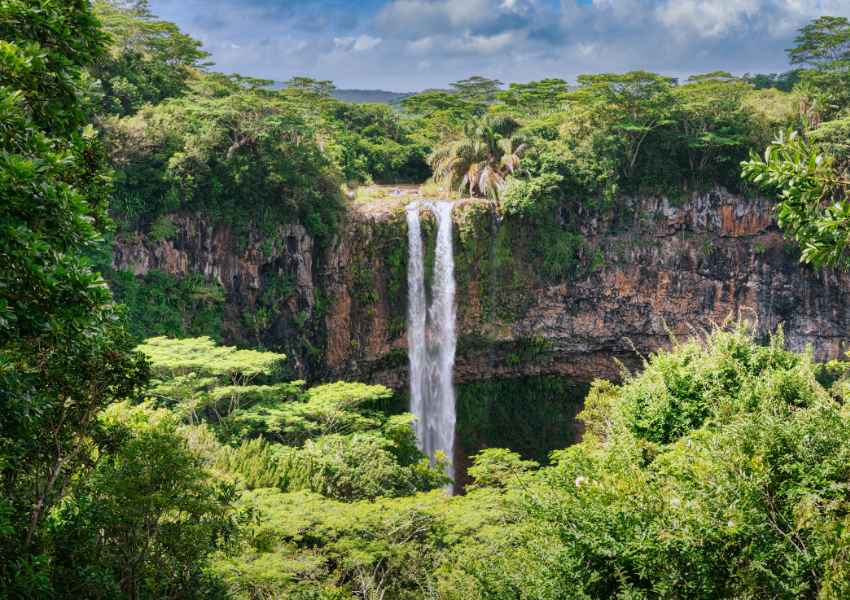 As you explore the island, you'll come across charming villages, bustling markets and the warm hospitality of the locals.
Don't miss the chance to visit the vibrant capital city of Port Louis, where you can indulge in a variety of delicious street food and historical attractions.
Moreover, the island is also home to diverse flora and fauna. Take a walk in the beautiful botanical gardens at Pamplemousses, marvel at the majestic Casela Nature Park, or visit the Seven Coloured Earth at Chamarel.
Mauritius is not just about the beaches, though. Culture enthusiasts will enjoy the melting pot of influences, including Indian, African, Chinese, and French.
14. Seychelles
If a destination that feels and looks like paradise is what you're looking for, the Seychelles is definitely one of the best places to visit in Africa in December for you.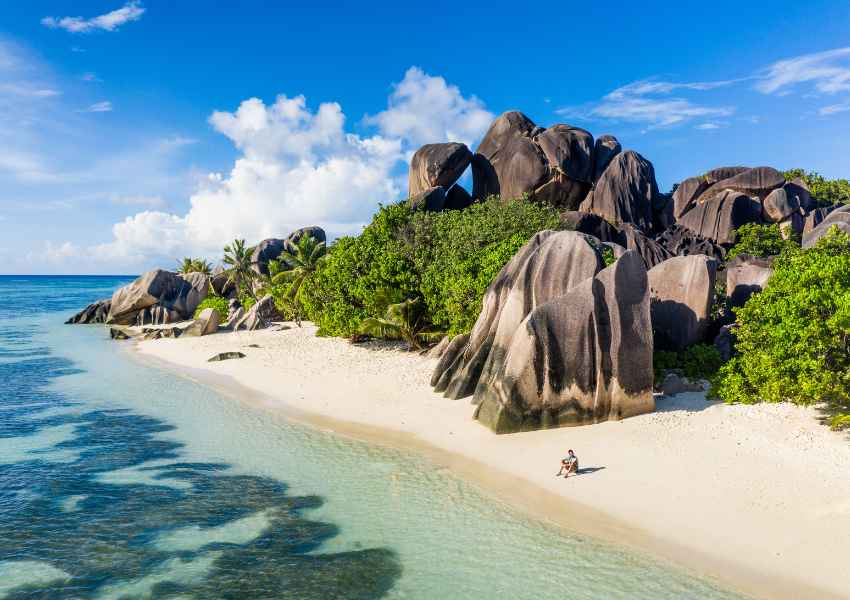 This breathtaking archipelago, located in the Indian Ocean, will enchant you with its pristine beaches, lush forests, and unique wildlife.
As you step foot on Mahé Island, the largest in the Seychelles, you'll be greeted by crystal-clear waters and powdery white sand.
Don't miss the chance to wander around the bustling city of Victoria, where you can grab a bite at local markets and browse through the vibrant Creole architecture.
When you hop over to Praslin Island, you'll want to explore the Vallée de Mai Nature Reserve, a UNESCO World Heritage Site.
This stunning reserve is home to the rare Coco de Mer palms and beautiful black parrots. You definitely won't want to miss the breathtaking Anse Lazio beach, known for its picturesque landscape and turquoise waters.
La Digue Island, just a ferry ride away, offers a more laid-back experience. Rent a bike and ride along the picturesque coastal paths, taking in the island's unique granite rock formations.
This island alone is considered the star of the country and one of the main reasons Seychelles is one of the best places to visit in Africa in December.
Best Places to Visit in Africa in December: Conclusion
Africa is a vast and diverse continent with so much to offer visitors.
December is an excellent time to explore the continent, with plenty of sunshine, warm temperatures, and fewer crowds.
From the bustling cities of Marrakech and Cape Town to the scenic beauty of the Serengeti and the beaches of Zanzibar, there's no shortage of amazing places to visit in Africa.
We hope this list of the 14 best places to visit in Africa in December has inspired you to plan your next adventure.