Stellenbosch Wine Farms You Have To Check Out
Set in the heart of the Cape wine region, Stellenbosch is the second oldest wine region in South Africa. If you're traveling the Garden Route or planning for a dreamy day trip from Cape Town, chances are visiting a few wine farms in Stellenbosch is one of the things you're looking the most forward to do in your itinerary.
10 Stellenbosch Wine Farms You Have to Visit While in Town:
With hundreds of wineries to choose from, picking which places to visit and which to skip isn't exactly the easiest of tasks. Even though all wine farms in Stellenbosch have something special to offer (seriously, it's virtually impossible not to have a great time exploring the area), there are a few that stand up from the crowd.
With that said, I decided to put together a guide to the best wine experiences to have in Stellenbosch so you can sit back and relax (with a glass of wine in hand, of course!)
Dornier Wines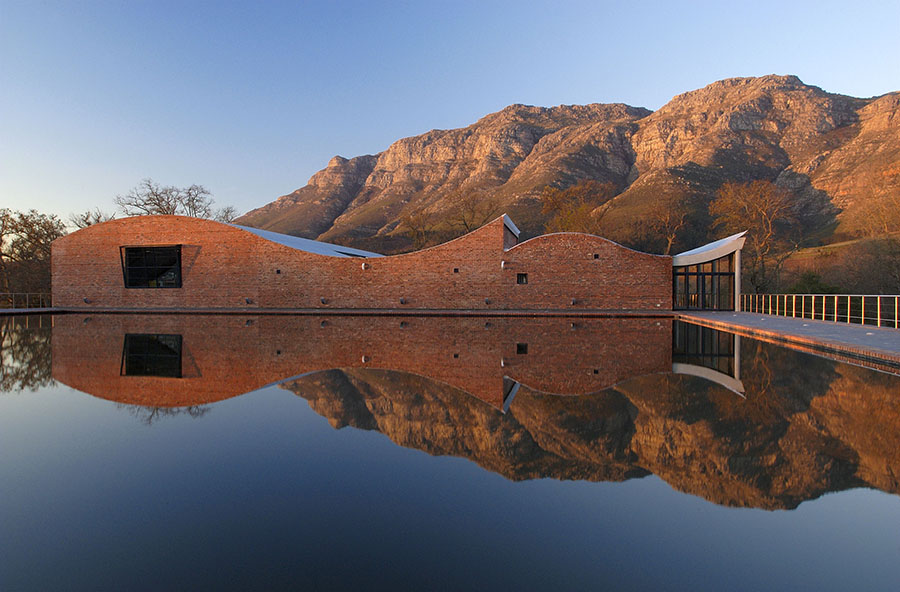 If you're into experimental wine, Dornier Wines is your go-to wine farm in Stellenbosch. Set on the foot of Stellenbosch Mountains, their focus is set on quality red and white wines that are produced in hand with ancient decomposed granite soils. Aside from that, this wine estate is known for its iconic wine cellar, which you can visit on a wine-tasting tour.
Dornier Wines offers dining options, wine-tasting sessions, and luxury accommodation.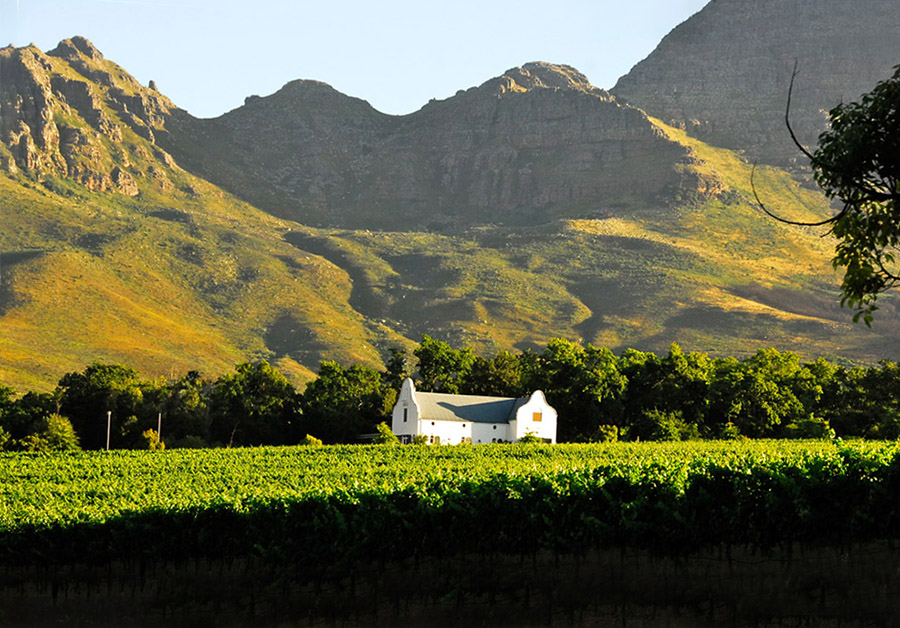 Address: Dornier Road, Upper Blaauwklippen Rd, Stellenbosch
Hours: Every day from 9 am to 5 pm.
Contact: +27 21 880 0557
Website: www.dornier.co.za
Don't forget to get travel insurance for your trip! As always, I recommend Safety Wing for great prices and coverage abroad. It starts at only $45 USD per month and will have you covered with everything you may need during your trip! Check them out here.
Ken Forrester Vineyards
Ken Forrester couldn't have worded it better: "All the problems of the world on one hand – and a glass of Chenin in the other, that's better!". Ken Forresters Wine Farm is often referred to as the "Home of Chenin Blanch". If you're into Chenin Blanc & Rhône varietal reds, this wine farm is one of your best bets.
Address: Scholtzenhof farm Cnr Winery Road & R44
Hours: Monday through Friday: 9 am to 5 pm, Saturdays: 9:30 am to 3:30 pm. Closed on Sundays.
Contact: +27 21 855 2374
Website: www.kenforresterwines.com
Spier Wine Farm
With a heritage that dates back to the 15th century, you're surely in for a treat when you visit this wine farm in Stellenbosch. While you enjoy the wine tasting at one of the oldest properties in South Africa, you can also capture a glimpse of one of the largest contemporary art collections in the country. Spier Wine Farm is also a hotel, so if you want to experience staying at an authentic Stellenbosch wine farm, you can book a room here.
The family who bought the farm in the nineties live on the grounds and work hands-on with the farming operations, which means you're in for a really personal experience!
Address: R310 Baden Powell Dr, Stellenbosch
Hours: This wine farm often hosts events, so check out this resource for an extensive list of their opening times.
Contact: +27 21 809 1100
Website: www.spier.co.za
Le Pommier Wine Estate
Once an apple orchard, Le Pommier Wine Estate is set on the Banghoek Valley and offers a range of wines characterized for appealing to novice wine drinkers, so it's one of the best wine estates in Stellenbosch to visit if you're a newbie at the whole wine-tasting scene. After a wine-tasting session, you have head over to try Banhoe country dishes at their restaurant which offers breath-taking views of the Simonomberg Mountain.
Note that Le Pommier is an incredibly popular wine farm in Stellenbosch, so I highly recommend booking any wine tastings in advance to make sure you get a spot. You can do so on their website.
Address: Helshoogte Rd, Banhoek, Stellenbosch
Hours: Monday through Saturday – 8 am to 11 pm. Sundays: 8 am to 5 pm.
Contact: +27 21 885 1269
Website: www.lepommier.co.za
Meerlust Estate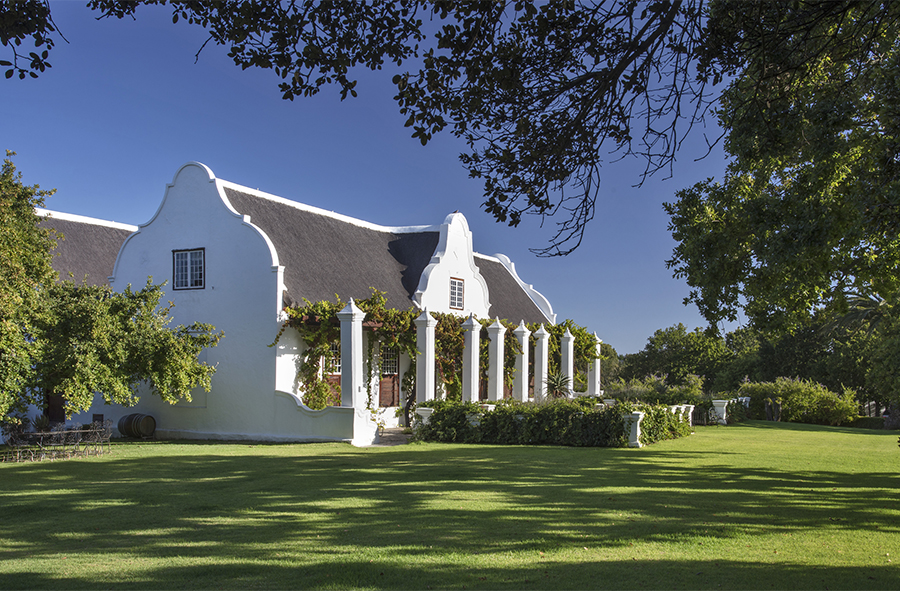 More than a wine farm, The Meerlust Estate is considered a national monument in South Africa holding charm and history. If you're into unique accommodations, you can spend the night in what used to be the slave quarters of the estate. The word meerlust translates into "pleasure of the sea", a name given to the farm as an ode to the ocean breezes that roll in from the coast during the summer.
Growing wines on the estate has been a tradition of the Myburgh family for eight generations already, and a tour of the estate will take you through the iconic white façade of the Manor House, its classical wine cellar, rose gardens, a bird sanctuary, and more.
Address: 33 Baden Powell Dr, R310, Stellenbosch
Hours: Monday through Friday – 9 am to 5 pm. Saturdays – 10 am to 2 pm. Closed on Sundays.
Contact: +27 21 843 3587
Website: www.meerlust.co.za
Waterford Estate
While only half of this 120-acre lot is used for the wine, the Ord Family made the decision to only use the half of the farm to plant vines in order to preserve the natural ecosystem of the land. This means you'll be able to witness gorgeous plants and animals that call the estate their home when you partake in a wine tour at Waterford Estate.
Set on the alluring Blaauwklippen Valley, one of the most famous wine regions in Stellenbosch, Waterford Estate puts an emphasis on letting guests appreciate the natural beauty that surrounds the farm rather than the estate itself.
The Waterford Estate winery offers a very relaxing and unpretentious setting where guests can partake in a variety of wine tasting options. You can also take a tour of the wine cellar around the courtyards to observe the workings of the winter and get a first-hand experience of the wine-making process.
Aside from the cellar tour, you can also opt for any of their two vineyard experiences, the Wine Drive Safari, a three-hour tour on a safari-type vehicle that will take get you close and personal with the entire estate. and the Porcupine Trail Wine Walk, a selection of three trails with different intensity levels that will have you exploring the vineyards and the natural fynbos in the estate on foot.
Address: Upper Blaauwklippen Rd, Helderberg Rural
Hours: Monday through Friday – 9 am to 5 pm. Saturday – 10 am to 5 pm. Closed on Sundays.
Contact: +27 21 880 5300
Website: waterfordestate.co.za
Villiera Wines
Villiera is a family-run wine farm in Stellenbosch known for its distinct sparkling wines. They specialize in Cap Classique and have a strong rep for Sauvignon Blanc, Chenin Blanc, Merlot and Cabaret Sauvignon.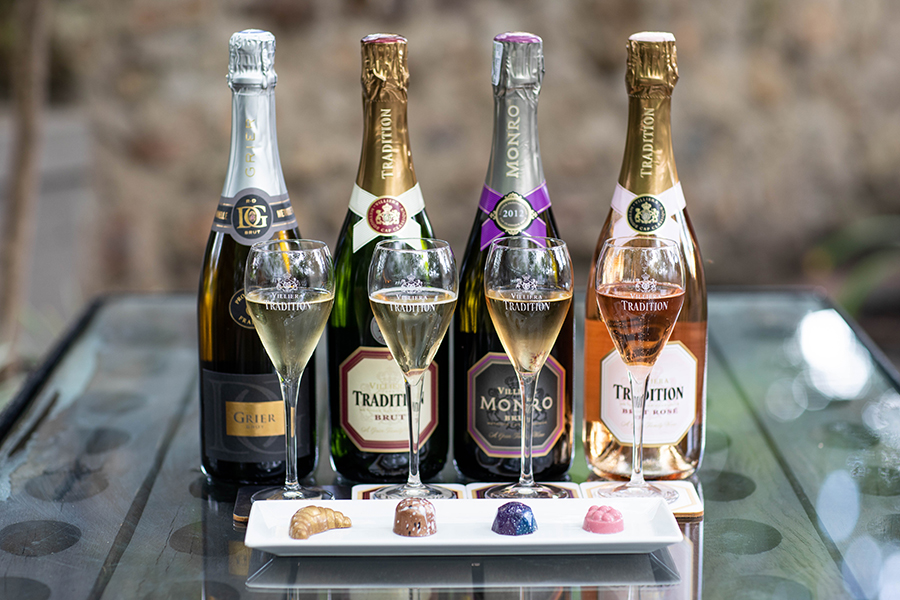 Aside from coming here to taste their wines, another aspect that makes this Stellenbosch wine farm so unique is the fact that they set aside 220 hectares of land in Koelenhof and repurposed it as a wildlife sanctuary. You can hop on a safari-style car and go on a two-hour game drive to see springbuck, giraffes, zebras, and more – all with a glass of sparkling wine in hand, of course.
Address: Cnr R304 & R101 Koelenhof Near, Stellenbosch
Hours: Monday through Friday – 9 am to 5 pm. Saturday – 9 am to 3 pm. Closed on Sundays.
Contact: +27 21 865 2002
Website: www.villiera.com
TOKARA Wine Estate
"TOKARA is the embodiment of GT Ferreira's philosophy that good wine, good food, and good art go together to make a good lifestyle."
TOKARA wine estate is another gem of a wine farm in Stellenbosch. Set on the foothills of Simonsberg Mountain, TOKARA that focuses on Cabernet Sauvignon and Sauvignon Blancs. An aspect that makes TOKARA Wine Estate stand out from the crowds is its amazing private art installation by Marco Cianfanelli, which depicts the creation and story behind the property.
Their restaurant, TOKARA Delicatessen is a must for foodies. It specialized in contemporary cuisine offered with views over Stellenbosch and False Bay.
Address: Helshoogte Rd, Stellenbosch
Hours: Daily from 9 am to 5 pm
Contact: +27 21 808 5900
Website: www.tokara.com
Hidden Valley Wine Estate
Set on the slopes of the Helderberg Mountains in the outskirts of town, this amazing wine farm boasts some of the most privileged views of Stellenbosch's surrounding nature.
The estate's modern architecture created using natural elements make it a real treat to spend time here, not to mention their selection of wines can keep visitors busy for several hours!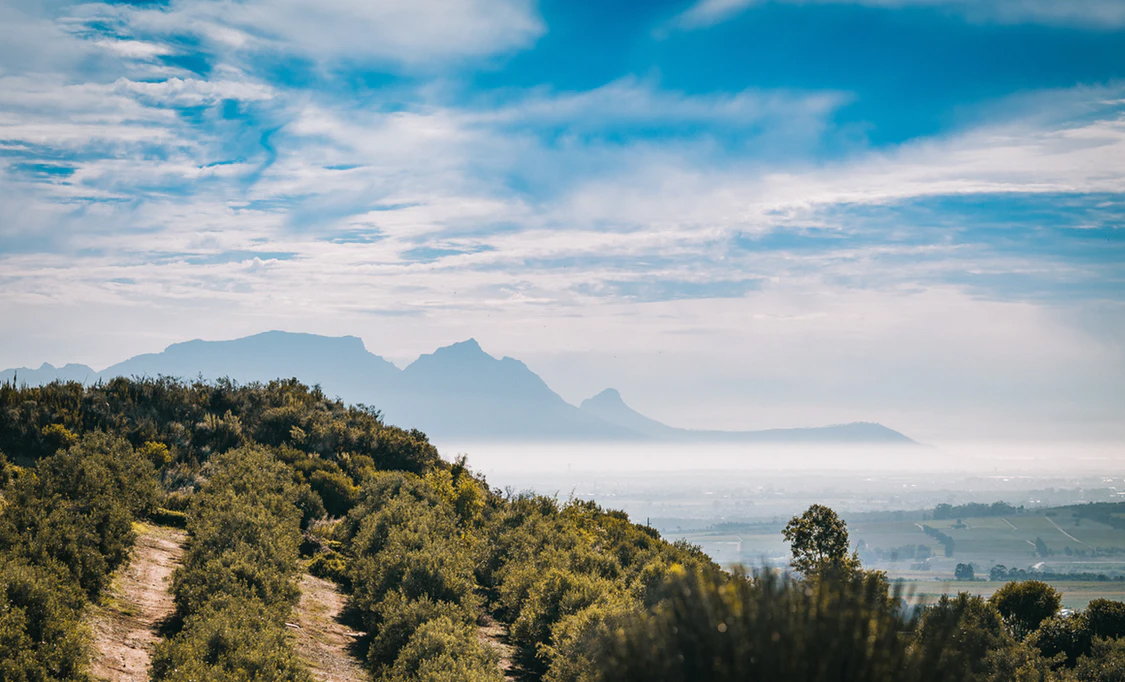 Address: Annandale Rd, Stellenbosch,
Hours: Open daily from 9 am to 6 pm in Summer & 9 am to 5 pm in Winter
Contact: +27 21 880 2646
Website: www.hiddenvalleywines.co.za
Uva Mira Mountain Vineyards
Set on the slopes of the Helderberg Mountains inside the reserve, this vineyard is a real treat to visit for many reasons, but one of the highlights is definitely the views it offers of False Bay and Table Bay.
Thanks to its location on the "Golden Triangle" and the altitude it stands on, the climate creates a perfect environment to make wines that are elegant in style. Uva Mira offers six varietals, namely Chardonnay, Merlot, Shiraz, Cabernet Sauvignon, Cabernet Franc, and Sauvignon Blanc.
Address: Annandale Road, Stellenbosch
Hours: Open daily from 9 am to 6 pm
Contact: +27 21 880 1683
Website: www.uvamira.com
So there you have it, a few of the top wine farms in Stellenbosch that you can't miss while visiting the beating heart of South Africa's most famous wine region!
Fun facts about Stellenbosch's wine:
Stellebosch is backdropped by the Cape Fold Mountain range, and thanks to its Mediterranean climate, the wines from the entire region are often described as having a very subtle mineral note.
The granite mountains around it are said to be around six hundred million years old.
Stellenbosch is home to seven wine sub-regions and wards as well as a few unofficial areas that are known for their incredible wine production. The most noteworthy ones are Blauuwklippen RiverValley, Somerset West, Simonsberg-Stellenbosch, and Banghoek (I'll go into more depth about each region/ward further down this post).
More things to do in Stellenbosch beyond its wine farms
Even though the main highlight of visiting Stellenbosch is checking out its wine farms and vineyards, there are so many more incredible things to do in this cozy student town that you shouldn't miss. Here are a few ideas for your itinerary: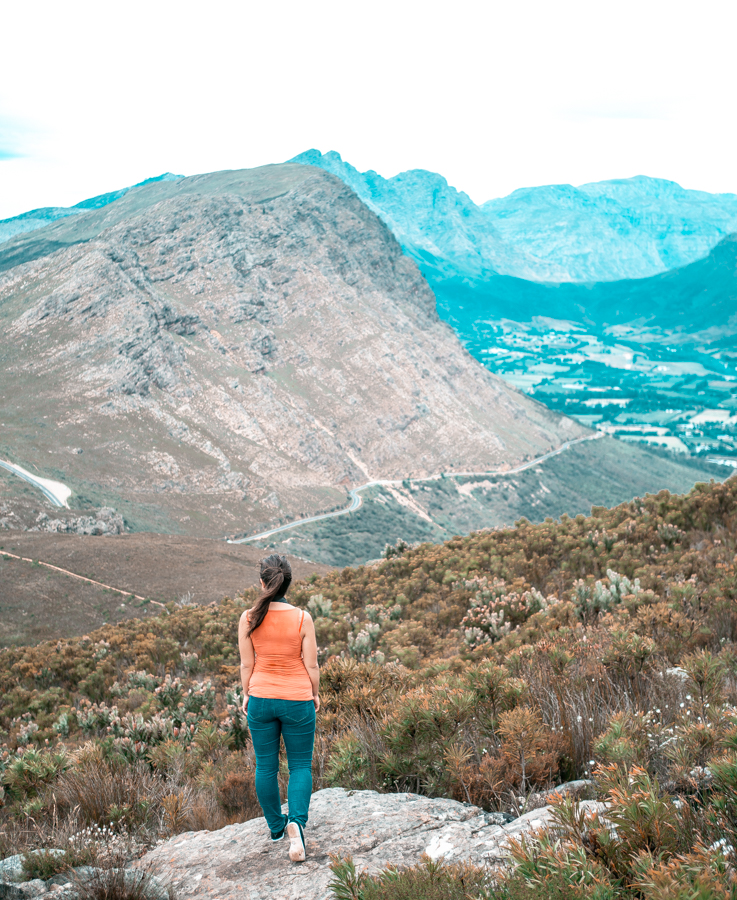 De Warenmarkt – If you're a foodie, this place is a must. Plus, it's another location to head to once it gets too dark to keep the wine tasting going (most wine farms in Stellenbosch close around five or six PM). De Warenmarkt is set inside an 18th-century building located in the heart of the town's culture district. While here, you can indulge in some of the best food Stellenbosch has to offer, paired with some of the most iconic wines sourced in the area. For more information, head over here.
Museums – Stellenbosch, being the cultural and historical gem that it is, boasts an enormous amount of museums that you have to check out after exploring the city through its wine. It'd be impossible to list them all, but a few of the can't miss museums include the Village Museum (if you visit just ONE in Stellenbosch, this should be it!), the Rupert Museum, The Sasol Art Museum, Die Moederkerk, and Stellenbosch Art Gallery.
Dorp Street – Drop Street isn't just another avenue in South Africa, it's a historical monument and one of the longest rows of surviving historical buildings in South Africa. Nowadays, is home to some of the best museums in town, as well as dozens of restaurants, locally-owned boutique shops, and more. We were so lucky to have booked a hotel right in the heart of the street – Not only was it an absolute privilege to get to stay in one of the oldest buildings in Stellenosch, but it also meant we didn't have to touch the car at all to explore the city.
Take a historical walking tour – Stellenbosch is a city brimming with history. Like, every single corner of the city center has secrets hidden behind its walls. Taking a historical tour will give you the chance to get to know Stellenbosch in and out, rather than just admiring the beautiful buildings. If there's one thing you do in Stellenbosch aside from wine tasting, make it this. You can book a historical tour of Stellenbosch here.
Slow Market – If you happen to be in Stellenbosch on a Saturday, make sure you pop by Slow Market in Oude Libertas. This quaint market is known for its slow food, all of which are cooked, grown, and harvested by local makers, producers, and artisans.
Take a day trip to Franschhoek – Franschhoek is sort of like Stellenbosch's sister, and you can't really visit one without checking out the other as well. This quaint town is known for its centuries-old wine farms and Cape Dutch architecture. We really enjoyed taking the famous Franschhoek Wine Tram to check out even more vineyards here, but we also loved getting lost in nature and hiking through Mont Rochelle Nature Reserve on a day trip.
Stellenbosch Wine Regions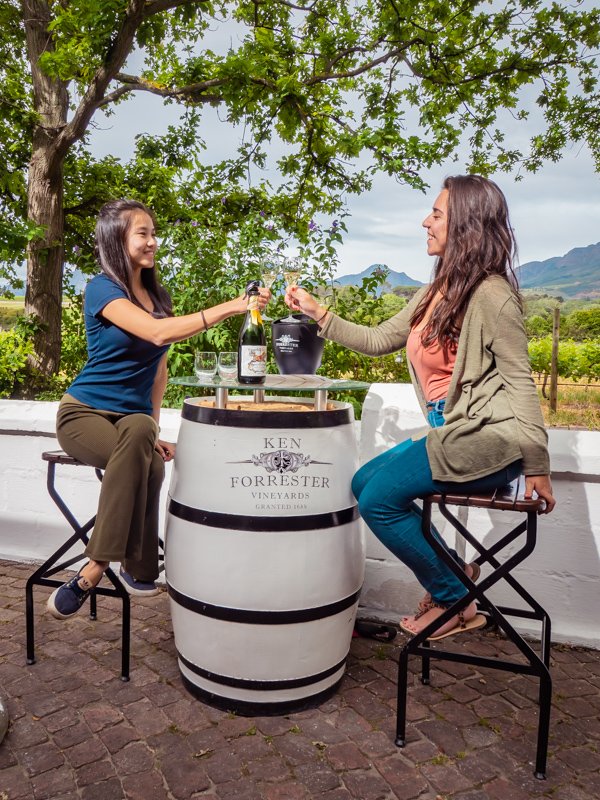 Stellenbosch is known for being THE destination to visit wine farms, but there is so much to it than meets the eye!
Stellenbosch is home to seven wine sub-regions and wards as well as a few unofficial areas that are known for their incredible wine production. The most noteworthy ones are Blauuwklippen RiverValley, Somerset West, Simonsberg-Stellenbosch, and Banghoek.
Here's a little introduction to each wine region/ward in Stellenbosch:
Blaauwklippen River Valley
Blaauwklippen translates into Blue Cliffs, and it's a wine area southwest of Stellenbosch. The area is known for producing excellent white wines with Chenin Blanc and Viognier as well as juicy Syrah.
Somerset West
Somerset West is an unofficial ward known for its white, rosé wines and tobacco-laced Cabernet. A highlight of visiting a few wine farms here is the views of the ocean to one side and vistas of mountains to the other.
Simonsberg Stellenbosch
Thanks to the clay soils from Simonsberg Mountain, the wines produced in this ward are known for being bold and usually require to be cellared for years. Simosnberg Stellenbosch is known for its Cabernet and Merlot Blends as well as their Chenin and Sauvignon Blanc that are unique to South Africa.
Banghoek
Set right next to Simbonsberg-Stellenbosh, this ward is known for its rolling hills, its juicy Cabernet-based wines and their excellent white wines. The Chardonnay made is this region is known for being some of the best in South Africa.
Where to stay in Stellenbosch
Stellenbosch is an easy day trip from Cape Town, but to make the most out of your time here, I really recommend booking a hotel for a night or two. There's a vast array of accommodation options in Stellenbosch ranging from backpacker hostels to Airbnbs and high-end hotels.
We stayed at the Eendracht Hotel while exploring Stellenbosch. The hotel is located on scenic Dorp Street, a national monument that has one of the longest rows of surviving old buildings in South Africa. Staying here meant we were based in the oldest part of Stellenbosch and the heart of the city, so we were walking distance from dozens of restaurants, galleries, coffee shops, and museums. We really only had to use our rental car to drive out of town to go vineyard hopping, but when it came to check out the town itself, it wasn't necessary as everything was located a stone's throw away.
You can book your stay at Eendracht here.
How to get to Stellenbosch
Uber or Bolt: The easiest and most stress-free way to get to Stellenbosch from Cape Town or Cape Town Airport is by hiring an Uber or Bold (I prefer Bolt personally, but either option will do the trick!). Prices vary depending on traffic conditions.
Bus: Major bus companies like Grayhound operate between Cape Town and Stellenbosch. Additionally, many hostels around Cape Town offer shuttle services for around R 120-150.
Train: Metrorail operates a service between Cape Town and Stellenbosch regularly. This is one of the cheapest ways to get to Stellenbosch from central Cape Town. Check the schedules beforehand – usually, you'll find several trains every day, with more options available during peak periods.
Plane: Stellenbosch has a small airfield, but you'll usually find more affordable flights into Cape Town Airport, which is around thirty-five minutes away from Stellenbosch.
Car: For me, the best option to get to Stellenbosch was hiring a car, as most wine farms in Stellenbosch are located outside the town itself and having the freedom to move around was great. The downside is obviously that you have to watch what you're drinking, but overall, it made our time vineyard hopping a whole lot easier. We rented ours from Around About Cars and I have nothing but amazing things to say about them. Their car rentals are inexpensive and the entire process was seamless.
Tour: If you're not in the mood to plan anything yourself, there are tons of wine farm tours like this one available, many of which start in Cape Town! This means you can just sit back, relax, and spend the day wine tasting without having to worry about how to get from A to B.

How to get around Stellenbosch
The town center is really small, and you can easily navigate it on foot or you can rent a bicycle over at the Tourism Bureau. One thing I highly recommend, though, is to book a historical walking tour – there's history in every single corner on Stellenbosch, and you'll only get to learn all about it with a guided tour.
When it comes to exploring the wine farms, though, you'll either need a car, rely on Uber, or book a hop on hop off wine tasting tour like this one.
Where to go after Stellenbosch?
The Garden Route is an amazing area of South Africa to explore. After Stellenbosch, you can check Cape Town out if you haven't already, or head east towards Oudtshoorn to explore Klein Karoo, check all the amazing things to do in Knysna or visit the incredible seaside town that is Plettenberg Bay.
If Stellenbosch is the last leg of your Garden Route itinerary, you can also fly out to Durban to go on a safari at one of the game reserves in KwaZulu Natal on the opposite side of South Africa, like Thanda Safari or Rhino River Lodge.
Phew! That was a long post – I hope it helps you plan your visit to Stellenbosch. In reality, you could simply pick a highway, drive away, and make stops at any wine farms you come across – there are SO MANY (I actually got curious and googled how many vineyards there are in Stellenbosch, but couldn't pull out any results). This post, though, will hopefully be a useful starting point to plan your itinerary and picking out the spots that spark your interest 🙂
What are some other great wine farms to check out in Stellenbosch? Let me know in the comment section below!
Get more inspiration for your trip:
The Best Africa Honeymoon Destinations
The Most Romantic Getaway in KwaZulu Natal