Best Game Reserves in KZN: The Most Romantic Getaways in South Africa
Plotting a romantic getaway in South Africa's KwaZulu Natal? If a romantic bush break is on the bucket list, these are just a few of my favorite game reserves in KZN to check out!
KwaZulu Natal is easily one of the most alluring regions of South Africa. With mountainscapes that last for days, dry savannah, untouched beaches, and unparalleled cultural heritage, it's hard to beat the beauty this area of the country has to offer already, but when you throw in the wildlife, the hiking opportunities, and the nearby coastal resorts, it's easy to forget there are other destinations in the country at all.
With that said, I rounded up a list of the best safari lodges and game reserves in KZN that need to be on your bucket list for a romantic getaway. From Big Five reserves to underwater worlds, these are just a few of the luxury natural wonders in KwaZulu Natal that need to be on your bucket list!
The best game reserves in KZN for a romantic getaway:
Thanda Game Reserve
Thanda means love in isiZulu language, and this game reserve is one of the best places for a romantic getaway in KZN, if not entire South Africa.
With a deep commitment to wildlife conservation and Zulu culture, this 14000-hectare private reserve is one of the best game reserves near Durban to visit if you're looking for a big 5 safari experience in KwaZulu Natal that combines unequaled luxury, cultural immersion, and unparalleled cuisine.
Where? Situated some 260 kilometers north of Durban and a stone's throw away from Saint Lucia Wetlands, this luxury game lodge is accessible by car from Durban, or you can fly directly to the reserve or to Phina Airstrip.
Where to stay? Thanda is privately owned by Thanda, so there are only three different accommodation options: Thanda's private villa for families or large groups, Thanda Lodge, and Thanda Tented Camp. You can read all about my stay in Thanda Safari here or book your stay + safari here.
Manyoni Game Reserve
Being one of the largest privately-owned game reserves in KZN, Manyoni's wildlife sightings are unparalleled. This game reserve is renowned for its incredible game viewing, culturally rich traditions, and astounding conservation history.
Manyoni Game Reserve is also a prime spot to see rhinos in their natural habitat, as the reserve was confirmed as a release site for the WWF Black Rhino Expansion Project. In 2005, tons of black rhinos were brought into their new homes, so if seeing real-life unicorns during your safari getaway in South Africa is on the list, Manyoni Game Reserve is probably the best place to do that!
Where? Manyoni is in the heart of Zululand only 3 hours from Durban and 6 hours from Johannesburg.
Where to stay? Manyoni is home to a range of luxury safari lodges. I recommend staying at Rhino River Lodge, a cozy game lodge set right in the heart of the reserve.
Phinda Private Game Reserve
Encompassing almost 29 thousand hectares of protected wildlife land in KwaZulu-Natal, &Beyond Phinda is another amazing Big Five Game reserve in KZN that you must visit! Thanks to its close proximity to the unspoiled coast of Zululand, a getaway to Phinda means you'll get to combine the best of both worlds in one trip.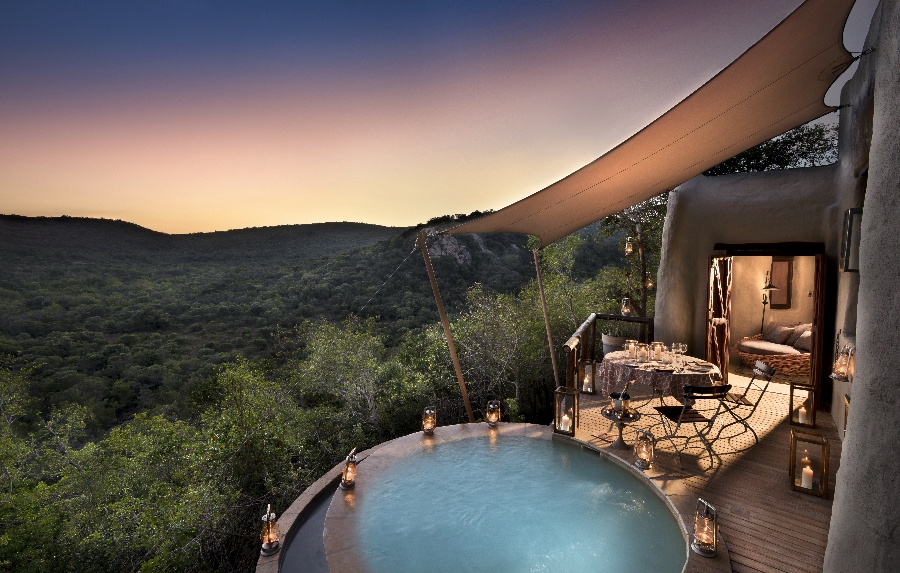 Photo credit: andBeyond.com
Phinda is home to all the big five, but its especially loved by visitors for its iconic close encounters with cheetahs and black rhinos. While here, you'll get to experience game drives in open 4×4 safari vehicles as well as choose from a wide range of optional excursions in the bush and on the beach.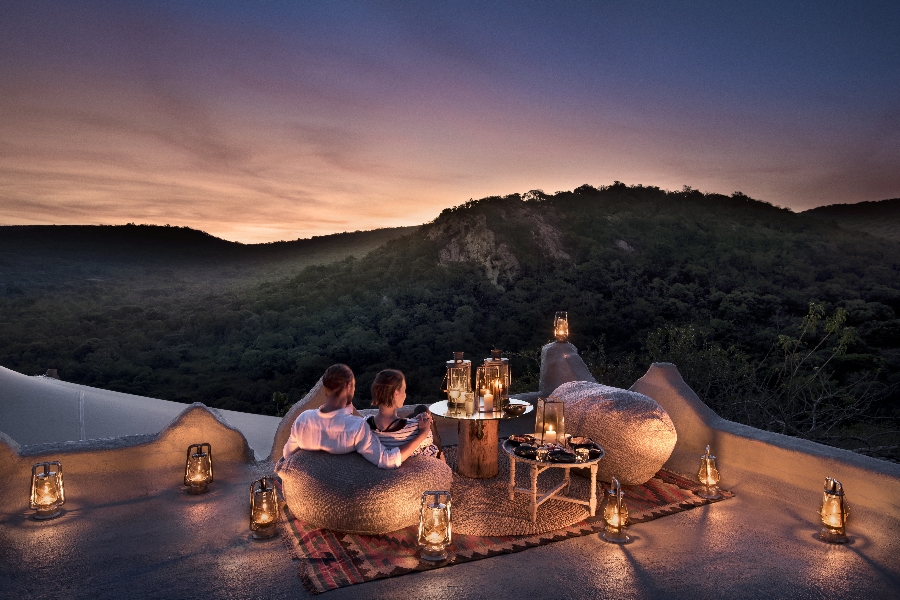 Photo credit: andBeyond.com
Where? This private game reserve is located in KwaZulu Natal between the Mkuze Game Reserve and the Greater St. Lucia Wetlands.
Where to stay? Phinda boasts six game lodges – Mountain Lodge, Rock Lodge, Forest Lodge, Vlei Lodge, Zuka Lodge and Phinda Homestead.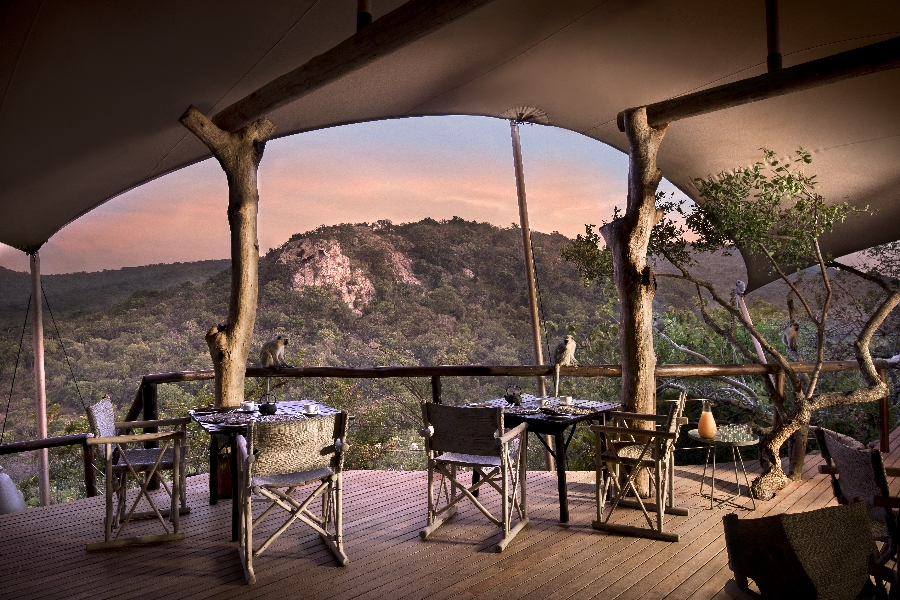 Photo credit: andBeyond.com
Nambiti Private Game Reserve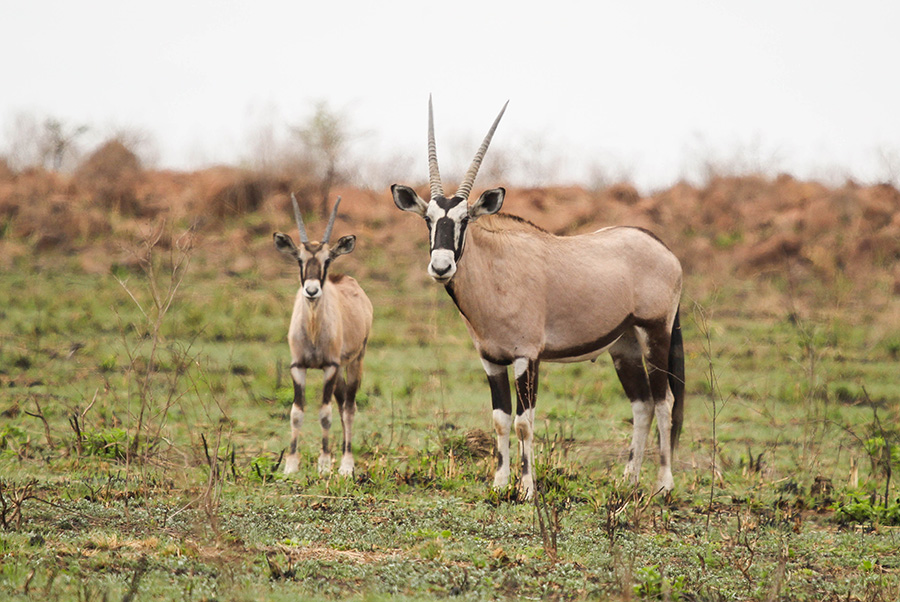 Set just a short drive away from the majestic Drakensberg Mountains, Nambiti is the only game reserve in the area the elusive Big Five call their home. Offering a thrilling diversity of wildlife encounters and unparalleled landscapes, Nambiti is one of the best game reserves in KZN to visit for those who live closer to Johannesburg or Pretoria.
Aside from the Big 5, Nambiti is also home to over 40 other species of game including cheetah, hippo, giraffe, hyena, zebra and offers some of the most beautiful and romantic game lodges in KZN.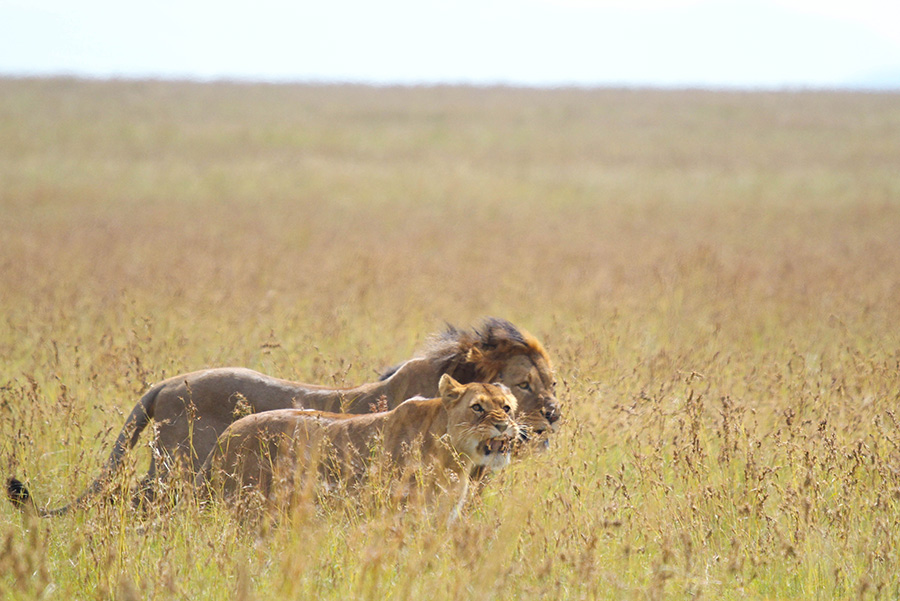 Where? Nambiti Private Game Reserve is located in a malaria-free area near the town of Ladysmith, a three and a half-hour drive from Johannesburg or a two and a half-hour drive from Durban.
Where to stay? Nambiti is home to nine luxurious game lodges, including six 5-star lodges and two tented camps to suit any budget and travel style. Our favorite for a romantic getaway from Johannesburg is the Nambiti Plains Game Lodge, and you can book your stay here.
Thula Thula Private Game Reserve
Thula Thula means "peace and tranquility" in Zulu, and that's exactly what you can expect when planning a getaway to this game reserve.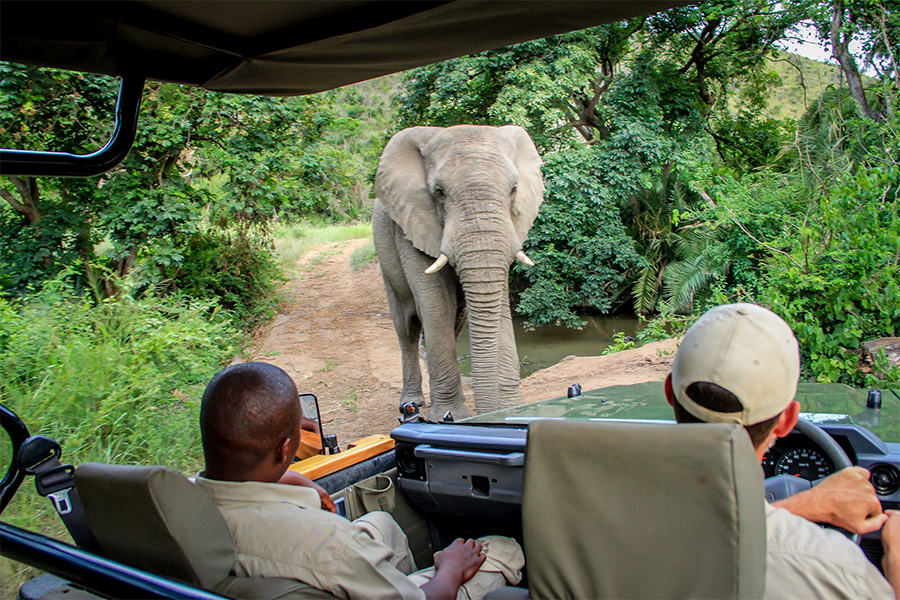 Renowned for its unique décor, incredible foodie scene, and unparalleled wildlife sightings, Thula Thula Private Game Reserve offers safari-goers the unique opportunity to spot leopards, elephants, rhinos, crocodiles, and hyenas in the setting of the ancestral land the reserve stands on.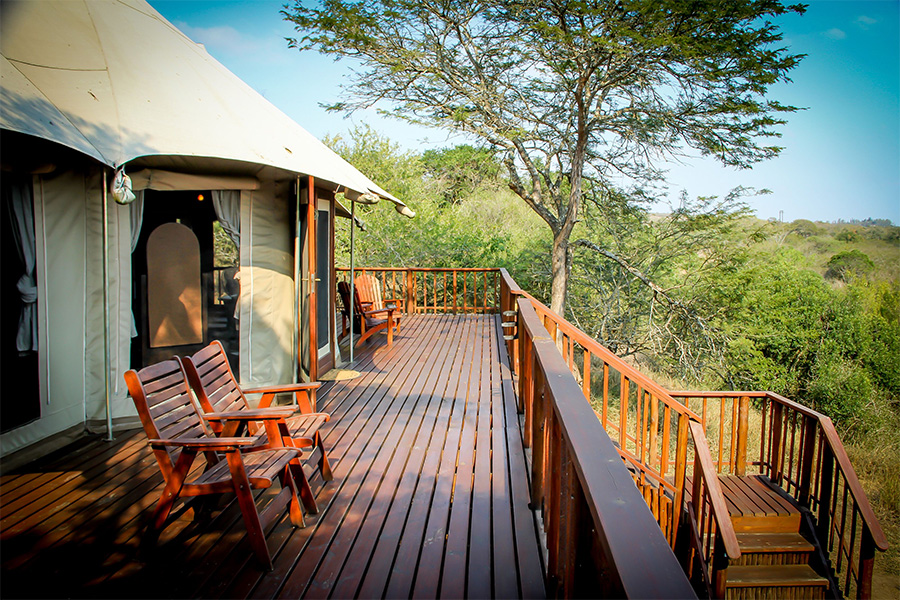 Where? Set in the heart of Zululand, Thula Thula Game Reserve is set just a two and a half-hour drive from Durban.
Where to stay? Thula Thula private game reserve offers two accommodation options: Elephant Safari Lodge (known for its amazing food choices) and Luxury Tented Camp for an authentic bush experience. Book your stay here.
Amakhosi Private Game Reserve
Amakhosi is probably one of the lesser-known game reserves in KZN. A visit to his little gem of a place welcomes you with some of the most spectacular landscapes KwaZulu Natal has to offer. Think of a day spent chasing game with grasslands stretching to the south and mountains peeking from the horizon to complete the view.
While Amakhosi is known for its big game, there are many smaller creatures to be found here that are just as fascinating – over four hundred species of birds call this game reserve their home, making it one of the best destinations in KZN for birth watchers.
Where? The Amakhosi Private Game Reserve + game lodge is located 2.5 hours away from St. Lucia Wetlands and Sodwana Bay.
Where to stay? The Amakhosi Safari Lodge is situated inside the reserve and provides for a perfect romantic getaway in the bush. Book your stay here.
Pakamisa Private Game Reserve
Pakamisa means "to lift up" in Zulu and this game reserve known for being the home to smaller animals in a tranquil setting. Another quirk that makes Pakamisa special is their unique collection of Arabian Horses, all trained to take guests on a thrilling horseback safari.
Pakamisa is predator and malaria-free, which makes it one of the best game reserves in KZN to visit for those traveling with children.
Where? Pakamisa Game Reserve is located in northern KwaZulu Natal, just on the border of Swaziland.
Where to stay? Book your stay here.
Tembe Elephant Park
It's said that the largest elephants in the world can be found at Tembe National Elephant Park, so if an intimate encounter with nature's giants is what you're after, you're bound to find it at this game reserve. Tembe is also the third biggest game reserve in KZN, so you'll be game driving your way through diverse landscapes: from sand forest to swamp, and savannah.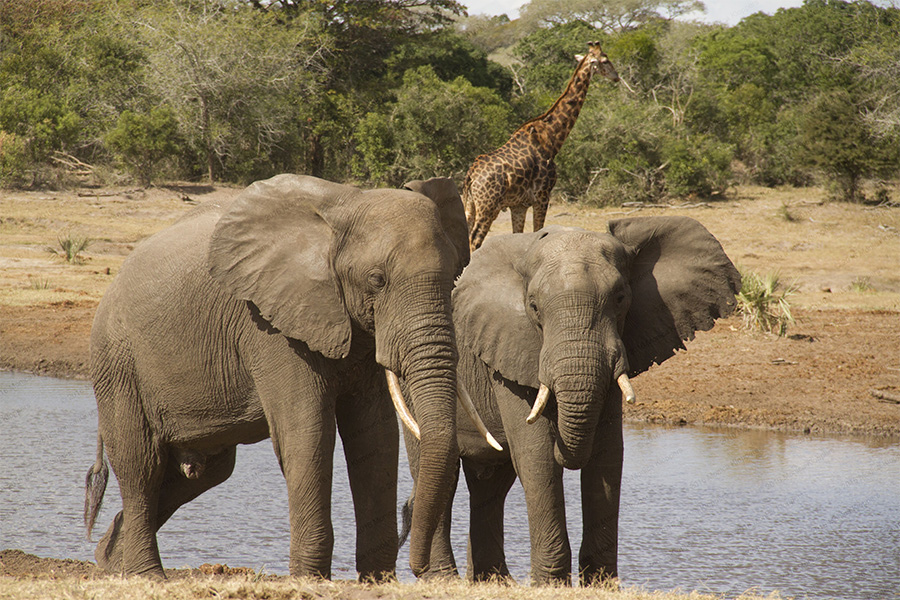 Aside from its incredible elephant population (some of which are indeed the biggest living tuskers), this game reserve in KZN is also home to the Big Five as well as other animals and plants.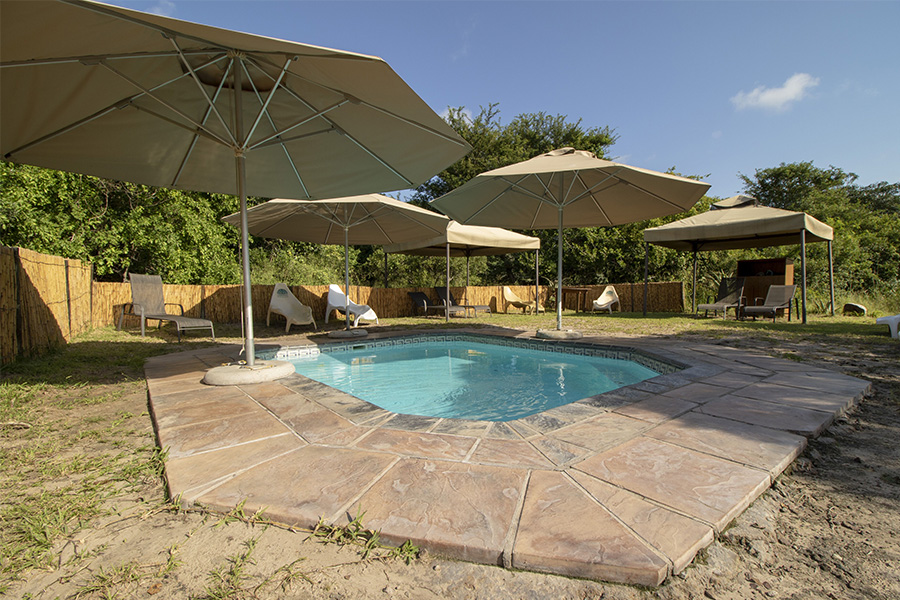 Where? Tembe Elephant Park is found between Kwa-Zulu Natal and Mozambique.

Where to stay? Tempe offers overnight guests safari-style luxury tents with private outdoor showers. You can book your stay here.
Don't forget to get travel insurance for your trip! As always, I recommend Safety Wing for great prices and coverage abroad. It starts at only $45 USD per month and will have you covered with everything you may need during your trip! Check them out here.
Saint Lucia Wetlands and Marine Reserve
If a relaxing weekend spent on a boat is more your type of getaway, then St Lucia Wetlands is one of the best nature reserves to visit for you. Not only is St Lucia a World Heritage site, but it's also home to a complex network of natural habitats and boasts some of the most incredible coral reefs, coastal forests, and open estuaries South Africa has to offer.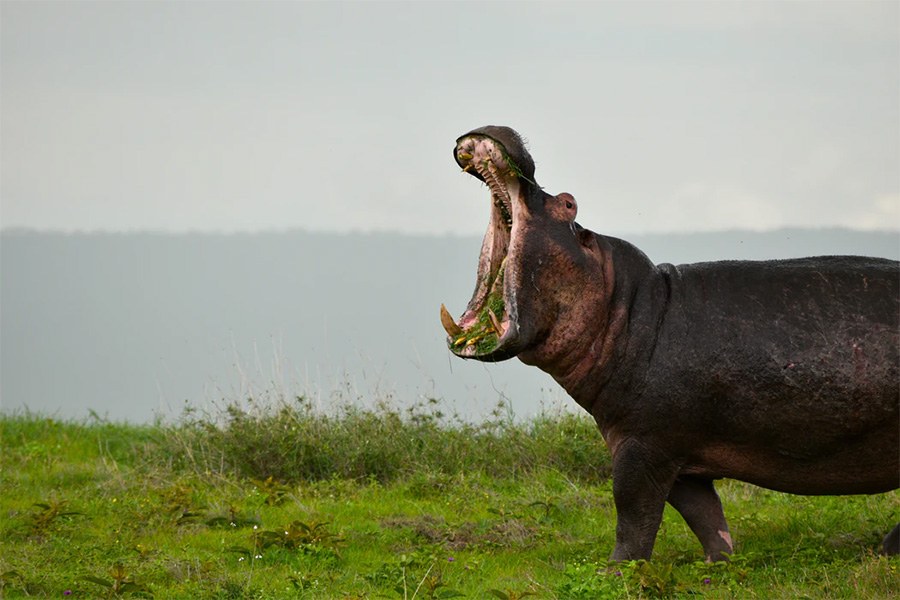 Of course, this post is all about wildlife encounters in KwaZulu Natal, and St Lucia has got a lot of those, too! From hippos to hungry crocodiles, a ton of animals call this marine reserve their home, so you're guaranteed a few sightings while cruising around the area.
https://goo.gl/maps/QNcrV647h3f7naas7
Ithala Game Reserve
Ithala is one of the newest game reserves in KZN and its fastly gaining popularity thanks to its unbeatable wildlife sightings backdropped by the beauty of the Ngotshe Mountains, which create some of the most beautiful landscapes in the region.
Home to four of the Big Five (except for lions), Ithala offers visitors a wonderful geological and historical experience as a bonus. The area where the reserve now sits has been occupied by humans for thousands of years, and tools like stone-age spears have been found here. Moreover, Ithala is home to rock formations that date back three thousand millions years ago (!).
Where to stay? Ithala offers five different accommodation options for all budgets. To read more about each, head over here.
What are some other amazing game reserves in KZN that aren't listed on this post? Let me know in the comment section below 🙂
Disclaimer: This post contains affiliate links. This means that if you book anything via my links, I might earn a commission at no extra cost to you. This helps me keep the blog running, so thank you! 🙂