Why You Need to Do a Safari at Thanda Safari
I heard a knock on my door at 5 am.
– "Yeah?", I asked apprehensively.
– "Game drive time", a voice echoed.
– "What's a game drive?", I asked myself, still somewhere in a limbo between dreams and reality.
Suddenly it hit me. I was at Thanda Safari. That place I'd been dreaming of for four months already and I was just about to hop on a car to spend the next few hours spotting wildlife.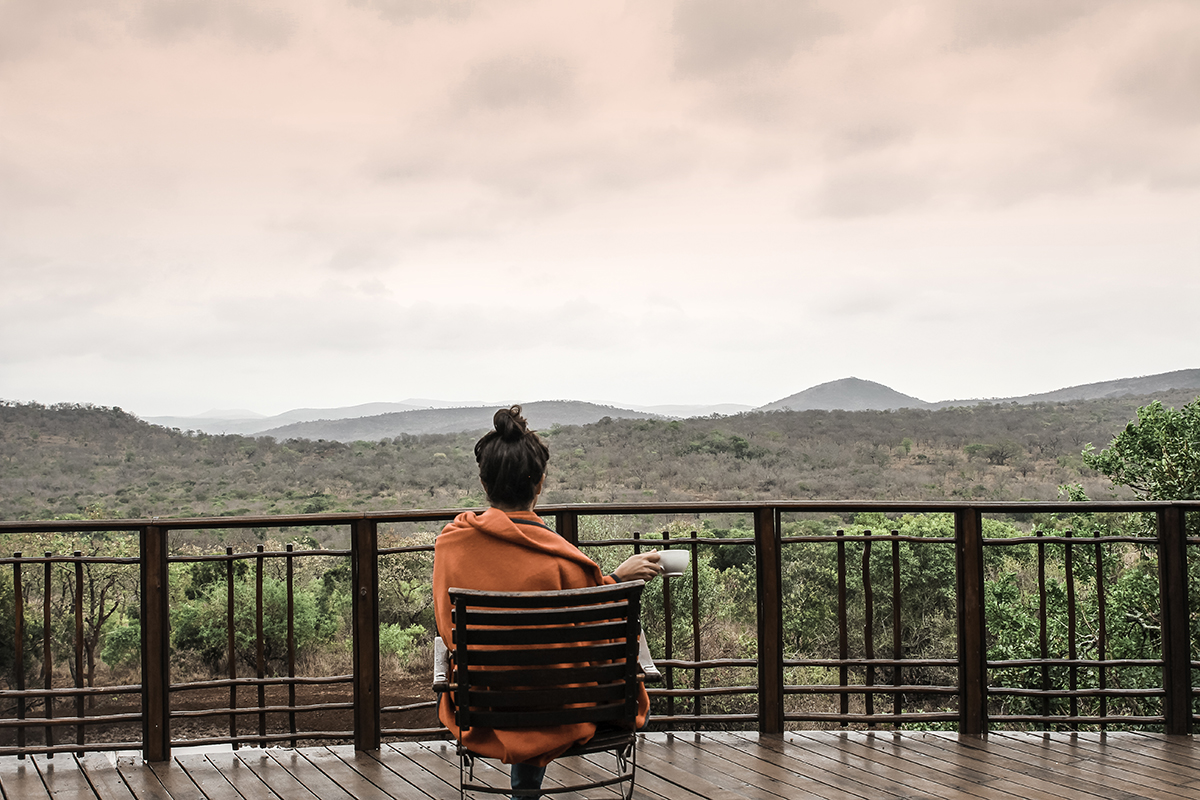 Game drives at Thanda Safari start really early in the morning, and while a wake-up knock on your door at 5 am might not necessarily be something to look forward to every day, at Thanda, it means you're about to go on an adventure of a lifetime.
If you've been reading my blog for some time, you'll know I'm all for wildlife. Like, I loved living my best life in Knysna and checking out the wine farms in Stellenbosch, but there's nothing that gets my heart beating faster as seeing animals in the wild does. Case on point: Seeing gorillas in the Congo, chimpanzees in Zambia, or orangutans ethically in Borneo. With that said, a safari at Thanda Safari was what I had been looking forward to the most when planning my trip to South Africa with my friend Bel.
And so, the day was finally had here! I hopped excitedly out of bed, put some warm clothes on, and headed to the lodge's common area to meet my guide and the four other people who would become my safari partners in crime.
The moments that took my breath away
Taking a safari at Thanda was BADASS! I've been on game drives before, but this was the first time in which I felt my heart would burst from excitement a million times. And then some more.
"What are you guys most excited to see?", Peace, our guide and driver, asked.
"RHINOS!" – I squealed. "Oh, AND a lion? Can we see lions? What about a cheetah? I've never seen a cheetah before."
"I'll do my best", Peace answered, "but this is the wild, I cannot guarantee anything".
And guys, Peace, being the awesome person that he is, made sure to not disappoint. Grab a cup of coffee or hell, pour yourself a glass of wine, because, over the next two thousand words or so, I'll be writing about the highlights from my four game drives at Thanda!
Getting WAY too close to adolescent lions
I wasn't expecting to see anything that exciting on my first game drive at Thanda. If you've done a safari before, you'll know that they're not carefully-curated highlight reels of National Geographic documentaries. You gotta search for those animals, and you'd be surprised how hard it can be to spot wildlife because… camouflage. Seriously, if you don't know where to look, you could easily drive past ten adult rhinos and never know.
To my surprise, within five-fifteen minutes of starting our first game drive, Peace made a stop to allow our tracker to get inside the vehicle before driving off-road.
– "You guys will love this," he whispered.
Right under a bush, we spotted two male adolescent lions. Peace kept creeping closer and closer, with no sign of intending to stop until we were just a few meters away from them.
[easy-image-collage id=9783]
– "Um, aren't we too close?", I enquired, worryingly.
– "Don't worry, it'll be fine! They can't see us, they just see the car."
Lions are cats, after all, and they didn't seem to mind us being there at all. We stared in awe as they did… cat-like things? They'd jawn, lick their paws (and some other body parts…), and scratch themselves, all while remaining completely oblivious of our presence.
[easy-image-collage id=10396]
Meeting the coolest TOWER of giraffes
Next up, we continued our drive before getting intercepted by a tower of giraffes crossing the road. Yep, a group of giraffes is called a tower (and yes, I definitely did just googled that). We'd seen a few giraffes already along our drive, but never so many at once, and never before a calf!
[easy-image-collage id=9786]
Seeing cheetahs for the first time
I thought our wildlife extravaganza would be over for the day. I mean, how could it ever get any better? Little did I know, though, that the best was yet to come. As we began driving back to Thanda Tented Camp, we spotted two male cheetahs chee-laxing (worst pun ever. Sorry, guys) by the side of the road. Peace told us they were brothers and while cheetahs tend to be solitary creatures, these two always stuck together.
[easy-image-collage id=9790]
Seeing a group of lions waiting for their pray
Once again, there was never a dull moment during our game drives at Thanda. We made our way to the biggest water hole in the reserve, where we spotted four lions waiting for a victim to get thirsty and pop by for a quick drink.
[easy-image-collage id=9794]
I love all lions, but there's something about lionesses that has always fascinated me. This might be a super unpopular opinion, but I liked The Lion King 2 more than the first movie and it was all due to Kiara and her tenaciousness.
After hanging out there for a while, no animal came to drink, so we decided to leave them be. It was a bit disappointing not to see them catch their morning prey, but a part of me was relieved as I don't know if my heart could handle witnessing a scene like that.
Photographing a mama black rhino and her calf
With less than 2,500 left in the world, seeing a black rhino is truly a privilege, and even more so when one of them is a baby.
Black Rhinos, unlike White Rhinos, are hard to photograph because, as soon as they sense humans, they'll flee. This was the case for our rhinos, but we got so lucky that they decided to run in front of our car before disappearing into the savannah. It was one of the most magical, fleeting moments of my life.
[easy-image-collage id=9802]
Fun fact for your safari: Both White and Black Rhinos are grey, but it's easy to differentiate them when you see them in the wild: Black Rhinos have pointy lips and you'll usually seem them eating leaves and twigs from branches, whereas White rhinos have flat lips for grazing.
Having the most magical encounter with elephants
When I look back at all my game drives at Thanda, I'd say the third one was the least action-packed but my favorite one of them all.
Guys, you'd think spotting elephants is easy, but I had the feeling they weren't too keen on being found because we had seen no signs of them so far. Like, zero. Nada.
When we hopped on the car, ready for our last game drive, Peace told us he'd try to find elephants for us.
The following two hours were spent driving around slowly, not seeing anything too exciting. We'd drive past zebras and common antelope, but at this point, they'd gotten unexciting as we'd seen dozens of them already.
I'd hear our tracker and Peace talking in Zulu, but couldn't quite get what their whispers were about.
Suddenly, we spotted tracks on the ground.
"They're fresh", Peace said, "We just missed them."
*sigh*
– "Don't worry, we'll catch up to them, but these guys are fast", Peace reassured me.
Suddenly, he started driving faster than ever before. I was feeling kind of disappointed by now, we'd been driving for two hours without seeing anything and I wondered if catching up with the elephants was even worth it at this point.
As we drove past the hills, Peace stopped abruptly. "There they are, on the hill! Can you see them?"
I squinted, seeing nothing but trees. Surely I'd be able to differentiate a herd of elephants from bushes?
– "They'll come down, we'll drive towards where they're headed and intercept them".
He drove for a few minutes before parking the car. From there, we waited in silence.
– "There!", Peace said. "Can you see them now?"
– "Oh yes, I totally see them, right there, next to that crooked tree!", I said proudly
Peace laughed, "no, that's a rock".
– Oh.
– "Don't worry, they're walking down the hill now, they'll walk past us really soon.".
A few seconds later, I heard the crushing of branches and soon enough, dozens of elephants were walking towards us.
[easy-image-collage id=10375]
Elephants have a matriarchal society, meaning its always a female leading and taking care of the herd (BADASS!). As they got closer and closer, the matriarch of the group started to amble towards us.
Guys, elephants may be called gentle giants, but I've had two scary encounters with them before, so I have immense respect for them. When a gigantic elephant starts approaching your car, it's not to be taken lightly.
She got closer and closer, and I was terrified. She then stood in front of our car and I was convinced this was the end for me.
And then, she gently tapped our car with her trunk before taking two steps back. We remained still, as she gently knocked our car again.
Peace reversed the car a few meters, and then she walked away.
Guys, she was asking us to move so the heard could pass safely.
I was in disbelief. How could an animal her size be so gentle? I felt a knot in my throat as the herd kept moving past us, while I tried really hard not to burst out in tears. It was one of the most magical moments of my life and I hate that I can't properly put into words how touching it was. How can elephants be so gentle towards a species that has done nothing but kill them for their ivory? How can they be so forgiving towards us?
Having our last sundowner watching elephants at the waterhole
Peace told us the ellies were on the way to the water hole, and that we'd try getting there before them. We parked on the opposite side of the water hole, prepared our sundowner drinks, and waited for them to arrive to drink some water.
[easy-image-collage id=9812]
I sat there, sipping wine, still trying to take in the previous experience we'd had with them. Elephants have always fascinated me but never before had I had such an emotional encounter with them. Even though it had been a fleeting few seconds, it managed to touch my heart and I don't think I'll ever be able to get over it. Even writing about it now brings butterflies to my stomach. Getting to see them again was the cherry on top, and all I could do was observe the matriarch of the herd. I love youuuu.
And so, as the sun went down, we drove back to camp, still in disbelief of what we had been able to witness. I hope that, when my grandchildren are my age, elephants will still be around.
Witnessing a cheetah gorging on her kill
All good things come to an end, and when I texted my boyfriend to announce that I was about to go on my last game drive at Thanda, he couldn't help but ask me if I wasn't tired of them already. "No, they're always exciting!", I texted back proudly.
Cause they are, guys. No game drive is ever the same as the last one.
This one, in particular, had something special in store for us. I'd gotten used to Peace and our tracker driving slowly, but this drive felt different. Walkie talkies resonated in the background and he drove as though he knew exactly where to go.
Someone had just informed Peace about something. And when another tracker lets a driver know there's something worth driving for, you can be sure it's going to be damn special.
– "Where are we going?", I asked him.
– "It's a surprise."
And it was damn right we were about to be surprised. Baffled. Dazed. Bewildered.
As we began driving offroad into the bush, I spotted blots of red amid the dry grass and I immediately knew a kill had taken place.
And then we saw it. A female cheetah skulking in the bush, eating an impala.
[easy-image-collage id=9818]
What a sight! All cheetahs at Thanda have tags on them in order to ensure their safety.
I've been on safari before, but this was my first time witnessing anything like this and I just didn't know how to feel about it. I watched breathlessly as the cheetah gently cut the impala's skin. On one hand, I was happy the cheetah got to eat, but on the other, I felt so sorry for the poor impala.
Nature!
Thanda means "love" in the language of the Zulu people, and that's all I feel for this place.
Four reasons Thanda is the best game reserve to do a safari in South Africa
[easy-image-collage id=10430]
Privacy
We had most of our wildlife encounters all to ourselves. I've been on safari before, but on most other game reserves and national parks, you're unlikely to get the same privacy Thanda offers.
Thanda manages a 14000-hectare game reserve in KZN, which means the only guys who operate there are, well, Thanda themselves. You won't have to share a kickass scene with guests from other lodges, which is a) great for you, as you won't have distractions when on safari and b) great for the animals, as they don't get swarmed by dozens of cars.
Their conservation programs
Thanda is a luxury safari lodge, yes, but it's also an important conservation facility with a team operating day and night to combat poaching in the region and constantly working to protects its wildlife. By staying here, your money supports the incredible conservation efforts of Thanda's team.
Plus, they have a ton of extra activities available in which guests can join the wildlife team on their day-to-day tasks. From rhino darting to cheetah tracking, take your pick and help out on the conservation activities that take place behind the scenes every day.
[easy-image-collage id=10442]
Evocative (but luxurious) bush living
Thanda's properties are non-electrified, incredibly private, and off-grid. Staying at Thanda gives you the feeling of really being in the bush, surrounded by the alluring nature of Zululand and the Big Five, all while getting pampered with unbeatable luxury.
The rangers and trackers are awesome
Safaris aren't always what you'd picture. They're not exactly highlight reels of National Geographic documentaries. Animals can actually be hard to spot, so having a good driver and tracker is essential.
With that said, I couldn't have asked for a more perfect time in the bush, and I have Peace to thank for that. Thanda runs a ton of community-based projects around the area as well, and many of the rangers and guides at the park are Zulu people who know the area like the back of their hand.
I was incredibly impressed at how good Peace was at spotting animals – he always knew what to look for, how fresh footprints were, and many more factors that play a key role when tracking wildlife. I could tell he is extremely passionate about his job, and there was never a moment in which I felt he was slacking – he made sure we got to see everything we wanted to, all while giving us incredibly detailed explanations on the animals' behavior.
[easy-image-collage id=9798]
What You Need To Know About Booking a Safari at Thanda
Inclusive Game Drives
Two three-hour-long game drives are included in your stay at any of the Thanda-owned properties at the reserve. They take place every day, rain or shine, at sunrise and just before sunset. Every game drive includes light snacks and sunset game drives are always complemented with a famous African sundowner drink to enjoy in the bush.
In addition to that, and subject to availability, you can book a complimentary photography lesson, in which you'll learn the basics of photographing wild animals in their natural habitat.
Extra Activities
One of the many things that make Thanda so special is the incredible extra activities they offer, many of which give you a chance to learn and join the team's incredible conservation efforts.
Conservation-based activities
Rhino tracking: Join a three to four-hour monitoring session in which you'll help specialists monitor and record data of the rhinos who call Thanda their homes.
Rhino darting: A once-in-a-lifetime experience to get close and personal with a rhino. You'll assist the wildlife team at Thanda in notching a sedated rhino for research purposes and to remove their tusks before releasing it back into the wild. This activity doesn't come cheap, as you'll have to hop on a helicopter to locate the rhino, but it's indeed a unique experience, especially if you're interested in learning the ins-and-outs of the never-ending job of rhino conservation.
[easy-image-collage id=10435]
Cheetah tracking: You'll spend a few hours tracking and identifying a cheetah alongside a member of the Wildlife Conservation Team while learning everything you need to know about the species.
[easy-image-collage id=10436]
In The Path Of Wildlife: Get the unique chance to join the conservation team at Thanda for a day with activities like tracking, monitoring, or translocating animals.
Spend more time in the wild
Specialized bush walks, where a ranger will teach you about the flora and fauna of Zululand.
Hippo & Croc Cruise: A five-hour day trip to Saint Lucia to cruise through the largest congregation of Nile Crocodiles and hippos.
Cultural experiences
Footsteps Of The Zulu: You'll get to meet Thanda's Zulu custodian and visit a Zulu home (fun fact: part of the reserve is owned by the Zulu king, so you can be assured you're in for an authentic cultural experience).
Wellness Center: I'd usually include a few hours of getting pampered under a leisure activity list, but the spa at Thanda felt so culturally-immersive that I decided to include it here as well! They offer a ton of treatments, many of which are inspired by traditional Zulu holistic practices.
[easy-image-collage id=10412]
Accommodation: Thanda Tented Camp
Thanda Safari boasts three different properties: Thanda Safari Lodge, Thanda Tented Camp, and Villa iZulu. I stayed at the Tented Camp, so the following information is based on my experience and time there. If you'd like to read more on their other properties, though, you can so here.
The rooms at Thanda Tented Camp
Thanda Tented Camp offers a glamping-style luxury safari experience in the bush. The property consists of 15 tents, each with a private sun deck and en-suite canvas bathrooms.
Every tent is far enough from each other that it feels as though you are alone in the bush, which is exactly what I wanted for this trip.
[easy-image-collage id=10622]
Facilities
I listed a ton of activities above to keep you entertained between game drives, but staying a while at the property doing absolutely nothing is just as exciting because the facilities at Thanda Tented Camp are just that good.
When you're not at the wellness center, you can take a plunge at the pool, order a drink at the bar, or head to what quickly became my favorite spot in the property: their common verandah overlooking a waterhole. You can easily spend hours here cozying up, reading a book, or waiting for a rhino to pop by for a drink!
[easy-image-collage id=10411]
Food
Your booking includes three meals a day, a buffet-style breakfast after your sunrise game drive, a hearty lunch, and dinner. It was Bel's birthday while we were there, so we were surprised by the team with a cake which we shared with the rest of the guests. It's these type of things that makes Thanda the special place that it is!
Aside from the usual options, you can also arrange a special experiential dining option. I didn't get to do any of these, but you can check out the many options they offer for those who love a meal with a view!
[easy-image-collage id=10439]
Thanda Safari Lodge & Villa iZulu
Aside from the classic Tented Camp, Thanda Safari also has two other properties spread out through the reserve: Thanda Game Lodge and Villa iZulu, both which offer an even more luxurious stay.
Thanda Safari Lodge: Made up of nine bush suites shaped like a traditonal Zulu home. Each suite offers panoramic views of the reserve.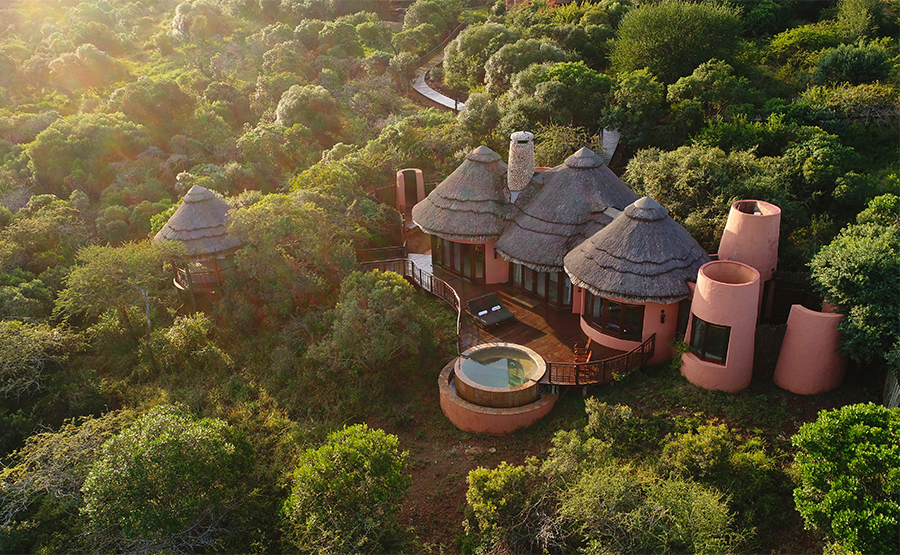 Villa iZulu: If you're looking for total privacy or traveling with family or a big group, Thanda's private villa is the way to go! This hideaway can accommodate ten guests in five suites.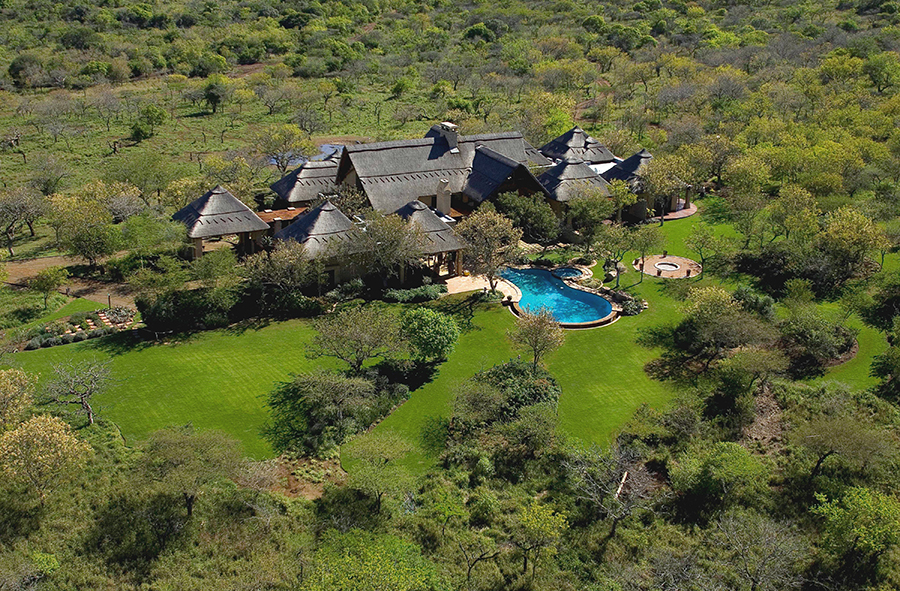 Thank you, Thanda, for such a wonderful experience in the wild. I couldn't have asked for a better way to spend two days in Zululand. I'll be back!
Save this post for later on Pinterest
[easy-image-collage id=10450]
Disclaimer: This post was written in collaboration with Thanda Safari, however, all opinions are my own.