The first thing you'll notice is the shake of the trees.
If you're anything like me, your heart will be palpitating like crazy from excitement at this point. Slowly after, you'll begin catching glimpses of orange specks amid the leaves as orangutans swing towards the feeding platform.
—
Even though Borneo is a mecca for wildlife sightings, the stars of the show are definitely orangutans and lo and behold, there's no other place on earth that gives you better chances of seeing them in the wild than Sepilok.
Let's dive into the nitty gritty details of seeing the orangutans in Sepilok!

What does Sepilok Orangutan Rehabilitation Center actually do for orangutans?
Since its opening in the sixties, Sepilok Orangutan Rehabilitation Center has cared for and released more than one hundred orphaned orangutans. It's no secret that orangutans are incredibly endangered due to poaching, lodging, and deforestation, so the work they do is incredibly important to the survival of the species.
When new orangutans arrive at Sepilok, they are given health checks and then taken on a long rehabilitation journey. The goal? To reintroduce them back in the wild. The process is a long one – it can take up to seven years for an orangutan to be ready to go back to the forest!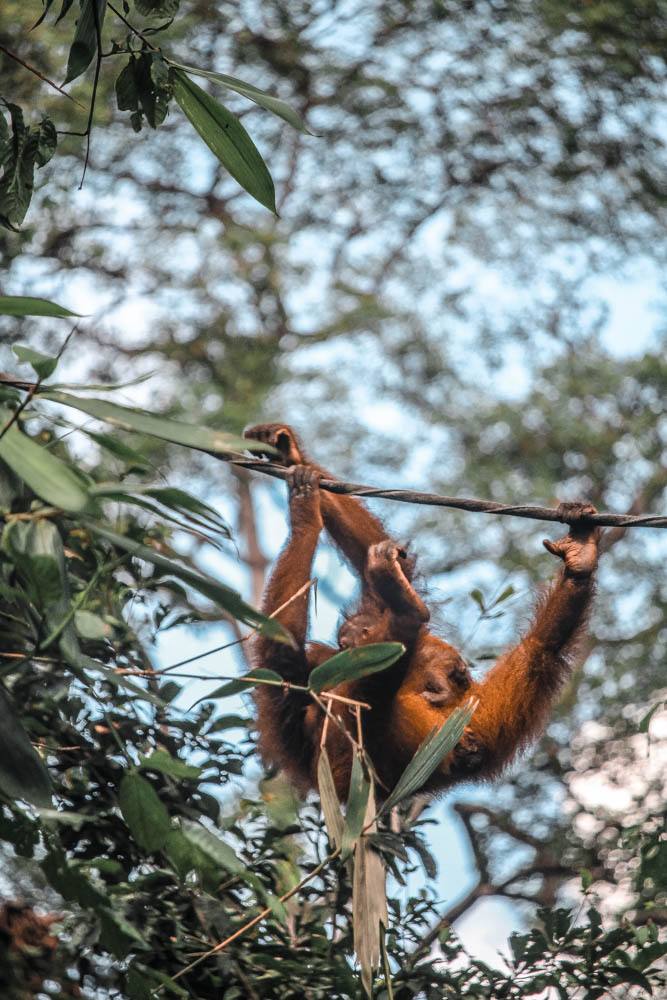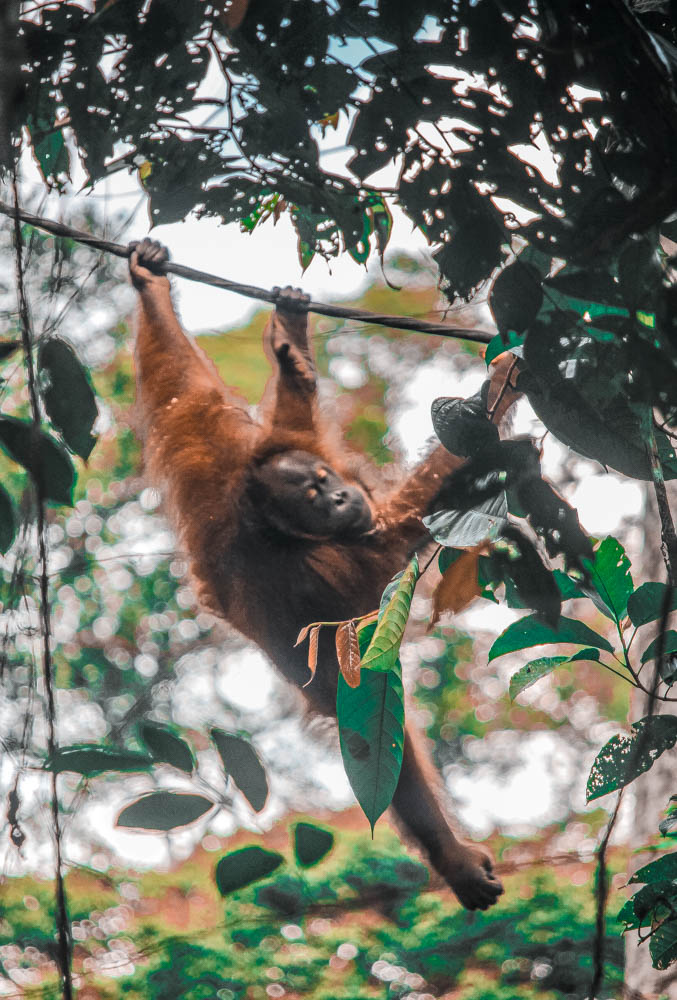 How to visit the center
If you're staying in Sepilok, you can walk over to the center in a few minutes from any of the resorts in the area.
You have higher chances of seeing orangutans at the platform during feeding times, which are at 10 am and 3 pm. Your entrance ticket is valid all day, so you don't have to pay twice to go in both times. Arrive early – the platform isn't very big and you want to make sure you get a good spot!
Entrance cost: 30RM.
One thing, though: Adult Orangutan sightings are not guaranteed
Something to keep in mind when visiting Sepilok, though, is that seeing adult orangutans at the sanctuary is not guaranteed.
Given that they live freely in over 40 square kilometers of forest, a lot of them choose not to visit the feeding platform. Your best chance to see them are during Borneo's dry season (between March and October), as they are less likely to find food of their own in the forest and might decide to pop by at the platform to get their hands on some fruits.
This is why I recommend visiting twice in a day – the feeding platform is open for visitors every day, once at 10 am and once at 3 pm – your ticket allows entry to both feeding times.
But you will definitely get to see mini orangutans at the outdoor nursery!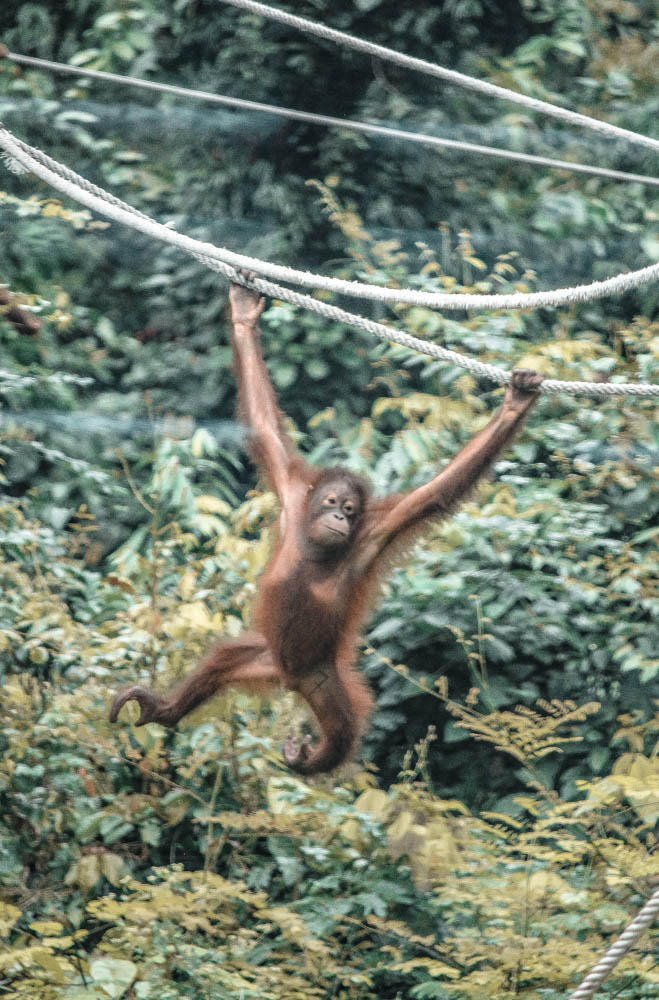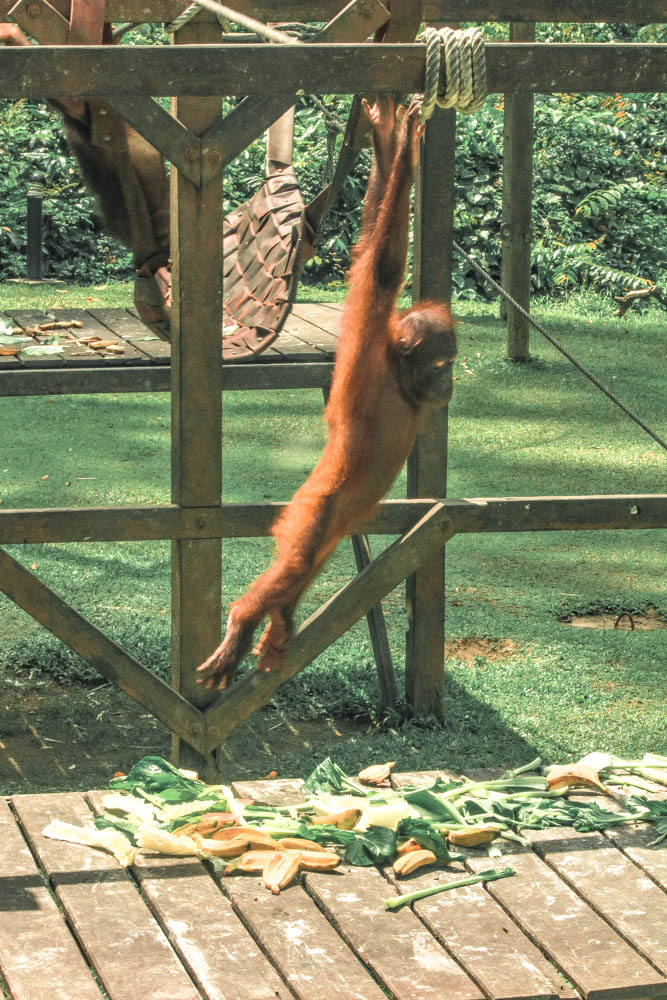 The good news is that seeing adolescent orangutans is pretty much guaranteed at the nursery! The orangutans you'll see here are on their final stages of rehabilitation and will soon be released.
After visiting the feeding platform, head over to the nursery, where caretakers will bring the youngsters to train on the ropes. There's nothing funnier than seeing mini-orangutans awkwardly dangling around. Visitors can watch them from a room behind a glass window – this is done so that the babies don't get attached to humans and can later be reintroduced in the wild. They don't even know we are there as the windows are completely polarized.
This was my favorite part of the whole experience. I can't put into words how incredibly hilarious it is to watch tiny orangutans suspending from ropes in ballet-like poses.
In the wild, mothers teach their babies how to survive in the forest and climb canopies – orangutans dwell through a complex meshwork of branches several meters off the ground to avoid predators. The young orangutans in Sepilok are orphans, so instead, the sanctuary created a system in which they replace a mother's teaching by pairing them up with an older one in order to learn the skills they need.
Anyway, this cheeky orangutan didn't seem to like the idea. He insisted on sitting on the grass. His caretakers would force him to get back up on the platform as he threw tantrum after tantrum. Once he finally resigned to staying off ground, he was NOT happy about it.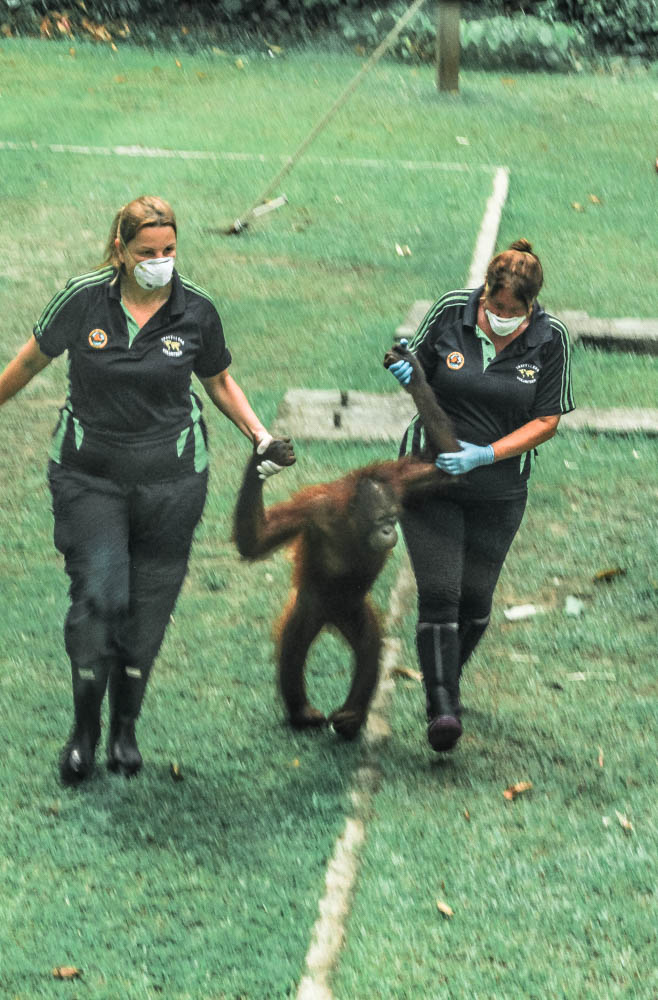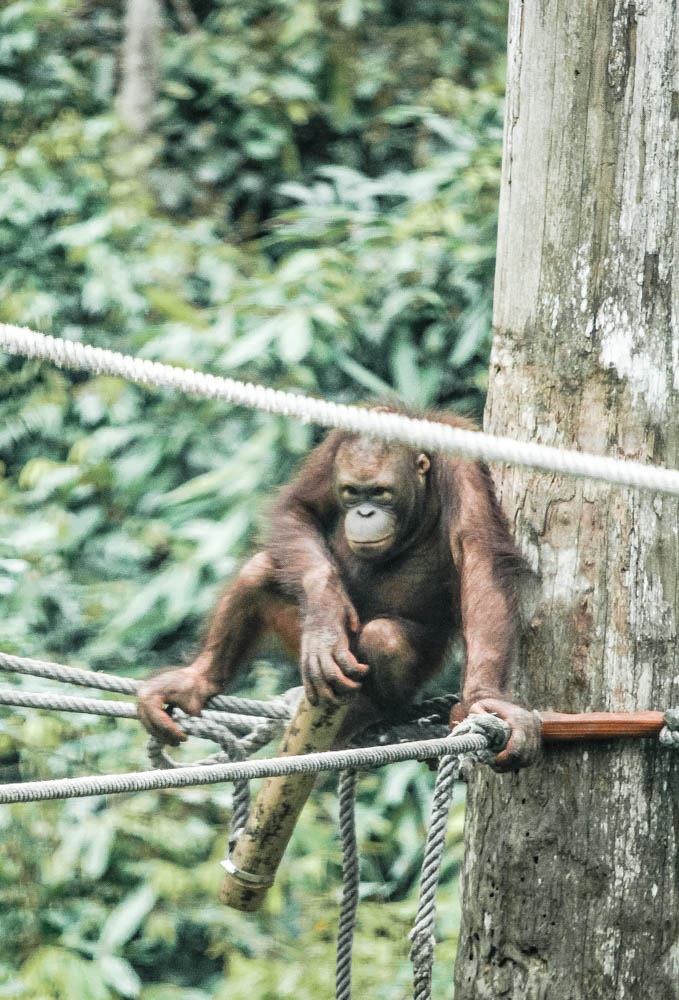 I really loved going to the nursery every morning and just sitting there to watch them. It was absolutely hilarious how human-like they are.
Is Sepilok Orangutan Center ethical?
You guys know I'm huge on ethical wildlife encounters and when a so-called sanctuary or wildlife activity sparks any red flags for me, I won't hesitate to write my thoughts about it.
In the case of Sepilok, however, it truly felt like an incredible AND ethical place to see these furry friends.
As I previously mentioned, seeing adult orangutans at the feeding platforms is NOT guaranteed. It was very frustrating for me, as I visited Sepilok right at the end of the rainy season and I actually had to visit the center multiple times before I got to see one. Standing on the platform in the heat waiting for them and then have none show up was indeed disheartening, but a part of me knew this was for the best.
The fact that the orangutans live in the wild and are in no way forced to show up for the show proves that the center is ethical and puts the orangutan's welfare above tourists. They could charge a lot more to see them, keep them in cages, and release them for visitors to watch (as many, many so-called sanctuaries around the world do), but they don't. They are free to roam around in their 43 square kilometers of forest – if they want to come and eat some bananas, they can, but they don't have to.
Another thing I loved was the outdoor nursery and the fact that visitors can only take a peek behind a polarized glass window. This wasn't always the case, but I was told by a wildlife journalist I met there that the viewing room was built after visitors misbehaved and tried touching the orangutans.
Getting so close to humans means that they could catch diseases, but more importantly, getting accustomed to interacting with humans on a daily basis is not good for any wild animal's rehabilitation process. These orphaned orangutans are being taken care of until they reach maturity and can be released back in the wild – this should be the norm for all sanctuaries.
If a sanctuary lets you bathe an animal, ride it, or even come as close to touching it – it's not ethical. Check out this incredible article by National Geographic on what red flags to look out for when visiting animal sanctuaries.
How to get to Sepilok
Getting to Sepilok is very easy from anywhere in Sabah. These are your options:
From Kota Kinabalu
Fly: If you're in Kota Kinabalu or anywhere else in Malaysian Borneo, you can easily fly to Sandakan, the closest city to Sepilok for as low as $13 with AirAsia. Once you get to Sandakan, you can take a taxi to Sepilok or download the Grab app (it's like Uber) for cheaper prices.
Bus: From Kota Kinabalu, you can take any bus going to Sandakan Town and ask to be dropped off at the Jalan Sepilok junction. Note that there is no actual bus station in Sepilok so the bus will drop you off in the middle of the road and from there, you have to walk one or two kilometers to your hotel (or use the Grab app to get a taxi, but sometimes there aren't any around).
I can't remember the exact amount I paid for the bus, but it was around $15 USD (sometimes flying is cheaper). The ride can take up to seven hours and is pretty boring aside from the part where to get yoo see Mount Kinabalu. Afterward, it's palm oil plantation after palm oil plantation.
Note that the bus station in Kota Kinabalu is a bit outside of town in Inanam. Here's the exact location on Google Maps. A Grab drive from anywhere in Kota Kinabalu to the bus station should cost around 13 RM.
From Sandakan
Bus: There are usually four buses that come to Sepilok at 9:00, 11:30, 14:00 and 17:00 and cost 4 RM. Last updated: May 16, 2018.
Taxi/Grab: This is the easiest option and in my opinion, the best as bus timetables don't really align with feeding times, so if you are just going for a day trip, a taxi is probably best. The ride is fast and usually costs somewhere around 50 RM.
Where to stay in Sepilok
Sepilok is an incredibly small village that is only really visited due to its attractions. That being said, there are plenty of nature resorts to choose from, all of which are within walking distance to the Orangutan Rehabilitation Center.
I stayed at Sepilok Forest Edge Resort and it was incredible.
It's a huge jungle resort surrounded by nature where you can easily spend the day sitting at their terrace restaurant looking at birds or going for a hike on the nature trail they build on the forest. They have a pool which felt glorious in the Bornean heat.
Chalets start at around $75 USD, but if you're on a budget, they also have dorm rooms available for just $13 in a cabin that they turned into a hostel with incredibly comfy beds. This is where I stayed, but rarely anyone came so I mostly had the room to myself anyway.
I honestly loved this place so much that I staying longer than I ever planned. I booked a bed in the dorm for three nights before arriving and I ended up extending it to ten!
You can book your stay over here.
And that's it! Have any other burning questions about visiting Sepilok's Orangutan Center? You can find lots of more information over at the Orangutan Appeal website.
Still planning your trip to Borneo? You can get a few ideas from my Borneo itinerary 🙂
Save this post for later on Pinterest