I loved Borneo, guys.
I know that's a weird way to start a blog post, but I really felt so hard for part of the world that I'm already cooking up plans to return next year.
As you might know, I had really bad luck during my trip to Asia earlier this year. Catching dengue fever in Sri Lanka was not fun and the three weeks I spent in Borneo after recovering were a reminder that, while travel might be rough sometimes, it's those little moments that make your heart skip a beat that make it all worthwhile.
And, well, Borneo was full of those moments.
A Ten Day Borneo Itinerary
I'm convinced Borneo is the most underrated destination in Southeast Asia and I'm making it a mission to convince everyone to go. If you love nature and wildlife but are also a sucker for quirky cities and incredible food – this is the place for you to be.
While I spent a total of three weeks in the island, I narrowed down this introductory Malaysian Borneo itinerary for those who might not have that much time but still wish to see the highlights of Sabah and Sarawak.
There is so much to do here that I doubt an entire year would be enough to fully get to know the place, but this itinerary covers the main highlights while still allowing you to explore a bit of everything: from the fun capital cities to the rugged jungle as well as a few white-sand beaches here and there, too.
Let's dive in!
Day 1: Kuching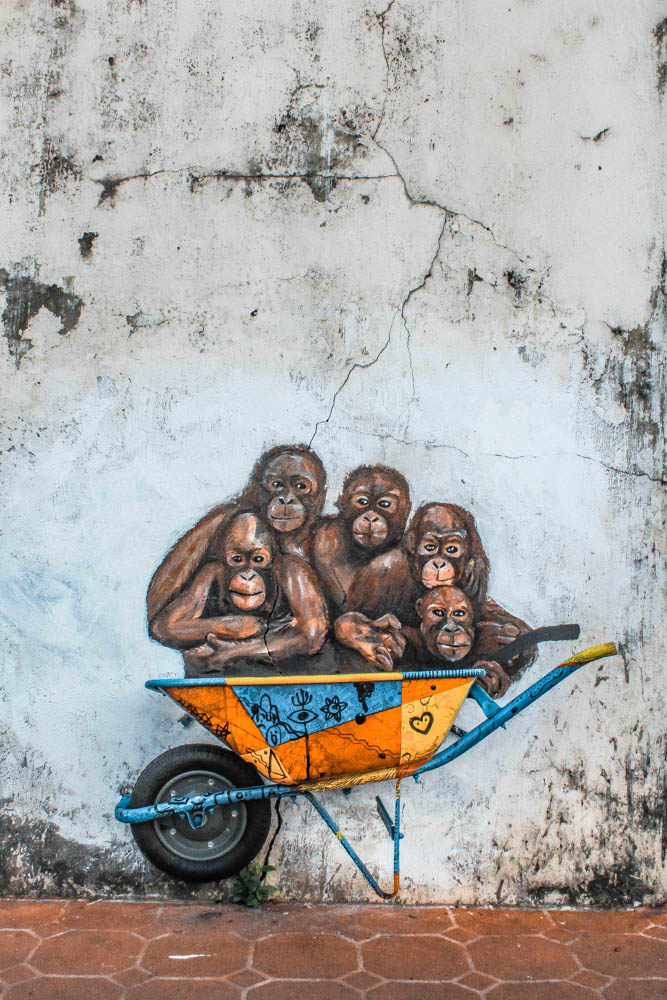 The city seems small at first, but it's an incredible hub for culture, historical temples, incredible street art, and mouth-watering food that will leave your taste buds begging for more.
Also, Kuching translates into Cat City and the numerous cat statues scattered all over the city do justice to the name. Make it a mission to find all the statues in the city! They're really cool in a, um… really tacky way.
Where to stay in Kuching: I stayed at Imperial Riverside Hotel. I generally prefer staying at small guesthouses or hostels when I travel because they tend to have a bit more personality, but in Kuching, I was still recovering from Dengue and for just $40, a night in a 5-star hotel was just what I needed.
Days 2 – 3: Bako National Park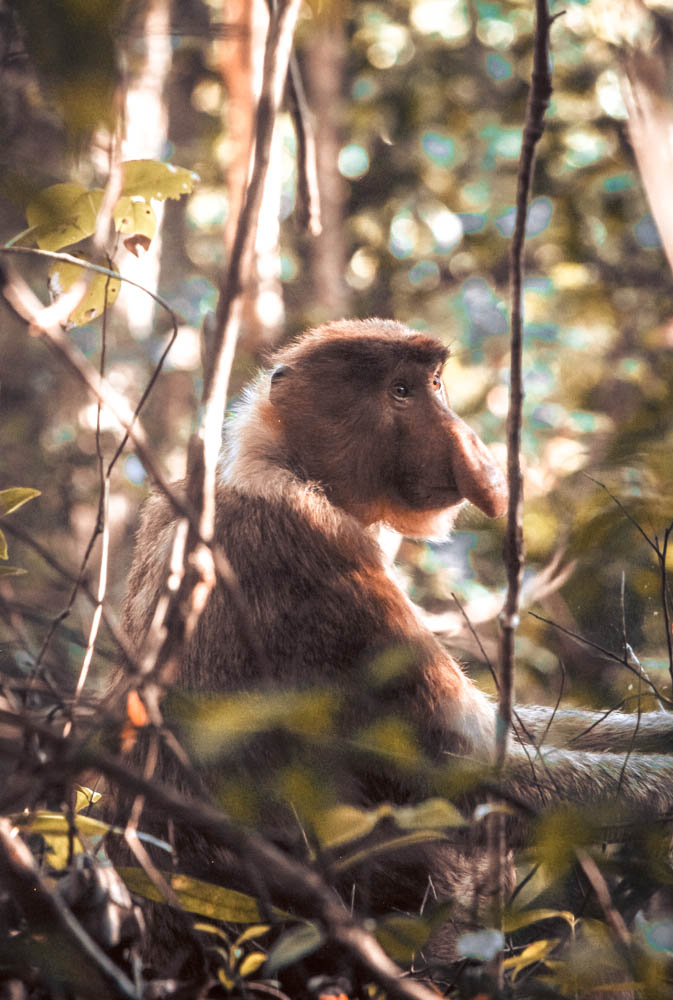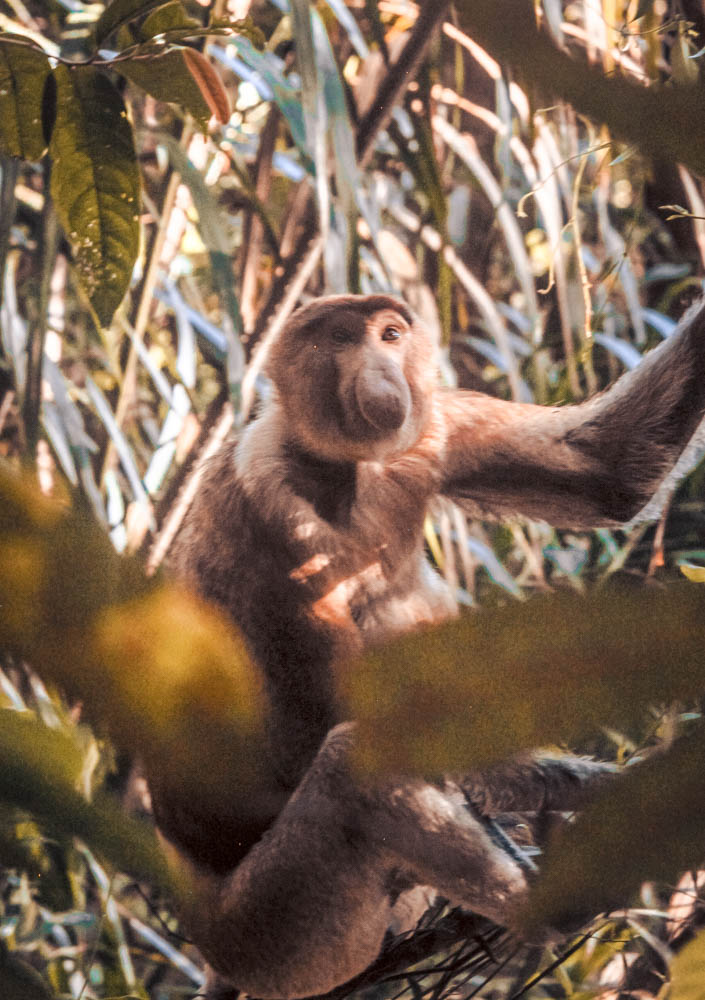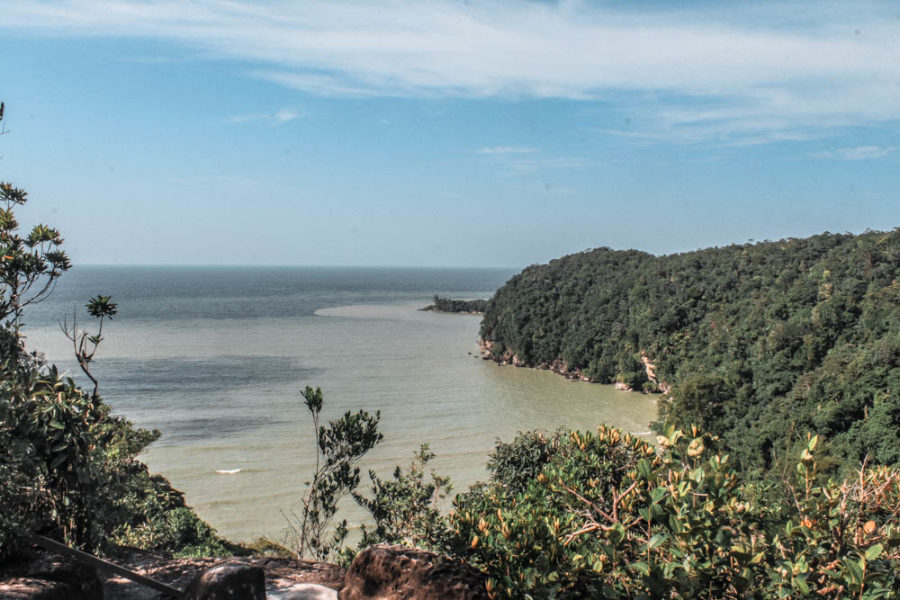 If I were to choose a highlight of my Borneo itinerary, it would be my visit to Bako.
Being the oldest national park in Sarawak, I was really amazed to see how untouched it feels. Bako covers the northern tip of the Muara Tebas peninsula and although it's relatively small, it contains an incredible variety of vegetation and wildlife. In fact, Bako is one of the few places in Borneo where you are almost guaranteed to see animals.
What I loved the most about this place is the freedom visitors have to explore at their own pace. There are several well-marked trails that you can follow without the need for a tour guide.
Bako is also home to almost 300 Proboscis monkeys and although I encountered them again in Sabah, I loved being able to see them in Bako more than I did elsewhere. They are known to roam around the park's headquarters before sundown, so make sure you keep an eye out during dinner! The highlight for me was getting to see them while hiking – it was an amazing feeling being all alone in the jungle and suddenly realized I was surrounded by more than thirty of them!
Where to stay in Bako National Park: There's only one place to stay in Bako – the park's headquarters. There are accommodation options for every budget, from camping starting as low as 5 RM, hostel dorm rooms at 15 RM, and private rooms starting at 50 RM. I highly recommend booking online in advance as space is limited!
How to get to Bako: From Kuching, catch Bus No. 1 near the Open Air Market (right behind Elektra House). A ride costs 5 RM and they depart every hour starting at 7 am. The ride to Bako village takes one hour. Once there, take a boat to Bako National Park for 20RM.
Days 4 + 5: Kota Kinabalu + Tunku Abdul Rahman National Park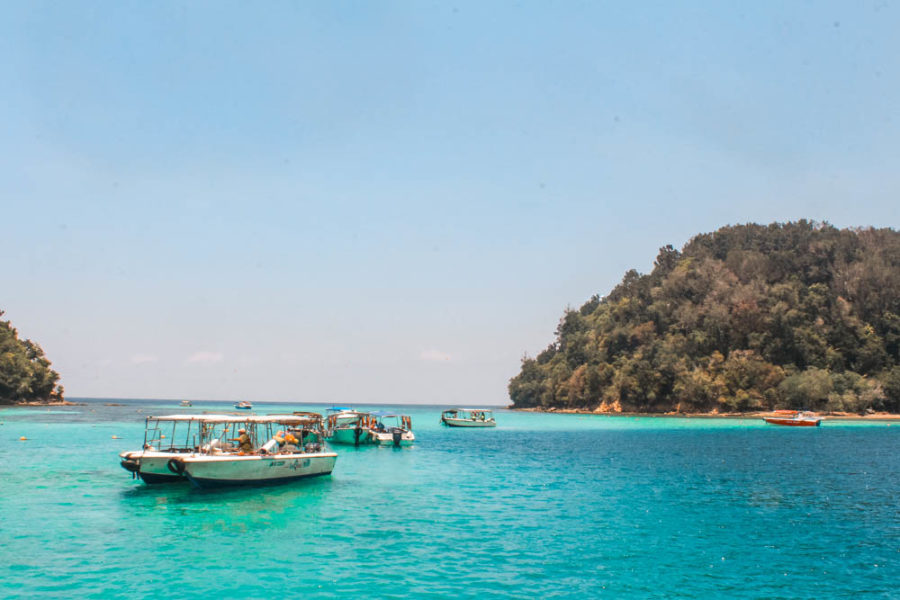 Ah, Kota Kinabalu! The city is replete with stunning mosques, turquoise-water beaches, and a killer food scene.
You'll want to make sure you include a day island-hopping around Tunku Abdul Rahman Marine Park in your Kota Kinabalu itinerary. The park is a set of five islands just off the coast of the city where you can spend the day chilling out by the beach or snorkeling your way through paradise-like waters. Getting to most islands is a breeze, with public boats leaving every few minutes from Kota Kinabalu's jetty station. Once you make it to the first island, you can catch another boat to any other island you pick.
Where to stay in Kota Kinabalu: I stayed at Lavie@Sabah Hostel, a brand new hostel located in the most luxurious part of town.
Days 6 – 8: Sepilok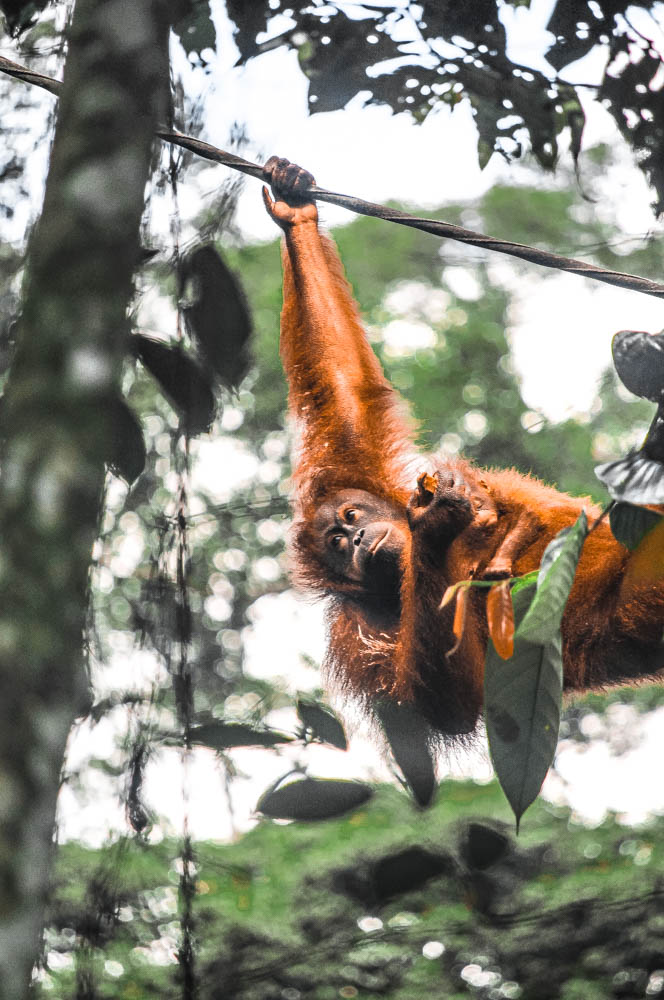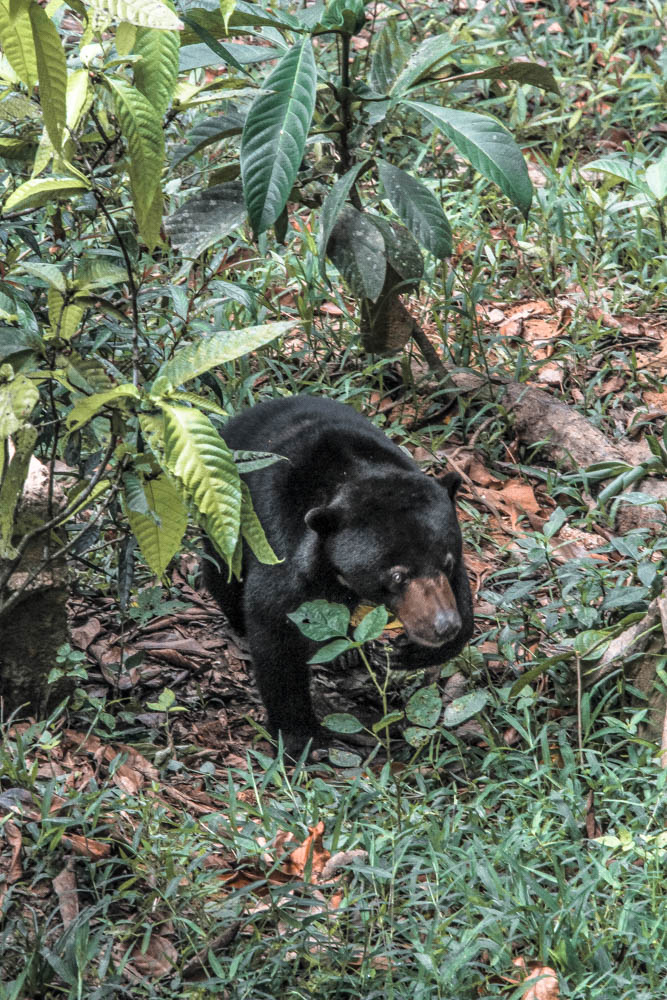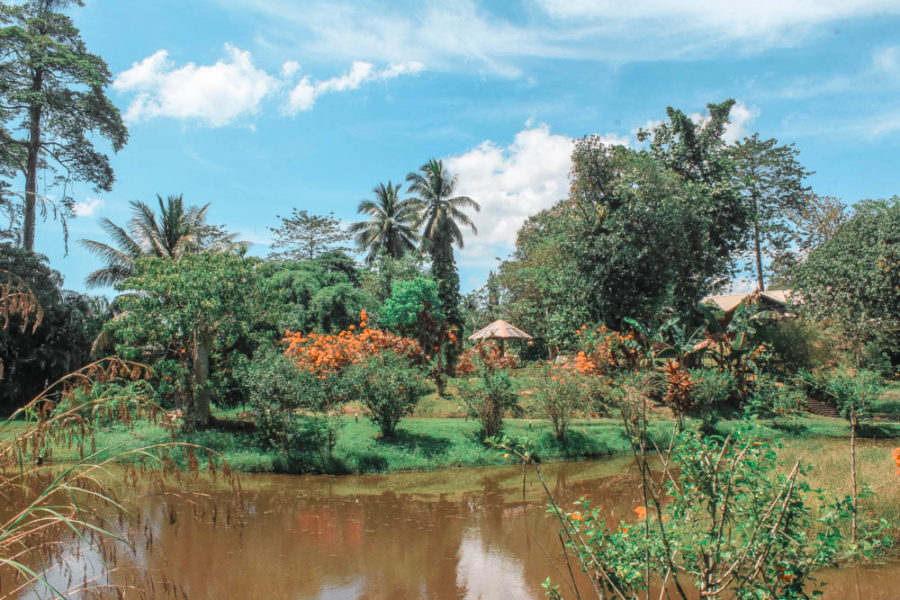 Sepilok is basically the go-to place to get a taste of Borneo's wildlife.
Home to its world-renowned Orangutan Center, where visitors are sometimes able to see orangutans, Sepilok is the gateway to some incredible jungle adventures. Even within the tiny village, however, there is so much to keep you entertained for a couple of days.
→ Head over to the Orangutan Rehabilitation Center every morning to get a glimpse of orangutans. Note that seeing the orangutans here is not guaranteed, so I recommend visiting the center every morning and afternoon during the feeding times to up your chances. I went four times and was only able to see them once! While this may sound disheartening, it's also proof that the sanctuary is ethical – the orangutans are free to roam around in the jungle, and they'll come to the feeding point ONLY if they wish to.
–> I wrote an entire post about my time with the orangutans if you want to check that out!
→ Another great thing to do in Sepilok is visiting the Bornean Sun Bear Conservation Center to see the rare Sun bear – a species of bear that is only found in Borneo and is sadly endangered due to habitat loss. I had no idea Sun Bears even existed before visiting Borneo and seeing them turned out to be a highlight of my Borneo itinerary – they're so tiny and cute!
→ In the afternoon, head over to the Rainforest Discovery Center, a place where you can learn all about Borne's nature as well as take a rainforest hike or explore the river by boat.
Where to stay in Sepilok: I stayed at Sepilok Forest Edge Resort and seriously fell in love with it. The resort is a relaxing jungle haven offering comfy chalets for every budget and walking distance away from the Orangutan Rehabilitation Center.
Backpackers – even though the word resort might put you off, they also offer dorm rooms for as low as $13. The beds were really comfortable and for the price of a hostel, you get the chance to use the resort's facilities (plus, nobody really knows about this place, so you're very likely to get the dorm room all to yourself).
Days 9 – 10: Kinabatangan River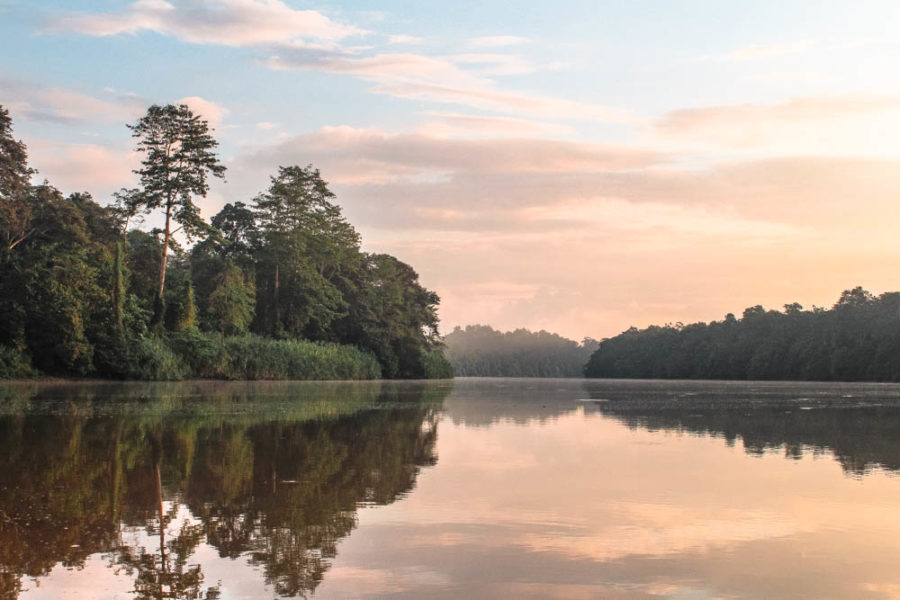 A cruise through Kinabatangan River is a must on any Borneo itinerary. The area boasts one of the highest concentrations of wildlife in Borneo, and you're almost guaranteed to spot a few animals. If you're really lucky, you might get to see a herd of Pygmy elephants, too!
I got to spot twenty-one saltwater crocs during my time here, as well as several families of Proboscis monkeys, countless macaques and a ridiculous amount of birds, including the rare Horn Bill. It was definitely a great two days spent disconnecting in nature, exploring the Gomantong Caves, and cruising up and down the river seeing some seriously fascinating animals.
Where to stay in Kinabatangan River: I stayed at Sukau Natural Bilit Resort.
How to get to Kinabatangan: Most resorts and guesthouses are either in Sukau or Bilit. From Sepilok, catch any bus going to Semporna and the driver should be able to drop you off close to either village.
The easiest way to do Kinabatangan, though, is to just book a tour in Sepilok. Every resort and guesthouse is able to arrange it. The price for a two-night stay in the river came down to just $120 including transportation, all meals, accommodation, four cruises, and two-night jungle walks. I'm not generally someone who enjoys group tours, but this one was great value for money and I really had a great time!
Tips for visiting Borneo
→ While Borneo is a confluence of cultures and religions, a huge chunk of the population is Muslim. You don't need to cover yourself from head to toe, but I do recommend dressing modestly. 
→ Tap water in Borneo isn't considered safe to drink. If you want to keep it safe, buy purified water or better yet, get yourself a GRAYL bottle. It's a water bottle that purifies tap water by eliminating bacteria and chemicals in just a few seconds. It saves you money in the long run and helps you reduce your plastic footprint in Borneo.
→ Grab is everything. Download the app before you get to Borneo. It's just like Uber and widely used all over Malaysian Borneo.
→ Don't forget travel insurance for your trip to Borneo! This Borneo itinerary includes a whole lot of activities in nature. You don't want to end up in debt if anything were to happen during your trip. I highly recommend purchasing your travel insurance online via World Nomads (it's really easy!). It will cover you on any adventurous activities that other insurances won't cover you for (including Mount Kinabalu if you plan on trekking it).
Want to save this Borneo itinerary for later? Pin it to Pinterest 🙂
Disclaimer: This post contains affiliate links. This means that, if you click on any links in this post and buy something, I might earn a commission at no extra cost to you.