When a friend suggested we take a quick getaway to see all the beautiful places in Istanbul, I quickly jumped at the opportunity.
I'd been to Istanbul just once before on a quick layover to Southeast Asia and I promised myself I'd be back to explore the city in more depth. What I wasn't expecting, though, was to fall so hard for it.
Thanks to the fact that my travel buddy had friends in town, we got the chance to explore some lesser-known and totally beautiful places in Istanbul that I'll be sharing in this post!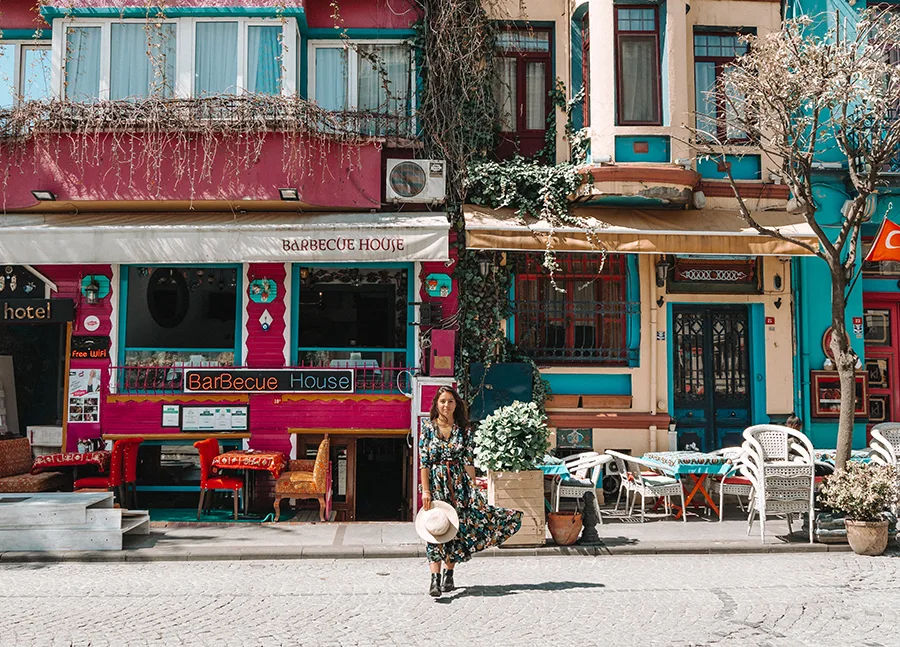 Beautiful places in Istanbul that you have to check out:
This isn't your typical Istanbul travel guide – you won't find the top tourist attractions in Istanbul or a guide to visiting Hagia Sofia here (but no worries, I'll be writing a post on that, too!).
Instead, I decided to list eight fun things to do in some of the most beautiful places in Istanbul that we either found by chance or spots Katie took us to (she's been living in Istanbul for six years – it's always fun getting to explore cities based on a local's recommendations!)
1. The colorful buildings in Balat, Istanbul's colorful neighborhood
Balat is an up-and-coming neighborhood on the European side of Istanbul.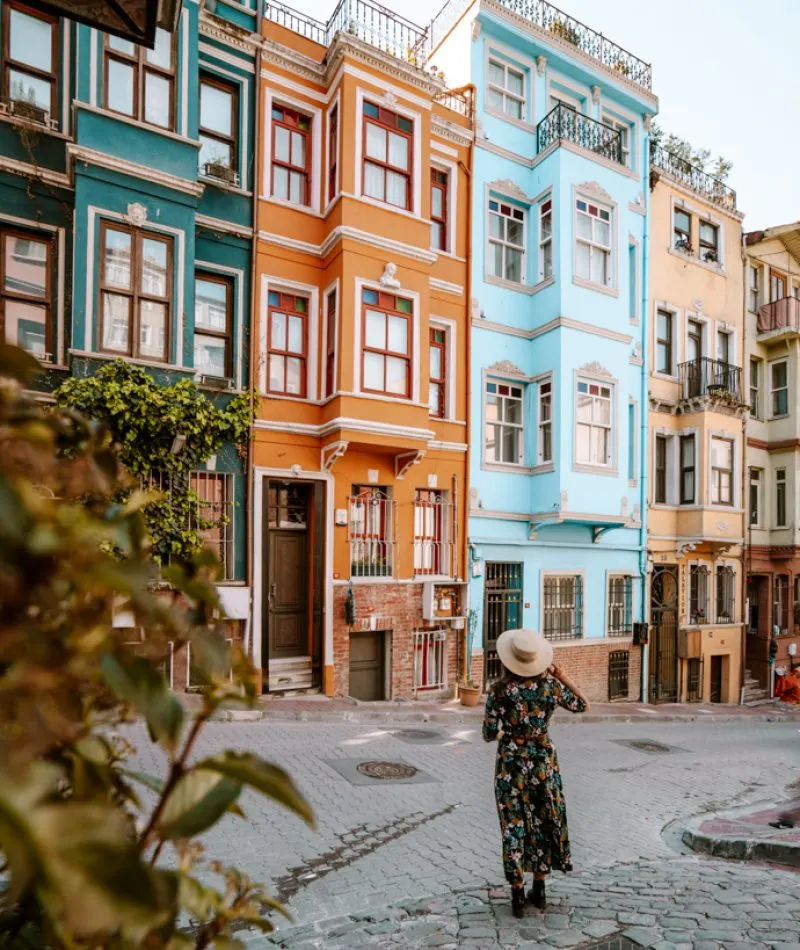 Over the past three years, cute coffee shops, trendy restaurants, and co-working spaces for digital nomads have sprawled up throughout the neighborhood.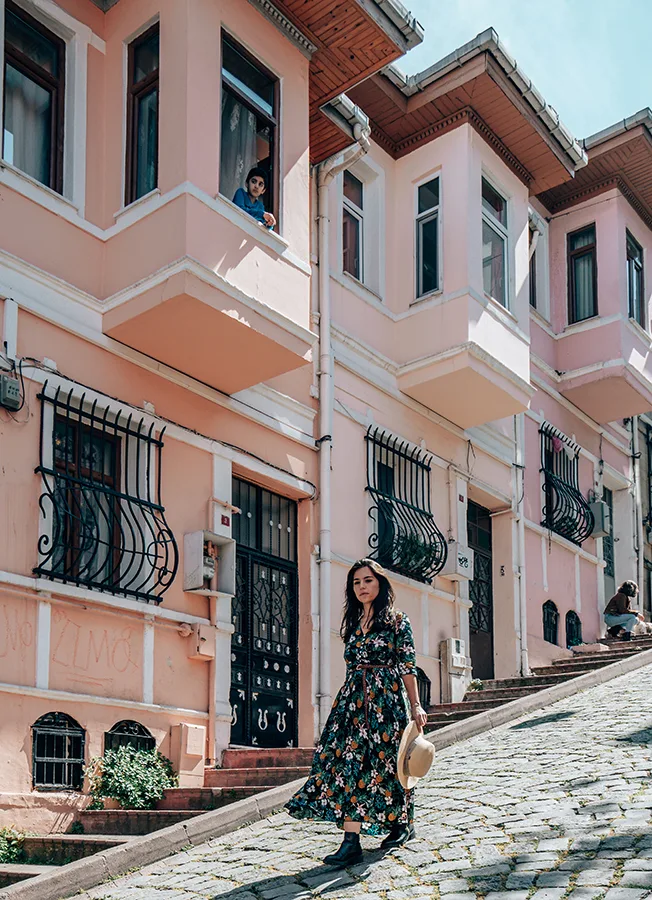 Plan a day exploring this quirky neighborhood and photographing its colorful houses. It took us a while to find the spot pictured below (the area was bigger than we thought!), so here's the exact address:
Balat Mahallesi, Kiremit Cd. No:28, 34087 Fatih/İstanbul, Turkey.
I also just recently found out that you can book an apartment in the yellow building! I didn't get to stay there, so I have no personal review of the accommodation, but I definitely wouldn't have minded waking up to this view every morning!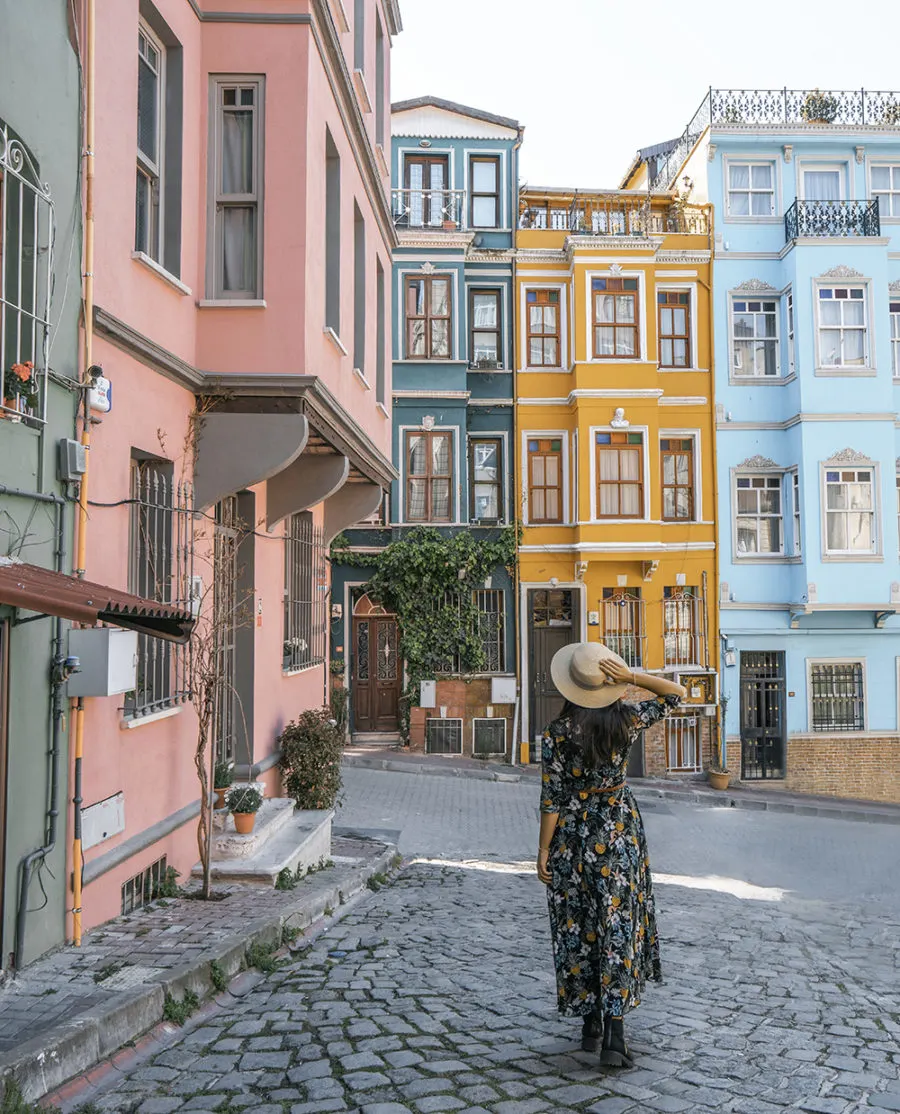 2. Göztepe Park for all the tulips in Spring
When you think of tulips, the first place that pops to mind is probably The Netherlands, but during the Spring months, Istanbul turns into a colorful wonderland of tulip-covered parks.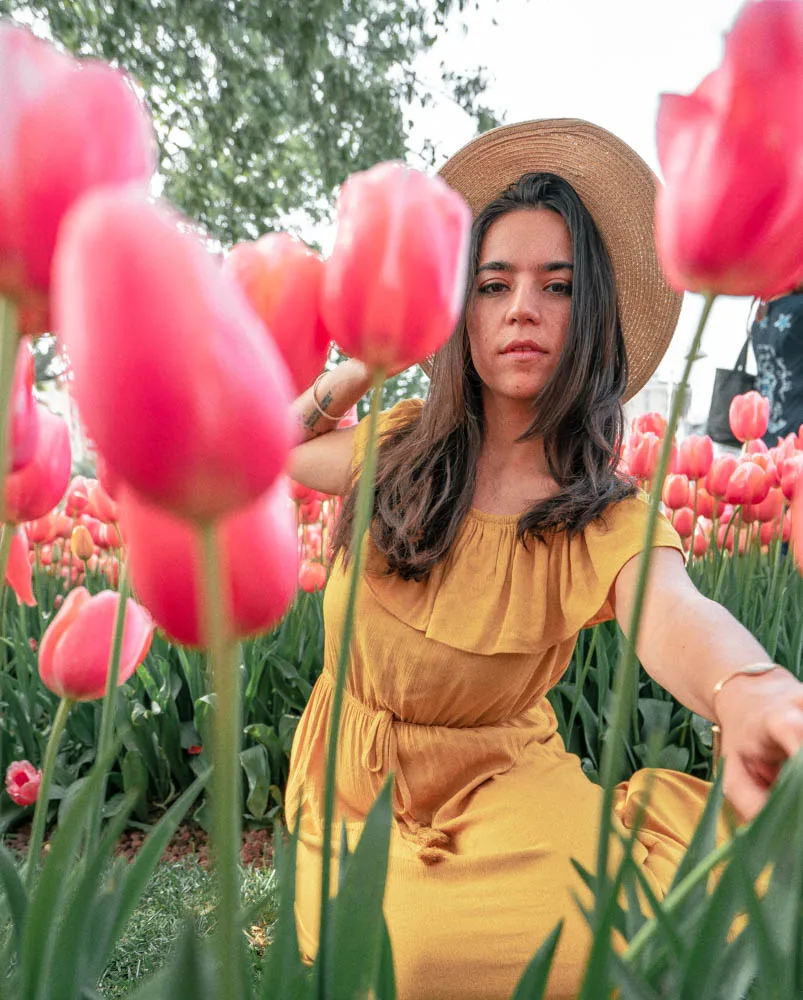 Here's a fun fact: Tulips are actually Turkish, not Dutch as most believe! I honestly had no idea until I got curious and thanks to mighty Google, I learned that they were originally cultivated in the Ottoman Empire (present-day Turkey) and were later imported into The Netherlands in the sixteenth century.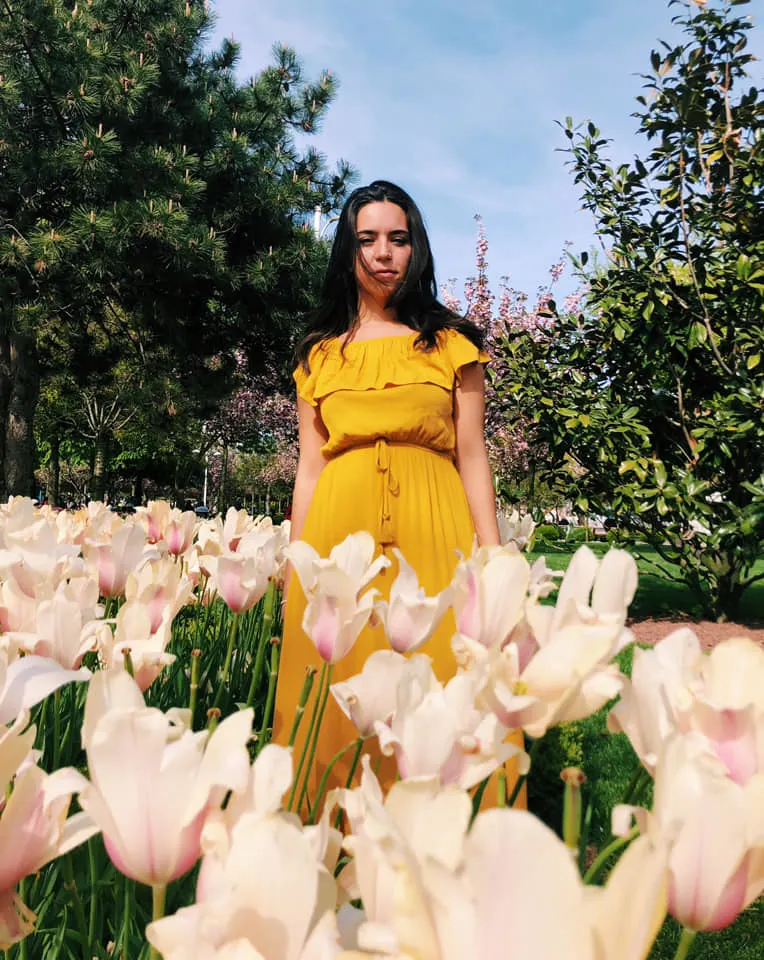 After this trip, I'm convinced that Spring is the best time to visit Istanbul and if you're lucky enough to make it during the season, you're in for a treat. A wonderful, tulip-induced treat.
Tip: There are many parks where you can spend a morning admiring the tulips, but I recommend visiting Göztepe Park on the Asian side to avoid the hoards of tourists.
YOU MAY ALSO LIKE:
3. The bustling Istanbul flea markets
One thing that I always love doing while traveling is exploring thrift shops and local flea markets. Luckily for me, Istanbul wasn't short of either!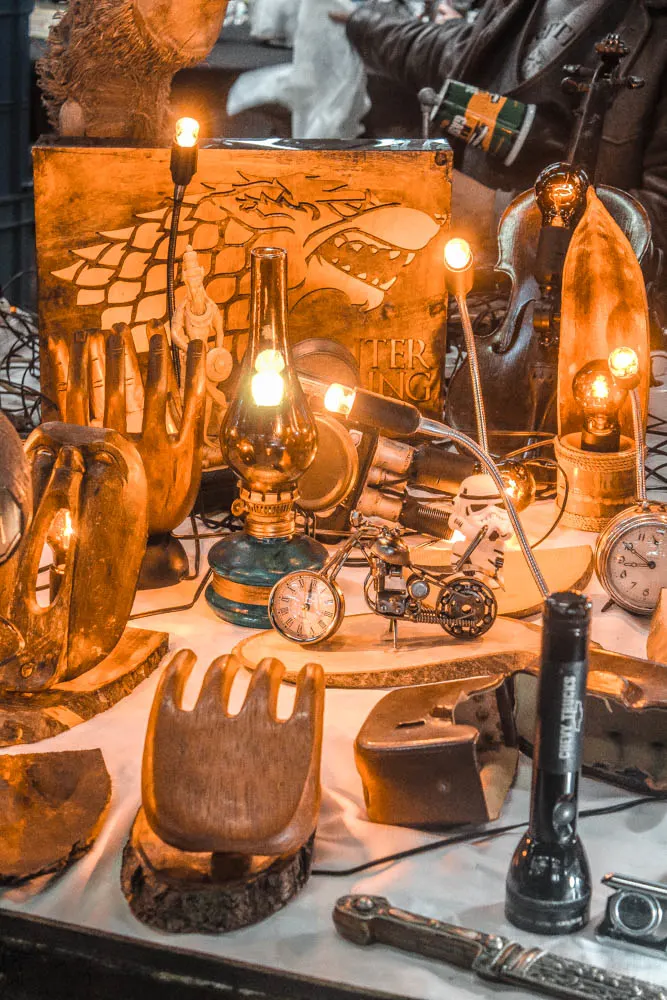 As soon as we checked into our apartment, I did some quick googling around to find if there were any nearby only to find the city is replete with them. We found a really cute one just a few minutes away from our Airbnb and I was over the moon at all the fun stuff we found there!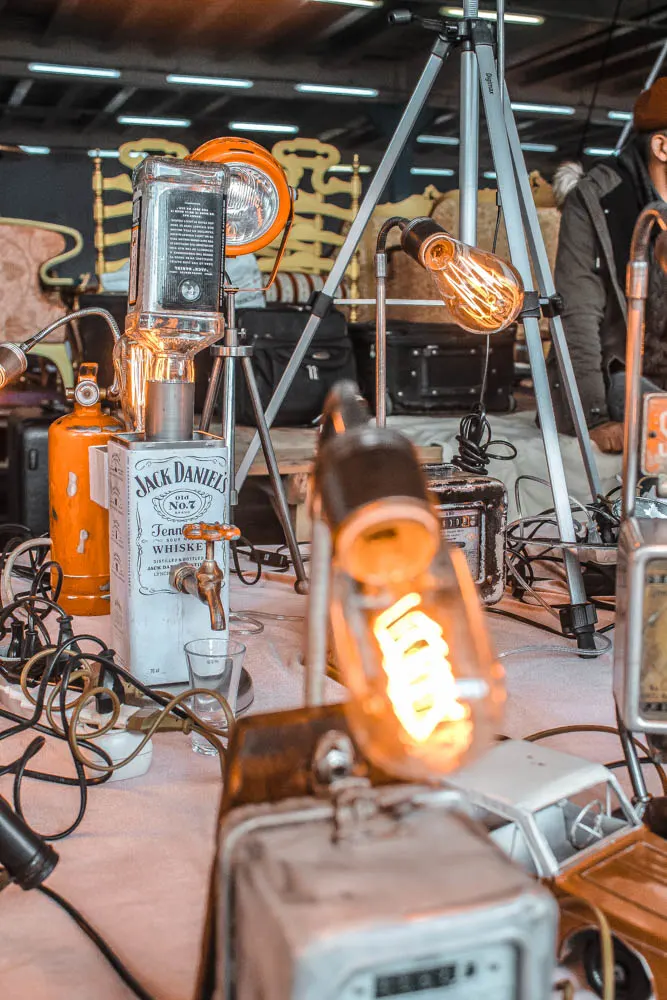 4. The Moda neighborhood in Kadiköy to get your hipster on
Oh, Kadiköy! I could probably write an entire blog post (love letter) on how much I loved this quirky neighborhood on the Asian side of Istanbul.
Think hipster cafés, trendy bars and clubs, small art galleries, hip brunch spots, and vintage shops and you'll get a pretty good picture of what the neighborhood of Moda in Kadiköy is all about.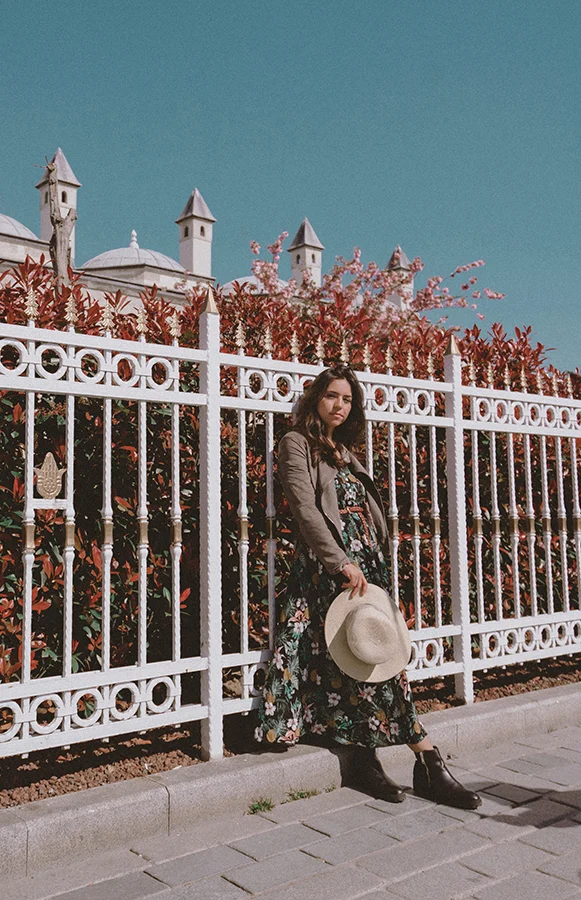 You'll hardly find tourists here, which was a refreshing break from all the touts you'll find opposite the Bosporus.
While attractions in Moda are hardly found in guidebooks, an afternoon people-watching at a coffee shop and window shopping around the neighborhood is worth including in your Istanbul itinerary. Also, if you like partying or just grabbing a few drinks, this is the best spot in the city to do that!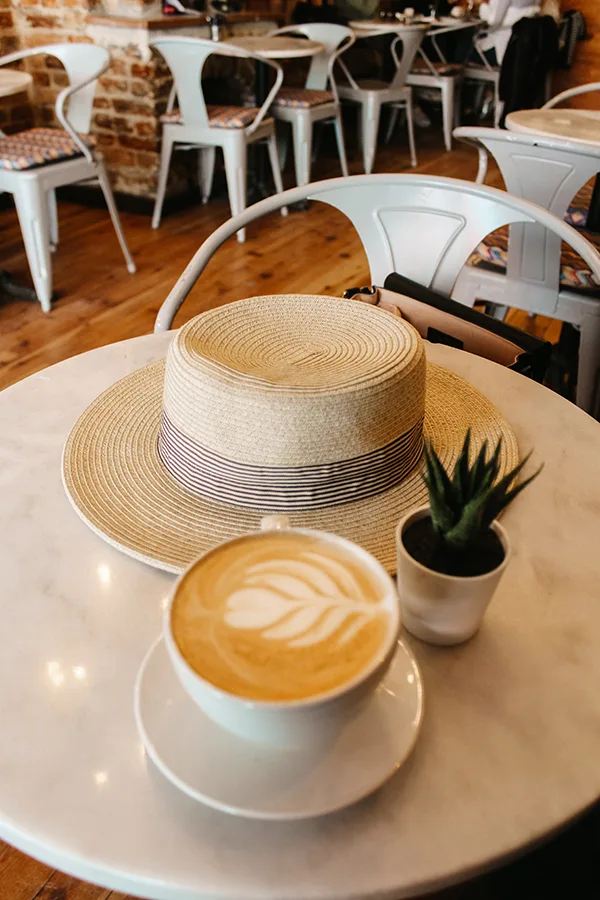 Tip: If you get the chance, you should even consider booking accommodation here – you'll absolutely adore the neighborhood's young vibe and a 5 Lira ferry ride will have you on the European side in just twenty minutes.
There's a Double Tree by Hilton right in the heart of Moda or lots more budget-friendly guesthouses like this one as well as some seriously cute apart-hotels.
Click here to see all the accommodation options in the neighborhood.
5. The corn + Chesnut stands
Okay, I probably didn't need to include this one on the list because you'll do it either way – but seriously, Istanbul is filled with cute shopping carts selling corn and roasted chestnuts, both of which make for great snacks in between sightseeing.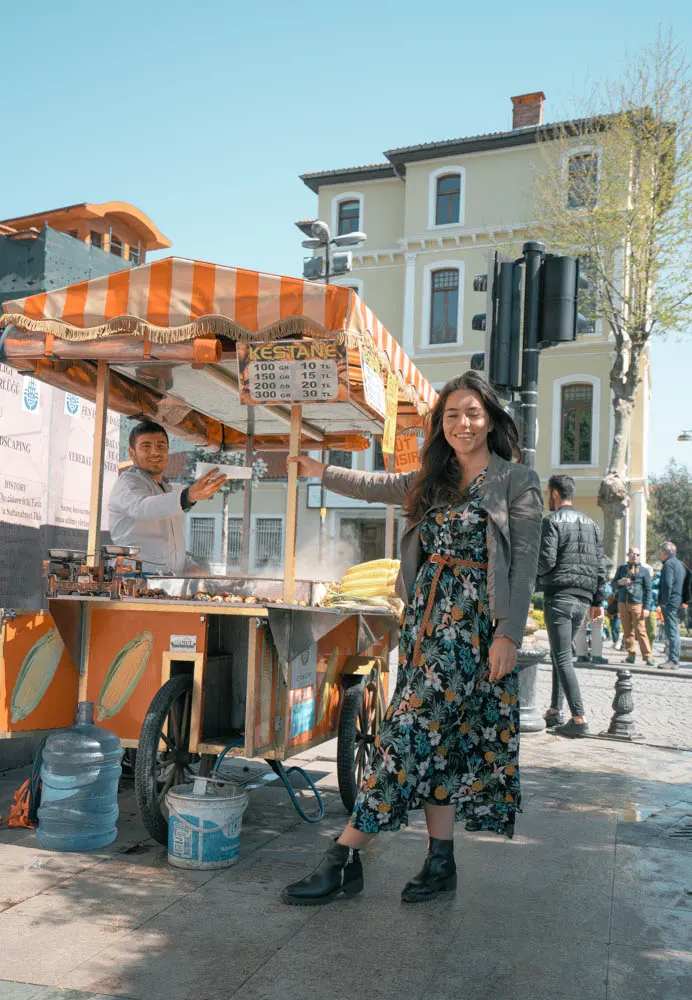 You'll find them all over the city and around major tourist attractions, too!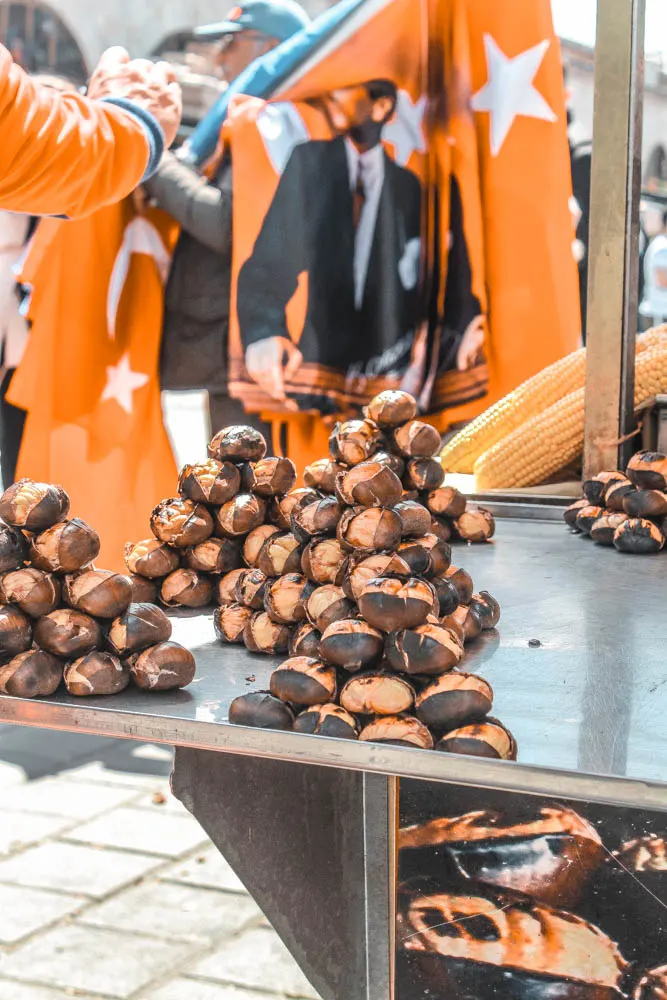 6. The ferry on the Bosphorus at sunset for the most beautiful Istanbul views
Istanbul is one of the only five cities in the world that span two continents and while you can cross to either continent using several bridges, there's nothing like hopping on a ferry.
Purchase your ticket at the terminal, hop aboard and bam! Twenty minutes later, you're stepping on Asian soil. (pro tip: do it during sunset, the views are stunning!).
Ferry cost: 5 Lira
Don't forget to get travel insurance for your trip! As always, I recommend HeyMondo for great prices and coverage abroad. Check them out here. You can also get 5% off if you book via this link!
7. Maya's Corner coffee shop
As far as beautiful places in Istanbul go, Maya's Corner is right there at the top of the list.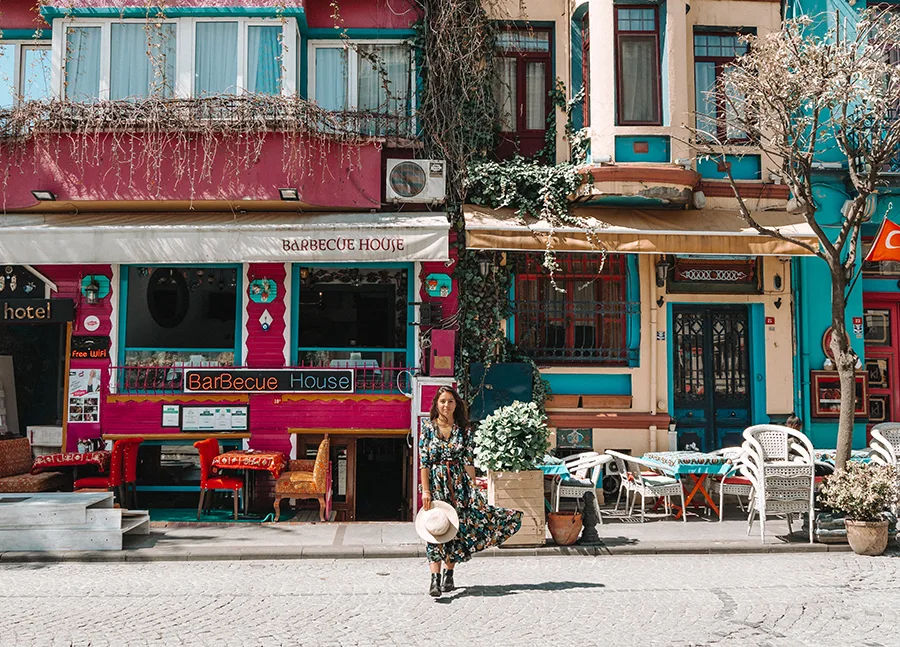 This cute little café serves great coffee as well as fresh orange juice and a few snacks. It's located right in Sultanahmet and just a few steps away from the Hagia Sofia and Blue Mosque, which makes it a great place to chill out in their outdoor seating area in between sightseeing.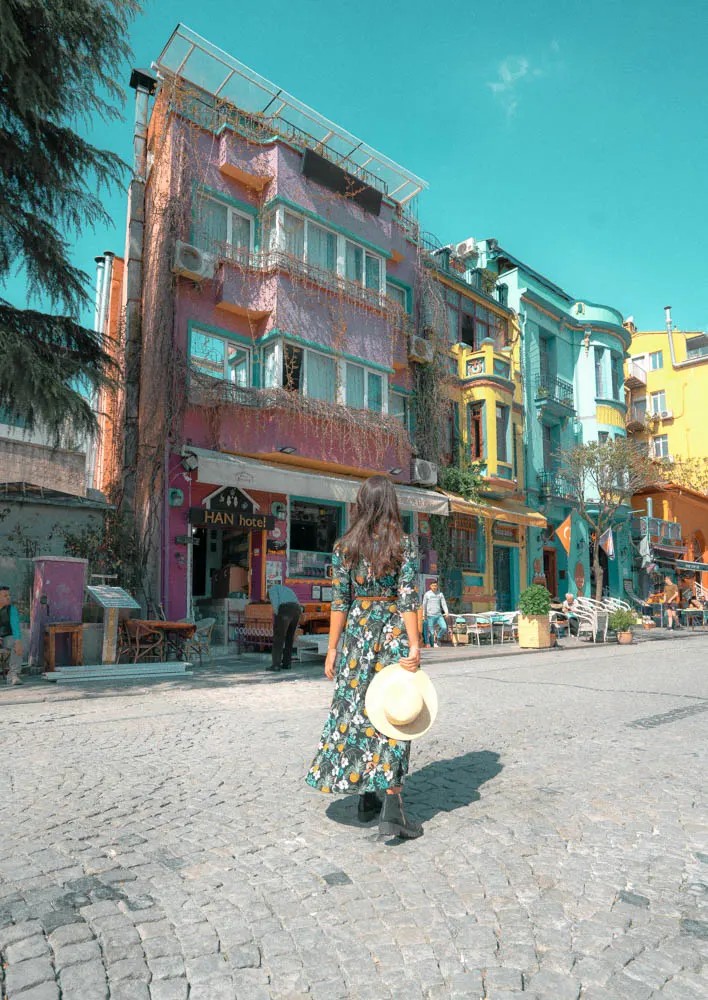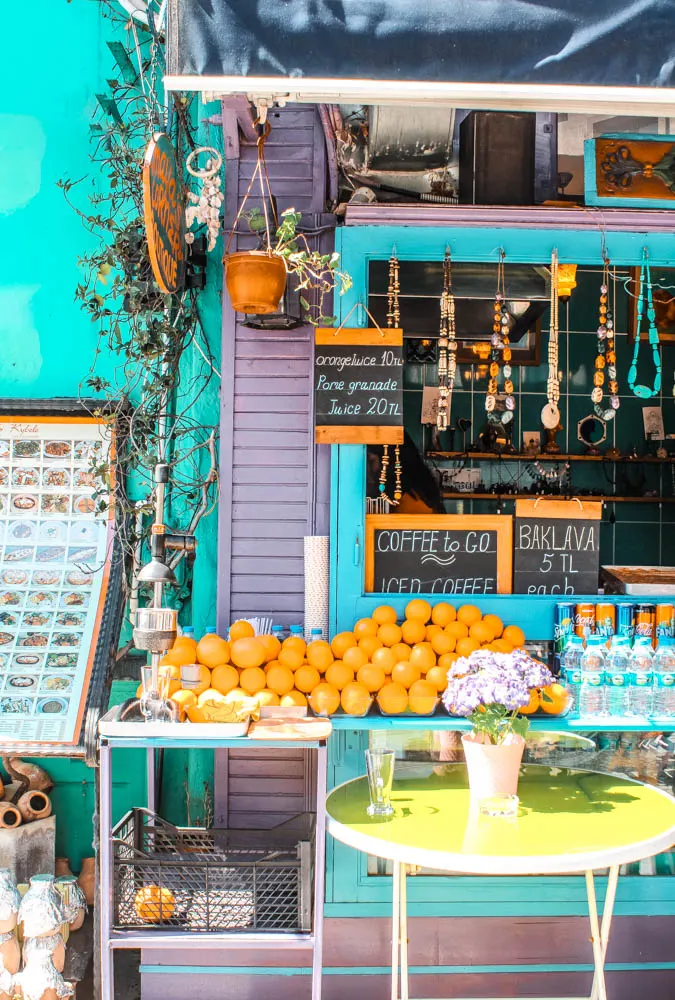 8. The rooftop restaurants in Istanbul
Istanbul is a foodies paradise, and the best part about it is the many amazing restaurants and eateries it boasts, but there's nothing like having a meal or a drink at one of the many rooftop restaurants in Istanbul.
While exploring the city, make sure you pop by for a meal or a drink to take in the view of the city from above (bonus points if you can catch a sunset!).
Best Istanbul tours
Things to know before you visit Istanbul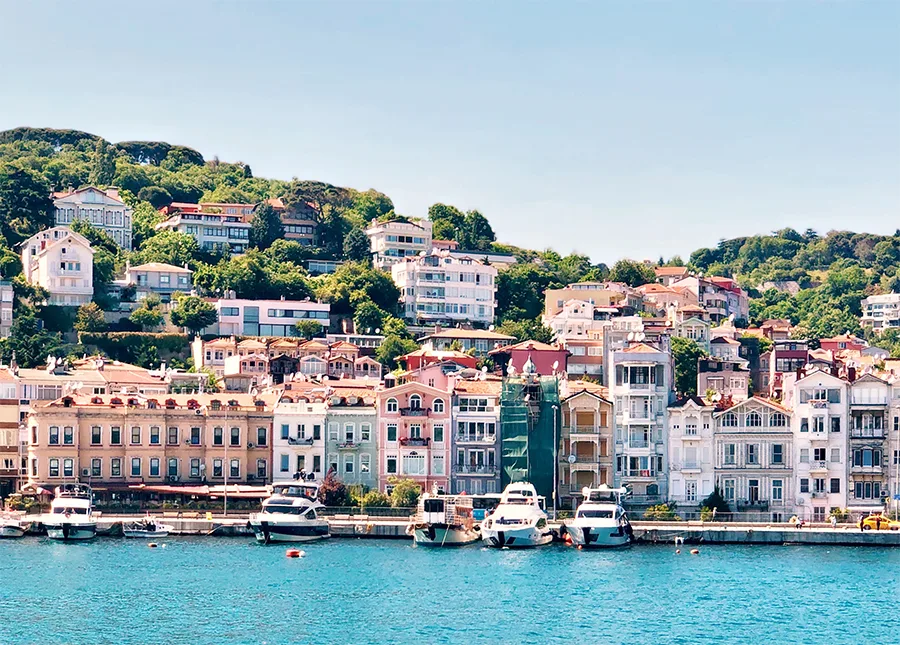 If you're still on the lookout for travel insurance for your trip, I highly recommend Safety Wing.
Tap water in Istanbul is considered safe to drink, but even locals prefer to stick to water bottles. If you want to keep it safe, buy purified water, or better yet, get yourself a GRAYL bottle. It's basically a water bottle that purifies tap water by getting rid of bacteria and chemicals in a few seconds. This makes your trip to Istanbul more friendly to the environment and also saves you money in the long run. I've used it on numerous trips around the world and it always works wonders! 🙂
Get to know the dos and donts of visiting Turkey.
Ladies, as far as clothing goes, you don't need to stress much about it. Istanbul is a young and opening-minded city where you can wear anything you like! I'd definitely make sure to pack a few long dresses for visiting mosques, but other than that – anything goes as long as you keep it classy.
And that's the list! Do you know any other beautiful places in Istanbul that should be included in this post?
Picture credits: Most of the pictures of me were shot by Marissa except for the left one at the Goztepe Park, which was shot by Katie.