15 Best Beach Towns in Turkey for the Ultimate Getaway
Looking for the best beach towns in Turkey? We've got you!
Turkey is a country known for its rich history, vibrant culture, and stunning natural beauty. With its long coastline along the Mediterranean and Aegean Seas, Turkey is also home to some of the most picturesque beach towns in the world.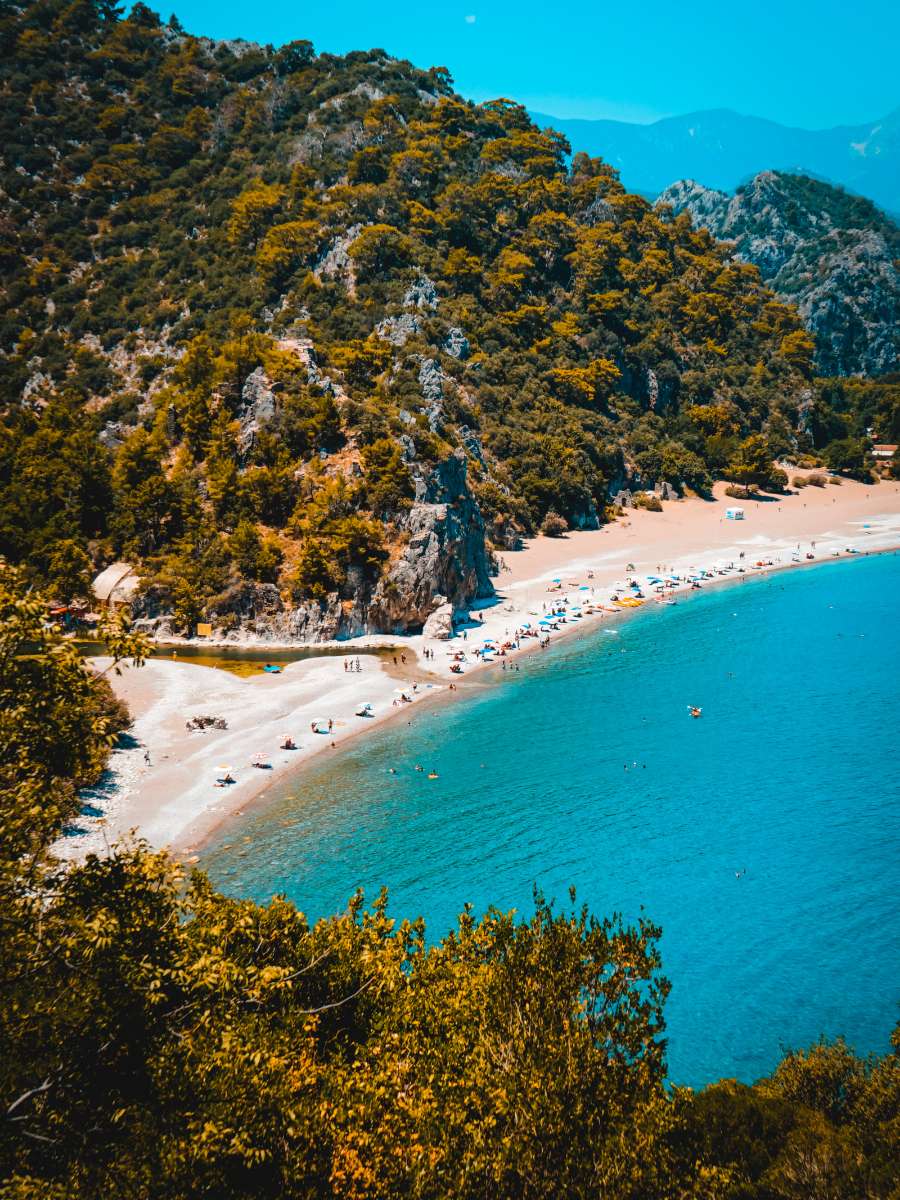 These towns offer visitors a chance to soak up the sun, swim in crystal-clear waters, and experience the unique charm of Turkish coastal life.
From the bustling streets of Bodrum to the tranquil shores of Antalya, there is no shortage of beautiful beach towns to explore in Turkey.
In this post, we'll take a closer look at some of the best beach towns in Turkey and what makes them so special.
What are the best beach towns in Turkey?
Turkey is home to many beautiful beach towns, each with its own unique charm and attractions.
Some of the best beach towns in Turkey include Antalya, known for its picturesque beaches and rich history, Bodrum for its lively nightlife and ancient ruins, Fethiye for its relaxed atmosphere and stunning natural scenery, Alanya for its long sandy beach and historic castle, and Cesme for its beautiful beaches and thermal springs.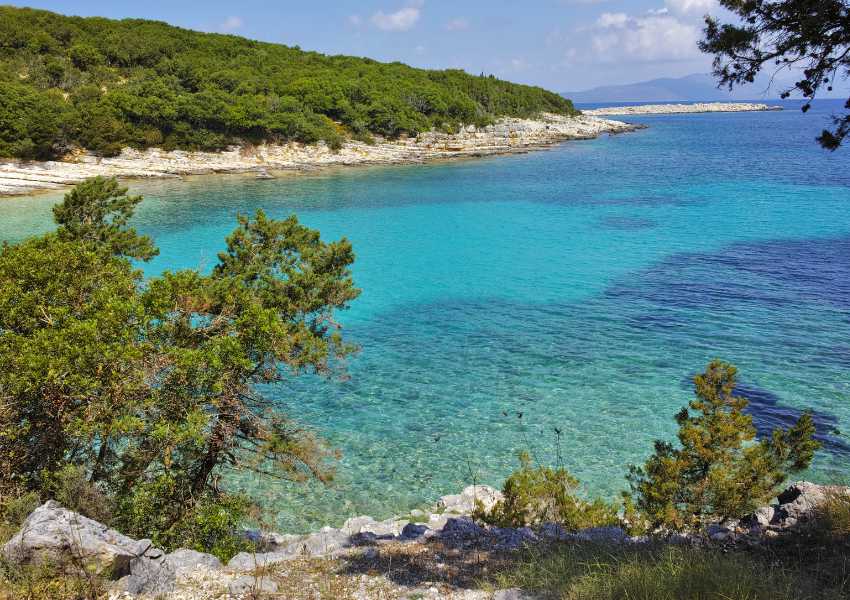 These are just some of the best beach towns in Turkey, but there are also plenty more!
Best Beach Towns in Turkey
1. Kas
If you are looking for a charming beach town, with an easygoing, holiday atmosphere, consider visiting Kas. Founded by the Lycians and then dominated by the Greeks and the Romans, this is one of the nicest places to visit in Turkey.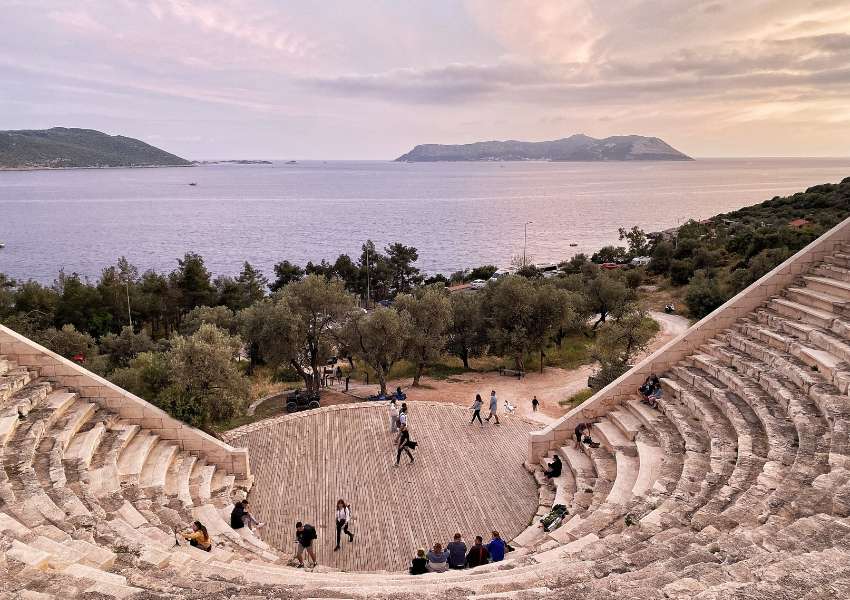 You will find Kas on the southwest of the country and facing the Mediterranean, Kas is an excellent base to explore the gorgeous beaches and small islands of the area.
Kekova Sunken City and Simena are both easy to reach from Kas on a combination of bus and boat tours that are perfect to enjoy the clear waters and the unique sites of the area.
If you don't feel like leaving town, you can spend time visiting the archeological site of Antiphellos, on which Kas was actually built.
The highlight is by far Antiphellos Theater, which dates back to the 1st century BC and is free to access (it's an easy walk from the center of town) and a fantastic sunset spot. Grab a bottle of wine and some snacks for the perfect sunset experience!
Spend time wandering the cobbled streets of Kas: it's a feast of whitewashed buildings and brightly colored bougainvillea flowers. You can also go shopping for souvenirs and enjoy a drink in one of the many bars.
Recommended by Claudia Tavani of My Adventures Across The World
2. Antlaya
Nicknamed the 'Pearl of the Mediterranean', Antalya sits sprawled along the southern turquoise coastline of Turkey with the stunning Western Taurus mountain range at its back.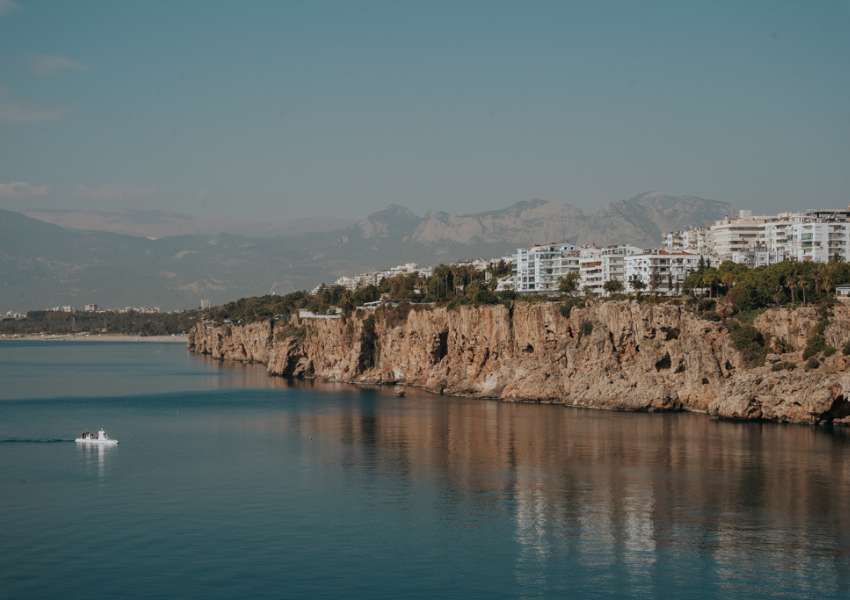 It's a must on any 10 day Turkey itinerary or weekend trip and a beach hot spot for locals and foreigners alike for decades.
In Antalya, you'll find a nice balance of metropolitan amenities and history with the beauty and peacefulness of a true Mediterranean coastal town.
Antalya's main beach is Konyaalti. A 7km pebbled stretch lying west of the city's vibrant old town.
Due to the beach's expansiveness, you won't find yourself fighting for square footage like some other European beaches, with plenty of space to lay out a few beach towns and an umbrella for a quiet day by the water.
The beach is also pleasantly swimmable, with clear waters and a lazy lapping beach break. You can opt for a quick dip to cool yourself from the Mediterranean sun or take a few laps further out.
Once you've had your fill, you can choose to partake in paragliding over the picturesque coastline or grab bevies in the heart of the old town. If the latter, make sure to stop by the ancient Hadrian's Gate and Hidirlik Tower.
If staying a few days, there are many exciting day trips you can take. Up your adrenaline on a wild white-water rafting adventure through Koprulu Canyon, or learn the deep history of Turkey at the ruins of Perge and Aspendos.
Ultimately, Antalya is more than just a beach town. From a beautiful coastline to ancient history and a thriving metropolitan vibe, Antalya is a one-stop-shop for anyone visiting the 'Pearl of the Mediterranean'.
Recommended by Haley of Haley Blackall Travel
YOU MAY ALSO LIKE:
3. Dalaman
Dalaman is a popular beach town located on the southwestern coast of Turkey. It is most well known for its picturesque landscapes, stunning beaches, and Turquoise waters. Not to mention the unique ancient ruins on the nearby Dalyan river.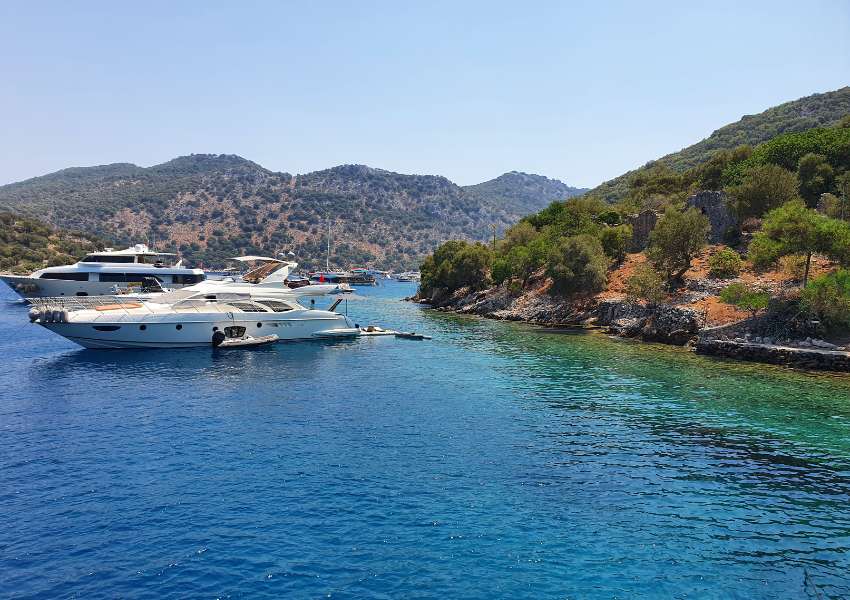 Dalaman has a gorgeous Mediterranean climate with hot summers and mild winters, making it an ideal destination for beach lovers and outdoor enthusiasts all year round.
There are several beautiful beaches around the town of Dalaman. Each with amazing crystal clear, turquoise waters that are perfect for swimming and snorkeling.
One of the most popular being Sarigerme beach, which is loved for its long stretch of sandy shoreline and multiple water sports that you can try out.
Another is İztuzu Beach which is a protected area, famous for its pristine sands and being a nesting site for the endangered loggerhead sea turtles.
For those interested in adding some history and culture to their beach getaway, from Dalaman it is easy to access to the Lycian Rock Tombs along the Dalyan River.
This unique historic site is well worth visiting and the best way to see them is to take a boat tour up the river.
Another popular activity to do in Dalaman, is to take a day trip to the nearby Göcek Islands.
Jump on a sailing boat and explore the secluded coves and clear waters around the islands. Don't forget to take a snorkel as these islands are great for spotting lots of colourful sea life.
Recommended by Callie From Counting Our Footsteps
4. Sarigerme
Sarigerme is a quiet beach town in the Dalaman region of Turkey and is only a stone's throw away from Dalaman Airport.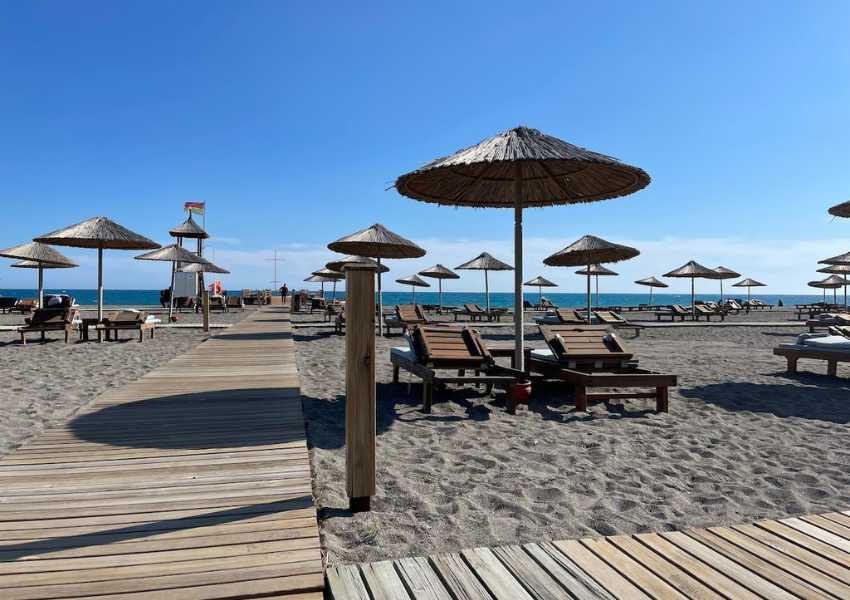 While not as popular as the tourist hubs of Antalya and Side, Sarigerme is a must-visit destination and one of the best beach towns in Turkey for visitors.
Upon arriving at Sarigerme, visitors are welcomed by the warm hospitality of the locals and the laid-back atmosphere of the village, nestled along the stunning Aegean coastline, boasting pristine sandy beaches that stretch for miles, perfect for sunbathing, swimming, and water sports opportunities.
Sarigerme's beaches are the best kind. Sandy enough to sink your toes in, relaxing, and with beachside cafes and restaurants where you can indulge in delicious local cuisine and refreshing drinks.
For accommodation, the Hilton Dalaman Sarigerme Resort & Spa Hotel offers visitors their very own stretch of sandy beach surrounded by lush green hills and pine forests, which provide hiking trails and scenic viewpoints out over the turquoise waters of the Mediterranean Sea.
The village of Sarigerme itself is both small and welcoming, with a main street lined with traditional Turkish architecture, bars, and restaurants, offering authentic Turkish cuisine and shops where you can pick up sporting goods and perfume for extremely low prices…even better when you haggle!
Sarigerme is also a popular destination for golfers, with a world-class golf course offering breathtaking views and challenging play. If golf isn't your thing, a boat trip with one of the local tour companies or scuba diving is another popular activity and is perfect for those looking to explore the clear waters. One popular spot is Baba Adasi (Baba Island), a small island just a short boat ride from Sarigerme Beach.
Recommended by Lewis Ogden of WayToStay.com
5. Cesme
Cesme, or Çeşme, is a splendid coastal town in Western Turkey and a truly marvelous place when it comes to natural beauty and jaw-dropping landscapes.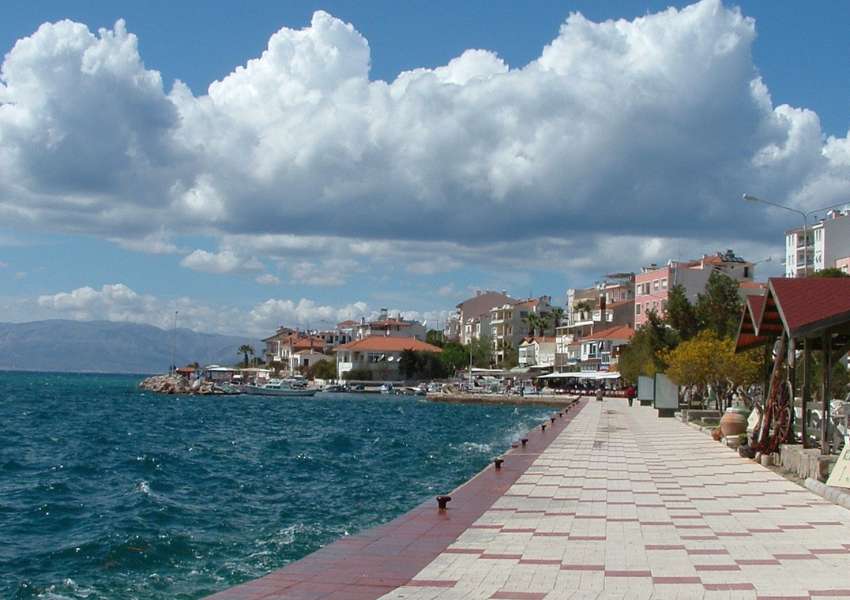 Cesme boasts a long coastal promenade, connected to the winding, cobblestone streets that intertwine in the old center. There you can also find the ancient Cesme Castle with stunning panoramic views of the whole city.
It's a colorful city that offers both thrilling nightlife and peaceful beaches. Cesme is a popular seaside resort, but not as crowded as Marmaris, Kusadasi, and Antalya. It's no wonder why the wealthiest locals from Izmir all have a summer retreat villa in Cesme.
There are plenty of amazing things you can do in Cesme and the peninsula.
In Cesme, you must visit the Çeşme Kalesi which doubles down as an archeological museum. If you're into more history, then make the 27km ride to Erythrai to see the evidence of Bronze Age civilization and the remnants of the Temple of Athena from 300 BC! The ancient Ephesus is not too far either!
If you are looking for a place for a romantic night out, look no further than the Cesme Marina and the dozens of elegant restaurants around it. The seafood is as fresh as it could be and superbly delicious!
Should you need to loosen up a bit, hop over to Alaçatı for a night of dancing in one of the many beach bars. Just don't miss out on Cesme's breathtaking beaches the next day – hands down the city's greatest asset!
No matter what kind of holidaymaker you are, Cesme will pull you in and captivate you with its charm and character. Don't forget the souvenirs!
Recommended by Simon of Backpack Moments
6. Oludeniz
Nestled on Turkey's southwest coast, the beach town of Oludeniz beckons travelers with its beautiful turquoise waters, stunning landscapes, and relaxed Mediterranean vibe.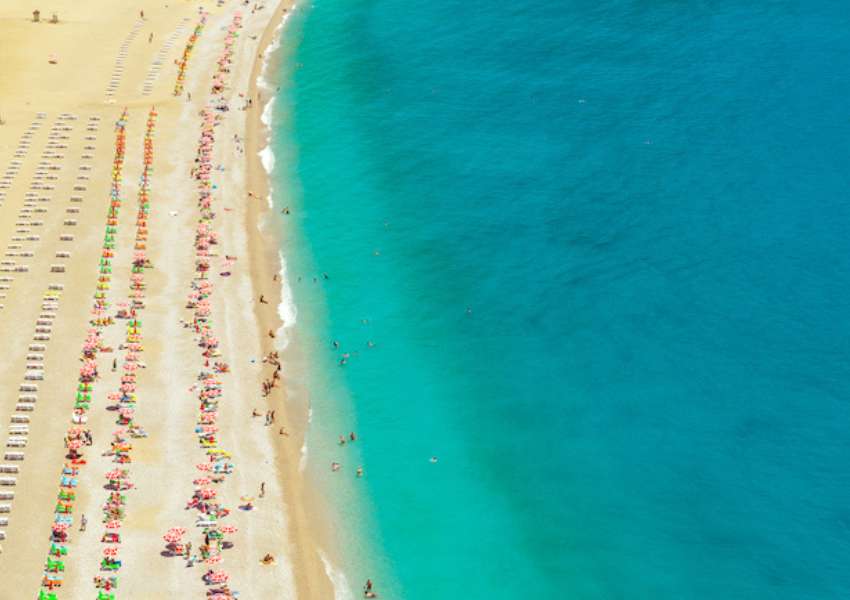 This coastal paradise offers an idyllic retreat for those seeking sun, sand, and serenity. Oludeniz boasts beaches with crystal-clear waters and offers something for everyone.
For adventure seekers, Oludeniz is a gateway to thrilling experiences. Paragliding is a popular activity, allowing visitors to soar above the town, taking in panoramic views of the coastline and the vibrant colors of the lagoon.
The adrenaline rush is unmatched as you glide through the sky, feeling the warm breeze against your skin.
Beyond the beach, Oludeniz boasts a charming village center with narrow streets, quaint cafes, and local shops.
Stroll through the bustling marketplaces, where you can find handcrafted souvenirs, vibrant textiles, and aromatic spices.
Immerse yourself in the local culture by indulging in traditional Turkish cuisine at seaside restaurants, where you can savor delectable seafood dishes while watching the sunset paint the sky with hues of orange and pink.
Nature enthusiasts will find Oludeniz a paradise for exploration. The nearby Babadağ Mountain offers hiking trails that lead to panoramic viewpoints, rewarding trekkers with awe-inspiring vistas of the coast and the lagoon.
Keen divers can explore the vibrant underwater world, discovering a myriad of marine life and submerged caves beneath the surface.
As evening falls, Oludeniz transforms into a vibrant hub of entertainment. Beachfront bars and clubs come alive with music and laughter, offering a lively nightlife experience. Dance the night away under the starlit sky, creating memories that will last a lifetime.
Whether you're seeking relaxation, adventure, or a blend of both, Oludeniz is a coastal haven that will leave an indelible mark on your heart.
Recommended by Sarah-Jane of Chasing the Donkey
7. Alanya
Alanya is a stunning resort town on the Turkish Riviera that offers breathtaking views, vibrant culture, amazing Turkish cuisine, and an array of activities for visitors to enjoy.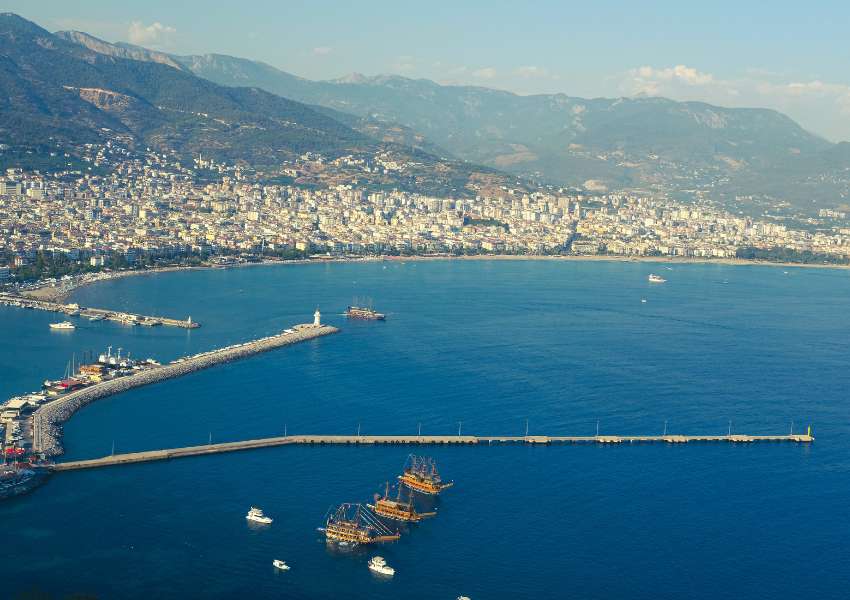 If you are looking for warm, sunny weather, it is best to visit between the months of April and October.
Alanya has a rich history dating back to the Hellenistic period. From the Seljuk Empire to the Ottoman Empire, Alanya has seen many different rulers and influences.
Visitors can explore the fascinating history of the city through its many landmarks and museums such as Alanya Castle, the Red Tower of Alanya, and the Alanya Archaeological Museum.
In addition to history, Alanya boasts stunning natural beauty, from the turquoise waters of the Mediterranean to the towering Taurus Mountains.
Some highlights not to miss include Damlataş Cave, a day on the water swimming and seeing the coastline on a Pirate Boat, and spending some time at Kleopatra Beach.
One of the best ways to enjoy the unique blend of cultures is by visiting one of the many traditional Turkish bazaars. Here you can immerse yourself in the local culture through food, music, and shopping.
The city centre is full of small shops and boutiques selling beautiful Turkish souvenirs, clothes, jewellery, and more. You can find anything you need in Alanya, and the prices are very reasonable.
For adrenaline junkies, Alanya offers an array of adventure activities, from paragliding to hiking. Visitors can experience the thrill of a lifetime while exploring Sapadere Canyon and swimming in a refreshing waterfall, or enjoying the sights from above while paragliding.
Alanya is a must-visit destination for anyone seeking a unique blend of history, culture, and natural beauty. With so many things to see and do in Alanya, it's no wonder why this Mediterranean resort town continues to be a popular travel destination.
Recommended by Peta and Jonas of Exit45 Travels
8. Side
One of the best beach towns in Turkey is Side. It's not very busy and it's quite small but it has a lot to offer. As they say, good things come in small packages!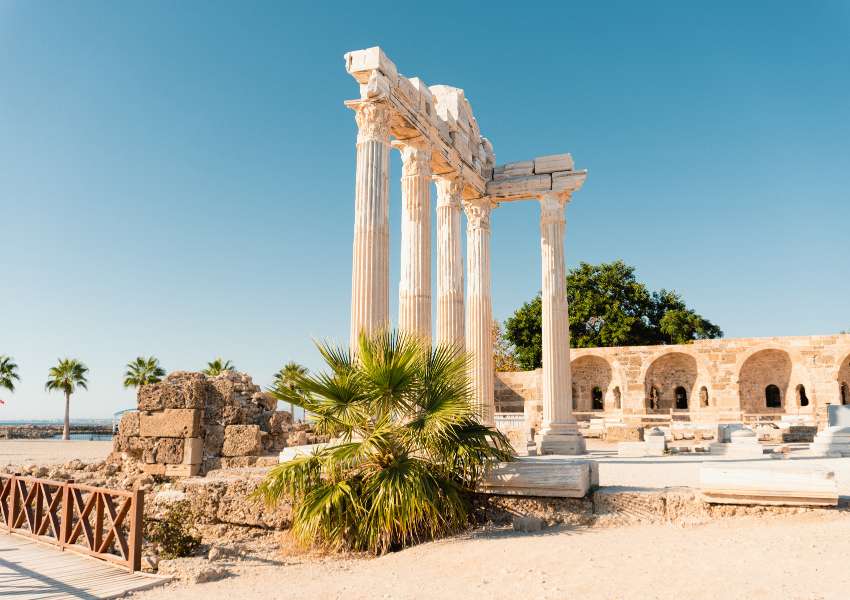 Side isn't too far from Antalya, which makes it an easy getaway for people who visit the popular destination.
But as for what Side has to offer, it has a little bit of everything. It has beaches, obviously as a beach town and it also has attractions such as historical sites like the Apollon Temple and the Side Ancient City which are incredible to visit.
There are also lots of ways to get active too. Side diving tours are especially popular to see the Underwater Museum, the largest in Europe. It's exactly what it says on the tin, and it's very cool to see. And it's very easy to get tours from Side to the Manavgat Waterfalls which are right on Side's doorstep too.
One of the biggest selling points for Side as a beach town is how quiet it is. The beaches are up there with the best in Turkey, but with far fewer visitors. Nothing beats lying on a beautiful beach without feeling like a tinned sardine!
But even though it's a bit off-the-beaten-track, there are still lots of amazing hotels and resorts to stay in. So Side really does make for the perfect beach town in Turkey.
Recommended by Josh Band of A Backpacker's World
9. Fethiye
Any road trip around Turkey should include a stop in the beach town of Fethiye which is located on the beautiful Turquoise Coast.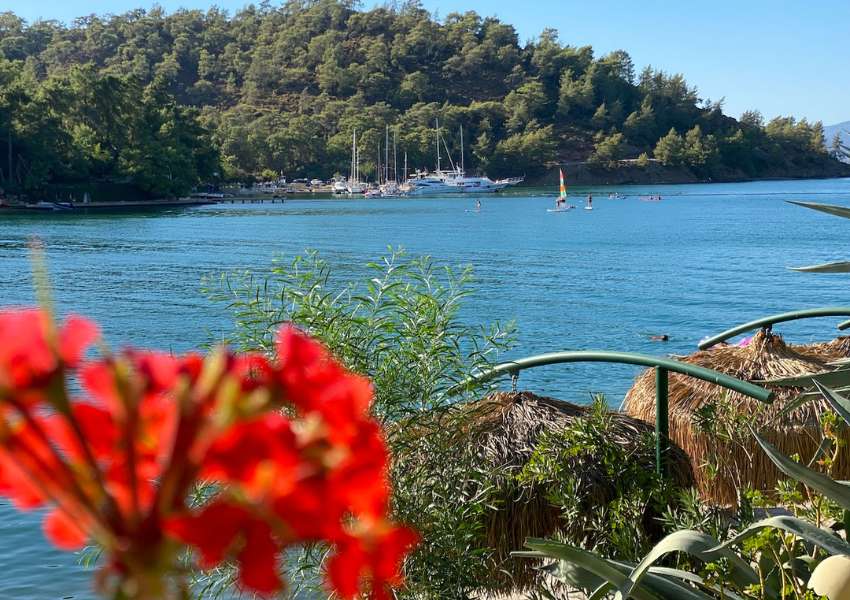 Fethiye itself is a lively mix of Mediterranean beaches, marinas and fantastic shopping, which includes the old district and a large twice-weekly market. Surrounding this are lots of good bars and restaurants and plenty of opportunities to taste local food and enjoy traditional Turkish music.
Nearby is the famous Oludeniz Beach, known for its crystal clear water and beautiful sandy beach. It's a perfect place to lounge for the day, or snorkel in the clear sea.
The Blue Lagoon is a separate beach at Oludeniz that is protected by a small strip of land. It is a popular destination for paddleboarders and kayaks since the water is so still.
From the Babadag mountain above, paragliders descend all day in a long stream of colourful kites which dot the blue skies. If you want to experience a tandem paraglide, this is an amazing place to do so – the views as you descend are incredible.
Make time for a trip from Fethiye to the Butterfly Valley on the ancient Lycian Way. You can only get there by boat, and the valley is a haven for the many of the butterfly species that thrive there. The preservation area is also home to a dramatic waterfall that cascades from the 350m steep canyon wall to become a gently flowing river along the valley.
Saklikent National Park is another popular place to visit from Fethiye. The Saklikent Gorge is one of the largest canyons in Europe and the deepest canyon in Turkey. The hiking trails lead right through the canyon where there is easy access to the cool water, leading right into some of the beautiful waterfalls.
Recommended by The Gap Decaders
10. Bodrum
Bodrum is definitely considered one of the best beach towns in Turkey, offering a delightful combination of natural beauty, rich history, and vibrant culture.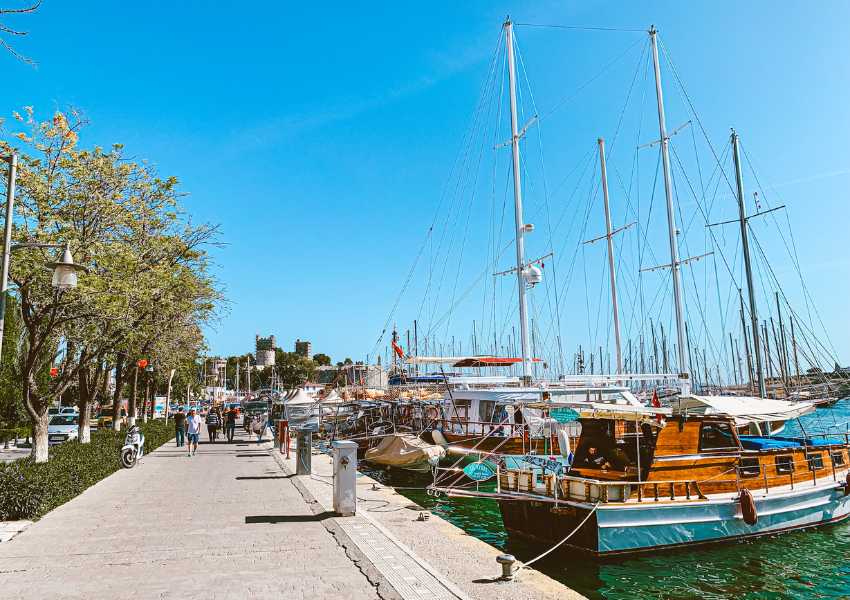 One of the biggest reasons to add a bathing suit to your Turkey packing list is to visit Bodrum's picturesque, sandy beaches with crystal-clear turquoise waters. Whether you prefer relaxing on a sunbed or engaging in water activities, Bodrum has a range of stunning beaches like Gumbet and Bitez beaches.
Beyond the main beaches, the Bodrum Peninsula offers a stunning coastline dotted with charming villages and hidden bays.
Take an Orak Island boat tour along the peninsula's coastline, stopping at secluded coves for swimming and snorkeling. Depending on the tour you take, there may be an opportunity to hike.
The charming Old Town is an enchanting Mediterranean village with whitewashed houses and flourishes of colorful bougainvillea.
There is also a marina filled with impressive yachts and traditional Turkish Gulet boats. Spend an afternoon visiting small, boutique shops that sell local crafts and souvenirs or having a meal overlooking the harbor.
While the beaches and nightlife may be the biggest draw, Bodrum has a fascinating historical background as the former site of the ancient city of Halicarnassus. One of the Seven Wonders of the Ancient World, the Mausoleum at Halicarnassus, stood here.
Today, visitors can explore the remains of the ancient city, including the Bodrum Castle, which now houses the Museum of Underwater Archaeology, offering a glimpse into the region's rich past.
Bodrum's alluring beaches, exciting nightlife, and unique historical attractions make it one of the best beach towns in Turkey.
Recommended by Jenifer of The Evolista
11. Kusadasi
Kusadasi is one of the most popular Turkey beach towns. It's located in the Aegean region of Turkey.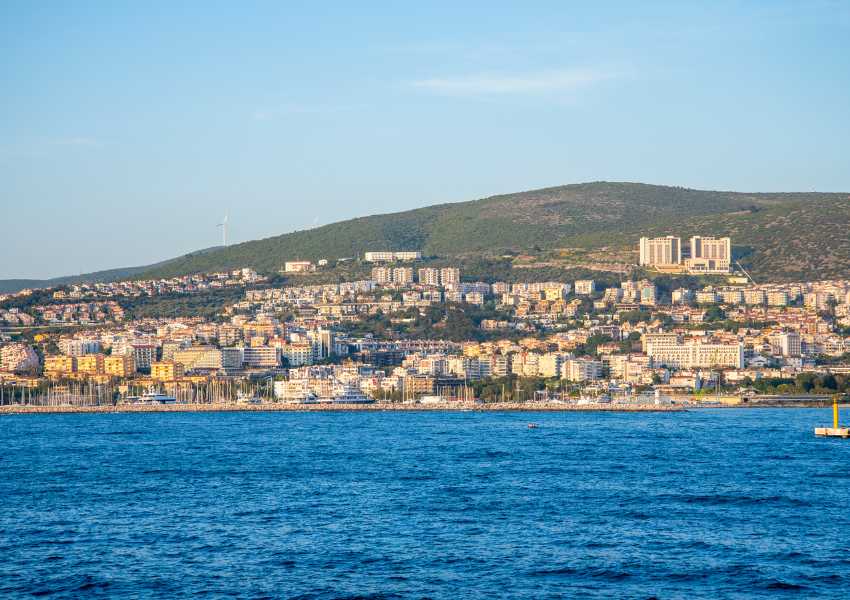 It is known for its beautiful beaches, crystal clear waters, and vibrant nightlife. The town is situated on a peninsula surrounded by the Aegean Sea on one side and the Dilek Peninsula National Park on the other.
One of the main attractions of Kusadasi is its beaches. The town has several beaches, including Ladies Beach, Long Beach, and Kustur Beach. Ladies Beach is the most popular beach in Kusadasi and is known for its calm waters and soft sand. Long Beach is another popular beach, which stretches for over 18 km and is perfect for long walks. Kustur Beach is known for its clear waters and is popular among snorkelers and divers.
Apart from its beaches, Kusadasi is also known for its vibrant nightlife. The town has several bars, clubs, and restaurants that are open till late at night. The most popular nightlife spot in Kusadasi is Bar Street, which is lined with bars and clubs and is the perfect place to party till the early hours of the morning.
Kusadasi is also a great place for shopping. The town has several markets and shopping centers where visitors can buy traditional Turkish souvenirs, clothes, and jewelry. The Grand Bazaar is the most popular market in Kusadasi and is known for its wide range of products and bargaining opportunities.
12. Assos
Assos is a small and charming beach town located in the northwestern part of Turkey. It is situated on a peninsula, surrounded by the Aegean Sea and lush green hills that provide a stunning backdrop.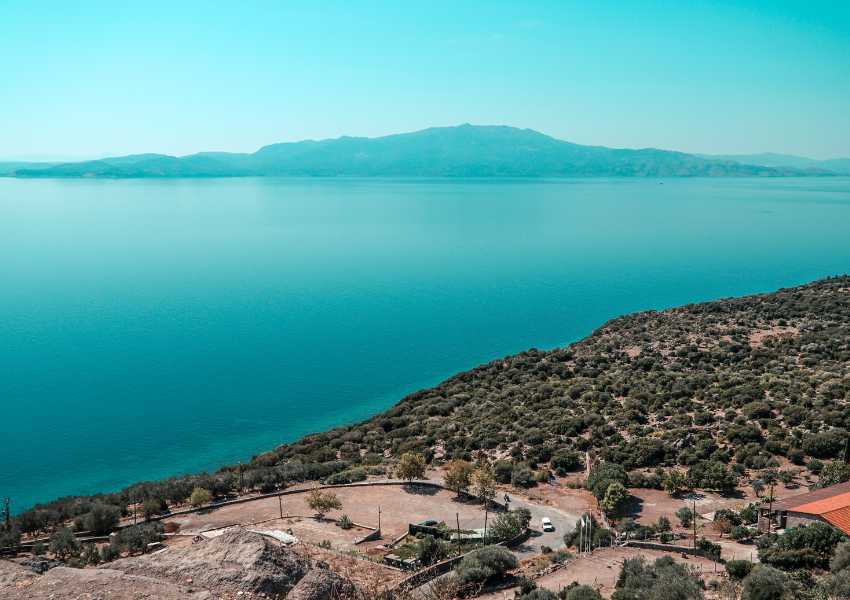 One of the main attractions in Assos is the ancient ruins of the Temple of Athena, which sits atop a hill overlooking the town and the sea. Visitors can climb to the top and enjoy breathtaking views of the surrounding area.
The town itself is filled with narrow cobblestone streets, traditional houses, and quaint cafes and restaurants. The beach in Assos is small but beautiful, with crystal clear waters and soft golden sand.
If you enjoy outdoor activities, there are plenty of hiking trails in the surrounding hills and forests. Moreover, one of the best things to do at this beach town in Turkey is to rent a boat and explore the nearby islands and beaches.
13. Dalyan
Dalyan is a small town located in the Mugla Province of Turkey. It is situated on the banks of the Dalyan River, which flows into the Mediterranean Sea.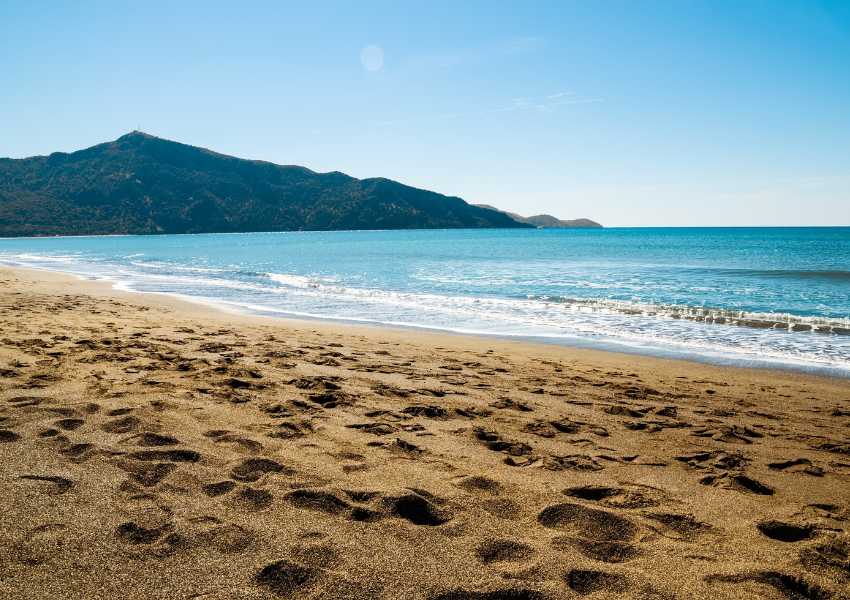 This charming town is known for its natural beauty, ancient ruins, and stunning beaches, making it one of the best beach towns in Turkey.
One of the main attractions of Dalyan is Iztuzu Beach, also known as Turtle Beach. This beach is famous for being the nesting ground of the endangered loggerhead sea turtles. During your visit, you'll be able to watch the turtles lay their eggs and the hatchlings make their way to the sea.
Apart from the beach, Dalyan is also home to the ancient city of Kaunos. Visitors can explore the ruins of this city, which include a theater, a temple, and a necropolis. The Kaunos Rock Tombs, which are carved into the cliffs above the Dalyan River, are also worth a visit.
Dalyan is also known for its mud baths, which are said to have healing properties. The mud is rich in minerals and is believed to be beneficial for the skin. Visitors can relax in the mud baths and then rinse off in the nearby hot springs.
In addition to its natural and historical attractions, Dalyan has a lively town center with plenty of shops, restaurants, and bars. Visitors can sample traditional Turkish cuisine, shop for souvenirs, or simply relax with a drink and watch the world go by.
14. Kalkan
Kalkan is one of the best beach towns in Turkey for stunning beaches, crystal clear waters, and a charming old town.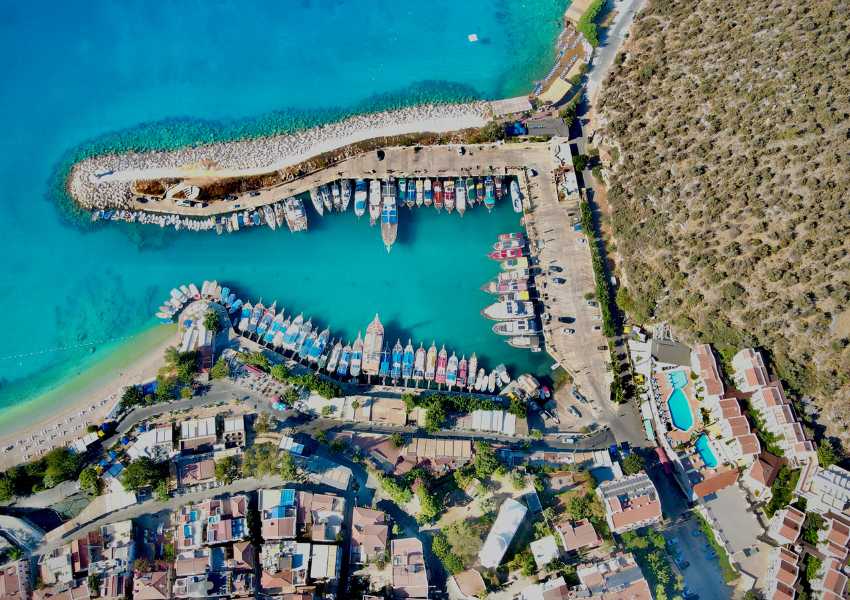 One of the main attractions of Kalkan is its beautiful beaches. The town has a number of small beaches that are perfect for swimming and sunbathing.
The most popular beaches in Kalkan include Kaputas Beach and Patara Beach. Kaputas Beach is a small, secluded beach that is surrounded by cliffs, while Patara Beach is a long, sandy beach that stretches for miles.
In addition to its beaches, Kalkan is also known for its charming old town. The town is built on the side of a hill and is filled with narrow streets and traditional Turkish buildings.
Make sure not to miss out on wandering through the old town, exploring the local markets, and sampling some of the delicious Turkish cuisine during your stay!
15. Marmaris
If long sandy beaches, crystal clear waters, and vibrant nightlife are what you're after, then Marmaris is one of the best beach towns in Turkey to consider.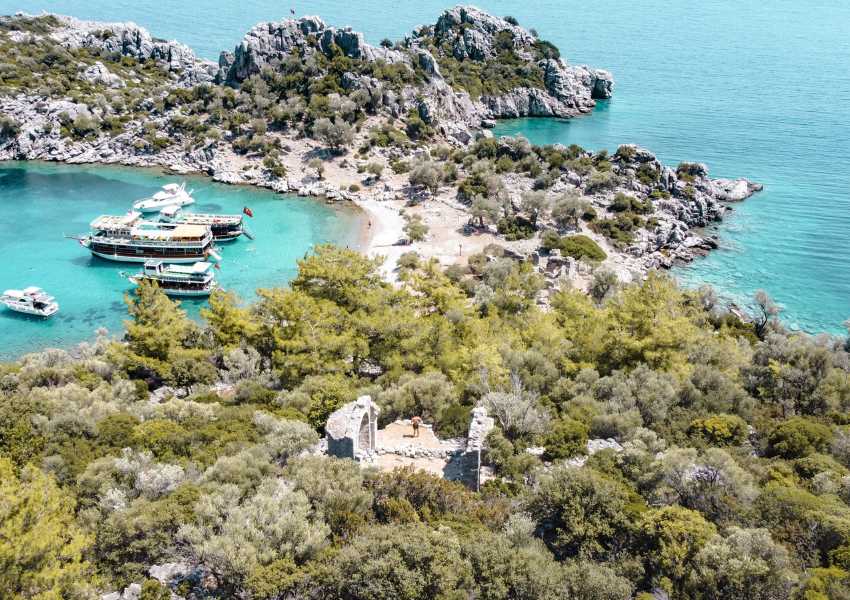 The town is situated in a bay surrounded by pine-clad mountains, which makes the scenery breathtaking.
One of the main attractions in Marmaris is the Marmaris Castle, which was built by the Ottomans in the 16th century.
The castle now houses a museum and offers stunning views of the town and the sea. Another must-visit place is the Marmaris Marina, which is one of the largest marinas in Turkey. The marina is home to luxury yachts and offers a variety of restaurants, cafes, and shops.
Marmaris is also a great place to visit if you love water sports. While here, you can enjoy activities such as parasailing, jet skiing, and scuba diving.
The town also offers boat tours to nearby islands, so it's a great way to get to know some lesser-known beach towns in Turkey that aren't on the mainland.
Best Beach Towns in Turkey: FAQs
What are some of the most beautiful beach towns in Turkey?
Turkey has many beautiful beach towns, but some of the most stunning ones include Alanya, Kusadasi, and Cesme.
These towns have crystal-clear waters, sandy beaches, and a range of water activities to enjoy.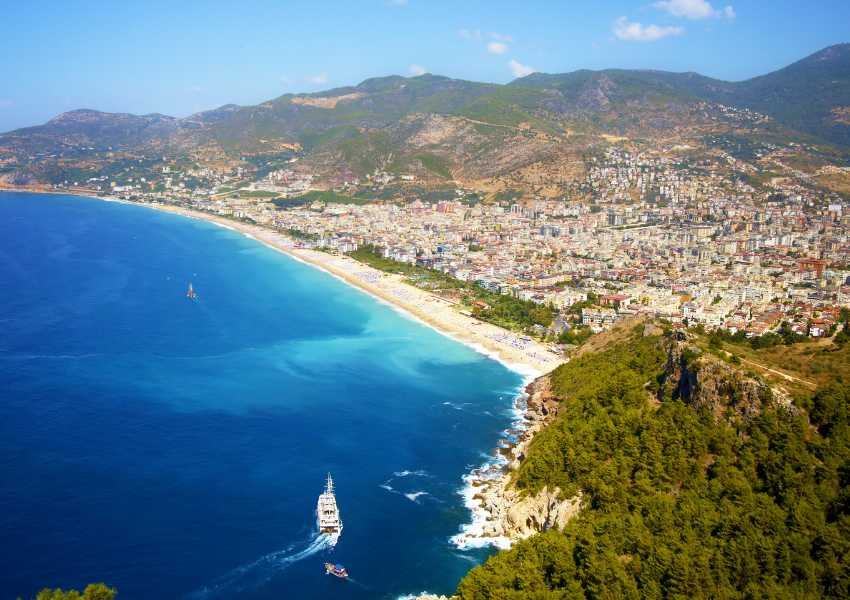 What are the top beach resorts in Turkey for families?
If you're traveling with your family, some of the top beach resorts in Turkey include Lara Beach, Side, and Belek.
These resorts have plenty of activities for kids and adults, including water parks, kids' clubs, and family-friendly entertainment.
Where is the Turkish Riviera and what makes it so beautiful?
The Turkish Riviera is located along the southwestern coast of Turkey and is known for its stunning beaches, crystal-clear waters, and beautiful landscapes.
The area is also home to ancient ruins, charming towns, and delicious cuisine.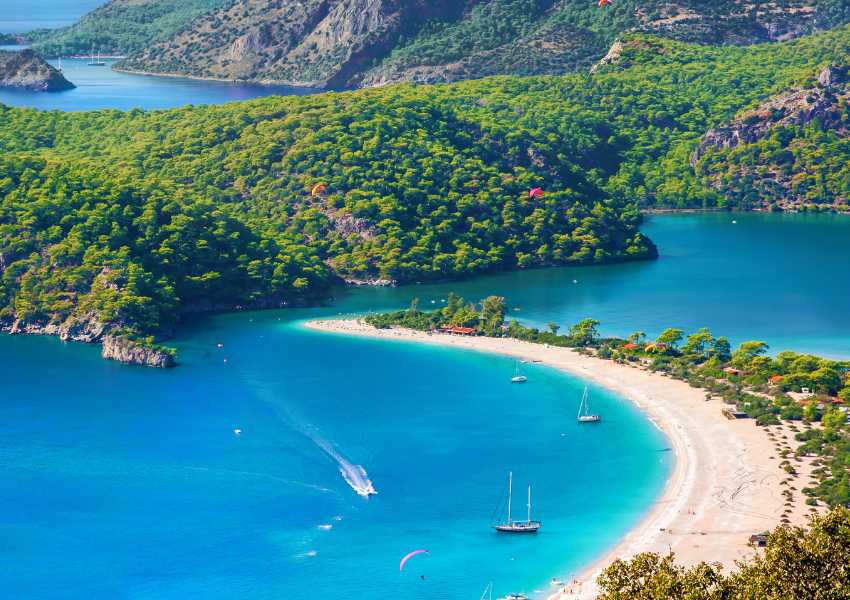 Which beach town in Turkey is known for having the cleanest beaches?
The beach town of Fethiye is known for having some of the cleanest beaches in Turkey.
The town is situated along the Turquoise Coast and has a range of beaches to choose from, including the popular Oludeniz Beach.
What are some of the best all-inclusive beach resorts in Turkey?
If you're looking for an all-inclusive beach resort, some of the best options in Turkey include the Club Med Bodrum, the Crystal Sunset Luxury Resort & Spa, and the Rixos Premium Belek.
These resorts offer a range of amenities, including all-inclusive meals, water sports, and entertainment.
Which is the best beach town in Turkey: Bodrum or Antalya?
Both Bodrum and Antalya are great destinations for beach-goers, but it depends on what you're looking for.
Bodrum has a more laid-back vibe and is known for its beautiful bays and coves. Antalya is worth visiting if you want a wider range of beaches and luxury resorts.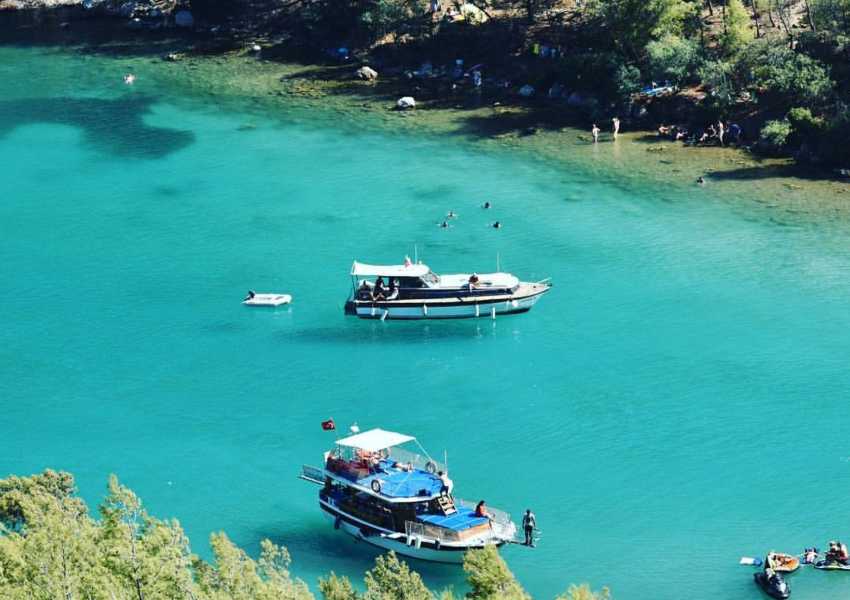 What is the best time to visit Turkey for beaches?
The best time to visit Turkey for beaches is between May and October, when the weather is warm and sunny.
July and August tend to be the busiest months, so if you're looking for a quieter beach experience, consider visiting in May, June, or September.
Best Beach Towns in Turkey: Conclusion
Turkey is home to some of the most beautiful beach towns in the world.
From the tranquil waters of Antalya to the bustling streets of Bodrum, there is something for everyone.
Whether you're looking for a relaxing getaway or an adventurous vacation, Turkey's beach towns have it all.
With their stunning scenery, rich cultural heritage, and delicious cuisine, these Turkey beach towns are truly unique destinations.