Is Antalya Worth Visiting? Here's What You Need to Know About Turkey's Turquoise Coast
Is Antaya worth visiting? Here's everything you need to know about this coastal city in Turkey!
Antalya is a city located on the Mediterranean coast of southwestern Turkey. It is a popular tourist destination known for its beautiful beaches, ancient ruins, and vibrant nightlife.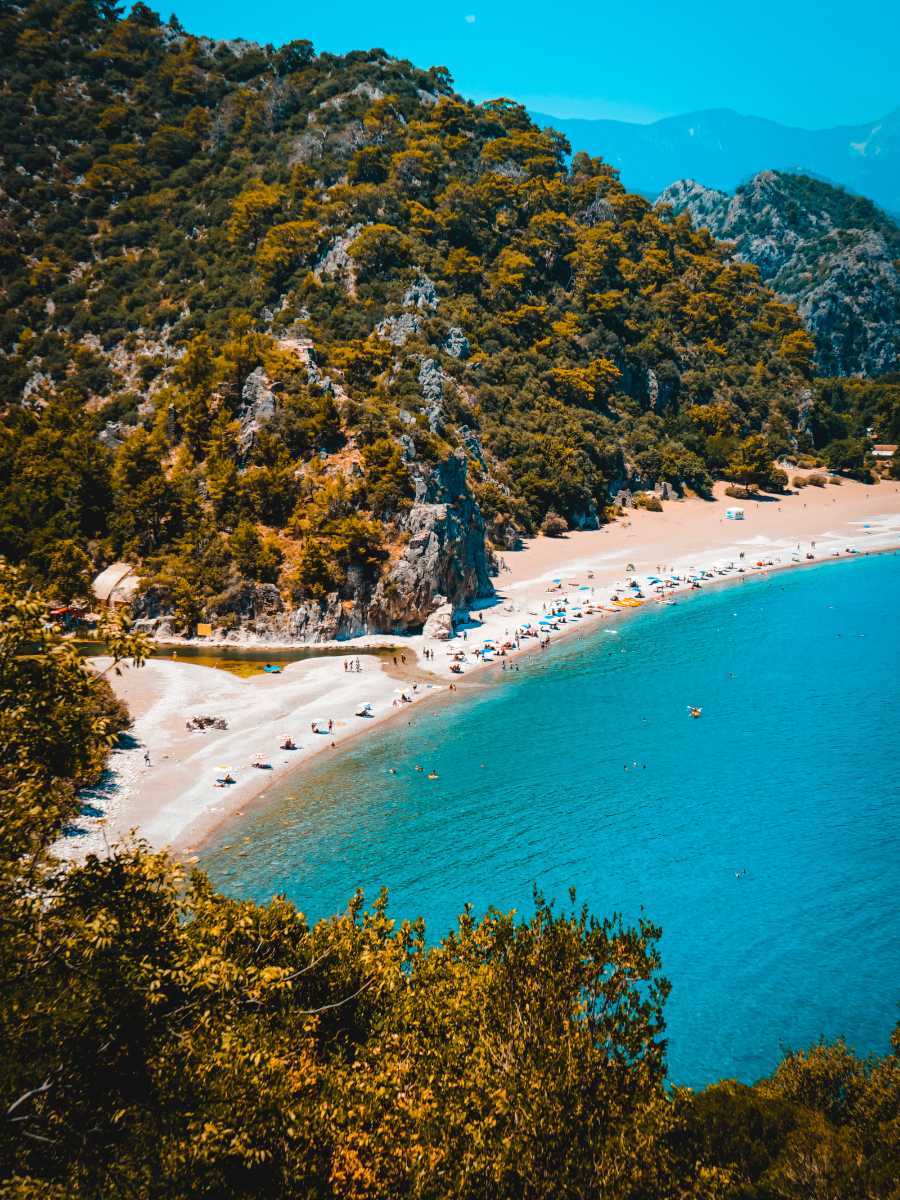 But with so many places to visit in Turkey, you may be wondering if Antalya is worth the trip. In this blog post, we will explore the reasons why Antalya is a must-visit destination and what you can expect to experience during your stay.
From the stunning natural beauty of the region to the rich history and culture, we'll give you all the information you need to decide if Antalya is worth visiting.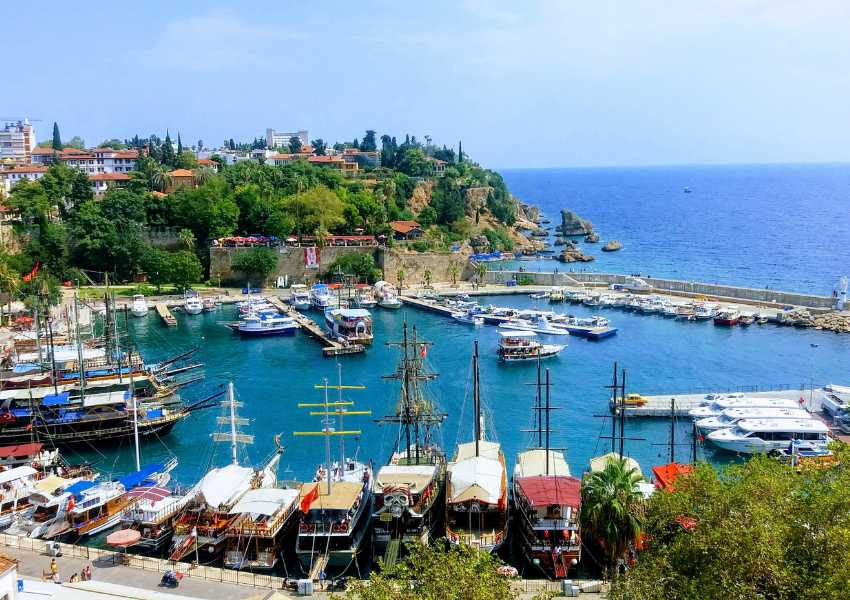 Is Antalya Worth Visiting?
Absolutely, Antalya is a gem on the Turkish coast and offers a unique blend of history, culture, and natural beauty. As you walk around the city, you will be greeted with friendly faces and a myriad of experiences that cater to all interests.
The Old Town (Kaleiçi) is a must-see, with its narrow winding streets lined with historic buildings. You can explore the ancient Roman, Byzantine, and Ottoman architectural influences while sipping on a cup of Turkish tea in a quaint local café. Moreover, the Hadrian's Gate is a stunning triumphal arch that will transport you back in time.
Antalya is also not short on beautiful beaches, offering both sandy and pebbled options. Konyaaltı Beach and Lara Beach are two famous spots where you can soak up the sun, go for a swim, or try your hand at various water sports. If you prefer a more secluded setting, the nearby Kaputas and Olympos beaches offer a more relaxed atmosphere.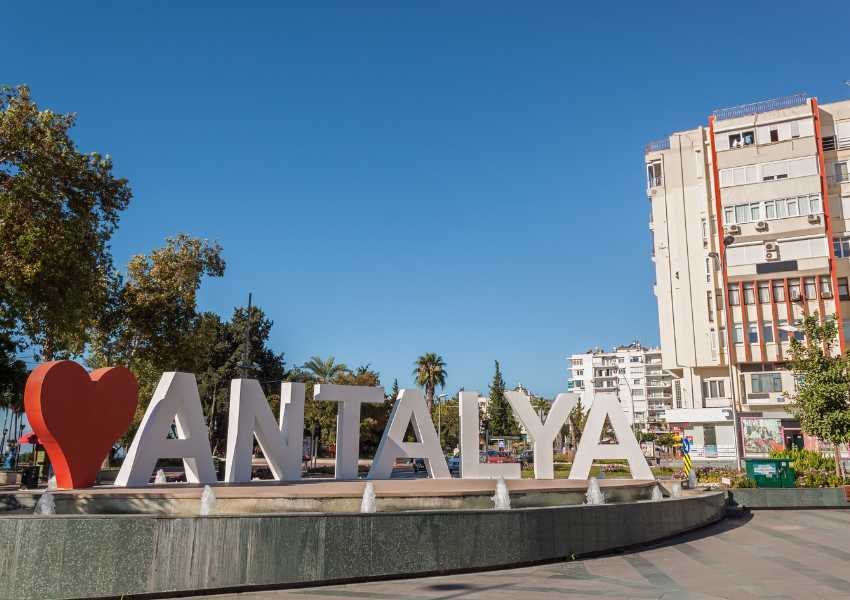 Natural wonders abound in Antalya. Be prepared to marvel at the beauty of the Düden Waterfalls, both the Upper and Lower falls. Surging from the Taurus Mountains into the Mediterranean Sea, these waterfalls showcase the rich landscape that surrounds the city. You can even take a refreshing dip below the cascading waters.
For the adventure lovers, you can discover the ancient ruins of Aspendos, the best-preserved Roman theater in the world, or take a day trip to the breathtaking Pamukkale and Hierapolis. These unique UNESCO World Heritage Sites are easily accessible from Antalya and make for unforgettable excursions.
To finish off your day, the local cuisine will surely captivate your taste buds. Enjoy mouthwatering kebabs, savory mezes, and sweet baklava in the various restaurants and street food vendors that Antalya has to offer.
So, the answer is a resounding yes – Antalya is definitely worth visiting. Whatever your interests, this Turkish coastal city will have something to delight and inspire you during your time there.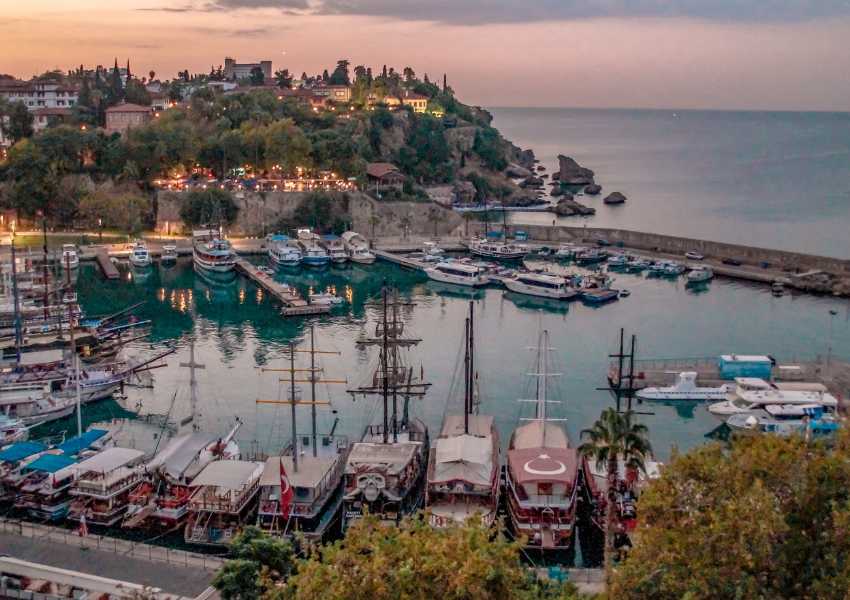 How is Antalya different from other beach towns in Turkey?
Antalya, situated along the stunning Turkish Riviera, has a few unique characteristics that set it apart from other beach towns in Turkey.
When you visit Antalya, you'll be enchanted by its rich history, vibrant culture, and captivating natural beauty. This city has a blend of old and new that gives it a distinct charm that's hard to find elsewhere.
One major aspect that makes Antalya stand out is its well-preserved historical sites.
As you stroll through the narrow, winding streets of Kaleiçi, the city's old town, you'll come across impressive landmarks like Hadrian's Gate, the Hıdırlık Tower, and the ancient city walls.
These architectural gems, dating back to Roman, Byzantine, and Ottoman periods, give you a glimpse into the city's storied past while immersing you in the ambience of a bygone era.
In contrast with other beach towns in Turkey that often lean heavily on tourism, Antalya boasts a thriving local community.
The city's vibrant bazaars, like the bustling Kaleiçi and Muratpaşa markets, offer you a chance to experience the authentic daily life of the residents. Taste the region's delicious cuisine at cozy local eateries, or enjoy traditional Turkish tea and sweets at a quaint café as you watch the world go by.
Nature lovers will find themselves in heaven as Antalya's breathtaking landscapes provide countless opportunities for exploration.
The city is surrounded by dramatic mountain ranges, dense forests, and cascading waterfalls, providing a stunning backdrop for activities like hiking, mountain biking, and picnicking.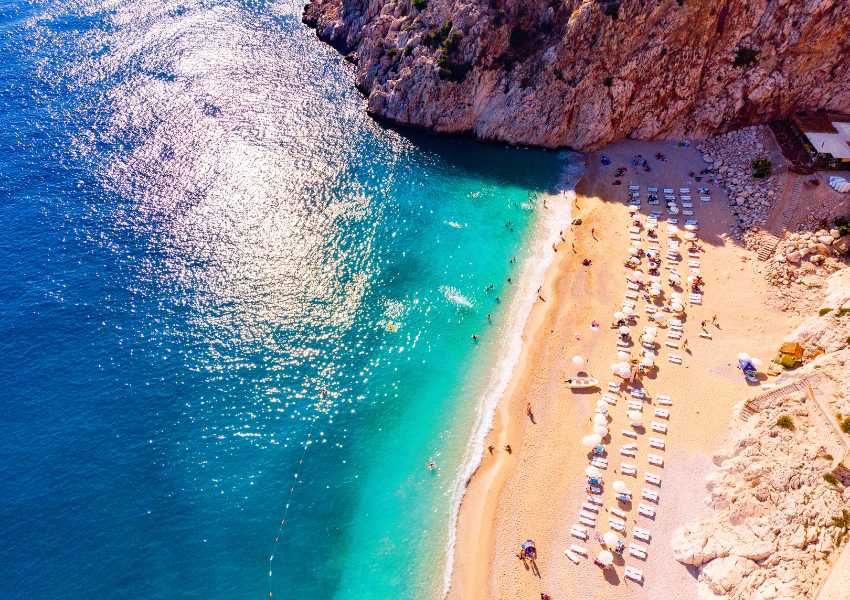 And let's not forget the magnificent beaches, like Konyaaltı and Lara, known for their crystal-clear waters and pristine sandy shores, perfect for sunbathing, swimming or indulging in water sports.
Finally, Antalya offers a rich cultural scene, with events and festivals taking place throughout the year.
Whether it's attending the Antalya International Film Festival, enjoying live music at the Aspendos Opera and Ballet Festival, or watching colorful showcases of local art and craftsmanship at traditional fairs, you'll never run out of ways to immerse yourself in the city's lively atmosphere.
Is Antalya worth visiting? Reasons to visit Antalya:
Weather and Climate
Antalya boasts a Mediterranean climate, with hot summers and mild winters.
This means you can expect sunny days and warm temperatures during most of your visit.
The summer months of June to September are particularly ideal for beach lovers, with average daytime temperatures ranging from 27°C to 31°C (81°F to 88°F).
Even in the cooler months, temperatures rarely dip below 10°C (50°F), still making it a great destination for anyone seeking a mild climate.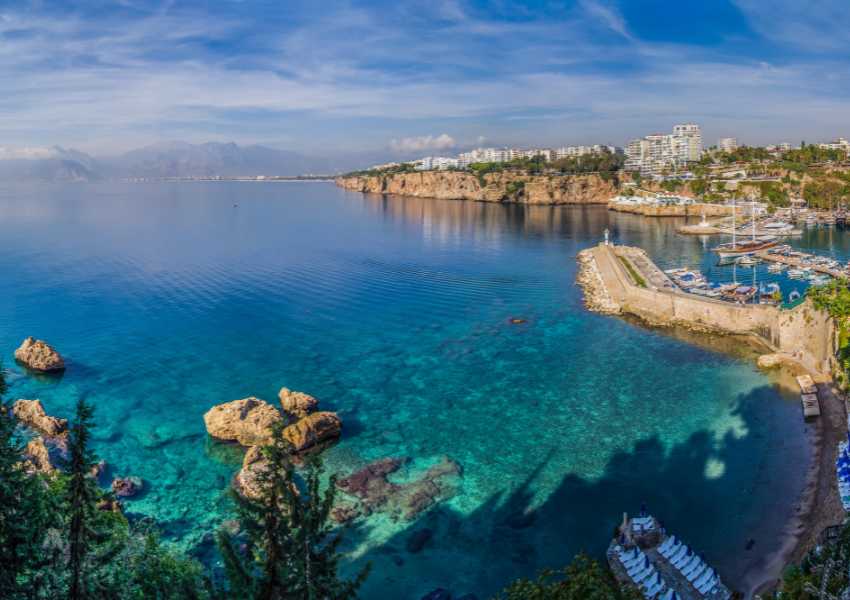 YOU MAY ALSO LIKE:
Unique Culture and History
Antalya is rich in history and culture, dating back to the ancient civilizations that once inhabited the region.
When you visit, be sure to explore the old town of Kaleiçi and its narrow streets lined with Ottoman-era houses. You'll also find many well-preserved ancient sites to explore, such as:
Aspendos: An ancient Roman site famous for its well-preserved theater
Perge: An ancient Greek city with an impressive stadium and agora
Termessos: A mountain-top city with stunning views and a fascinating past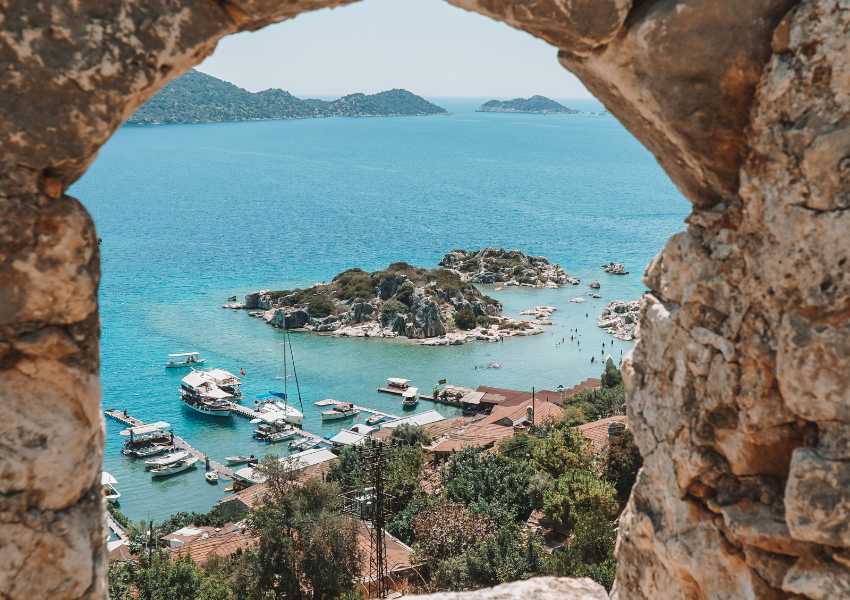 Beaches
Antalya is known for its stunning beaches, offering both pristine sands and crystal-clear waters. Some of the best beaches you can enjoy while visiting include:
Konyaaltı Beach: A pebble beach stretching for 7 km and backed by mountains
Lara Beach: A popular sandy beach with nearby luxury resorts
Kaputaş Beach: A stunning turquoise cove flanked by cliffs
Delightful Local Cuisine
You'll find plenty of delicious Turkish dishes to try during your visit to Antalya. Some must-try goodies include:
Piyaz: A white bean and tahini salad
Testi Kebab: A meat dish cooked in a clay pot
Gözleme: A savory Turkish flatbread filled with various ingredients
Lokum: Sweet Turkish delight confections
Activities and Landmarks
From outdoor adventures to historical landmarks, Antalya has something for everyone. A few activities and sites to consider during your visit are:
Visiting the Antalya Museum, showcasing the region's rich history
Exploring the Düden Waterfalls, an impressive sight with a hidden cave
Going on a boat tour to immerse yourself in the beautiful coastal scenery
Taking part in water sports or activities such as scuba diving and rafting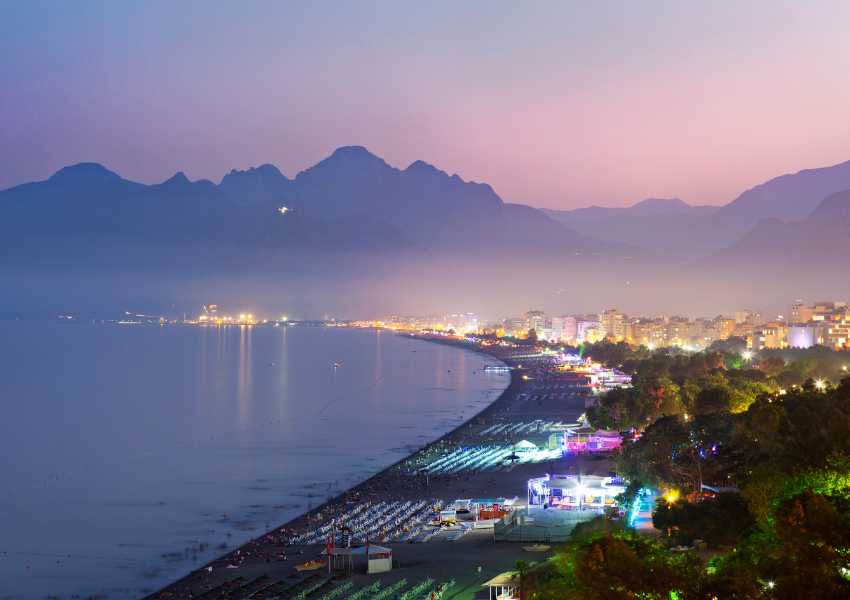 Nightlife and Entertainment
Antalya offers a vibrant nightlife scene with numerous options for you to enjoy, from bustling bars and clubs to chill-out lounges.
The old town of Kaleiçi is especially popular for its variety of venues, catering to different tastes and preferences.
Don't miss the chance to try some refreshing raki, a traditional Turkish spirit, during your night out.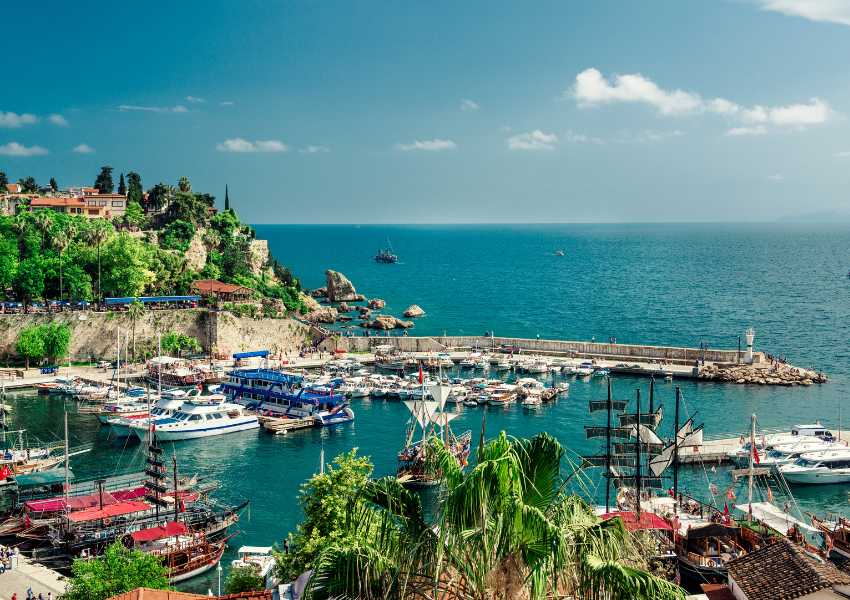 Tips for Visiting Antalya
Prices
In Antalya, you'll find that prices for accommodations, food, and activities are quite reasonable compared to other popular tourist destinations.
Make sure to explore different areas in the city for the best deals. Some recommended streets for budget shopping and dining are:
Atatürk Caddesi: Great for affordable shopping and local street food.
Kaleiçi: Known for its charming cobblestone streets and budget-friendly cafes.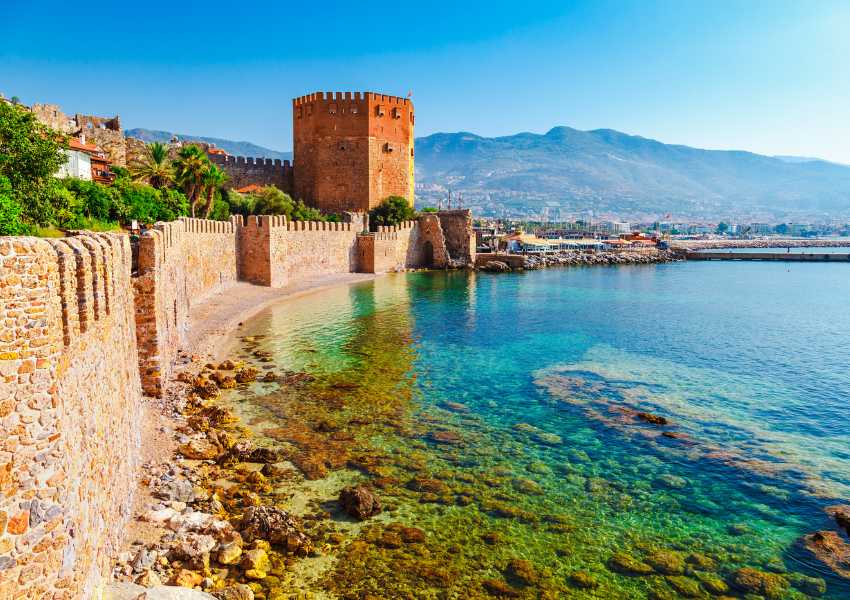 Weather
Antalya experiences a pleasant Mediterranean climate. The best time to visit is from April to October, when the weather is warm and sunny. Keep in mind the following average temperatures:
| Month | Avg. High (°C) | Avg. Low (°C) |
| --- | --- | --- |
| Apr | 22 | 10 |
| May | 27 | 14 |
| Jun | 32 | 19 |
| Jul | 35 | 22 |
| Aug | 35 | 22 |
| Sep | 32 | 19 |
| Oct | 27 | 14 |
Entry Requirements
Before visiting Antalya, ensure that you meet the entry requirements to Turkey. Most tourists need a visa, which you can apply for online via the official e-Visa website.
Additionally, your passport must be valid for at least 6 months when entering Turkey.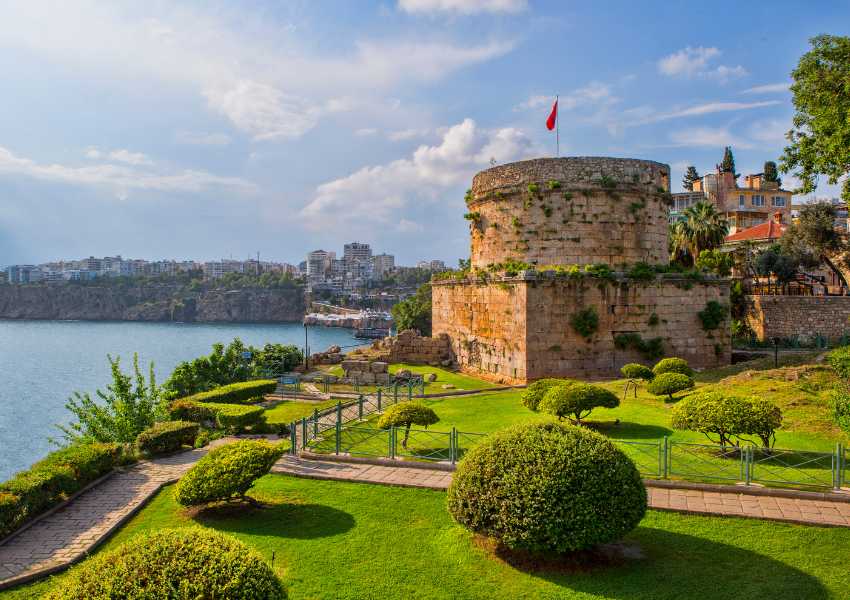 Language
While the official language of the region is Turkish, you'll find that many locals speak English, especially in the popular areas around the city.
To make your trip more enjoyable, try learning a few basic Turkish phrases, such as greeting people with "Merhaba" (Hello) and expressing gratitude with "Teşekkür ederim" (Thank you).
When to Visit Antalya
Antalya is a beautiful destination worth visiting any time of the year, but some seasons might be more suitable for you depending on your preferences.
In this section, we'll explore when you should plan your visit to Antalya.
Spring (April to June) is a great time to visit Antalya, as the weather is just warming up and the tourist crowds haven't yet reached their peak.
The average temperature ranges from 16°C to 26°C (61°F to 79°F), making it perfect for outdoor activities, such as hiking, sightseeing, and exploring ancient ruins.
During spring, you can also enjoy various festivals, including the International Antalya Film Festival and the Antalya Flower Festival.
Summer (July to September) is undoubtedly the most popular time to visit Antalya, as the weather is hot and sunny with average temperatures between 28°C and 33°C (82°F to 91°F).
This is the perfect time for beach lovers and water sports enthusiasts, as the crystal-clear waters of the Mediterranean Sea are warm and inviting.
However, expect the city to be more crowded and hotel prices to be higher during this peak season.
Autumn (October to November) offers a lovely mix of warm days and slightly cooler evenings, with temperatures ranging from 20°C to 27°C (68°F to 81°F).
This is an ideal season for those who enjoy a quieter atmosphere, as the tourist crowds begin to dissipate. You can still enjoy outdoor activities, and the sea remains warm enough for swimming.
Winter (December to March) sees mild temperatures in Antalya, ranging from 10°C to 15°C (50°F to 59°F).
While this might not be the best season for sunbathing, the lower temperatures make it an excellent time for sightseeing, exploring ancient sites, and experiencing local culture. Plus, you'll find fewer tourists and lower hotel prices during this season.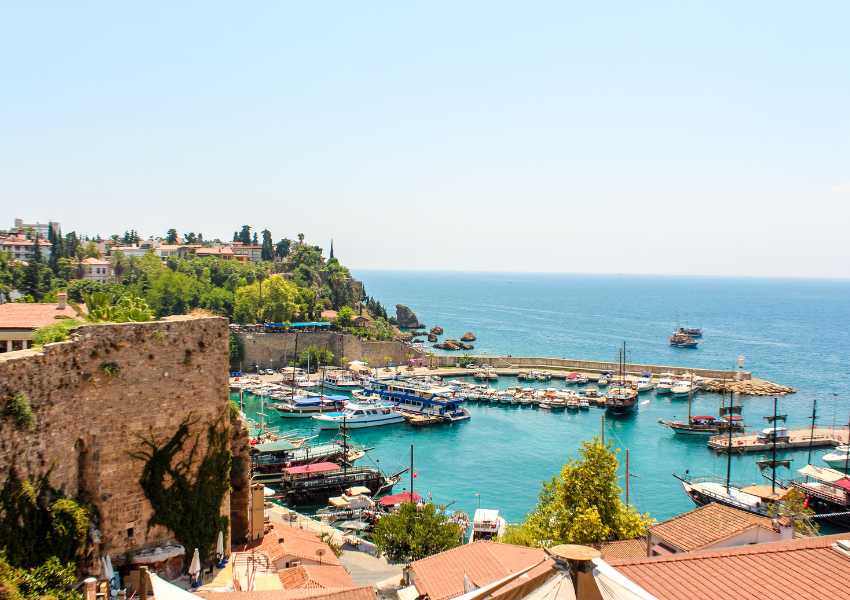 Is Antalya Worth Visiting? FAQs
What are some must-see attractions in Antalya?
Antalya is full of beautiful attractions that are worth visiting. Some of the must-see attractions include the Old Town, Hadrian's Gate, Antalya Museum, Düden Waterfalls, and Konyaaltı Beach.
How much does it cost to visit Antalya?
The cost of visiting Antalya varies depending on your budget and travel style. However, you can expect to spend around $50-100 per day for food, transportation, and activities.
What is the nightlife like in Antalya?
Antalya has a vibrant nightlife with plenty of bars and clubs to choose from. Some popular nightlife spots include Club Inferno, Aura Club, and Ally's Bar.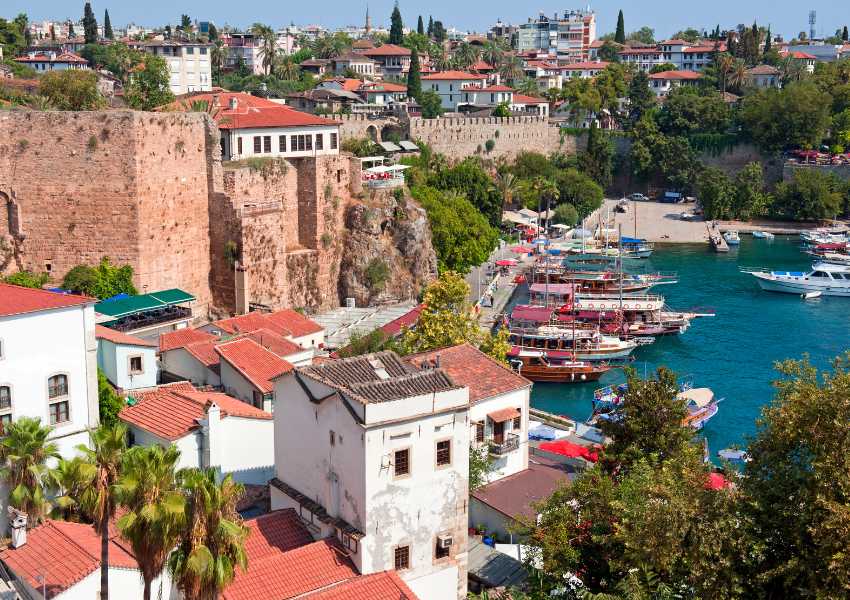 Is Antalya a safe place to visit?
Antalya is generally a safe place to visit. However, as with any destination, it's important to take precautions and be aware of your surroundings, especially at night.
How many days should I spend in Antalya?
To fully experience Antalya, it's recommended to spend at least 3-4 days in the city. This will give you enough time to explore the main attractions and also relax on the beaches.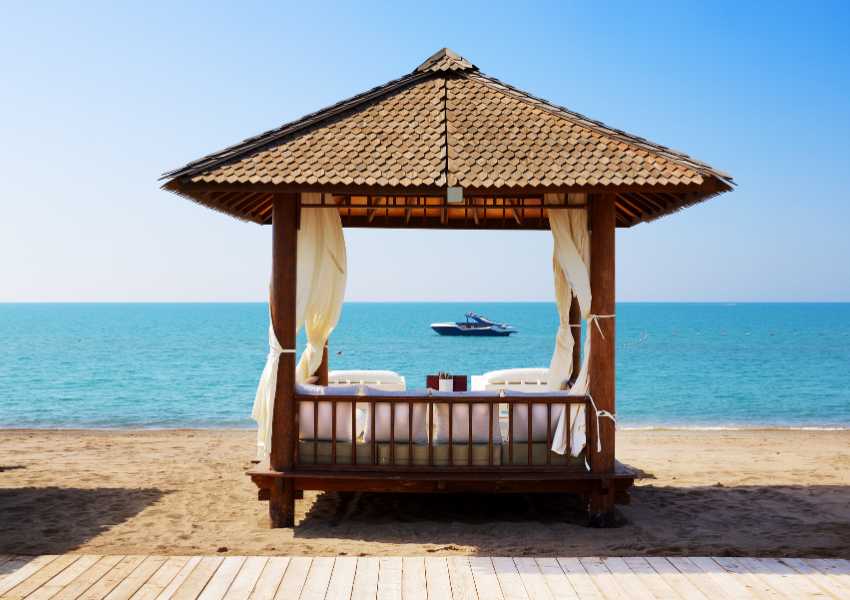 How does Antalya compare to other Turkish cities like Izmir and Bodrum?
Antalya is unique in its own way and offers a different experience compared to other Turkish cities like Izmir and Bodrum. While Izmir is known for its cosmopolitan vibe and Bodrum for its luxurious resorts, Antalya has a mix of both, with a rich history and stunning natural beauty.
Wrapping Up: Is Antalya Worth Visiting?
Antalya is definitely worth visiting for anyone looking for a unique and unforgettable travel experience.
From the sun-kissed beaches to the ancient ruins and rich culture, this city has something for everyone. You can explore the historic old town, indulge in delicious Turkish cuisine, or simply relax on the beautiful beaches.
Whether you're traveling solo, with friends, or with family, Antalya offers a range of activities and attractions to keep you entertained for week on end.