28 Hidden Gems in Iceland: Your Guide to Lesser-Known Wonders in the Land of Ice and Fire
Looking for hidden gems in Iceland to include on your itinerary?
Iceland is a country that is known for its breathtaking landscapes, geothermal hot springs, and stunning waterfalls, but beyond that, there's a world of lesser-known places and attractions waiting to be discovered.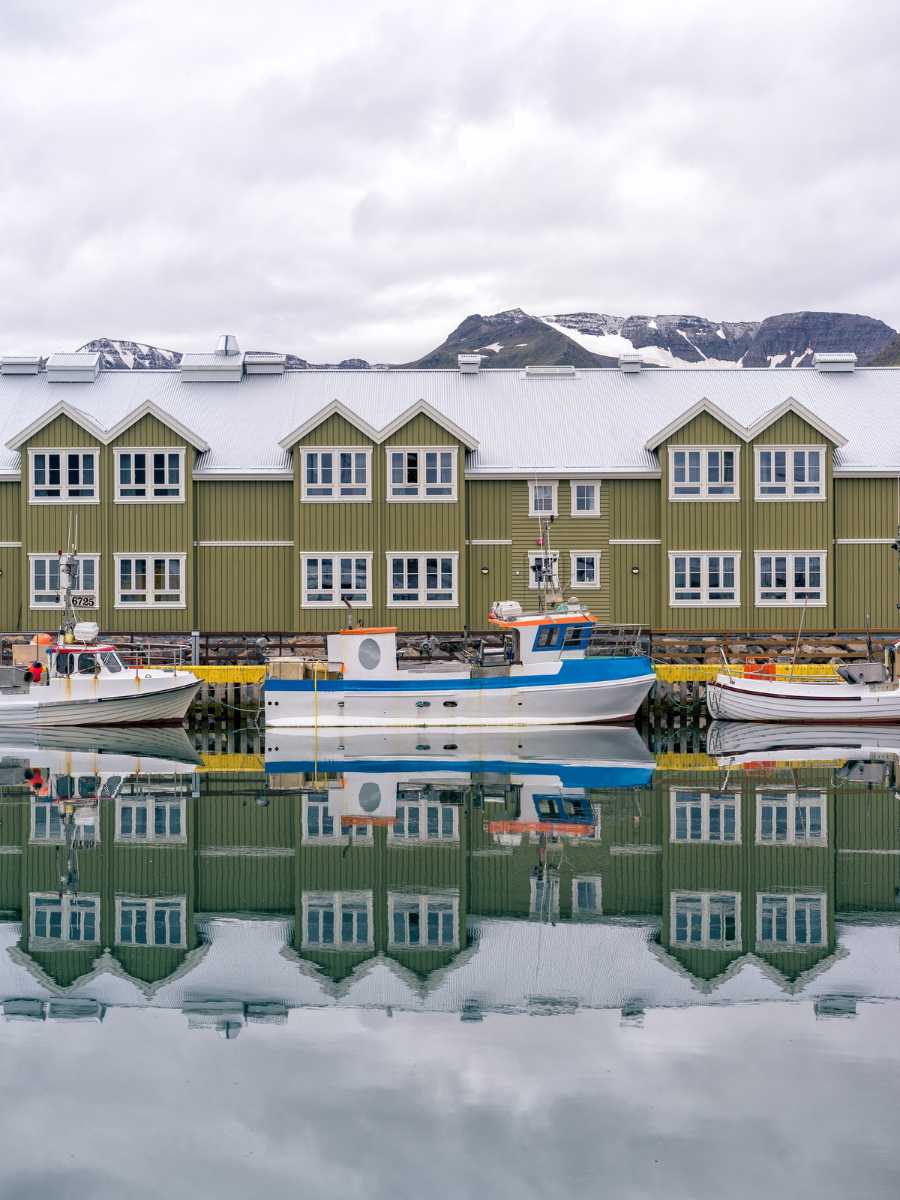 From hidden hot springs to secret waterfalls, Iceland is full of surprises that will leave you in awe.
In this blog post, we will take you on a journey to explore some of the lesser-known attractions in the Land of Ice and Fire that are sure to take your breath away.
1. Helgufoss
Helgufoss is a stunning waterfall located in the southern part of Iceland near the town of Hveragerði.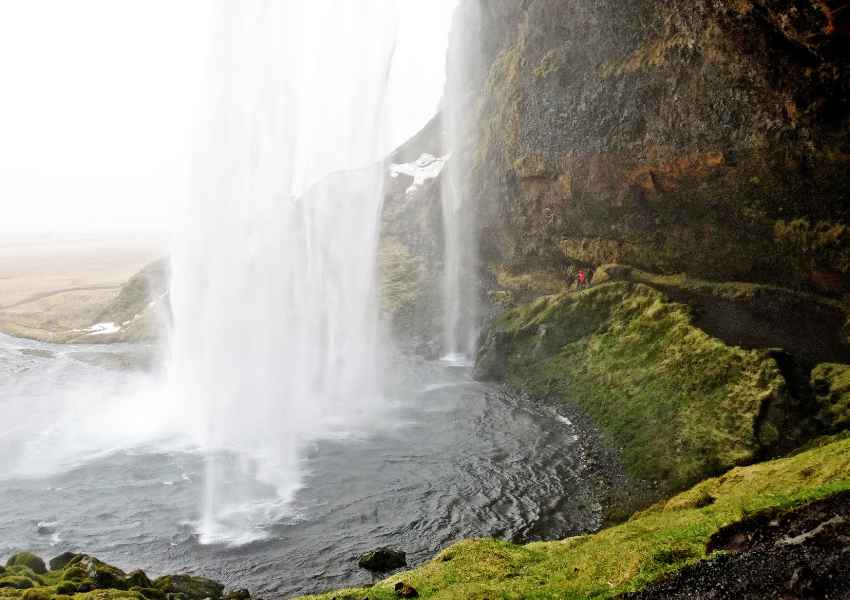 It is a relatively unknown waterfall compared to some of Iceland's more famous ones, but it's definitely worth visiting if you're looking for hidden gems in Iceland.
Helgufoss is a two-tiered waterfall, with the upper tier being the larger of the two, standing at approximately 20 meters (65 feet) tall. The water cascades down the rocks in a mesmerizing display of power and beauty, creating a misty spray that adds to the magical atmosphere.
The lower tier of the waterfall is smaller but equally charming, with the water flowing into a crystal-clear pool that reflects the surrounding scenery.
2. Grotta
Grotta is a small peninsula in the Seltjarnarnes area just a short drive from Reykjavik and one of the easiest hidden gems in Iceland to visit if you're staying in the capital.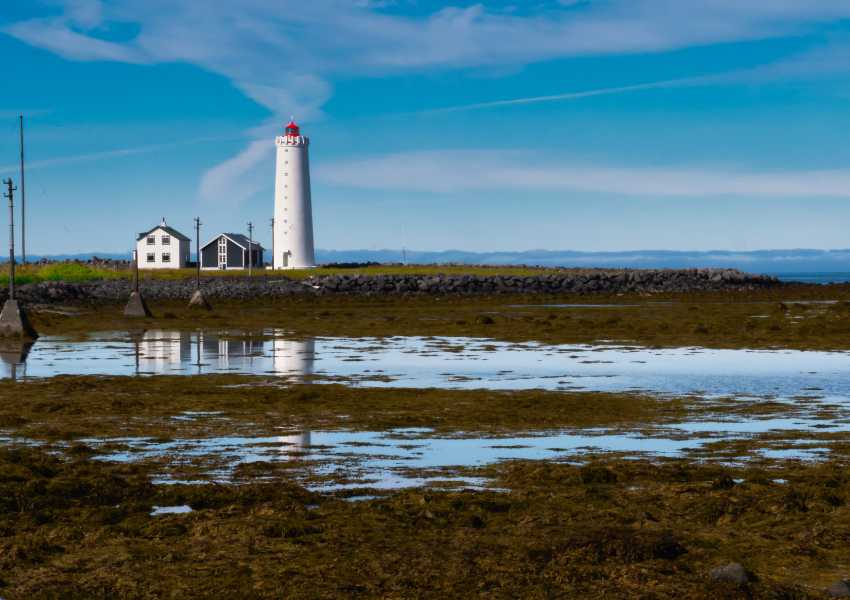 Here, you'll find a picturesque lighthouse surrounded by stunning, unspoiled nature.
During low tide, you can walk out to the Grotta Lighthouse for a closer look and enjoy breathtaking views of the Atlantic Ocean and the surrounding mountains, so plan your visit accordingly!
3. Seljavallalaug Pool
Tucked away between stunning mountains and a beautiful valley, Seljavallalaug is a pool is located in the south of the country near the famous Eyjafjallajokull volcano.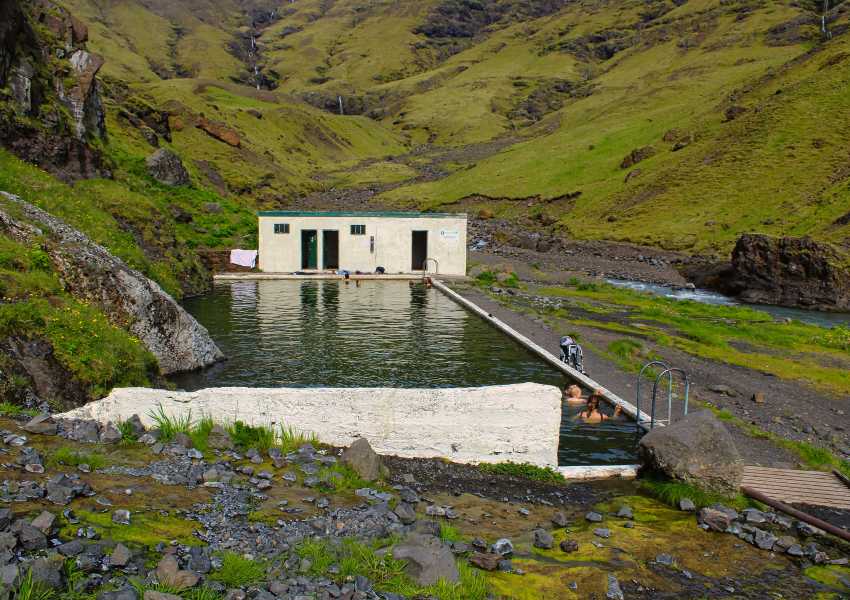 Built in 1923, Seljavallalaug is Iceland's oldest swimming pool, and although not heated like many others, its natural thermal water will grant you a unique and wonderful experience.
It was once one of the biggest hidden gems in Iceland, and while it has gained popularity in recent years, it still remains pretty off the beaten path!
To reach Seljavallalaug Pool, you will need to take a short but rewarding hike. The starting point is a small parking area just off Route 1. From there, take a scenic 20-minute walk alongside a picturesque river and lush green landscape.
4. Gljufrabui Waterfall
You may not find Gljufrabui Waterfall on the top lists of Iceland's attractions, but it is sone of the most beautiful hidden gems in Iceland to visit!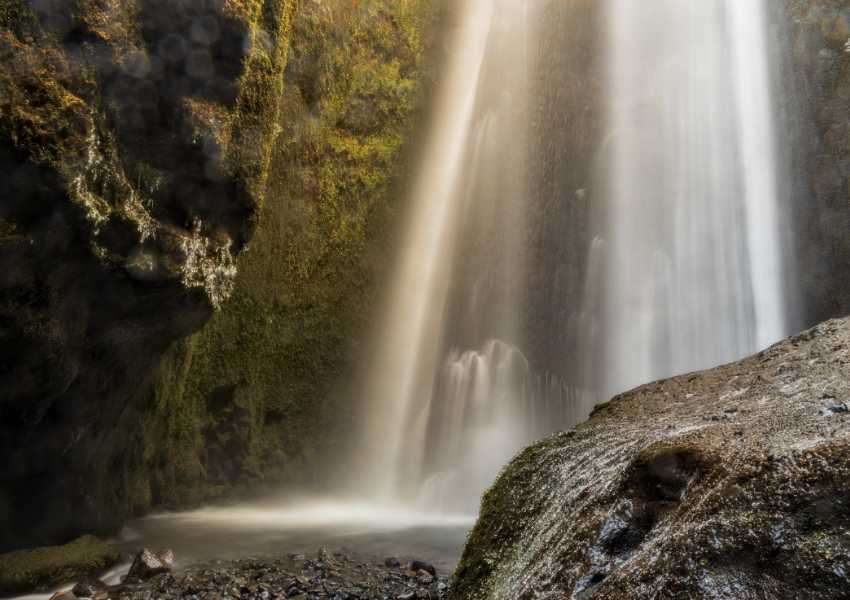 Tucked away in a narrow canyon near the famous Seljalandsfoss, Gljufrabui rewards you with an extraordinary view when you take a little extra effort to reach it.
When visiting, you will need to wade through a shallow river before finding yourself at the base of this 40-meter-tall waterfall. The sight before you is breathtaking – the roaring waters plummeting into a small, serene pool surrounded by moss-covered cliffs.
5. Hvitserkur Rock
Hvitserkur Rock is a 15-meter high basalt stack located off the Vatnsnes Peninsula in northwest Iceland.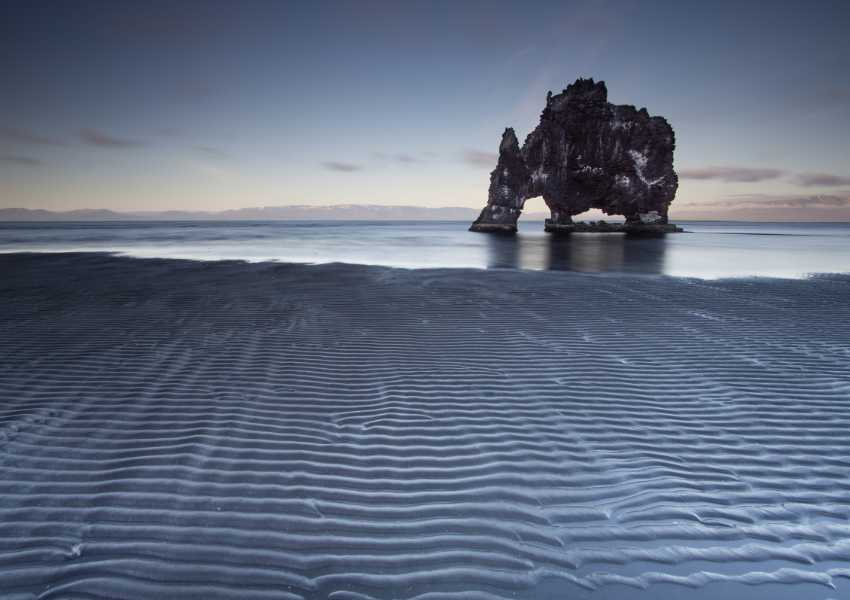 It's actually a pretty popular place for photographers visiting Iceland, but it remains pretty off the beaten path for most people.
When you see it, you will be amazed by its unique shape resembling a giant drinking dragon or even an elephant with its trunk dipping into the sea.
Hvitserkur Rock is not only a visually stunning place for photography, but also a haven for local wildlife. As you explore the area, you might spot various bird species, and even seals basking on the nearby shore.
6. Fjadrargljufur Canyon
Fjadrargljufur Canyon is a picturesque canyon that is approximately 100 meters deep and 2 kilometers long. It's very easily accessible if you have a few hours to spare on your Iceland hidden gems itinerary.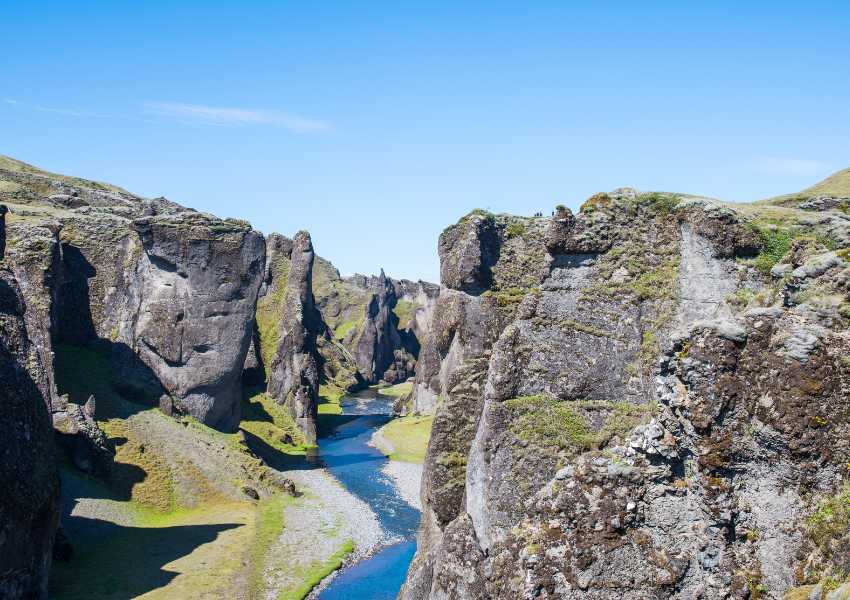 It's a perfect spot for nature lovers and photographers, as the dramatic landscape offers a unique combination of lush greenery, steep cliffs, and stunning waterfalls.
During your visit, you can walk along the marked paths that take you to different viewpoints offering breathtaking views of the canyon.
You might even be lucky enough to spot some of the local wildlife such as birds and Arctic foxes. Remember to wear appropriate footwear, as the walking path can be uneven in some areas.
YOU MAY ALSO LIKE:
7. Vesturdalur Valley
If you're looking for one of the coolest hidden gems in Iceland, Vesturdalur Valley should definitely be on your list.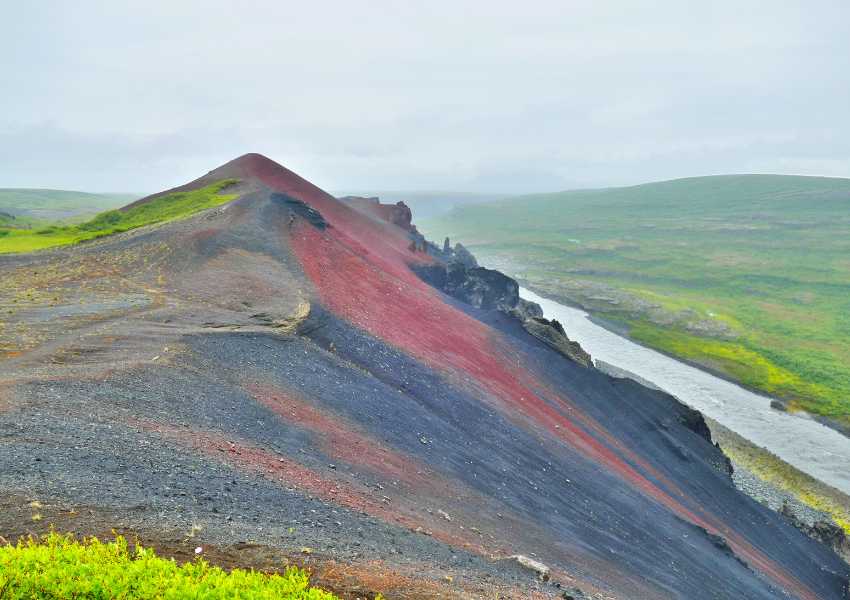 Located in the north of Iceland, this awe-inspiring valley offers stunning landscapes, basalt columns, and unique hiking opportunities.
While at the valley, don't forget to check out Hljóðaklettar, an enchanting formation of basalt rocks. These intricately shaped columns are a result of volcanic activity and create a stunning landscape.
8. Thjorsardalur Valley
Thjorsardalur Valley is a captivating region filled with lush forestry and unique wildlife.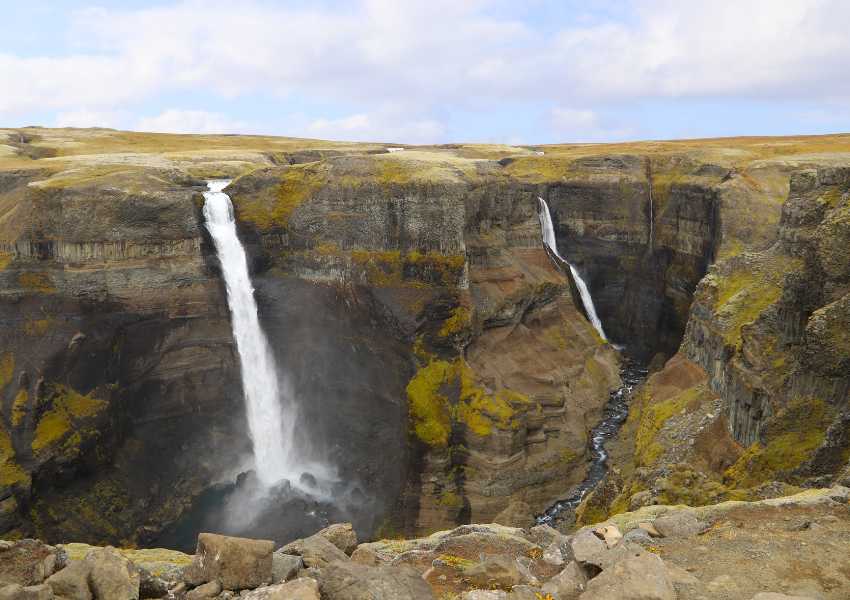 During your time here, you'll come across well-preserved archaeological sites and enchanting landscapes that most visitors to Iceland don't get to see.
One of the coolest things you'll find here is the Hjalparfoss waterfall, which is surrounded by basalt formations. Moreover, you'll also find a chance to immerse yourself in Icelandic history by visiting the Stöng farmstead, a reconstructed turf house.
9. Glymur Waterfall
Nestled in the picturesque Hvalfjörður fjord, this breathtaking waterfall is the second-highest in the country, measuring an impressive 198 meters (650 feet) in height.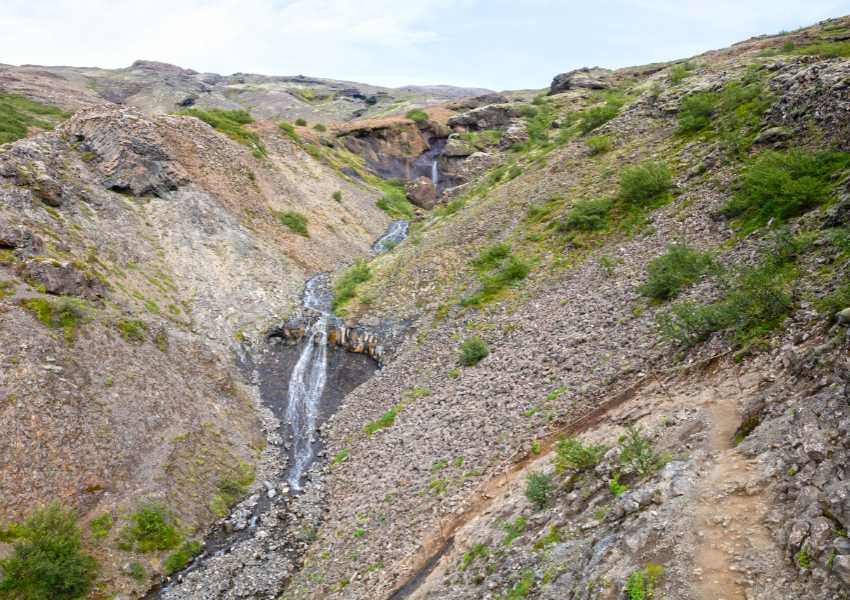 Despite its beauty, most visitors to the Land of Ice and Fire never get there, making it one of the best hidden gems in Iceland if you're looking for impressive natural landscapes and scenic hikes.
To reach Glymur, you'll need to take a moderately challenging hike of around 3-4 hours round trip.
Along the way, you'll encounter lush green landscapes, colorful wildflowers, and unique rock formations. Remember to wear a sturdy pair of hiking shoes and bring along a waterproof jacket as the path tends to get slippery and wet near the waterfall.
10. Raudasandur Beach
If you're looking to explore Iceland off the beaten path, Raudasandur Beach should definitely be on your list.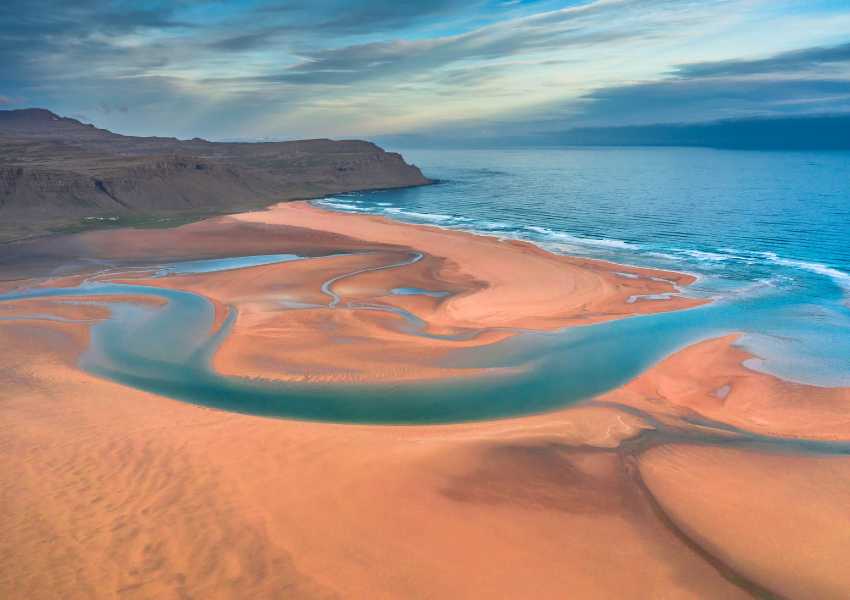 Unlike the black sand beaches you may have heard about, Raudasandur has a unique red sand that extends for almost 10 km along the coast.
To reach Raudasandur Beach, you'll have to navigate a steep and winding road; however, it's definitely worth the effort.
11. Siglufjordur Village
If a local experience is what you're after, Siglufjordur Village is a perfect destination for you.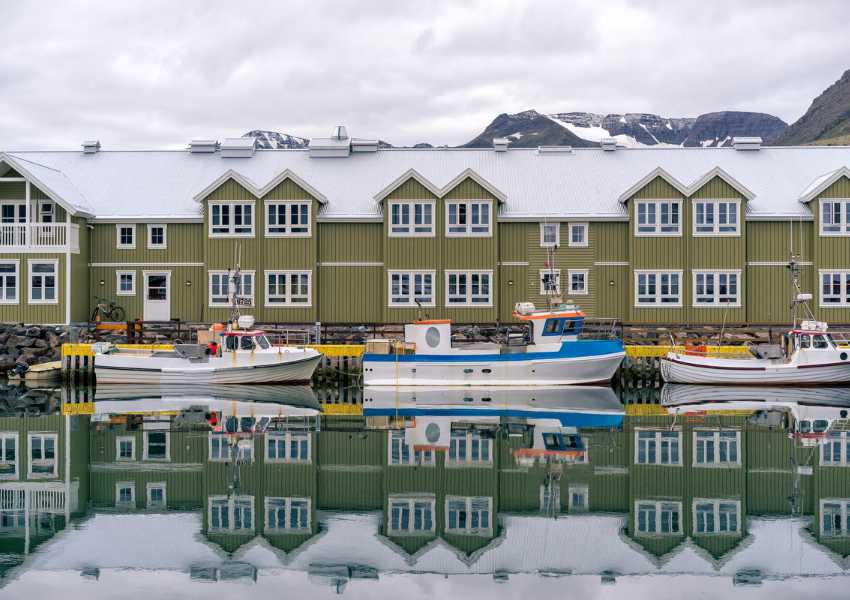 This charming and picturesque fishing town nestled between steep mountains and the dark, rich waters of the fjord, is one of the best hidden gems in Iceland and a perfect spot for soaking in the beauty of Icelandic nature.
The village, which once thrived from herring fishing, has preserved its history by converting the old warehouses into interesting museums, including the award-winning Herring Era Museum.
12. Kjolur Road
Iceland is known for its stunning landscapes and natural wonders, and Kjolur Road is no exception.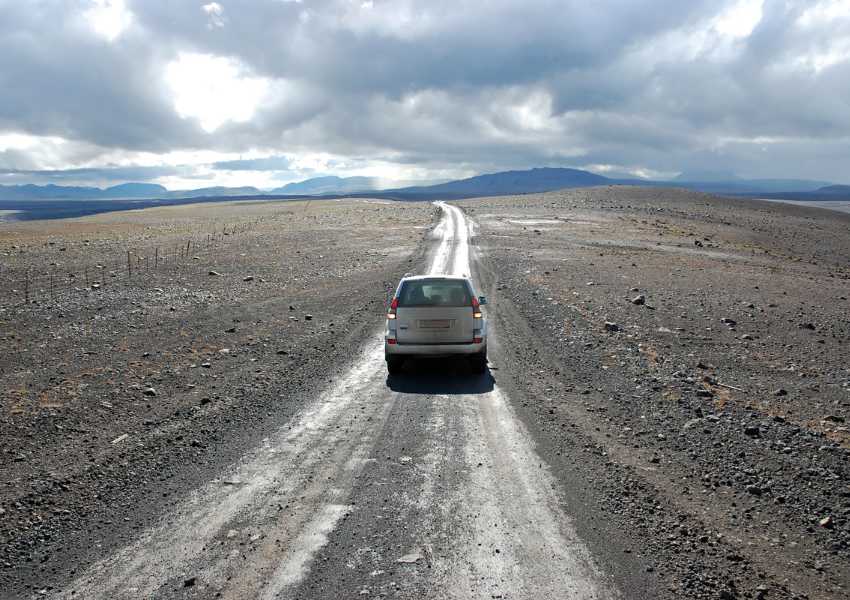 This road is one of the best hidden gems in Iceland for those who love scenic driving.
As you make your way through this beautiful stretch, you'll be taken through the heart of the Highlands, where you'll find a blend of golden deserts and vibrant green valleys.
As you traverse this unique landscape, you'll have the chance to explore geothermal hot springs and admire sweeping panoramas of the glacier Langjokull.
13. Flatey Island
This serene island boasts colorful houses, rich birdlife, and a tranquil atmosphere that makes it the perfect escape from the bustling mainland.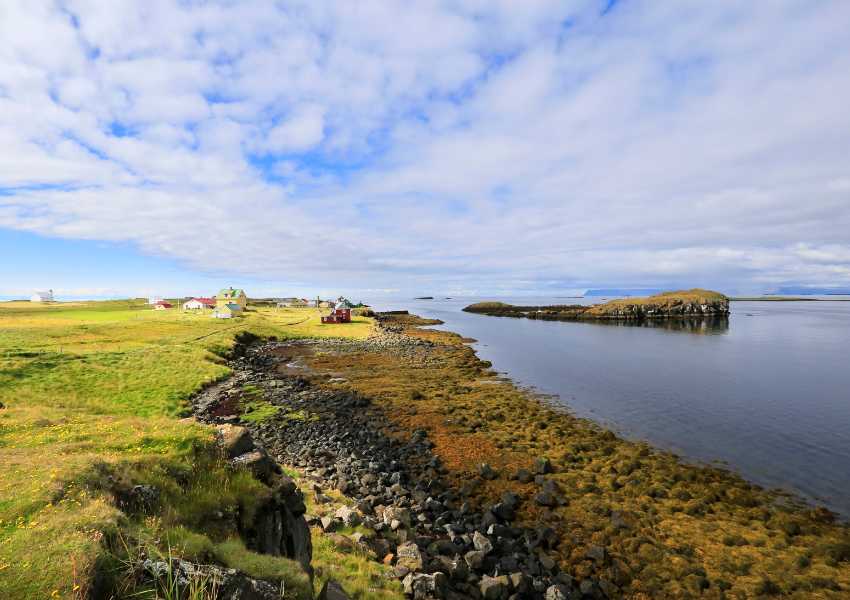 During your time at Flatey Island, you'll enjoy its simple, unhurried lifestyle where time seems to have stood still.
From the moment you set foot on its shores, you'll be captivated by the lush green landscape and the feeling of peace that washes over you. The island is also a great place to do birdwatching, so don't forget your binoculars!
14. Holuhraun Lava
Holuhraun Lava Field is, by far, one of the coolest hidden gems in Iceland, so much that you're wonder why it's not usually on most itineraries!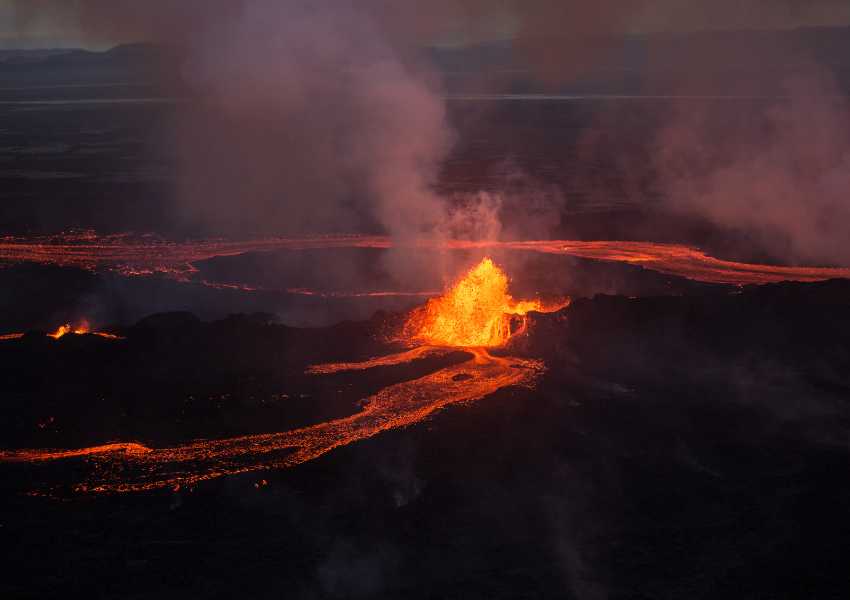 Formed during the 2014-2015 eruption of Bárðarbunga volcano, this relatively recent geological wonder is fascinating.
While taking in the stunning views, you can discover the unique texture and color variations of the lava field, as well as the contrasting landscapes nearby.
15. Stakkholtsgja Canyon
Tucked away in the Þórsmörk nature reserve, Stakkholtsgja Canyon provides a pretty cool experience at Iceland's wild and untamed side.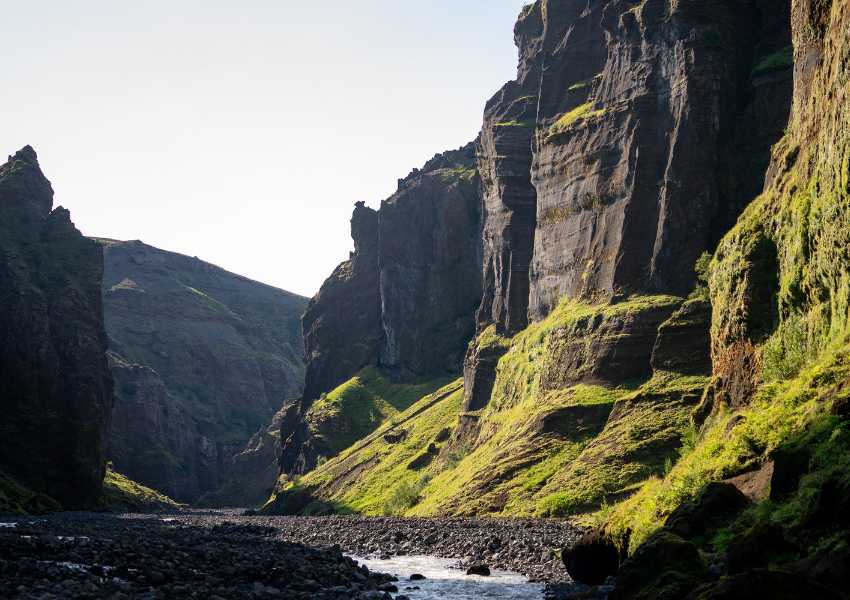 As you walk through the canyon, you'll fall head over heels in love with its towering walls, lush greenery, and stunning waterfall at the end of the trail
16. Hornstrandir Nature Reserve
Hornstrandir Nature Reserve is a place you don't want to miss during your visit to Iceland, especially if seeing wildlife is high up on your bucket list.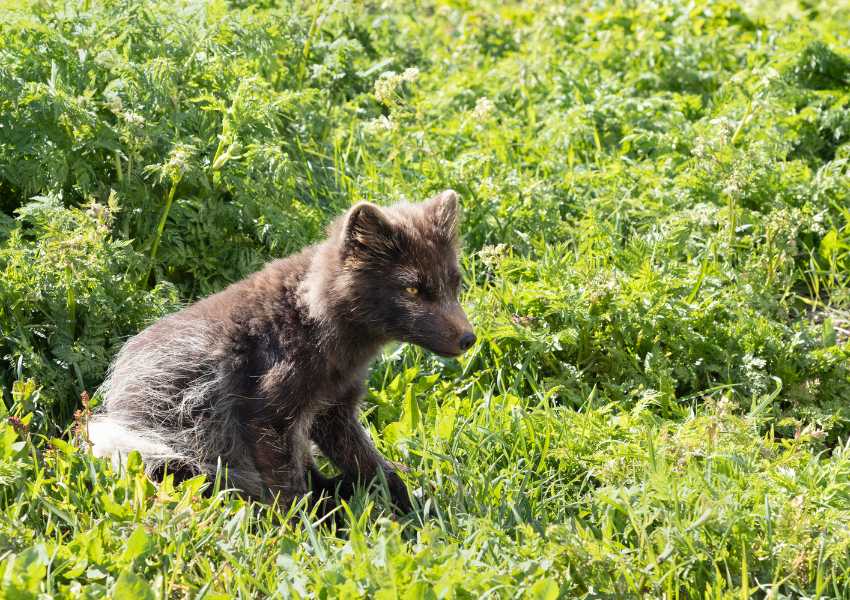 This remote, untouched region in the northwest offers breathtaking landscapes, a variety of flora and fauna, and the chance to witness Arctic foxes up close.
Since it's only accessible by boat, you'll truly feel like you're exploring one of the best kept hidden gems in Iceland.
17. Thakgil
Thakgil is a true hidden gem nestled among the mountains in southern Iceland.
As you drive through the lush green valley surrounded by towering cliffs, you'll discover a camping oasis perfect if you're seeking to avoid the crowds and immerse yourself in Icelandic nature.
Moreover, you'll also find plenty of beautiful hiking trails, dramatic volcanic formations, and even secluded ice caves you can explore!
18. Viknaslodir
Known as "trails of the hidden people", Viknaslodir is a must for anyone seeking a unique adventure.
Nestled in the scenic fjords of East Iceland, these spectacular trails showcase the best of the country's untouched wilderness.
As you journey through Viknaslodir, you'll find yourself in awe of the breathtaking landscapes. This area is home to a variety of thriving bird species, the elusive Arctic fox, and pristine waterfalls, making it one of the top hidden gems in Iceland to visit if wildlife sightings are your jam!
19. Kvernufoss
Tucked away in a scenic gorge near Skogafoss, this picturesque waterfall offers a more tranquil experience compared to its busier neighbors.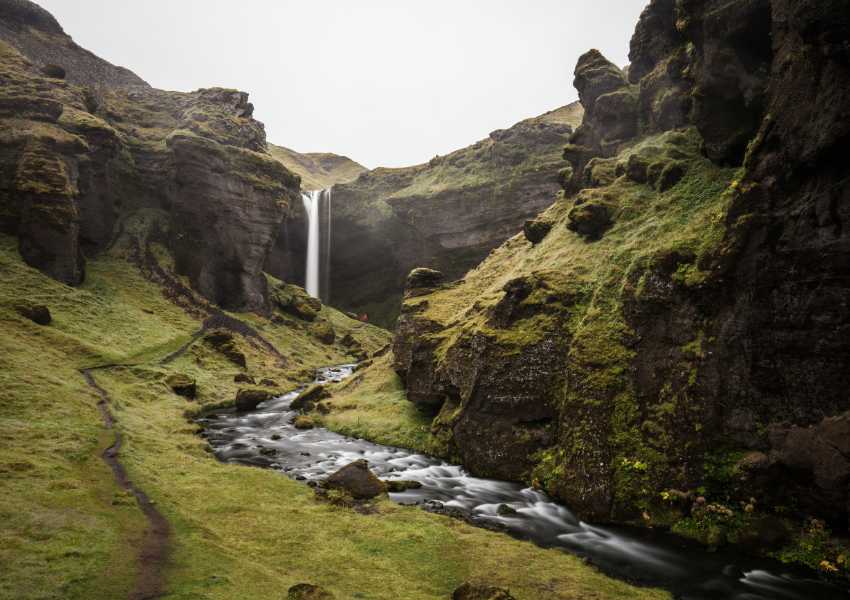 During your visit, you'll take a refreshing hike that leads you to the waterfall's base.
Once you reach the end of the trail, you'll get to see Kvernufoss cascading 30 meters into a lovely pool below, making it a great alternative to the more popular Skogafoss.
20. Ingjaldshólskirkja
Ingjaldshólskirkja is a charming and beautiful old church located on the Snæfellsnes Peninsula and surrounded by a lovely landscape.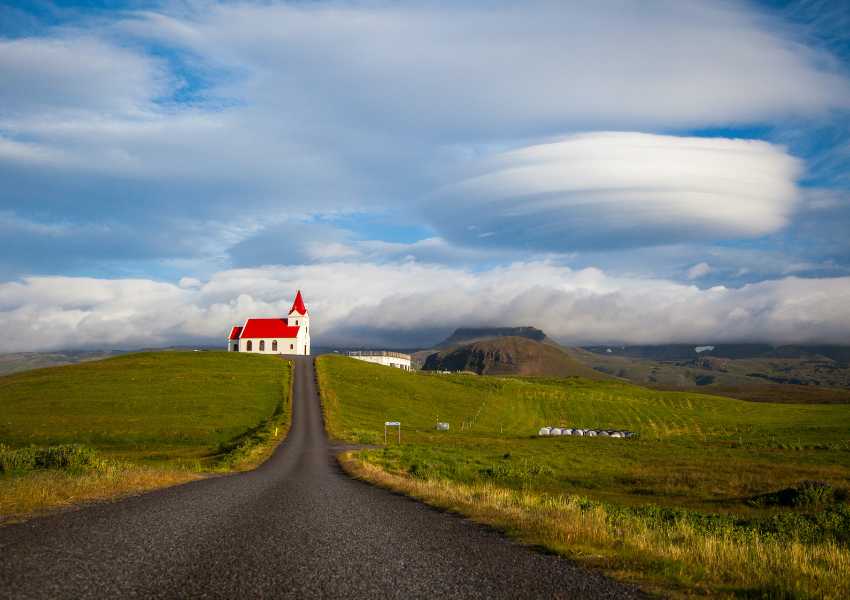 Ingjaldshólskirkja has a rich history that dates back to the 16th century, making it the oldest functioning church in Iceland.
The church also has a unique connection to Christopher Columbus, as it is believed that he prayed here before embarking on his famous journey to the New World.
21. Fjallsárlón
Fjallsárlón is another of the best hidden gems in Iceland that you won't want to miss.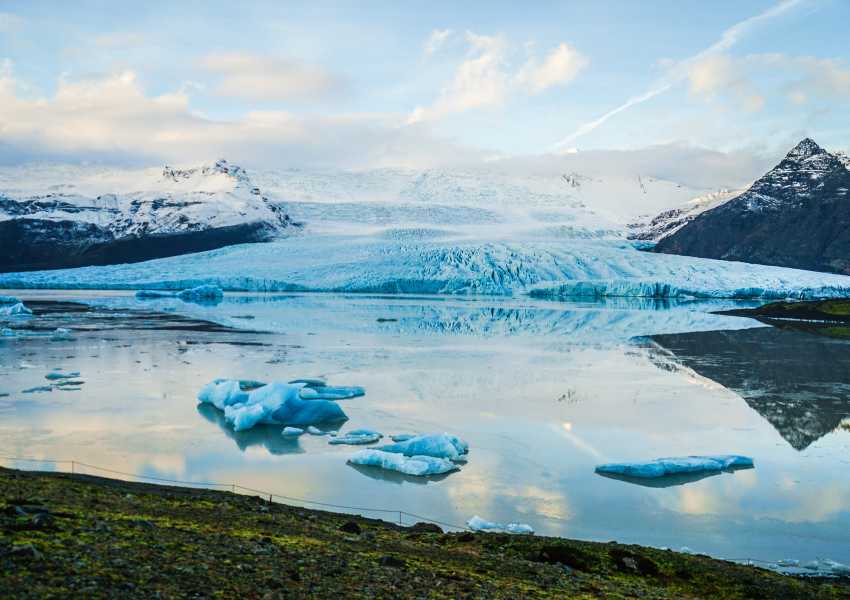 It's a picturesque glacial lagoon located in the southeast part of Iceland, near the much more famous Jökulsárlón Glacial Lagoon. The beauty of Fjallsárlón lies in its more tranquil and less-visited setting, allowing you to truly connect with Iceland's raw, untouched nature.
Here, you'll be able to wander along the edge of the lagoon and marvel at the massive icebergs floating in the icy waters beneath the towering Vatnajökull Glacier.
22. Sigöldugljufur
Also known as the Valley of Tears, Sigöldugljufur is one of those hidden gems in Iceland that will make you feel like you're in a fairy tale.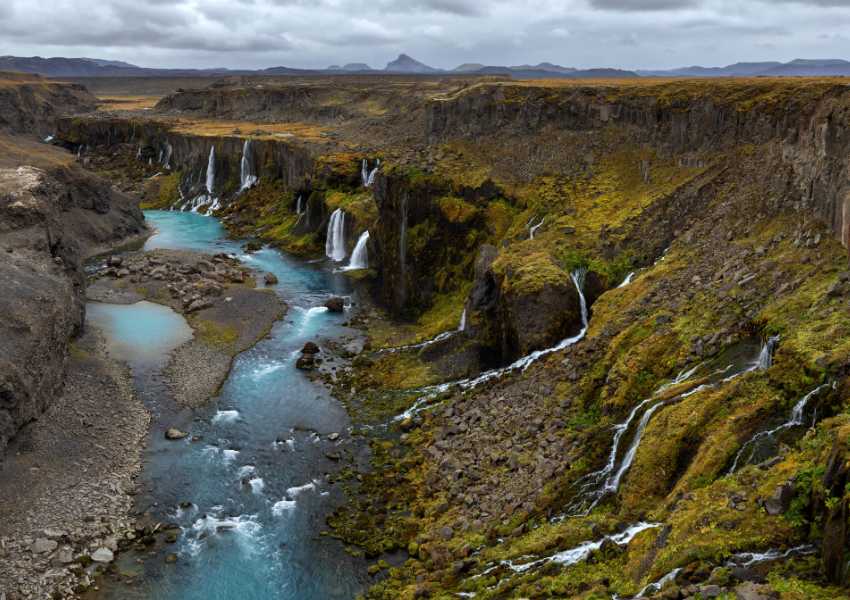 This gorgeous canyon is made up of lush green moss-covered cliffs, a glacial river, and a series of cascading waterfalls that create a gorgeous contrast of colors.
23. Studlagil Basalt Canyon
This stunning gem has beautiful basalt columns that line the Jokulsa a Bru river, making it a photographer's dream.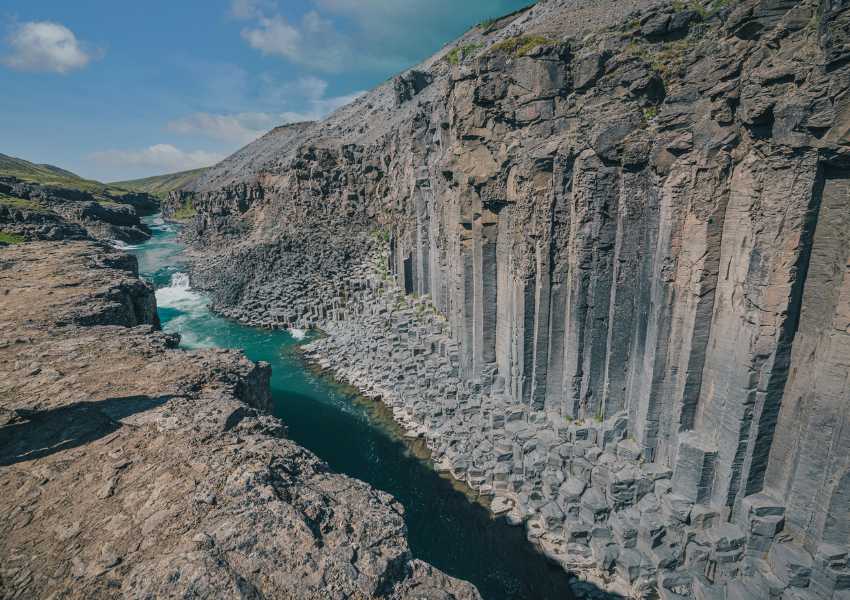 Take time to hike the spectacular trails which offer splendid views of the canyon. You'll also find a viewing platform where you can get a panoramic view of the entire landscape.
24. Klifbrekkufoss
Klifbrekkufoss is a series of mesmerizing waterfalls located in the remote Mjóifjörður Fjord in East Iceland.
These cascading falls are as magical as they are elusive; their off-the-beaten-path location makes them one of the top hidden gems in Iceland.
Klifbrekkufoss offers a picturesque scene where the enchanting Icelandic terrain truly comes to life.
25. Aldeyjarfoss
Aldeyjarfoss is another stunning waterfall situated in the north-central part of the country.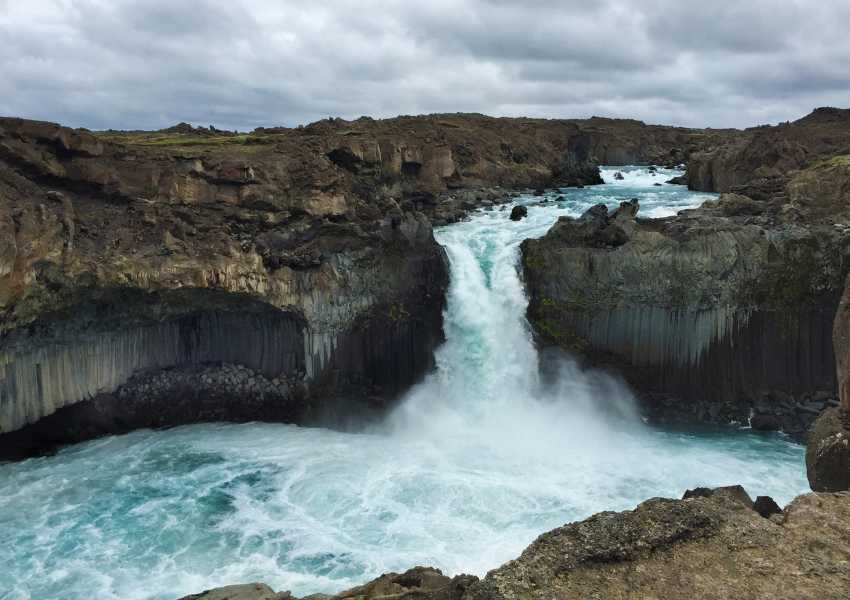 As a hidden gem, it offers an incredible visual treat with its powerful water streams cascading down 20 meters into a serene pool surrounded by basalt columns.
What's more, the picturesque location is far from the typical tourist trail, allowing you to truly immerse yourself in the landscape.
To reach Aldeyjarfoss, you can drive along a gravel road leading to the waterfall. Be sure to have a 4×4 vehicle, as the path can be a bit rough. Keep in mind that during winter months, the road may be closed due to snow.
26. Kerlingarfjöll
If you're looking for a place to explore off the beaten path in Iceland, Kerlingarfjöll is an excellent choice.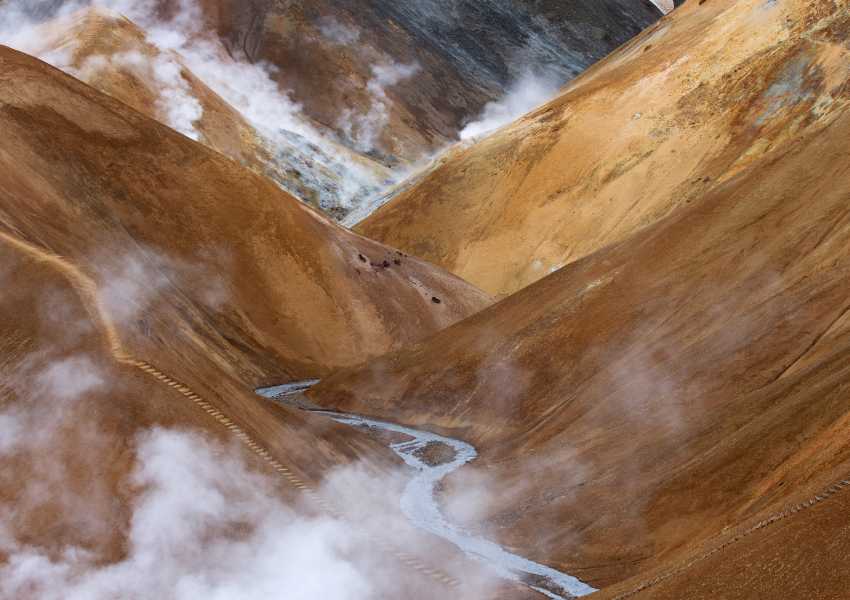 Situated in the highlands of Iceland, this mountain range is home to stunning landscapes and unique geothermal areas.
As you wander through the area, you'll come across various hiking trails that allow you to fully appreciate the striking beauty of this remote destination.
Don't forget to bring your camera along, as the vibrant colors of the geothermal zones and the relative absence of crowds make for fantastic photo opportunities.
27. Bruarfoss
If you want to explore hidden gems in Iceland but don't stray too far from the usual tourist route, Bruarfos is a lesser-known but stunning waterfall located in the Golden Circle area.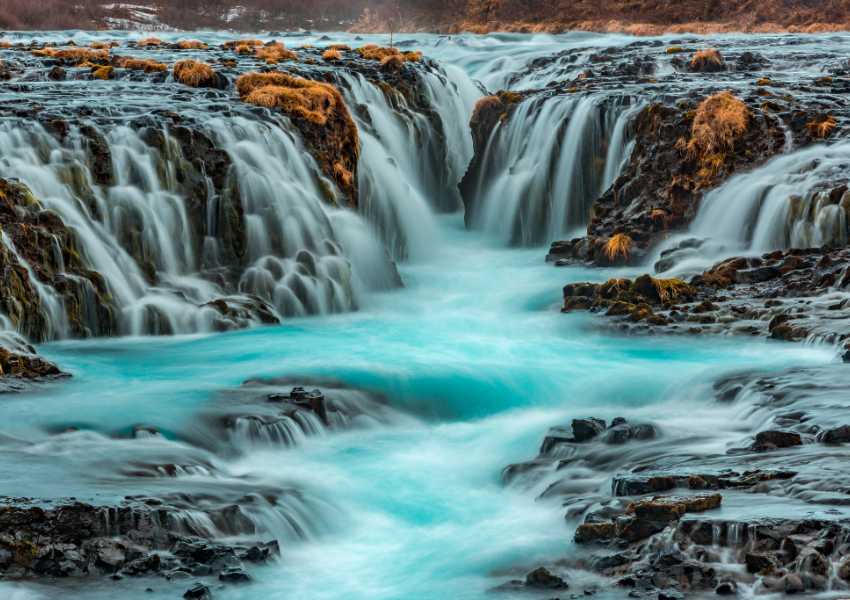 Though not the largest waterfall in Iceland, Bruarfoss captivates you with its vibrant turquoise waters that flow gracefully over rock formations into a mesmerizing plunge pool.
28. Haifoss
Haifoss offers breathtaking landscapes and the powerful sound of water cascading down a 122-meter (400 feet) drop.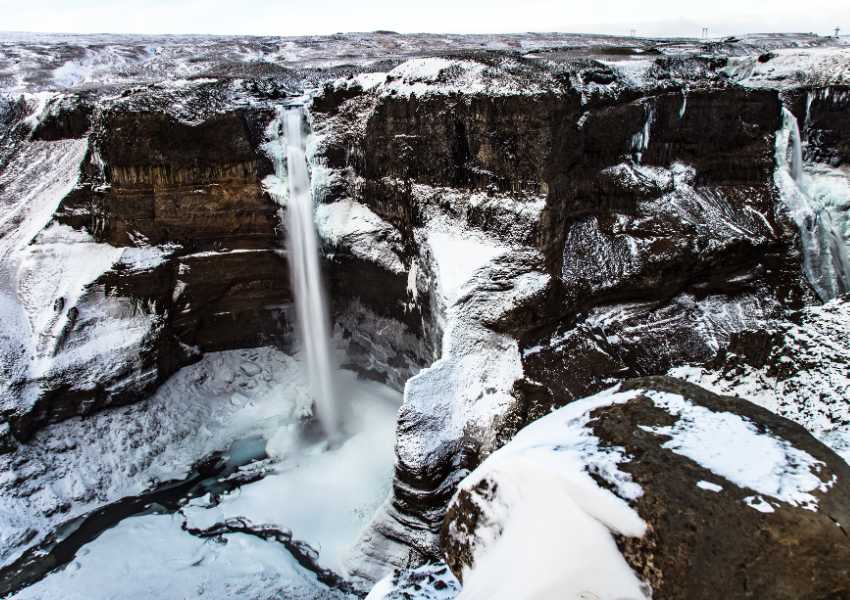 During your visit, make sure to take the time to appreciate the striking hues of the surrounding canyon, formed by the Fossá river cutting its way through the landscape.
A friendly reminder, though: the roads leading to Haifoss are gravel and can be rough at times, so be prepared for an adventurous drive that will ultimately be well worth your effort.
What are some lesser-known attractions on Iceland's South Coast?
On the South Coast, you'll find the peaceful Fjaðrárgljúfur canyon, which offers dramatic cliffs and lush greenery.
Another spot worth checking out is the Sólheimasandur plane wreck, where you can witness an eerie sight of a long-abandoned US Navy aircraft resting on a black sand beach.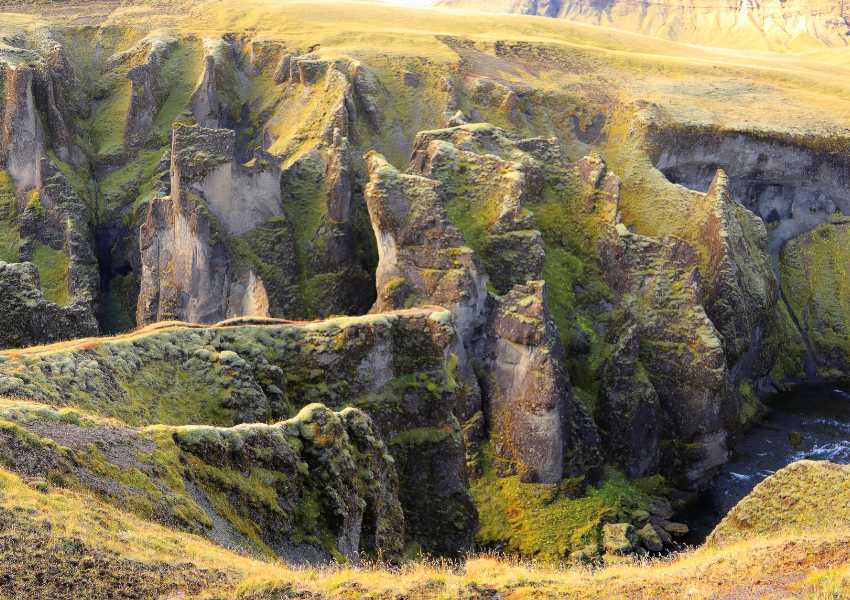 Where can we find offbeat museums in Reykjavík?
Reykjavík has a few unique museums for you to explore.
These include the Icelandic Punk Museum, which tells the story of the city's punk scene, the Elf School, where you can learn about Icelandic folklore, and the Phallological Museum, which houses a collection of phallic specimens.
What are some unique natural sights in West Iceland?
In West Iceland, you should definitely pay a visit to Arnarstapi, a small village with impressive basalt columns and sea stacks.
You can also explore the serene Snæfellsjökull glacier, where you can hike and witness breathtaking views. For a unique experience, visit the tranquil Víðgelmir lava cave to see lava formations up close.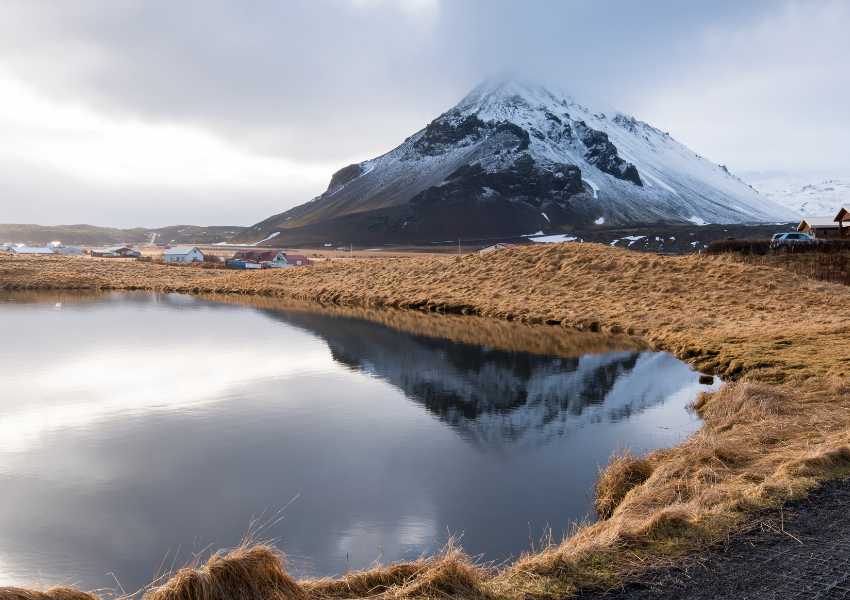 What are some alternative destinations outside of Reykjavík?
Some lesser-known but remarkable destinations include the Westfjords, which offer beautiful landscapes and remote charm.
You can also explore Akureyri, the largest town in the north, and its lively arts and music scene. Don't forget to visit the Húsavík area for its quaint vibe and excellent whale watching opportunities.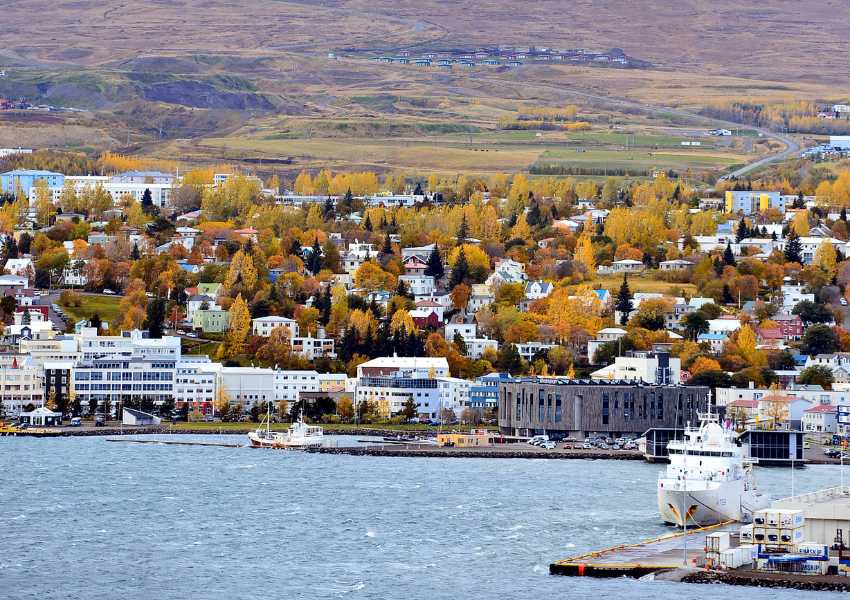 Which secret hot springs should we visit in Iceland?
For a more authentic and secluded experience, you can visit the Landbrotalaug hot pool, which is located in West Iceland.
Another option is the Hrunalaug hot spring, a small pool about an hour's drive from Reykjavík. If you're looking for something even more remote, try Reykjafoss, which is a hot waterfall in the Westfjords.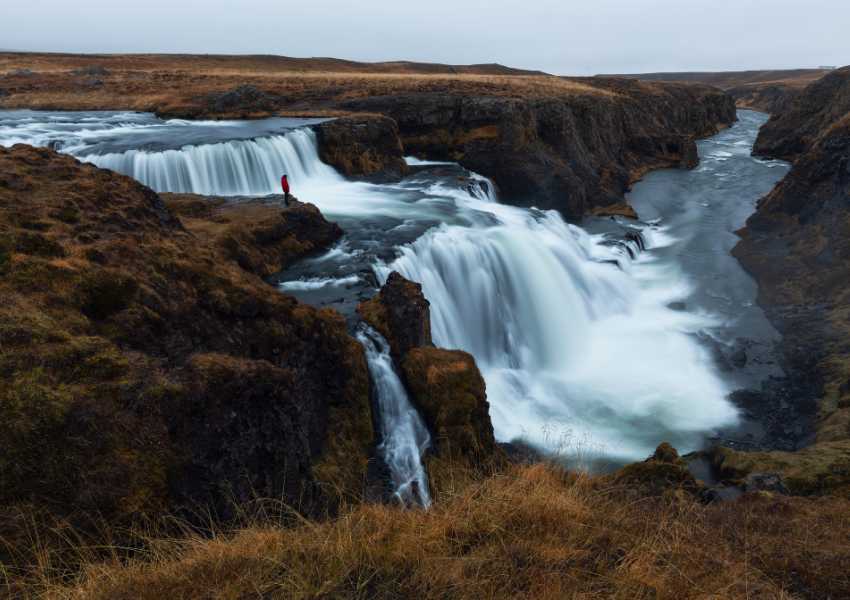 Any underrated spots to witness Iceland's beauty?
One underrated spot is the Rauðfeldsgjá Gorge, a steep, narrow canyon on the Snæfellsnes Peninsula that's perfect for hiking.
Another hidden gem is Hjörleifshöfði, a coastal hill with panoramic views and intriguing history. Finally, consider visiting Vatnsnes Peninsula for its stunning coastline, including the Hvitserkur sea stack and secluded beaches.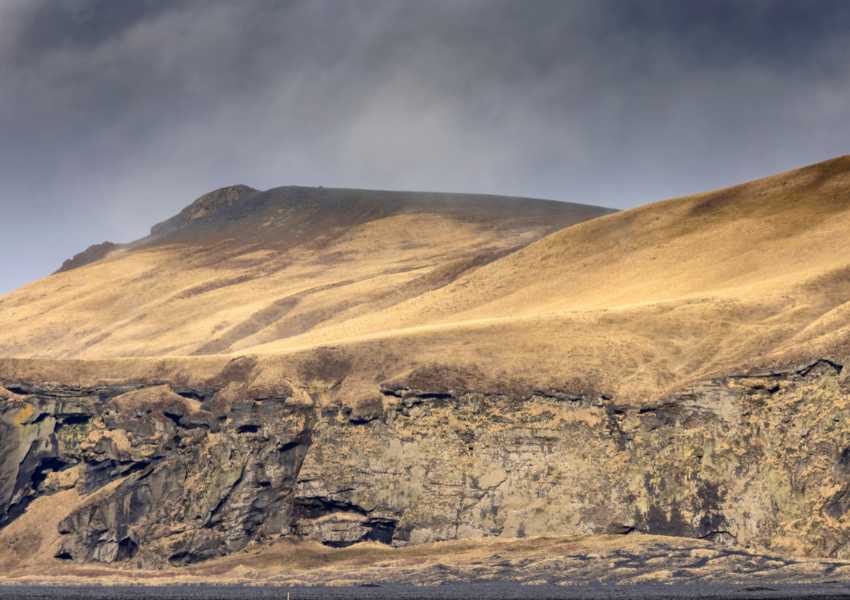 Travel Insurance for Iceland
Travel insurance is essential for a safe trip to Iceland, especially considering how many outdoor and adventurous activities there are on offer all over the country.
If you're still on the lookout for travel insurance for your trip to Iceland, I always recommend HeyMondo for great prices and coverage abroad (they'll cover medical expenses in case of any accidents, travel delays, cancellations, and much more).
Check them out here. You can also get 5% off if you book via this link!
Best Iceland Tours
Iceland is a country that never ceases to amaze with its natural wonders.
While the popular tourist destinations are certainly worth a visit, exploring the hidden gems of Iceland can be a truly unforgettable experience.
Whether you're looking for a secluded hot spring to relax in or a hidden waterfall to marvel at, Iceland has something to offer everyone.