Worst Time to Visit Iceland (Why and When to Go Instead)
If you want to know when is the best and worst time to visit Iceland, here's what to know.
Iceland is a breathtaking country that is known for its stunning landscapes, unique culture, and friendly people.
However, as with any destination, there are certain times of the year that are better to visit than others.
In this blog post, we will be discussing the worst time to visit Iceland as well as tips on when to go instead depending on your interests and travel style.
While Iceland is beautiful all year round, there are certain months when the weather can be unpredictable and the crowds can be overwhelming.
Whether you're planning a trip to Iceland or just curious about the country's tourism industry, this post will provide you with valuable insights into the best and worst times to visit Iceland.
What is the worst time to visit Iceland in general?
The worst time to visit Iceland generally depends on your preferences and what you want to experience during your trip.
However, some factors make certain months less desirable for most travelers. Let's take a look at these factors and the specific months when they are most prominent.
Winter months, particularly from December to February, can be quite challenging.
During this period, you will face shorter daylight hours, with only about 4 to 5 hours of daylight. This means fewer opportunities to explore the breathtaking landscapes and famous sights like the Golden Circle.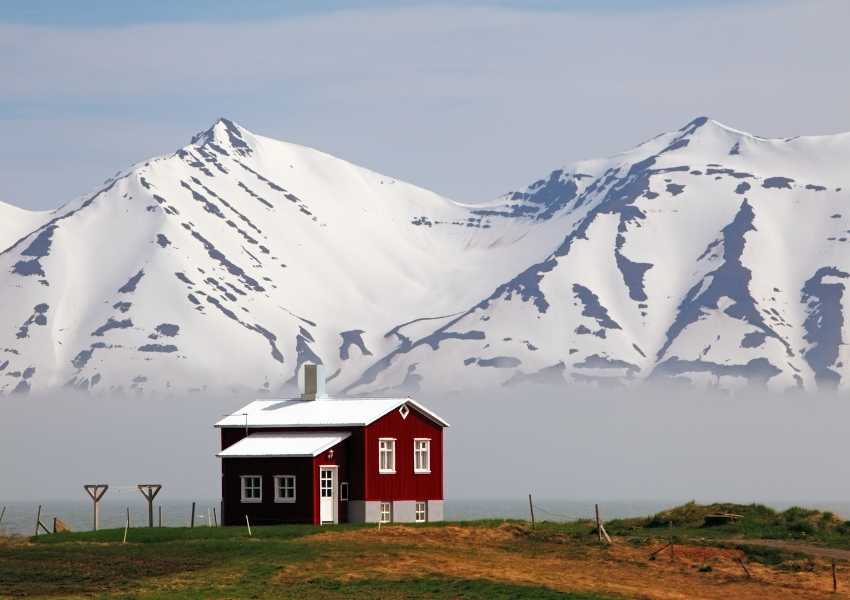 Additionally, the harsh weather conditions can lead to road closures, making it difficult for you to navigate the country at this time.
Visiting Iceland during the shoulder seasons, which are April to May and September to October, may also not be ideal.
The weather can be unpredictable, and many popular activities might not be available.
For instance, snow and ice caves often become inaccessible due to melting or unstable conditions. Furthermore, the Northern Lights become less visible as the daylight hours increase towards the end of the shoulder seasons.
While visiting during the peak summer months of June to August may provide more daylight hours and better weather, the influx of tourists might make some popular attractions overcrowded. This can reduce the appeal of Iceland's famed natural serenity.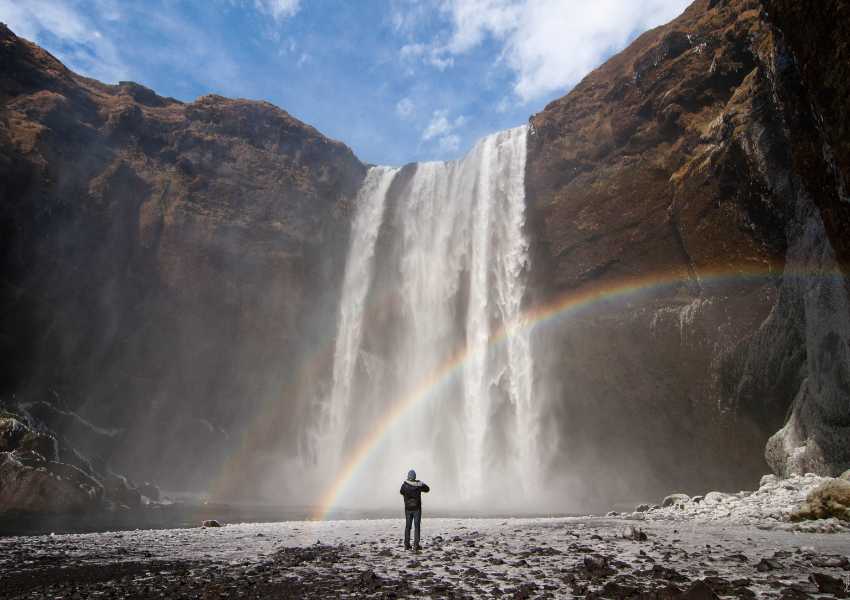 On the other hand, if you don't mind crowds and seek more outdoor recreational activities, summer months might be suitable for you.
Put simply, the worst time to visit Iceland generally lies in the winter months of December to February due to harsh weather conditions, limited daylight hours, and potential road closures.
The shoulder seasons also present some challenges, but ultimately, what determines the worst time to visit depends on your preferences, planned activities, and the level of crowd tolerance.
What is the worst time to visit Iceland to drive the Golden Circle?
The worst time for you to visit Iceland and drive the Golden Circle route is usually during the winter months, from November to February.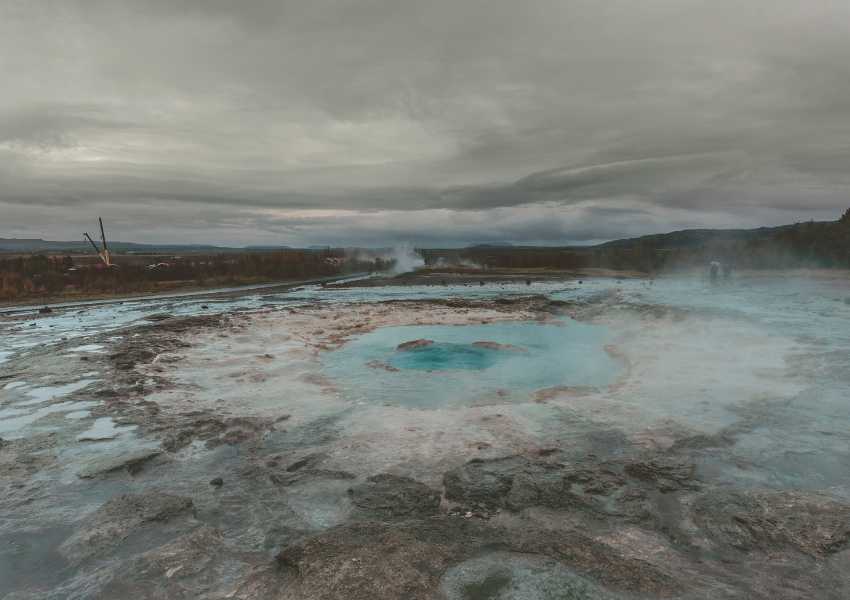 There are several factors that contribute to this being the least favorable season for your visit:
Weather: Unpredictable and harsh weather conditions in Iceland during this time of the year can negatively impact your experience.
Heavy snowfalls, slippery roads, and limited visibility due to dense fog or snowstorms are common occurrences. These weather patterns can make driving conditions on the Golden Circle roads quite challenging, even for experienced drivers.
Limited daylight hours during the winter months: In December, you can expect only around 4-5 hours of daylight, which will significantly decrease the time you have to explore the attractions along the Golden Circle route. With such limited daylight, you might feel rushed or miss out on some of the beautiful sights.
Accessibility: Some attractions along the Golden Circle route, such as Gullfoss waterfall, could be partially frozen during the winter. While this might offer a unique view, it may detract from the full experience, and some walking paths might be inaccessible due to ice and snow.
So, if you plan on driving the Golden Circle in Iceland, it is best to avoid the winter months of November to February. This will ensure that you have a safer, more enjoyable time exploring the beautiful sights this country has to offer.
Best Time to Visit Iceland
The best time to visit this stunning island nation is during the summer months, between June and August. During this time, you can expect warmer temperatures, longer daylight hours, and more accessible attractions.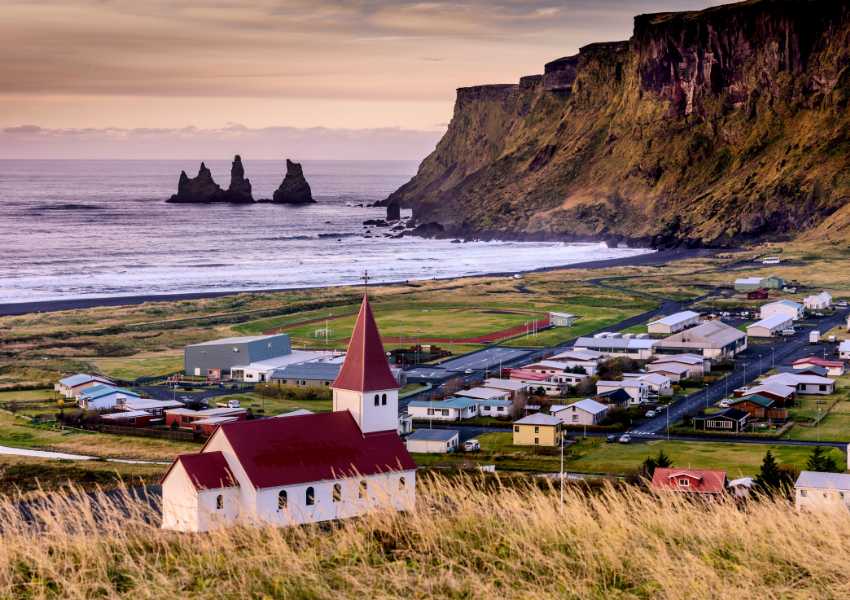 The summer months offer daytime temperatures ranging from 50-60°F, which is ideal for outdoor activities.
With up to 24 hours of daylight, you'll have plenty of time to explore the beautiful landscapes, hike through national parks, and take in the breathtaking natural wonders.
However, June is great for birdwatching enthusiasts, as this is peak puffin season. Even road trips are a treat with the vibrant lupine flowers blanketing the countryside.
Shoulder Season in Iceland: Pros and Cons
In the shoulder season spanning from late April to mid-June and September to early October, Iceland experiences its spring and autumn transitions. Planning a trip during this time comes with its own set of pros and cons.
One of the most significant benefits of visiting during the shoulder season is that you'll enjoy fewer crowds at popular tourist attractions. This means you can take in some of Iceland's natural wonders, like its beautiful waterfalls such as Helgufoss and geothermal pools like Hrunalaug Hot Spring more peacefully.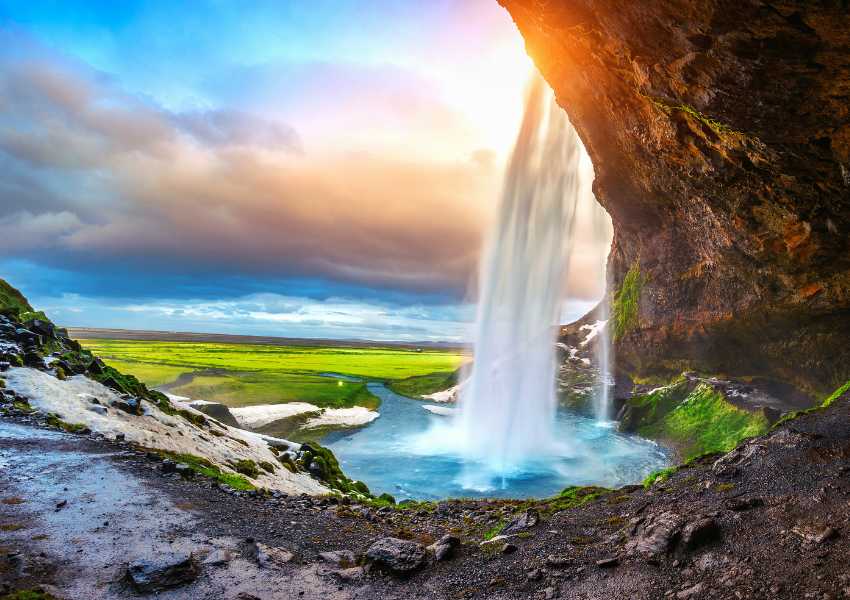 Additionally, airfare and accommodation prices tend to be lower in the shoulder season than during peak periods. Savings on your travel expenses can make a big difference in the overall cost of your trip.
However, it's important to keep in mind that the weather can be unpredictable during these months. You may experience sunny days, sudden snowstorms, or even heavy rain, which might impact outdoor activities such as hiking and sightseeing. It's essential to be prepared and pack appropriate clothing for various conditions.
During the shoulder season, daylight hours are more balanced, with longer days than in the winter but not the 24-hour daylight of the summer months. While you might have fewer chances to catch the Northern Lights, exploring the stunning landscapes during these "normal" hours can still be rewarding.
Remember that some seasonal activities may not be available, though. For example, you'll likely miss out on ice cave tours, a popular winter activity, as the caves can become unstable during these transitional months. Some roads and hiking trails in the highlands may also remain closed or be less accessible, as they often don't open until late June or even July.
In conclusion, visiting Iceland during the shoulder season has its pros and cons. You'll enjoy fewer crowds, lower prices, and more balanced daylight hours but will also face unpredictable weather and potential limitations on activities. With proper planning and preparation, you can still have a fantastic trip during this time of the year.
You may also like:
What is the worst time to visit Iceland if you're on a budget?
The worst time to visit Iceland on a budget is during the peak tourist season, which typically lasts from June to August.
During this time, accommodation and tour prices soar, making it challenging for budget-conscious travelers to enjoy their stay.
However, don't let this discourage you! There are some excellent alternatives available for those looking to have an amazing Icelandic experience without breaking the bank.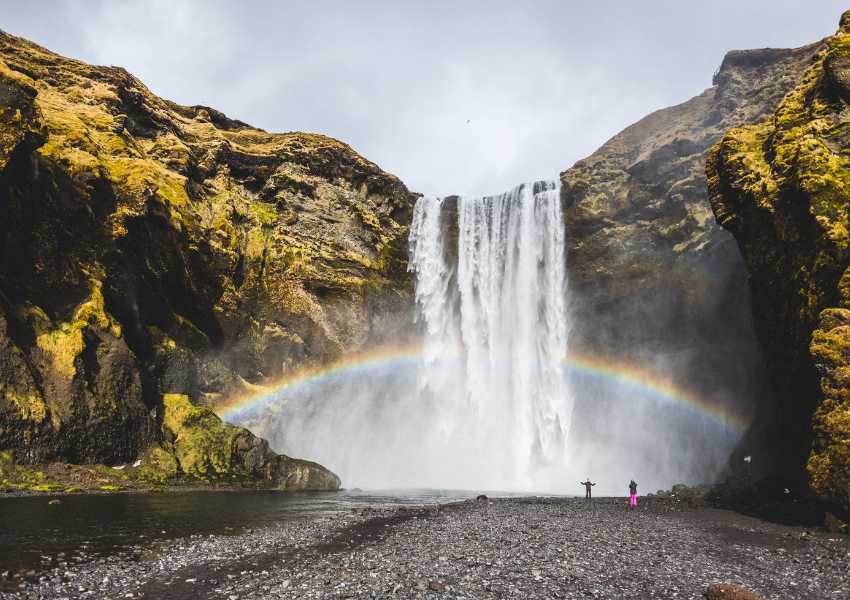 For instance, consider visiting during the shoulder seasons of May or September. During these months, you can still experience the midnight sun or the aurora borealis while enjoying lower prices on accommodations, car rentals, and tours.
Another great alternative to visiting Iceland on a budget is to opt for self-drive adventures.
Renting a car and planning your own itinerary allows you to have control over your expenses, as you can find budget-friendly accommodations and attractions to visit.
Furthermore, traveling by car provides the freedom to explore the country at your own pace, making your trip more enjoyable and personalized.
Lastly, you can keep your Iceland trip budget-friendly by choosing to stay in hostels or guesthouses instead of hotels.
These lodgings provide a social atmosphere where you can meet other travelers and share experiences, all while saving money on accommodation.
Pros of visiting Iceland in Winter
Even though winter is considered the worst time to visit Iceland weather-wise, it's also a unique and magical experience if you're able to brave the cold.
The freezing temperatures, frequent snowfall, and icy landscapes create a mystical wonderland you won't forget. Here are some of the reasons winter may not be the worst time to visit Iceland:
Northern Lights: One of the main reasons to visit Iceland in winter is the opportunity to catch a glimpse of the world-famous Northern Lights. Between November and March, you can see the awe-inspiring aurora borealis shimmering gracefully across the dark sky.
Glacier Exploration: Experience the icy wonders of Iceland's glaciers more intimately during winter. You can take a guided glacier hike or an adrenaline-pumping snowmobile tour, allowing you to explore Iceland's frozen playground up close.
Ice Caves: The cold weather allows you to discover the mesmerizing and unique ice caves that form within glaciers. As these caves are unstable and ever-changing, visiting during winter ensures that you experience this surreal marvel at its best.
Winter Activities: Iceland has plenty of winter-specific activities, like dog sledding through snow-covered landscapes, ice skating on frozen lakes, or skiing and snowboarding on nearby slopes.
Festivities: During winter, you can immerse yourself in Icelandic culture by attending one of the many vibrant festivals held. Events like Christmas, New Year's Eve, and the local Thorrablot feast offer unforgettable experiences and authentic insights into Icelandic traditions.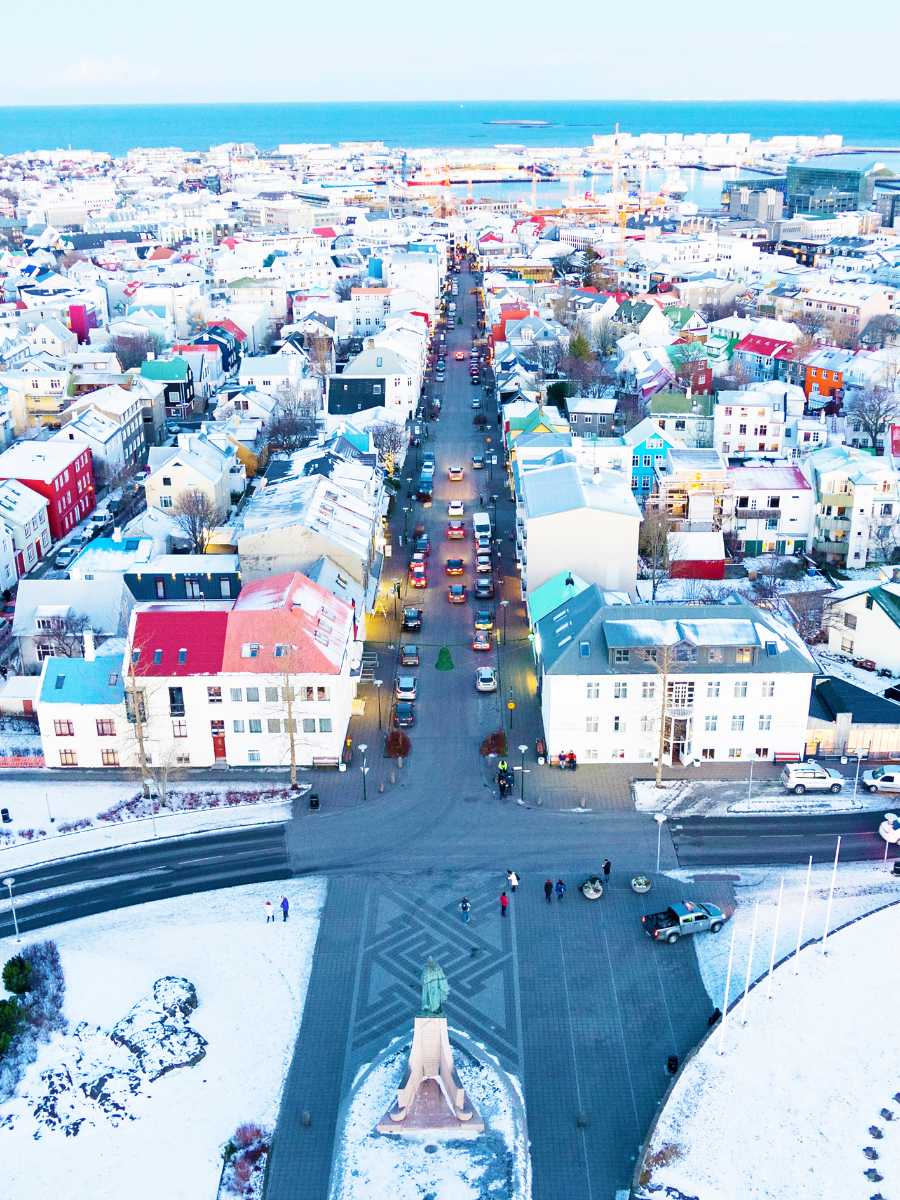 Best Time to Visit Iceland for Northern Lights
When you're planning your trip to Iceland, one of the most attractive features is undoubtedly the Northern Lights.
To increase your chances of seeing this breathtaking natural phenomenon, timing is everything.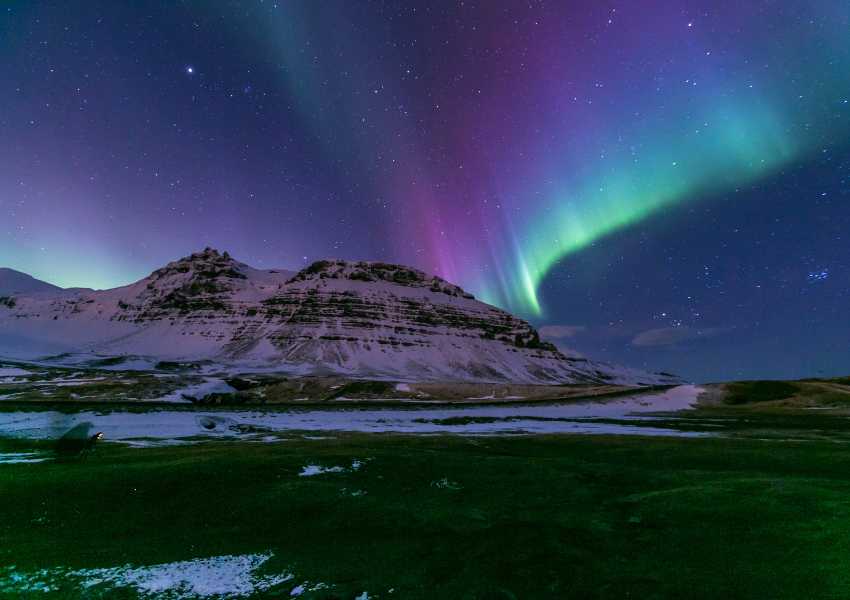 Generally, the best time to catch the Northern Lights in Iceland is from September to April.
During these months, the nights are longer, providing ample darkness for the auroras to be visible. Additionally, the skies tend to be clearer compared to the summer months, allowing for optimal viewing conditions.
While September and April offer milder weather compared to the harsh winter months, it's essential to keep in mind that the Northern Lights are most active around the equinoxes. So, late September to early October and late March to early April are particularly favorable periods for aurora sightings.
It's also important to consider the location when chasing the Northern Lights in Iceland. As a general rule, areas with low light pollution provide the best viewing experience. Popular locations include the Golden Circle, Þingvellir National Park, and the Vatnajökull National Park.
Remember to check the aurora forecast before venturing out, as it can help you determine the likelihood of spotting the Northern Lights. Iceland's meteorological office provides an up-to-date aurora forecast, which includes information about cloud cover and aurora activity.
Please be sure to dress warmly for your adventure to see the Northern Lights, as Iceland's weather can be unpredictable, and temperatures may drop rapidly at night.
Best Time to Visit Iceland for Hiking
Iceland is a hiker's paradise, boasting diverse landscapes and breathtaking views that are guaranteed to take your breath away.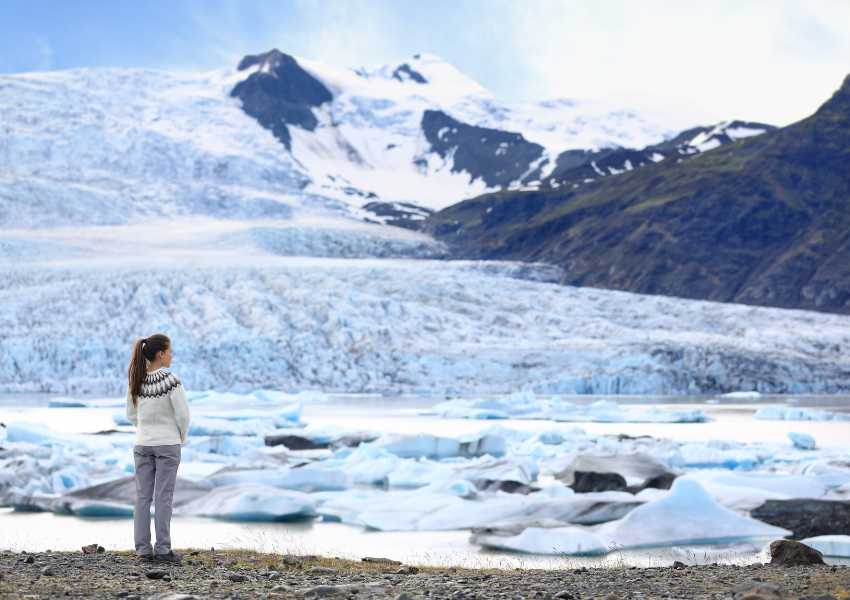 To make the most out of your hiking experience, timing is crucial. Summer months, specifically from June to August, are generally the best time for hiking in Iceland.
During this time, you can expect longer daylight hours and milder temperatures, ensuring a more comfortable and enjoyable hiking experience. With up to 24 hours of daylight in some areas, you'll have plenty of time to explore all the stunning trails Iceland has to offer.
You should also be aware that some hiking routes may still be inaccessible in early June, especially those at higher elevations or those with lingering snow. In these instances, late June to early August would be the ideal time to explore these trails. Keep in mind that the weather in Iceland can be quite unpredictable, so always check the forecast and be prepared for sudden changes.
Going for a hike during the summer doesn't mean you'll be alone on the trails, as it's the peak season for tourism in Iceland. However, the country's vast regions offer numerous hiking options, so you're likely to find a trail that suits your preferences and skill level. Some popular hiking destinations include:
Landmannalaugar: Known for its multicolored rhyolite mountains and natural hot springs, ideal for a soothing dip after a long hike.
Þórsmörk: A lush oasis surrounded by glaciers and perfect for day hikes or longer treks.
The Laugavegur Trail: One of Iceland's most famous routes, going from Landmannalaugar to Þórsmörk, spanning approximately 55 km.
Worst time to visit Iceland for a road trip
The worst time to visit Iceland for a road trip is definitely the winter months, specifically between November and February.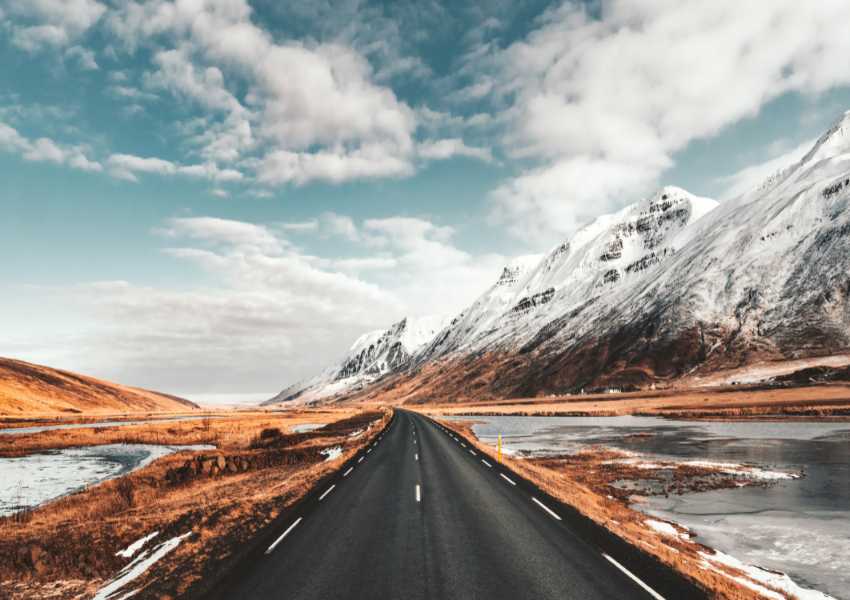 During this period, the days are short, with only a few hours of daylight, which limits the amount of sightseeing you can do.
Additionally, the weather becomes increasingly unpredictable, increasing the risk of road closures or difficult driving conditions.
Another factor to consider during the winter months is the increased likelihood of heavy snowfall and slippery roads.
This can make driving hazardous, particularly for those unfamiliar with such conditions. Plus, many of the attractions like waterfalls and natural parks may be either closed or inaccessible due to harsh weather.
That being said, if you're interested in witnessing the spectacular Northern Lights, you may want to compromise and plan your visit for late winter or early spring, around March or April.
While you'll still face some winter challenges, the chances of seeing the aurora are higher. Just make sure to be prepared for the potential road hazards and limited daylight during these months.
Travel Insurance for Iceland
Don't forget to add travel insurance to your itinerary!
Iceland is known for its stunning landscapes and adventurous activities, but even the most experienced traveler can encounter unexpected situations.
From extreme weather conditions to volcanic eruptions, travel insurance can help protect you from financial losses and give you peace of mind during your trip.
If you're looking for a reliable and affordable travel insurance option for your Iceland trip, we highly recommend Safety Wing. They offer comprehensive coverage for medical expenses, emergency medical evacuation, trip cancellation, and more. Check them out here.
Worst time to visit Iceland: Conclusion
In conclusion, for the safest and most enjoyable road trip experience, it's best to visit Iceland during the more favorable seasons of late spring to early autumn.
However, if you're determined to see the Northern Lights and don't mind facing some winter challenges, consider planning your trip for the shoulder months of March or April.
Now that you know the worst time to visit Iceland as well as the best, it's time to start plotting your trip to this magical country!