Helgufoss Travel Guide: What to Know About Visiting this Iceland Gem
Nestled amidst the verdant Icelandic landscape, Helgufoss is a striking waterfall and one of the best hidden gems in Iceland.
Situated just 30 minutes from the bustling city of Reykjavik, Helgufoss offers an accessible and relatively easy hike for all experience levels and is one of the best things to do in Iceland.
In this guide, we will take you through everything you need to know about visiting Helgufoss, from how to get there, what to expect, and the best times to visit. I'll also provide you with some insider tips and recommendations to help you make the most of your trip.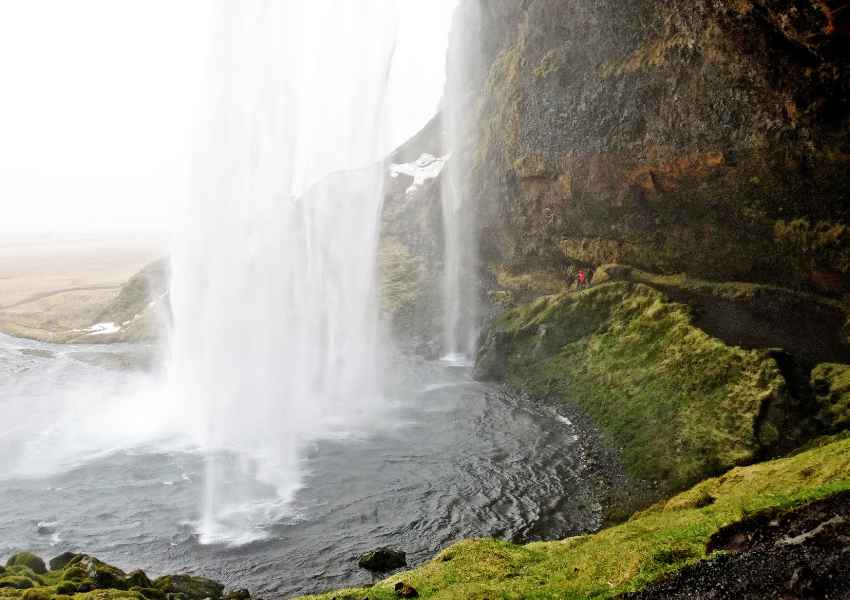 Getting to Helgufoss
By Public Transportation
Taking public transportation to Helgufoss is a convenient and eco-friendly option. To get there, you can board the Bus number 57 from Reykjavik's central bus station, Hlemmur. The bus ride will take you to Mosfellsbær, where you'll get off at the Lágafell stop. The journey usually takes around 30 minutes.
From Lágafell, it's just a short 15-20 minute walk to the starting point of the Helgufoss hike. The path is clearly marked, and the walk itself is as enjoyable as the destination, as you'll pass through scenic landscapes along the way.
By Car
If you prefer to travel by car, it's a quick and easy drive from Reykjavik to Helgufoss. Head north from Reykjavik on Route 1 and then take the exit to Route 36 towards Þingvellir National Park. After around 5 kilometers, turn right onto Route 431 towards Mosfellsbær. You'll reach a small parking area near Lágafell after approximately 8 kilometers.
From the parking area, follow the marked footpath leading toward Helgufoss. The walk to the waterfall takes about 15-20 minutes, and you'll be rewarded with stunning views of the iconic Icelandic landscape.
Best Time to Visit Helgufoss
The best time to visit Helgufoss depends on what you're looking for in your travel experience.
Generally, the summer months of June to August are ideal for exploring the waterfall and its surrounding areas. During this time, you will enjoy longer days, warmer temperatures, and more sunshine. It's the perfect time for outdoor activities like hiking, birdwatching, and photography.
If you prefer a more tranquil and peaceful atmosphere, consider visiting Helgufoss in the shoulder season, which falls in May and September. You'll still have comfortable weather and beautiful scenery but fewer tourists. This makes it easier to take advantage of the quietude and truly appreciate the beauty of the waterfall.
Visiting during the winter months is possible but can be more challenging as this is considered the worst time to visit Iceland in general. The temperatures will be colder, and there might be snow or ice on the trails.
However, if you're an experienced hiker and well-prepared for colder conditions, a winter visit to Helgufoss can be a unique and memorable experience. The frozen landscape adds an entirely different dimension to the beauty of the area.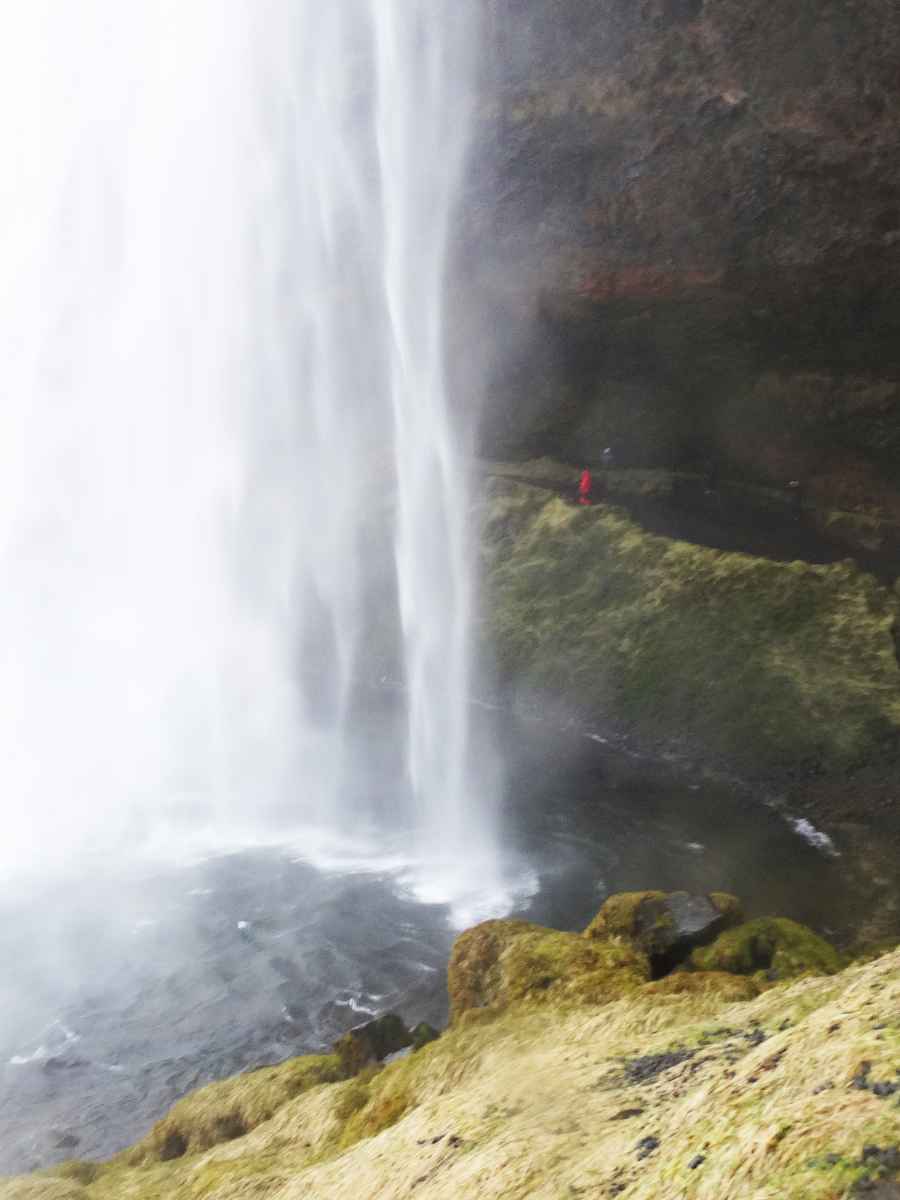 What to Bring to Helgufoss
Clothing and Accessories
Pack layers for your trip to Helgufoss, as the weather can be unpredictable. Start with a moisture-wicking base layer, followed by an insulating layer, and finish with a waterproof outer shell.
Bring a mix of short and long-sleeved shirts, pants, and shorts. Don't forget your hiking boots to keep you comfortable on the trail.
Hat for sun protection
Gloves, in case of cold weather
Breathable hiking socks
A small daypack for carrying essentials
Photography Equipment
If you want to capture the beauty of Helgufoss, here's what you should bring:
A camera with a wide-angle lens for those stunning landscapes
Extra memory cards and batteries to ensure you never run out of storage or power
A tripod for those low-light, long-exposure waterfall shots
A graduated neutral density filter helps balance the exposure between the bright sky and the darker foreground
A lens cloth and air blower to keep your lens clean in the outdoors
Hiking in Helgufoss
Helgufoss offers some incredible hiking routes for you to explore.
The main trail leads you directly to the waterfall, which is an easy, family-friendly hike of around 2 kilometers.
As you walk along the path, you'll be surrounded by stunning landscapes and picturesque views of the Icelandic wilderness.
There are also a few more challenging hikes available for the more adventurous. For instance, you could follow the river upstream to discover some hidden gems and lesser-known waterfalls.
Make sure to research these trails beforehand and always let someone know your plans while hiking in remote areas.
You may also like:
Places to Visit Near Helgufoss
Historic Sites
While exploring Helgufoss, take advantage of the opportunity to visit some nearby historic sites. One such site is Ólafsvík, Iceland's oldest trading town, which dates back to the 17th century.
Another notable site is the Eiríksstaðir, the Viking Age farmstead of famous explorer Erik the Red. Here, you can step into a replica of a traditional turf house, learn about Viking history, and even witness reenactments of events from that era.
Nature Preserves
Snaefellsjokull National Park is a wonderful place to visit if you can't get enough of Icelandic nature after checking out the waterfalls. This park encompasses the famous Snæfellsjökull glacier, glacier caves, and a wide variety of wildlife.
Another destination worth your time is the Hornstrandir Nature Reserve. Located in the Westfjords, it's known for its rugged cliffs, rich birdlife, and arctic fox population. While it may take some effort to reach, you'll be rewarded with unspoiled beauty and a unique experience.
Where to Stay in Helgufoss
If you want to stay near Helgufoss, here are some of the best accommodation options for all budgets and travel styles:
Budget Stays
For travelers on a tight budget, there are several affordable lodging options near Helgufoss. Some of the popular choices include:
Guesthouse Helgufoss: A cozy guesthouse offering simple and comfortable rooms with a shared kitchen and bathrooms. Prices start at $70 per night.
Helgufoss Camping Ground: If you love the outdoors, consider pitching a tent at this picturesque campsite with basic facilities available. Fees are around $15 per person per night.
Helgufoss Hostel: A modern hostel featuring dormitory-style rooms and private rooms at reasonable rates. Expect to pay around $30 for a dorm bed and $60 for a private room.
Luxury Options
If you're looking to splurge for a more extravagant stay, there are several luxurious accommodations near Helgufoss that will not disappoint. Some of these include:
Helgufoss Boutique Hotel: This stylish hotel offers elegant rooms and suites with top-notch amenities and panoramic views of the surrounding landscapes. Prices start around $250 per night.
Helgufoss Villa: A high-end vacation rental that provides maximum privacy and comfort, featuring a heated pool, a private chef, and daily housekeeping services. The price can range from $500 to $1000 per night, depending on the season and duration of your stay.
Safety in Helgufoss
Outdoor Precautions
Iceland's weather can change rapidly, and being prepared is essential. Here are a few tips to ensure your experience at Helgufoss is enjoyable and safe:
Dress in layers: Make sure to wear appropriate clothing, such as a waterproof jacket and pants, a warm inner layer, and sturdy shoes.
Check the weather: Keep an eye on the weather forecast before you start your hike and be prepared to change your plans if necessary.
Stay on marked paths: While exploring the area, stick to the marked paths and avoid venturing off-trail. This will minimize your risk of getting lost or injured.
Bring essentials: Remember to carry a map, water, snacks, and a fully charged phone in case of emergencies.
Emergency Contacts
In case of an emergency, it's essential for you to know who to contact. Here are some important emergency phone numbers and contact information that you should keep handy during your travels:
Emergency number: In Iceland, dial 112 for emergency services, such as police, ambulance, and fire brigade.
Helgufoss area contact: If you require assistance in the Helgufoss area, you can contact the local authorities at +354 123 4567.
Additionally, it's a good idea to share your itinerary and expected return time with a friend or family member, so they can alert the authorities if you don't return as planned.
Helgufoss History
Geology
The waterfall is a result of a volcanic eruption and subsequent glaciation. The basaltic layers surrounding it create a stunning natural amphitheater that cradles the falling waters.
Cultural Significance
One of the most unique features of Helgufoss is its name, which translates to "Holy Waterfall" in Icelandic. According to local folklore, the waterfall was once believed to have healing powers, and people would come from far and wide to bathe in its waters.
Helgufos has also been a gathering spot during festivals and celebrations. It's both a symbol of nature's beauty and a reminder of the powerful forces that shaped the Icelandic landscape.
Helgufoss Map
Helgufoss: FAQs
How do I reach Helgufoss waterfall from Reykjavik?
To reach Helgufoss waterfall from Reykjavik, you can take Route 1 in the direction of Akureyri.
After approximately 18 km, turn right onto Route 36 towards Þingvellir National Park.
Drive for around 10 km, then turn left onto Route 361 leading to Mosfellsbær. Helgufoss is about 1.5 km from there. The drive should take around 30-40 minutes.
What is the difficulty level of the Helgufoss hike?
The hike to Helgufoss is fairly easy and family-friendly. The trail is about 2 km long (one way) and features a gradual incline with some rocky sections. It is suitable for most fitness levels.
Is there available parking near Helgufoss?
Yes, there is a small parking lot located near the trailhead of the hike. The parking is free, but spaces are limited, so it is best to arrive early during peak season.
How does Helgufoss compare to other waterfalls in Iceland?
While Helgufoss may not be as tall or as well-known as some of Iceland's other waterfalls, it still offers a unique and beautiful experience.
The waterfall is surrounded by stunning basalt columns and has a serene atmosphere, making it an ideal spot for nature lovers and photographers.
Can I visit Helgufoss during a Golden Circle tour?
Helgufoss is not part of the typical Golden Circle route, which includes Þingvellir National Park, Geysir, and Gullfoss.
However, it is possible to visit Helgufoss as an additional stop on your tour if you plan accordingly. Make sure to allocate extra time for the detour, including the hike.
What other attractions are near Helgufoss in Mosfellsbær?
There are several attractions near Helgufoss in Mosfellsbær, such as the Álafoss Wool Factory and Store, the Hahyrningar Art Gallery, and the Gljúfrasteinn – Laxness Museum.
Additionally, you can explore the nearby town Mosfellsbær itself, offering various restaurants and shops. If you're looking for more outdoor activities, consider the nearby Mt. Esja hiking trails.
Visiting Helgufoss: Conclusion
I hope that our Helgufoss travel guide has inspired you to plan your trip to this stunning waterfall in Iceland.
From the majestic beauty of the waterfall to the serene surroundings of the Icelandic countryside, Helgufoss definitely offers an unforgettable experience.