16 Best LA Westside Restaurants
If you're heading to the Westside in LA, you're in for a real treat. Santa Monica and Venice are filled with incredible restaurants and amazing things to eat.

These beachside neighborhoods in Los Angeles are home to some of the best restaurants, cafes, and bars where you can indulge in a mouthwatering gastronomic journey.
From fine dining and international cuisine to trendy brunch spots and old-school burger joints, West LA has something for every taste.
Let's dig into the best Westside restaurants in LA!
16 Best Restaurants on the Westside LA
1. Gjelina
We're starting off strong with Gjelina, one of the most popular restaurants on Abbott Kinney Blvd in Venice, California.
This casual eatery serves locally sourced produce and puts a healthy twist on modern American staples.
Gjelina is all about quality food from quality sources. They support local Southern California farmers, local ranchers, fishermen, and co-ops so you know you're getting fresh, sustainable eats here.

What to order: They have a seasonal menu that changes regularly, but their consistent must-tries are the Gjelina Burger, Kale Salad, and their wood-fired pizza.

TIP: When you're done, head down the street to their sister property, Gjusta for dessert. This beloved LA bakery has incredible international pastries. Their take on Portugal's famous egg tart, pastel de nata, can rival those found in Lisbon!
2. The Tasting Kitchen
Another hip spot on Abbot Kinney, the street for trendy dining and shopping in Venice, is The Tasting Kitchen.
This restaurant offers beautiful farm-to-table dishes with warmly lit interiors perfect for a romantic date night. They feature a modern Italian menu and have a fantastic bar.

What to order: For a perfect dinner date, order two of their most recommended dishes: the Bone Marrow Bucatini and the Baby Beet Salad. If you come for brunch, the Cacio E Pepa Soft Scramble is a must.
3. The Butcher's Daughter
More Abbott Kinney spots! You didn't want to go anywhere else, though, did you? Vegans and vegetarians, this is the perfect place for you.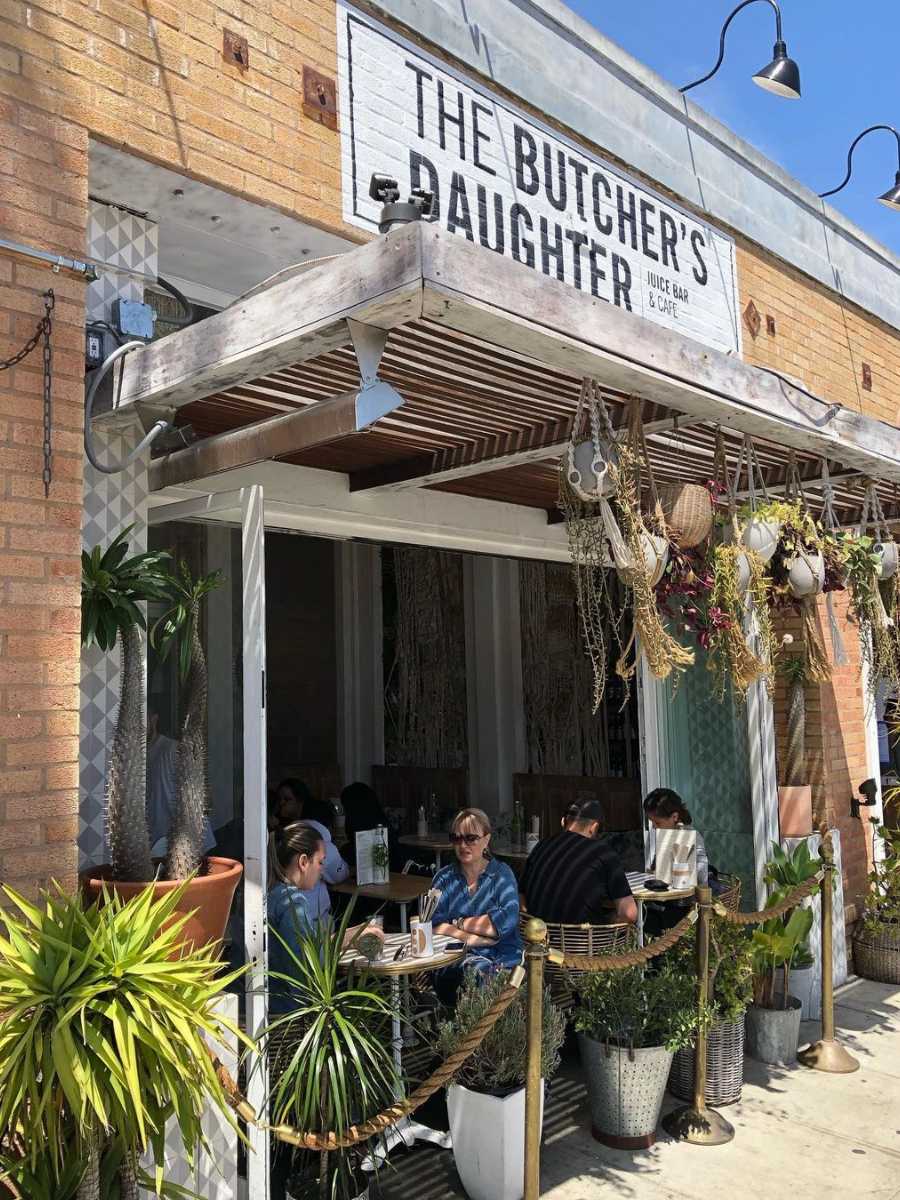 The Butcher's Daughter offers an amazing menu focused on plant-based and whole-food dishes. But don't worry, they still have fresh juices (that you can add alcohol to!) and great cocktails like the Beet Margarita. (No, it's good, I promise!) The ambiance is bohemian and cozy with a mix of bright whites, natural wood and greenery. The Instagram opportunities are endless.

What to order: The Lemon Lavender Waffle is heaven like you've never known before.
Tip: Heading down to Venice for the day? Park in one of the lots near the Venice sign and ditch your car for the day. You can rent bikes at the Venice boardwalk and easily ride over to Abbot Kinney.
4. SUGARFISH by Sushi Nozawa
Sugarfish has earned quite the reputation, but this Nozawa-style sushi spot lives up to the hype!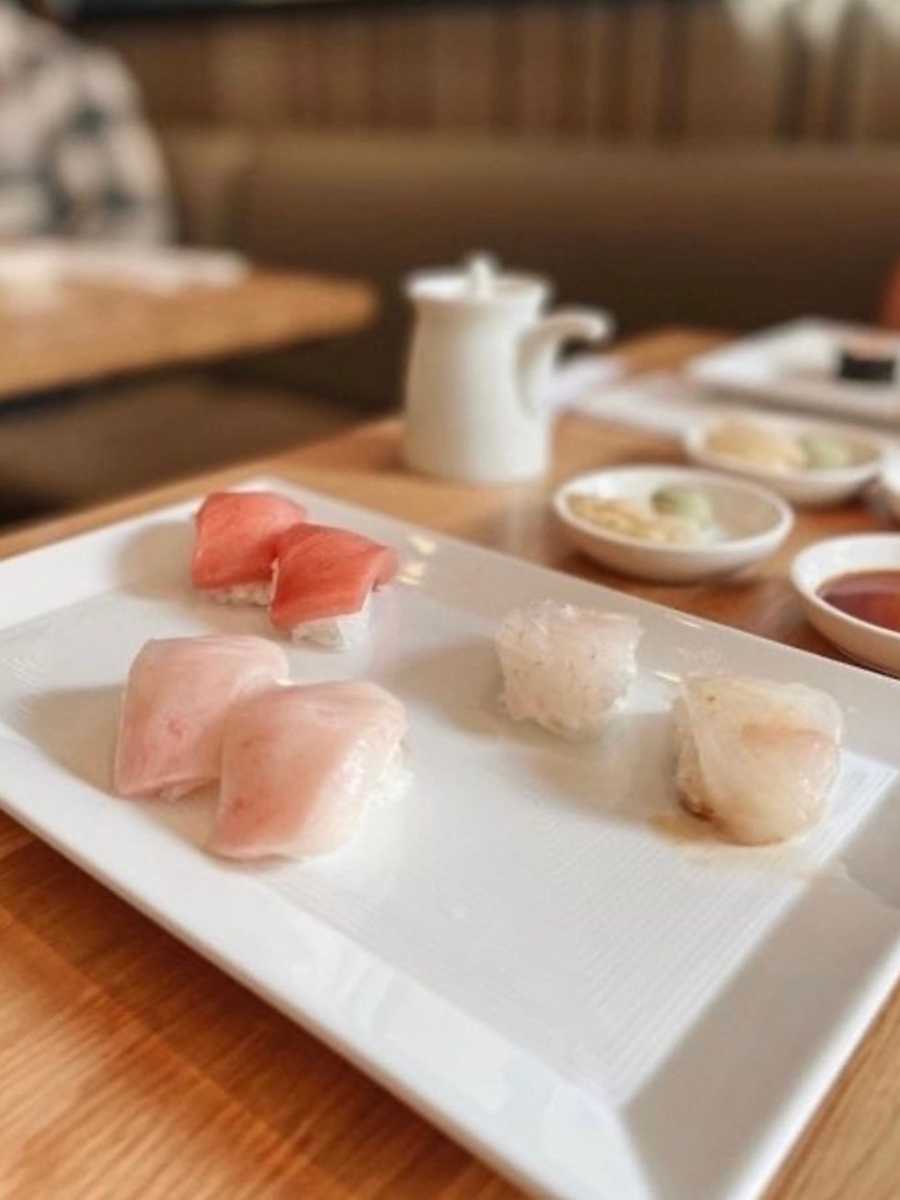 Serving Los Angeles since 2008, SUGARFISH by Sushi Nozawa stands out from any other sushi place in town. Their seafood is fresh and of impeccable quality, and they specialize in simplicity and perfection. These seafood morsels will melt in your mouth!
What to order: You absolutely should go with their signature "Trust Me" omakase. You'll get to sample 3 types of sashimi, the toro handroll (you cannot skip the toro!), yellowtail and the blue crab handroll. The thought alone produces drool!
5. The Misfit
The Misfit, one of the most popular restaurants in Santa Monica, is the epitome of timeless cool.
Located on the ground floor of the striking Clock Tower Building – a historical Art Deco landmark that was once the tallest building in Santa Monica – the restaurant is just blocks away from the beach.
As you enter the patio of the double-story restaurant, you'll be greeted by a curved zinc bar and red leather-cushioned stools, evoking the old-school charm and sophistication of Hollywood's Golden Age.
Situated at the corner of the Third Street Promenade on Santa Monica Boulevard, it offers a cozy dining experience and a globally-inspired menu alongside a raw bar. After a filling brunch, head to the beach for a nap in the sun.

What to order: For brunch, the Lobster Nik Niks served on a Hawaiian roll are where it's at. Don't forget to order a side of the crispy brussels sprouts!
6. Water Grill
Water Grill in Santa Monica is the go-to for seafood lovers who crave the freshest fish imaginable.
Located on Ocean Avenue near the Santa Monica Pier, this reputable West Coast chain has an approachable yet sophisticated atmosphere.
Water Grill is family-owned and operated, and they source everything sustainably from local fishermen.
Their menu features an array of super fresh, expertly prepared seafood dishes, including succulent oysters, indulgent crabs, buttery lobsters, and a diverse selection of fish options.

What to order: At Water Grill, the menu changes with the seasons. Get your wild Salmon in the spring and Spiny Lobsters in the fall or ask your server what their seasonal specials are.

TIP: If you're looking for an epic oceanfront dining experience like never before, head a little further south and soak in the views from the best ocean-view restaurants in Laguna Beach!
Pin this guide to the best restaurants in Westside, Los Angeles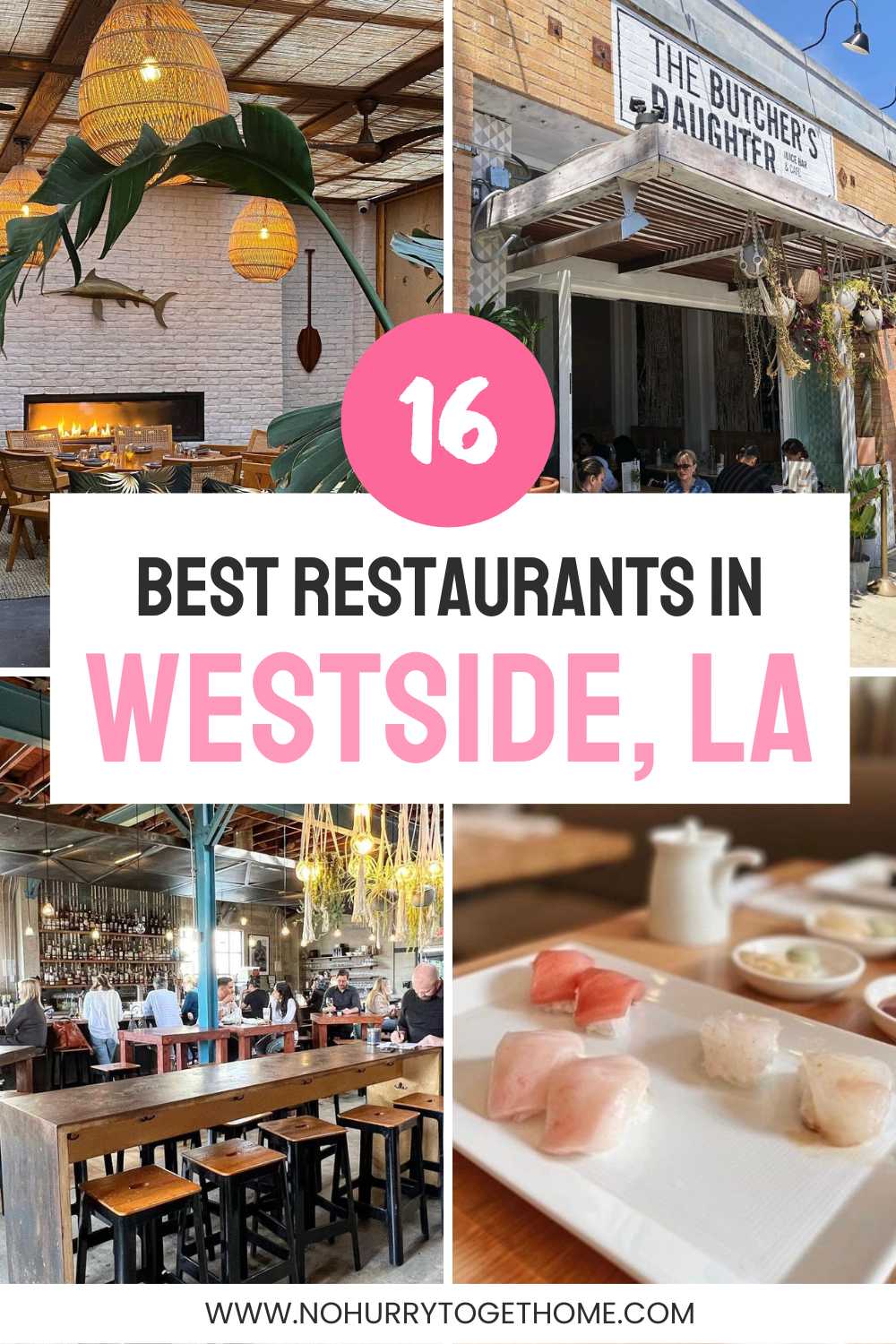 7. Felix Trattoria
For authentic Italian cuisine, head to Felix Trattoria, located on Abbot Kinney Boulevard.
The restaurant's rustic decor and wood-fired oven create a warm, cozy ambiance that'll make you feel right at home.
Executive Chef Evan Funke's handcrafted pasta dishes are a must-try, and the wine list is pretty impressive. Just be prepared for a wait. This place is always packed with hungry diners.

What to order: Evan Funke's has a knack for locating types of pasta that aren't too common outside of Italy. While you're here, you should definitely try one of these unique variations like Trofie from the Liguria region or Apulia's Capunti.
8. Baby Blues BBQ
This BBQ joint is the perfect place for meat lovers. Baby Blues BBQ in Venice has a super casual vibe and is known for mixing and matching the best techniques and recipes from different BBQ regions across the country.
You'll mouth will start watering as soon as you walk in and let the aroma of the smokey, slow-cooked meat wash over you.

What to order: You really can't go wrong with their barbecue classics like dry ribs, beef brisket, and pulled pork.
9. Elephante
Perched atop a stunning rooftop in Los Angeles, Elephante is ready to whisk you away to a world of elegance.
This sophisticated establishment is known for its breathtaking panoramic views of the Pacific Ocean, making it the perfect spot for a sunset happy hour.
The sleek and modern interior blends seamlessly with the natural beauty of the coastal surroundings. Here, impeccable service, stunning views, and incredible libations converge to create an unforgettable experience.

What to order: Sip on a refreshing Watermelon Basil Margarita, expertly crafted with muddled fresh watermelon, fragrant basil, and premium tequila, while savoring delectable bites such as crispy calamari with a zesty citrus aioli.
10. The Rose
Looking for a picture-perfect brunch in Los Angeles? Look no further than The Rose Venice!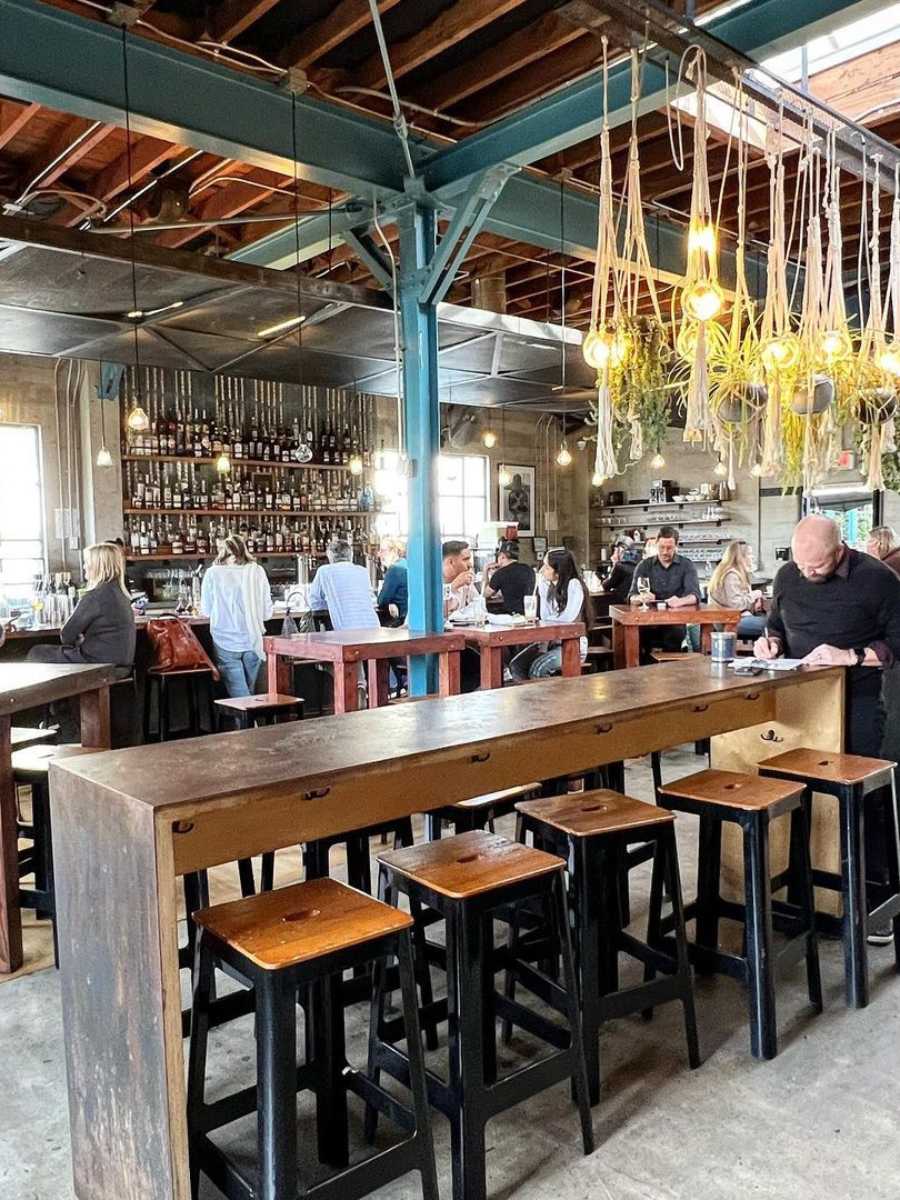 This is a darling spot that has girl's day written all over it! The decor blends soft femininity with rustic elegance and the restaurant is famous for its row of hanging plants with exposed bulbs and macrame planters (and yes it's as cute as it sounds!).
Even better, is their food. Chef Jason Neroni has built the menu around Southern California farm-to-table cuisine, all prepared with a touch of international flair.

What to order: The famous avocado toast is a must, with creamy smashed avocado, tangy lime crema, and a sprinkle of chili flakes on top of artisanal bread – it's truly out of this world. Not to mention, their airy buttermilk pancakes coated with fresh berries and maple syrup are simply divine.
11. Belles Beachhouse
A taste of Hawaii in California? This combo's even better than it sounds!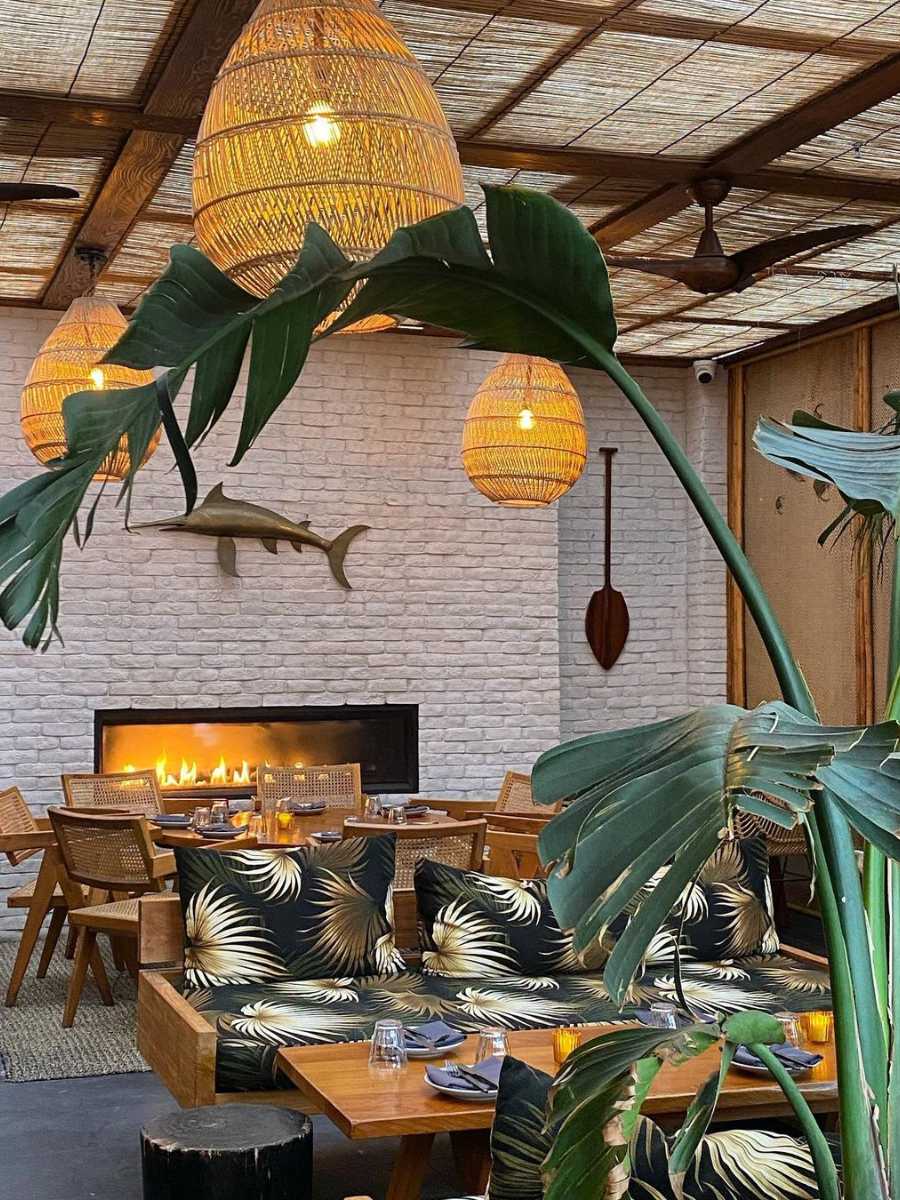 Located just off the famed Venice Boardwalk, Belles Beach House pays tribute to retro Tiki Bars delivering laid-back, island vibes reminiscent of the 1970s. Belles Beach House features an island chic patio bar and a distinctive boho indoor restaurant.
The creative menu showcases Hawaiian-inspired bites with Japanese influence, vibrant craft Tiki cocktails, and a thoughtful wine list.

What to order: You really can't go wrong here! The Poke Bowl is a crowd favorite along with the Huli Huli Chicken, doused in a mixture of tropical honey and macadamia aioli. Just don't skip dessert. The passion fruit mousse is an absolute must.
12. Manchego
LA is full of great seafood and American staples, but did you know you can find world-class Spanish food in the Westside?
If you're craving some savory paella or satisfying tapas, you've got to check out Santa Monica's Manchego.
Manchego is a warm, inviting spot with food that will take you on a delicious journey through Spain.
They have traditional Spanish dishes made with real ingredients like their namesake Manchego cheese, which is in everything from tapas to entrees. Manchego will make you feel like you've been transported to a cozy tapas bar in Calle Cava Baja, one of the best tapas streets in Madrid!
What to order: Try the classic Manchego cheese plate or go all in on the Manchego-stuffed dates all wrapped up in bacon. For something heartier, try the House Paella which comes made to share just like in Spain.
13. The Apple Pan
Step right in to The Apple Pan, an iconic Westside institution that's been serving up classic American diner-style burgers and pies since 1947.
That's right, this local favorite has been feeding hungry Angelenos for over 70 years! The moment you step through the doors, you'll be transported back in time to an age of vintage charm.
Snuggle up with a date in the small, cozy booths and share a piece of pie from the rotating display behind their horseshoe-shaped counter. The Apple Pan is one of the oldest and most beloved restaurants in the city for a reason!

What to order: You can't visit The Apple Pan without trying their famous hickory burger, a mouthwatering masterpiece with freshly ground beef patty, charbroiled to perfection and served on a soft bun with melted Tillamook cheddar.

Tip: Heads up that The Apple Pan is a cash-only establishment. When they say old school, they mean it!
14. Heavy Handed
Like moths to a flame, Los Angeles Westsiders are drawn to Heavy Handed's bright orange takeout window for crisp-edged smash burgers and shoestring french fries twice-fried in beef fat.
If that sounds like something you can get on board with, consider this spot your personal hamburger heaven. At this former pop-up's permanent home on Santa Monica's Main Street, there's plenty of room to sit outside at picnic tables and savor every bite of their expertly crafted classics.

What to order: A burger and fries is the way to go. Heavy Handed's burgers are stacked with housemade butter pickles and juicy short rib patties.
Don't skip their signature heavy sauce, a savory blend of sweet and tangy. If you're looking for meatless options, they also serve grilled cheese sandwiches and creamy soft-serve for dessert.
15. Sweet Rose Creamery
There's nothing better than a cold, sweet scoop of ice cream to cool you down on a hot California day.
Sweet Rose Creamery is every Angelenos go-to spot for amazing ice cream! You won't find ice cream like this anywhere else. It's made with locally sourced, organic ingredients and made from scratch in their Santa Monica kitchen.
With flavors like Jam on Toast and Bonito Coffee, plus all of the classics like Chocolate and Vanilla Bean, it's no wonder everyone's always craving Sweet Rose. Plus, they've got all kinds of tasty toppings, waffle cones, and sundaes!
What to order: They have a rotating menu of seasonal flavors so your best bet is to ask what's popular at the moment.
16. Perry's Cafe
Looking to grab a bite with your toes in the sand? Head down to Perry's Cafe where you can eat lunch directly on the beach.
This beloved beachside institution in Santa Monica has been serving locals and visitors for decades. Modeled after Lost Pier Cafe at Aliso Beach, one of the best public beaches in Laguna Beach, Perry's is known for its convenient options and casual beach fare.
Grab a quick meal from their to-go window or pick up a cool smoothie you can sip in the sun.
What to order: The Alaskan Cod Fish and Chips is a classic that never disappoints. The flaky cod is perfectly battered and fried to a golden crisp, and it comes with a side of crispy fries and tangy tartar sauce.
ABOUT THE AUTHOR
Sydney is the creator of Sydney to Anywhere, a travel blog focused on wineries and destinations like Spain, Portugal, and Morocco. Her goal is to help travelers like you plan inspiring trips that will help you grow.