20 Most Delicious Street Food in Istanbul (Plus Where to Find It!)
Have you ever wondered what makes the street food in Istanbul so unique and irresistible?
Istanbul is a city that is known for its vibrant culture, stunning architecture, and delicious cuisine.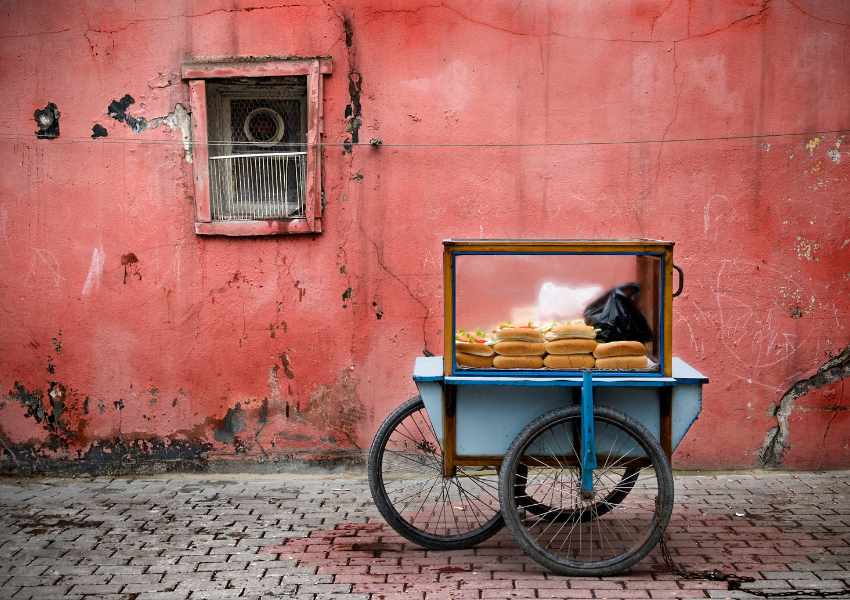 One of the best ways to experience the city's food scene is by trying its street food.
The streets of Istanbul are filled with vendors selling a variety of mouth-watering dishes that are sure to satisfy any foodie's cravings.
From traditional Turkish kebabs to sweet baklava, there is something for everyone to enjoy.
In this blog post, we will take a closer look at the street food scene in Istanbul and explore some of the must-try dishes that you simply can't miss out on.
Is It Safe to Eat Street Food in Istanbul?
In general, street food in Istanbul is considered safe to eat as long as you're careful in choosing where and what to eat.
Stick to popular places, those with a high turnover of customers. This usually means the food is fresher, less likely to be contaminated, and cooked thoroughly.
Quality control in Istanbul's street food scene has come a long way, with vendor carts required to have permits and undergo regular inspections.
Also, make sure to watch the food being cooked and choose items that are served hot instead of sitting at room temperature.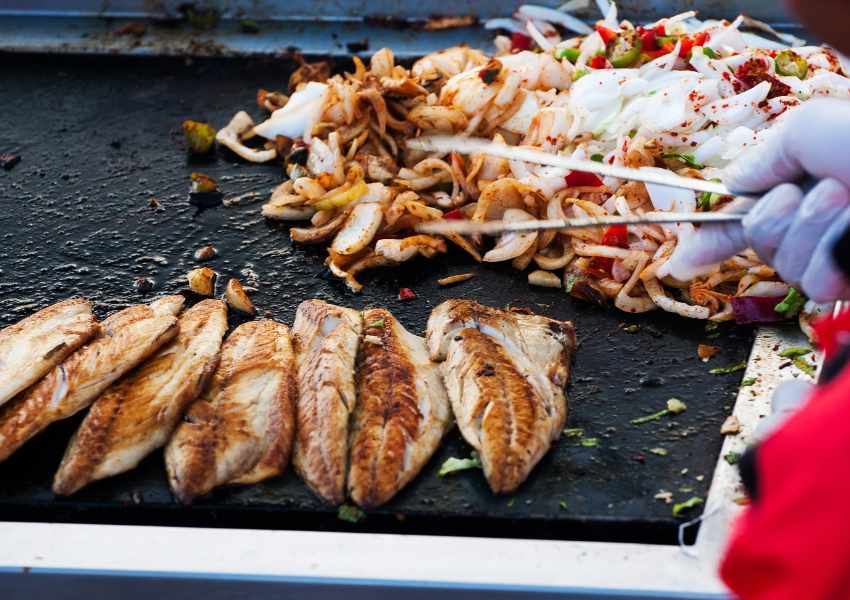 History of Street Food in Istanbul
You may be aware that Istanbul has a rich culinary history.
In fact, it goes back for centuries, intertwining with the city's significant position between Europe and Asia.
Street food in Istanbul has its roots in the Ottoman Empire. As the empire grew, so did the variety of delicious snacks found on the streets.
Throughout history, people in Istanbul valued food not only for sustenance but also for its ability to bring communities together.
Sellers offered diverse flavors from different regions, catering to both locals and visitors.
This sharing of food culture ultimately influenced the development of Istanbul's gastronomic landscape.
During the Ottoman period, you would've found bakers selling fresh breads, vendors hawking simit (sesame-crusted bread rings), and mobile food stalls offering dishes like börek (savory pastries).
Over time, the diversity of street food in Istanbul evolved with the introduction of new flavors and influences from surrounding regions.
Today, you can indulge in famed dishes like döner kebab (rotisserie meat), balık ekmek (fish sandwiches), and mısır (grilled corn), illustrating the city's ever-growing appetite for delectable street treats.
At the heart of Istanbul's street food scene are its bustling markets.
These vibrant spaces offer a window into the past, showcasing the traditional snack culture while introducing innovative twists.
What's The Best Street Food in Istanbul?
One of the best ways to explore Istanbul is through your taste buds, and one of the best places to start the adventure is right on its streets!
The street food in Istanbul is delicious and incredibly varied, so much so that you could craft an entire Turkey itinerary that is just about food!
Here are some of the must-try dishes and treats when it comes to street food in Istanbul:
Top Street Food in Istanbul to Try
1. Borek
Borek is a traditional savory pastry that is popular all over Istanbul.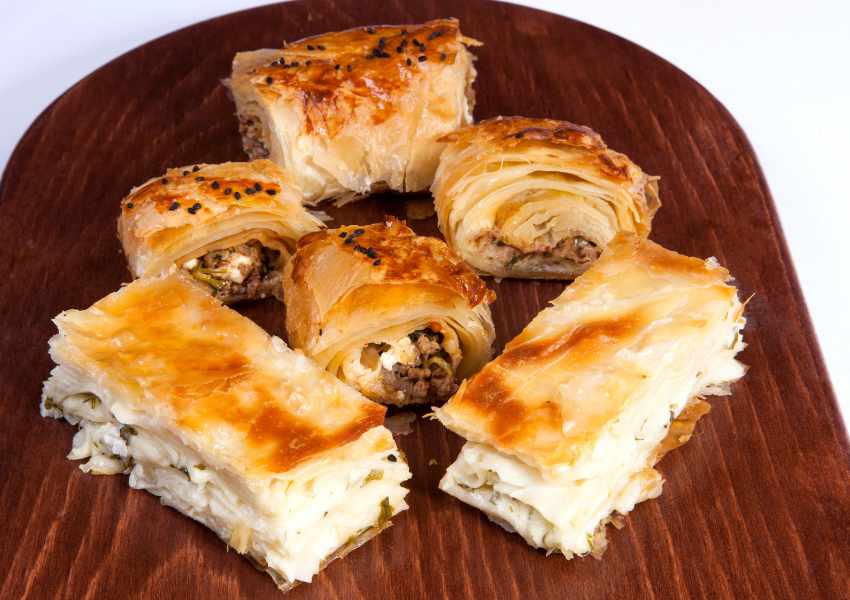 It is typically made with layers of thin phyllo dough that are filled with cheese, spinach, meat, or other savory ingredients.
The layers are then rolled or folded into various shapes, such as triangles or spirals, and baked until crispy and golden brown.
2. Islak Burgers
When you're roaming the streets of Istanbul, you can't miss out on the famous Islak Burgers.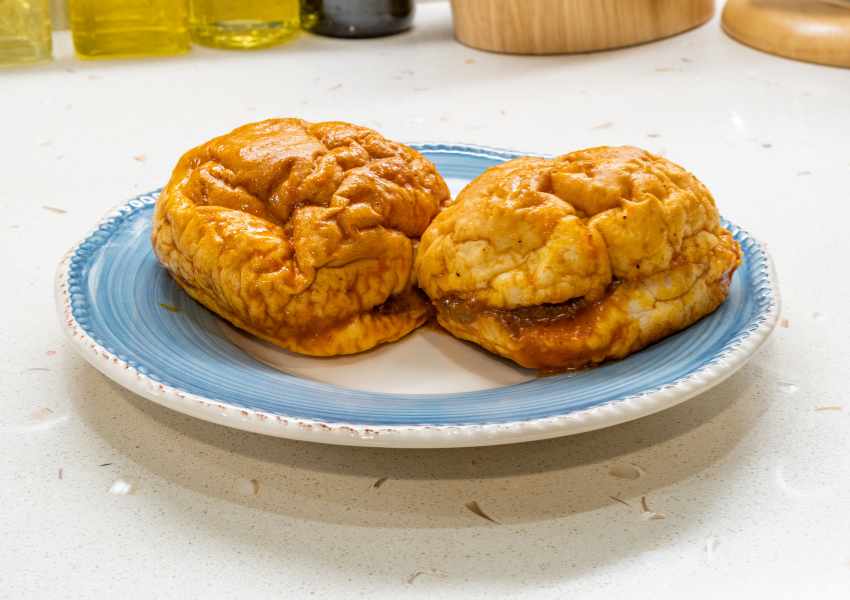 These wet burgers are made from juicy, flavorful meat, and they're soaked in a special tomato sauce before being served in a soft bun.
It's a messy but delicious experience, perfect for a quick bite while exploring the city.
3. Lahmacun
Lahmacun, sometimes called Turkish pizza, is a thin and crispy flatbread topped with minced meat, vegetables, and spices.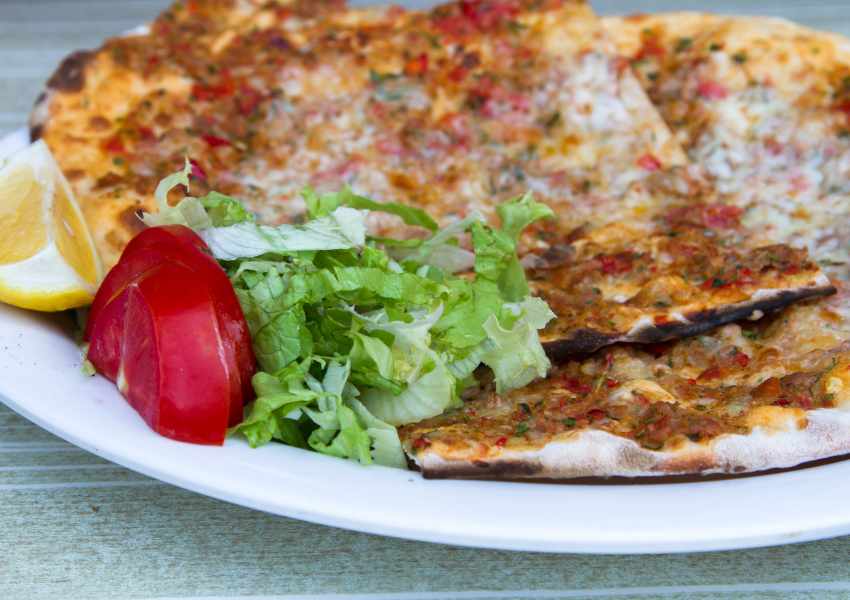 You'll find it in street food stalls, and it's typically served with a squeeze of lemon and a side of fresh herbs.
4. Pide
Pide, also known as Turkish pizza, is another must-try street food in Istanbul.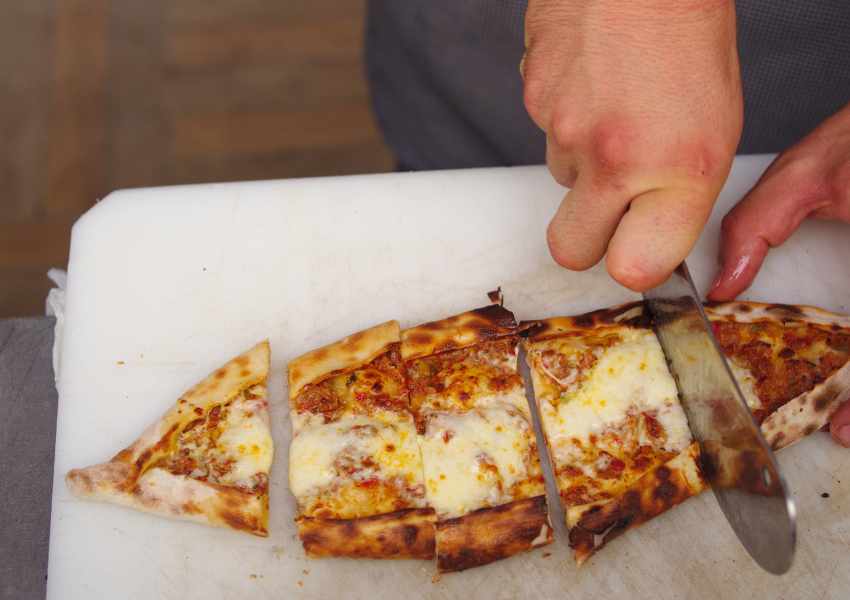 Unlike lahmacun, pide is boat-shaped and thicker, with various toppings like minced meat, cheese, spinach, or egg.
5. İçli Köfte
For a unique culinary experience, try İçli Köfte, deep-fried bulgur balls filled with minced meat, walnuts, and spices.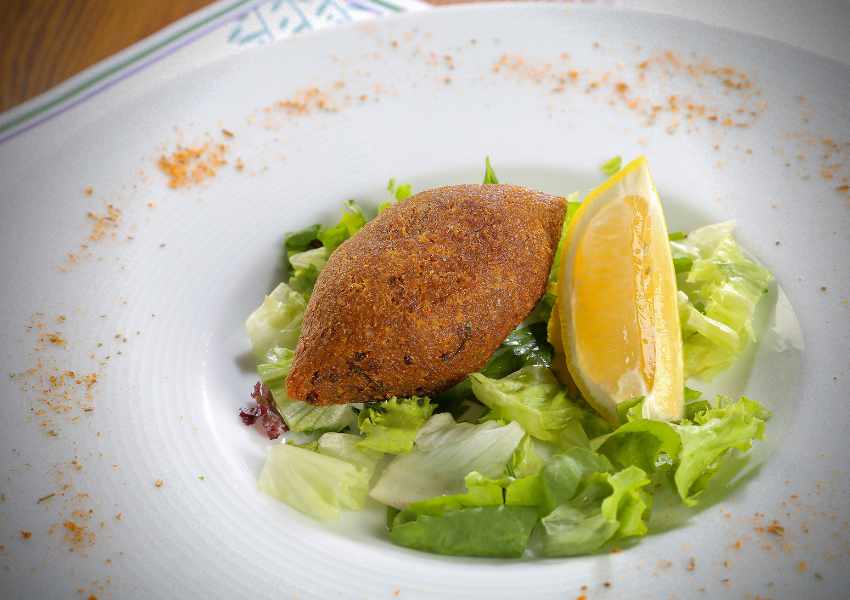 They're crispy on the outside and filled with a burst of flavors on the inside.
6. Balik Ekmek
One of the most iconic and tasty street foods is the Balik Ekmek, a fish sandwich that features freshly grilled or fried fish in a crusty bread, often accompanied by lettuce, tomatoes, and onions.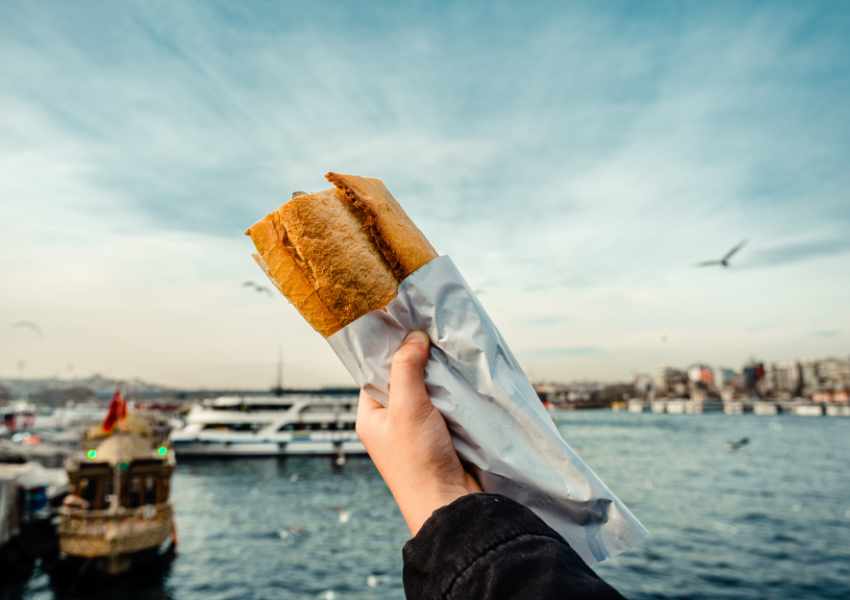 You can find these near the Galata Bridge, where vendors serve them fresh from their boats.
7. Gozleme
For a savory and filling snack, don't miss out on Gozleme, a thin dough filled with various ingredients such as spinach, cheese, potatoes, or minced meat, and then cooked on a griddle.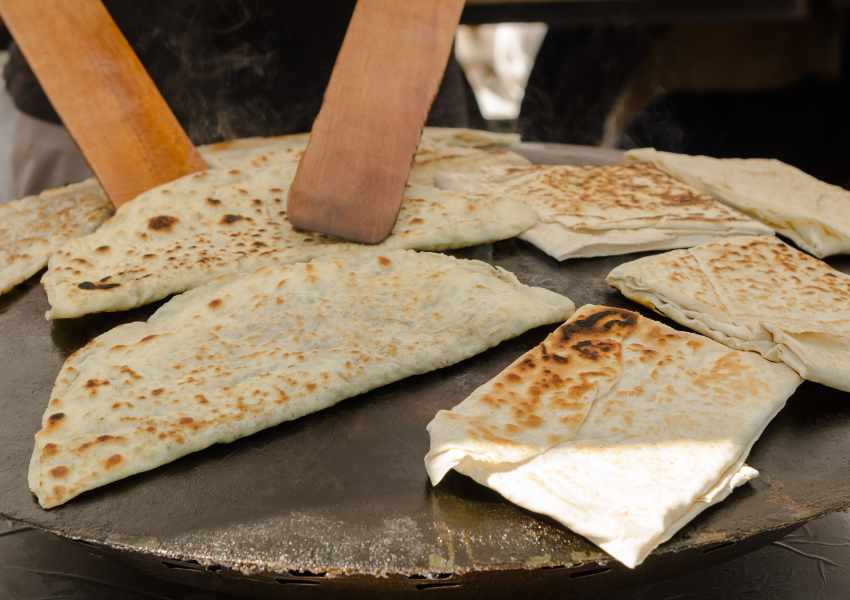 It's like a Turkish version of a stuffed pancake or crepe that you'll surely love.
8. Doner Kebab
Perhaps the most well-known Turkish street food is the Doner Kebab, made from seasoned and marinated meat, typically lamb or chicken, cooked on a vertical rotisserie.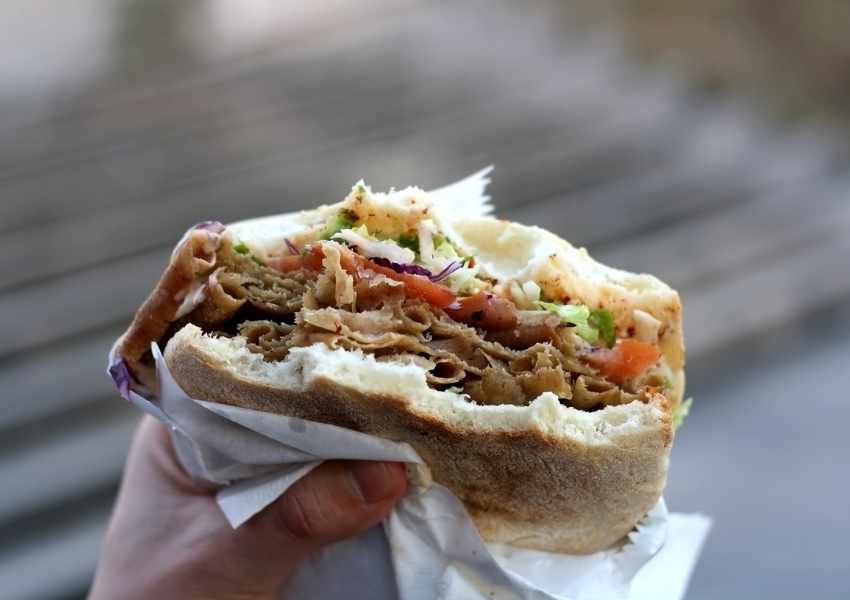 It is thinly sliced and served on its own or in a sandwich with fresh veggies and various sauces.
You may also like:
9. Kestane – Roasted Chesnuts
To enjoy a simple yet satisfying snack, try some roasted chestnuts, or Kestane, sold by street vendors in Istanbul.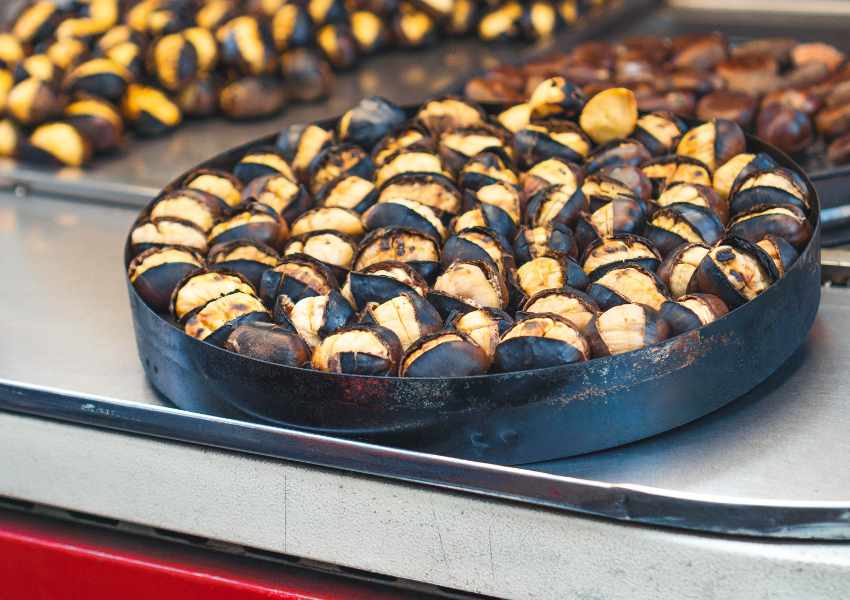 10. Karışık Tost
The Karışık Tost, or mixed toast, is not your average grilled cheese sandwich.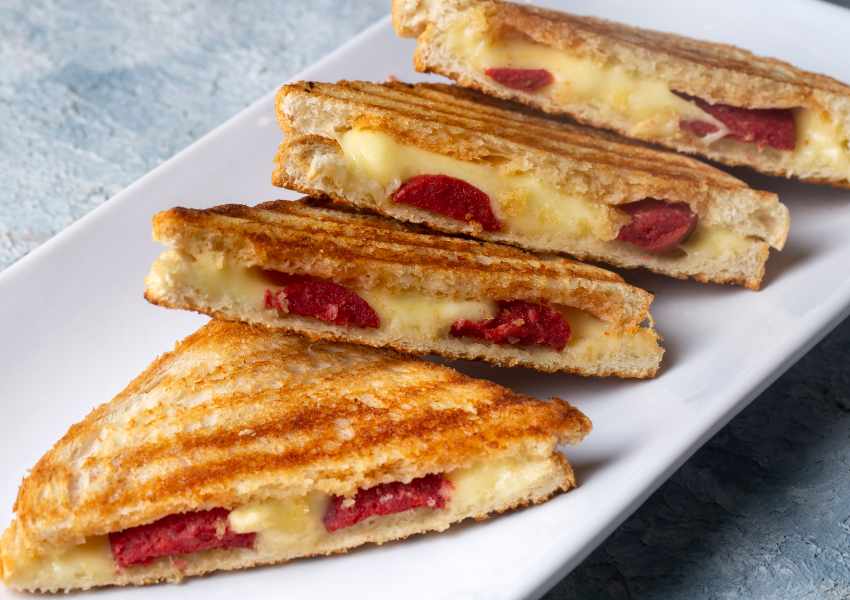 It can include a variety of fillings, such as sausage, tomato, and more, grilled to melty perfection. It's a great street food in Istanbul for a quick and filling bite to eat.
11. Tantuni
Tantuni, made of thinly sliced beef or chicken cooked with tomatoes, onions, and spices, is wrapped in a thin flatbread and garnished with parsley and sumac.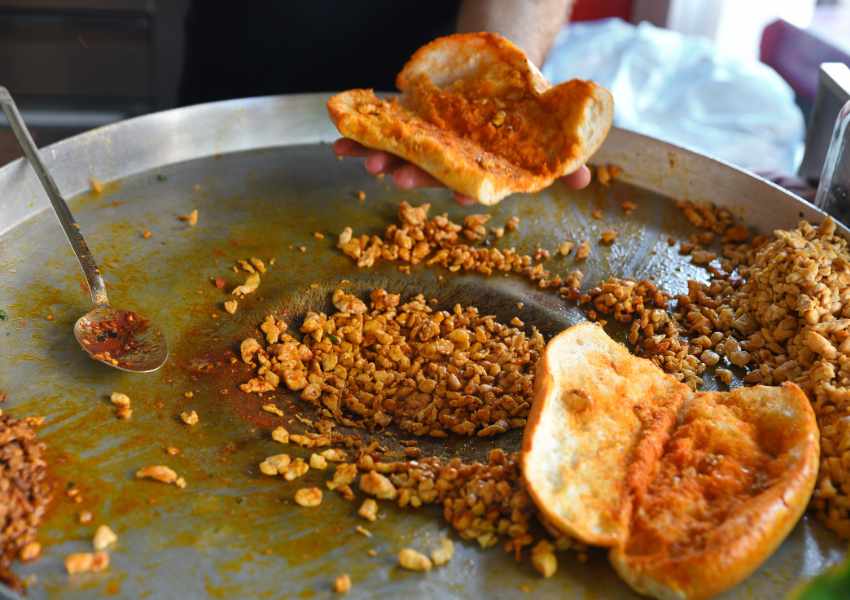 This delicious wrap is a must-try when wandering the streets of Istanbul.
12. Koçan Mısır
Get a taste of the simple yet scrumptious Koçan Mısır, or corn on the cob.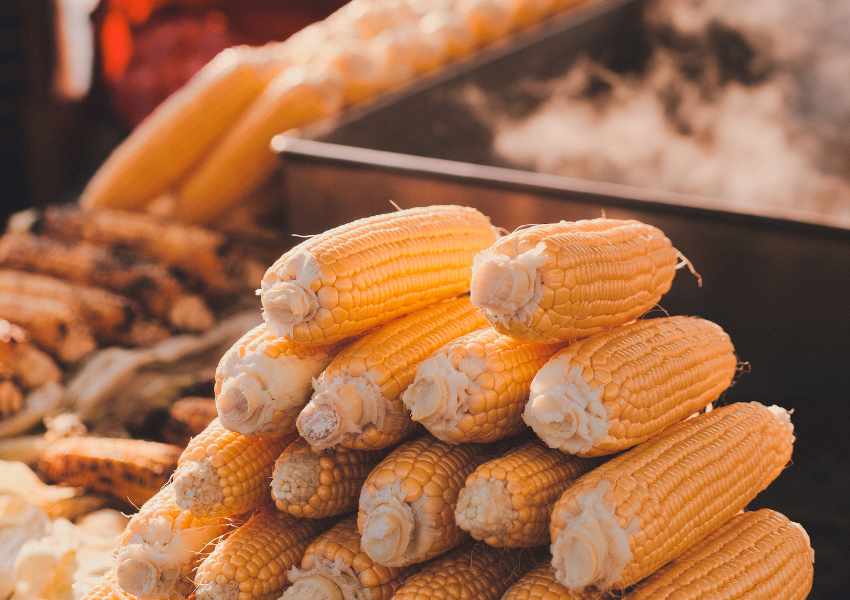 It's typically grilled on charcoal and brushed with butter and spices, making it a tasty and easy-to-eat snack.
13. Midye Tava
A popular seafood dish, Midye Tava consists of deep-fried mussels on a skewer.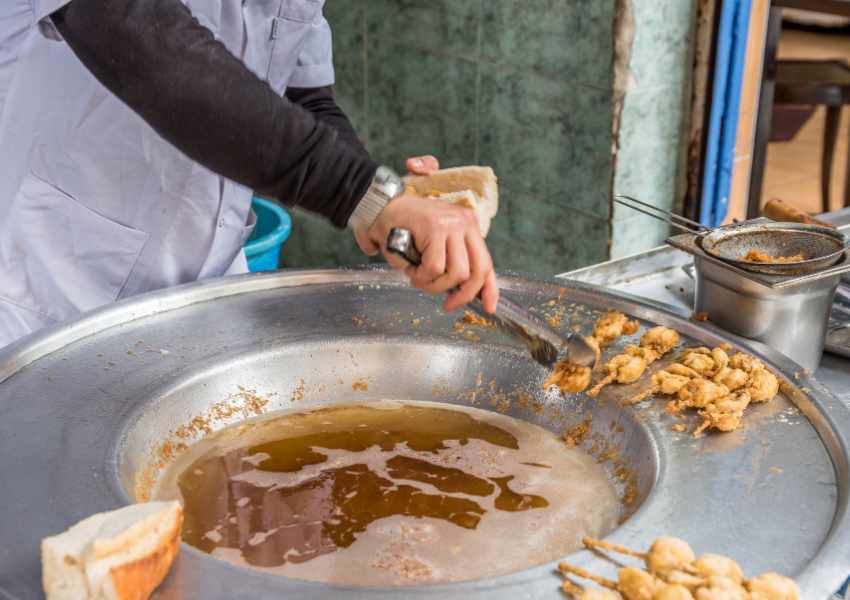 Golden and crispy on the outside, with a tender mussel inside, they are often served with a tangy garlic sauce.
14. Simit
Simit is a circular sesame-covered bread that's often eaten on the go and is a perfect street food in Istanbul for breakfast.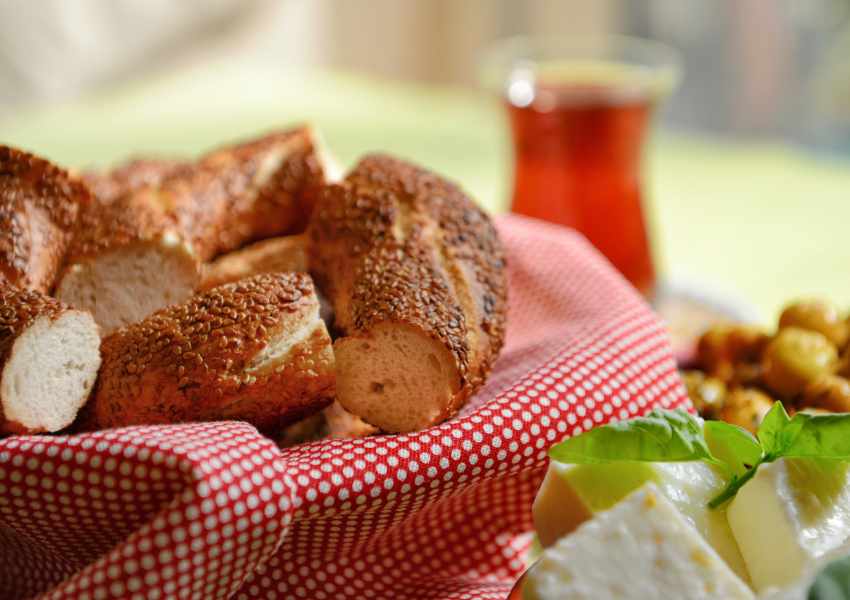 Resembling a bagel, it can be enjoyed on its own or with various fillings like cheese or jam.
15. Midye Dolma
If you're a fan of seafood, give Midye Dolma a try when it comes to street food in Istanbul.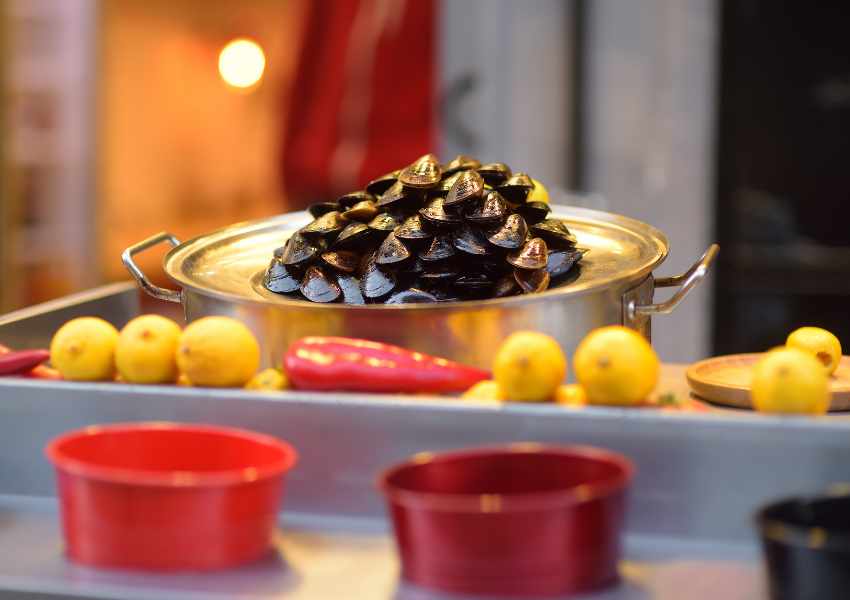 These stuffed mussels are filled with a spiced rice mixture, bursting with flavor in every bite.
They're served with a lemon wedge, adding a tangy zest to the dish.
Street Food in Istanbul: Desserts
16. Dondurma
When you need a sweet treat, you should definitely try the unique Turkish ice cream, Dondurma.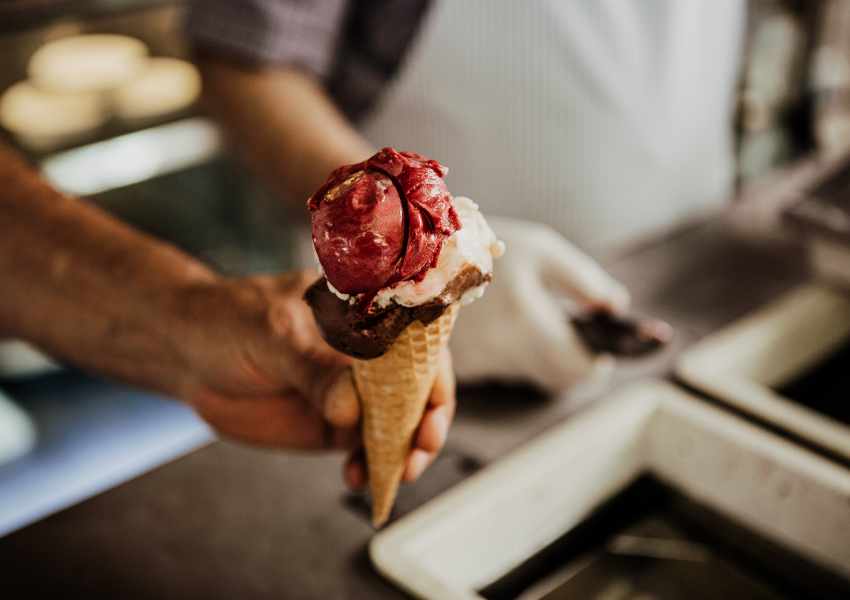 Made with a mix of milk, sugar, salep, and mastic, it's known for its stretchy and chewy texture.
17. Halka Tatlısı
Halka Tatlısı, or Turkish churros, are deep-fried dough rings coated in a sugar syrup.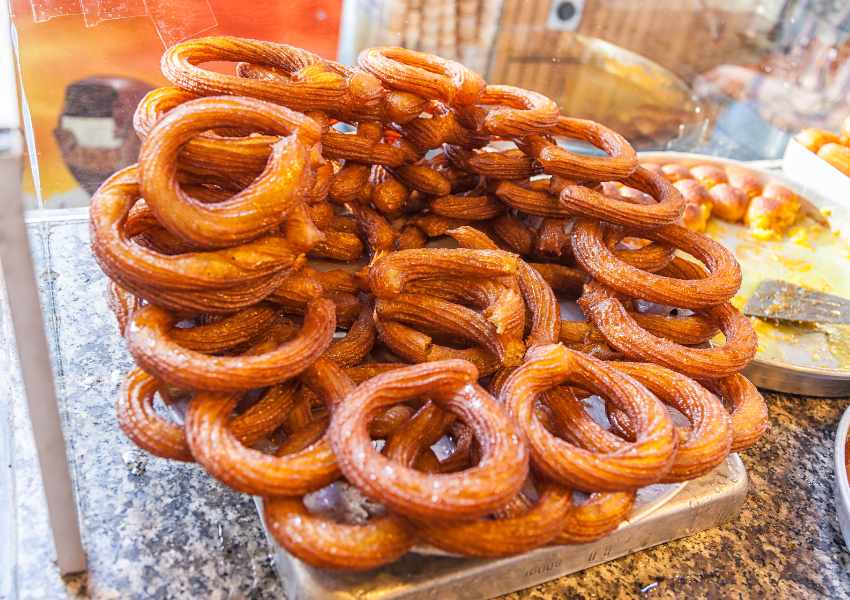 They are light, addictive, and perfect for satisfying your sweet tooth while on the go.
18. Lokma
Lokma are bite-sized fried dough balls soaked in a sweet syrup.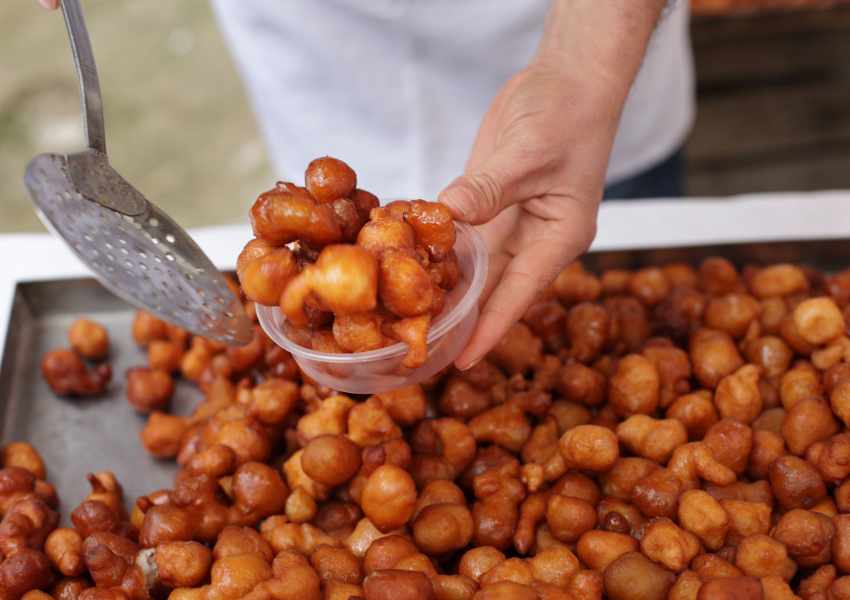 These Turkish doughnuts are sticky, sweet, and simply irresistible.
19. Baklava
Baklava is a sweet and flaky pastry that is a staple in Turkish cuisine.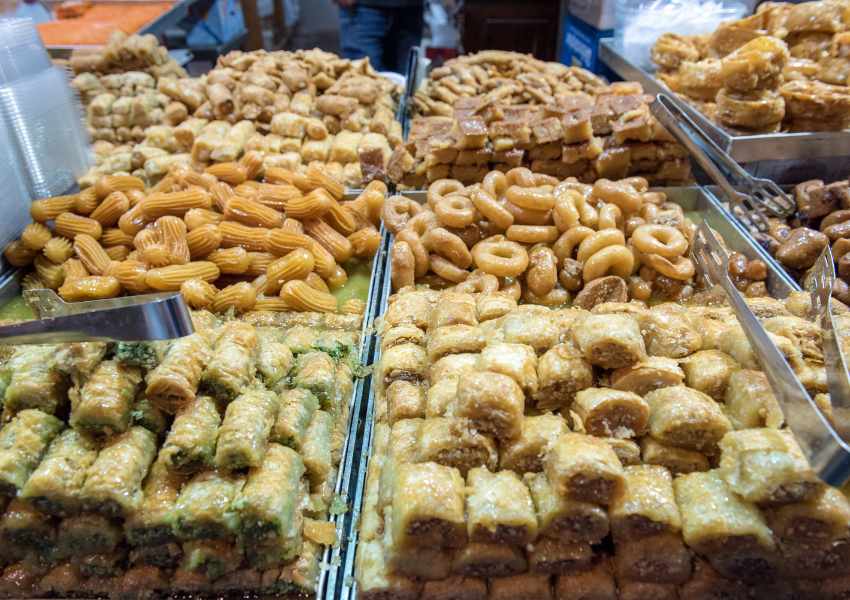 The dessert is made with layers of phyllo dough that are brushed with butter and filled with chopped nuts, such as pistachios, walnuts, or almonds.
The layers are then stacked on top of each other and baked until golden brown.
Baklava is often served as a dessert after a meal or as a sweet treat with a cup of Turkish tea. It's definitely one of the best street food in Istanbul for sweet tooths!
Tips for Eating Street Food in Istanbul
Here are a few tips to help you fully enjoy this delicious gastronomic experience.
Check for cleanliness: First and foremost, pay attention to cleanliness. Look for vendors that maintain their stalls and utensils in a clean state.
Cleanliness is key to avoid any health issues that might arise from consuming street food.
Don't be afraid to ask questions! If you're curious about the ingredients, preparation, or even the history of certain dishes, feel free to ask the vendor.
They're usually proud of their craft and more than happy to share their knowledge. Plus, it's an excellent way to strike up a conversation with locals.
Be adventurous with your choices. The street food in Istanbul is filled with amazing options like grilled corn, roasted chestnuts, and the famous simit.
Try out new dishes and flavors, and don't hesitate to go off the beaten path for some truly unique culinary finds.
Make sure to carry cash. Many street food vendors in Istanbul only accept cash, so it's always a good idea to have a few small bills and coins on hand.
Immerse yourself in the culture. Turkish people love their street food, so don't just eat — observe!
Watch how the locals interact with the vendor, how they eat their food, and how they savor each bite.
Best Street Food Tours of Istanbul
This tour will have you exploring the intricate food scene of the Pera district.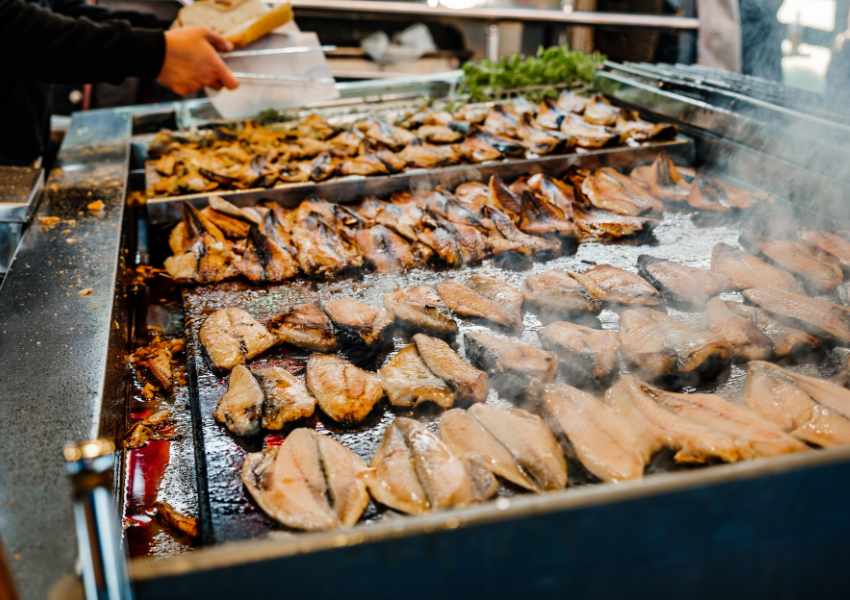 You will have the chance to explore hidden alleys and passages such as the Flower Passage, Hazzopulo, and Asmali Mescit.
The tour includes stops at traditional meyhanes, food markets, and various food stalls where you can taste a variety of local snacks, desserts, and drinks.
2. Guided Food Tour of Street Food and Markets – (Our top recommendation because it includes a visit to Karikoy, our favorite neighborhood in Istanbul that is not as popular for tourists!)
This food tour includes stops at cafes, markets, street stalls, and high-quality restaurants.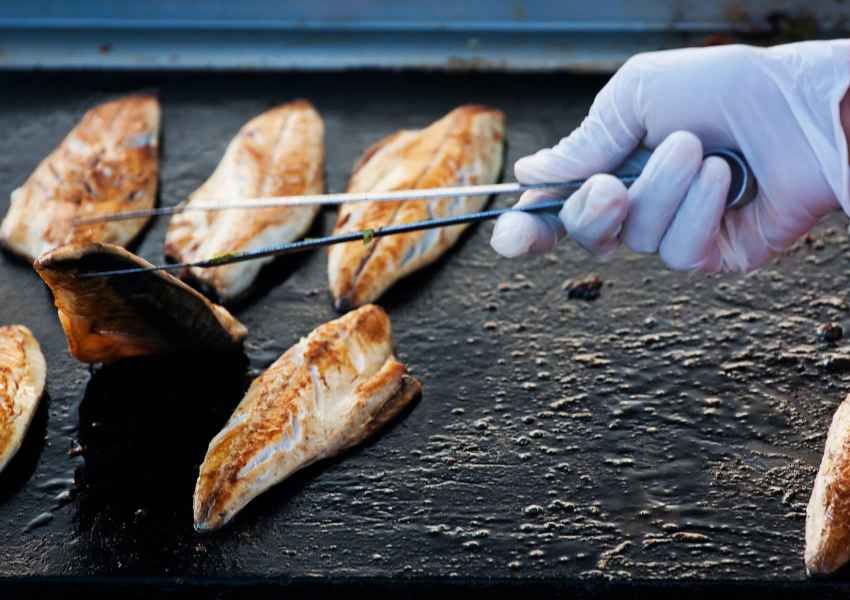 You will have the opportunity to try traditional Turkish dishes such as simit with honey and kaymak, menemen, İskender kebap, mussels stuffed with rice, balik ekmek, Kunefe, and Turkish coffee.
The tour also includes a ferry ride to Kadikoy on the Asian side of the city, where you can enjoy panoramic views and explore the bustling fish market.
Experience the vibrant heart of Taksim and Beyoğlu on this food tour that takes you through the city's bustling streets in the evening.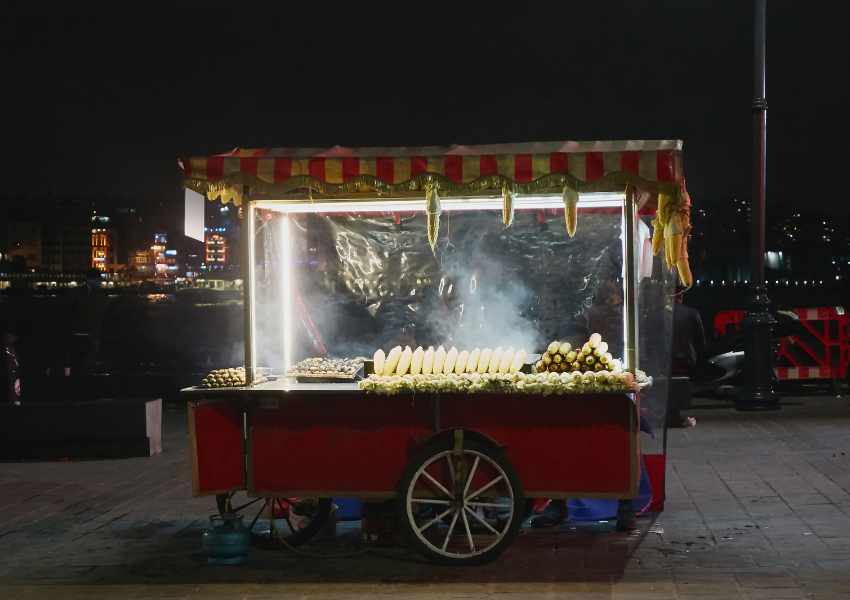 Join locals to sample the best street foods, traditional desserts, and specialties from Southeastern Anatolia.
This tour offers a unique opportunity to immerse yourself in the local Istanbul buzz and experience the city's authentic evening life.
Where to Find the Best Street Food in Istanbul
1. Kadikoy
Kadikoy is a lively district on the Asian side of the city offers an overwhelming array of delicious options.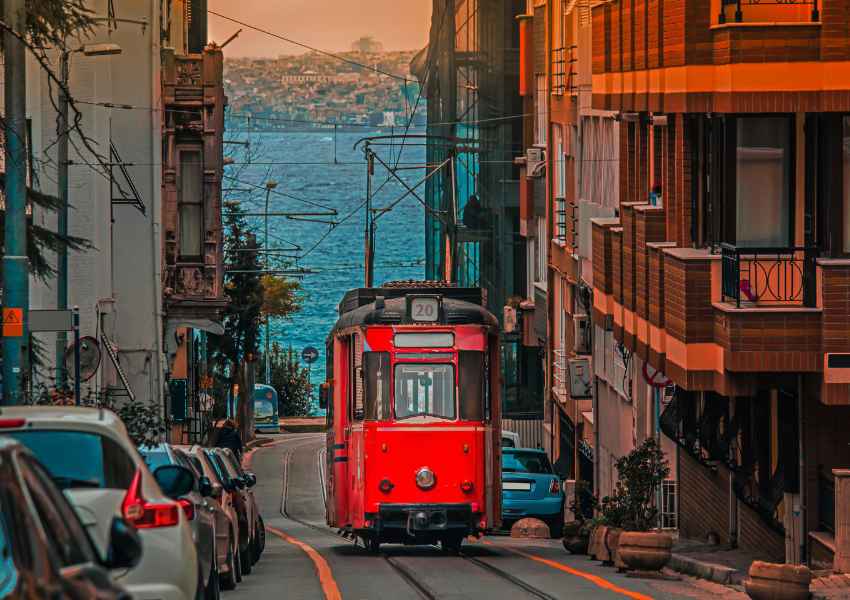 From irresistible pastries to mouthwatering kebabs – you're in for a treat!
As you wander through the bustling market streets, be sure to stop at a borek stand. These flaky, delicious pastries are stuffed with anything from savory spinach and feta cheese to sweet, oozy chocolate.
For a satisfyingly hearty meal, keep your eyes peeled for a durum vendor. These savory wraps are made from thin, unleavened bread and are loaded with tender, flavorful meats like chicken or beef.
Toppings may include tangy yogurt sauce, fresh vegetables, and spicy pepper flakes. They won't disappoint!
2. Besiktas
This bustling district lies on the European side of the city and offers an amazing variety of delicious dishes served up by friendly vendors.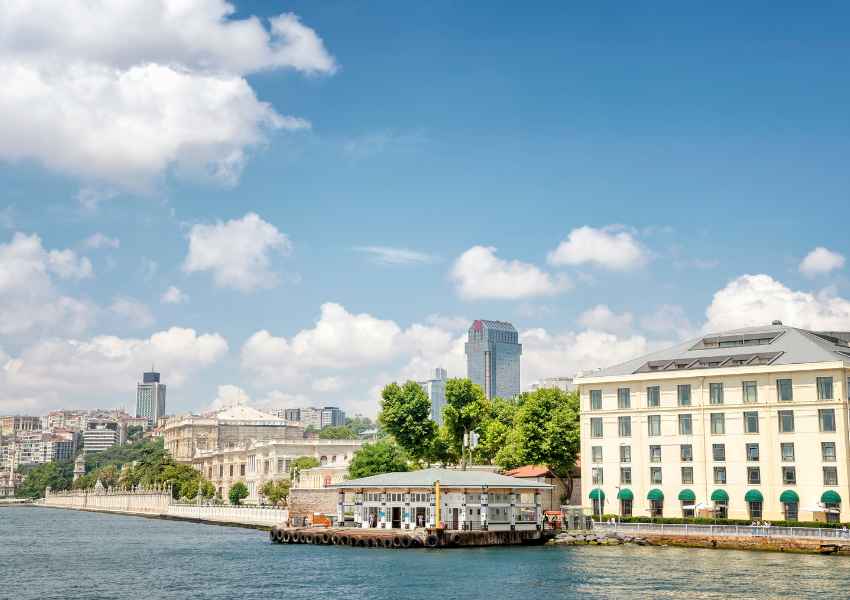 Start your food adventure by diving into the world of dürüm, a wrap made with thinly rolled flatbread filled with juicy meats like chicken, beef, or lamb.
You can customize your dürüm at a local stand by adding all sorts of toppings like fresh salads, pickles, and sauces. Trust us – once you take a bite, you'll understand why this is a must-try street food in Istanbul.
While walking the streets of Besiktas, you cannot miss the opportunity to taste a quintessential Turkish street food, simit.
This circular, sesame-covered bread is often called the Turkish bagel and can be found at every corner, freshly baked.
Kumpir is another iconic street food you simply must try while in Besiktas.
It's essentially a baked potato loaded with your choice of toppings such as cheese, sausage, corn, olives, and countless other delicious options.
3. Taksim Square
As the bustling heart of the city, Taksim Square is filled with various food carts and kiosks you can satisfy your palate with.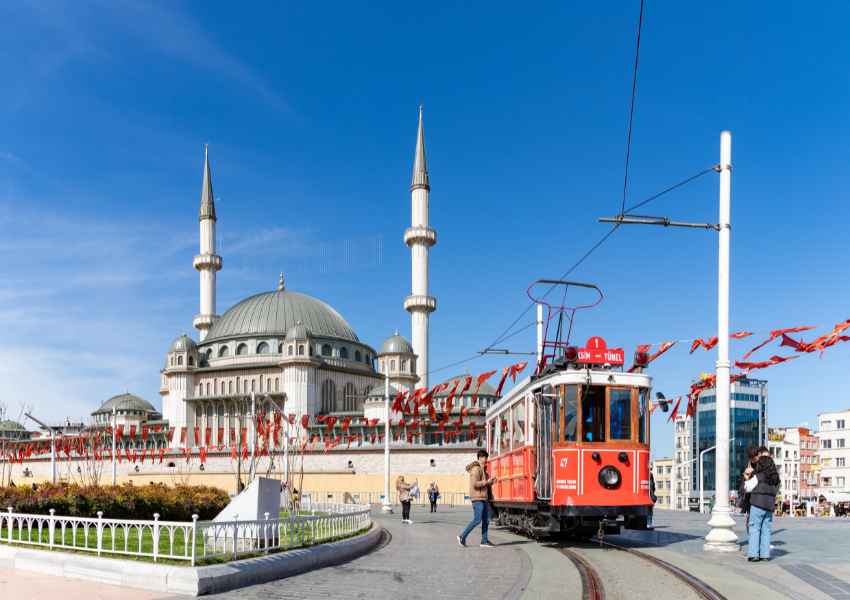 To start, dig into a simit. It's a sesame-encrusted bread, sometimes referred to as a Turkish pretzel.
You'll find it around the square, especially in the morning, where both locals and tourists line up to grab some freshly made ones. Pair it with tea or Turkish coffee for a perfect breakfast.
Afterwards, try the nationally loved döner kebab. Often served in a wrap with fresh veggies and yogurt sauce, this thinly sliced meat is cooked on a vertical rotisserie.
Numerous stalls around Taksim Square sell top-quality döner, so you'll be spoilt for choice.
4. Eminönü
This bustling waterfront area is filled with vendors offering an array of traditional dishes that you'll definitely want to dig into.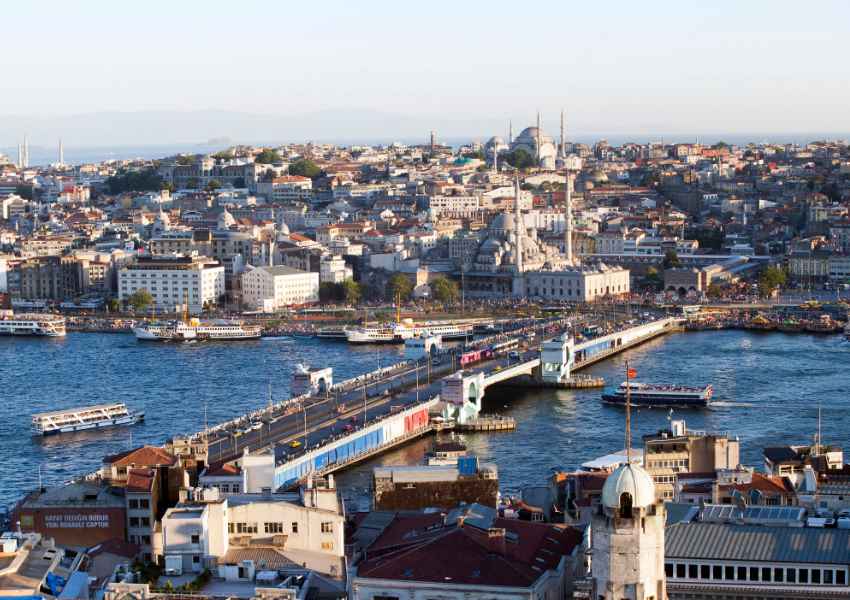 Start your culinary adventure with the iconic simit, a circular sesame-coated bread. You'll easily find carts selling this Turkish favorite all around Eminönü, perfect for a quick and satisfying snack.
If you're a fan of seafood, don't miss the famous balık ekmek (fish sandwiches).
Docked at the waterfront near the Galata Bridge, you'll find boats grilling fresh fish and serving them in a fluffy bread, typically topped with onions, lettuce, and juicy tomatoes. Your taste buds will be grateful!
Eminönü is also known for its mouthwatering selection of kebabs. Venture through the lively streets to find a plethora of vendors grilling all kinds of marinated meats, served with vegetables and fluffy rice, or wrapped up in a soft lavash bread.
5. Karakoy
As you wander through the lively streets of Karakoy, your senses will be delighted by the enticing aromas and vibrant colors of delicious street food.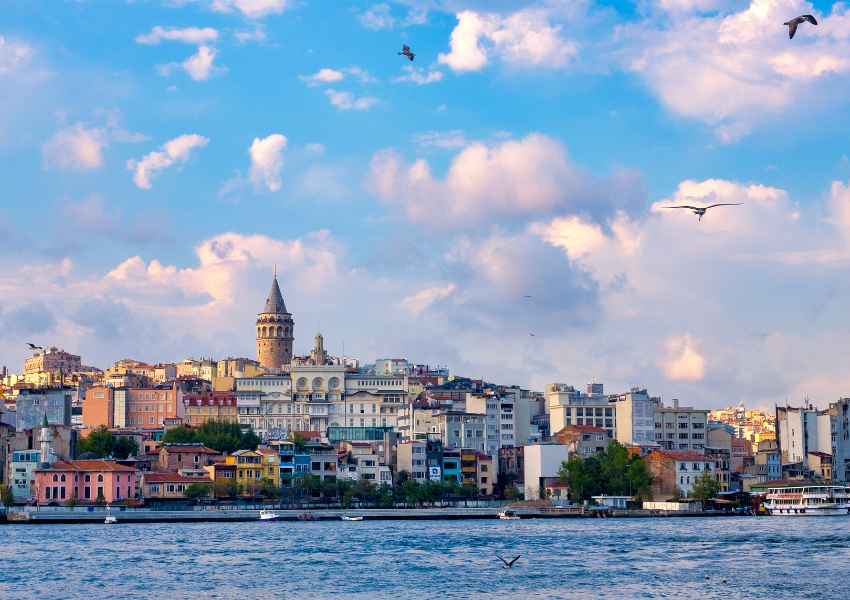 This bustling area is known for its rich variety of affordable and delectable treats, perfect for both tourists and locals alike.
In this neighborhood, you'll come across the iconic Islak Hamburger, a steamed burger filled with fresh herbs and a signature tomato-based sauce.
Don't miss out on the chance to grab a juicy Islak Hamburger from Kizilkayalar – it's a favorite spot among food lovers.
Karakoy is also famous for its mouth-watering Borek, thin layers of pastry filled with cheese, spinach, or meat.
FAQs About Street Food in Istanbul
What is the most popular street food in Istanbul?
Some popular options when it comes to street food in Istanbul includeSimit (a sesame-covered bread ring), Gözleme (Turkish stuffed flatbread), Balık Ekmek (fish sandwich), and Çiğ Köfte (raw meatballs, usually served vegetarian).
Where are the main areas to find amazing street food?
You can find amazing street food throughout Istanbul, but some key neighborhoods stand out.
Head to Kadıköy, Karaköy, Beşiktaş, and Eminönü neighborhoods for an abundance of street food vendors.
Also, explore markets such as the Grand Bazaar and Spice Bazaar for a mix of traditional and modern street food options.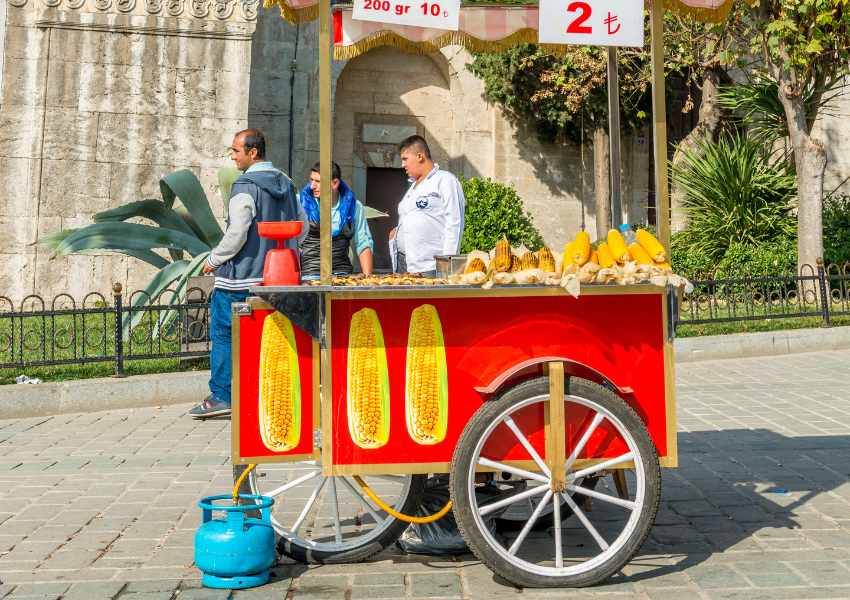 What are the best street food spots in Taksim Square?
Taksim Square, a lively area in Beyoğlu, offers a variety of street food options.
Some go-to spots include Osmanlı Şehzade Kumpir, famous for their kumpir; Dönerci Şahin Usta, known for tasty döner; and Ortaklar Kebap Lahmacun, a must-visit for those craving juicy kebabs and lahmacun (Turkish pizza).
What are some unique Turkish street food names?
Turkish street food is not only delicious but has some unique names that catch your attention.
Look out for dishes such as Kokoreç (grilled sheep intestines), Midye Dolma (stuffed mussels), Tavuk Göğsü (chicken breast pudding), Ayran (yogurt drink), and Boza (a thick, fermented drink made from bulgur).
What are some delicacies to try on Istanbul streets?
For a true Istanbul street food experience, don't miss out on these local delicacies: Marşandiz Pidesi, a boat-shaped bread with various toppings; Islama Kebap, lamb doused in tomato sauce, butter, and pita bread; Hamsi Tava, fried anchovies; and Tantuni, spicy meat and vegetable wraps.
How much should I expect to pay for street food?
Istanbul street food is known for its affordability and great value.
Based on your choice of dish and location, prices can vary, but generally, you can enjoy a fulfilling meal for as low as 5 to 20 TRY (around $0.50 to $4).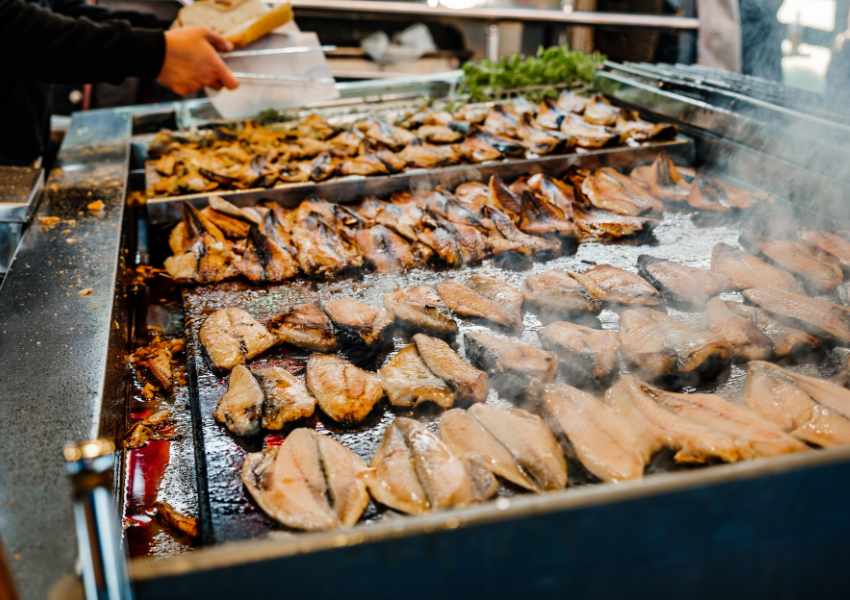 Street Food in Istanbul: Conclusion
In conclusion, Istanbul's street food scene is a true delight for foodies and travelers alike.
From the savory flavors of Turkish kebabs to the sweet and sticky goodness of baklava, the street food in Istanbul offers a unique and authentic taste of Turkish cuisine.