2 Day Tokyo Itinerary: 15 Must-See Spots + Itinerary Ideas
Looking for the best things to do on a 2 day Tokyo itinerary? If you only have 48 hours in the Japanese capital, here's what to do!
Tokyo is a bustling metropolis that offers a unique blend of modernity and tradition.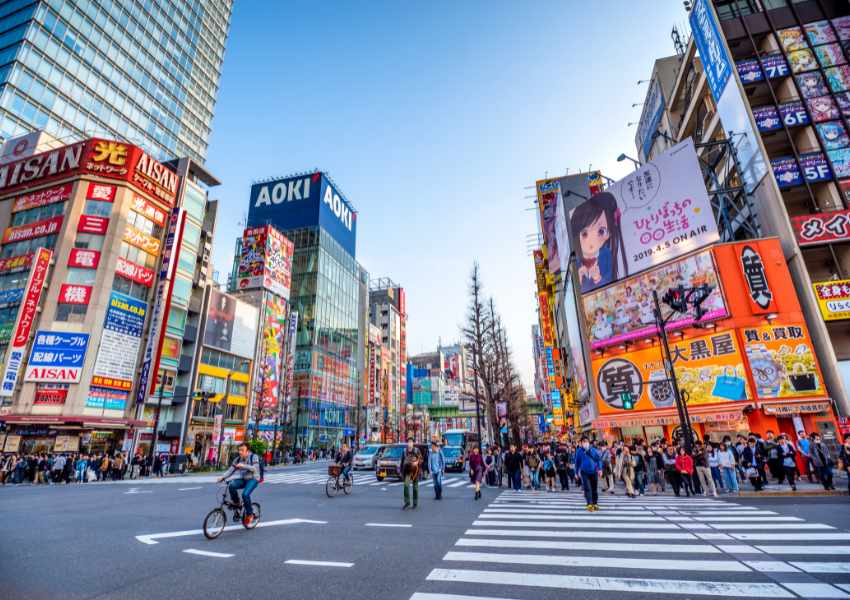 With so much to see and do in Tokyo, planning your itinerary can be overwhelming. But fear not, we have put together a comprehensive guide to help you make the most of your two days in this vibrant city.
Whether you're a first-time visitor or a seasoned traveler, this 2 day Tokyo itinerary will take you on a journey through the best of the capital's culture, food, and attractions.
Are Two Days in Tokyo Enough?
If you're planning a trip to Tokyo, you may be wondering if two days is enough time to experience everything this bustling city has to offer.
While it's true that Tokyo is a massive city with endless things to see and do, two days can still be enough time to get a taste of what makes Tokyo so special.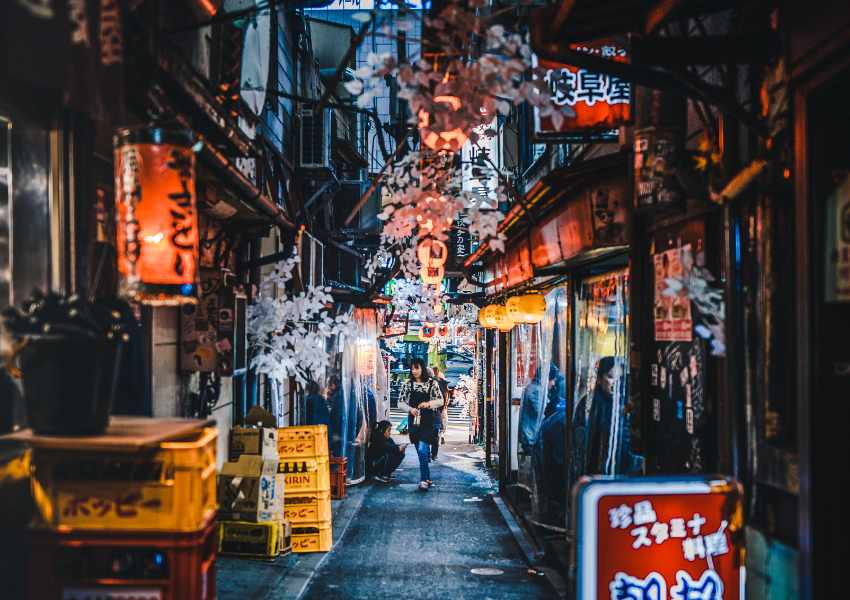 What Can You Do On a Tokyo 2-Day Itinerary?
With two days in Tokyo, you'll be able to visit some of the city's most famous landmarks and neighborhoods, as well as sample some of its delicious cuisine.
Here are just a few of the best activities to include on your 2 day Tokyo itinerary:
Best Things to Do on a 2 Day Tokyo Itinerary
1. Tsukiji Fish Market
If you're visiting Tokyo for two days, you should definitely start your second day with a trip to the famous Tsukiji Fish Market.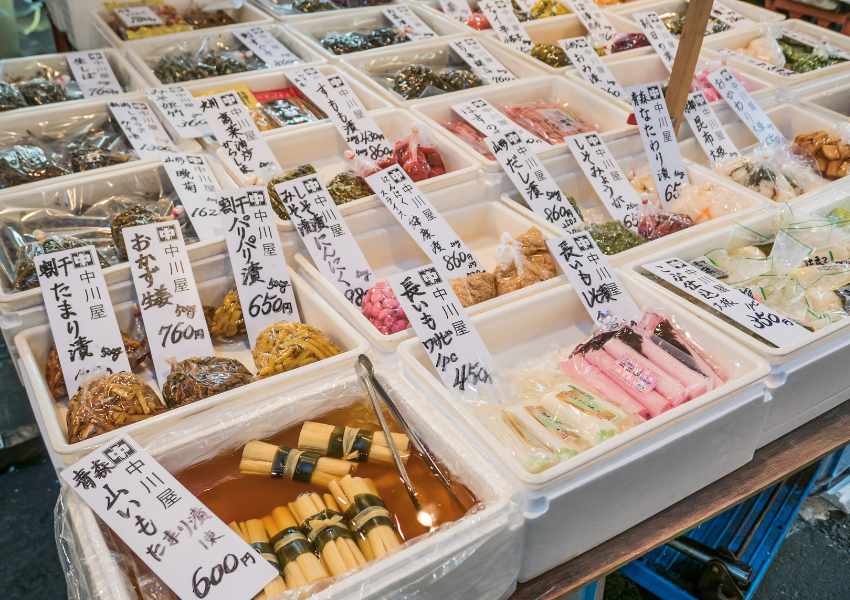 You'll get to witness the bustling atmosphere and have a unique cultural experience.
Arrive early at the market, ideally around 5 AM, to catch the famous tuna auction.
Be aware that the number of visitors allowed to enter is limited, so it's best to arrive in advance.
Don't miss out on exploring the wholesale area, where you can see various types of fresh seafood being prepared for sale.
Once you've enjoyed observing the market activity, it's time to indulge in some delicious food.
There are countless sushi and seafood stands to choose from, serving up some of the freshest bites you'll ever taste. A few crowd favorites include:
Sushi Dai: Known for its amazing Omakase set, a selection of the chef's best sushi.
Daiwa Sushi: Another popular spot with an exceptional set menu.
Yamazaki: A popular choice for those wanting to try a delicious seafood rice bowl.
Tsukiji Outer Market tours:
Tsukiji Outer Market Food and Drink Walking Tour: This tour is a wonderful way to experience the market. You'll get to explore the maze of stalls, sample a range of unique foods and drinks, and get to learn about the history and importance of the market in Tokyo.
2. Asakusa
While strolling through this vibrant district that combines the old and new Tokyo, you'll find the iconic Senso-ji Temple welcoming you with its majestic charm.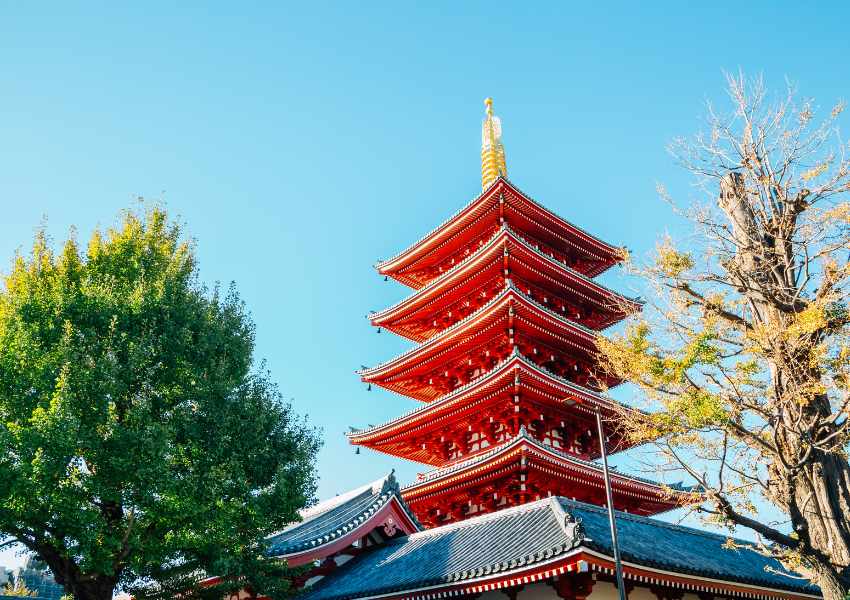 You can start by admiring the beauty of Tokyo's oldest temple, which also serves as a hub of cultural activities throughout the year.
Afterward, take a walk in Nakamise Shopping Street. It's a lively pedestrian street lined with traditional souvenir shops and local food stalls.
Savor some interesting Japanese street food items like taiyaki (fish-shaped cake filled with red bean paste) and ningyo-yaki (doll-shaped cake), as you explore the colorful alley teeming with Japanese crafts and souvenirs.
A little further down, relax as you hop on a traditional rickshaw ride. It's a fun and unique way to explore Asakusa, with a knowledgeable guide showing you the sights and sharing local stories.
These rides usually last around 30 minutes, but you can opt for a longer, more in-depth experience if you prefer.
3. Tokyo National Museum
Visiting the Tokyo National Museum is a must on any 2 day Tokyo itinerary, where you'll be able to see the best Japanese art has to offer.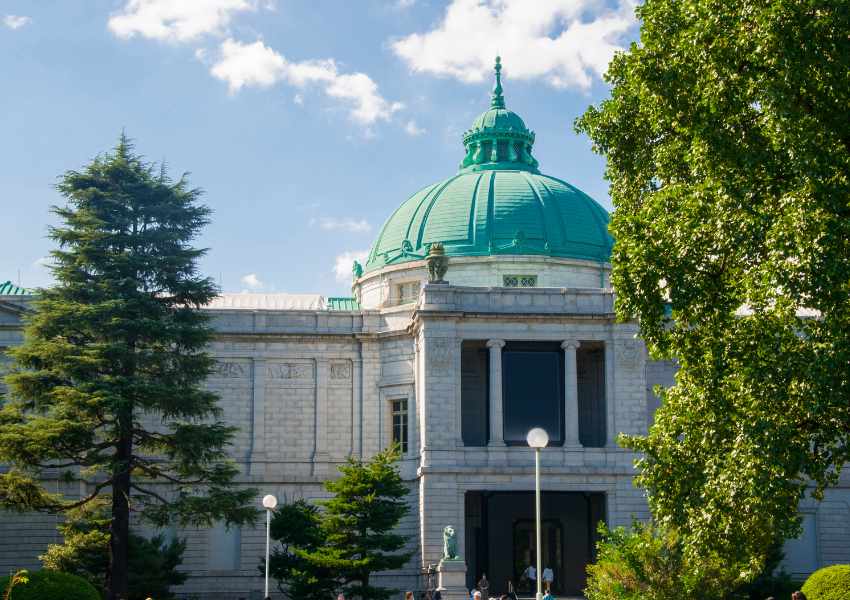 Start at the Honkan Gallery, which showcases impressive Japanese art pieces.
You'll be amazed by the samurai armor, ancient pottery, and elegant calligraphy. The decorative folding screens and scrolls provide a window into Japan's rich history.
Next, explore the Heiseikan gallery, which hosts engaging exhibitions about Japanese archaeology.
You'll discover artifacts from the Jomon period, offering insights into Japan's prehistoric cultures. The Heiseikan gallery also has a beautiful Japanese garden, perfect for a serene break.
Don't forget to visit the Gallery of Horyuji Treasures. This modern, architecturally stunning building houses an array of relics from the Horyuji Temple.
The Buddhist statues and artwork represent the harmonious relationship between Japanese and Chinese culture.
If you still have time, you can also check out the Hyokeikan and the Kuroda Memorial Hall.
The Hyokeikan focuses on educational programs, and the Kuroda Memorial Hall exhibits the work of celebrated Japanese painter, Kuroda Seiki.
Don't forget to get travel insurance for your trip! As always, I recommend Safety Wing for great prices and coverage abroad. It starts at only $45 USD per month and will have you covered with everything you may need during your trip! Check them out here.
4. Tokyo Skytree
The Tokyo Skytree is an icon and a must on any 2 day Tokyo itinerary as it offers incredible views of the city.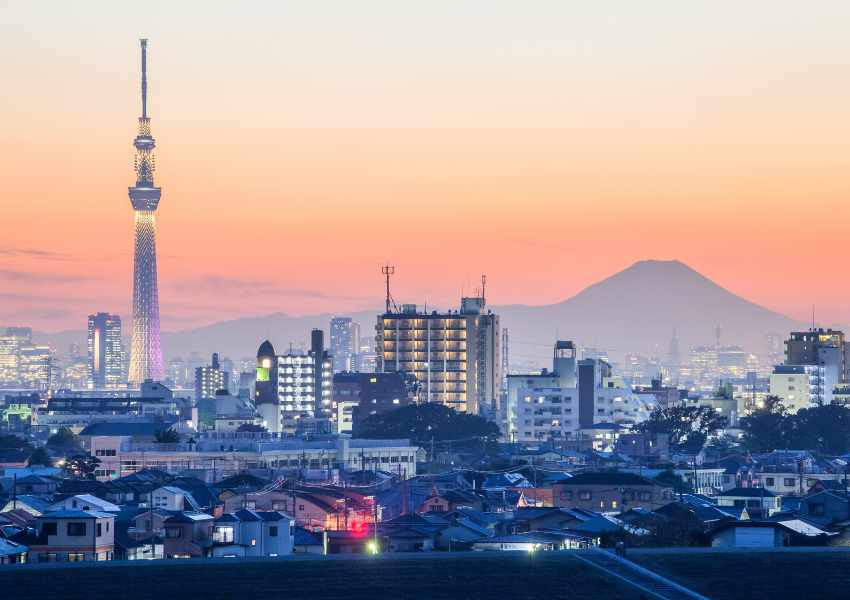 Standing at 634 meters, it's the world's tallest tower and the perfect spot to take in Tokyo's vast skyline.
Tokyo Sky Tree tours:
Skytree & Asakusa Historical Walk: In this tour, you'll get to explore Asakusa alongside a local guide as well as visit the famous Sky Tree in order to get an experience that mixes the old with the new.
Tokyo Sky Tree Admission Ticket: If you only want to snag your ticket and visit independently, you can book it in advance here.
5. Yoyogi Park
Yoyogi Park is a gorgeous park where you'll find plenty of lush gardens and striking ponds.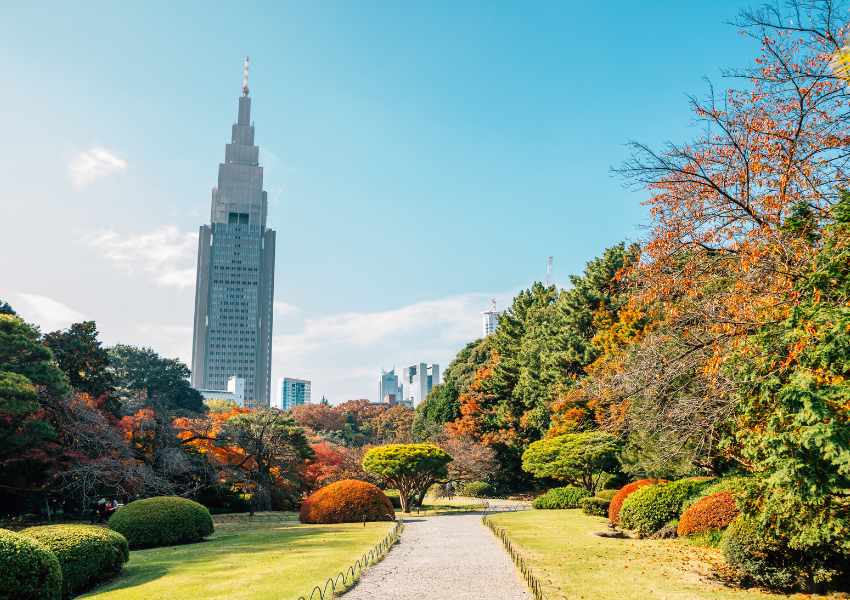 It's especially beautiful in spring, when hundreds of cherry blossoms bloom all over.
If you're scheduling your 2 day Tokyo itinerary on a weekend, you'll be in for a treat!
The park comes alive with vibrant street performers, musicians, and even impromptu dance parties.
6. TeamLab Planets
This immersive exhibit offers a unique and interactive experience that you won't want to miss on your 2 day Tokyo itinerary!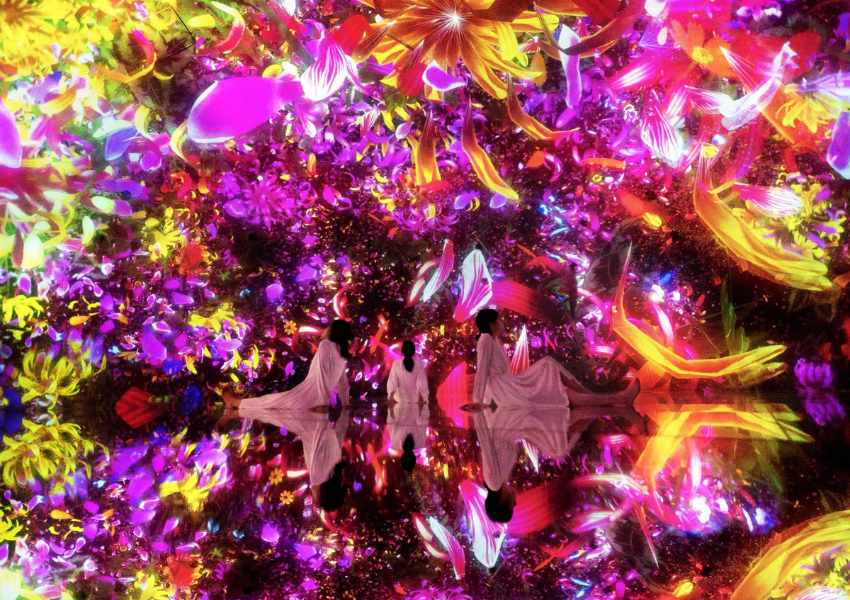 Upon entering, you'll be greeted by dazzling lights and digital projections. The exhibit boasts multiple rooms, each with its own distinct theme and ambiance.
One standout feature of this attraction is the use of water and reflections, enhancing the immersive aspect of the experience.
TeamLab Planets offers an unforgettable sensory experience, as art, technology, and nature combine to create a magical world.
From the hypnotic digital displays to the soothing soundscape, every element of this exhibit will captivate your senses.
To get the most out of your visit, try to set aside at least two hours to fully explore everything the exhibit has to offer.
→ Get your entrance ticket to TeamLab Planets Tokyo here.
7. Tea Ceremony
For a super fun and immersive activity, book yourself into a traditional tea ceremony.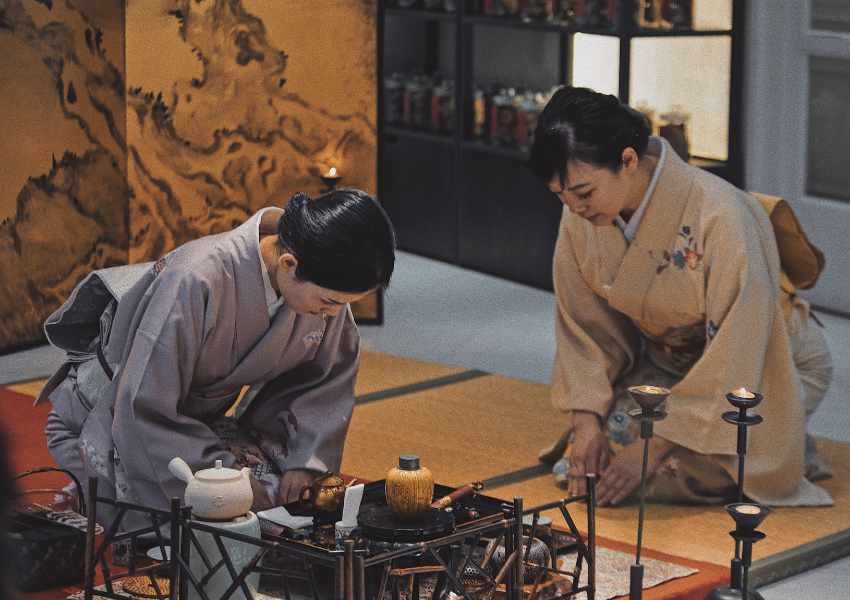 Tea houses are must-visits on any visit to Tokyo, but partaking in a ceremony will not only give you a deeper insight into Japanese culture, but also give you the chance to state delicious samples.
Tea Ceremonies To Book:
You may also like:
8. Shibuya Crossing
You've probably seen it in movies or pictures, but nothing compares to experiencing it in person.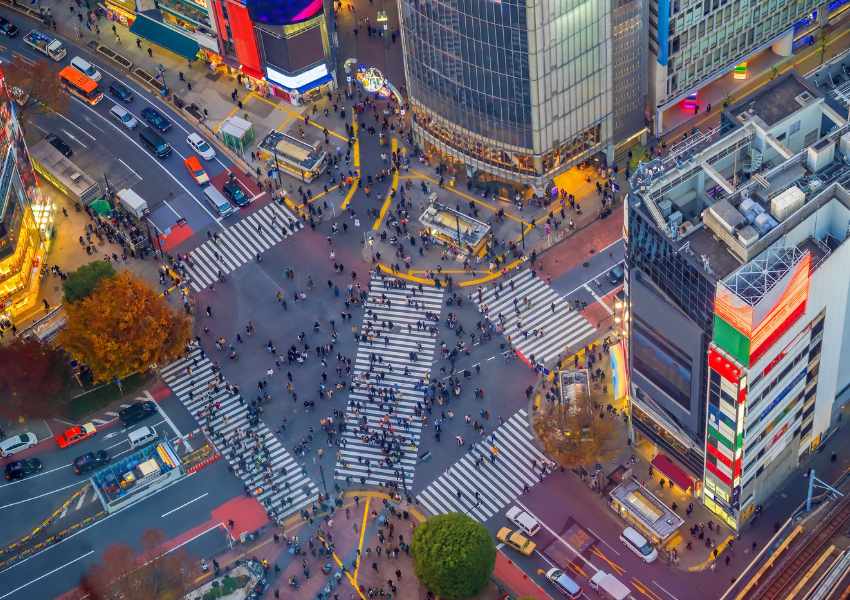 To truly take in the atmosphere, grab a seat at the nearby Starbucks or L'Occitane Café and watch the crowd.
From above, you'll see thousands of people crossing the street from different directions, but somehow magically not running into each other. It's quite mesmerizing.
After experiencing the crossing, consider exploring the surrounding neighborhood. There's plenty to see and do, including some popular spots like:
Hachiko Statue: Pay your respects to the loyal dog Hachiko, whose statue has become a well-known meeting spot.
Shopping: Hit the stores at Shibuya 109 or Center Gai for some retail therapy.
Nightlife: Dance the night away at local clubs like WOMB or SOUND MUSEUM VISION.
9. Izakaya Alleys
If you're looking to experience a lively Tokyo night, head over to one of the many izakaya alleys scattered around the city.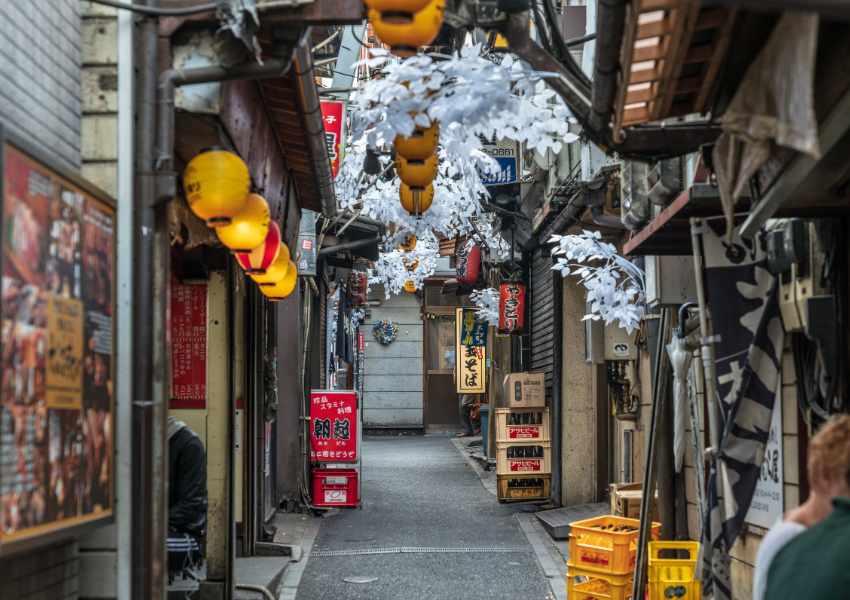 Here, you'll find rows of small traditional Japanese pubs called izakaya as well as narrow streets lined with lanterns and banners.
As you make your way through the alleys, don't be shy to pop into any izakaya that catches your eye.
Sample a variety of Japanese dishes like yakitori (grilled meat skewers), sashimi (fresh, thinly sliced raw fish), and takoyaki (octopus-filled dough balls).
Each izakaya alley has its unique flair, offering both traditional and modern interpretations of Japanese cuisine.
10. Ghibli Museum
The Ghibli Museum is a must-see for any Studio Ghibli fan and one of the highlights of your 2 day Tokyo itinerary.
Located in Mitaka, this enchanting museum brings the beloved animated films to life.
As soon as you arrive, you'll be swept away into the world of Studio Ghibli.
In the museum, you'll find exhibits showcasing the animation process, original artworks, and a whimsical rooftop garden featuring the beloved Laputa Robot Soldier.
Feeling peckish? The Straw Hat Café has got you covered. It offers a delightful selection of themed dishes and desserts that will satisfy your hunger.
Don't forget to stop by the museum shop, Mamma Aiuto!, to pick up a unique souvenir or two to remember your magical visit.
11. Watch A Sumo Practice
Witnessing a sumo practice is a unique experience that will give you an authentic glimpse into Japan's national sport.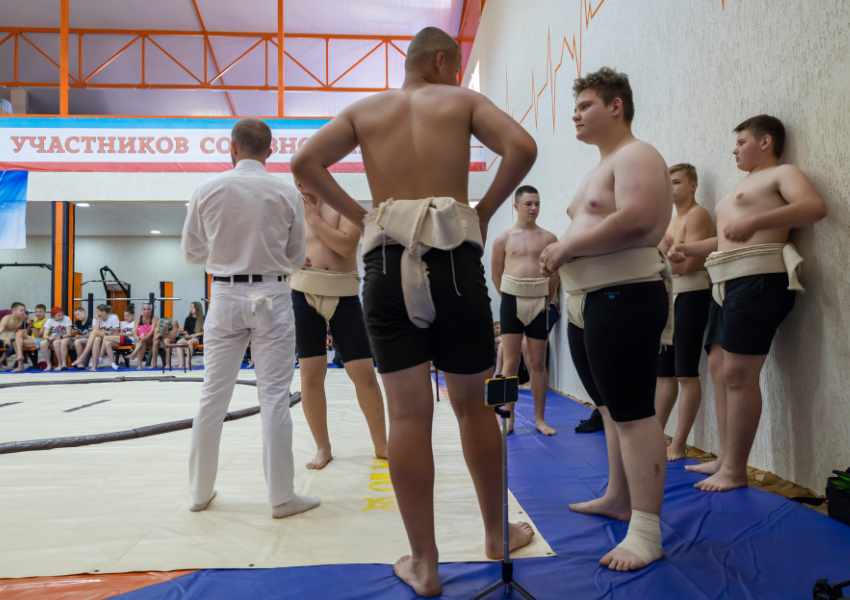 To catch a practice, head to the Ryogoku district, where you'll find a number of sumo stables.
Keep in mind that not all stables allow public viewing, so it's a good idea to confirm ahead of time.
Book a Sumo Practice:
12. Take a Cooking Class
Taking a cooking class is a fun and interactive way to learn about Japanese culture and cuisine.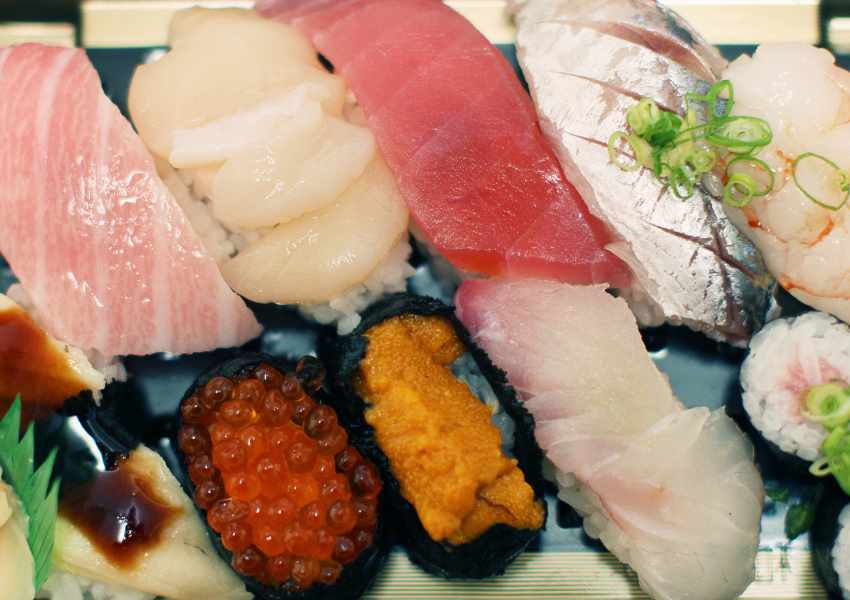 Plus, you'll have a fantastic time, and you might even make some new friends!
Japanese cooking techniques differ significantly from Western cooking styles, so it's an exciting opportunity to expand your culinary skills.
Another interesting aspect of these classes is that you may have the opportunity to explore local markets or experience traditional tea ceremonies.
This will give you a better understanding of Japanese ingredients and culture – it's like a mini-adventure all within the course of your class!
Best Cooking Classes in Tokyo:
13. Take a Street Food Tour
Tokyo is known for its delicious and diverse street food offerings, and there's no better way to get to know the foodie side of Tokyo than by taking a street food tour.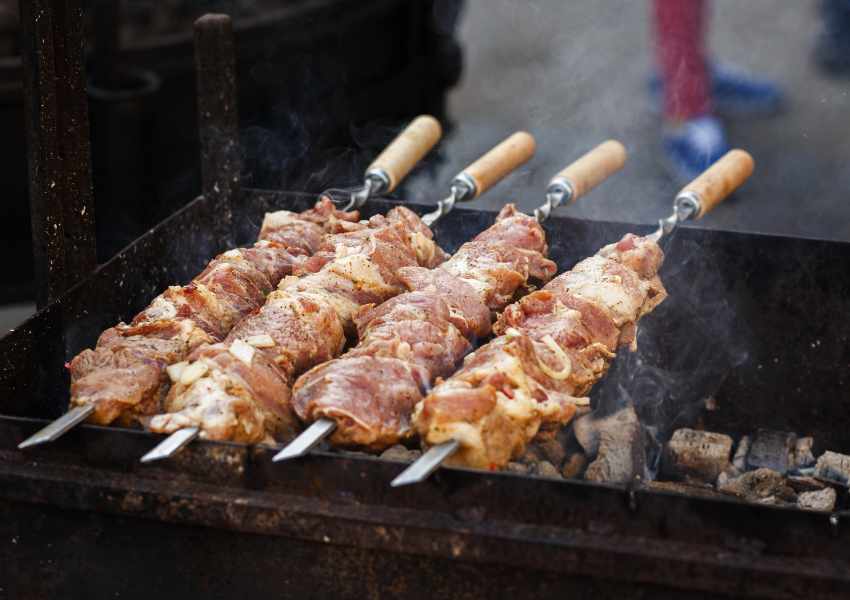 Even though you'll find it all over the city, if you really want to dive deep, a tour will give you the chance to check out the best places alongside a local as well as be able to learn more about what each dish is all about.
Street Food Tours in Tokyo:
Street Food Tour – Togoshi Ginza: Explore the hidden culinary gems of Togoshi Ginza by tasting savory and sweet treats and dishes and you explore a neighborhood that is on the Guinness World Records!
West-Side Cycling and Food Tour: Cycle around Tokyo on a 3.5 hour tour where you'll make lots of stops to eat street food from local vendors and observe local life in lesser-known areas.
14. Tokyo Tower
This iconic, red-and-white structure offers breathtaking views of the city from its two observation decks.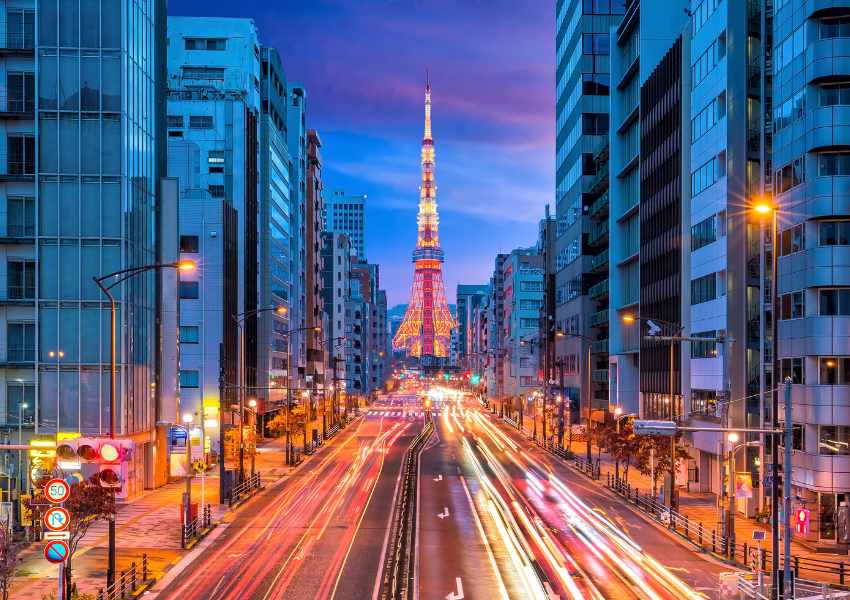 First, take the elevator to the Main Observatory at 150 meters high. Here, you'll find large windows offering 360-degree views of Tokyo.
On a clear day, you might even catch a glimpse of Mount Fuji in the distance. Don't forget to check out the "Lookdown Window" in the floor, if you dare!
After you've soaked in the sights from the Main Observatory, travel higher to the Top Observatory at 250 meters.
This is where you can enjoy an even more spectacular panoramic view of the city.
While you're at the Top Observatory, take a moment to admire the transparent Skywalk, which offers a thrilling walk on the stairs suspended high above the ground.
Near the base of Tokyo Tower, make sure to explore Foot Town. This multi-floor complex features shops, restaurants, and cafes, providing a perfect opportunity to pick up souvenirs, grab a snack, or relax with a coffee.
Here are some things to remember while visiting Tokyo Tower:
Opening hours: 9:00 AM to 11:00 PM (last entry at 10:30 PM)
Admission fee: ¥1,200 for adults (Main Observatory) and additional ¥700 for the Top Observatory
Access: A 5-minute walk from Akabanebashi Station on the Oedo Line
15. Sensoji at Asakusa
Sensoji is Asakusa's iconic ancient Buddhist temple and a must on your 2 day Tokyo itinerary.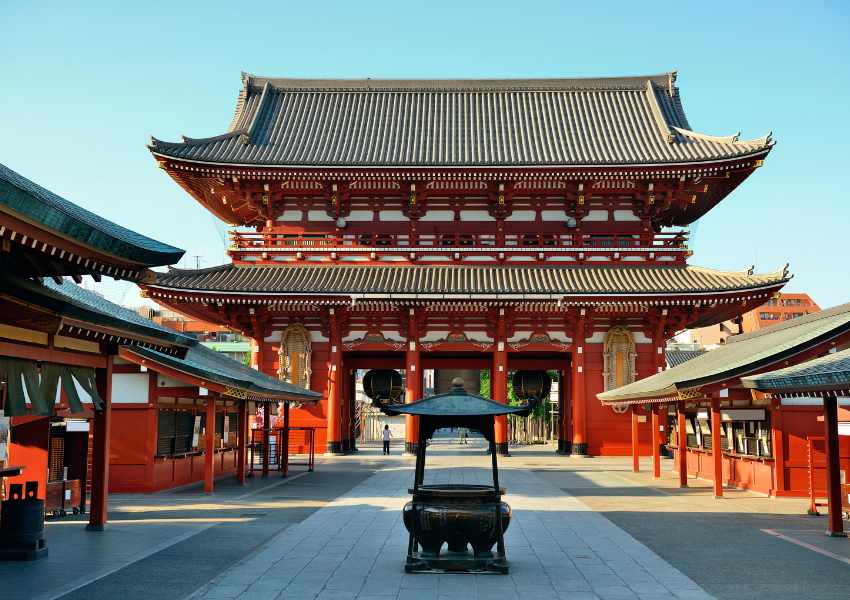 As you make your way to the temple's entrance, admire the colossal Kaminarimon Gate, which houses a stunning lantern, framed by two protective god statues.
Once inside, observe the stunning five-story pagoda and the Hozomon Gate, which holds a pair of giant sandals.
Don't miss the chance to:
Partake in Omikuji (fortune-telling) by drawing a numbered stick, which corresponds to a written fortune
Light some incense at the Jokoro in front of the main hall, and let the smoke surround you to bring good health and fortune
Visit the nearby Asakusa Shrine, a vibrant, peaceful sanctuary where you can find locals celebrating Shinto festivals and weddings.
2 Day Tokyo Itinerary Samples
To make planning easier, we put together several 2 day Tokyo itinerary samples:
2 Day Tokyo Itinerary 1
Day 1:
Start your day at Tsukiji Fish Market and enjoy a sushi breakfast at one of the many restaurants in the area
Visit Asakusa and explore the iconic Sensoji Temple
Head to the Tokyo National Museum and immerse yourself in the rich history and culture of Japan
End your day with a visit to the Tokyo Skytree for a stunning view of the city
Day 2:
Start your day with a stroll through Yoyogi Park and take in the beautiful scenery
Visit TeamLab Planets and experience the mesmerizing digital art installations
Enjoy a traditional tea ceremony at Sakurai Tea Experience
End your day with a visit to Shibuya Crossing and experience the hustle and bustle of Tokyo's busiest intersection
2 Day Tokyo Itinerary 2
Day 1:
Start your day at Shinjuku Gyoen National Garden and take in the beautiful cherry blossom trees (depending on the season)
Visit the Ghibli Museum and immerse yourself in the world of Studio Ghibli
Take a cooking class and learn how to make your own sushi or ramen
Visit Izakaya Alley in Shinjuku and taste some of the best Japanese food and drinks
Day 2:
Start your day by watching a sumo practice and learn about this traditional Japanese sport
Take a street food tour in the bustling neighborhoods of Harajuku and Shibuya
Visit Tokyo Tower and enjoy a panoramic view of the city
End your day with a visit to Sensoji at Asakusa and witness the beauty of this iconic temple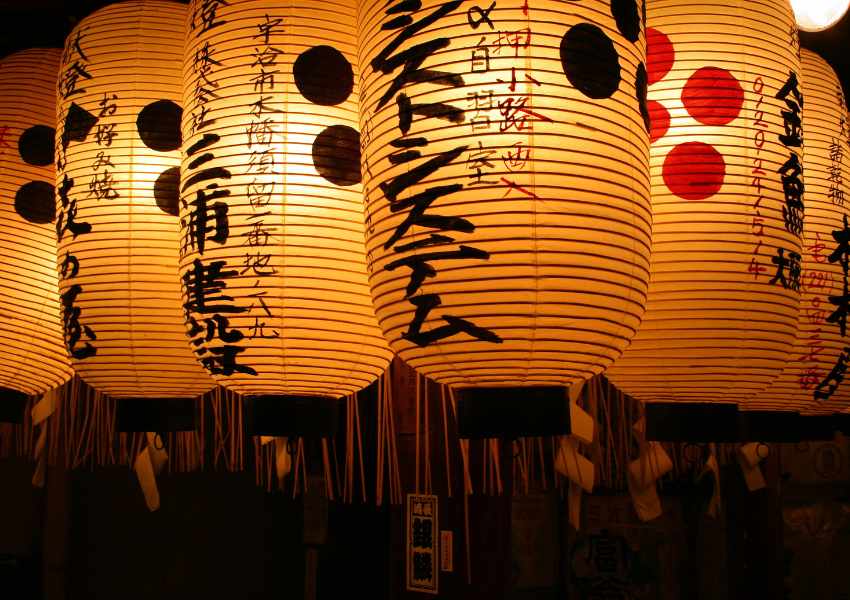 2 Day Tokyo Itinerary 3
Day 1:
Start your day at Tsukiji Fish Market and enjoy a sushi breakfast at one of the many restaurants in the area
Visit Asakusa and explore the iconic Sensoji Temple
Head to the Tokyo National Museum and immerse yourself in the rich history and culture of Japan
End your day with a visit to the Tokyo Skytree for a stunning view of the city
Day 2:
Start your day with a visit to Yoyogi Park and enjoy a picnic under the cherry blossom trees (depending on the season)
Visit TeamLab Planets and experience the mesmerizing digital art installations
Take a traditional tea ceremony class and learn about Japanese tea culture
End your day with a visit to Shibuya Crossing and witness the famous scramble intersection come to life at night.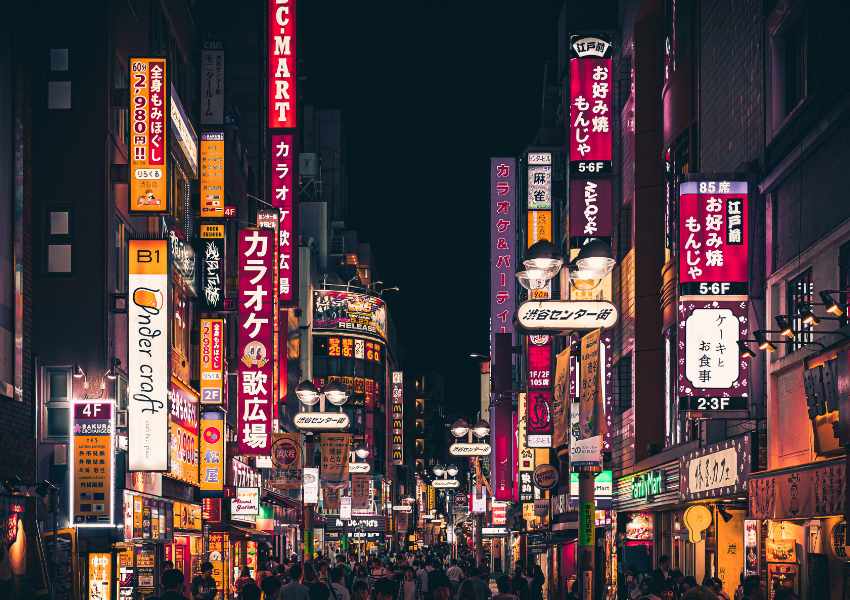 Where to Stay in Tokyo
For an indulgent stay in the heart of the city, you can't go wrong with The Ritz-Carlton Tokyo.
This luxurious hotel offers breathtaking views of Tokyo, impeccable service, and exquisite dining options.
When you're not out exploring the city, pamper yourself at their award-winning spa or take a dip in their indoor pool.
This stylish hotel is conveniently located near the bustling Shinjuku Station, making it a perfect choice to easily access many of the city's main attractions.
Hotel Sunroute Plaza Shinjuku offers comfortable rooms, with modern amenities, and a variety of dining options, including an on-site cafe and bar.
How To Get Around Tokyo
Tokyo is a huge city, but don't worry! You'll find that getting around is surprisingly easy and efficient with its world-class public transportation system.
Here's a quick guide to help you navigate Tokyo stress-free:
Trains & Subways
Trains & Subways are your best friends while exploring Tokyo.
The JR Yamanote Line forms a loop around the central area, connecting major stations like Shinjuku, Shibuya, and Harajuku. Meanwhile, the Tokyo Metro and Toei Subway lines cover the vast city, getting you to the must-see spots with ease.
Tip: Remember to pick up a Pasmo or Suica card to tap on and off at the stations. These cards can be topped up at ticket machines and are also accepted at convenience stores.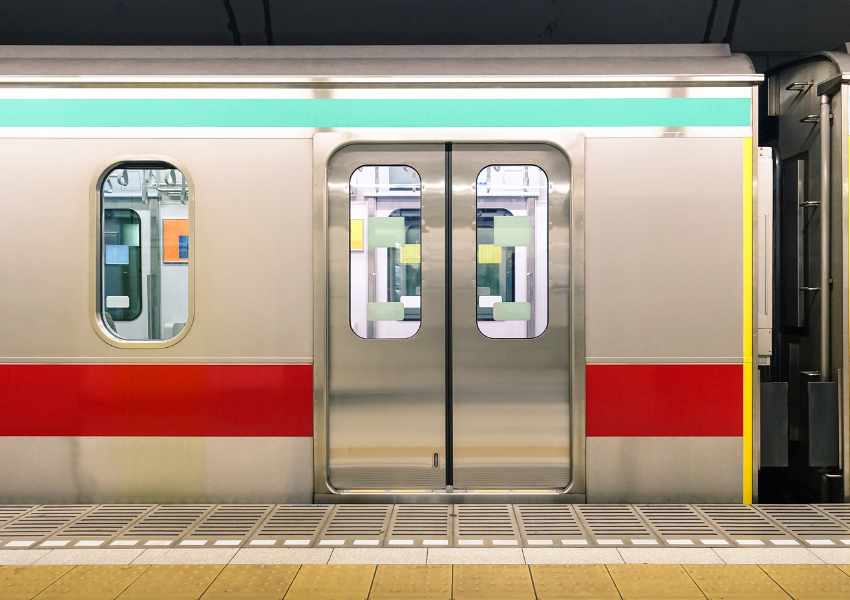 Buses
Buses are a convenient alternative, especially when your destination is not near a station.
Most buses in Tokyo are equipped with signboards displaying the next stop in English, making it easier for you.
You can also use your Pasmo or Suica card while boarding and alighting the buses.
Tip: If you're planning to use buses frequently, consider purchasing a Toei Bus One-Day Pass for unlimited rides on Toei buses.
Taxis
Taxis can be a bit pricey, but they're handy in certain situations, like after the trains stop running late at night.
Make sure you always have the destination address written in Japanese or use a map app to show the driver where you want to go.
Biking
Biking is a fun and eco-friendly way to explore Tokyo.
You'll find many bike rental shops throughout the city, or you can use one of the public bike-sharing programs like Docomo Cycle.
Stick to bike lanes and sidewalks, and be aware of pedestrian traffic.
Don't forget to get travel insurance for your trip! As always, I recommend Safety Wing for great prices and coverage abroad. It starts at only $45 USD per month and will have you covered with everything you may need during your trip! Check them out here.
Travel Tips for Tokyo
When planning your 2 day Tokyo itinerary, it's essential to keep some travel tips in mind to make the most of your experience.
Here are some pointers to help guide you on your journey:
Purchase a Suica or Pasmo card: These cards will allow you to navigate Tokyo's extensive public transportation system with ease. Simply top-up your card at any train station and tap it at the gates.
To make the best use of your time, prioritize visiting attractions that are close together. Tokyo is a massive city, and you can easily spend hours commuting if you don't plan wisely so mapping out your desired stops in advance will save you time and energy.
Regardless of where you plan to go, remember to dress comfortably. Tokyo is a very walkable city, and you'll likely spend a significant portion of your day on foot. Comfortable shoes and layered clothing will make a difference.
An important tip is to mind your manners. Tokyoites are known for their politeness and following local customs will ensure an enjoyable experience for everyone.
Try the street food! Even on a short itinerary, you'll have plenty of opportunities to sample unique Japanese street food. Be adventurous and treat your tastebuds – Tokyo's culinary scene is not to be missed!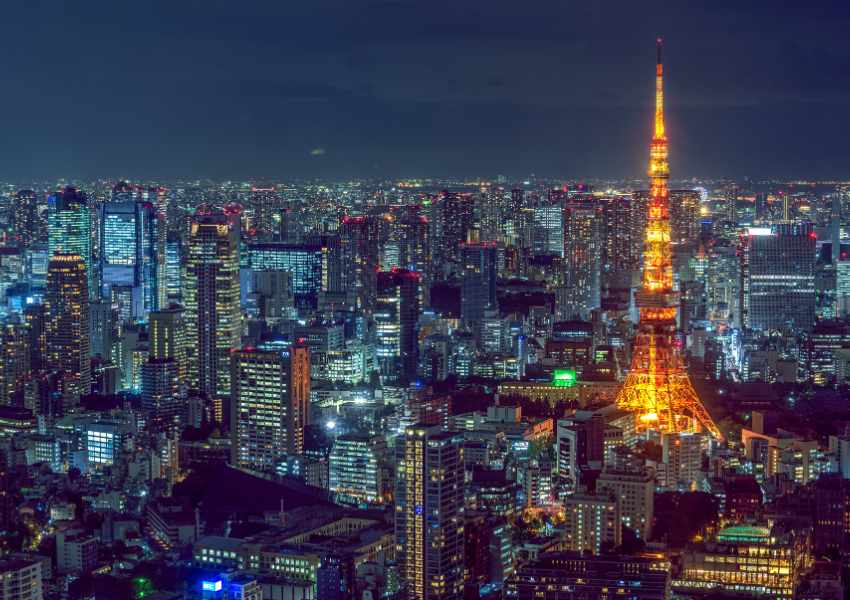 Best Time to Plan Your 2 Day Tokyo Itinerary
When planning your 2 day Tokyo itinerary, it's important to consider the best time to visit.
In general, spring (March to May) and autumn (September to November) are the most pleasant seasons to explore Tokyo.
Spring: During spring, you'll witness the famous cherry blossoms in full bloom, creating a mesmerizing sight across the city. The temperatures are comfortable, ranging from 50°F to 70°F (10°C to 21°C), which makes outdoor activities enjoyable.
Autumn: Autumn in Japan offers similarly mild temperatures, with vibrant fall foliage transforming the city's parks and gardens into a colorful wonderland.
Summer: The summer (June to August) can be hot, humid, and crowded, with temperatures soaring up to 90°F (32°C).
It's also the season for typhoons, so you might experience heavy rain and strong winds.
However, if you're a fan of summer festivals, you might enjoy the numerous matsuri (festivals) and fireworks displays during this time.
Winter: Winter in Japan is quite cold, with temperatures often dipping below freezing.
While it rarely snows in Tokyo, there are occasional flurries that create a magical atmosphere.
Winter sightseeing can be enjoyable if you don't mind the cold, and it's also the perfect season to indulge in steaming hot bowls of ramen or visit nearby ski resorts and hot springs.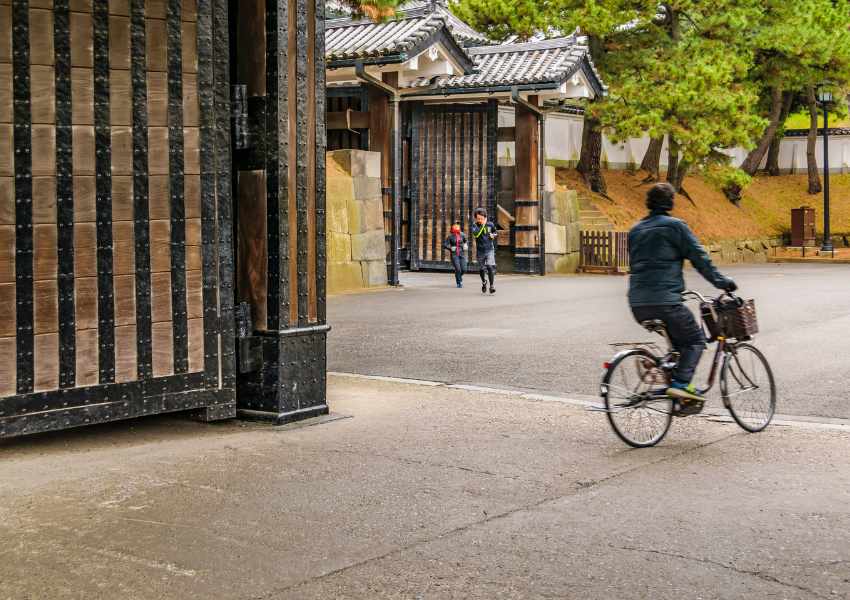 Travel Insurance for Your 2 Day Tokyo Itinerary
Don't forget to add travel insurance to your Tokyo itinerary!
From flight cancellations to medical emergencies, travel insurance can help protect you from financial losses and give you peace of mind during your trip.
We recommend using Safety Wing for travel insurance. They offer comprehensive coverage for medical expenses, emergency medical evacuation, trip cancellations, and more for a very affordable price. Check them out here.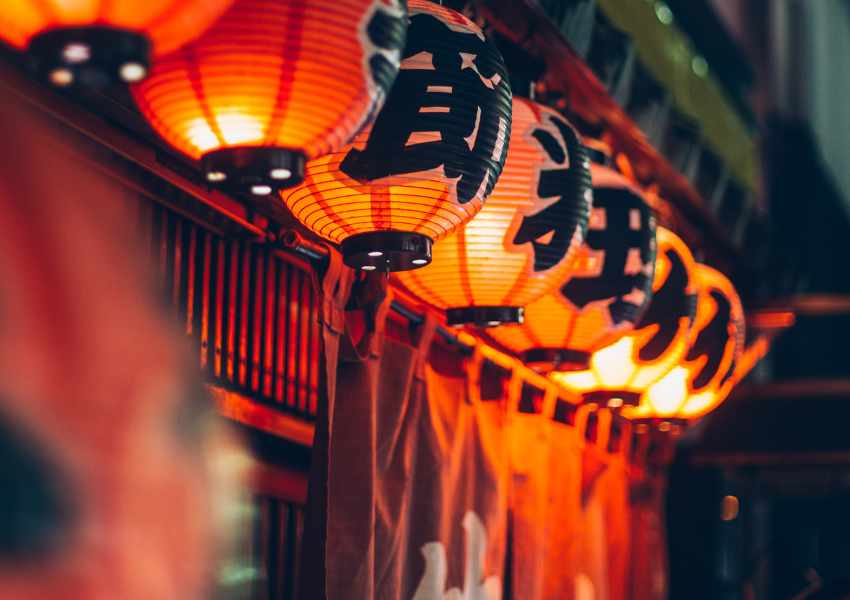 Conclusion: 2 Day Tokyo Itinerary
Tokyo is a city that offers a plethora of activities and attractions to explore, even if you only have two days to spare.
From historic temples to modern art installations, traditional tea ceremonies to street food tours, there is something for everyone to enjoy.
With careful planning and a bit of flexibility, you can definitely make the most out of a 2 day Tokyo itinerary!