While my favorite activity in Diani Beach was definitely chill by the Indian Ocean, I was struck at how many more things to do in Diani Beach there are. I'd actually planned on staying just a few days here before moving on to Uganda, but once I found out how much there is to keep you entertained, I extended my stay to um… two weeks (the beauty of traveling long-term without plans, huh?)
Anyways, what I'm trying to say is that Diani Beach is an incredible place that deserves more than its status as a beach town. I'm convinced it's the perfect destination in Kenya if you're looking for a combination of beach, adventure, and wildlife sightings. Without blabbering any further, here are my favorite things to do in Diani Beach as well as some day trips that you won't want to miss out on!
Fun Things to do in Diani Beach:
Visit Colobus Conservation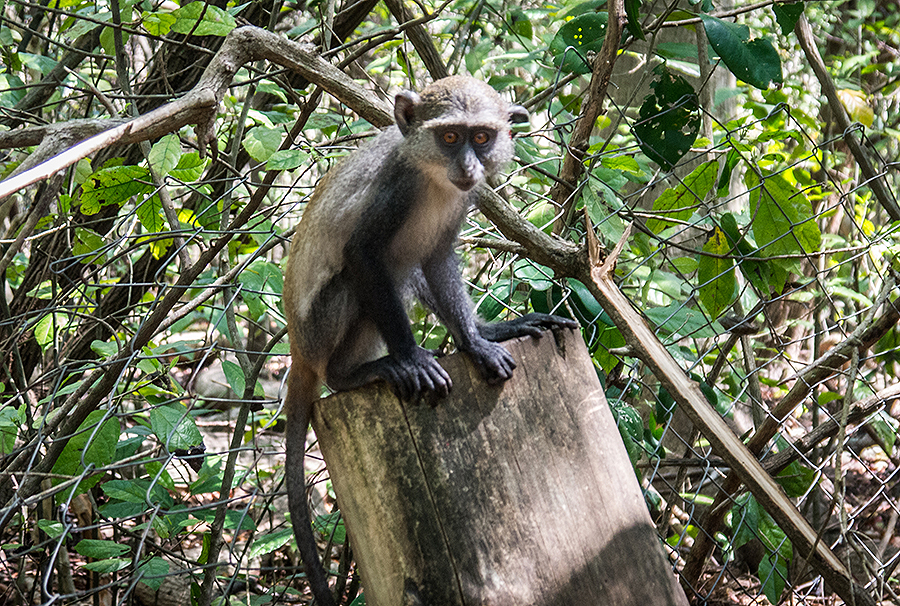 Founded to protect the colobus monkeys of Diani, this sanctuary has been recognized internationally for its amazing conservation work done in Diani Beach.
While the center is more of a research base and primate rescue facility, visitors are welcome to join a one-hour long forest walk in which you'll get the chance to trek through the forest to meet these furry ones. Aside from seeing Colobus monkeys, you'll also encounter sykes, vervets, and baboons.
The trek costs only KSH ($7-$8).
You can also volunteer here! The best part is that you can book your stay directly with Colobus, which means you aren't paying any dodgy fees to a travel agency.
Feed Bush Babies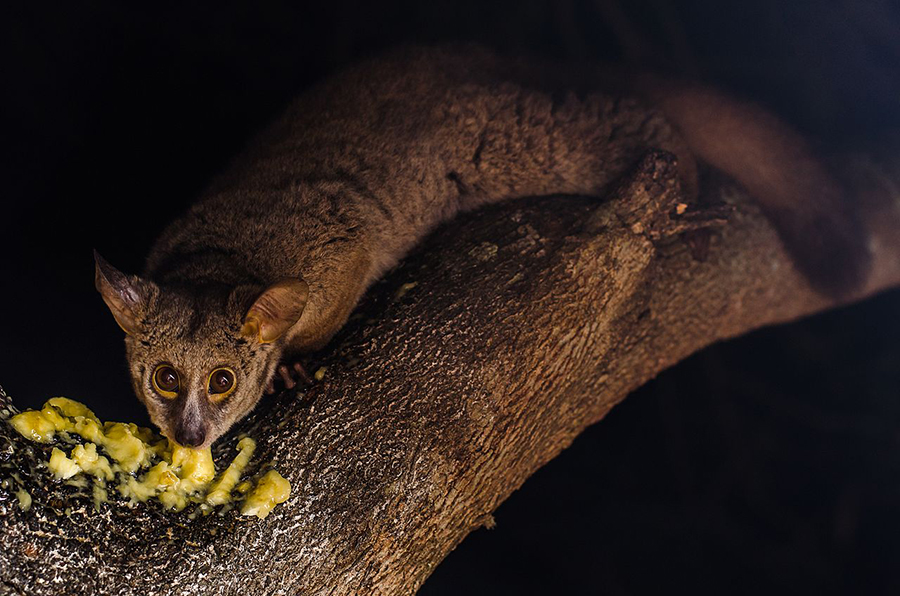 Photo: Jacobmacmillan 
Every evening at 7pm, bush babies roam around Stilts Backpackers Hostel. You don't need to be a guest in order to join the feeding – everyone is welcome!
They do serve food and beers for really cheap prices, so it isn't a bad idea to have dinner here after the bush babies are full.
Kaya Kinondo Sacred Forest
The Digos are a unique tribe in Kenya that was kicked out of Somalia and Northern Kenya due to ethnic fights and eventually settled in the forests in the southern coast of Kenya, including Kaya Kindondo.
Today, they still face many threats, including the fast development of Diani Beach as well as poachers who relish in their sacred forests in search of antelope and other game.
In order to tackle these problems, an eco-tourism project was established and Kaya Kinondo is now open to visitors.
You'll get the chance to trek in the coastal forest, meet the Digo people and learn about their unique culture and traditions.
Diani Art Gallery
If you're into arts, then a visit to Diani's only art gallery is a must! The gallery features the work of contemporary artists from all over Africa.
Party at Forty Thieves Beach Bar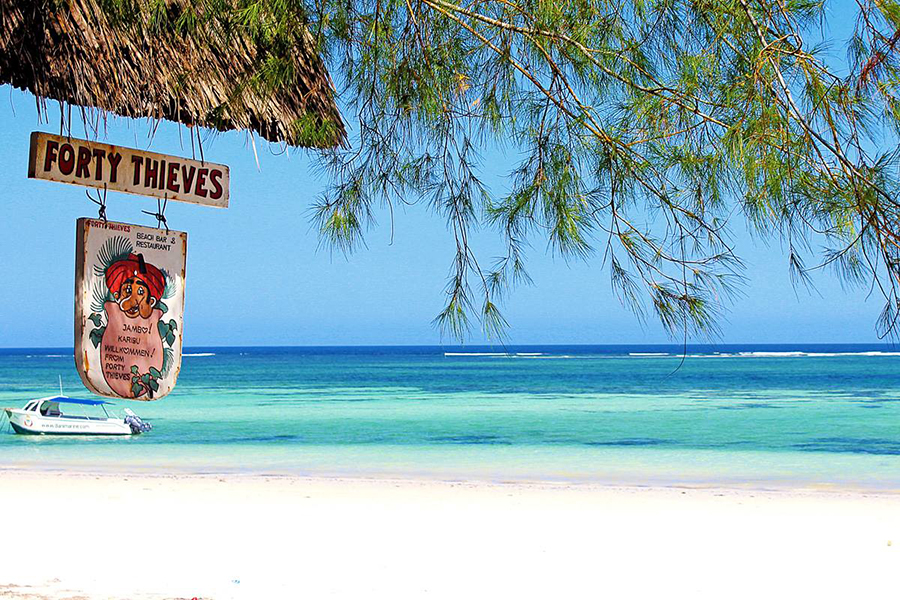 Diani's most popular beach club for expats and visitors alike. Forty Thieves is located right next to the beach. It's always full and partying at night here is a blast!
Snorkel
Snorkeling in Diani was… bizarre.
I've snorkeled extensively in the Caribbean and never in my life had I seen such amazing creatures. From light green sea spiders to corals in all shades, to blood-red starfish. It felt other-worldly.
You can snorkel in Diani regardless of your budget. There are tours that take you further afield, but you'll also see a lot just by swimming around the beach shore. You can also rent a kayak for 500KSH and head to the tiny island that sits in front of Diani.
Bonus: Four Amazing Day Trips from Diani Beach
Spot dolphins and Humpback whales at Kisite Marine Park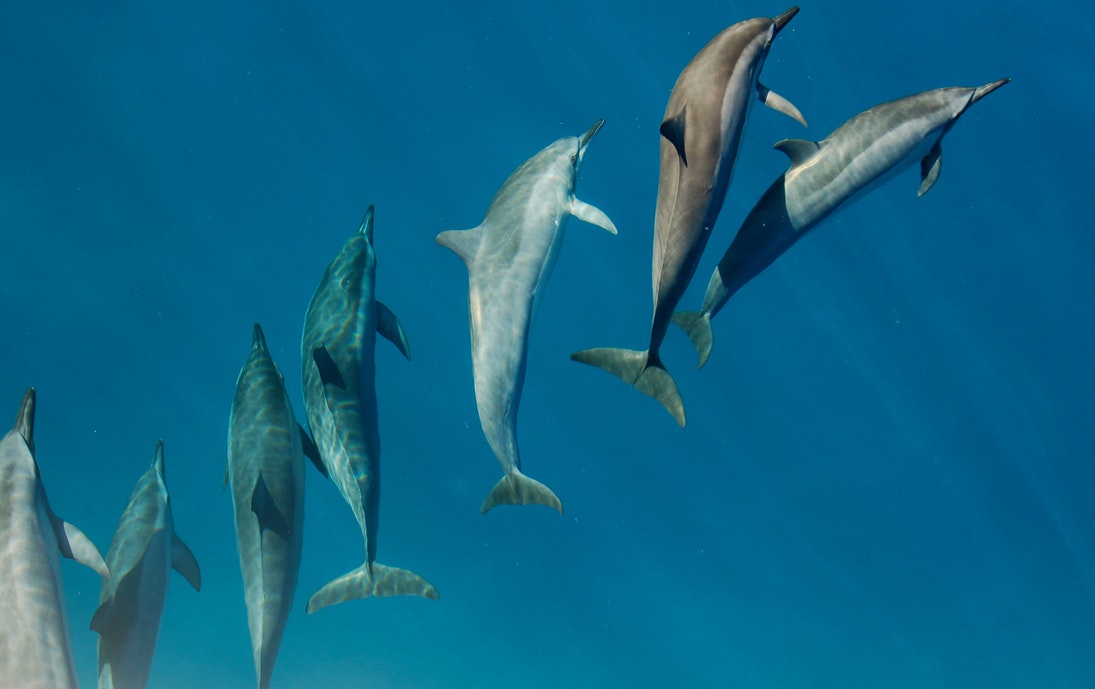 A classic Diani Beach activity is hopping on a traditional dhow and sailing away to spot wild dolphins around Kisite Marine Park with Pilli Pipa.
If you come to Diani Beach between August and October, you might also get the chance to spot Humpback whales as they cross the area during these months!
Snorkel in Kisite Marine Park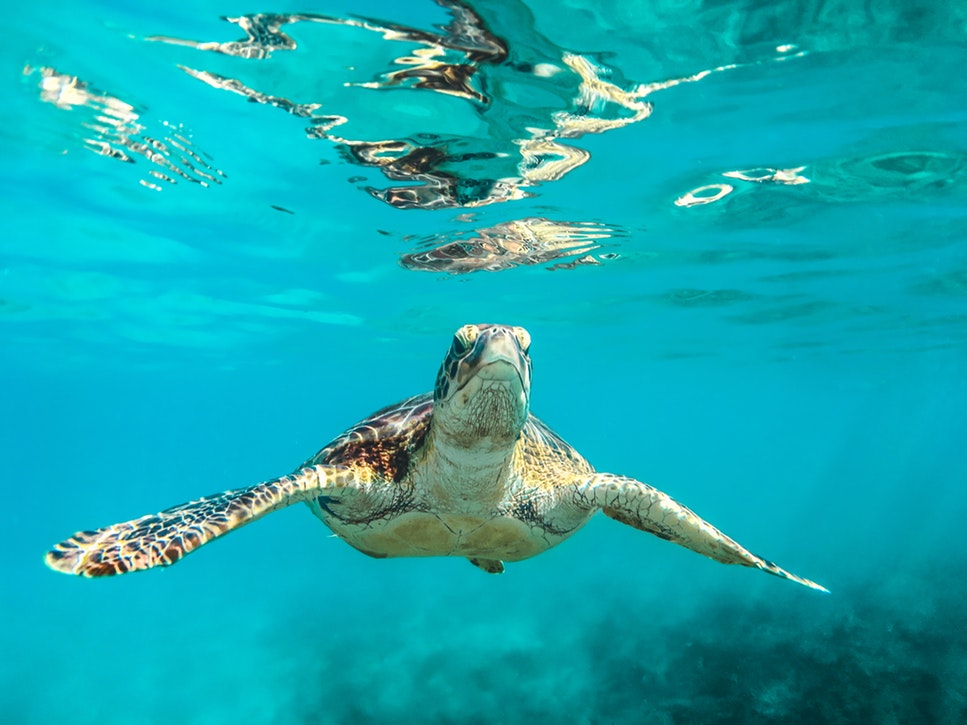 So I've previously mentioned snorkeling around Diani Beach, but I felt Kisite deserved its very own spot in this list.
With four small islands surrounded by pristine coral reefs, Kisite is one of the world's best snorkeling destinations. Turtles, eels, manta rays, and dolphins are common here, so keep your eyes open!
How to get there: You can book a tour directly from Diani Beach. Ask around at your accommodation or book it directly at Viator.
Another way to get here is via Wasini Island, which is a destination of its own. From the main highway in Diani, you can take a minibus to the Shimoni Junction (30 ksh). From there, take either a minibus or motorbike taxi to Shimoni Harbor. From the harbor, you can hire a fisherman to take you to Wasini Island for 300 ksh.
Once in Wasini's harbor, you can hire a private boat to take you to Kisite for around 2500 ksh per person.
Shimba Hills National Reserve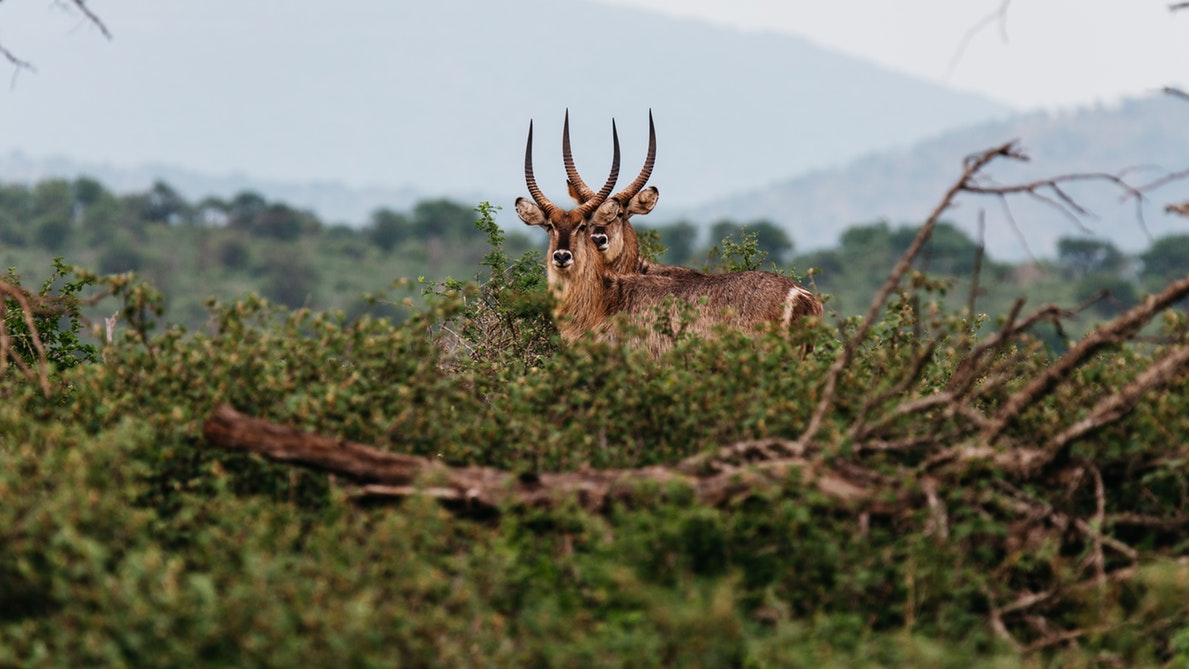 What it lacks in size, it makes up for with incredible biodiversity. Shimba Hills is a small reserve that is the home to more than 700 elephants. The rare sable antelope as well as waterbucks, gazelles, giraffes, and leopards also reside here.
Most tours to Shimba Hills include a game drive around the reserve as well as a trekking excursion to Sheldrick Falls.
How to get there: Many agencies in Diani Beach sell day tours to Shimba Hills. You can also pre-book your trip on Viator, but this option is not for solo travelers as they require a group of at least two persons.
If you really want to go low budget, you can take a minibus to Kwale and book a tour directly at one of the lodges there.
Mwaluganje Elephant Sanctuary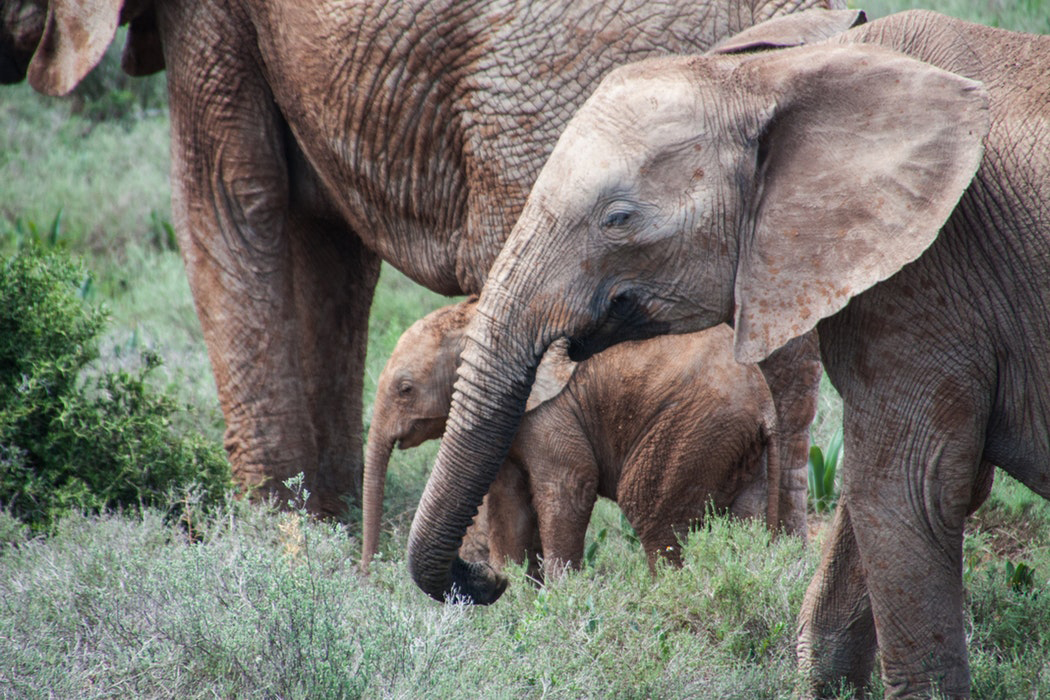 Mwaluganje Elephant Sanctuary is really unadvertised and most people who visit Diani Beach have no idea this place exists. I only found out about it because I was mindlessly looking at my Google Maps and started wondering what that green area above Shimba Hills was.
It sits right above Shimba Hills and is home to one of the biggest concentration of elephants in the entire African continent. It was originally founded to create a safe passageway from Shimba Hills to Mwaluganje Reserve for migrating elephants.
Due to its remoteness and lack of marketing, this sanctuary is rarely visited and there is a high chance you'll get to see the elephants with no one around!
How to get there: You can hire a taxi in Diani Beach or take a minibus to Kwale town, which is the gateway to Mwaluganje.
Where to stay at Shimba Hills: Visiting the sanctuary is doable as a day trip from Diani Beach, but staying inside the reserve is an amazing nature experience to consider.
Shimba Hills Lodge is one of the best lodges around and overlooks the reserve. It also includes all meals during your stay. I didn't stay there myself, but it looks pretty cool!
If you're on a tight budget, you can also stay in Kwale town at Kwale Golden Guest House starting at $14 per night.
Diani Beach is an incredible destination beyond its resorts. Whether you're looking to relax or have an adventure-filled trip, you'll definitely find it here.
Where to stay in Diani Beach
Diani Beach is a big tourist destination and it isn't short of accommodation options for all types of travelers. While here, I stayed at two different locations, one was a hostel and the other was more of a resort hotel.
I first stayed at Diani Backpackers, which is an amazing hostel (and a total steal for the price). This hostel has a reputation for being a party hub, but I didn't experience that while I was there (I visited Diani Beach during the low season, so that might be why!). If you'd rather stray away from the party scene, opt for Stilts Backpackers Hostel – while I didn't stay there myself, I did visit it quite often for dinner!
The second place I stayed in was a more high-end one at Bidi Badu Beach Resort. It boasts cozy rooms, two pools, and all the beach-front goodness. I can't recommend this place enough!