Uganda is right there in my top favorite countries, and you're about to find out why.
I didn't expect to like Uganda as much as I did. In fact, I had originally planned to stay just a few days before moving on to Rwanda. I fell so hard for this tiny landlocked gem of a country that I *might* have extended my stay to an entire month. Oops…
Here's my perfect Uganda itinerary, and I really hope it will convince you to visit this overlooked side of East Africa. It will take you from the chaos of Kampala to tracking chimpanzees and wild mountain gorillas in the jungle to spotting fig tree-climbing lionesses in Queen Elizabeth National park, and rafting the Nile River. Take your pick and book that flight to the Pearl of Africa!
Here's my perfect Uganda itinerary:
Kampala (1 – 2 days)
At first glance, Kampala looks like any other capital city in Africa. Filled with gritty buildings and chaotic streets, most travelers choose to skip the city and head straight west.
My secret, however? Kampala is my favorite city in Africa and I think it's a crime not to include at least one day here in your Uganda itinerary. Once you get past the seemingly-uninviting facade, Kampala is an extremely dynamic city with enough historical attractions and an incredible nightlife to keep you occupied for a couple of days.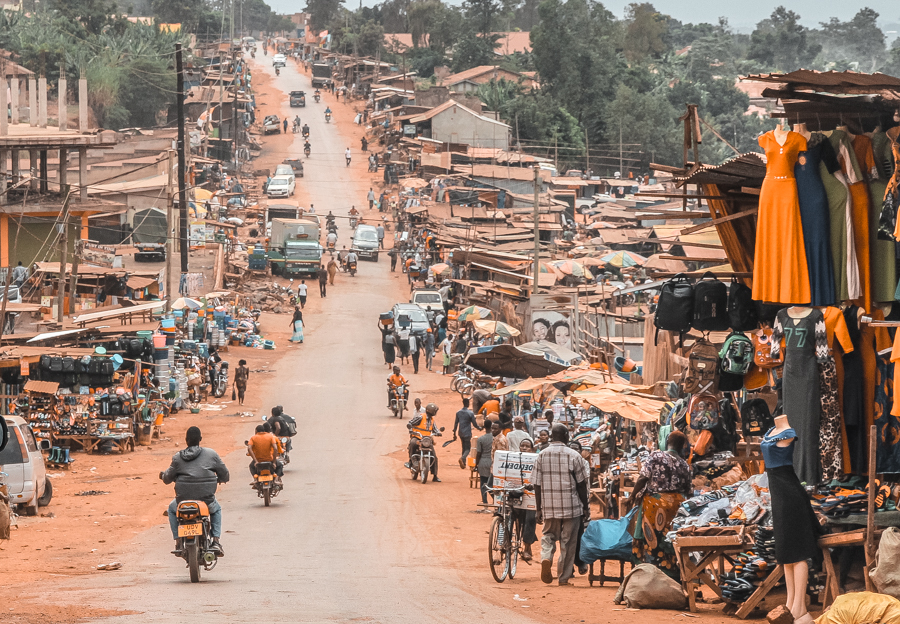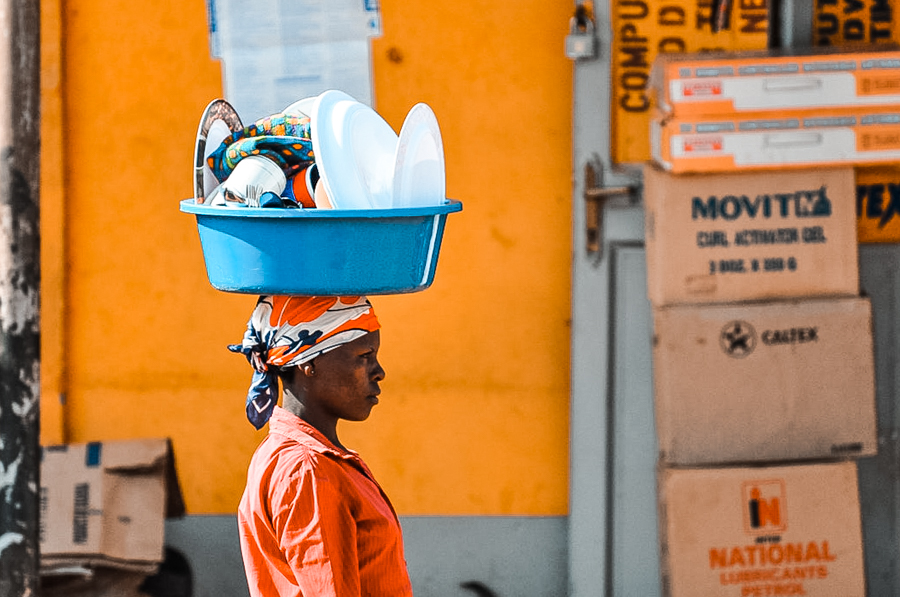 Head over to this post for a detailed Kampala travel guide I wrote that will show you why I fell hard for this compelling city.
Jinja (1 day)
Jinja is a charming little town east of Kampala that is home to the source of the Nile River. Those with an adventurous heart can go white water rafting on the world's second longest river.
Jinja is easily doable as a day trip from Kampala, but if time allows, spending a night while getting lulled by the roars of the Nile isn't a terrible idea.
Trek with rhinos at Ziwa Rhino Sanctuary (Half day – 1 day)
Ziwa Rhino is a gigantic sanctuary sitting some 160 kilometers north of Kampala.
A visit to Ziwa means getting the chance to trek through the African wilderness to spot the only rhinos that exist in Uganda en route to Murchison Falls.
The tragic civil war in the 60's put an end to the hundreds of rhinos that dwelled in the country. In efforts to bring them back to their homeland, Ziwa Rhino Sanctuary was founded. Thanks to several donations from zoos around the world, they've been able to bring rhinos back to Uganda.
Read all about my experience with the rhinos and how you can visit Ziwa Rhino Sanctuary on a budget in this post.
Murchison Falls National Park (2 days)
Murchison Falls is one of the best destinations in Uganda for wildlife viewing and it's also quite easy to access from Kampala, so it's a no-brainer to add it into your Uganda itinerary.
Home to splendid wildlife (including elephants, lions, giraffes, and hippos), Murchison Falls offers visitors the chance to spot wild animals from the comfort of a boat, all backdropped by a gigantic 45-meter waterfall formed by the roars of the Nile river crashing down through a gorge.
Queen Elizabeth National Park (2 days)
Queen Elizabeth National Park is on most traveler's Uganda itineraries. The park brims with wildlife and boasts 96 species of mammals, including leopards, hyenas, hippos, elephants, chimpanzees, and its famous tree-climbing lions that make the park such a curious place to spot these big cats.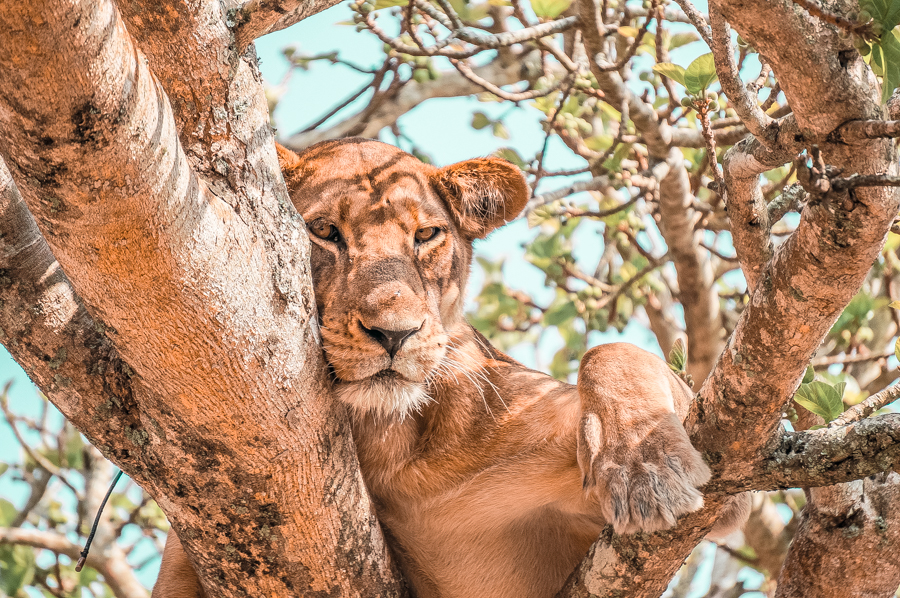 Kidepo National Park (2-3 days)
Kidepo is kind of like the renegade of national parks in Uganda due to its remoteness. Most travelers to Uganda choose to skip it as getting to Kidepo involves long hours of traveling up north.
Still, if time allows and you can brave the bumpy road, don't miss it! Kidepo boasts an inordinate concentration of wildlife, including a few animals that are not found anywhere else in Uganda such as cheetahs.
The area around Kidepo is home to Karamajong tribe, an ethnic group related to the Maasai that still sticks to their traditions and customs.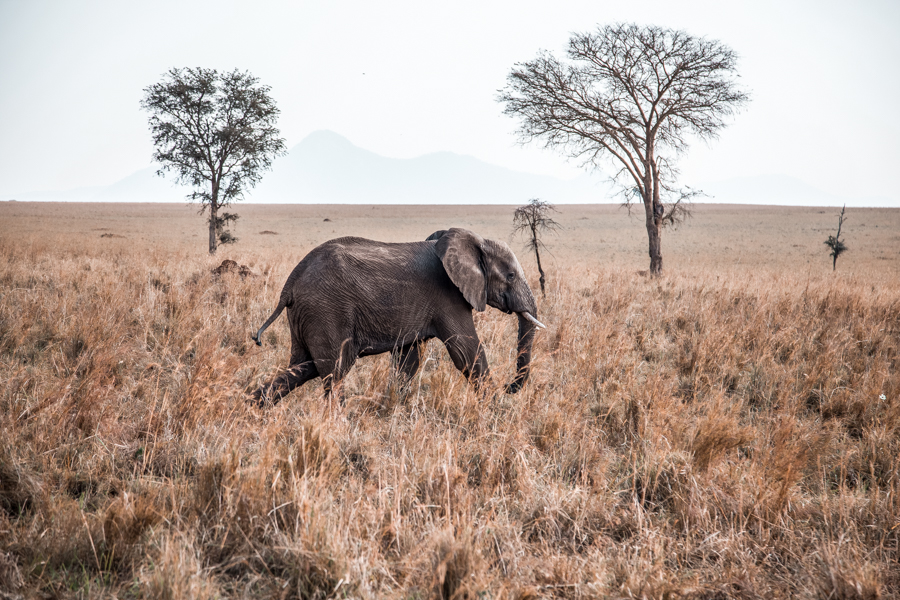 Gorilla Tracking at Bwindi Impenetrable Forest (2 days)
Gorillas are the stars here, and a Uganda itinerary isn't really complete without a visit to these gentle giants' home.
Mountain gorillas are extremely endangered, and Uganda is one of the only three countries these mountain dwellers call a home (alongside Rwanda and the Democratic Republic of the Congo). With less than 900 left in the world, the chance to see them is now.
Trekking with gorillas in Uganda doesn't come cheap, with the cost of a permit starting at $600. If you were to ask me, though, it's worth every cent.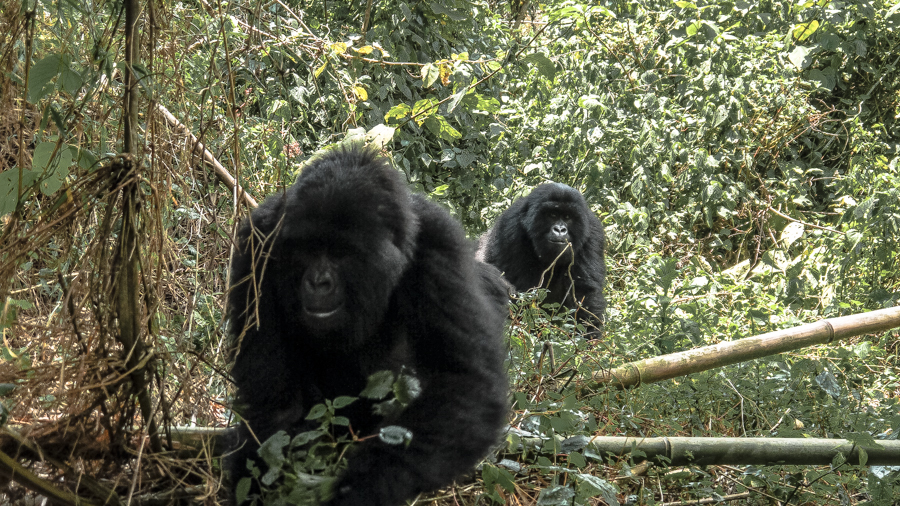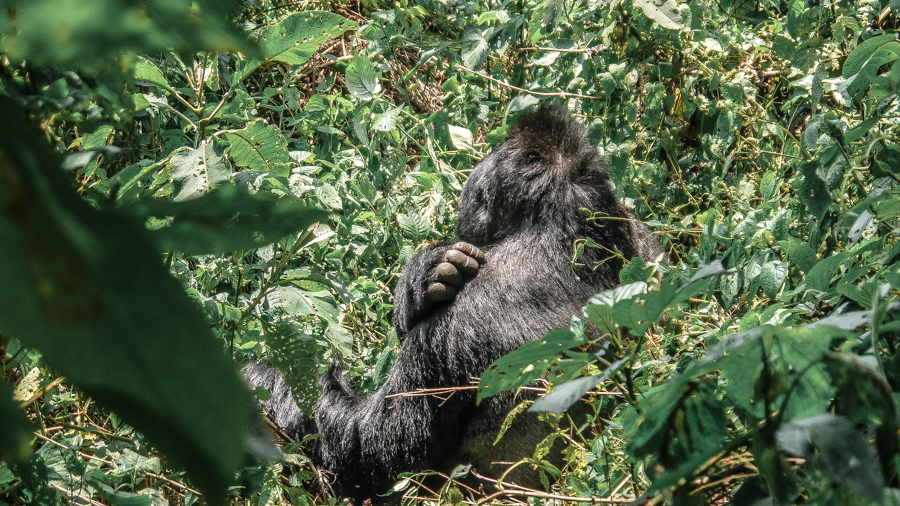 Lake Bunyonyi (1 – 2 days)
Lake Bunyonyi is one of the most alluring locations in Africa. With twenty-nine islands to explore and terraced hills embracing your surroundings, Lake Bunyonyi is a paradise that suits any type of traveler.
Relax lakeside while sampling crayfish, island-hop on a dugout canoe, go trekking, stumble across curious zebras, and enjoy the misty sunrises that welcome the morning every day.
Chimpanzee tracking at Kibale National Park (2 days) or Ngamba Island Chimpanzee Sanctuary (1 day)
Chimps are my favorite animals in the world, and a perfect itinerary wouldn't be complete without a visit to human's closest relatives whenever it's possible (and ethical).
Kibale National Park is a top destination for tracking wild chimpanzees, and it's undoubtedly one of the best spots to see them in their natural habitat.
If you're a bit short on time, a quick stint to Ngamba Island will do the trick! Set on Lake Victoria and just a short boat trip away from Entebbe, this peaceful island was turned into a sanctuary where 49 rescued chimps reside in.
Thanks to its proximity to Entebbe International Airport, it's the perfect place to end your Uganda itinerary.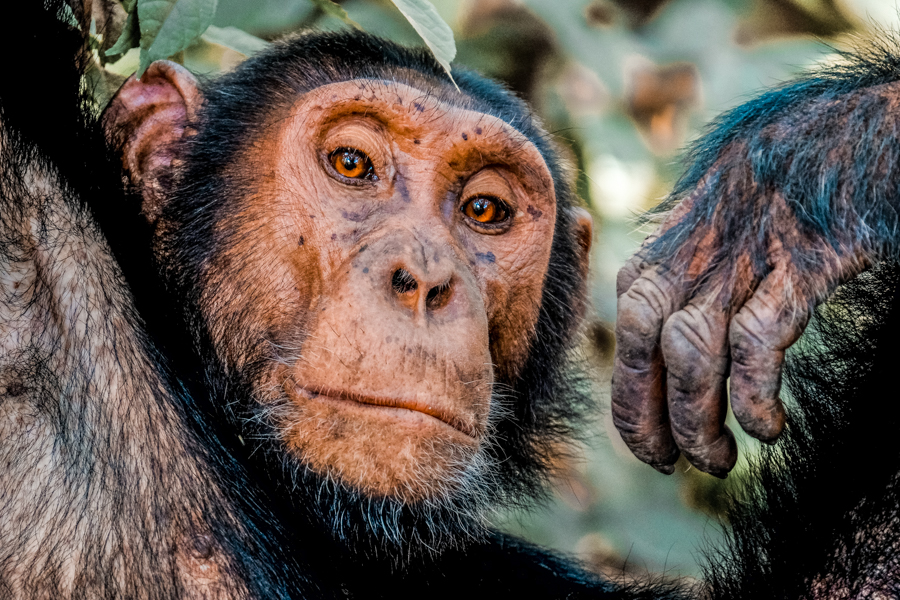 WHAT TO TAKE AWAY FROM YOUR UGANDA ITINERARY IF YOU'RE SHORT ON TIME
My Uganda itinerary is best done in seventeen days, but it's also doable in fourteen days if you can handle moving around constantly.
If your time in Uganda is shorter than two weeks, I'd suggest skipping Kidepo National Park (it's absolutely stunning, but it's so far north that the transfer to the park alone will take a full day away from your Uganda itinerary), shortening your time in Kampala to one day, and possibly skipping Jinja if you are not into water rafting (there isn't much to do there aside from seeing The Nile).
USEFUL TIPS TO HELP YOU PREPARE FOR YOUR TRIP TO UGANDA
→ If you're not super fit, I highly suggest taking a day off to relax after doing the gorilla trek at Bwindi National Park. You'll likely be trekking for several hours in the jungle and your legs will be absolutely killing you the next day. There are lots of lodges around Bwindi like Gorilla Valley Lodge that are perfect to relax with stunning jungle views around you. Trust me, you'll thank me for this one later!
→ If you're traveling to Rwanda and Kenya as well, get yourself an East Africa Visa (available on arrival at all airports for most nationalities). A single visa to Uganda costs $50, the one for Kenya will set you back $50, and a visa to enter Rwanda costs $30. The East Africa Visa costs $100 and allows entry to all three countries.
→ Girls: Dress conservatively. While you'll be okay sporting shorts and tank tops in lodges and/or hostels, you'll be better off covering your legs down to your knees when out and about in villages or smaller towns.
→ Tip your guides. Salaries in Uganda are really low and most guides depend on tips to make a living. A good average to tip your guide would be $7-$12 per person/day.
→ Get yourself a GRAYL water purifying bottle. The tap water in Uganda isn't safe to drink, and you'll have to buy bottled water constantly. The GRAYL is a bottle that purifies all sources of water in a matter of seconds by removing bacteria, viruses, and chemicals. You'll save money in the long run, and you'll make your trip to this stunning region of the world more environmentally-friendly.
→ Uganda uses type G plugs. Get a universal travel adaptor to make sure you can charge all your electronics while traveling Uganda. I recommend this one.
→ There are a few things you'll need to pack for your safari in Uganda's national parks. For a full packing guide and useful tips, check out my safari packing list.
→ If you're backpacking in Uganda, check out my post on essentials for backpackers in East Africa.
Disclaimer: This post contains affiliate links, including links to Amazon. As an Amazon Associate, I earn a percentage from qualifying purchases. This comes at no extra cost to you and it helps me keep this blog running.