Kampala Like A Local: 8 Things To Do In The Ugandan Capital
I'm not a huge fan of African capital cities. I usually find them busy and noisy and I would much rather be anywhere else. But Kampala was different and I really think everyone should include this compelling capital on their Uganda itinerary.
IThe insane boda-bodas zig-zagging their way through the merciless traffic, the crazy nightlife, the never-ending aisles of goodies to buy at Owino market all amounted to me considering making Kampala my home.
This post doesn't include the typical things to do in Kampala. Instead, I talk about the places and events that made me fall in love with the city. Here a my favorite things to do in Kampala:
GRAB A BEER AND DANCE TO THE BEAT OF UGANDAN MUSIC
One of my favorite things to do in Kampala is visiting the National Theatre at night.
Every Monday evening, the National Theatre hosts an informal outdoor night jam for aspiring musicians around Kampala. Tuesdays host an array of African drum perform and Thursdays are scheduled for comedy nights (in both English and Luganda).
Entrance to the events is free, which makes it even sweeter!
WITNESS THE CHAOS OF OWINO MARKET
Owino Market is the go-to place for cheap clothes, but it also boasts herbs, appliances, bags and more. It is a concoction of vendors trying to grab your attention and quite frankly, it can get very, very overwhelming after only a few minutes.
That does not mean you shouldn't visit. You will hate it and love it at the same time. The whole experience of shopping at Owino is fascinating and just being there and navigating through its chaos and what feels like a maze of treasures to be found is a must do.
GRAB A BEER AT YASIGI
Set in the upscale neighborhood of Kololo, Yasigi Beer Garden is a great place to just… chill under African skies.
The beer garden is a microbrewery and offers a selection of Amber, Wheat beer, Stout, and Pilsner – all of which are brewed next to the dining area of the restaurant.
While here, make sure to also try their beer buttered sweet potato fries.
UGANDA NATIONAL MOSQUE
The Uganda National Mosque is the biggest and most famous in Kampala. It's possible to join a Muslim praying session at this gigantic mosque.
The ceremony is held in Luganda, so it is hard to understand what is going on. However, as a cultural experience, it is really unique. Ceremonies usually last two hours but you will rarely get bored as there is so much activity to watch and take part in. And when you do get bored, make sure to study the decoration of the mosque – the gigantic carpet is made to mirror the actual mosque. There is so much symbolism here that you wouldn't believe it!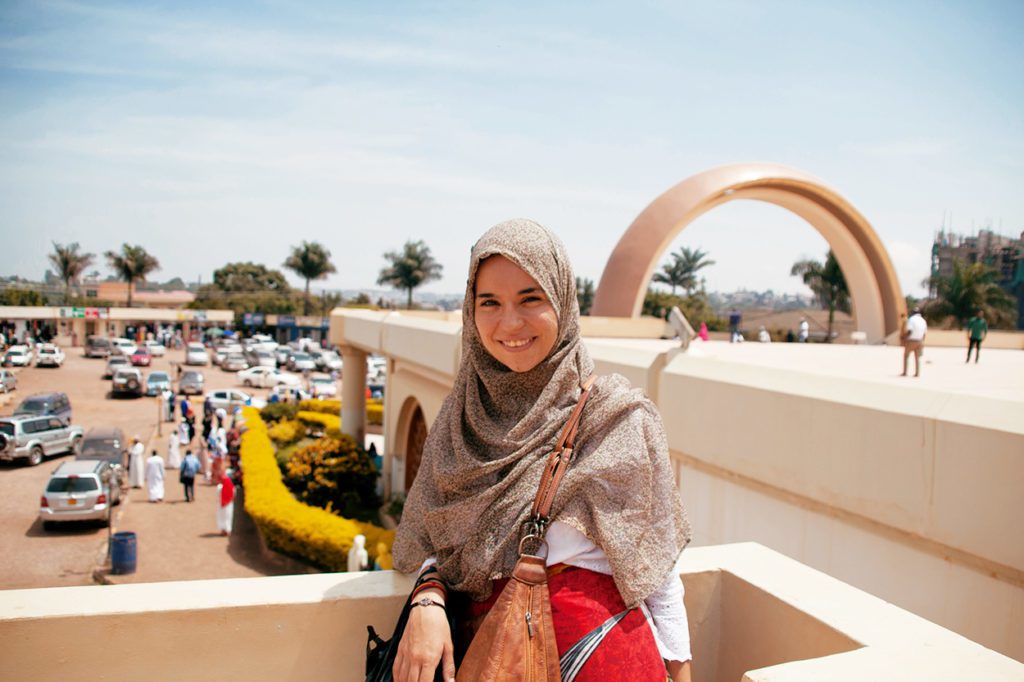 VISIT GGABA LANDING SITE
Set on Lake Victoria – Ggaba landing site is the center of fish trade in Uganda. This is the place where fishermen set off to capture their product and sell them once they are back on the shores.
Best known as "Ggaba fish market", it is a bustling place and an incredible cultural experience that should not be missed.
DANCE THE NIGHT AWAY
Whether it's the fancier places like Big Mike's or the more obscure clubs at Kabalagala, Kampala boasts some of the best nightlife I have ever experienced.
The best thing about most clubs is that they are often set outdoors and are styled with rustic African decor.
Wagadougu, near Kisementi, is a favorite for both Western expats and local Ugandans – there is a balcony that offers great views of Kampala here and the beer and wine prices are some of the best in the city.
Capital Pub (my favorite) is located in the infamous Kabalagala. It is made up of several different bars and offers some of the best music to dance to (both African and international). There are few rules here, and the decoration/ambiance really gives you the feeling that you are in Africa. It is open 24/7 and is a favorite go-to place for both locals and expats.
Bubbles and Big Mike's are also great. Located next to each other in the upscale Kololo district and they are both mainly aimed at foreigners.
For a more detailed guide on Kampala's nightlife, head over here.