Planning your first long-term travel adventure? How exciting!
While the thought of trotting around the world freely is exciting as hell, you're probably also starting to feel nervous as the start date approaches.
I know I did.
And yet, four years later, here I am! I've climbed an active volcano in the Congo, lived in Thailand, slept in abandoned castles in Ireland, traveled over thirteen thousand kilometers in Africa using only public transportation on my own, and so much more!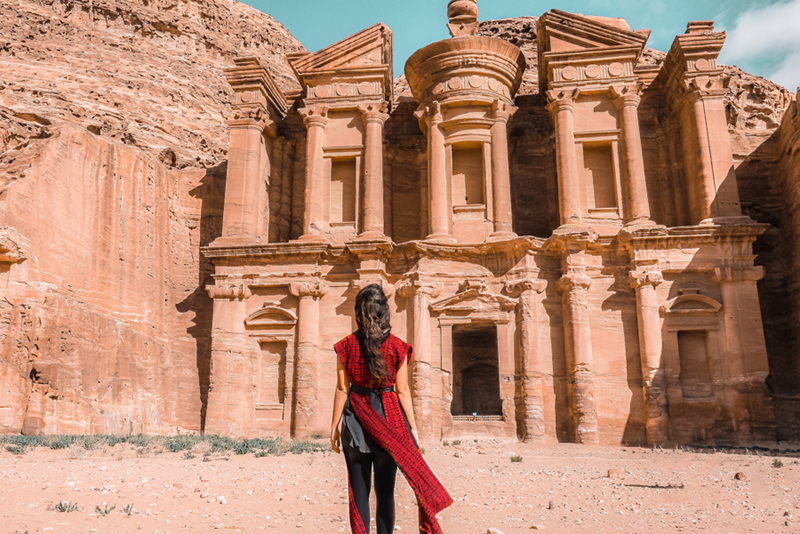 Petra, Jordan
After years of full-time travel (three of which I spent not even stepping foot back home), I like to think that I know a thing or two about travel, so it made sense to write a post with my top long-term travel tips! 🙂
11 Long-Term Travel Tips
Go slow.
Traveling slowly is key to successful long-term travel.
When I first set out, I mapped out the first two months of my trip in extreme detail. My itinerary involved moving to a new city in Spain every day, taking a two-day side trip to Chefchouen, busing it over to the French Riviera, seeing as much as I could in Italy, going to Budapest, meeting up with a friend in Germany, flying to London, going to Dublin, hitchhiking Ireland, flying back to Germany, hitchhiking in Switzerland, hitting Italy up again, climbing the highest point of the Julian Alps in Slovenia, and more.
Yes. I purposely didn't punctuate that paragraph just to show you how tiring it is to even read.
How I managed to cram that into the space of two months is beyond me. Needless to say, I was incredibly exhausted by the end of those two months and quickly made the wise decision to slow down.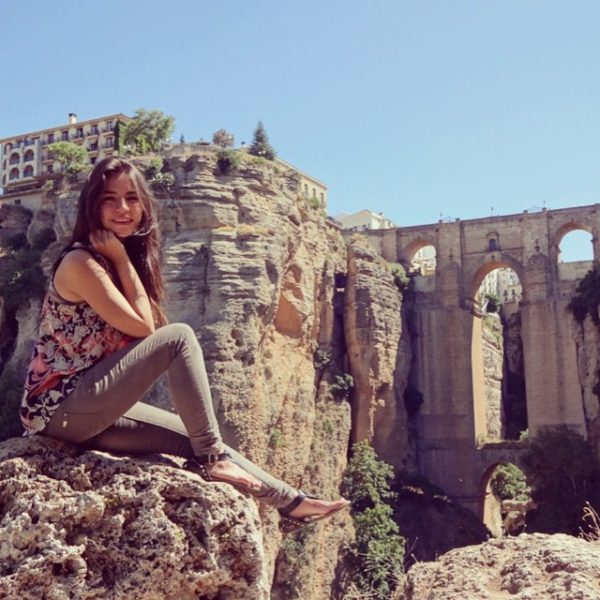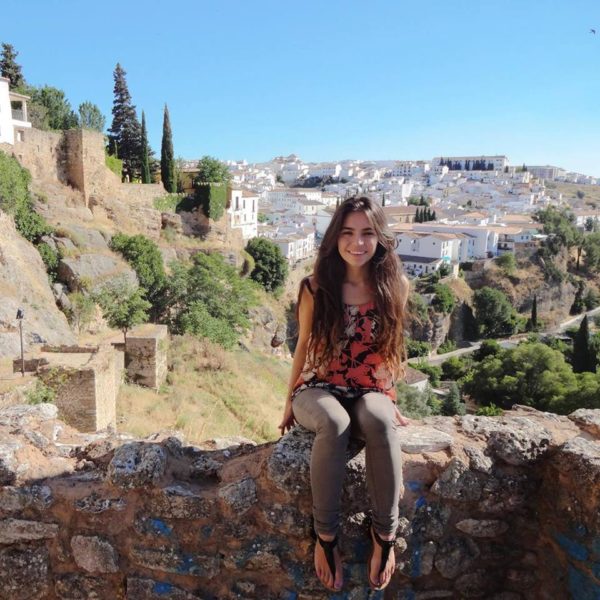 In Ronda, Spain. I didn't have time to stay here for more than a few hours, but I wish I would've dedicated at least two full days to explore more!
Honestly? It was a kickass summer, but it drained me. Looking back, I'm able to remember a few highlights of those two months, but the rest is a bit fuzzy. I can't even recall the name of every place I visited!
Slow travel will keep you sane. Moreover, it will also give you the chance to fully soak up your surroundings and make your time in a place richer than if you were just passing through. Plus, traveling slowly is easier on your wallet! It's cheaper to negotiate a long-term deal when staying at a hotel (most accommodations will give you a discount when you stay more than a week) or getting a short-term apartment lease.
Take days off. Unapologetically.
Long-term travel isn't easy, guys! The constant culture shocks, the language barriers, and the non-stop moving around will take a toll on you.
And you know what? It's completely normal.
Take days off. Book yourself a nice hotel room and scroll through Pinterest all day. Call your mom and binge-watch Netflix. You'll be amazed how something that simple can lift your spirits!
Nowadays, I not only NOT feel guilty when I do this, I ACTUALLY plan my do-absolutely-nothing days (which sometimes turn into weeks).

Ditch your plans
I think it's super wise to outline at least the first week of your long-term trip, but keep your horizons open by not planning much after the first month or two.
Going without plans frees you up and opens up the opportunity to go to destinations you might have not even thought of in the first place! Maybe you'll meet a person who recommends you to head to a nearby country that you hadn't considered visiting, or you'll make a new friend who will invite you to join their travels for a while. Maybe you'll love a place and decide to stay longer… the possibilities are endless!
If you pre-book everything, you'll suddenly be tied down to a schedule and the most incredible part of long-term travel is freedom!
When I started my long-term travels, I definitely had plans to hit up Southeast Asia, but I never realized I'd end up living there just a few months in! I randomly stumbled across an opportunity when browsing around a Facebook group – it was basically work in exchange for accommodation in a small village in Thailand. I've already mentioned to you guys that slowing down on a long-term trip is incredibly important, and three months of sure accommodation sounded perfect at the time.
Head over to this post for tips on how to find free long-term housing when traveling!
The next thing I knew, I was extending my stay in Thailand to over a year, taking side trips to other parts of Southeast Asia. I eventually got hired to work there for real money, and this job actually paid me to travel to a lot of other countries as a content creator!
Had I planned everything to the T, this would have never happened.
So yep – keep your horizons open for unplanned adventures!
Back up your photos
Few things are as heart-wrenching as losing all the precious pictures from your trip. And while yeah, travel isn't all about taking photos for Instagram, pictures act as memories.
This is a tip I felt was important for me to include in the list because we DO all know that we should back up our photos, but it's so easy to get lazy and think "I'll just do it later". At least I know I do.
I made the huge mistake of not backing up my photos for the first few months of my travels and I lost them. The only ones I got to keep were the ones I posted online, but that's it. *sob*
Your computer could die or get stolen. While those things are replaceable, pictures aren't.
I always use Google Drive or Dropbox to back up my pictures, but when traveling, wifi might not always be great, so get yourself an external hard drive (at least 1 TB) to save your pictures as soon as you import them into your computer. When you find good wifi, upload them to a cloud as well (it never hurts to have two or more backups!)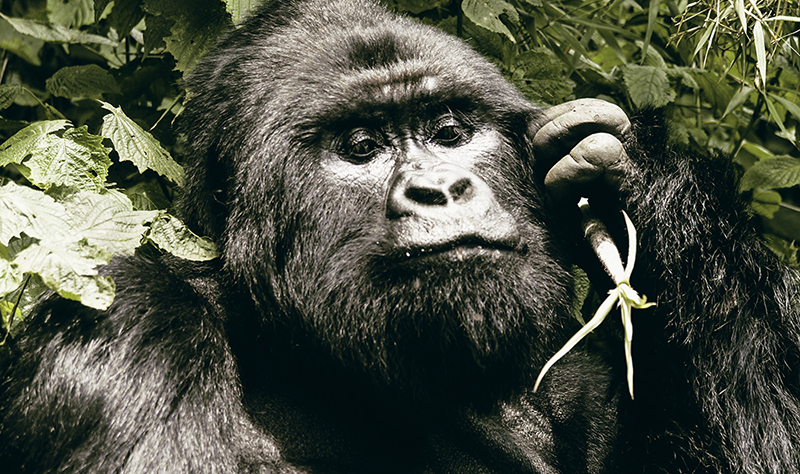 Meeting a wild mountain gorilla in the Congo! Imagine losing this photo?!
Backup important documents
Scan your passport and other important documents and email them to yourself. Then, save them on a cloud and send a copy to your family!
Research visa restrictions
Even if you have a super strong passport, there's a chance you might need to apply for a visa before entering a country.
At some point, I was super used to being able to get visas on arrival in Southeast Asia, so I didn't even think twice to check whether or not I needed to apply for one to enter Myanmar. A day before my flight, it finally hit me: Wait, do I need a visa?
It turns out, I did need to apply for one online. I was horrified when I read TripAdvisor's forums where everyone was saying it took at least three business days for their visas to get approved.
It was a Saturday, my flight was on Sunday. That's like, -2 business days. Damn it.
I applied anyways. I think there might have been a glitch in their system that weekend because I got an email saying it was approved five seconds after I hit the submit button.
Thank you, travel gods.
Still, though, I got lucky. Make sure you don't ever need to "get lucky" in order to get a visa and check every country's requirements before booking any flights.
I love using VisaList.io to check whether I need a visa or not. I also always double-check at the embassy or consulate website of that country to be super sure. Usually, you can google *country you want to visit* embassy in *your country*. They'll have the most up-to-date info on specific visa requirements for your passport!
Pack light
No, you don't need to pack a years-worth of shampoo or those cute high heels you love. Trust me, you'll NEVER wear them. Pack the essentials only, keeping in mind that if you forget something, you'll definitely be able to buy it while traveling.
Carrying heavy luggage will only wear you down financially and mentally. Honestly? Most of the things you think you'll need will end up collecting dust inside your backpack. I'm actually a strict carry-on packer and I even have stuff I don't use in there!
Nowadays, flying all over the place can be incredibly cheap with low-budget airlines. The catch, though? They'll charge you extra to check in your luggage. That's when expenses can add up. If your luggage is small enough, you can just bring it on the plane for free!
Bring a bunch of passport-sized pictures and copies of your passport
Super useful in most of Southeast Asia and other regions where you'll need to get visas on arrival (or even apply for one at embassies). Most countries will ask you for one or two passport-sized photos and a copy of your passport to process your application. It gets super annoying having to search for photo booths everywhere you go! I always carry a few of these with me.

Hiking Huayna Picchu in Peru
Get travel insurance
You're probably going to ride scooters in Bali, trek a mountain or two, or just like, cross the street.
Accidents while travel long-term can happen and while I really wish they don't, you never know.
I recommend World Nomads. While it's a little more expensive than the average coverage, they're the best option for full-time travel because you can basically book your insurance, make claims, and even extend or modify your insurance needs online. As I previously mentioned, long-term travel is best done without plans, and you might just decide to stay longer in a place or head to a different country spontaneously. World Nomads lets you make any changes to your insurance (be it by extending it or adding new countries) super easily.
Aside from that, they also cover 150+ adventure activities that most other insurances won't (i.e. bungee jumping, trekking etc). Plus, they also take care of securing your camera and other gadgets if they get stolen!

Get a GRAYL
I'm starting to feel that I should ask GRAYL to sponsor my blog because I gush about it on like, 98% of my posts, ha!
But seriously, I only recommend it all the time because it's seriously a great thing to have when you travel.
Basically, the GRAYL is a water bottle that purifies any source of water in seconds and gets rid of all those chemicals and bacteria that might make you sick. I've used it in Africa, Central America, and Asia and it really does work wonders!
Not only will it spare you from having to spend a huge chunk of your budget on buying purified water bottles, but it will also make your long-term travels more environmentally-friendly!
Download these apps
Maps.me. Even though I'm a Google Maps gal, I love using Maps.me because you can download a map of a place and use it offline later! Super useful when you're arriving in a new country and don't have a sim card yet!
XE – Currency Exchange. Exchanging currencies will quickly do your head in, especially when you're not yet used to the exchange rate! With this app, you can calculate how much something costs in the currency of your country. Sweet!

Know that long-term travel will probably ruin your life
I know that's probably not what you want to hear when planning your long-term trip, but seriously, traveling full-time for three years ruined my life.
In a good way, but it still ruined it. Does that even make sense?
You'll find it hard to settle down after traveling
Long-term travel is the epitome of freedom.
After living a life in which you could wake up, drink your money coffee and suddenly make the impromptu decision to fly to Laos that very same day, signing a long-term apartment lease and getting a 9-5 will suddenly make you feel caged. I know that today, I couldn't even imagine myself working in an office.
You'll lose friends
I had tons of friends when I first left. Today, I only keep in touch with 5% of them.
Your friends back home will continue living their lives while you're off seeing the world. I feel like the older you get, the more important is to hand out with like-minded people who share similar interests. And while I do still love my friends, sometimes we just run out of stuff to talk about because we've all changed so much and I don't want to be the type of person who just talks about their travels!
You'll get used to it
Be prepared to suddenly become unfazed by it all. Long-term travel is super exciting at first, but a few months in, you'll get tired. Constant travel involves an onrush of new experiences that will suddenly start to feel weirdly normal.
I went to Siem Reap and didn't even go to check Angkor Wat out because I simply didn't feel like it. When I landed in Nairobi for my first trip to sub-Saharan Africa, I felt nothing – I wasn't scared nor excited – I just hopped on a taxi and went to my hostel and took a nap. Done. It's like moving around from place to place suddenly became just a thing I did – it was my life and no longer something I looked forward to and planned for months.
I know you're probably rolling your eyes right now and thinking I must be a total stuck-up who is unable to appreciate her privilege. Trust me, I felt that way for a long time, thinking something was awfully wrong with me. After finally opening up with other travelers about the way I felt, it turned out everyone who had been traveling long-term for over a year felt the exact same way. It's totally normal, so don't beat yourself up for it too much!
So yep, guys, long-term travel will totally ruin your life! So sorry to drop that bomb right at the very end.
The good news, though? Not everything is lost:
I was able to design a life that allows me to travel whenever I feel like it. I work online and so, I can earn money while traveling.
I made new friends who share my passion for traveling. I've even planned trips with those friends years or months after meeting them! For instance, I met a friend in Africa, and two years later, we're going to travel around Sri Lanka together!
And when you do become unfazed, you can always slow down. Stay for a few months somewhere and you'll suddenly feel that onrush of wanderlust coming back!
Other posts to help you rock your first long-term trip:
How to find cheap flights: My magic trick to find cheap airfare wherever I go!
21 Tips To Rock Your First Solo Trip
Do you have any more long-term travel tips to share? Feel free to write them down in the comment section below! 🙂
Want to keep these long-term travel tips handy? Save them to Pinterest!
Disclaimer: This post contains affiliate links. This means that, if you purchase something through my links, I might earn a commission at no extra cost to you.