9 Best Restaurants in Split, Croatia
Searching for the best restaurants in Split, Croatia? You've just landed on the ultimate Split food guide curated by a local.
I've been living in Croatia for nearly a decade, and Split is one of those places I find myself returning to time and again. The just has this magnetic pull, from its stunning architecture to the buzzing cafe scene. But in this post, we're focusing on something that often ends up being the highlight of any trip: the food.
Over the years, I've been lucky to have local friends in Split guide me through its culinary maze, helping me uncover some truly delectable restaurants. From quirky cafes to lively bars and fine dining hot spots, there's no shortage of places to eat in Split.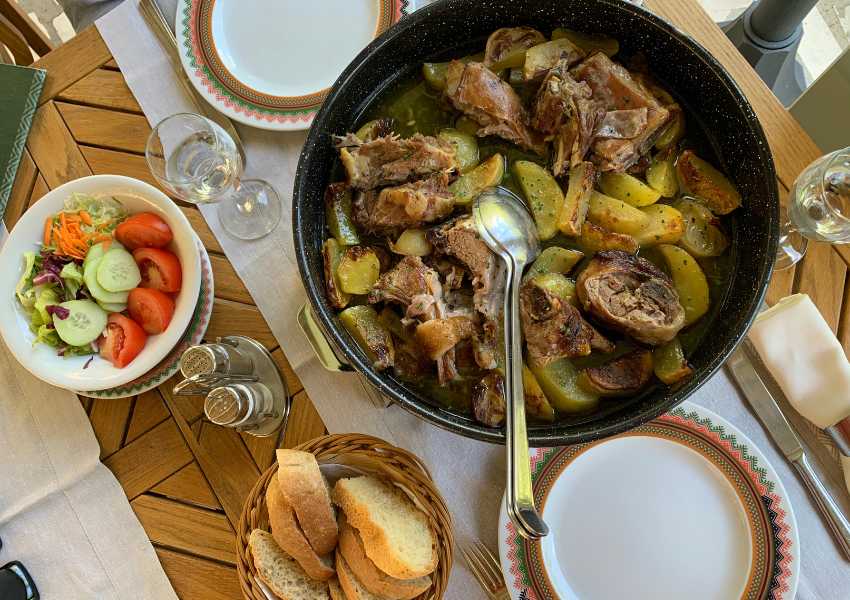 The city offers a diverse range of flavors – everything from a New-York-style bagel for your breakfast cravings to burgers and Mexican enchiladas for lunch or dinner. But let's be real. You're probably not coming to Split to eat food you can get back home, right?
You're here for the authentic Croatian experience, and that is exactly what you'll get on this list. I'm talking about the most delicious, mouthwatering, local Croatian cuisine that can be found in Split!
So if you're ready to discover where to find these dishes that will leave you dreaming about them long after your trip is over, then you're in the right place. This guide is tailored to those who want to go beyond the typical tourist traps and dive deep into Split's authentic food culture.
Without further ado, let's dig into the best restaurants in Split!
Best Restaurants in Split Croatia
1. Buffet Fife
Starting off the list with my personal favorite restaurant in Split, Fife is a local gem.
This laid-back tavern is situated near the main promenade, making it perfect for when you get off a Split boat tour and just want to grab a bite right on the water! A no-frills eatery featuring wooden picnic tables both inside and out, Fife serves up some of the best authentic Dalmatian cuisine in the city.
Don't let the long summer lines discourage you; they move fast and the wait is totally worth it. The best part about Fife is that they serve good-quality food without breaking the bank. Plus, the portions are extremely generous to ensure you won't leave hungry.
A few menu highlights include the fried squid paired with a helping of french fries or grilled fish served alongside Swiss chard. If you're looking to sample a truly classic Dalmatian dish, don't miss out on the Pašticada – slow-cooked beef in a rich, flavorful sauce, served with homemade gnocchi. It's the kind of Croatian comfort food that reminds you of home.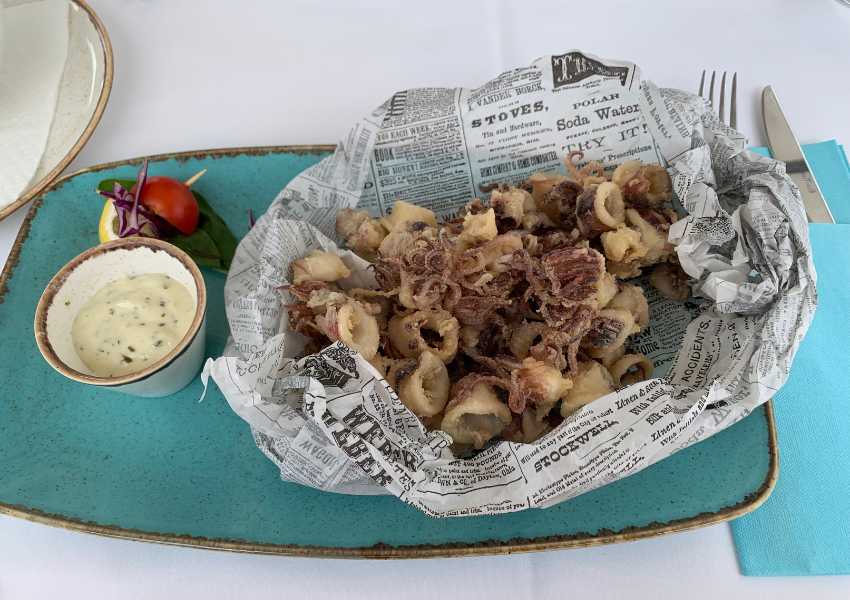 All-in-all, you really can't go wrong with Fife. It's affordable, authentic, and amazingly delicious.
2. Bokamorra
If you're craving a slice of Napoli in the heart of Split, look no further than Bokamorra.
Trust me, several of my local friends swear by it, and they know their pizza. The pizzas here are out of this world, featuring classic Neapolitan dough that's both soft and crispy, and quality ingredients that you can taste with each bite.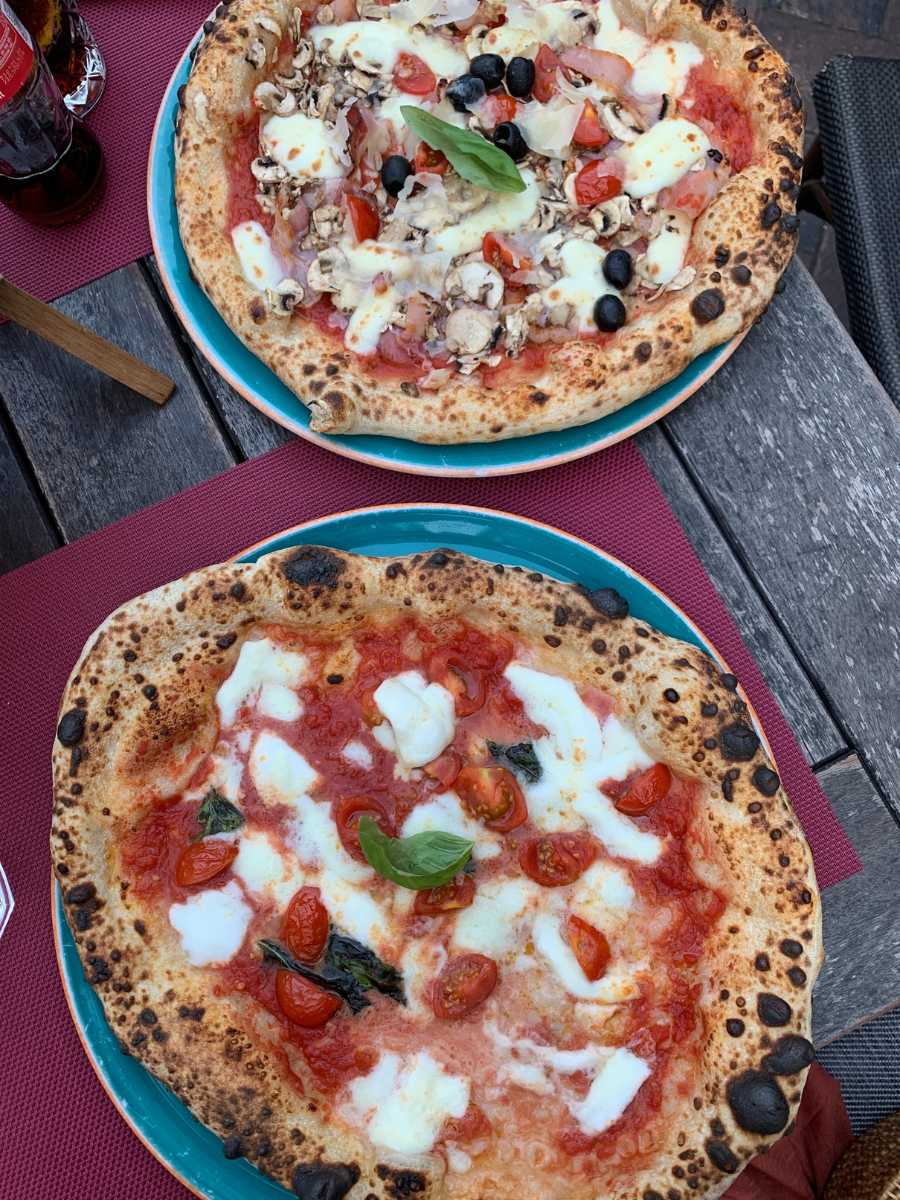 The restaurant itself is simple and modern with a cool and welcoming vibe. What makes the experience even better is the open-kitchen setup that allows you to see the chefs meticulously crafting each pizza.
The pizzas are reasonably priced and generously sized – you can easily feed two people with just one pizza. Be sure to save room for dessert, because Bokamorra also offers dessert pizzas with sweet toppings like white chocolate, raspberry, and pistachio—yes, it's as good as it sounds. To top it off, their cocktail list is curated to complement each pizza perfectly.
3. Bokeria
If you want to level up your dining experience and treat yourself to some delicious Mediterranean-French fusion cuisine, Bokeria is waiting to sweep you off your feet.
From the moment you step in, you're welcomed by an ambiance that's both stylish and cozy, offering an intimate setting that's perfect for a date. And for those who love a touch of al fresco dining, the outdoor seating along the charming stone street adds an extra layer of romance.
The menu at Bokeria is short and sweet, yet carefully curated to include only the very best dishes. A few must-tries include the burrata salad, truffle pasta, and black risotto. Don't even get me started on the presentation! Every dish is like art on a plate, designed with the utmost attention to detail. The wine list is equally impressive with selections from some of Croatia's best vineyards.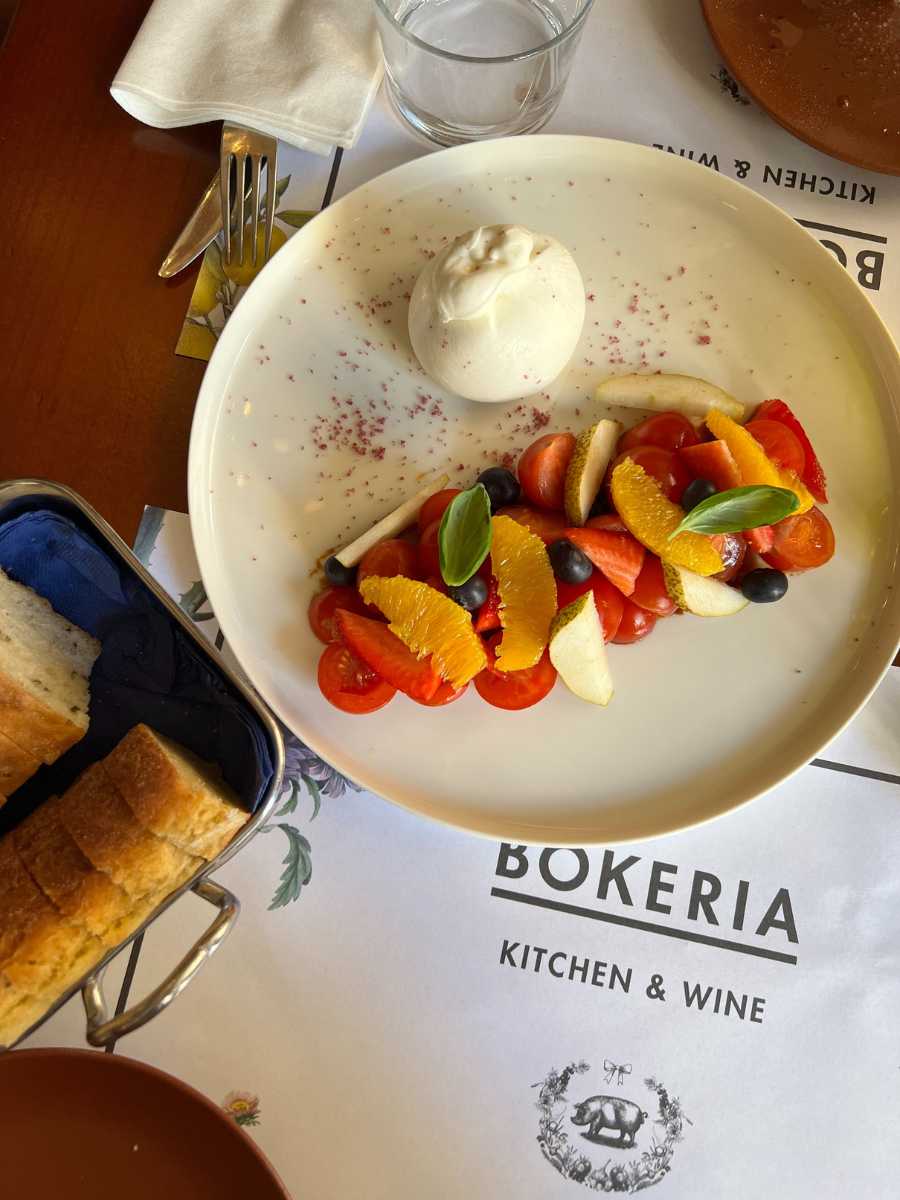 It's worth noting that the prices at Bokeria do lean towards the higher end, but it's worth it. The vibes, the staff, and the sheer quality of the food all come together to create an experience that beats most other restaurants in Split.
4. ARTiČOK
ARTiČOK is a spot where fine dining takes on a whole new grungy and uniquely cool vibe.
Recently renovated, this place oozes character and sets the stage for an exceptional dining experience. Boasting a rooftop patio with views of the city streets below, and live music during the summer months, ARTiČOK is a terrific spot for something a bit more special than your typical dinner out.
As far as the food goes, ARTiČOK has really nailed the art of combining modern and traditional cuisine, resulting in dishes that are stunning to look at and equally delicious. Must-tries include their iconic artichoke risotto, beef cheeks, and tagliatelle with smoked mussels. To top things off, their waitsaff is absolutely delightful, checking on you frequently, clearing plates away with a smile, and ensuring your drinks never run dry.
For an upscale night out that's infused with an edgy twist, ARTiČOK is the answer. Fun fact: Their name, ARTiČOK, is a combination of two words that describe their restaurant philosophy. "Art" which stands for art on the wall or art on a plate, and "Čok", which is a slang term for small bites of food. This is a perfect metaphor for their cuisine, which combines creativity with bite-size portions.
5. Corto Maltese
Tucked away in a charming alley near the Split fish market, Corto Maltese is a hip hangout with a funky rustic vibe that's nothing short of captivating.
This unassuming gem fuses Croatian and Italian flavors in a contemporary and creative menu.
The options here might be limited, but don't let that deter you. Seafood and pasta dishes steal the show, each one featuring a blend of fresh, high quality ingredients, and flavors that hit just the right spot. And when it comes to presentation—it's absolutely stunning, turning your meal into an edible work of art.
For starters, the lamb tartare and shrimp pâté are simply divine. As for the mains, you won't be disappointed with the seafood tomato pasta or cuttlefish risotto. They've also got gluten-free options on the menu, ensuring everyone can enjoy their tasty creations.
The staff at Corto Maltese is super friendly and goes the extra mile by describing each dish in detail. Plus, the service is also quick, so you won't have to wait long for your order.
No wonder this restaurant is buzzing—Corto Maltese has earned its popularity for all the right reasons, and will certainly be one of the most memorable dining experiences you have in Split. Just keep in mind that reservations are a must as this place tends to get booked up.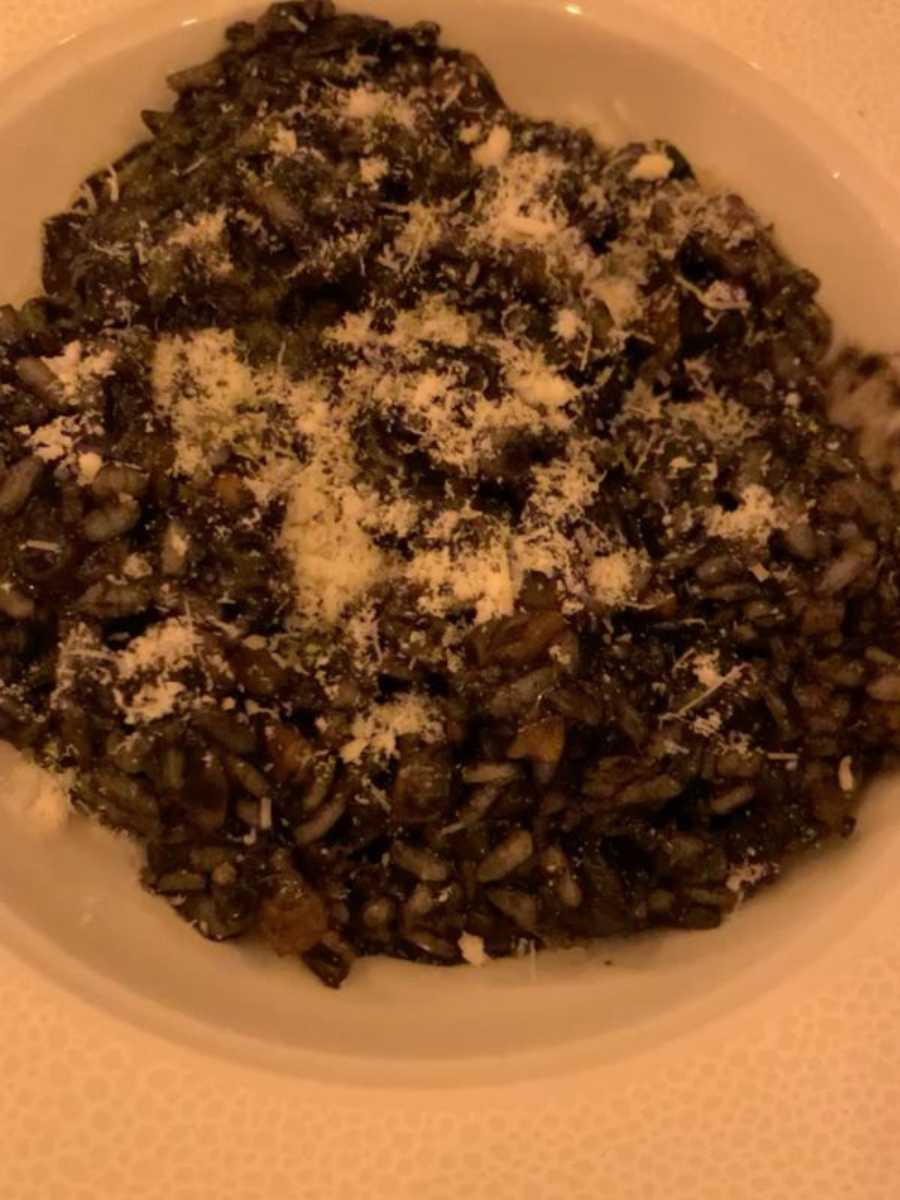 You may also like:
6. Restoran Dvor
If there's one restaurant that takes the cake for the most breathtaking outdoor terrace in the city, it's Restoran Dvor.
Situated right on one of the most beautiful beaches in Split and fringed by fragrant pine trees, Restoran Dvor is an ultra romantic dining destination. This is the kind of place locals cherish as one of their best-kept secrets, situated just a leisurely 20-minute stroll from the Old Town in the Firule neighborhood.
The food here is absolutely top-notch, created by one of Croatia's most renowned chefs, Hrvoje Zirojević. Just the mention of his name is enough to conjure images of seafood perfection. Each plate that comes out of the kitchen at Restoran Dvor showcases his skills with the freshest catches of the day, presented with a unique twist. The dishes here easily meet the standards set by Michelin.
Trying the ceviche is essential here, but the smoked fish risotto is a solid choice too. In addition to the killer main courses, Restoran Dvor raises the bar further with an attentive and knowledgeable wait staff. They also have a sommelier on hand who can help curate the perfect wine pairing for your meal.
Just a heads up, this place gets very busy, so securing a reservation in advance is highly recommended.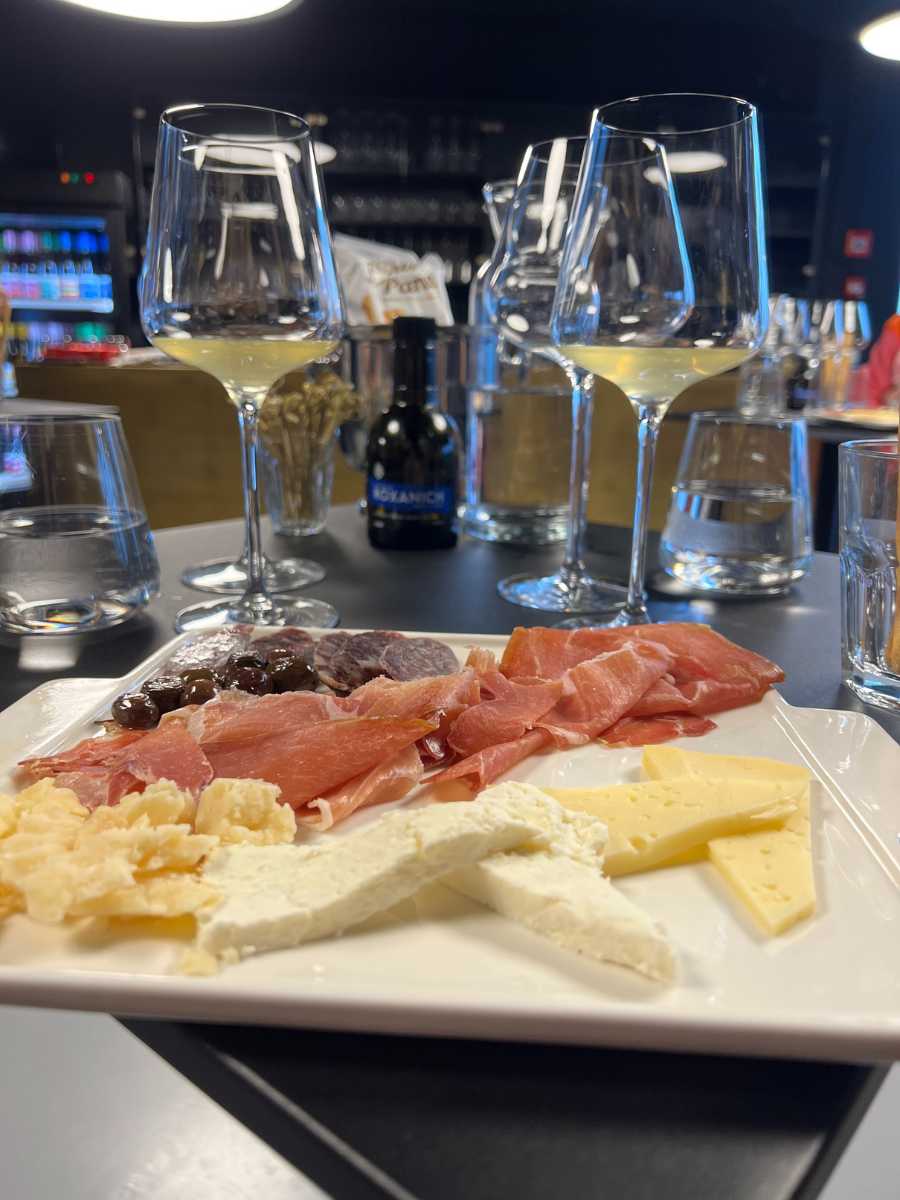 7. Konoba Fetivi
Located right by the harbor, Konoba Fetivi is the ultimate family-run tavern that's bursting with tradition.
They've totally mastered the art of serving up seafood that's not only fresh, but also super satisfying, all while sticking to classic recipes that have been passed down through generations.
When you place your order, the staff will bring a tray of fresh-caught fish and seafood for you to pick just what you're craving. They're super helpful in guiding you to the best choices. Personally, I'd suggest sharing the seafood platter (great for two or more people) or going for the white shrimp risotto. In addition to delectable cuisine, Konoba Fetivi also takes local wine seriously, offering exceptional vino on tap from the wineries surrounding Split.
Whatever you end up ordering, be sure to leave room for dessert. They make an amazing Rozata, a traditional Dalmatian dessert that is similar to flan and served with a caramel sauce. It's a sweet finale that will simply melt in your mouth!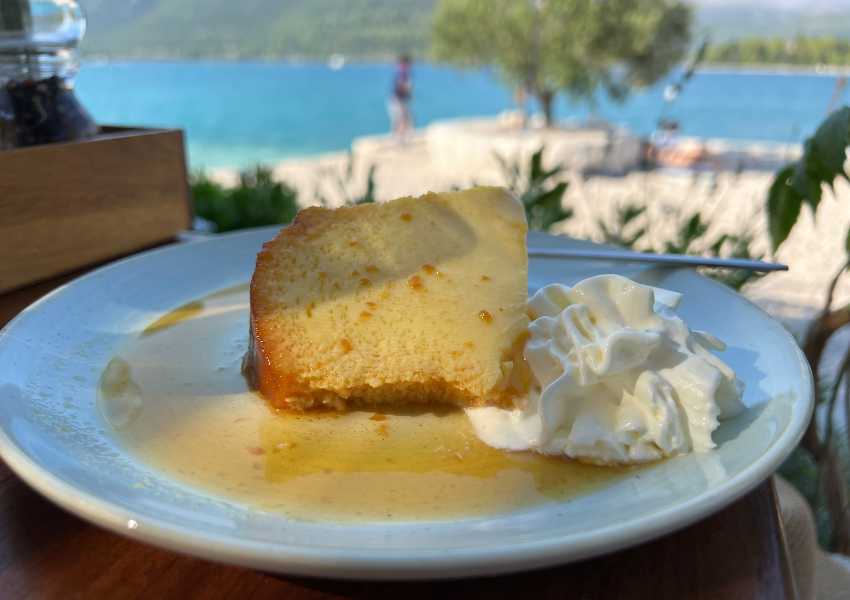 Best Dessert in Split
8. Gelateria Emiliana
While in Split, be sure to indulge in a scoop or two of the city's finest homemade gelato.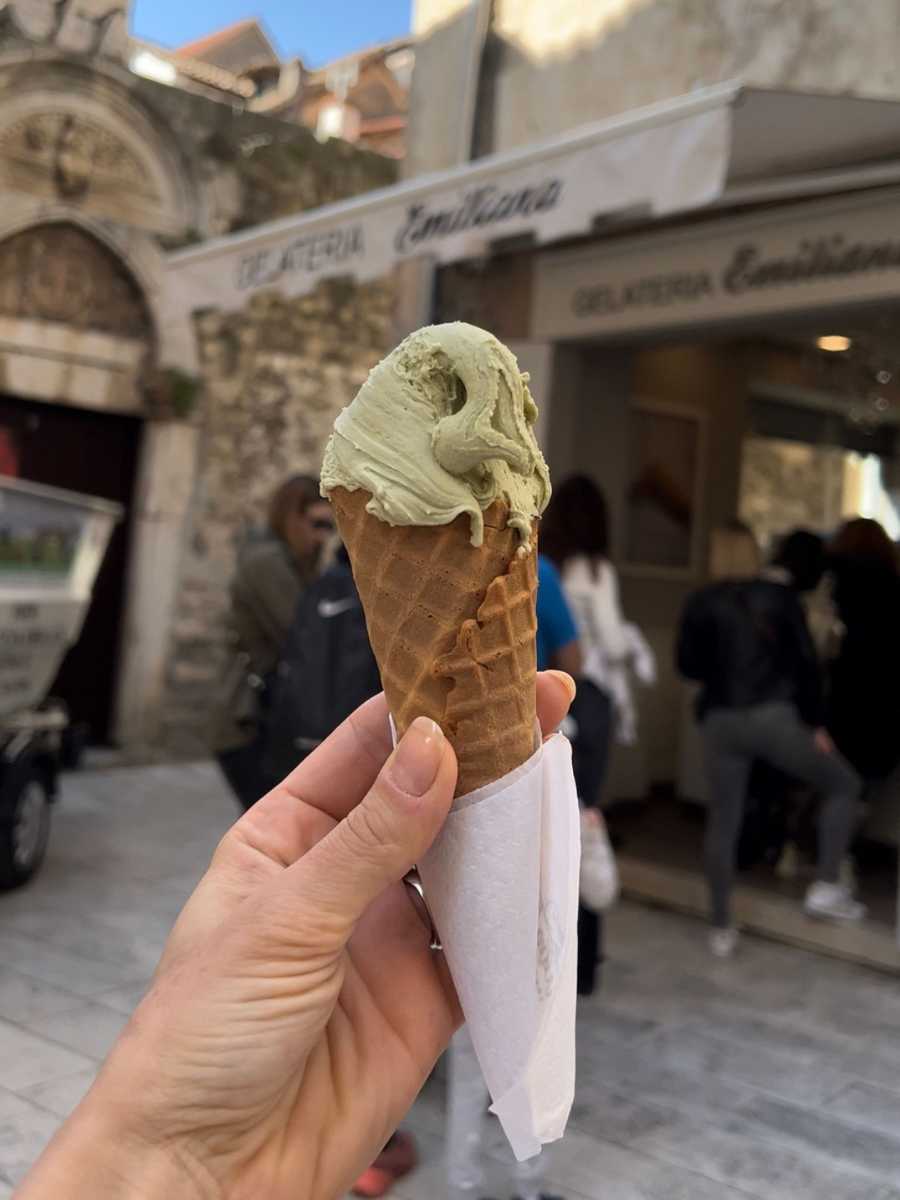 Look no further than Gelateria Emiliana, where gelato that can rival Italy's is served in cones that are made in-house. The sweet smell of freshly made ice cream cones fills the surrounding streets, so it's no surprise that there is almost always a line out front.
Gelateria Emiliana offers a variety of tasty combinations like fig and ricotta, as well as nutty creations like pistachio. Of course, the timeless favorites of chocolate, vanilla, and strawberry are also available – all crafted with fresh ingredients.
9. Oš Kolač
Another fantastic place where you can satisfy your sweet tooth is at Oš Kolač, a cozy pastry paradise serving artisan cakes and coffee.
Stepping inside, you'll be greeted by a playful and colorful decor that practically begs for a few Instagram shots. It's a great spot to take a breather and recharge while you're exploring Split.
Their cakes are bursting with flavor yet surprisingly light. Don't miss the Barba Čičak cake, a unique dessert blending the Dalmatian flavors of olive oil, lavender, and rosemary. For those seeking vegan or healthier options, Oš Kolač has you covered. Their raw cake, made with cashews, coconut oil, and agave nectar, is a guilt-free treat that promises to satisfy your sweet cravings.
Final Thoughts On the Best Restaurants in Split
And that wraps up this list of the best restaurants in Split! Hopefully this guide will help you find the perfect place to eat while exploring this beautiful seaside city. From the laid-back vibes of Fife to the irresistible pizzas at Bokamorra, all of the restaurants on this list are sure to keep you coming back for more delicious Croatian food.
As you wander along the busy streets of Split, prepare yourself for an epic foodie journey that no other city in the world can match. Whether you crave the authentic flavors of Dalmatian cuisine or are excited to sample some creative fusion dishes, Split's dining scene offers an awesome variety of options to please even the pickiest of eaters.
With these insider tips in your pocket, you're finally set to explore Split's restaurants like a pro.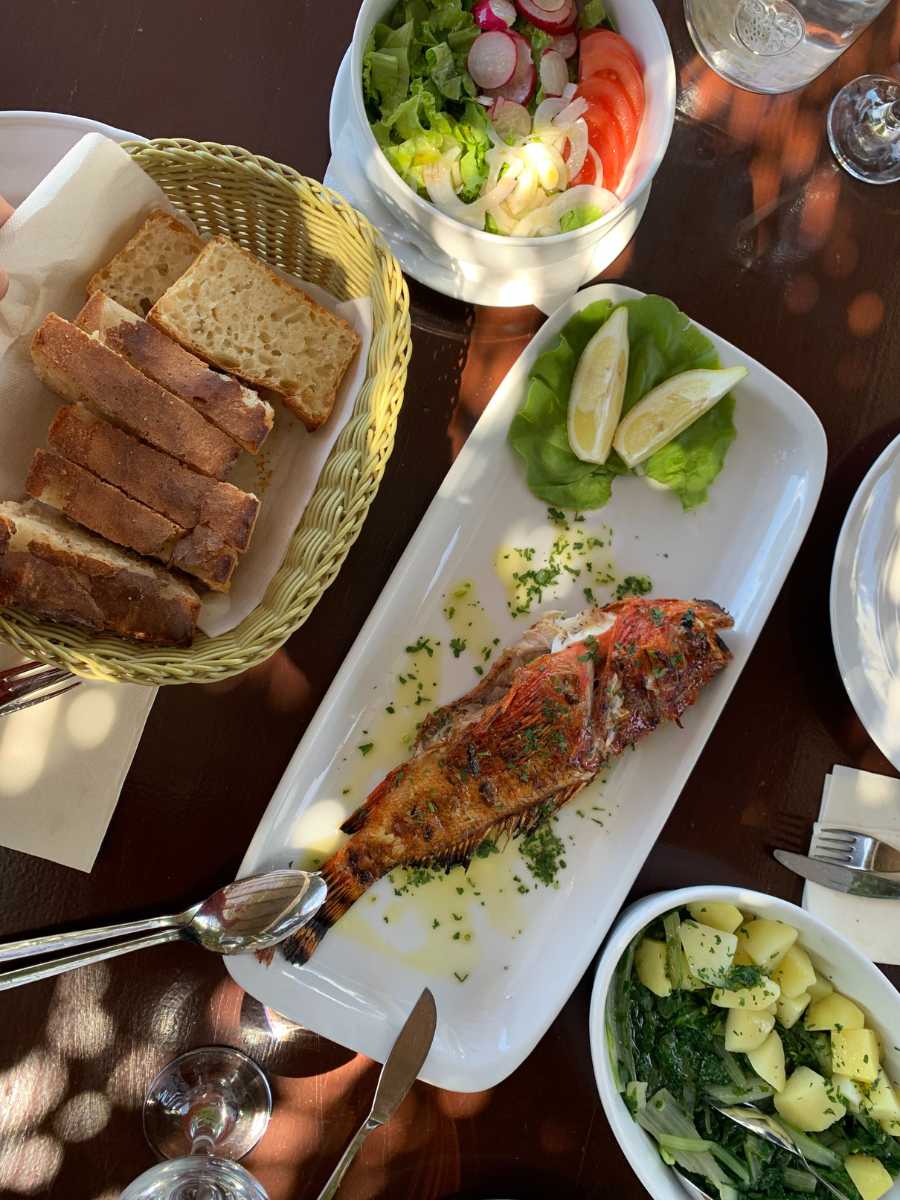 As we say in Croatia – Dobar tek!
About the Author: Olivia Loren
Olivia is an American with Croatian roots who followed her heart to Zagreb in 2014. On a mission to explore every corner of this beautiful country, she started Inspired by Croatia to share her knowledge about Croatia through detailed itineraries, destination guides, travel tips and exclusive local insights.