9 of the Best Things to Do in Croatia
Croatia is one of the most beautiful and diverse countries in Europe. From countless gorgeous beaches and crystal-clear waters to charming historic towns and breathtaking natural parks, Croatia makes for the perfect summer destination.
However, with so many activity options and sites to see, it can be tough to know what the best things to do in Croatia are. In this blog post, we'll take you through 9 of the must-do activities when visiting Croatia (recommended by a local).
Whether you're an adventure seeker looking for an adrenaline-pumping experience or a foodie looking to indulge in delicious local cuisine, you'll find plenty of options to suit your interests.
From the historic walls of Dubrovnik to the stunning waterfalls of Plitvice Lakes, we'll guide you through some of the most beautiful and exciting destinations in Croatia.
We'll also introduce you to some off-the-beaten-path activities, like truffle hunting in Istria and wine tasting in Slavonia.
So, whether you're planning your first trip to Croatia or you're a seasoned traveler looking for some fresh inspiration, this post is for you. Get ready to discover 9 of the best things to do in Croatia!
9 of the Best Things to Do in Croatia
1. Walk the walls of Dubrovnik
Dubrovnik – Dubrovnik is one of the most sought-after destinations in Croatia, and it's not hard to see why. While prices in Dubrovnik may be higher than they are in the rest of the country, trust that a visit to this strikingly beautiful medieval town is worth every penny.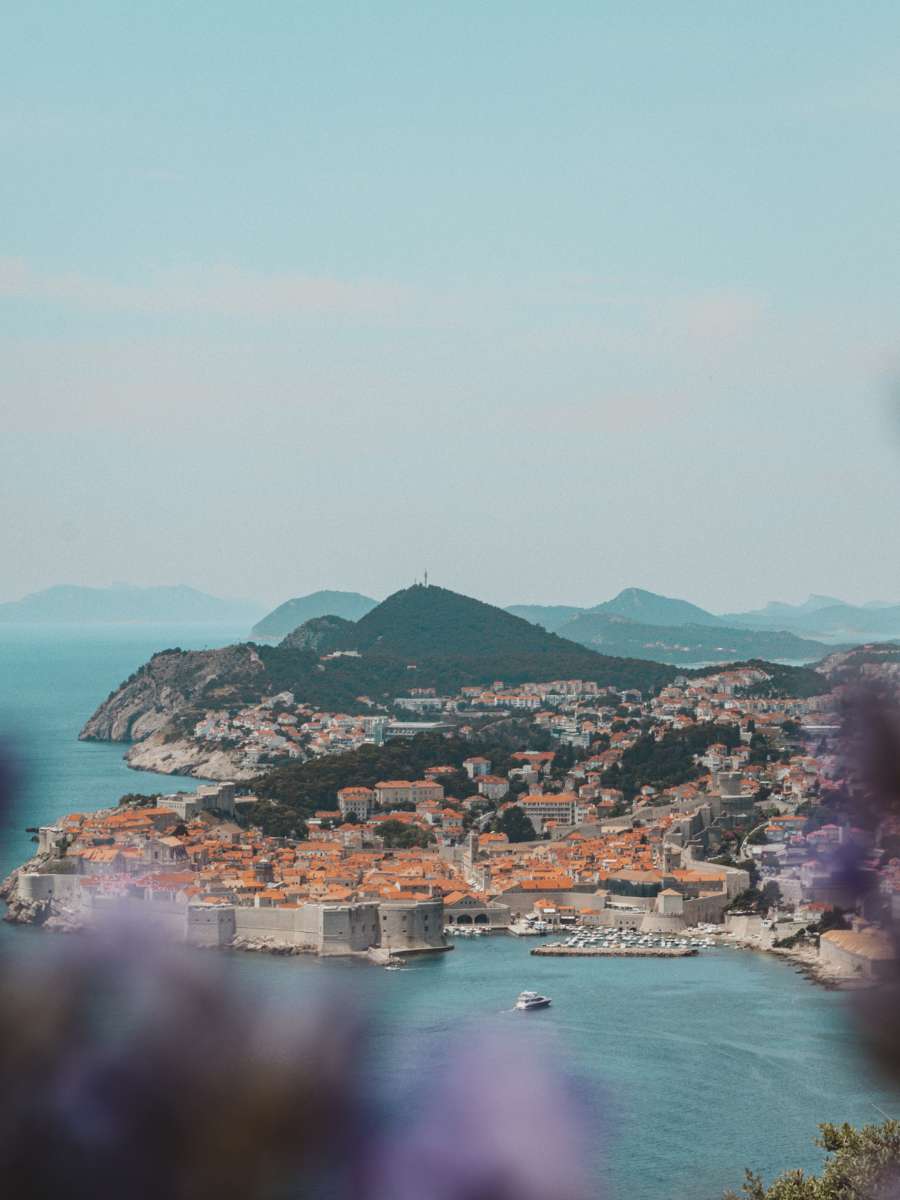 One of the most iconic things about Dubrovnik is its towering walls that date back to the 16th century (you may have seen them in Game of Thrones or even Star Wars!).
Walking along the city walls is the number one activity to do in Dubrovnik, as it offers stunning panoramic views of the city and the sparkling Adriatic Sea.
In addition to the walls, Dubrovnik is home to a wealth of beautiful architecture, including the striking Gothic-Renaissance style Rector's Palace, the Baroque-style Church of St. Blaise, and the 14th-century Franciscan Monastery.
Plus, the nearby island of Lokrum makes for the perfect escape from the busy streets of Dubrovnik. To reach it, simply hop on the ferry from the Old Town port, and spend the day hiking, swimming, and cliff-jumping off the shores of Lokrum.
2. Go truffle hunting in Istria
If you love truffles, then you won't want to miss the chance to visit Istria, the truffle capital of Croatia! In addition to sampling award-winning truffle dishes and products, you can actually go on your own truffle-hunting adventure.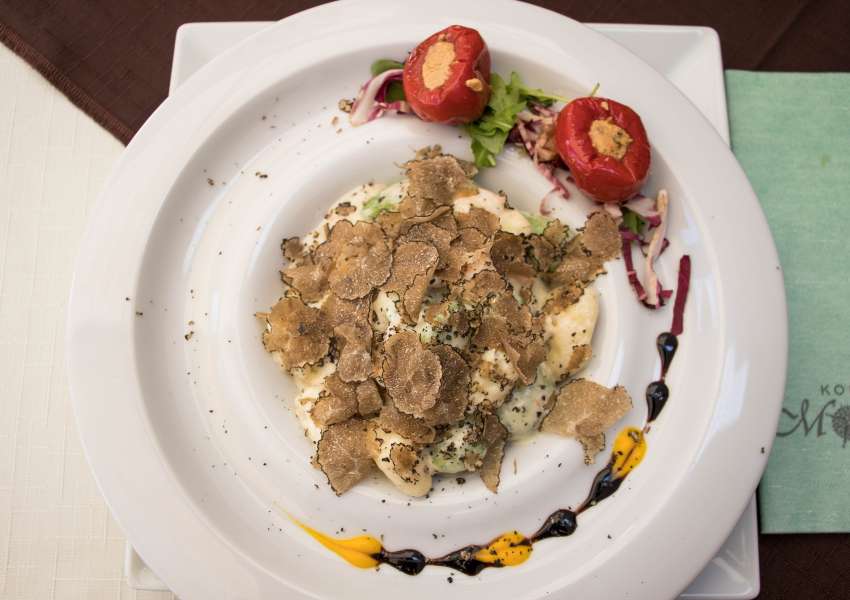 A truffle hunting tour is a fun and fascinating activity that allows you to witness the traditional methods used for finding these rare and delicious fungi.
On a tour, you'll join an experienced guide and their trusty dog on a hike through the beautiful Istrian countryside, searching for truffles hidden beneath the earth.
Once the truffle is found, you'll have the opportunity to sample it and learn about its unique flavor and aroma.
Many tours also offer cooking workshops where you get to cook with the truffles you harvested during your hike. On the tour, you'll also learn about the history and culture of truffle hunting in Istria, which dates back centuries.
So, if you're a foodie looking for a one-of-a-kind experience when traveling to Croatia, make sure to add truffle hunting in Istria to your list.
3. Do some island hopping
Island hopping in Croatia is undoubtedly one of the best things you can do when visiting this beautiful country.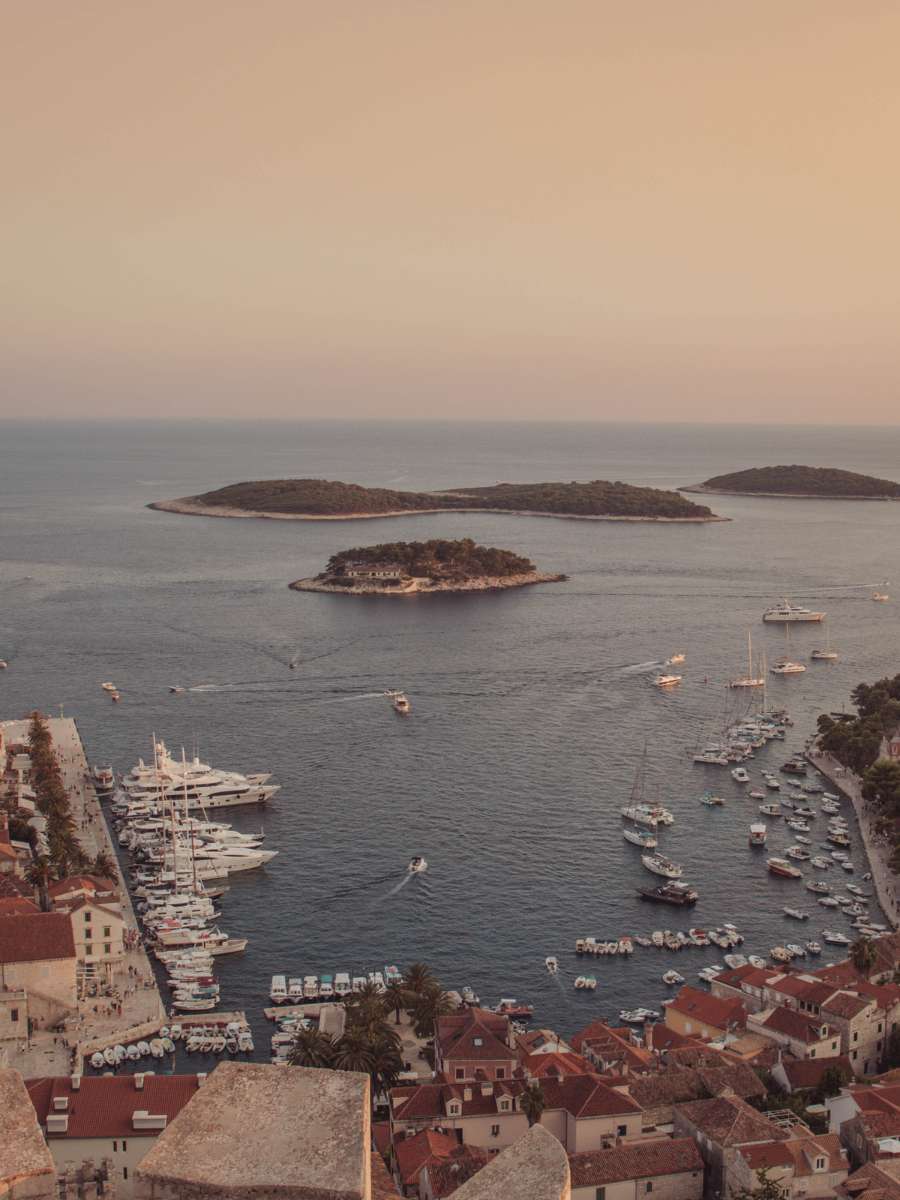 With over 1,000 islands to choose from, each with its unique charm and character, you're spoilt for choice!
One of the best things about island hopping in Croatia is that it allows you to explore some of the country's most stunning beaches and coves, which are often only accessible by boat.
From the secluded coves of Brac Island to the mysterious blue cave near Vis, there is no shortage of breathtaking scenery to discover.
Not to mention, the crystal clear waters of the Adriatic Sea are perfect for swimming, snorkeling, and other water activities.
You can soak up the sun on a sandy beach, or simply relax on the deck of your boat, taking in the beautiful views and soaking up the Croatian sunshine.
If you're on a budget, you can DIY an island-hopping tour for a fraction of the price by navigating the ferries on your own.
However, if you can spare a little extra cash, the best way to see the islands is by chartering a boat or joining a tour. There are plenty of Split Boat Tours to choose from, and they don't have to break the bank.
4. Experience Biokovo Skywalk
Located in the mountains behind the Makarska, Biokovo Skywalk is one of the most exciting things you can do when traveling to Croatia, especially if you're staying on the Makarska Riviera.
This glass-bottomed platform that protrudes from a cliff offers panoramic views of the surrounding mountains and the Adriatic Sea below. It's a thrilling experience that is not for the faint of heart, but the stunning views are well worth it!
Walking on the glass platform, you'll feel like you're floating above the mountains, with nothing but the sky and the jagged peaks below you. It's a truly unique experience that will leave you with unforgettable memories and epic photos.
Biokovo Skywalk is a relatively new attraction (it opened in 2020), so it's still somewhat of a hidden gem!
To get to the Skywalk, you'll need to take a scenic drive up the winding road through the Biokovo mountains. The drive itself is an adventure, with stunning views at every turn, and if you're lucky, you may even run into some wild horses along the way.
5. Hike through Plitvice Lakes National Park
Many visitors to Croatia debate between Plitvice Lakes or Krka National Park, and the decision relies heavily on the amount of time you have. If your itinerary allows, Plitvice Lakes should be your top choice!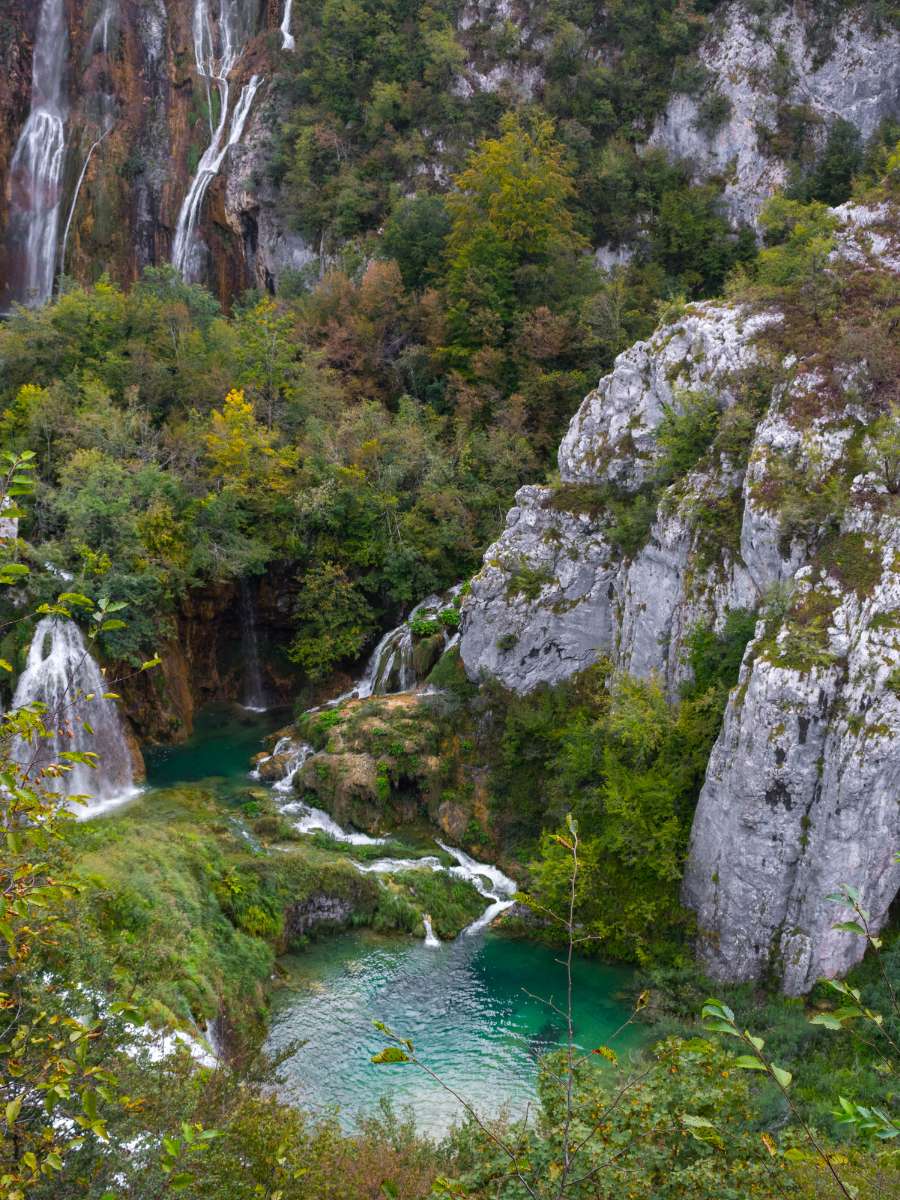 Plitvice is one of the oldest and largest national parks in Croatia featuring a series of 16 interconnected lakes that are fed by several small rivers.
The colors of the lakes range from emerald green to turquoise blue, and the scenery is nothing short of breathtaking.
Plitvice has enough trails to warrant an entire day of exploration, leading you to discover cascading waterfalls, vibrant blue lakes, and multiple vantage points.
The lakes are about 2.5 hours from Zagreb and 1.5 hours from Zadar, making the park easily accessible from most major locations in Croatia.
If you plan to visit Plitvice Lakes in the summer, know that the park can get quite crowded. For this reason, it is a good idea to arrive at the park at the time of opening.
6. Don't skip out on Zagreb
Croatia's capital is often underappreciated, with most visitors skipping straight from the airport to the coast.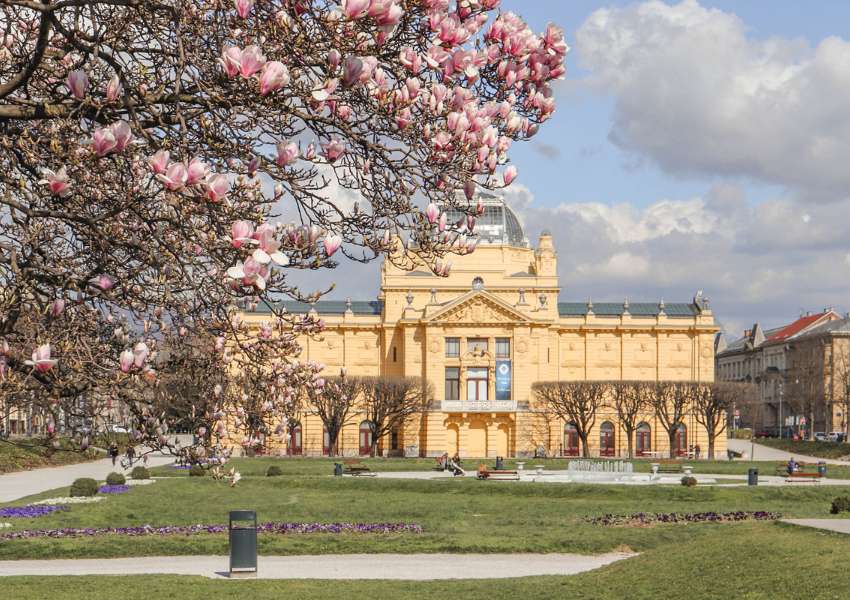 Don't be one of those people! Zagreb is a vibrant and charming city full of surprises. Its Old Town is full of cobblestone streets and pedestrian-friendly areas making it perfect for exploring on foot.
The streets and squares are lined with Baroque Palaces and Austro-Hungarian architecture. Plus, the city is filled with green spaces and quirky museums like the Museum of Broken Relationships and the Museum of Illusions.
When it comes to food and drink, the city is a foodie paradise with an impressive selection of restaurants and cafes to choose from.
From traditional Croatian dishes and desserts to mouthwatering Asian fusion and Middle Eastern delicacies, there's something for every palate. Plus, the city boasts some of the coolest craft beer bars and specialty coffee shops.
7. Go wine tasting in Slavonia
This rural region is famous for its wine production, and it's home to some of the best wineries in the country.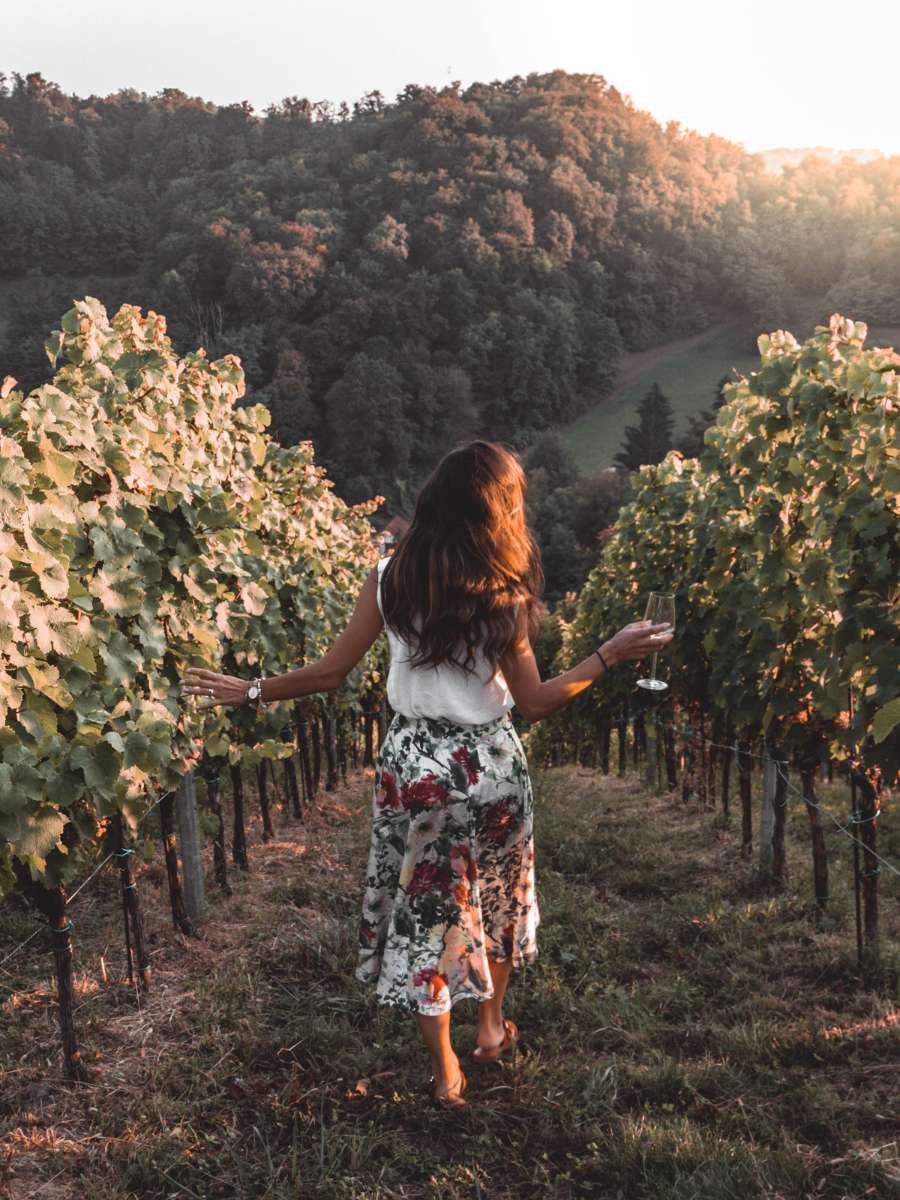 While it is often overlooked by tourists, Slavonia is well worth visiting. One of the things that makes this area of Croatia so special is its unspoiled and natural beauty.
The rolling hills and vineyards are breathtaking, and the locals are friendly and welcoming. You'll feel like you've stepped back in time as you explore the region's charming villages and towns.
If you're a wine enthusiast, you'll be happy to know that there are many award-winning wineries to visit in Slavonia, including Kutjevo, Josic Wine Cellar, and Krauthaker.
One winery that should not be missed is Ilocki Podrumi (Ilok Wine Cellars), a world-renowned wine producer whose wine was served at the coronation of Queen Elizabeth II in England!
At Ilocki Podrumi, you'll have the opportunity to sample some of the best wines in Croatia, including their famous Traminac wine, which is made from a rare grape variety grown only in the region.
You can also take a tour of their Old Wine Cellar, built in 1450, to learn more about the history and culture of winemaking in Slavonia.
8. Slurp oysters in Ston
Just an hour's drive up the coast from Dubrovnik lies a tiny village by the name of Mali Ston. This sleepy little town is famous for its oyster farming and is one of the top places to try this delicious delicacy.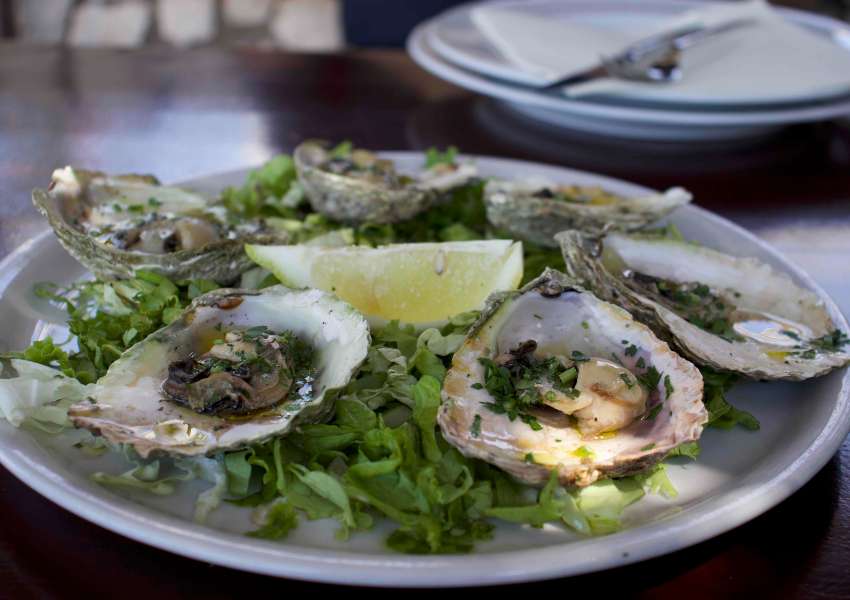 Ston's oysters are considered some of the best in the world, thanks to the town's unique location and favorable growing conditions.
The oysters are grown in the clean, nutrient-rich waters of Mali Ston Bay, which gives them a unique flavor and texture.
The best way to try Ston's famous oysters is by visiting one of the local restaurants, which specialize in seafood dishes.
You can't go wrong when you sit down at Bota Šare, Kapetanova Kuca, and Seosko Domacinstvo Ficovic.
Each of these restaurants offers a unique atmosphere and a variety of oyster dishes, from raw oysters on the half-shell to grilled oysters drizzled with olive oil, garlic, and fresh parsley.
But Ston isn't just about oysters. The town is also home to a wealth of history and culture, including a historic wall that surrounds the town, salt pans, and an ancient salt factory.
You can explore the town's rich heritage by taking a stroll through its charming streets, and you'll be rewarded with stunning views of the Adriatic Sea and the surrounding countryside.
You may also like:
9. Go rafting on the Cetina River
If you're looking to crank up the adrenaline during your visit to Croatia, then you have to go rafting on the Cetina River!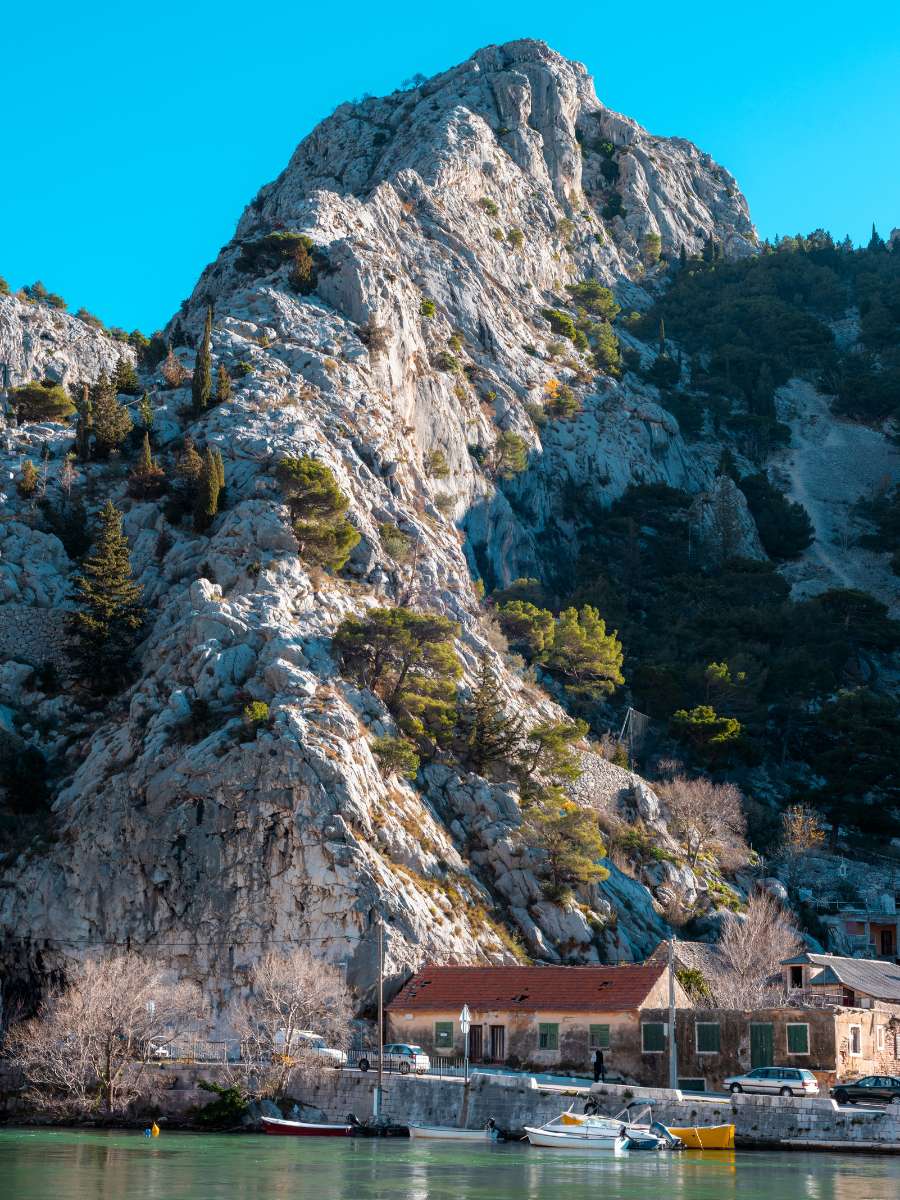 The Cetina River is one of the most beautiful and unspoiled rivers in Croatia, with crystal-clear waters cutting through stunning scenery.
The river runs through a deep canyon, and the rapids range from class II to class IV, making it a thrilling and challenging experience for rafters of all levels.
Rafting on the Cetina River is a fun and exhilarating activity for couples, families, or friends traveling together.
You'll be surrounded by towering cliffs, lush forests, and rushing waterfalls as you navigate the rapids with your guide and fellow rafters. There are plenty of rafting tours to choose from, especially if you are based in the town of Split.
This adventurous day trip will allow you to get out of the city and get in touch with nature. After the tour, you can extend your visit by exploring the town of Omis, where all of the rafting tours depart from.
Here, you can walk around the Old Town, climb up to the city fortress, and relax in one of the many waterfront cafes.
Final Thoughts: 9 of the Best Things to Do in Croatia
There you have it, 9 of the best things to do in Croatia! Hopefully, this guide has inspired you to plan your next trip to Croatia and try out some of these amazing activities.
As always, don't forget to explore beyond the popular tourist destinations, as some of the most memorable experiences can be found in the country's charming small towns and hidden natural gems.
ABOUT THE AUTHOR
Olivia is an American with Croatian roots who moved to Zagreb in 2014 for a study abroad program and never looked back. She has been living in Croatia ever since and now enjoys helping other people plan epic vacations to the country she calls home. She created Inspired by Croatia to share itineraries, local tips and exclusive insights for discovering Croatia off the beaten path.