Austin Photo Spots You Must Visit
Austin, Texas, is a city that has captured the hearts of many with its vibrant music scene, delicious food, and eclectic culture.
But there's something else that makes Austin special. Its unique photo opportunities and beautiful views. In this guide, I'll take you on a tour of some of the top locations to snap Instagram-worthy shots that showcase Austin's authentic personality.
From the awe-inspiring Capital Building to the iconic "Greetings from Austin" mural, you'll learn some of the must visit Austin photo spots that will allow you to experience Austin's vibrant culture through the lens. So, get ready to explore Austin's unique vibe and capture it for yourself!
The Best Austin Photo spots
1. The Austin Skyline
First on the list is the Austin Skyline. If you're looking for Austin's must visit photo spots, this one can't be missed.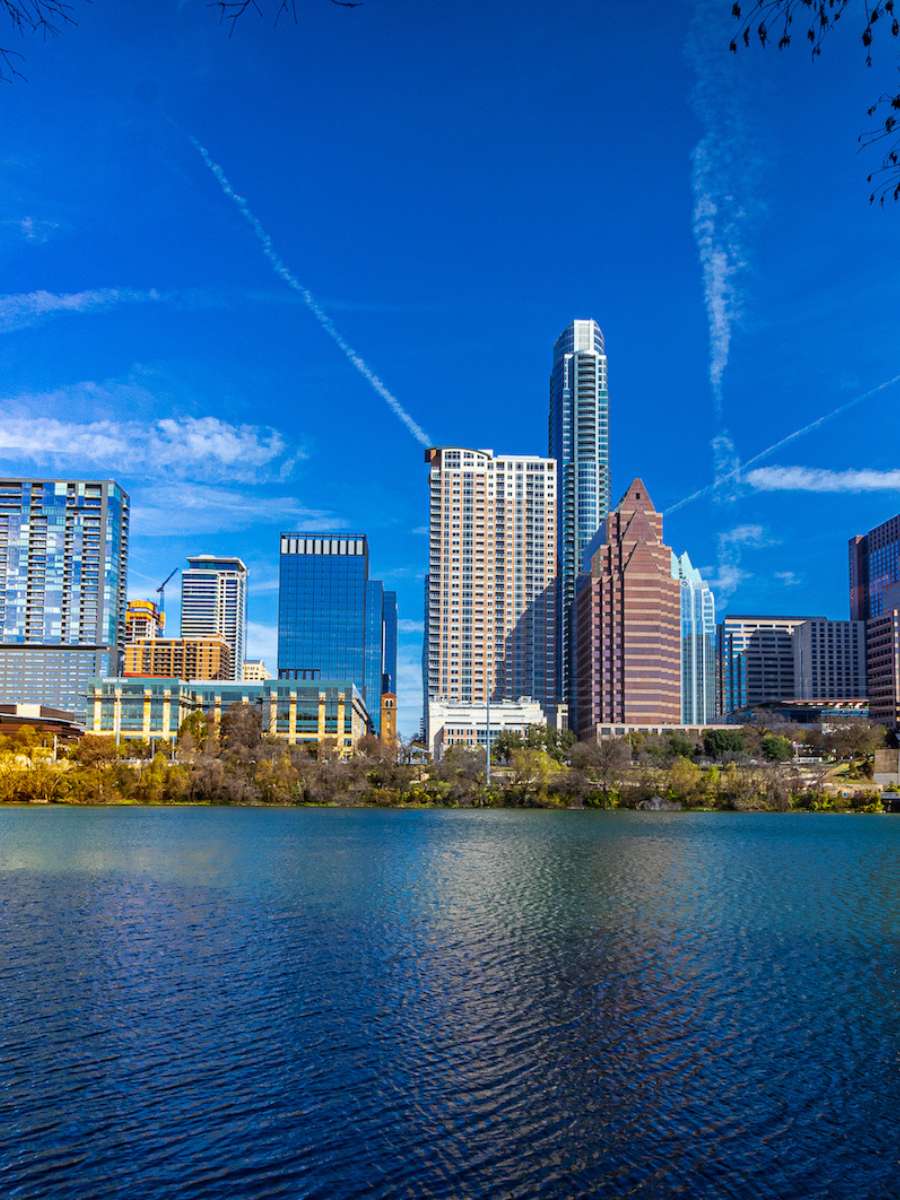 Even better is the fact that you can catch it from so many different vantage points and angles. Instagrammers and photographers alike will love capturing the beauty of this striking skyline during the day, at sunset and at night.
2. The Driskill Hotel
Another must visit photo spot in Austin is The Driskill Hotel. This iconic hotel is a prime example of the city's elegant architecture and rich history.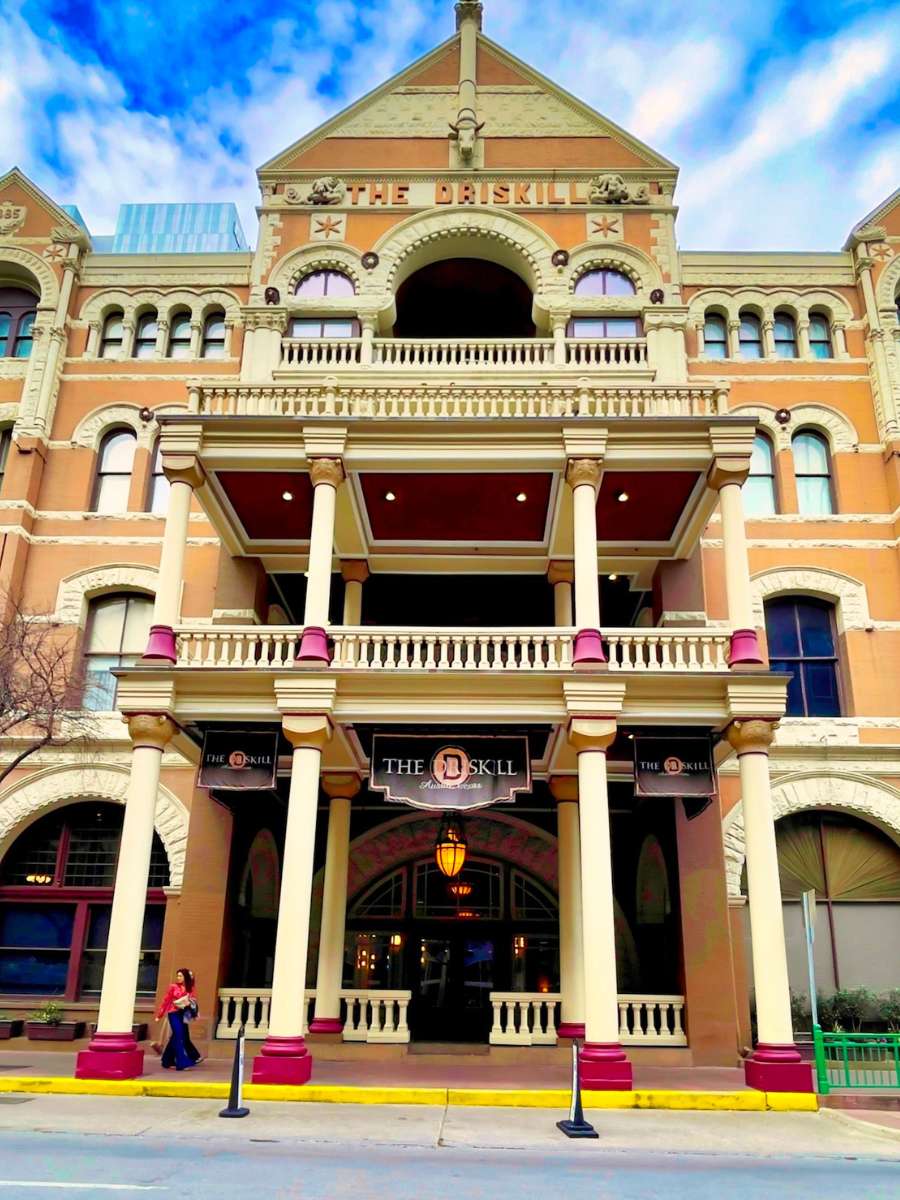 With its unique Victorian-style building and classic interiors, The Driskill Hotel offers a perfect backdrop for your photos that radiate sophistication.
Whether you're capturing the grand staircase, the ornate chandeliers, or the luxurious furnishings, every shot here is sure to impress.
So, make sure to add The Driskill Hotel to your photo tour of Austin and let its timeless beauty add a touch of elegance to your social media feed.
3. Congress Avenue
After capturing the classic beauty of The Driskill Hotel, take a stroll over to Congress Avenue. It's literally right around the corner.
Congress Avenue is considered the "Main Street of Texas", and rightly so, as it leads to the Texas Capital Building.
Additionally the numerous well preserved historic buildings tell their own stories of the rich history of the state. One of my personal favorites is the Paramount Theatre, but there are many others to admire on your stroll.
4. South Congress Avenue
Next you'll find South Congress Avenue just across the bridge over Lady Bird Lake, opposite of downtown.
This trendy street features a variety of unique boutiques, delicious local cuisine, and vibrant street art. Of course with the iconic "I love you so much" mural and more, South Congress Avenue offers multiple opportunities to add a pop of color to your photo collection.
While wandering down the avenue, don't forget to stop by the iconic "Austin Motel" sign. This retro sign is not only a symbol of Austin's vibrant culture, but is one of Austin's top photo spots.
Additionally, the quirky street performers and musicians along South Congress Avenue add even more character to the lively atmosphere.
5. Lady Bird Lake
Now let's talk about some great natural locations Austin has to offer. My personal favorite is Lady Bird Lake.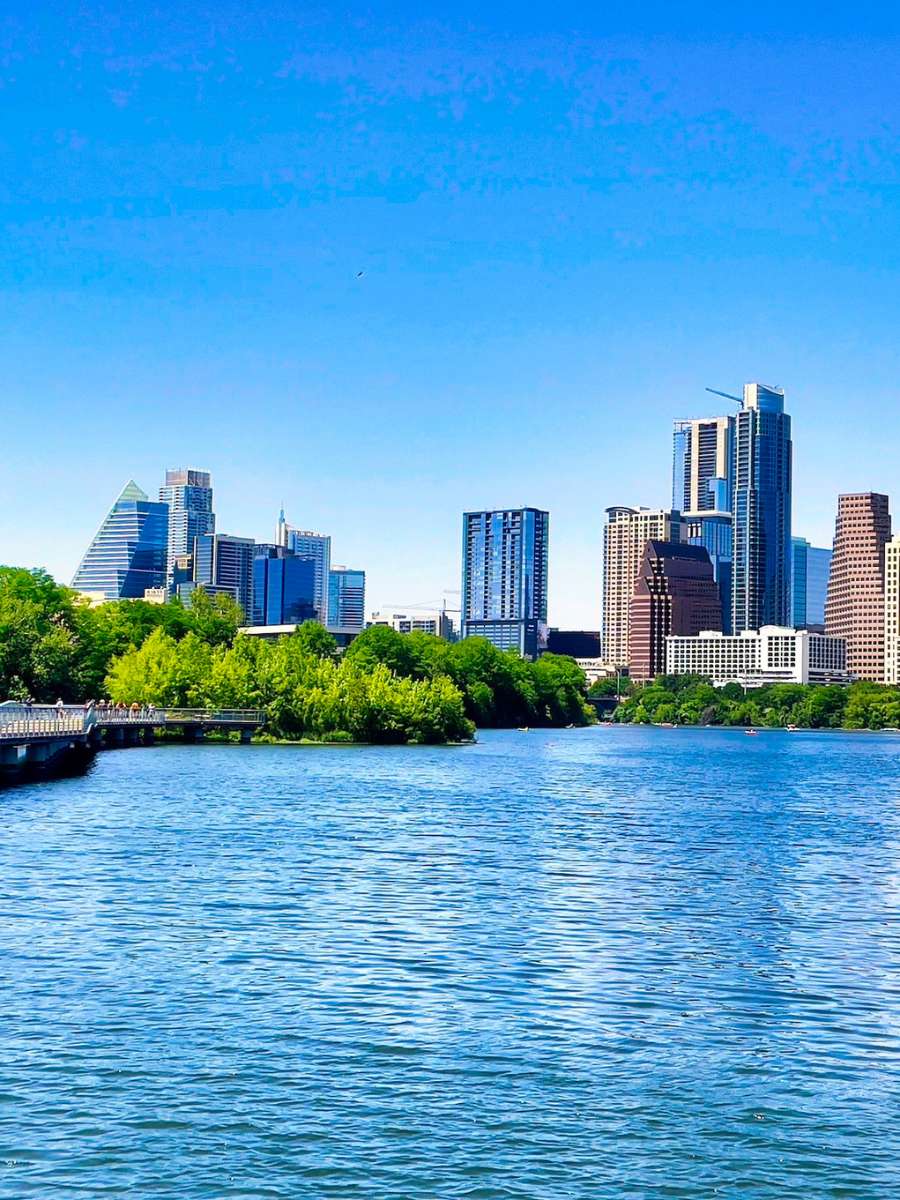 Located in the heart of the city, it is a serene spot that's perfect for taking a break and enjoying the natural beauty of the area. With its tranquil waters and stunning surroundings, this iconic lake is a popular destination for locals and tourists alike.
And, if you're looking to get some exercise in between all your photo-snapping, you can take a stroll along Ann and Roy Butler Hike and Bike trail for stunning views of the city skyline and a refreshing breeze. Not to mention you'll have countless opportunities to catch photos of folks enjoying kayaking, paddle boarding and more.
6. The Boardwalk over Lady Bird Lake
Additionally the Boardwalk over Lady Bird Lake is another great spot for capturing stunning views of the Austin skyline.
The boardwalk is actually a part of the Ann and Roy Butler Hike and Bike trail that I mentioned previously. The boardwalk itself offers a wonderful contrast to the skyline. Not to mention it's a gorgeous view to photograph in the daytime and as well at sunset.
7. Zilker Park
Since we're in the area, let's head over to Zilker Park. Zilker Park is not only one Austin's must visit photo spots, but it's one of the top things to do in Austin. With over 350 acres of greenery, it's easy to get lost in the serene beauty of the park.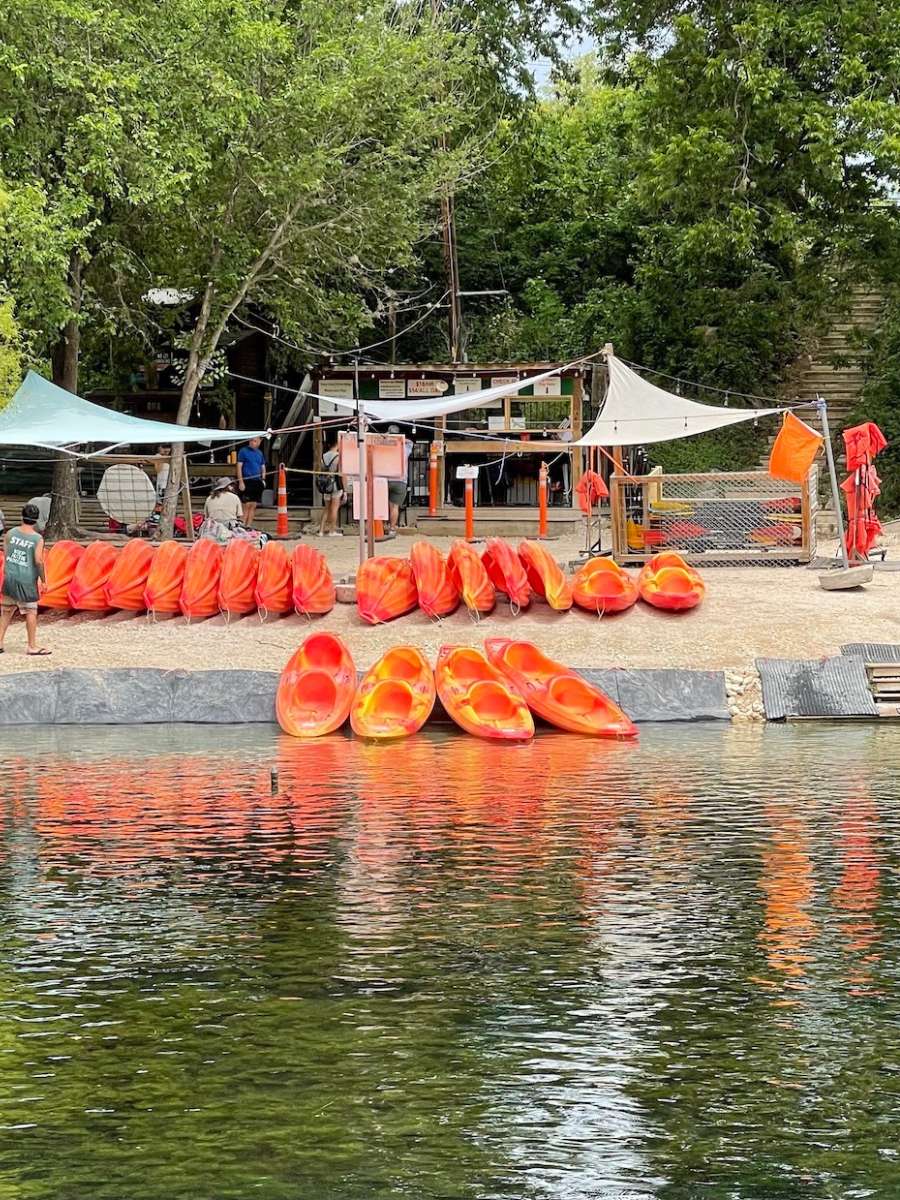 Take a stroll along its many trails, rent a canoe or kayak, or simply have a picnic on the sprawling lawns. There are also lots of opportunities to catch some cool dog photos and people playing soccer or throwing frisbees. Or just people watching in general.
8. Zilker Botanical Garden
While in Zilker Park head over to the Zilker Botanical Garden, which is another popular Austin photo spot. The botanical garden features a stunning array of native Texas plants and flowers.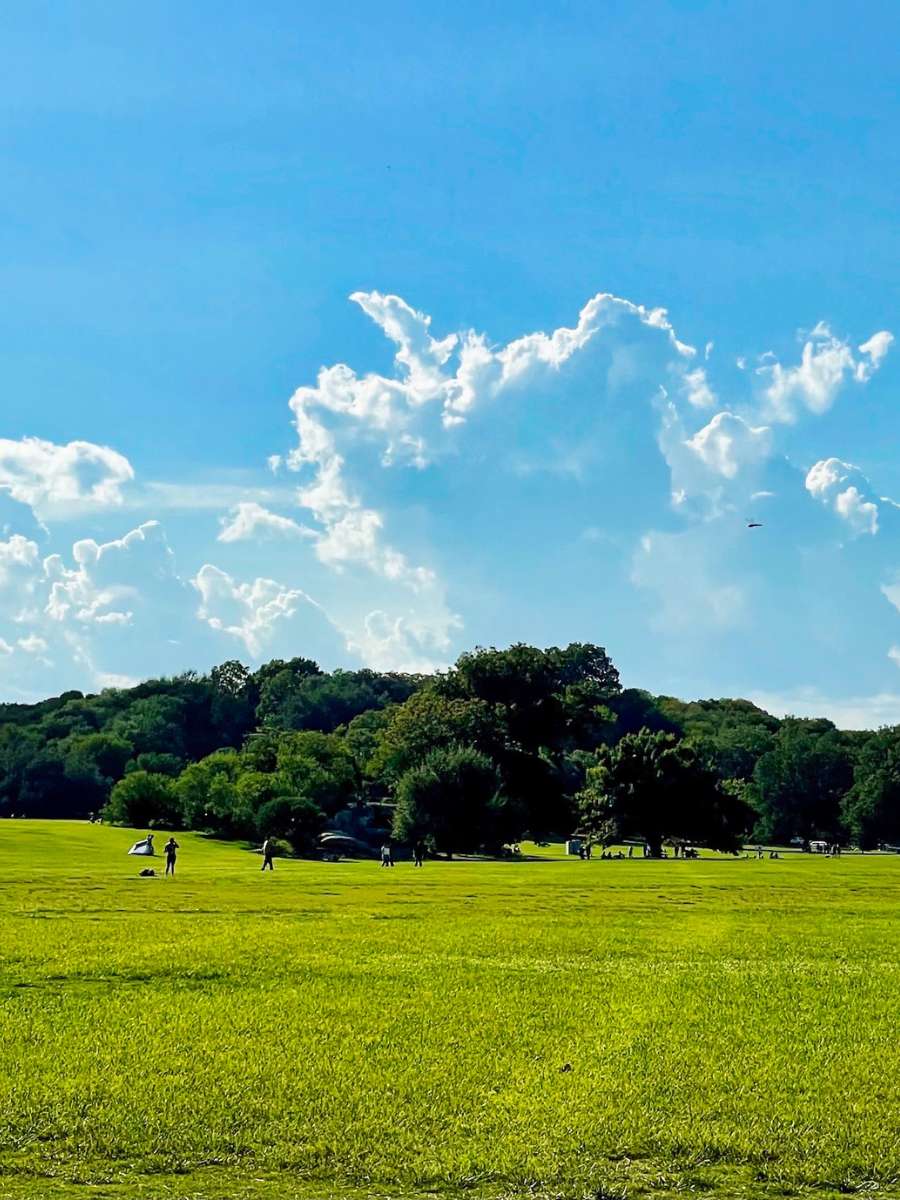 Plus they have themed gardens like the Taniguchi Japanese Garden, Hartman Prehistoric Garden, and Rose Garden. Certainly those seeking the perfect Instagram shot will love the waterfall and Koi Ponds the botanical garden has to offer.
With so much natural beauty to explore in Zilker Park, it's no wonder that it's a top destination for photographers and nature lovers alike.
9. Barton Springs Pool
One of Austin's most beloved and vintage attractions is Barton Springs Pool. This three-acre pool is fed by natural springs and is a popular place for locals and tourists to cool off during the hot Texas summers.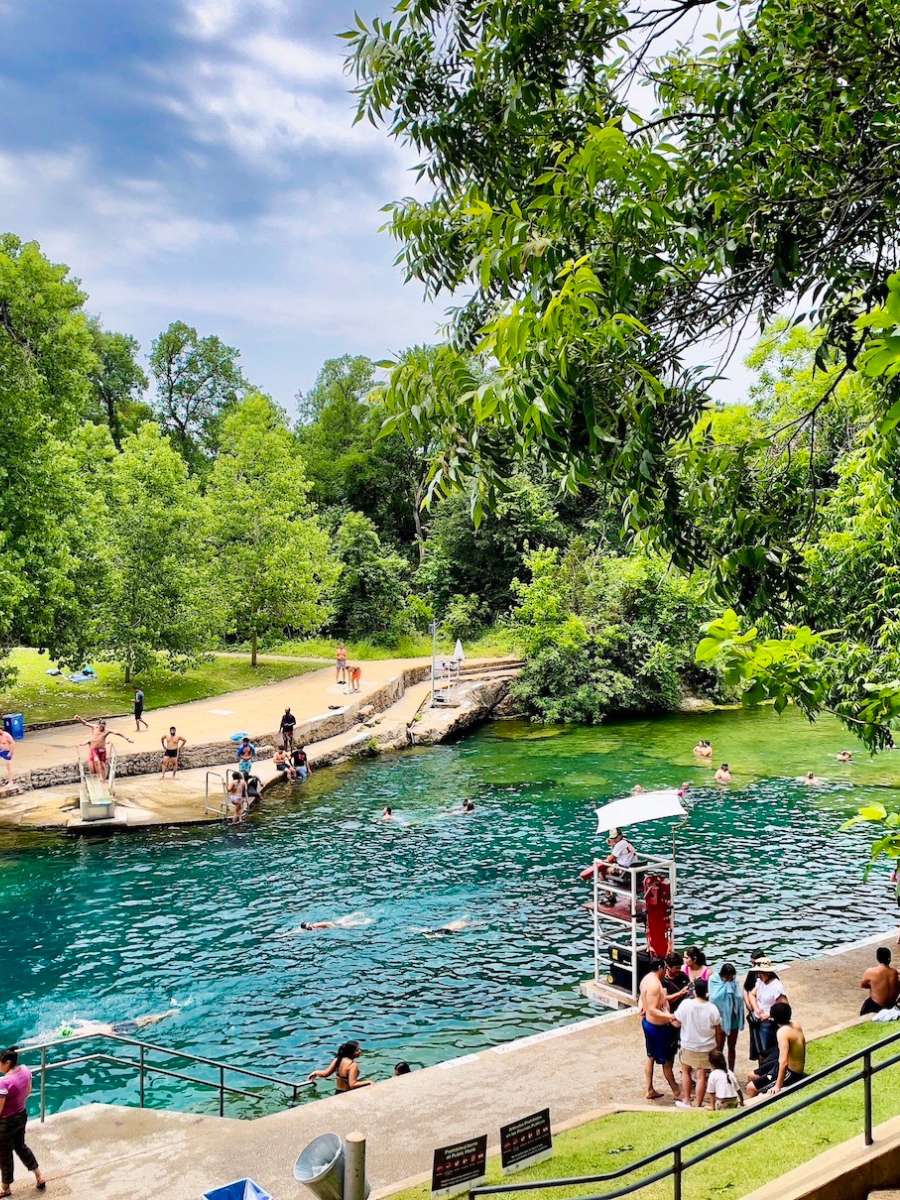 The crystal clear water is always at a refreshing 68 degrees, making it a perfect spot to take a dip, especially in the summer months!
The pool is surrounded by lush greenery and towering trees, creating a serene oasis in the heart of the city.
Whether you are lounging on the grassy hillside or wading in the water, there are plenty of photo opportunities to be had.
Be sure to capture the vibrant blue-green water and the playful splashes of swimmers diving in. My personal fav are those diving board shots!
10. 6th Street
Now that we've explored some nature and outdoor settings, let's head over to the bustling 6th Street for a taste of Austin's famous nightlife.
6th street has become synonymous with Austin's lively nightlife and is a must for anyone seeking to capture the city's unique vibe.
As you wander down 6th Street, you'll be greeted by neon lights, live music venues, and a plethora of quirky bars and restaurants. The energy on this street is infectious and impossible to resist.
If you're looking for photos ideas along 6th Street, then be sure to capture the eclectic mix of people you will see here.
From musicians and artists to college students and tourists, everyone comes together on this street to celebrate everything that makes Austin special.
If you're looking for cool shots for Instagram, there are quite a few. Don't miss Voo Doo Dougnuts, Museum of the Weird, the Dizzy Rooster, and The Historic Scoot Inn, to name just a few.
11. The Capitol Building
The Texas Capitol building is the tallest in the United States. Yes, that is correct, it is 14 feet higher than the U.S. Capitol.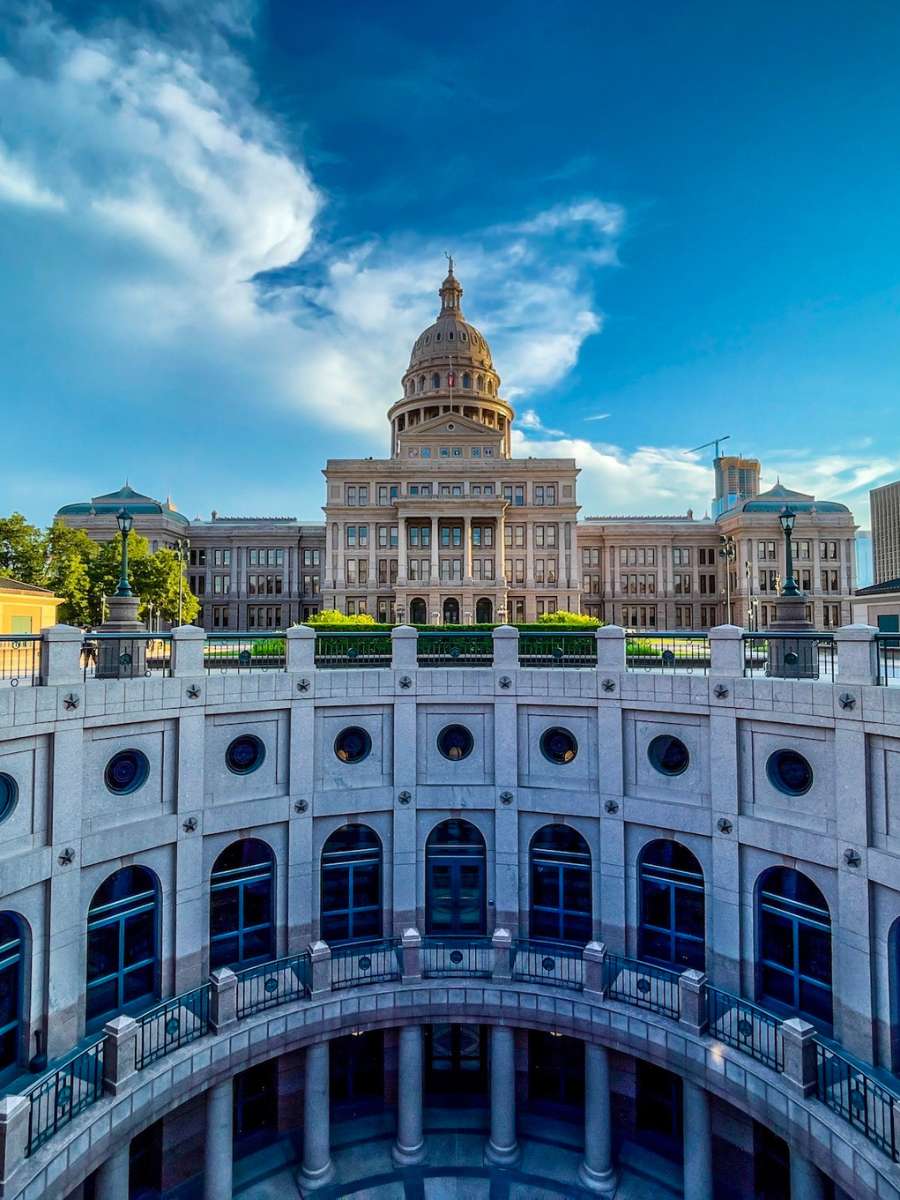 Not only is the Capital Building a great photo opp, it's also a wonderful way to spend an afternoon. The capital offers free 30 minute tours, or if you prefer, you can grab a free self-guided tour guide and explore on your own.
One tip I would like to share is to visit closer to sunset because this place is stunning just before and after sunset.
12. Waterloo Park
Waterloo Park is a hidden gem nestled in the downtown area of Austin.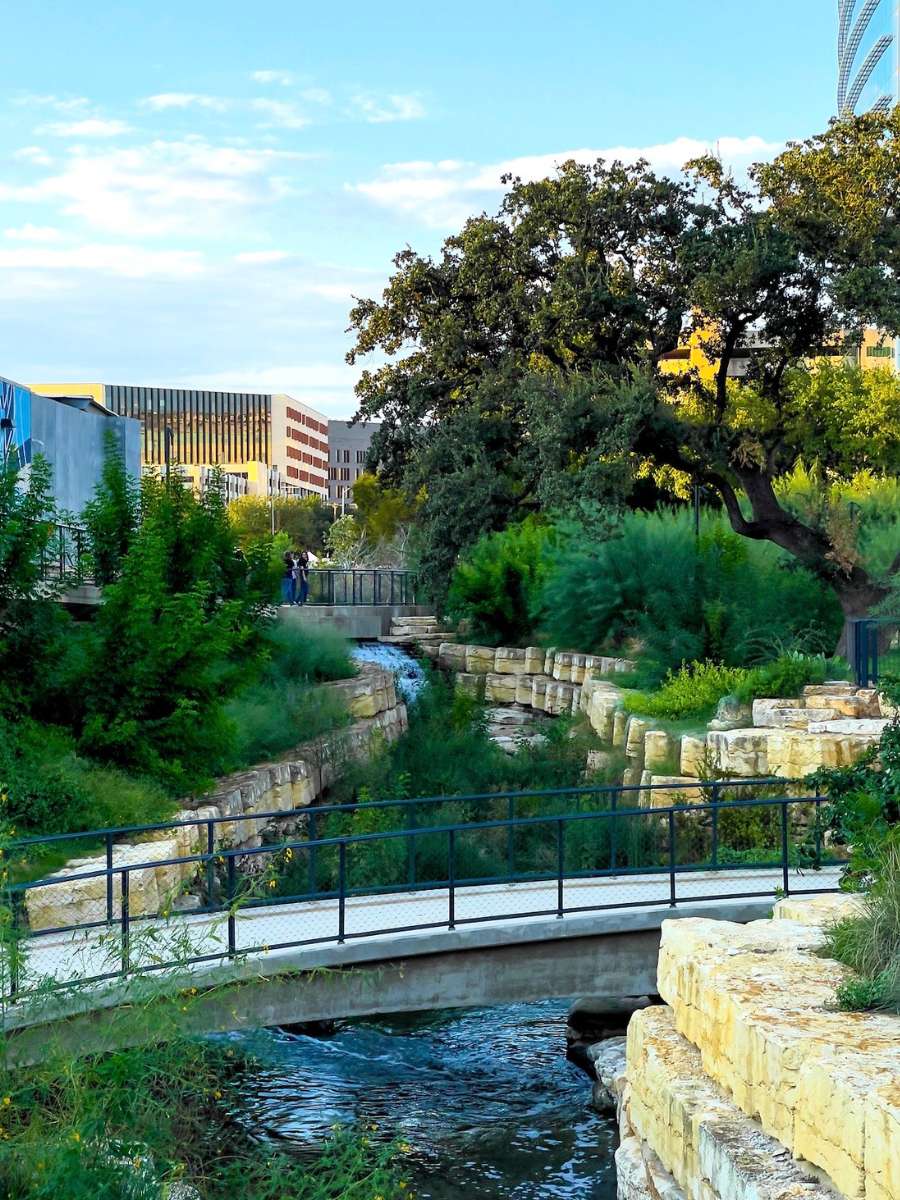 This delightful park offers a unique blend of natural and urban features that make it a must visit spot for photo enthusiasts. The 11 acre park has recently been revitalized as part of the Waterloo Greenway.
The park features 1.5 miles of tree lined hike and bike trails and open green spaces. Providing ample opportunities for capturing candid shots of people, animals and nature.
In addition you will find Waller Creek running through the park along with beautiful native plants and wildflowers. With an elevated skywalk, imaginative play spaces and the Moody Amphitheater, you will have plenty of photographic backgrounds.
Whether you're looking to catch some nature shots or capture the vibrant energy of the city, Waterloo Park is the ideal spot to do so.
13. The University of Texas at Austin
Located in between the Capital Building and Waterloo Park is the University of Texas at Austin. Definitely another of Austin's must visit photo spots for capturing the unique beauty of this city.
Home to landmarks such as the UT Tower and the Littlefield Fountain, the campus has plenty of opportunities for stunning photos.
And of course there is the Memorial Stadium, where the Longhorns play football. Plus there are also countless nooks and crannies that are great fun to explore with a camera! With its beautiful architecture the University of Texas at Austin is a true gem of the city.
14. "Greetings from Austin" mural
Well, this one really could have gone under the South Congress section, but technically it's not on South Congress. You can find this wonderful mural at the corner of Annie St and South 1st Street, near South Congress Avenue.
The "Greetings from Austin" mural has become a favorite spot for everyone. The vibrant colors and retro design of the mural make for a perfect photo opportunity to showcase your visit to Austin.
Created by local artist Todd Sanders, the mural features the famous phrase "Greetings from Austin" in bold letters, surrounded by Texas wildflowers and iconic landmarks such as the Capitol Building and Barton Springs Pool.
It's no wonder the mural has become a must see location for the Instagram Famous. Obviously, no visit to the Texas Capital would be complete without taking photos of the Greetings from Austin postcard mural yourself.
15. Austin 360 Bridge
Next let's head over to the Austin 360 Bridge for some breathtaking views to enjoy, especially at sunset.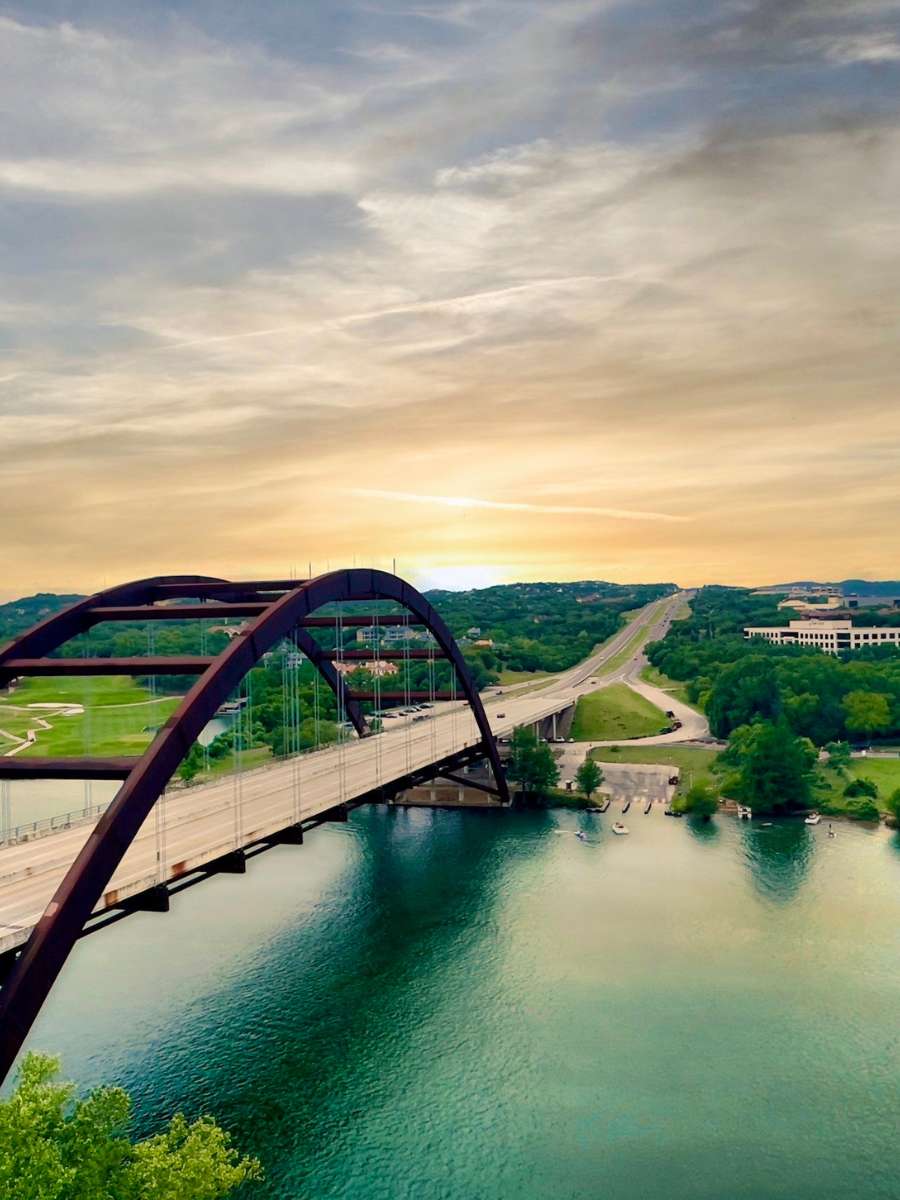 The Pennybacker Bridge, also known as the Austin 360 Bridge, is a beautiful steel arch bridge that spans over Lake Austin. The impressive architecture of the bridge, coupled with the stunning natural scenery all around, makes for a truly picturesque setting.
Additionally there is a hike here you can also take. This hike is a great way to get a little exercise and get a better view.
The hike starts at the north end of the bridge and goes up a steep hill. At the top of the hill, you will be rewarded with stunning views of the lake and surrounding landscape. Even better is that you now have an aerial view of the 360 Bridge itself from this spot.
You can find more information on accessing the trail on my post "Pennybacker Bridge Overlook Trail". I do need to warn you that this particular trail is difficult and not accessibility friendly.
16. Mount Bonnell
Last but not least is Mount Bonnell. Situated above Lake Austin, Mount Bonnell is one of Austin's first and most popular attractions.
Probably because it's known for having the best views in Austin. There are two ways to reach the top. First you can either take the dirt path to the top of the mountain. Or you can take the stairs for a more shaded climb.
Once you reach the summit, you'll be rewarded with breathtaking views of Austin and Lake Austin below. Whether you're capturing the colors of a sunset or a beautiful daytime skyline, Mount Bonnell offers endless opportunities for capturing stunning photos.
Wrapping Up: Austin Photo Spots
Finally, I hope you have enjoyed this post on the best Austin photo spots. Austin truly has a vibe all its own.
Visiting these wonderful locations will allow you to capture the heart and soul of this great town. So grab your camera, capture some great shots, and share them with the world.
As the saying goes, a picture is worth a thousand words, and these are sure to leave you speechless. If you enjoyed this post, you may also like my Quick City Guide to Austin or Mérida's Best Photo Spots.
ABOUT THE AUTHOR
Lisa Soots, is a travel photographer who loves travel, music and inspiring others. She is the creative behind followsoots.com, where she dares you to travel and dream via the lens of her camera and inspirational quotes and messages.