The Beginners' Guide to Camping in the Winter
Camping during the cold can be incredible – I mean, there are so many destinations that are even better in winter.
If camping in the winter sounds like something you'd like to try, there are so many things to consider and take into account before going on your next adventure. Travel is slower during the winter, daylight hours are fewer and well, yeah, there's obviously THE COLD.
Still, though, if you're well-prepared, there aren't many nature experiences that beat sleeping outdoors in the snow – and hey, since most people choose to camp during the hotter months, chances are you'll get the place all to yourself!
Here are the most important things to prepare for when camping in winter:
Dress like an onion
Always dress in layers so you keep warm and can regulate body moisture and temperature. This is a must!
Three layers of clothing are better than one super thick jacket, especially if you'll also be doing some hiking to get to your camping spot.
Bring the right clothes
Packing the right clothes is essential when camping in the winter. Make sure you bring the following (cause seriously, hypothermia doesn't sound like fun at all):
Insulated polar fleece to keep you warm. This one is a great budget-friendly choice.
Water and windproof jacket. Northface has great options, and this one is great for winter camping.
A balaclava hat – it'll cover your head and neck, which is an absolute must. If your head is warm, your body will be warm. Not the sexiest choice, but does the trick!
Gloves – they should have extra liners and make sure you bring an extra set just in case!
Waterproof boots – A must! Seriously, if there's one thing you bring to camp in the winter, make it a good pair of waterproof boots. Wet feet make cold feet, which make a hypothermic body. I love the ones from Hunter but there are so many great choices out there as well.

Socks – Make sure your socks are thick and cozy – merino wool socks are your best choice here. Make sure you have extra pairs of socks to change into.
Don't forget to get travel insurance for your trip! As always, I recommend Safety Wing for great prices and coverage abroad. It starts at only $45 USD per month and will have you covered with everything you may need during your trip! Check them out here.
Choose the right tent.
There are many different types of tents available. The key thing to consider when buying a tent to go camping in the winter is the strength to withstand the wind, cold and snow.
Your tent should have strong, heavy poles and the roofline must be able to shed snow. Make sure the tent is large enough for all your gear and in case you get snowed in – I recommend this one.
Pack enough food and water
Carbohydrates are a major fuel for the body – they provide the energy your body needs for activities and being out in the cold. Plus, they also aid in keeping the body warm, so bring lots of them!
Your food should be easy to store and prepare. Don't forget water which is a major necessity as the dry winter air will dehydrate you quickly and it's a must for generating heat in your body. Always drink, even if you do not feel thirsty.
If you are using melting snow for water, you must filter or strain the water melted from snow – the GRAYL bottle is great for this!

Do not forget you will need stove fuel to prepare your food.
Setting up Camp
Choosing the right campsite is critical. Select a site that is sheltered from the wind, you can always hang a tarp between two trees or over your tent to protect you from the wind. Pack down the snow and make sure your tent poles are sturdy and well secured.
Bedding
Temperature rated sleeping bags are a necessity – remember your body temperature drops in the wee hours of the morning, so you gotta make sure you bring the right sleeping bag to keep you warm.
For this, I recommend a mummy-style sleeping bag – this one will do the trick just fine.
Place a foam pad on the bottom of the sleeping bag so that your sleeping bag does not touch the cold ground.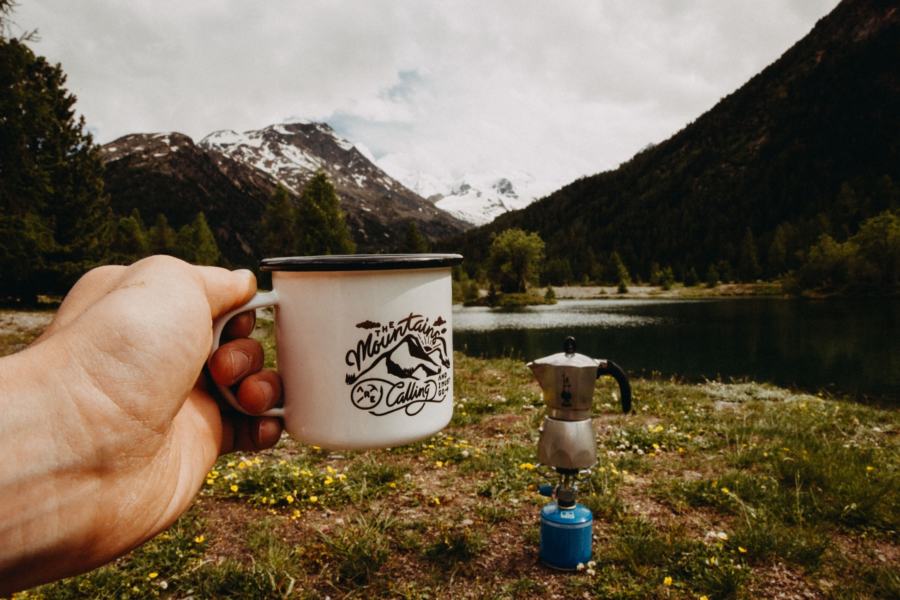 Preparing for your trip with the above mentioned will provide the basis for a successful winter camping trip. Make sure you have first aid supplies, flashlights, cell phone, and all the basics for summer camping, too!
And remember, snow is warm and protective, a hole dug deep in the snow keeps body heat. Ya know, just in case.