With such a wide menu of incredible things to see and do, planning a Colorado bucket list is not exactly an easy feat.
Home to sky-high mountains, incredible national and state parks, and a plethora of interesting landscapes, you could virtually do something different in the Centennial State every day and never really have to do things twice.
If you find yourself wondering what the best things to do in Colorado are, I put together the ultimate list of activities and places to visit for your bucket list!
In this Colorado bucket list, you'll find…
Colorado bucket list: Outdoor adventures
1. San Juan Mountains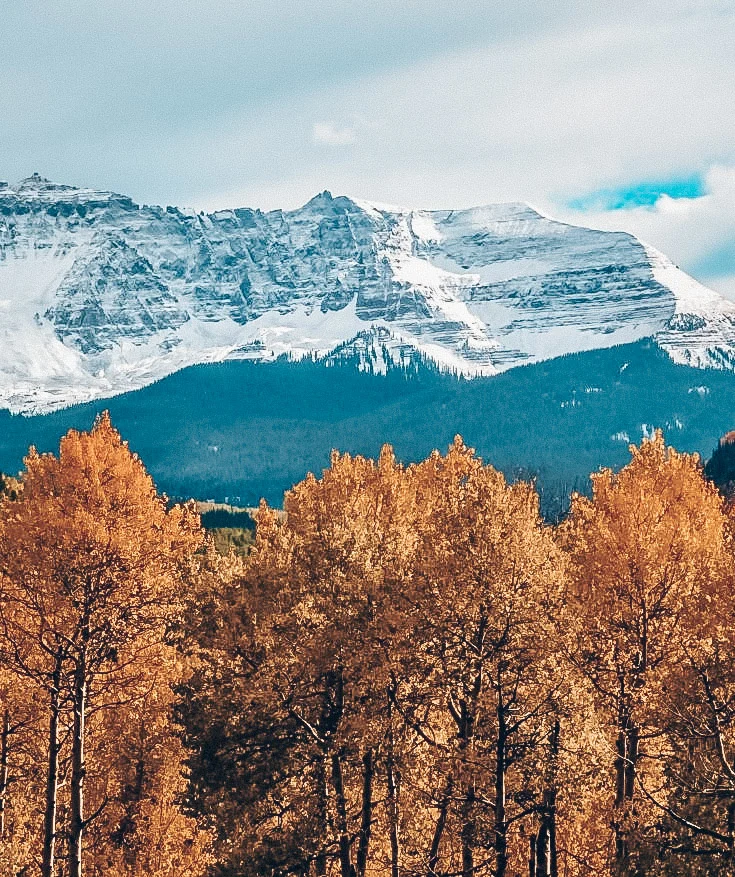 Boasting 13 of 58 fourteeners in Colorado, colossal waterfalls, and an array of charming alpine towns, the San Juan Mountain is one of the most beautiful destinations in the Centennial State for outdoor adventures.
As you explore, you'll get to choose from a plethora of activities, ranging from exploring alpine locales that act as great gateways to nature (think Ouray, Durango, Telluride, and more!). As a bonus, the entire area in the San Juan Mountains brims with historical places, especially when it comes to abandoned mines and ghost towns from Colorado's mining rush.
2. Roxborough State Park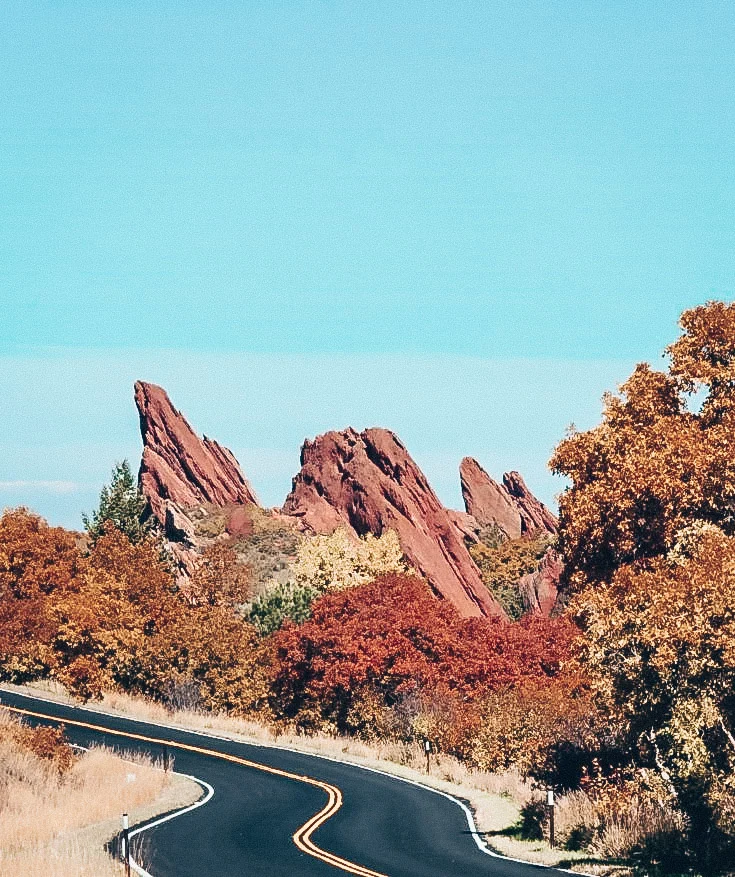 If a hidden gem is what you're after, make sure to place Roxborough State Park on your Colorado bucket list.
Here, you'll find a world of whacky-looking red rock formations, a myriad of wildlife, and a wide array of plants unique to the area. Activities to do inside the park include bird watching, wildlife spotting, hiking, biking, and trail running.
3. Hanging Lake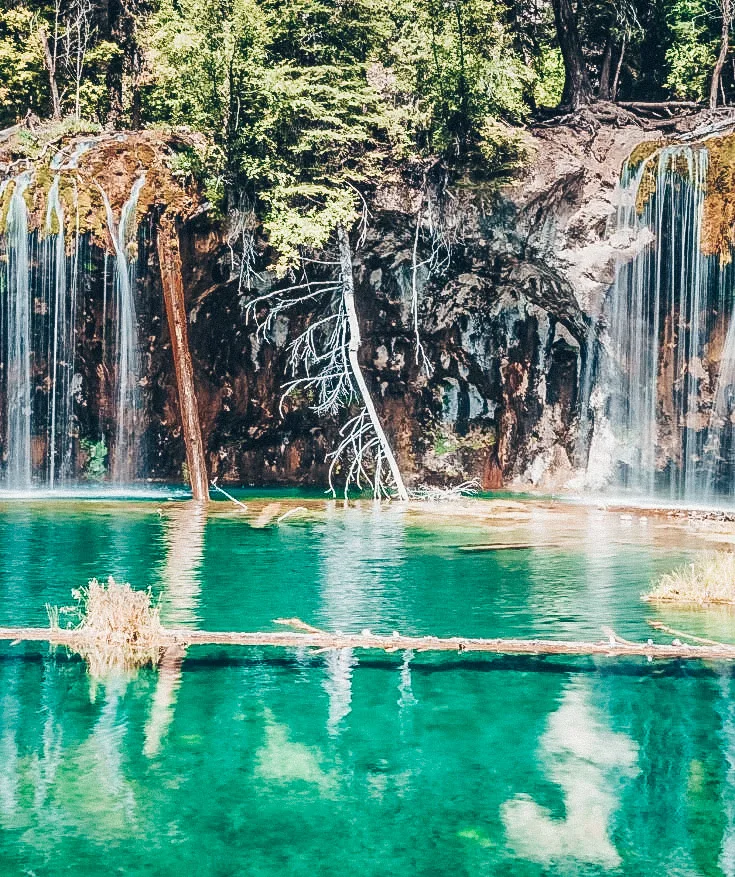 Hanging Lake may just be one of the most idyllic places in the state, making it one of the most popular items on any Colorado bucket list.
Being inside this gem in Glenwood Canyon may very well make you feel as though you landed in a storybook setting, with rocky walls draped by greenery covering the walls around the turquoise-blue lake and water falling down from a cliff.
4. Paint Mines Interpretative Park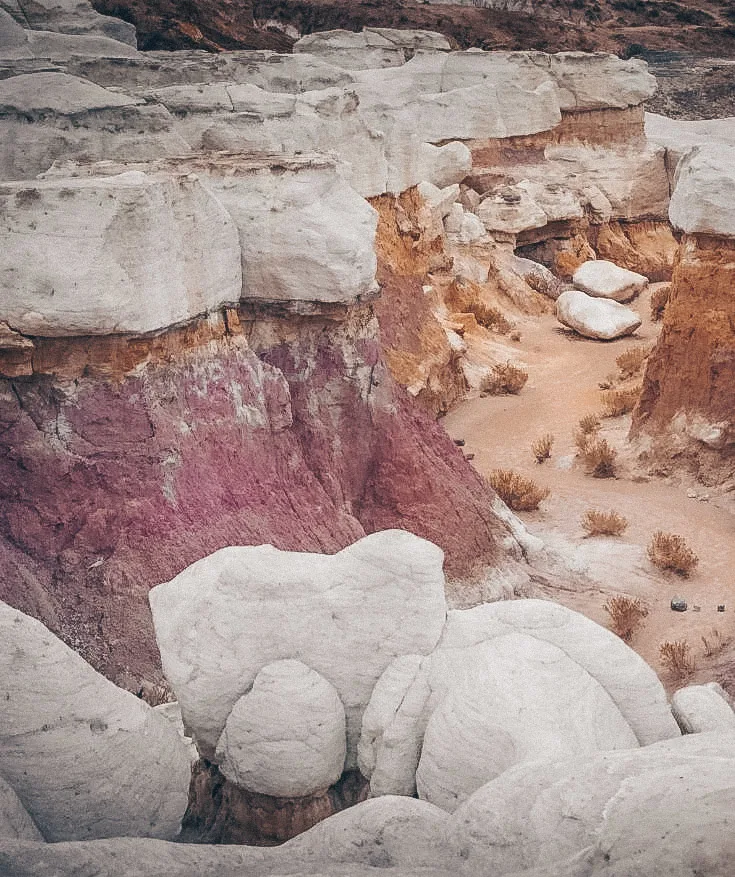 Into surreal landscapes and places that make you feel as though you were transported to a different planet? A trip to Paint Mines Interpretative Park is sure to please!
This park's unique terrain is made up of vibrant multicolored rock formations made of sandstone that range from colossal spires to hoodoos that look as though they were splashed by buckets of paint. Aside from that, the park covers over 750 acres of grasslands, prairies, and wetlands, with plenty of hiking trails available for you to enjoy the rare colors of the park as well as the rest of its scenery.
This is a place that is a must on your Colorado bucket list if you're a photographer, a geologist, a hiker, or if you're simply into all things weird and wonderful.
Don't forget to get travel insurance for your trip! As always, I recommend HeyMondo for great prices and coverage abroad. Check them out here. You can also get 5% off if you book via this link!
5. Garden of the Gods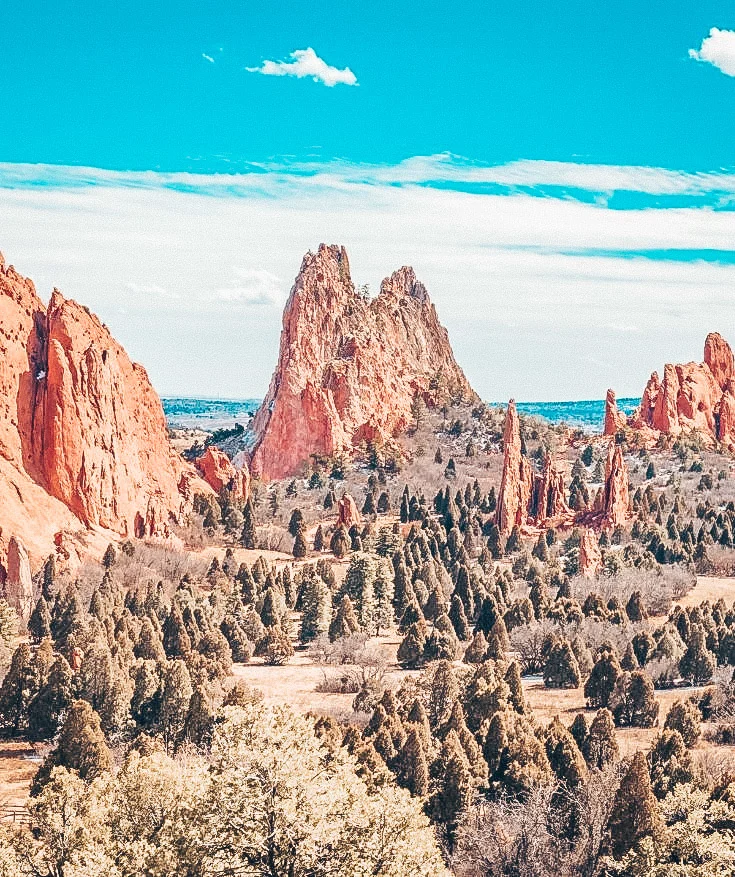 Bring red rock formations and looming snow-dusted mountains are a pretty strange combination, but that's exactly what makes visiting the Garden of the Gods such a unique experience to have in Colorado.
Here, you'll be able to enjoy a plethora of activities to enjoy the outdoors, including hiking, camping, jeep tours, and horseback riding. A highlight aside from enjoying the landscape is getting to see clear views of Pikes Peak, the highest mountain in the southern Front Range of the Rocky Mountains.
6. Maroon Bells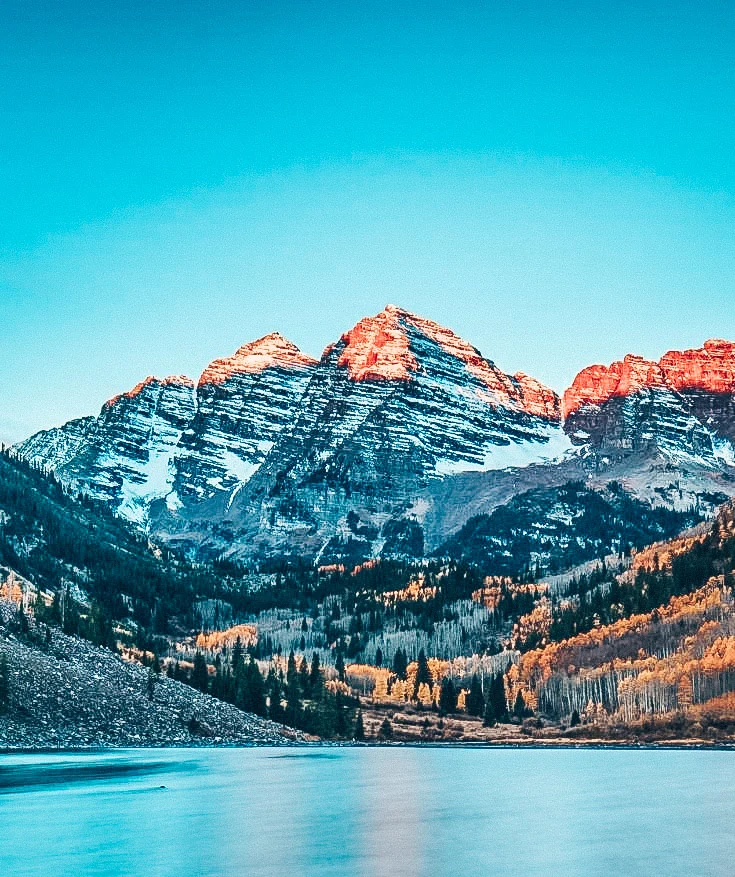 As one of the most photographed places in the state, visiting Maroon Bells is not just a must on your Colorado bucket list, but it's also a sort of rite of passage in the Centennial State.
Here, you'll be treated to views of gorgeous alpine lakes, aspen forests, and quintessential Rocky Mountain scenery all over, but the true gem to see at Maroon Bells lies on a lake that reflects two humongous bell-shaped mountain peaks: North Maroon Peak and South Maroon Peak – this is definitely one of those places that look EVEN better in real life than on pictures!
Colorado bucket list: National Parks
7. Great Sand Dunes National Park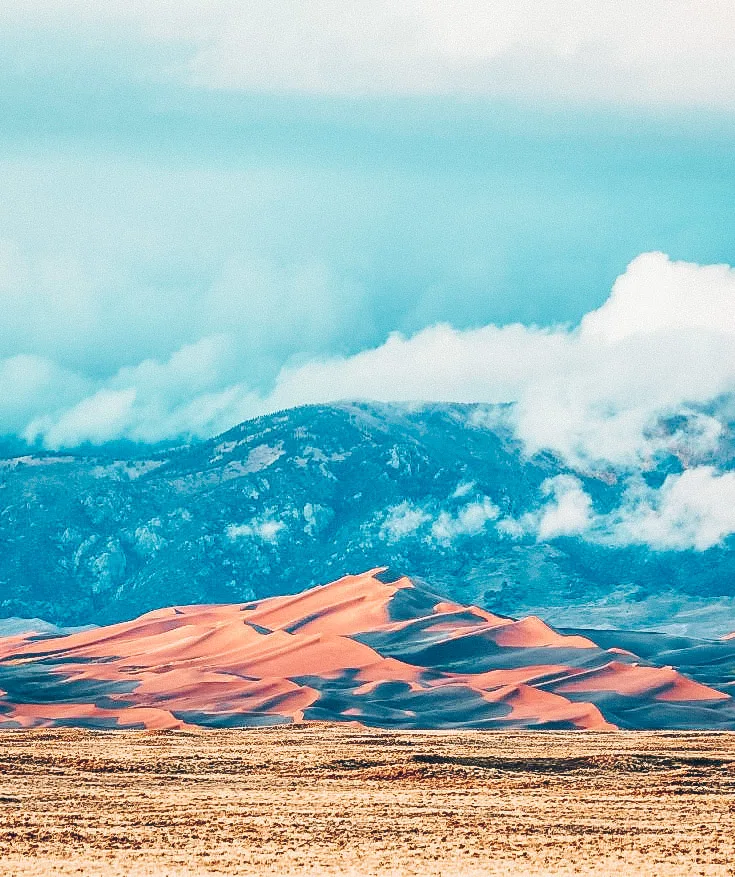 Even though a desert-like landscape is what you'd expect to find in Colorado, the Centennial State is actually home to the tallest sand dunes on the entire continent!
At this unusual national park in Colorado, you'll find a landscape made up of humongous sand dunes that can reach heights of a whopping 700 feet, all while getting to see sets of snow-capped peaks in the distance!
Hiking is one of the favorite things to do at Great Sandunes, with unique trails taking you up to some of the tallest sand dunes in the park, including Star Dune which rises 750 feet from its base to its top!
Other fun activities to try at Great Sand Dunes National Park include sandboarding and sand sledding, not to mention it's one of the best places in Colorado to go stargazing.
8. Rocky Mountain National Park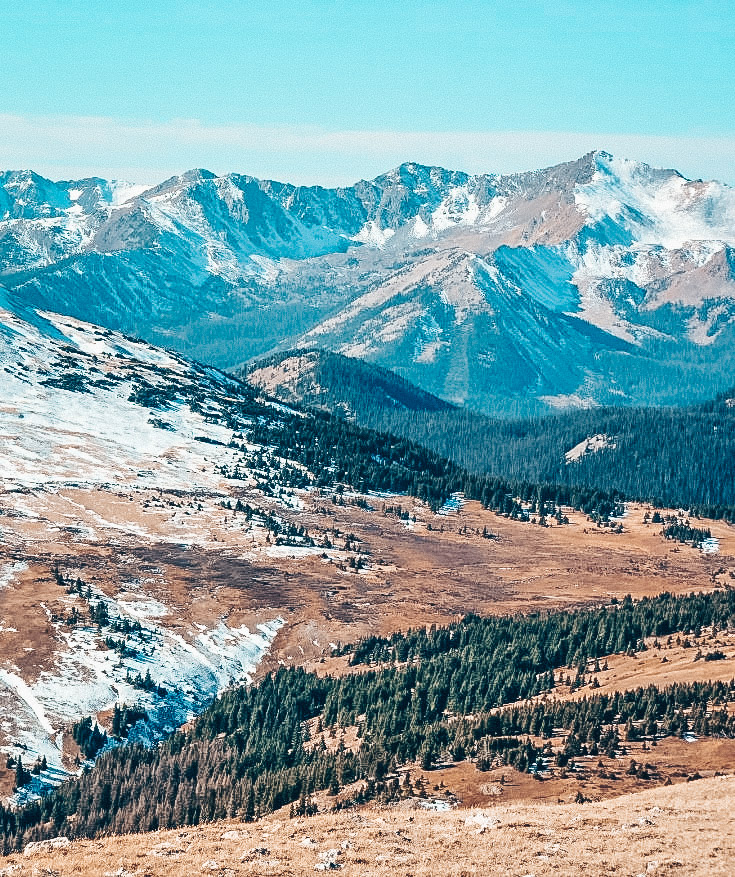 Home to some of the tallest mountains in Colorado, five glaciers, and over a hundred lakes, Rocky Mountain National Park is the most popular national park in the state and a must on any Colorado bucket list.
Hiking is the main thing to do here, with over a hundred trails to choose from that range from easy lakeside strolls to tougher challenges that will have you conquering some of Colorado's most sought-after peaks.
Aside from all things mountain goodness, other incredible landscapes you'll get to see at Rocky Mountain include wildflowers during the summer, gorgeous fall foliage in the fall, pretty meadows, pristine lakes, and plenty of forests to get lost in.
Wildlife viewing is also huge here, with species like bighorn, moose, black bears, and sheep residing inside the park. During October, elk make their way here for their annual migration, an experience that is worthy of being on your Colorado bucket list on its own!
9. Black Canyon of the Gunnison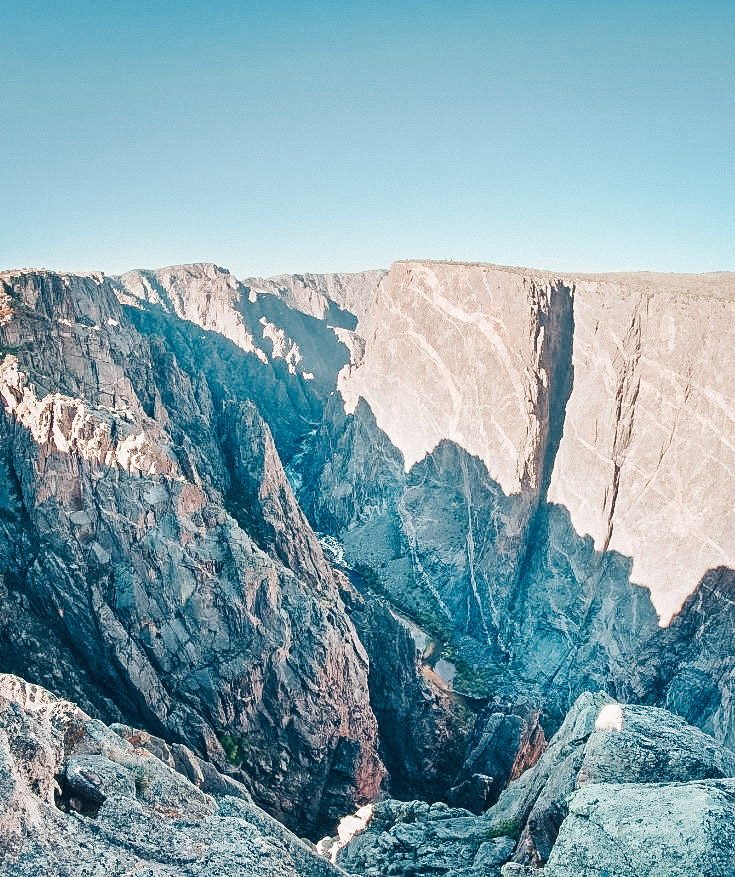 Mysterious and incredibly awe-inspiring, the Black Canyon of the Gunnison is made up of a canyon so deep that sunlight only touches it for 33 minutes every day.
Most people visiting Black Canyon of the Gunnison choose to explore by driving the Rim Drive, which loops around the rim of the canyon and provides access to some of the most incredible lookout points of the canyon. Be aware though that this drive is definitely not for those who are scared of heights!
If you want to adventure further and get to see the canyon from a different perspective, you can also hike down to the bottom of it and, if you're feeling brave, you can even book a camping spot there! Be aware that the trail is considered a wilderness area, so it's not exactly ideal if you're new at hiking.
10. Mesa Verde National Park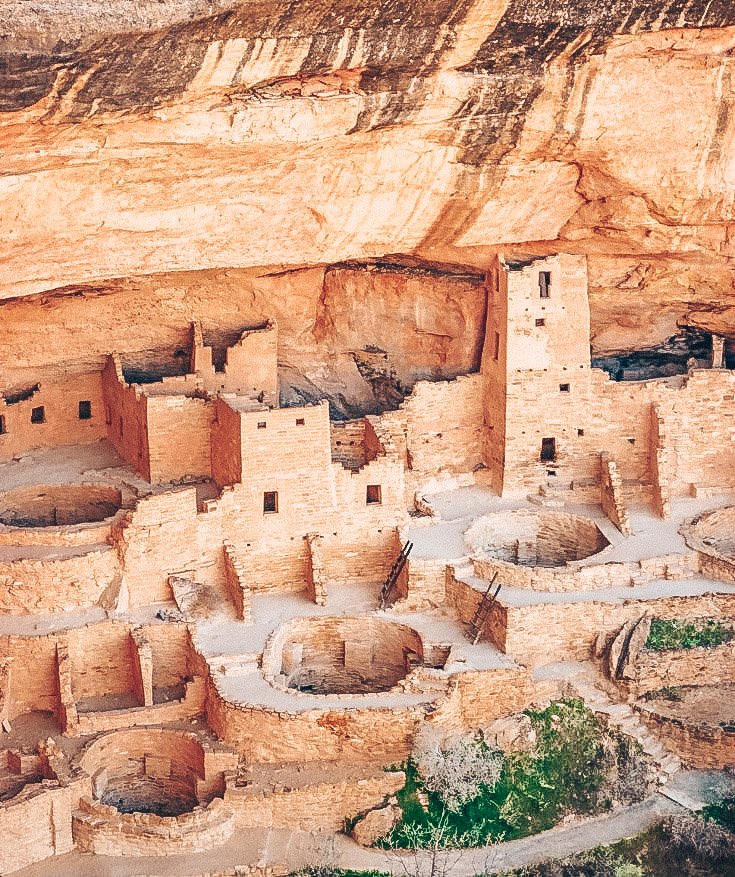 Want to combine a dose of history with gorgeous natural landscapes? If that's the case, make sure you include Mesa Verde National Park on your Colorado bucket list!
Unlike the rest of the national parks in Colorado, Mesa Verda focuses more on the anthropological side of the area. Here, you'll find plenty of ruins perched on cliffs where Ancestral Puebloans once lived in, providing a pretty interesting glimpse into the past!
11. Colorado National Monument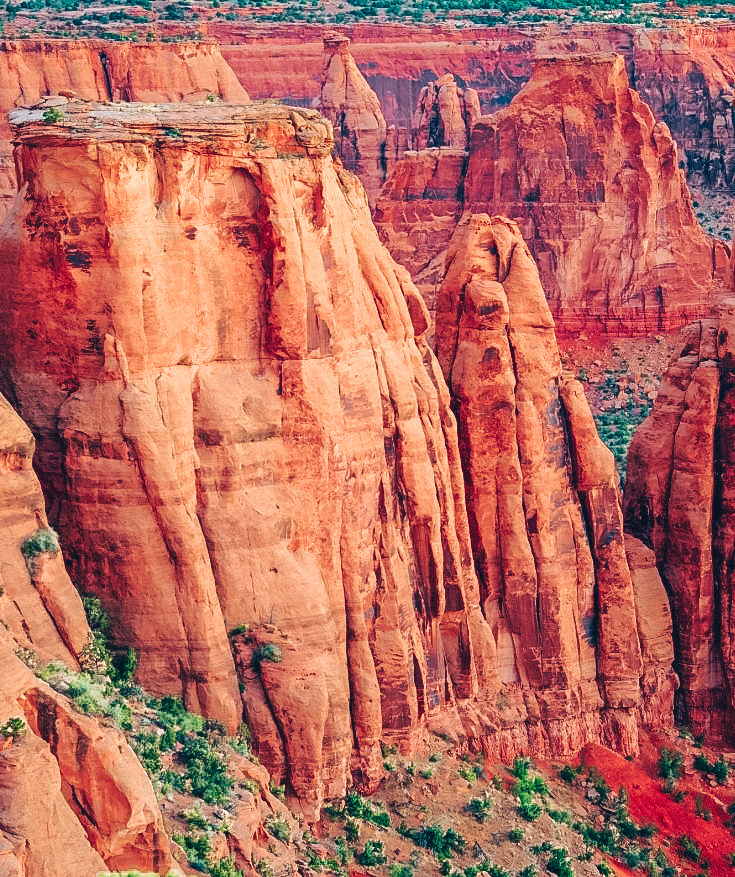 Located on the Colorado Plateau, the Colorado National Monument is a sheer-walled canyon that formed into sandstone and granite rock formations, creating an extremely peculiar-looking landscape that is worth traveling for.
Aside from the canyon, you'll also find a world of unique geology here, including dramatic cliffs, spires, and gigantic monoliths. Driving the park's scenic road is a surefire way to cover as much ground as possible, but hiking is another great way to explore, especially if you want to get up and close to the area's wildlife.
Colorado bucket list: Towns
12. Glenwood Springs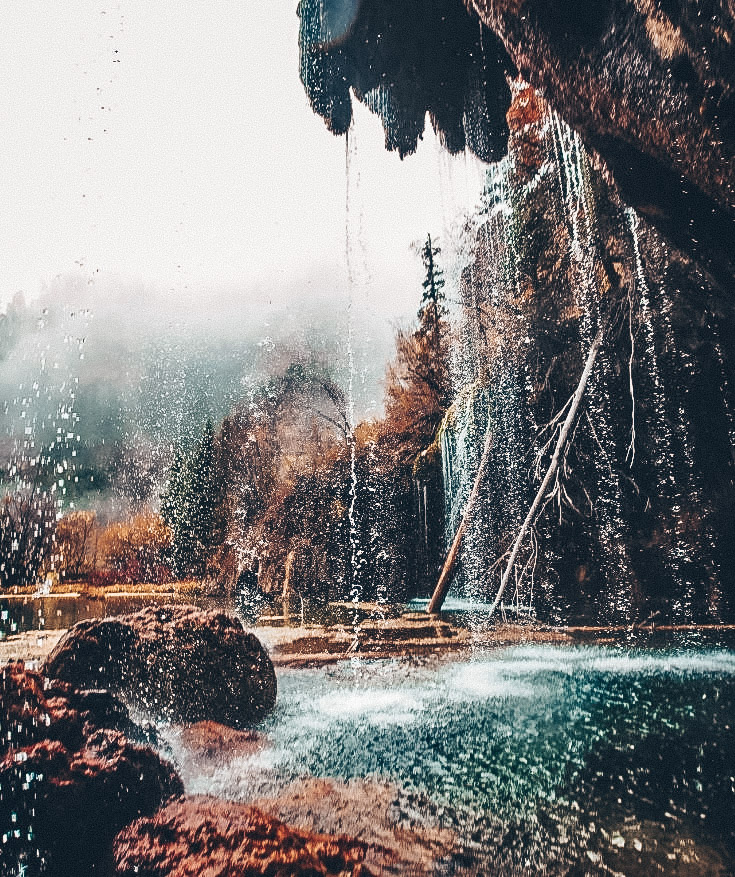 Glenwood Springs is a lovely mountain resort town where hot springs, glorious alpine views, and quaint historic buildings reign supreme.
Here, you'll find a plethora of hiking and biking trails to enjoy during the warmer months, but the main reason most people make it a must on their Colorado bucket list is that it is the perfect destination to relax or have a staycation in a gorgeous natural setting.
13. Estes Park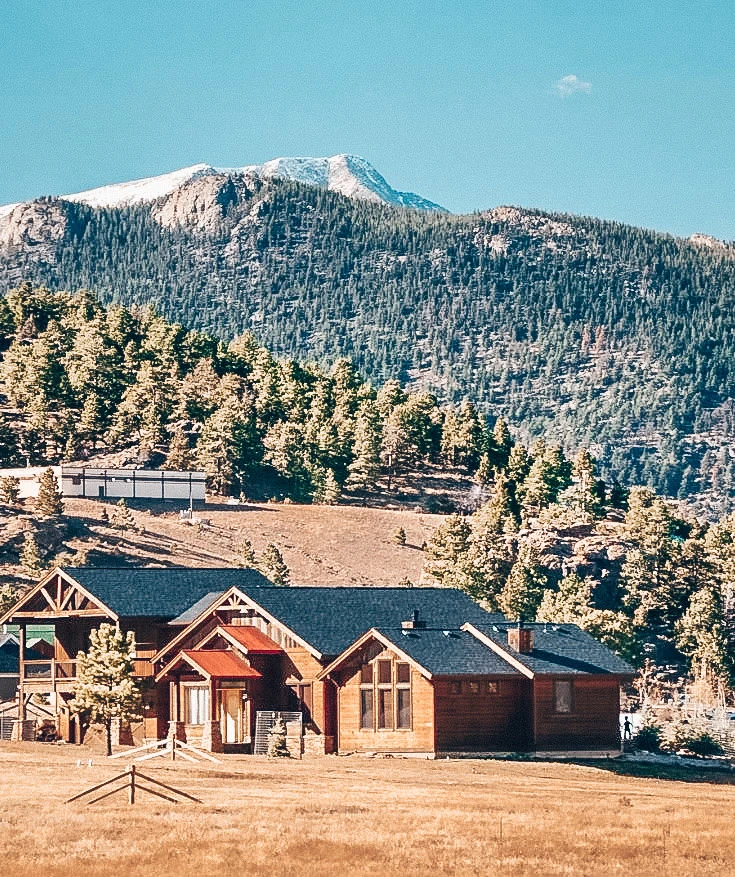 While Estes Park is known as the gateway to Rocky Mountain National Park, it's also worth considering as a destination of its own.
As you explore the town, you'll be treated to charming Bavarian-style architecture, views of mountains everywhere you look, and fine dining as good as it gets. Aside from treating this town as a base to go hiking in the Rockies, there are also plenty of offers when it comes to milder adventures in nature, including several river walks, gentle strolls through the forest, and more.
14. Telluride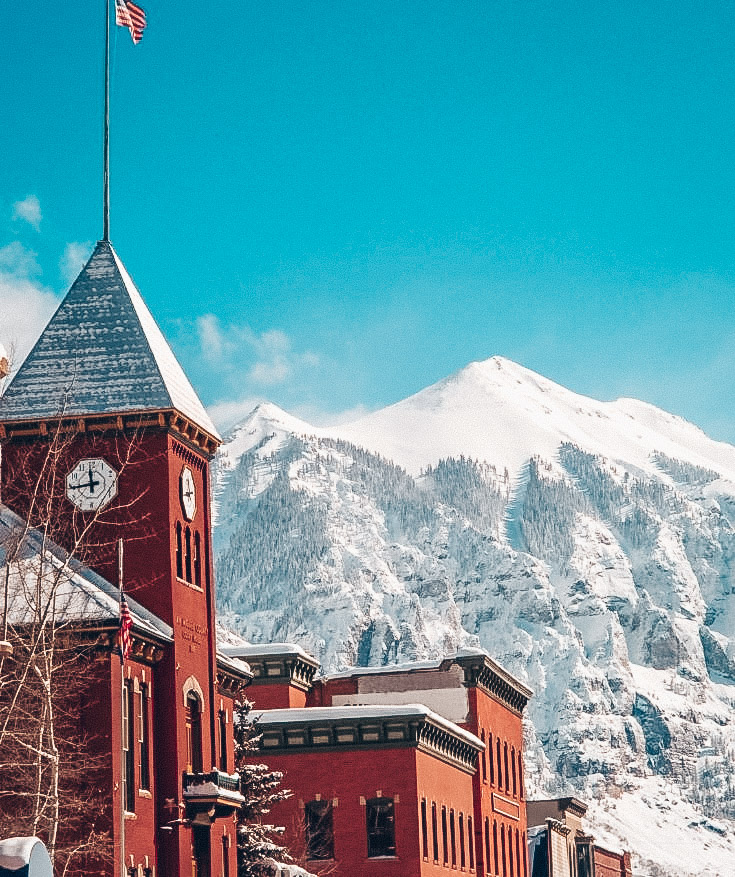 Hidden inside the alluring San Juan Mountains, Telluride is a gorgeous place to visit in Colorado if a little variety of activities is what you're after.
Aside from strolling its charming historic downtown, Telluride acts as the perfect gateway to exploring lakes, hiking through forests, traversing canyons, and walking through ghost towns from the state's mining boom. Moreover, if you're up for a dose of adrenaline, you can also brave the famous Telluride Via Ferrata!
15. Aspen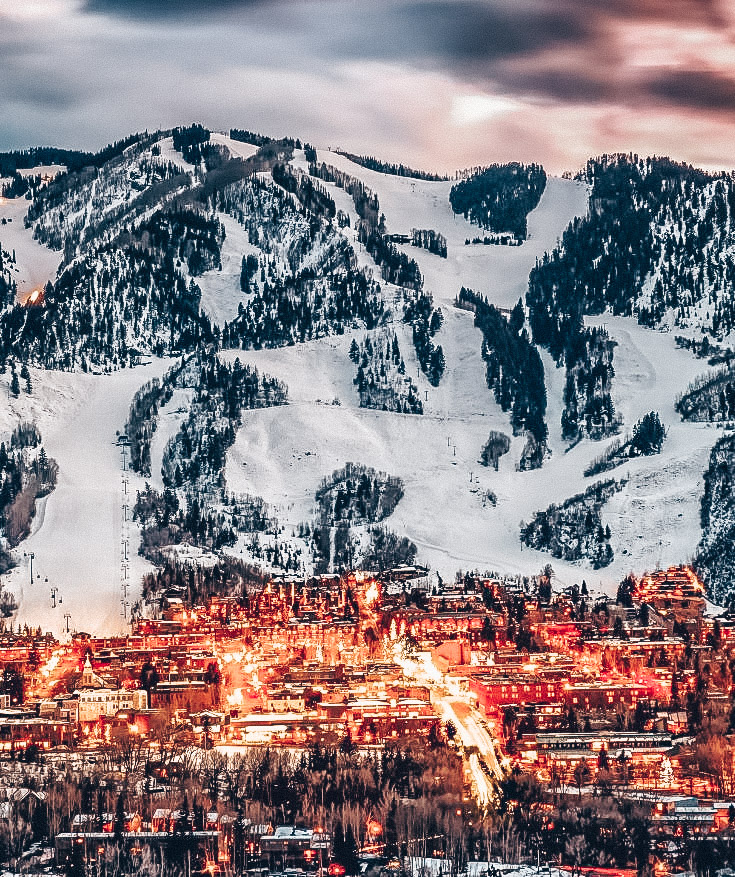 Aspen is known for being one of the most luxurious ski resorts in Colorado, but even if you don't visit in winter, there's a lot more this incredible town has to offer that makes it worthy of belonging on your Colorado bucket list.
Being here will make you feel as though you were transported to a town deep in the mountains of Germany, with Victorian-era houses still retaining their original architecture and plenty of cultures that still celebrates the town's European heritage.
Aside from its world-class winter sports offering, other things to do in Aspen throughout the year include checking out breweries, hiking in the mountains, and experiencing its famed dining and wining scene.
16. Boulder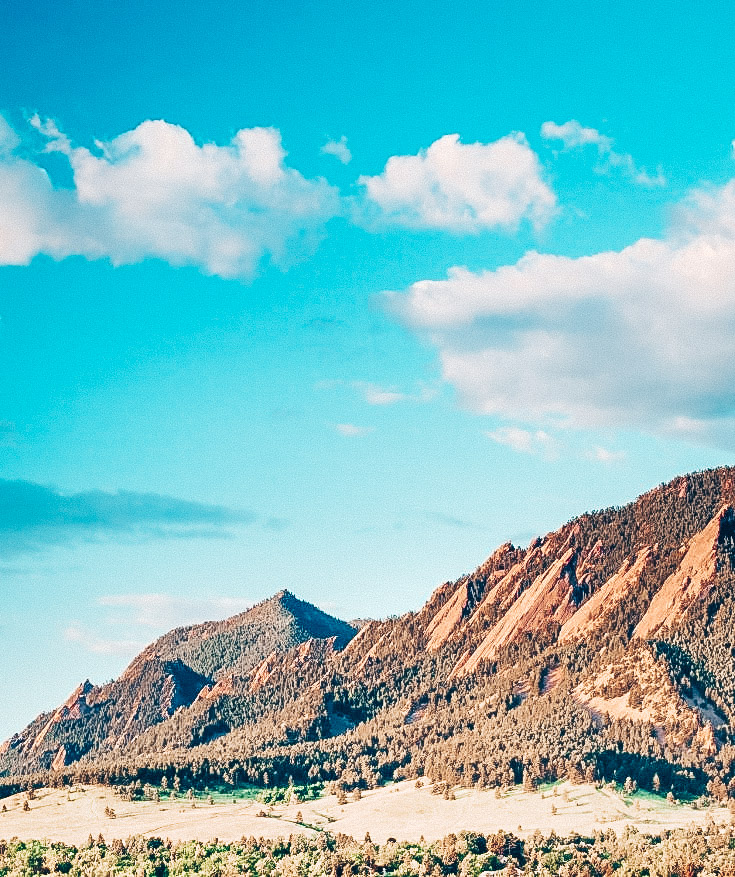 Located a short drive from Denver, Boulder is a stunning student town with plenty of entertainment options, a wide cultural offering, and an excellent bar scene.
As if that weren't enough, Boulder knows how to combine city-like amenities and nightlife with natural activities. Thanks to its location on the foot of the Front Range, there are plenty of options to choose from in order to experience the outdoors, including hiking to the Flatirons, tubing at Boulder Creek, boating at Boulder Reservoir, and more.
17. Crested Butte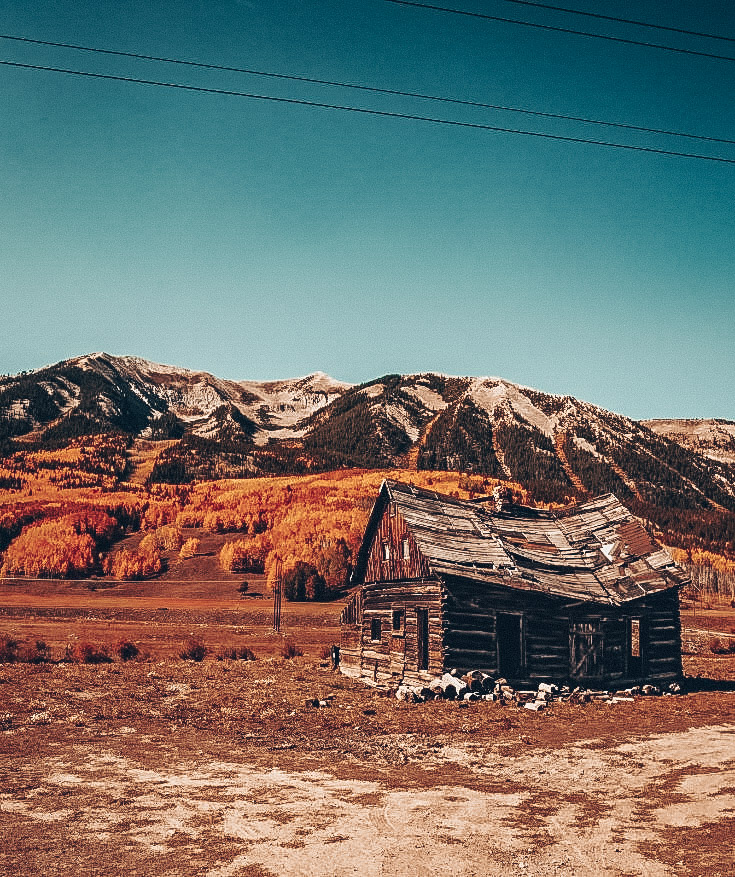 Set on the foothills of Mount Butte, Crested Butte is a lovely mountain locale where alpine vibes and outdoor activities are king.
Even though Crested Butte is known for being a winter sports destination, there's plenty more to do if hitting the slopes isn't exactly your jam. Forests, mountains, and several wilderness areas surround the town, making it a perfect destination for hiking, water activities, and photography.
Moreover, Crested Butte is a wonderful summer destination to see wildflowers, so much so that it is considered their global capital of them! Around late June, the entire landscape around the town gets blanketed in colorful flowers, making visiting Crested Butte in the summer a must on any Colorado bucket list.
18. Leadville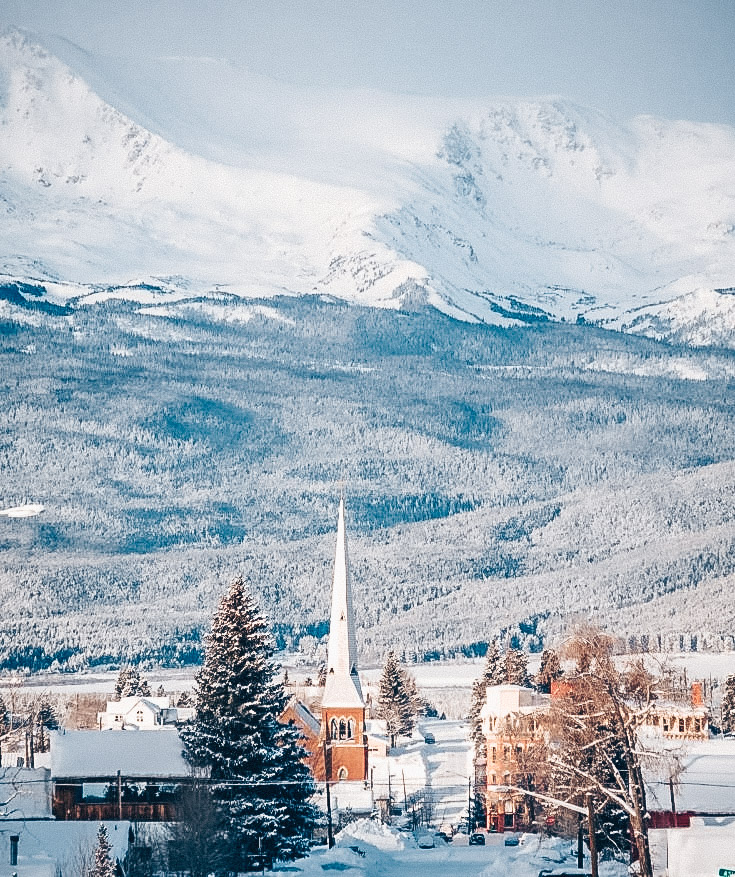 Leadville is the highest city in the United States, making this fact alone enough reason to place it on your Colorado bucket list!
Aside from holding a pretty impressive record, another aspect that makes Leadville worth visiting is the fact that it is surrounded by two of the tallest mountains in Colorado. Mount Elbert and Mount Massive stand right next to it, which means the views here are pretty much unbeatable. Moreover, the San Isabel National Forest is just a stone's throw away, which means hiking here is an absolute treat.
19. Steamboat Springs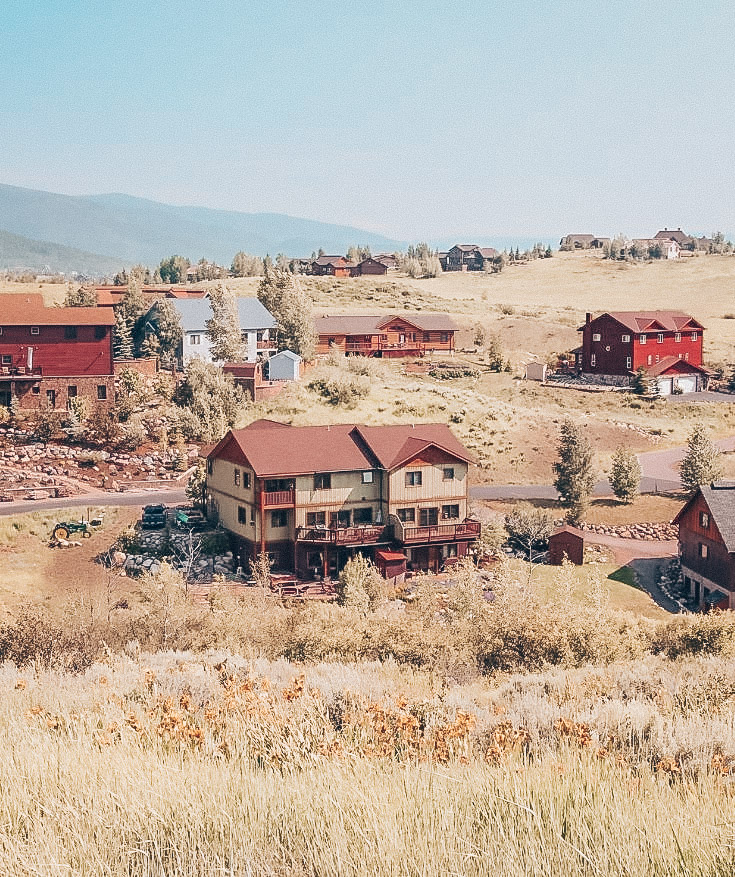 If you're more the type of traveler who prefers exploring hidden gems, Steamboat Springs is a pretty great choice, especially if you'd like to combine history, the outdoors, and a dash of culture.
During the summer months, Steamboat Springs offers plenty of activities, ranging from enjoying the beach around a lake, to hiking, biking, and dipping in several hot springs. Come winter, skiing, fat biking, and other winter sports take over. As a tip, you can ride a real-life sleigh here, all while getting a hearty dinner served to complete the adventure!
20. Manitou Springs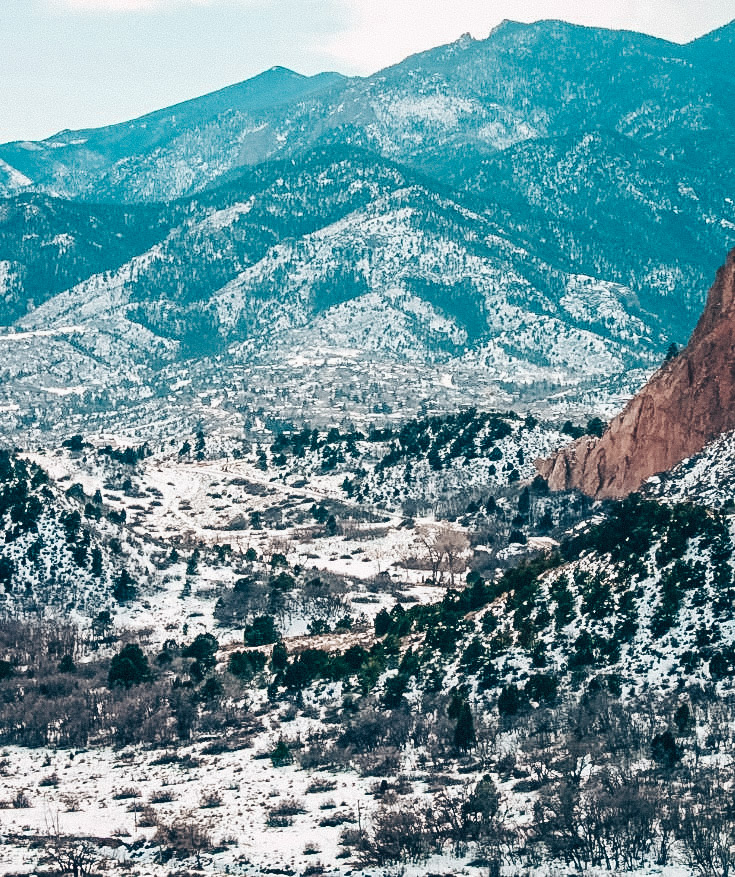 If you feel as though your body and spirit need a little love, this town in the base of Pikes Peak offers a wonderful setting to heal.
For centuries, the hot springs in Manitou Spring have been used for their water, which is said to contain healing properties. Whether or not the statement is true, we guarantee simply getting to be in the mountains surrounded by fresh air will do just the trick!
Aside from that, Manitou Springs offers lovely small-town vibes, with plenty of small art galleries, local dining, and historical buildings dotting its downtown.
21. Vail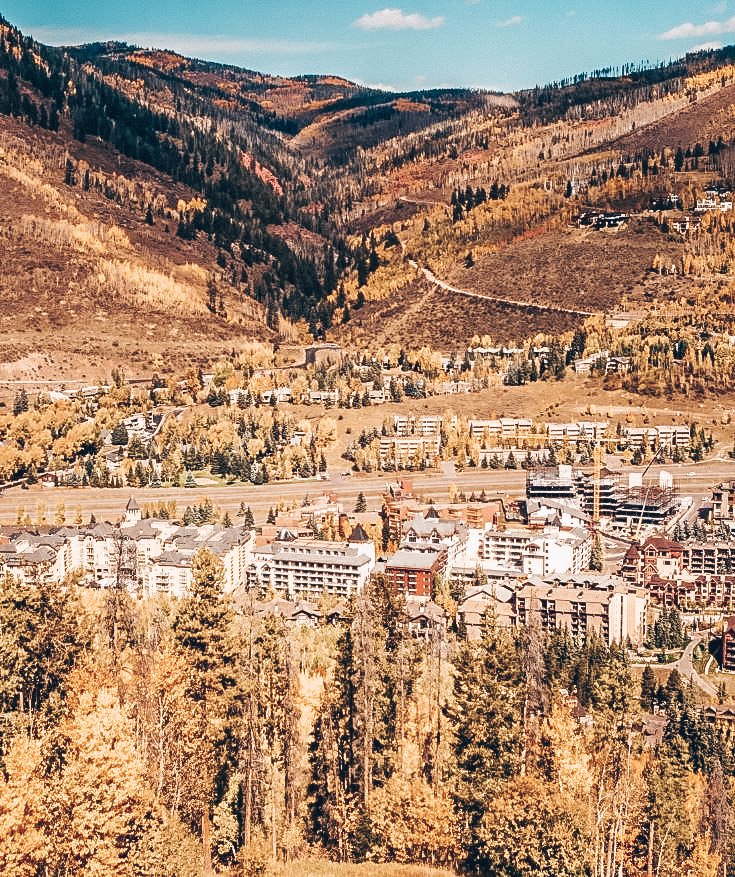 It's not exactly a secret that Vail is a world-famous destination for all things winter sports, but it also happens to be a wonderful place to visit in Colorado on its own.
As a fun fact, Vail was designed to look like a small town in Austria's Tyrol region, so a trip here will make you feel as though you actually crossed the pond without having to endure such a long flight at all. Cobblestone streets, quaint houses, and ritzy vibes reign supreme here, with its aprés skiing options being reason enough to pay this alpine resort a visit!
Colorado bucket list: Scenic drives and road trips
22. Trail Ridge Road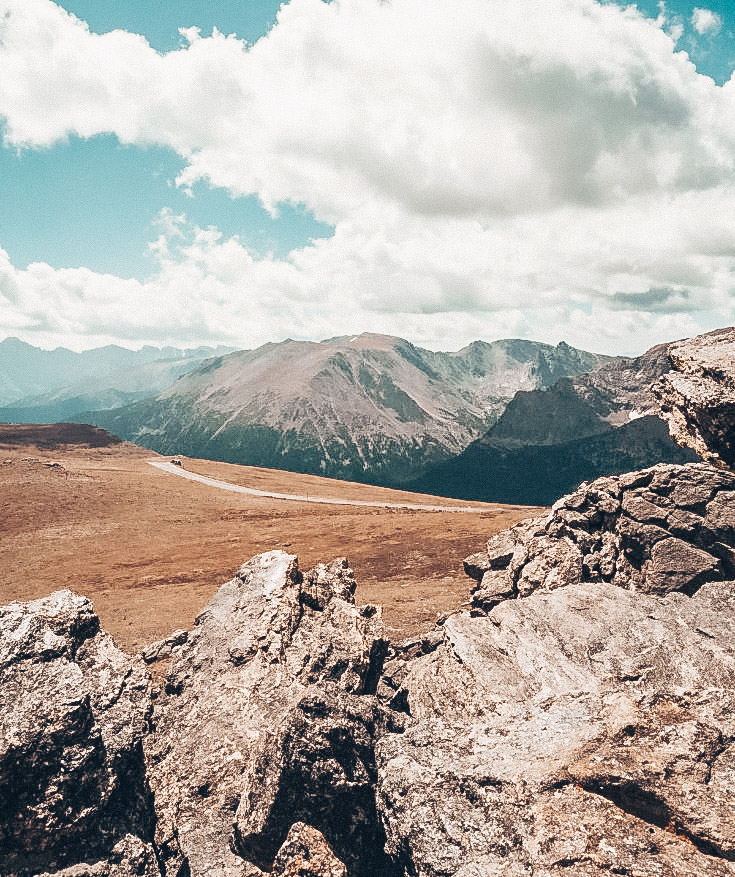 Spanning 48 miles over Rocky Mountain National Park, the Trail Ridge Road is the highest paved road in Colorado and the most amazing way to get close and personal with the landscapes in the park.
Out of the 48 miles this road covers, 11 of them are above treeline and over alpine tundra, providing the most incredible views the park has to offer. Aspen forests, mountain meadows, and subalpine forests are more of the scenery you'll get to cover while driving. Moreover, the Trail Ridge road also provides incredible opportunities for wildlife spotting, with moose and elk being just a few of the species you may get the see!
Fall foliage is also something truly spectacular here, so if possible, try planning an autumn visit here on your Colorado bucket list!
23. Mount Evans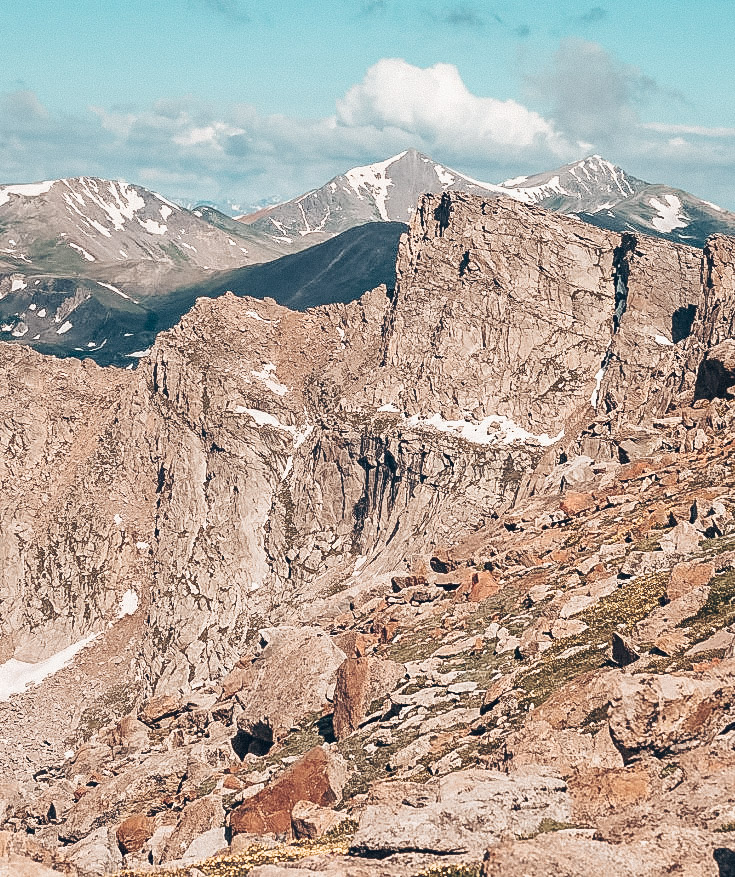 As one of Colorado's mighty fourteeners, Mount Evans is worth conquering, but if you don't feel up for the challenge of hiking to the top, you can very well explore the mountain on a drive!
This incredibly scenic byway is the tallest paved road in entire North America. As you make your way to the top, you'll be treated to gorgeous views of the area, stumble across alpine lakes, pass by bristlecone pines, and even get to see a valley cut out of a glacier!
Although short at just 15 miles, driving this scenic byway can take a while, especially considering how many incredible places you can stop at along the way for hiking and education. Two can't-miss stops are the Summit Interpretative Area and Mount Goliath Nature Center.
24. Million Dollar Highway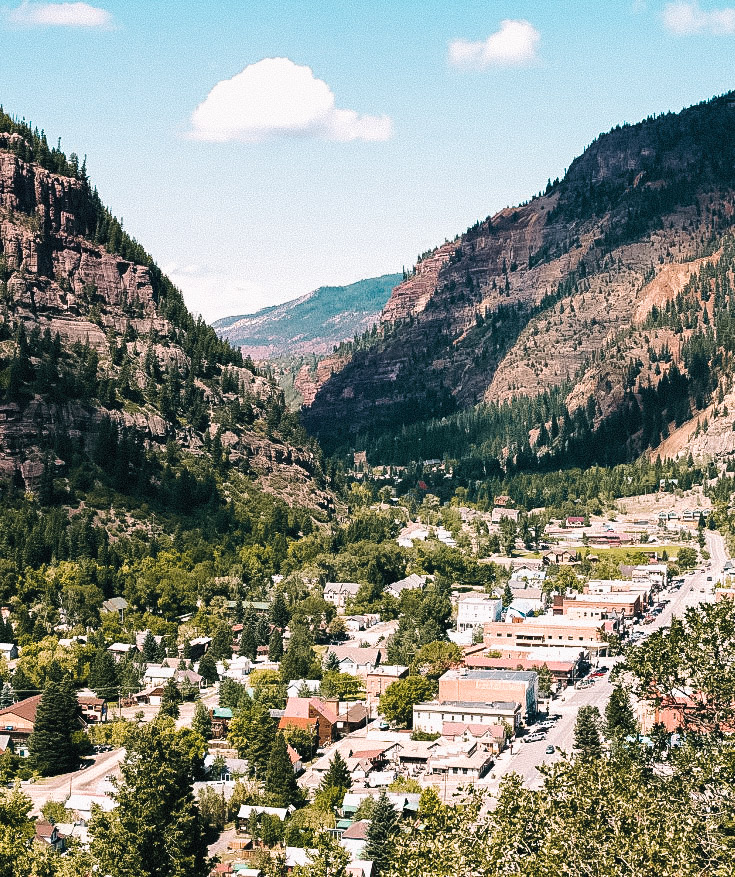 Spanning 233 miles across the San Juan Mountains, the Million Dollar Highway is one of the most incredible road trips you can take in Colorado.
Along the way, you'll get access to some of the most gorgeous alpine towns in the state, including places like Telluride, Ouray, and Durango. As a tip, I recommend making a stop at each of these towns and overnighting in them, as they all offer a wide array of some of the best things to do in Colorado (think hiking trails, via Ferrata, mountain biking routes, and more!). High desert mesas, mountains, meadows, and alpine goodness are just a few of the things you'll stumble across on this route!
25. Dinosaur Diamond Scenic Byway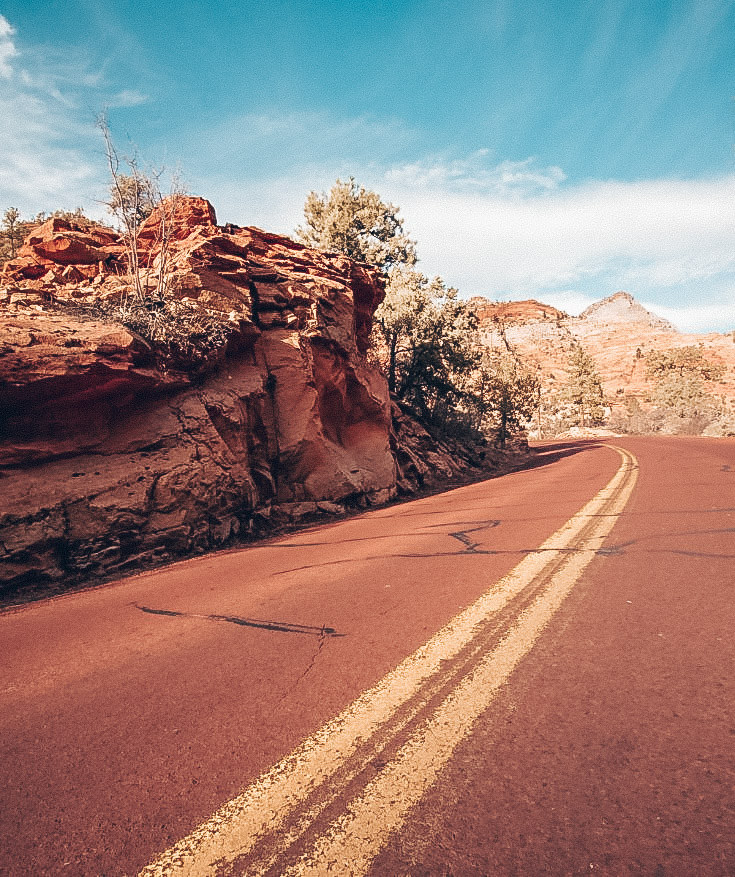 If you want to travel back to the time when dinosaurs roamed the planet, Colorado is an excellent place to do so because plenty of these prehistoric giants used to roam its lands.
Throughout the drive, you'll be able to learn a ton about these mighty giants, be it by visiting fossil zones and museums or checking out the Dinosaur National Monument to see fossils encapsulated on rocks. For all things quirky, visit a town named Dinosaur, where dino-themed eateries and life-size sculptures are the main attractions.
As a bonus, this route also offers you the chance to see a few Colorado bucket list items already mentioned on this list, including the Colorado National Monument. For a dose of anthropology, you can also include spots like the Canyon Pintado and Rangley in order to get a glimpse into the life of the Fremont Indians through ancient pictographs and petroglyphs.
Dinosaurs once roamed northwestern Colorado, and marks of their footsteps can be seen every mile of the way at one of the most unique Colorado road trips: The Dinosaur Diamond Scenic Byway.
26. Peak to Peak Scenic Byway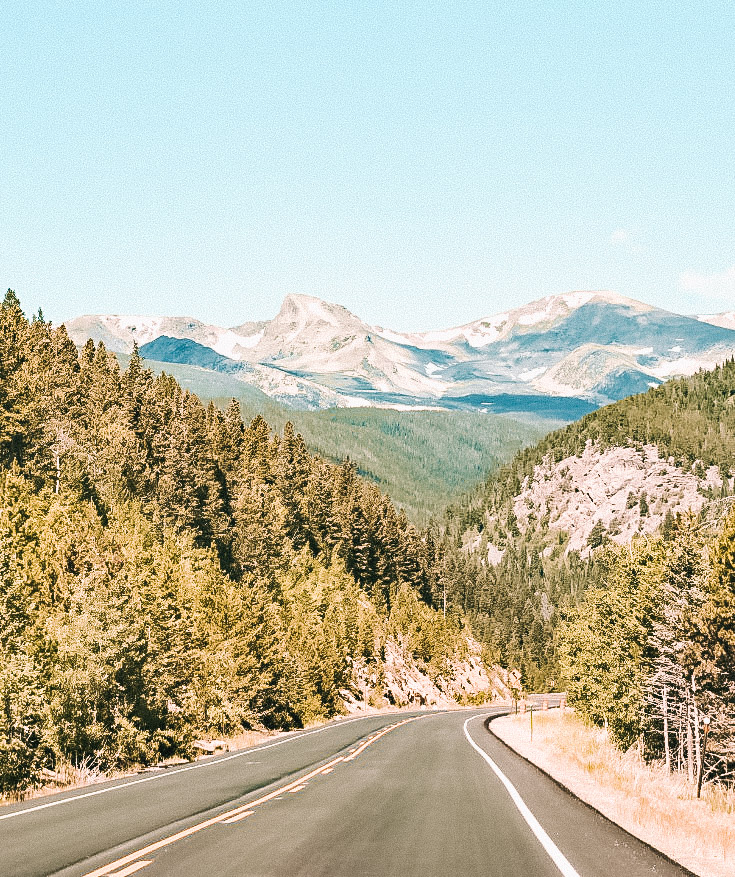 Traversing the Continental Divide, the Peak to Peak Scenic Byway provides glorious vistas of the Front Range and some of the tallest mountains in the state while also giving travelers a chance to visit a few of the most interesting ghost towns in the state.
Hesse and Apex are two of the most popular abandoned towns scattered through the byway. Both of these towns still have plenty of their buildings intact, and even though nobody lives there anymore, you can still stroll through them and explore to your liking in order to get a picture of what life was like back when the towns were alive and thriving.
27. Flat Tops Trail Scenic Byway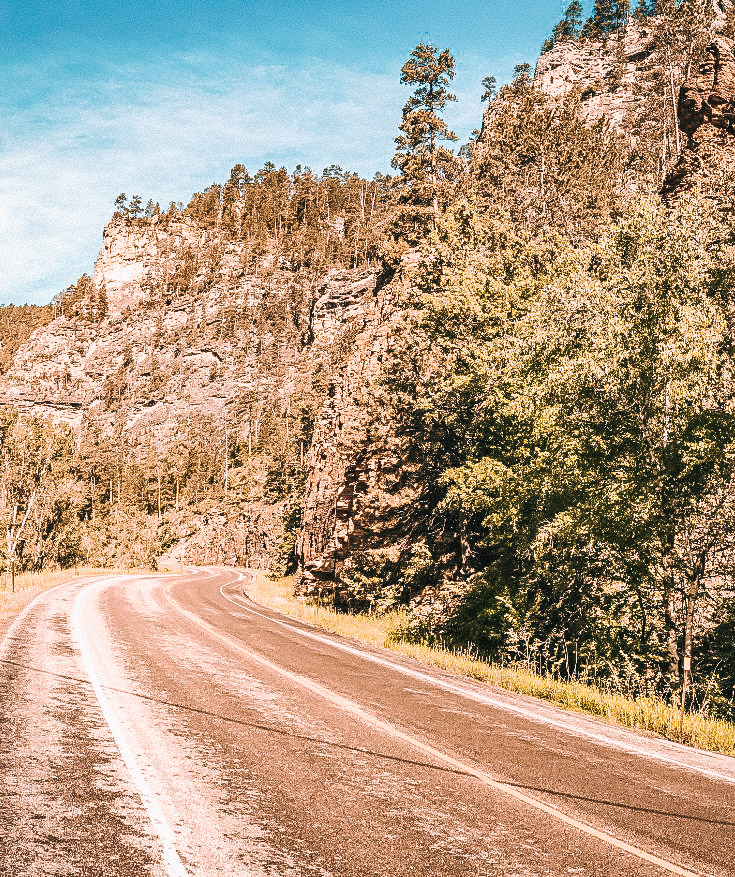 For a bit of a hidden gem in the Colorado road system, the Flat Tops Trail Scenic Byway is a great choice.
It begins in the town of Yampa and ends in Meeker, traversing a huge chunk of the Flat Tops Wilderness Area and providing unbeatable views of the Flat Tops. Depending on how long you have, you can simply gaze at the mountain range or, better yet, park the car and get out to enjoy a few of the many hiking trails on offer.
Whatever you decide to do, pure eye candy every single mile of the way is guaranteed. In fact, the beauty of the area was what inspired the government to begin a program to preserve wilderness areas in the United States!
Colorado bucket list: Hikes
28. Lone Eagle Peak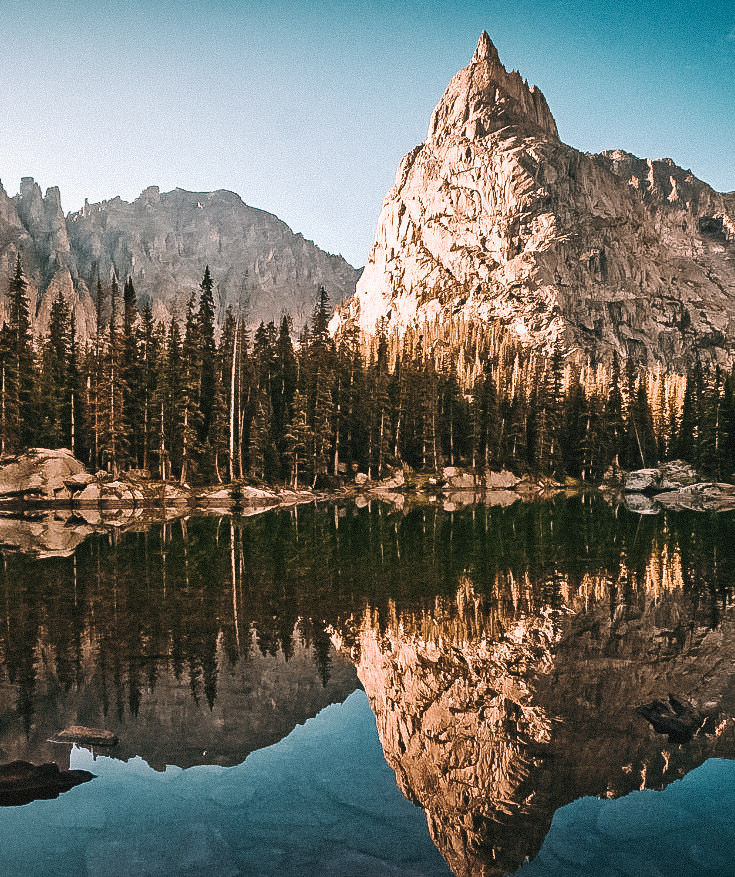 Widely regarded as the most beautiful peak in the state, for many hikers, reaching the top is one of their biggest Colorado bucket list items.
Even though is not exactly an easy challenge, summitting this gorgeous mountain is an experience like no other. The trail to conquer Eagles Peak measures 14 miles out and back. If you consider yourself an experienced hiker, this is one of the easiest Colorado fourteeners to conquer, but be warned that no actual fourteener is "easy".
If you're not up for the challenge, however, there are plenty of hiking trails in the Indian Peaks Wilderness area where you can catch glorious views of Long Eagle Peak as well!
29. Emerald Lake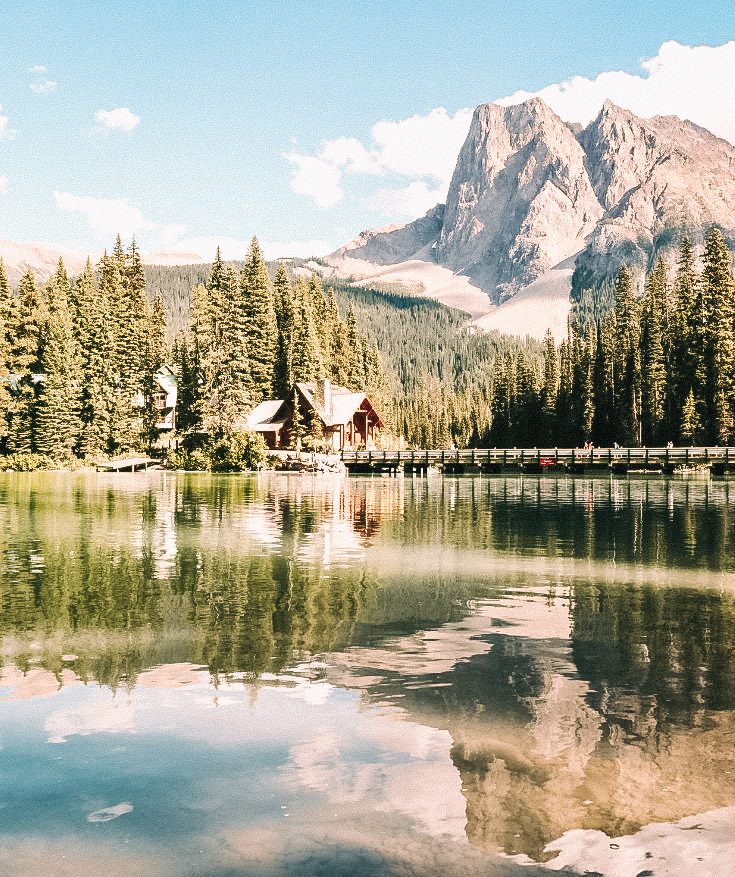 The Emerald Lake hike is one of the most popular hikes in Rocky Mountain National Park thanks to its accessibility and the glorious landscapes it has to offer.
The hike is pretty short and sweet, but expect for it to take at least a couple of hours as you'll be making plenty of stops along the way to fully take in the scenery. Aside from all the views of mountain peaks keeping you company as you move further along, you'll also be treated to three gorgeous alpine lakes: Nymph Lake, Dream Lake, and Emerald Lake.
30. Chasm Lake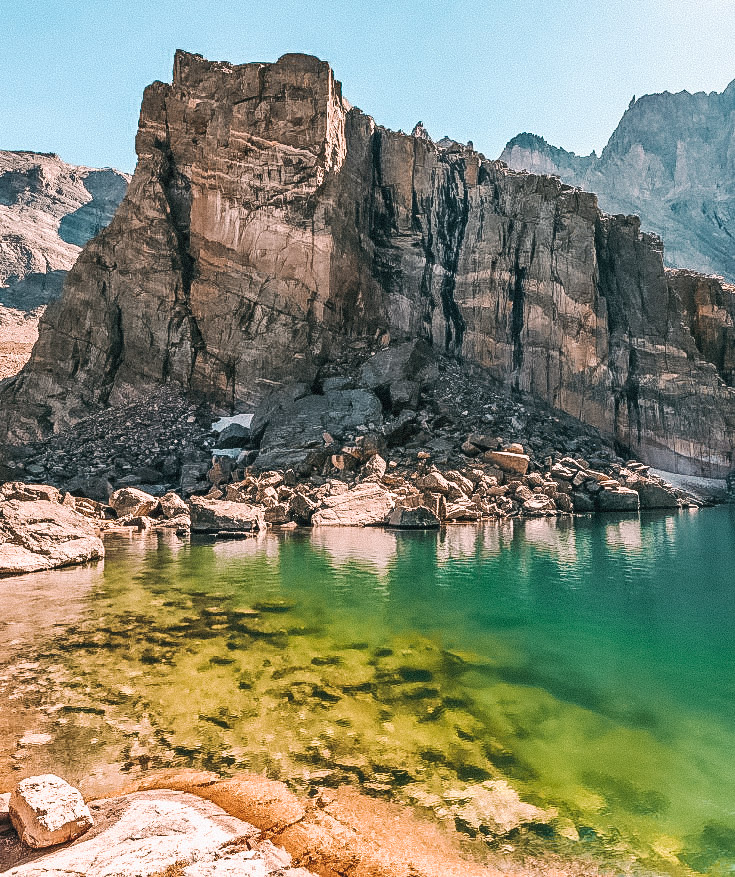 As one of the most beautiful alpine lakes in Colorado, hiking to Chasm Lake is an incredible experience to have, especially if you're looking for a slightly challenging trail.
Aside from getting to gawk at the emerald-toned Chasm Lake, the trail to get there itself is worthy of being on your Colorado bucket list. Iconic views of Longs Peak Mountains, quirky rock formations, and waterfalls are just a few of the sights you'll get to see along the way!
31. Bridal Veil Falls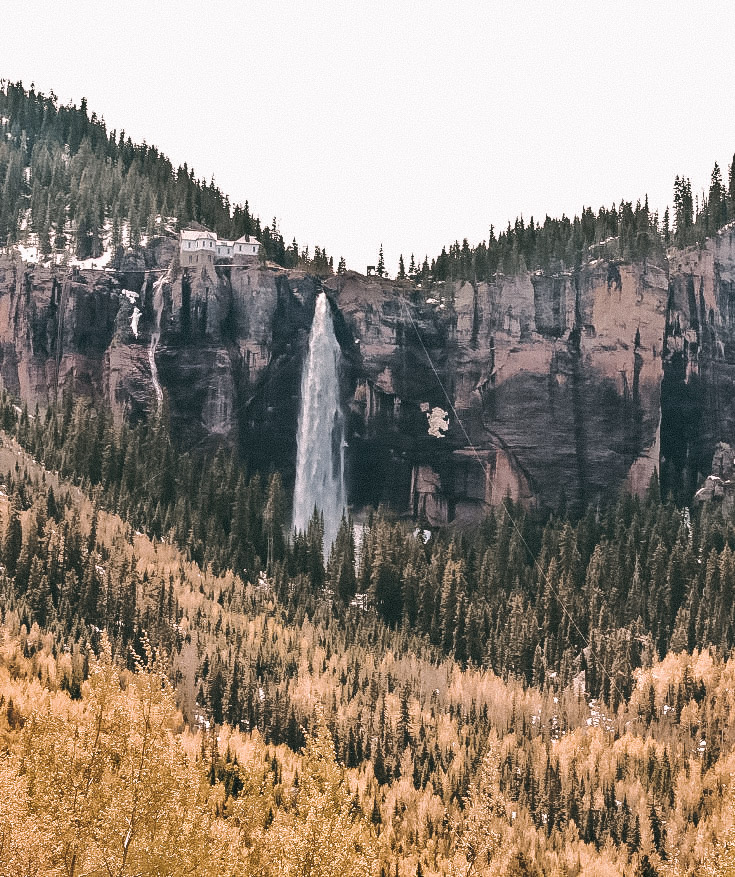 Deep in the Cow Creek region, Bridal Veil Falls is a 20-foot waterfall that crashed down from the cliffs.
Even though it's not incredibly high, this waterfall is somewhat of a unique sight in Colorado, especially considering there aren't a lot of them in the state. As you make your way to the falls, you'll get to walk amid aspen forests and over meadows, all while getting plenty of opportunities to see wildlife such as mule deer and elk.
32. Longs Peak via the Keyhole Route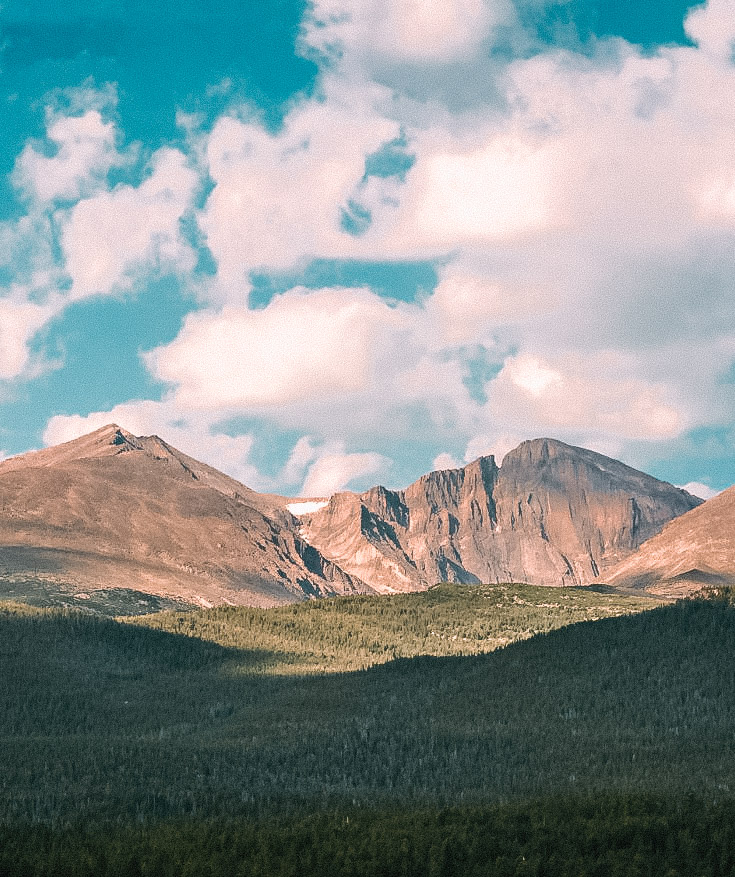 As one of the most challenging and iconic of Colorado's 58 fourteeners, conquering Longs Peak is a must on any hiker's Colorado bucket list.
There are many routes to get to the summit, but the Keyhole Route tends to be a favorite one for hikers. With an elevation gain of 5000 feet and 14.5 miles out and back, this hike is considered extremely challenging and should only be braved by those with experience.
33. Pikes Peak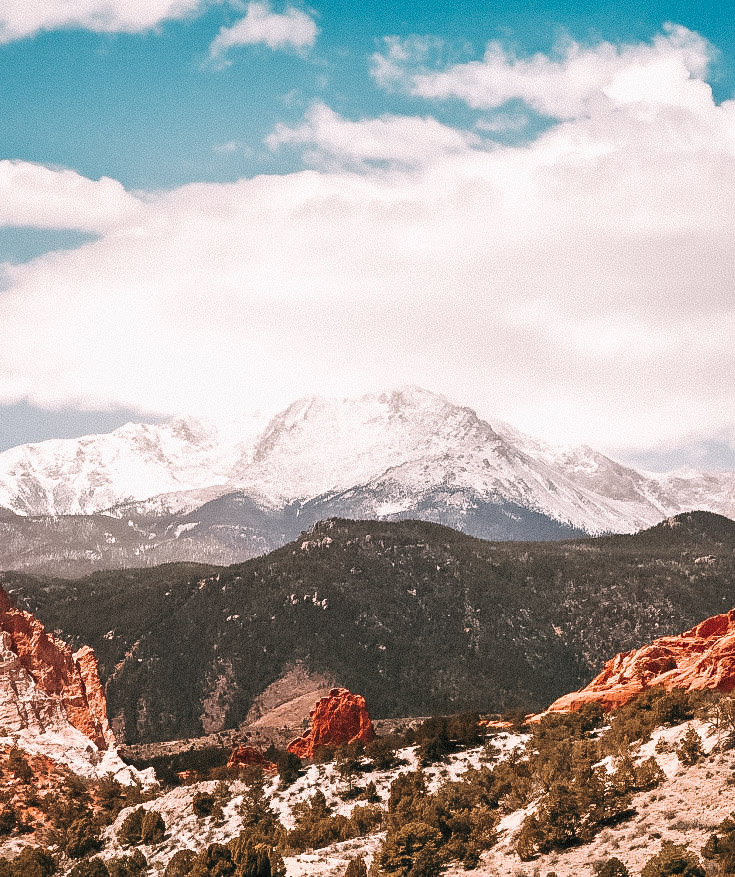 The Ute people used to call Pikes Peak the "Mountain of the Sun" because it was the first thing in the landscape that the sun touched every sunrise.
Today, Pikes Peak is more commonly nicknamed the "Mountain of America" because of its beauty and might. Conquering this Colorado fourteener is another challenge, but if you're feeling up for the challenge, you won't regret the effort once you stand and the top and get to gawk at the glorious views of the Continental Divide it provides!
Colorado bucket list: Extras
34. Dinosaur National Monument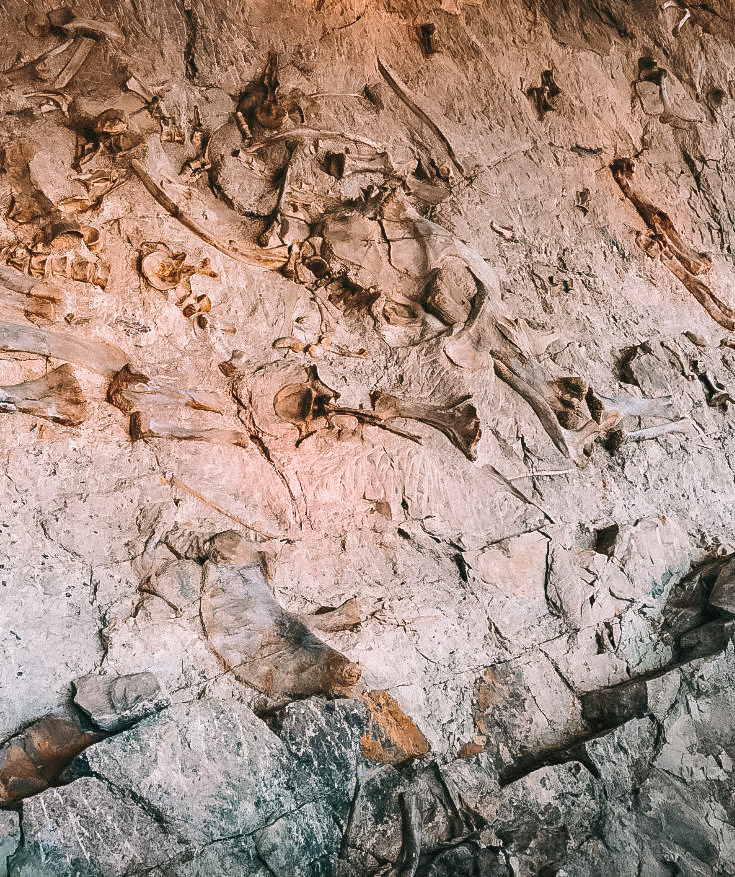 To get your inner geek on, head over to the Utah-Colorado border in order to visit this unique national monument.
Here, you'll get to spend the day indulging in all sorts of Dinosaur adventures. Thousands of dinosaur fossils have been found in this area, and you can take a ranger-guided hike in order to see fossils and remains encapsulated on the rocks.
If you want to learn more about these prehistoric titans, you can also visit the Dinosaur Quarry Exhibit Hall, which boasts a collection of 1500 fossils!
35. Red Rocks Amphitheater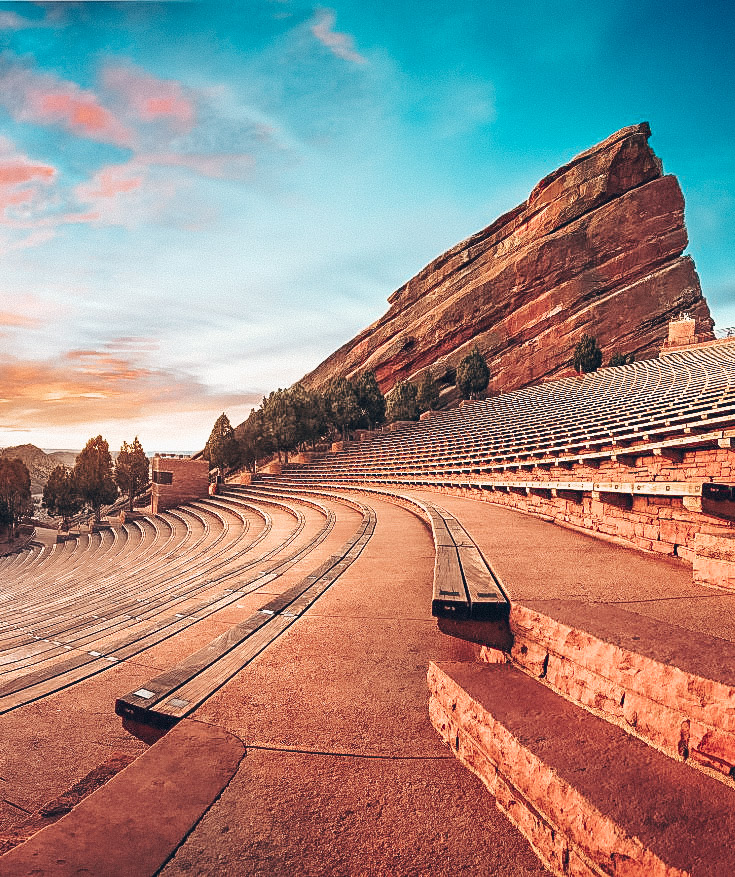 Red Rocks Amphitheater is one of the most unique amphitheaters in the world, and attending a concert here is an unmissable item on your Colorado bucket list.
This peculiar concert hall is found in the town of Morisson, and what makes it so unusual is the fact that it is located outside in the middle of a landscape that looks almost as though it belongs on Mars with colossal red rocks and outcrops surrounding it.
Plenty of iconic artists have held shows here, including Depeche Mode, Sonny, Jimi Hendrix, Cher, and The Beatles!
PIN THIS COLORADO BUCKET LIST