Emirates Airlines is one of the world's most renowned airlines, known for its exceptional service, luxurious amenities, and state-of-the-art facilities.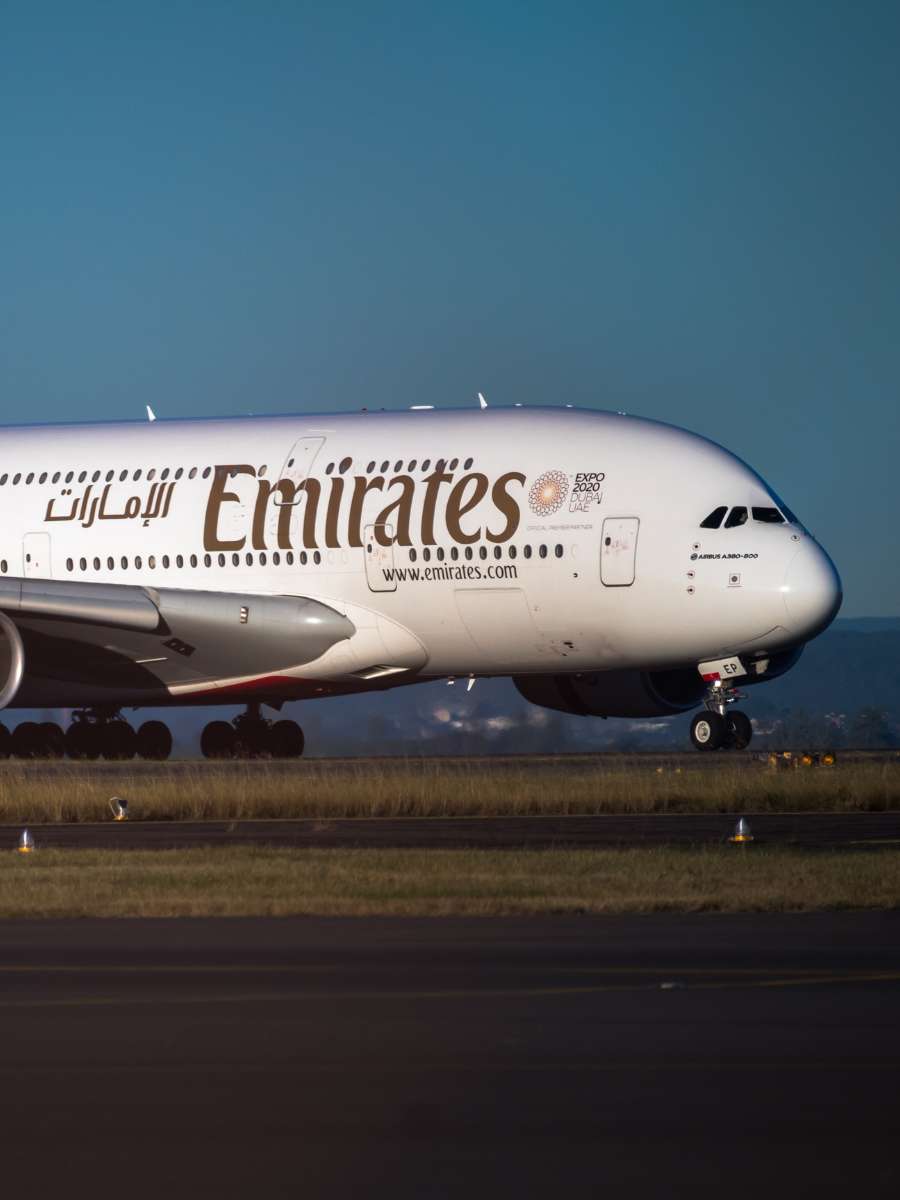 Flying with Emirates is an experience like no other, with top-notch comfort, entertainment, and culinary offerings that make air travel a pleasure rather than a chore.
Whether you're traveling for business or leisure, Emirates offers a range of services and products designed to make your journey as comfortable and enjoyable as possible
Emirates Airlines Review
I was fortunate enough to fly with Emirates from Toronto to Dubai, and I must say, I was thoroughly impressed with every aspect of the flights. Both legs of the journey were non-stop, with a 13-hour flight to Dubai and a 14-hour return flight.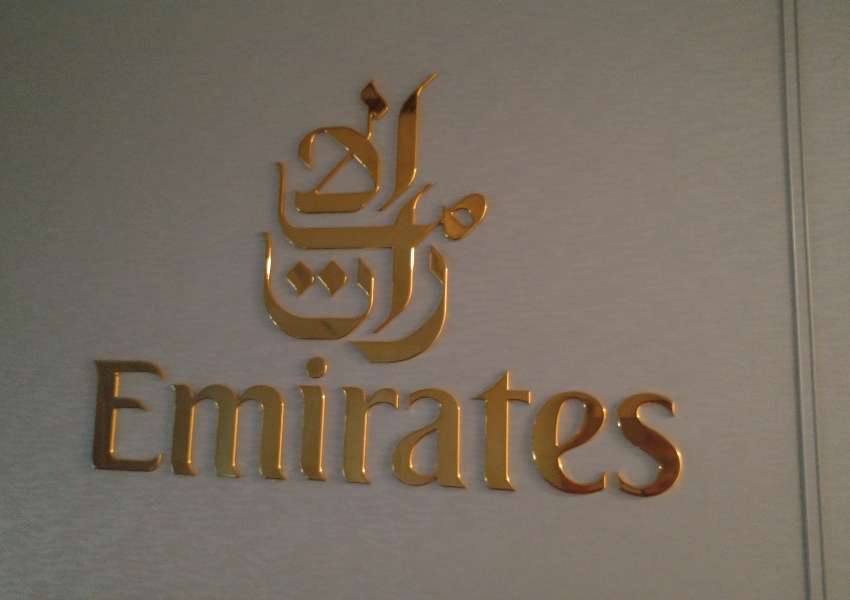 Emirates Airlines Review: My Journey With Emirates
During my flight with Emirates, I was thoroughly impressed with the experience.
I've only heard positive reviews beforehand, but my expectations were exceeded in every way. Throughout the entire journey, I felt well taken care of and comfortable.
Fortunately, on the first leg of my journey to Dubai, the entire row beside me was empty which allowed me to stretch out and use the washroom without disturbing anyone.
Speaking of the washrooms, they were immaculately clean and well-maintained, a pleasant surprise given my usual apprehension towards plane facilities (because they are usually dirty and I am claustrophobic).
The vast selection of entertainment options was another highlight of the flight. With a variety of movies both recent and classic, time flew by quickly.
On my way to Dubai, I couldn't sleep and ended up watching four different movies, while on the return flight, I slept the majority of the time because I was exhausted.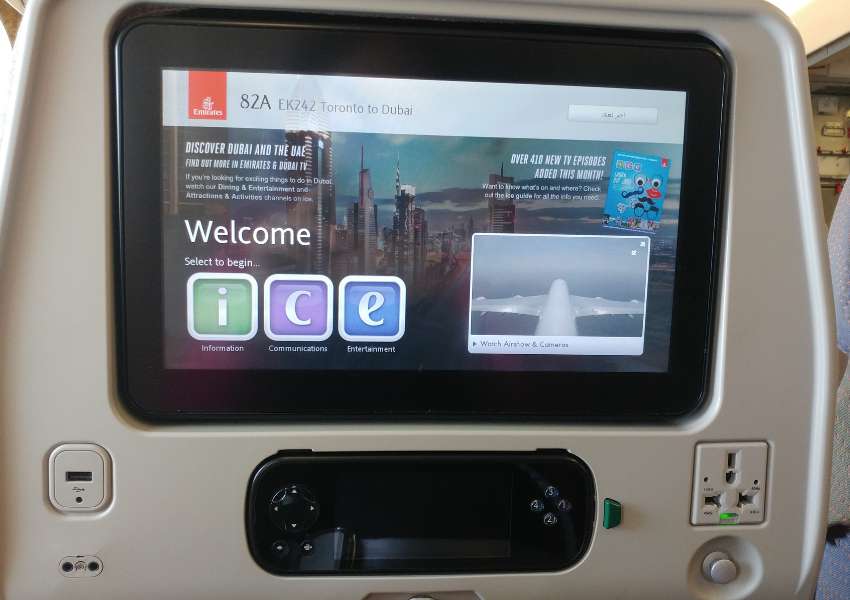 Finally, the food and beverage options provided by Emirates were exceptional, with a wide selection of delicious meals and beverages available throughout the flight.
Emirates Airlines Review: Booking and Going Through Check-in
The process of booking my Emirates flights was effortless, and the flight times were ideal for my schedule. I was thrilled to secure a direct flight since I prefer not to connect.
I found the 48-hour advance online check-in option beneficial as opposed to the usual 24-hour check-in period. During online check-in, I was able to select my seat, which was beside the window, and print my boarding pass at home. This entire process was extremely convenient.
Upon arriving at the airport, dropping off my backpack at the Emirates counter was a breeze, with no lines and friendly staff.
Also, my economy class ticket included two free checked-in suitcases, a pleasant surprise considering most airlines charge for even one suitcase. Although I only had one item to check in, this feature was still quite impressive.
Emirates Airlines Review: Getting Ready to Board
One of the most impressive aspects of my Emirates flights was the double-decker Airbus A380 plane, which had two floors.
Although the top level was reserved for business and first-class passengers, I still found the concept fascinating.
The boarding process was prompt and even began early, likely due to the numerous employees assisting passengers in boarding swiftly.
This was a refreshing change from my previous experiences with other airlines, where delays or mechanical issues often caused late boarding. Overall, the boarding process was exceptionally well-organized and efficient.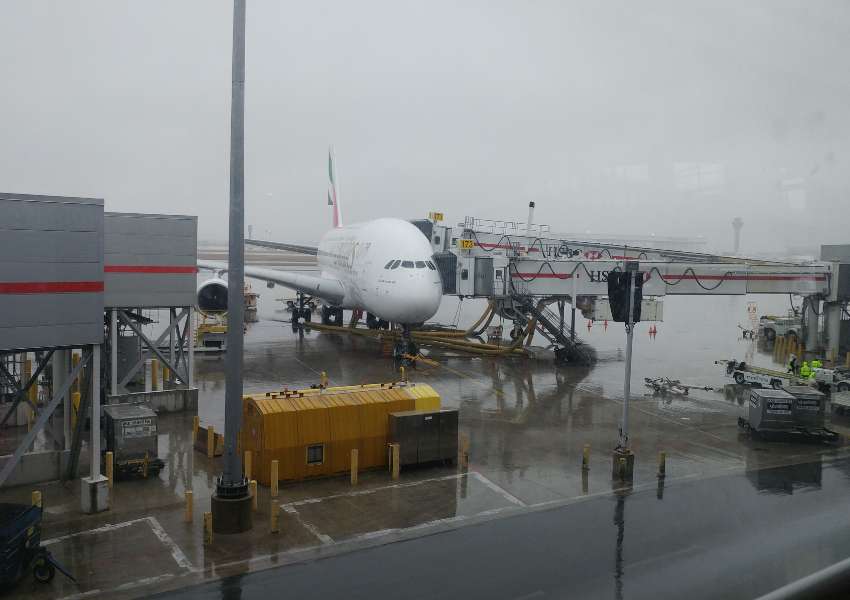 Emirates Airlines Review: Up in the Air
While on the plane, Emirates provides passengers with a comfortable pillow, a cozy blanket, and a headset.
As previously mentioned, there is an abundance of food, snacks, and drinks offered throughout the flight, with a menu provided at the start of the journey.
In addition to the essentials, I was also given a little pouch containing a night mask, earplugs, a toothbrush, toothpaste, and socks.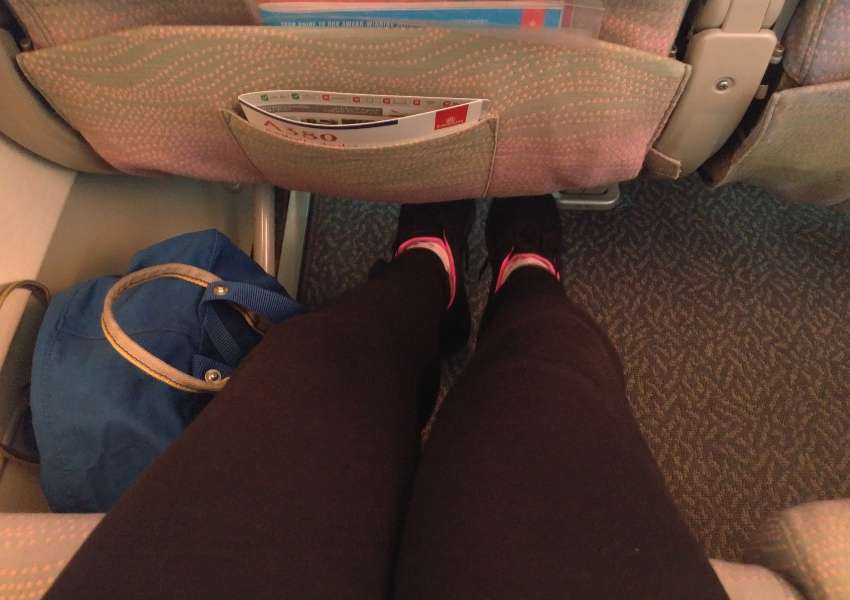 The ceiling of the plane sparkled and reminded me of the night sky, which was a nice touch. The seats were comfortable and had a lot of legroom, and the flight attendants were attentive. Also, the entertainment system included a vast selection of movies, TV shows, games, radio, podcasts, and music.
The screen was large, and the headset was of high quality. Additionally, there are cameras outside of the plane, allowing passengers to watch the take-off, landing, and flight.
Also, the real-time map shows the flight's progress across the globe and which countries are being flown over. Emirates provides free Wi-Fi on board, with a limit of 20 MB or two hours, whichever comes first.
While it's sufficient for messaging, it may not last as long if watching videos. The free Wi-Fi was helpful for me, allowing me to message my friend about my early arrival.
Emirates Airlines Review: Landing and Disembarking
The plane touched down effortlessly and safely, and we actually landed in Dubai half an hour ahead of schedule.
I collected my backpack from the conveyor belt in no time, and thankfully, everything inside was intact.
Also, the security process was a breeze, as I wasn't asked too many questions at Customs. I was able to exit the airport in record time.
Would I Recommend Flying With Emirates?
I highly recommend Emirates as the entire experience from start to finish was impeccable.
Their customer service is exceptional, the entertainment system was the best I have ever seen, the aircraft was clean and spacious, and the food was plentiful and delicious.
Overall, it was a fantastic flight! I am looking forward to the opportunity to fly with them again and would definitely choose them over other airlines.
FAQ about flying with Emirates Airlines
Is Emirates a good airline to fly with?
Yes, Emirates is widely regarded as one of the best airlines to fly with. The airline has won numerous awards over the years, including the title of World's Best Airline at the Skytrax World Airline Awards several times.
The airline's commitment to innovation and excellence has earned it a reputation for being one of the most reliable and enjoyable airlines in the world.
What is special about Emirates Airlines?
Emirates offers luxurious amenities, including lie-flat beds, in-flight showers, and private suites in First Class.
The airline offers a range of complimentary products, such as luxury skincare and toiletry kits, pajamas, and noise-canceling headphones.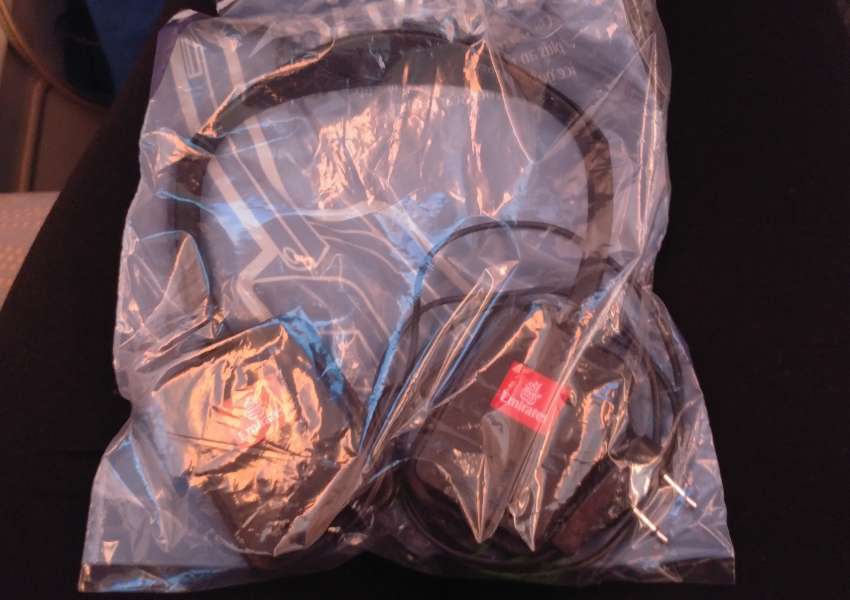 Emirates offers one of the most extensive in-flight entertainment systems in the industry, with over 4,500 channels of movies, TV shows, music, and games available on demand.
What is Emirates Airlines known for?
Emirates prides itself on its exceptional service, with attentive and friendly staff trained to meet the needs of passengers.
It is known for providing a premium travel experience with a high level of luxury and comfort across all cabin classes, from Economy to First Class. The airline is known for its exceptional aircrafts and wide range of amenities and services on board.
What are some amazing facts about Emirates Airlines?
One interesting fact is that Emirates is the largest airline in the Middle East and one of the world's largest airlines, with over 1,500 flights per week.
It is one of the two official United Arab Emirates airlines, the other one being Etihad. Another interesting fact is that the airline operates a fleet of over 250 aircraft (Boeing 777 and Airbus A380), including the world's largest fleet of Airbus A380s.
They have a frequent flyer program called Emirates Skywards which has four levels – blue, silver, gold, and platinum. The ticket levels available are Economy, Premium Economy, Business, and First Class-
Also, Emirates has a strong commitment to sustainability, with initiatives such as its ecoTHREAD blankets, which are made from recycled plastic bottles.
Where does Emirates Airlines fly to?
Emirates Airlines is a global airline that flies to over 150 destinations in more than 80 countries around the world.
The airline's extensive network includes destinations in the Middle East, Asia, Africa, Europe, North America, South America, and Australia.
Emirates operates regular flights to major cities such as New York, London, Sydney, Hong Kong, Paris, Tokyo, and Johannesburg, as well as to smaller regional destinations.
The airline operates several long-haul routes, including flights between Dubai and Los Angeles, San Francisco, Houston, and Dallas, and between Dubai and Auckland, New Zealand. Emirates is constantly expanding its network and launching new routes as well.
Does Emirates Airlines truly have free WiFi?
Yes, Emirates Airlines does offer free Wi-Fi on some of its flights. I had free WiFi on my flights (see explanation above).
The availability of Wi-Fi on Emirates flights varies depending on the route and aircraft type, so it's best to check with the airline directly for the most up-to-date information.
It's worth noting that due to the nature of in-flight Wi-Fi, the speed and quality of the service may vary depending on factors such as the number of passengers using the service and the location of the aircraft.
What type of food is provided by Emirates Airlines?
Emirates Airlines is known for its exceptional in-flight dining experience, with a focus on fresh, locally-sourced ingredients and gourmet meals inspired by the destinations it flies to.
The airline offers a range of meal options to cater to different dietary requirements and preferences, including vegetarian, vegan, and gluten-free options.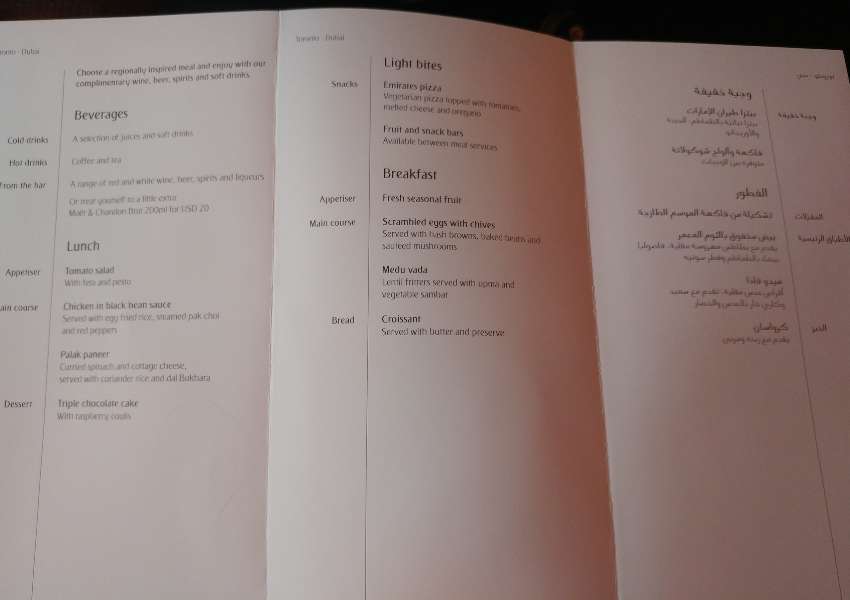 In First Class, passengers can enjoy multi-course meals with a choice of dishes, along with premium beverages and wine selections.
Business Class passengers can also choose from a selection of appetizers, main courses, and desserts, along with a choice of wines and other beverages.
Economy Class passengers are served a selection of main courses and snacks, along with complimentary beverages. In addition to its main meal service, Emirates also offers a range of snacks and refreshments throughout the flight, as well as a selection of hot and cold drinks.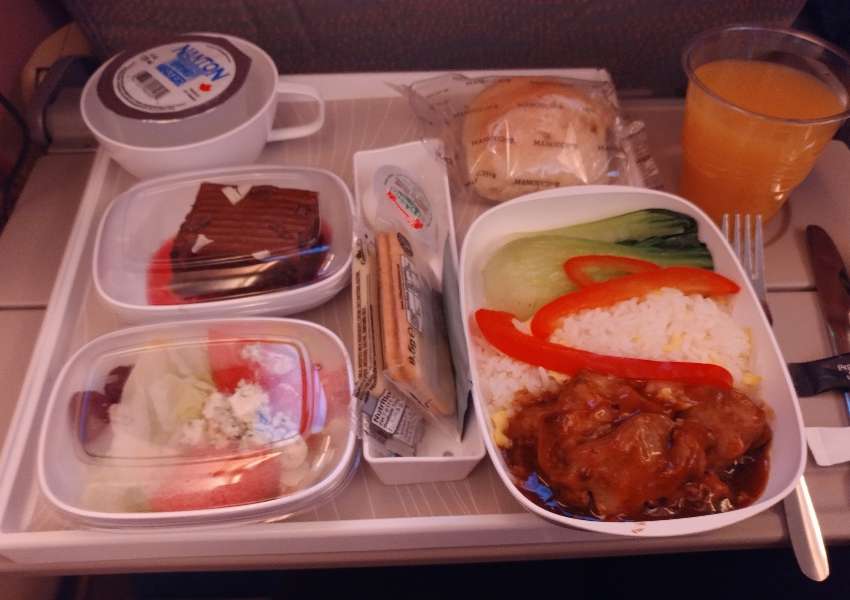 How is the Emirates economy class flight experience?
Emirates Airlines' Economy Class offers passengers a comfortable and enjoyable flight experience.
The airline's Economy Class seats are ergonomically designed to provide ample legroom and comfort, with a seat pitch of up to 33 inches and a width of up to 18 inches.
Passengers are also provided with blankets, pillows, and amenity kits to help make their flight more comfortable.
Emirates' catering service provides a range of main courses and snacks, as well as complimentary beverages, including wine, beer, and spirits.
In addition to its main meal service, the airline also offers a range of refreshments and snacks throughout the flight.
What are the services provided in the Business Class of Emirates Airlines?
Business Class passengers can enjoy dedicated check-in counters at the airport, allowing them to bypass long queues and save time.
Also, they have access to Emirates' luxurious airport lounges, which offer a range of services and amenities, including gourmet dining, premium beverages, and shower facilities.
Emirates' Business Class seats are designed to provide maximum comfort and privacy, with fully-flat beds, built-in massage features, and ample storage space.
Business Class passengers can enjoy a range of gourmet meals inspired by the destinations Emirates flies to, along with premium wine and beverage selections.
Some Emirates aircraft feature an onboard lounge for Business Class passengers, where they can socialize and enjoy premium drinks and snacks.
They have priority boarding and baggage handling, allowing them to board the aircraft first and receive their luggage more quickly upon arrival.
Why is Emirates Airlines so expensive?
Emirates Airlines is often perceived as an expensive airline due to the high level of service, amenities, and luxury it provides to its passengers.
The airline is known for offering a premium travel experience across all cabin classes, from Economy to First Class, with a range of services and amenities that go beyond what is typically offered by other airlines.
Emirates invests heavily in its aircraft and cabin interiors, ensuring that its passengers are comfortable and have access to state-of-the-art amenities.
The airline places a strong emphasis on customer service, with well-trained staff that is dedicated to providing an exceptional travel experience for passengers.
In addition, Emirates Airlines operates a global network of flights. The airline's expansive route network and convenient flight schedules contribute to its reputation as a premium airline.
Overall, Emirates Airlines' high level of service, luxury amenities, and extensive global network contributes to its higher ticket prices compared to other airlines.
Wrap up: Emirates Airlines Review
Based on my experience, Emirates definitely stands out from other airlines.
They provide an exceptional flying experience – the entertainment system, food, and customer service are top-notch, making for a seamless and enjoyable journey.
Overall, Emirates is a top choice for anyone looking for an exceptional airline experience.