If you love exploring off the beaten path sites and hidden gems in new places, you will fall in love with Delhi. India's capital is one of the most culturally rich and historically significant cities in the world.
I live in Delhi and have explored the city top to bottom. It is bursting with hidden gems and off the beaten path sites.
If this is your first trip to Delhi, you are in for an unforgettable experience. Delhi is bonkers, but if you can look past the general mayhem, it is incredibly diverse and fascinating.
The Best Ways to Get to the Hidden Gems of Delhi
Delhi is a huge city – it's home to 33 million people and traffic can be a nightmare. These are the best ways to get to the hidden gems of Delhi.
Auto Rickshaw: For short distances (5 km or less) auto rickshaws are very convenient. They're always waiting outside metro stations, markets, hotels, sites and attractions. A short ride of about 2 km should cost no more than INR 80.
Delhi Metro: For longer distance the Delhi Metro is the best way to get around the city. It's modern, clean, efficient, cheap and it goes everywhere.
Even though it's a big system, almost 400 km of track and 12 lines, everything is colour coded so it's easy to navigate. I wrote a whole article on how to use the Delhi Metro. The first carriage in the moving direction is for women only.
Uber and Ola: Delhi has two ride share apps, Uber and Ola. Auto rickshaws and the metro are great to use in the day, but after 8 or 9:00 pm it's safer to use Uber or Ola if you're alone. They are both very affordable in Delhi.
The Hidden Gems of Delhi
There are many reasons to visit Delhi, and these hidden gems are definitely one of them. Here are some of my favourites:
1. Mehrauli Archeological Park
Mehrauli Archeological Park is one of the most impressive but ignored sites in Delhi. It contains the ruins of beautiful buildings from as far back as 1526.
Most spectacular are the Rajon ki Baoli (an immense, intricately designed ancient stepwell) and the Jamali Kamali Mosque, but there are over 100 historic structures in the park, including ancient tombs and gates.
The park is about 200 acres of mostly unkempt, scrubby forest and looks completely uninviting, but down the dirt lanes you'll find ruins that hardly get any visitors.
Considering it's adjacent to one of Delhi's most visited sites, the Qutab Minar (UNESCO), it's remarkable the park sees as few visitors as it does.
Hours and admission: 24/7, but go during daylight – free
2. Jahaz Mahal
Jahaz Mahal means Ship Palace. It was so named because its reflection looked like a ship in the adjacent pool that used to exist.
It was built during the Lodhi dynasty, 1451-1526 and is on the main road leading into the urban village of Mehrauli.
There's usually a guard on site and if you give him INR 50 he may let you climb the steep (and slightly treacherous) stairs to the roof.
There's several chhatri on the roof (domed pavilions, typical of Lodhi architecture) and you can get some great photos of the palace from up there.
Hours and admission: 24/7, but go during daylight – free
3. Zafar Mahal
This is the summer palace of the last Mughal ruler of India, Bahadur Shah Zafar. It is another monument that has been left to neglect in the middle of the busy urban village Mehrauli.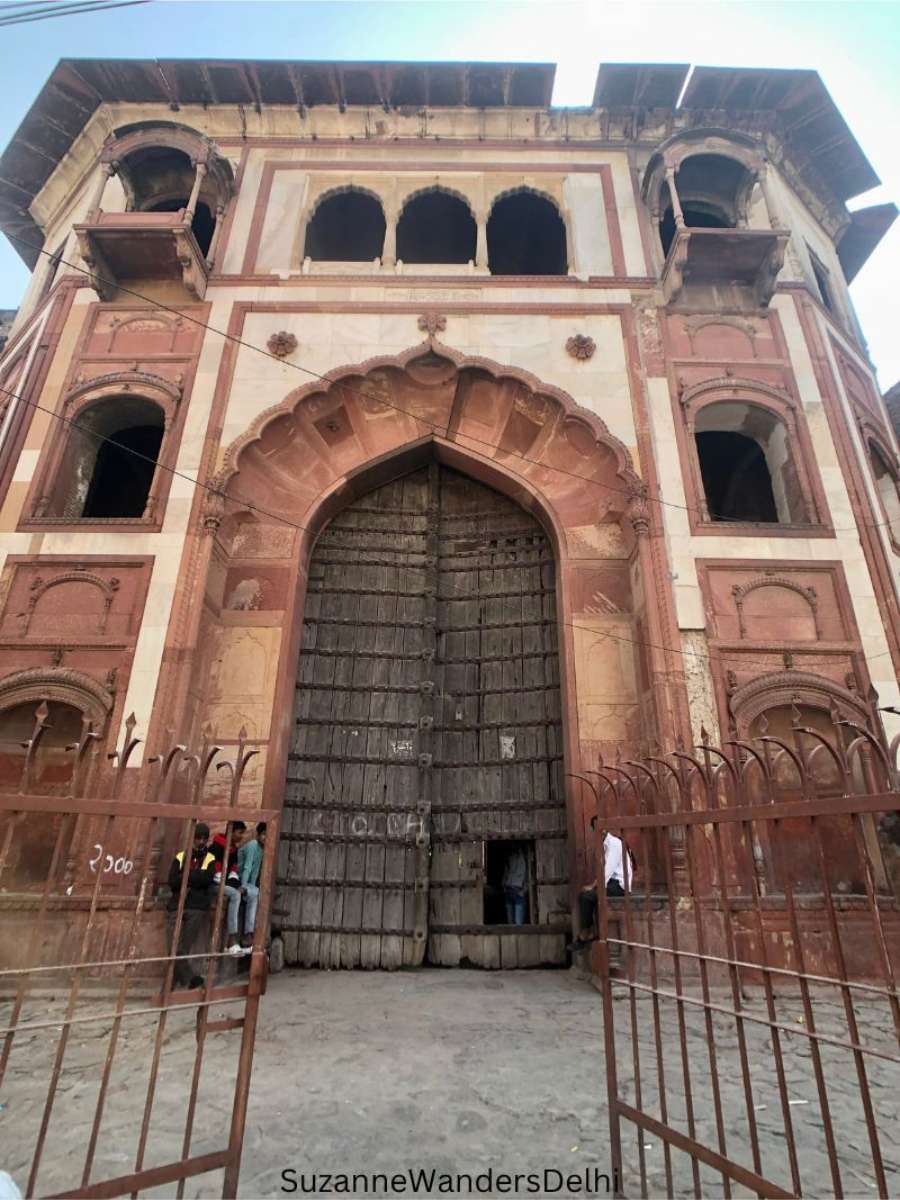 It was recently announced the Archeological Survey of India has plans to restore the Zafar Mahal – it's an important piece of India's history.
Currently it's dilapidated and encroached upon by newer construction. Gamblers and drinkers frequent it at night.
But it's obvious it was once splendid. You'll recognize it by the massive wooden doors, built for an elephant to pass through.
Hours and admission: 24/7, but go during daylight – free
4. Hazrat Nizamuddin Dargah
This is the mausoleum of Khawaja Nizamuddin Auliya, a very powerful Sufi saint during the early Tughlaq dynasty 1320-1351. It is one of the most revered sites in Delhi, steeped in mysticism and spiritual energy.
Even today thousands visit the dargah every week, some from very far away.
It is believed the dargah holds great power and any sincere wish made to the Sufi saint will be granted, regardless of religion.
The dargah is located in a congested urban village and you may have to ask for directions from local vendors.
Dress modestly and wear shoes that can be removed. Women have to cover their heads to enter the dargah and men must cover their heads to enter the shrine (women are not permitted in the shrine).
Be sure to visit the ancient stepwell beside the dargah. It was the cause of the famous feud between Ghiyasuddin Tughlaq (the ruler at the time) and Nizamuddin.
For a truly mesmerizing experience, visit the dargah just after the evening prayers to hear the qawwali singers (Sufi Islamic devotional singing).
The same family have sung at the dargah for 700 years and they are legendary. There is no qawwali singing during Ramadan.
Hours and Admission: 5:00 am to 10:30 pm, daily (qawwali singing is around 6:00 pm to 7:30 pm; timing is based on the evening prayers and the time changes marginally daily) – free
5. Chausath Khamba
In the same areas as Nizamuddin Dargah is a gorgeous white marble tomb called Chausath Khamba, which means 64 pillars.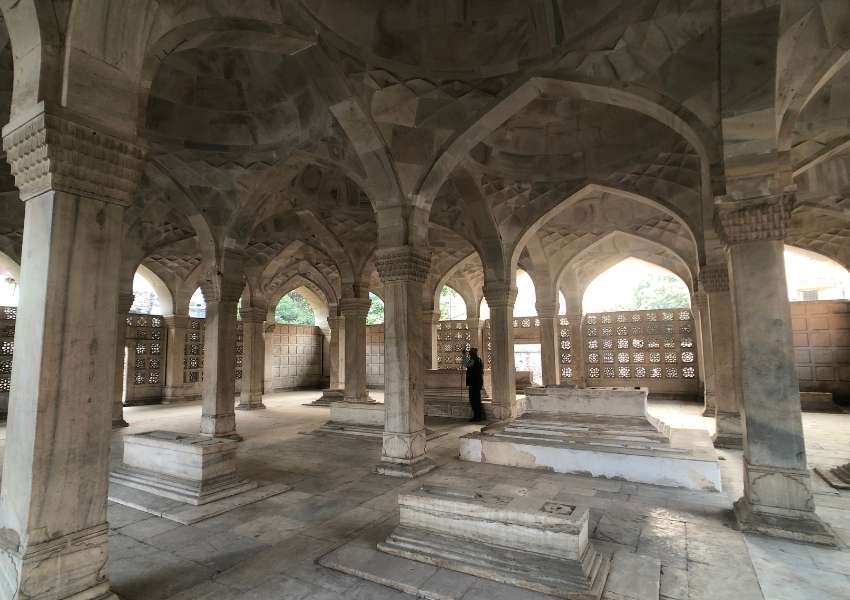 It's the final resting place of Mizra Aziz Koka and his family. Many tombs were built in the Nizamuddin Basti in order to be close to the tomb of the revered Sufi saint.
To find the Chausath Khamba, enter a courtyard through a massive arched gateway next to the Ghalib Academy.
The marble tomb is at the far end of this courtyard. On the north side of Chausath Khamba are the tombs of Delhi's most beloved poet, Mizra Ghalib and his wife.
Hours and admission: 24/7, but do during daylight – free
6. Tughlaqabad Fort
This fort is not exactly a hidden gem, most locals know about it, but it's not on any Delhi itineraries and gets few visitors.
It's a huge fort with massive fortification walls and 13 remaining bastions, though most are hidden from view by dense forest. It was built by the founder of the Tughlaq dynasty, Ghiyasuddin Tughlaq in 1321.
The ruins of a women's bazaar, a mosque, the palace, hamam and stepwell are still intact.
This is the fort the Sufi saint Nizamuddin cursed and it seems to have worked.
Hundreds visit the Sufi saint's tomb daily, but Tughlaqabad Fort remains desolate. Ghiyasuddin Tughlaq's tomb is right across the street and easily accessible.
Hours and admission: 9:00 am to 6:00 pm, daily – INR 300 (foreigners), children under 15 free
7. Adilabad Fort
This fort was built by the son of Ghiyasuddin Tughlaq, Mohammad Bin Tughlaq.
Because it was built in the same time period, the architecture is similar but Adilabad Fort is smaller.
Almost nobody comes to this fort and even locals don't know it exists. It's very close to Tughlaqabad Fort (you can see it from the citadel of Tughlaqabad) and makes sense to visit both at the same time.
Hours and admission: 9:30 am to 6:00 pm, daily – free (do not believe anyone who tells you there is a fee for this site, or that it is only free with a ticket to Tughlaqabad Fort, this is a common scam)
8. Sunder Nursery Farmers Market
Sunder Nursery is not exactly a hidden gem anymore, but not everyone knows about the organic farmers market held there every weekend.
This is definitely the best organic market in Delhi, not just for the items sold but because Sunder Nursery is such a beautiful heritage park.
Vendors change periodically but you can expect to see fresh produce, preserves, honey and oils, baked goods, artisanal clothing and personal and household items.
The market is located just outside the tomb of Mizra Muzaffar Hussain.
Hours and admission: 8:00 am to 1:00 pm, Saturday and Sunday in winter and Sunday only in summer – INR 200 (foreigners), children under 5 free
9. Gandhi Smriti Museum
Mahatma Gandhi is still revered in India as the Father of the Nation.
Gandhi Smriti is the house he stayed in for the last 144 days of his life, until he was assassinated in the garden on January 30, 1948.
At the time the house was owned by the Birla Family but later the government bought the home and turned it into a museum.
The rooms Gandhi lived in have been carefully preserved just as they were, and many people say they can feel his presence.
Visitors can walk the grounds, including where Gandhi took his last footsteps in the garden.
Please note there is also a Gandhi Smriti (were Gandhi was cremated), in a completely different part of Delhi, make sure specify Gandhi Smriti Museum.
Hours and admission: 10:00 am to 4:30 pm, Tuesday to Sunday – free
10. Bikaner House
When India gained independence in 1947, several of the former princely states were given small palaces in the centre of British built New Delhi. Bikaner House is one of these palaces.
It's now owned by the government and is a hub for Indian art and culture. There are always several Indian art exhibits, and the grounds and building itself are beautiful.
There are also four restaurants (including one of Delhi's finest bakeries and cafes – L'Opera) and often a small bazaar. It's a lovely oasis in busy Delhi and a great way to see well curated Indian art.
Hours and admission: 10:00 am to 7:00 pm, daily (hours can vary depending on exhibition) – free
11. Agrasen ki Baoli
One of Delhi's most beautiful stepwells, this one is very centrally located, close to many sites and attractions. For the best photos, go early in the morning before it gets busy.
Agrasen ki Baoli has 3 arched levels and 108 steps leading down to a pool of water, which is rumoured to have mystical powers.
The current stepwell was built in the 14th century by the Agrawal community, but is the site of a much older stepwell that dates back to 3000 BC. The ruins of an old stone mosque are there also, beside the entrance.
Hours and admission: 9:00 am to 5:00 pm, daily – free
12. Devi Prasad Sadan Dhobi Ghat
You will feel like you have stepped back in time when you enter this open air laundry.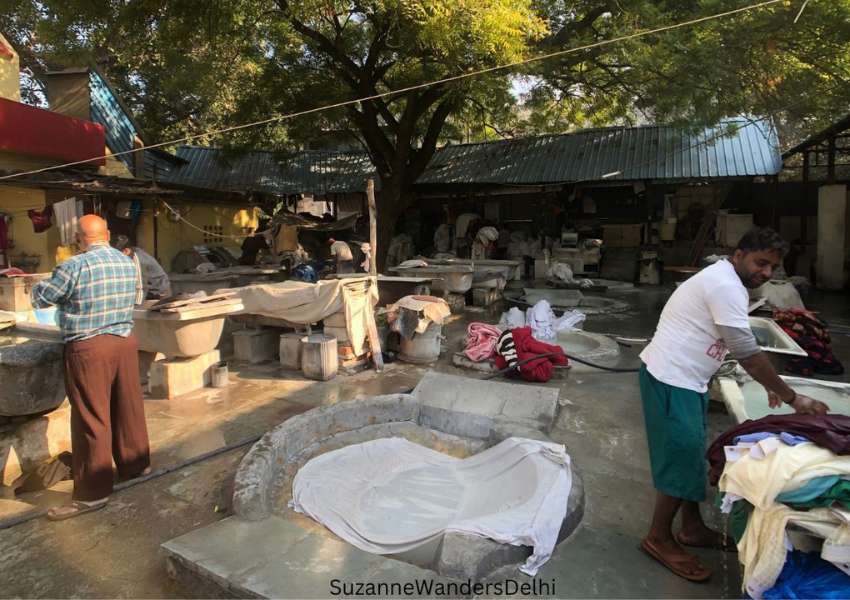 It's right around the corner from Agrasen ki Baoli (just follow the line of white sheets drying on the street) and you'll find it. The dhobi walas start work very early, so go before the stepwell.
The dhobi walas are welcoming but please be respectful, this is not a tourist site, it is their place of work.
Hours and admission: 5:00 am to 2:00 pm, daily – free
13. Majnu ka Tilla
Delhi's Little Tibet is where you'll find Tibetan restaurants, cafes, budget shopping, and Tibetan souvenirs.
The colony is home to about 3,500 second generation Tibetan refugees who followed the Dalai Lama to India in 1959.
It's a quaint area in North Delhi with two lovely Buddhist temples and lanes strung with Tibetan prayer flags.
Try the Tibetan street food laphing when you're there. It's a delicious vegetarian noodle like dish – I like the dry version.
Hours and admission: 24/7 but shops are open 11:00 am to 9:00 pm, daily – free
14. Lodhi Art District
India's first open air art district is located in quiet Lodhi Colony.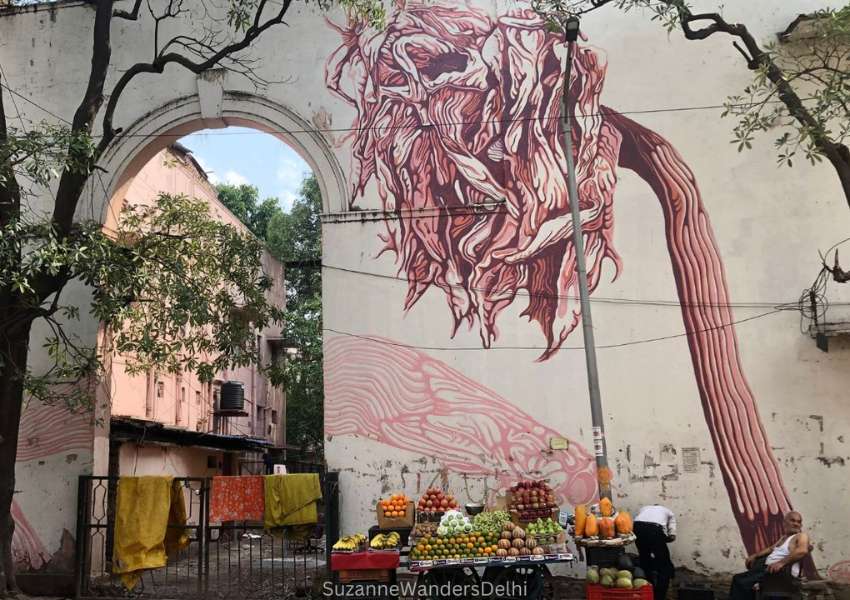 The facades of the British built residential buildings make great canvases for the 50+ murals. And the quiet lanes of the colony make it perfect for walking and mural viewing.
Most murals have a social or environmental theme and are located between Khanna Market and Meharchand Market.
You can see the locations and back story of all the murals at : St+Art India's location guide.
Lodhi Colony has a great ice cream shop, Jaatre and a fabulous coffee shop, Devan's. There's also wonderful restaurants like Jamun, Carnatic Café and Guppy.
Hours and admission: 24/7 but go during daylight to see the murals – free
15. Dastkar Nature Bazaar
Dastkar Nature Bazaar is an outdoor, pedestrian only market featuring artisans from around India selling authentic cultural items.
The bazaar is open all the time, but every month there is a two week fair with even more artisans, cultural performances, demonstrations and regional foods at the food court.
The bazaar is a joint initiative between NGO Dastkar and Delhi Tourism, and strives to support crafts people by giving them a venue to show case their goods and upgrade their skills. It's a bazaar with a social conscience.
Hours and admission: 11:00 am to 7:00 pm, Thursday to Tuesday (open 7 days a week during monthly 2 week fair) – INR 30
16. Ghazipur Phool Mandi
You will undoubtedly be the only foreigner in Delhi's largest wholesale flower market, Ghazipur Phool Mandi.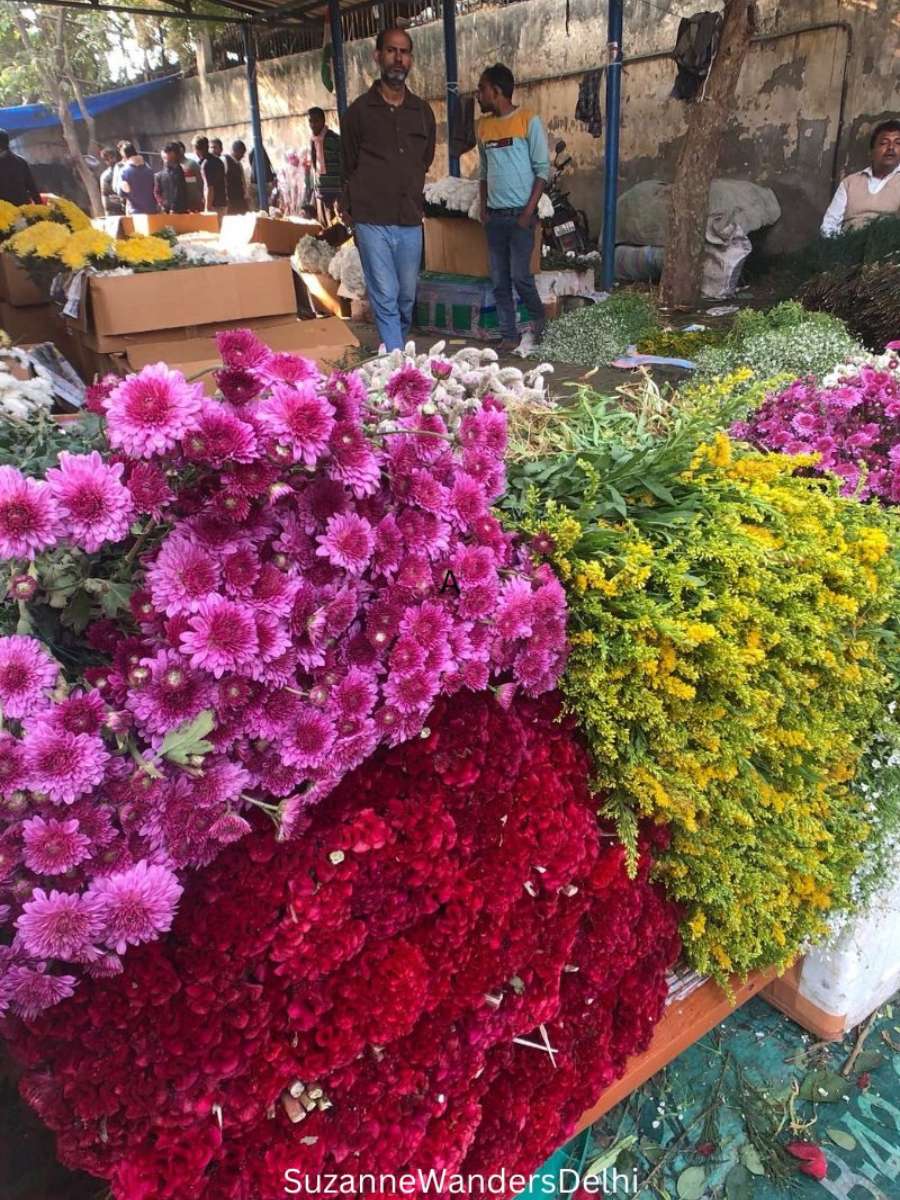 India uses a lot of fresh flowers, and this is ground zero for the flowers in Delhi. In fact, 50,000 kg of fresh flowers are sold here every day.
It's an endless view of fresh, colourful flowers that makes for fabulous photographs.
It also smells divine. It starts early at 3:00 am and is finished before noon so go early, but during daylight hours – Ghazipur is not the best part of town.
If you want to buy flowers, keep in mind most vendors are reluctant to sell less than ½ kg.
Hours and admission: 3:00 am to 12:00 pm, daily – free
17. Amar Colony Street Food Market
Delhi is famous for street food, but Old Delhi is not the only place to go for authentic street eats.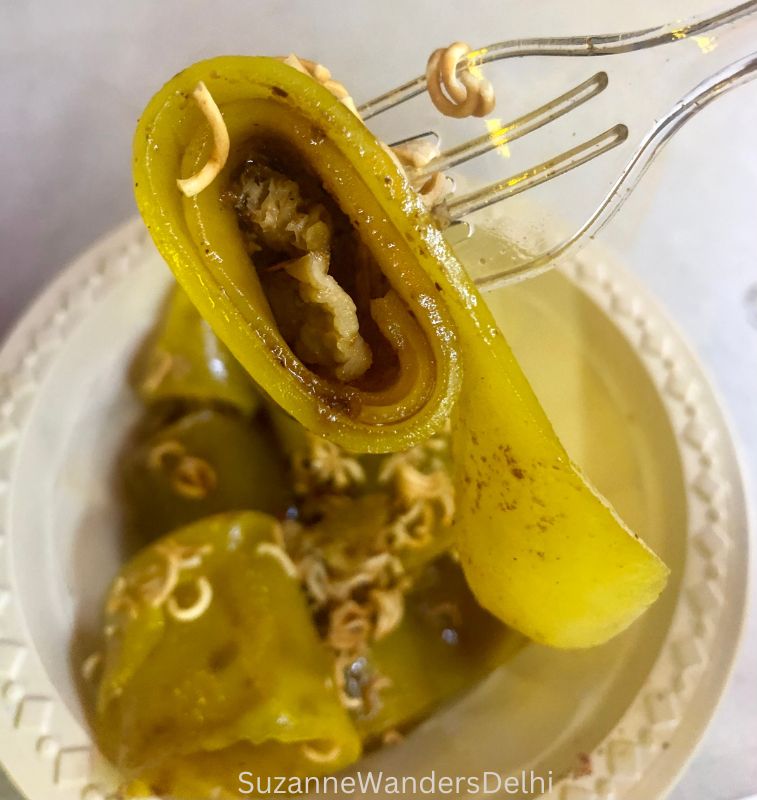 Amar Colony has a terrific street food market without the crazy congestion and pandemonium of Old Delhi.
Amar Colony was settled by immigrants, refugees and Indians from other parts of the country.
The street food reflects all these different cultures and cuisines.
Afghani shawarma, mutton kababs, Tibetan momos and sweet faluda are all here. Some of the food stalls have been there for over 30 years.
Visitors can be reluctant eat the street food in Delhi, but it's a wonderful cultural experience. Some of the best food in the city is on the streets. There are ways to eat street food safely, using common sense and hand sanitizer.
My favourite food stands in Amar Colony are:
Hunger Strike – chicken tandoor momos
Tunday Kababi – mutton galouti kabab
Suhani's Foods – chicken shawarma
Aunty Momo – veg dry laphing
34 Chowringhee Lane – kathi rolls
Famous Rabri Faluda – rabri faluda (this is just a cart in front of Lenskart.com in the market)
Standard Namkeen Corner (this is a shop that sells all kinds of Indian savoury snacks, namkeen – they make great gifts for people back home)
18. Amar Colony Furniture Market
This quirky market is very close to the main Amar Colony Market.
It's down a small lane on the same street as Dhaniya da Dhaba (great local eatery), directly across from the shop at A-34. It's a bit of secret market but if you can't find it, just ask a local.
Much of Delhi's old furniture and knick-knacks ends up here for refurbishing. It's like an Aladdin's cave of affordable, unique, renewed furniture and decorative items.
You'll find antique and vintage pieces, renewed colonial style furniture, distressed items, and lots of decorative mirrors, door handles, stools and end tables. Make sure to bargain.
Hours and admission: 10:00 am to 7:00 pm, daily – free
19. Deer Park
If you are craving some peace and quiet and a bit of green space, Deer Park is where to go.
It's part of the city's green belt and is a lovely park in historical South Delhi with plenty of walking paths, an ancient reservoir and some remarkable monuments from the Tughlaq and Lodhi periods, 1320 – 1501.
Delhi can be intense and Deer Park offers a welcome respite, just don't go after dark. True to its name, deer are kept in an enclosure, and rabbits, peacocks and guinea pigs also frequent the area.
One side the park is adjacent to Hauz Khas Village and Hauz Khas Fort (not hidden gems but definitely worthwhile); you can walk there from Deer Park.
Hours and admission: 5:00 am to 8:00 pm (summer) & 5:30 am to 7:00 pm (winter), daily – free
20. Bharat Darshan Park
Twenty-two of India's most famous landmarks are replicated in this ingenious park using nothing but scrap material.
The entire park is environmentally friendly, everything from the washrooms to the food court have been constructed using waste and upcycled materials. The park even generates its own electricity with solar power.
Each replica has information in English and Hindi giving a history of the monument and the materials used in constructing the replica.
It's a wonderful glimpse into some very important sites across India. Every evening the replicas are lit up with coloured lights.
Hours and admission: 10:00 am to 9:00 pm, Tuesday to Sunday – INR 100, children under 3 free (prices increase on weekends, holidays and after 5:30 pm every day by 50%)
21. Khirki Masjid
This truly is a hidden gem of Delhi. The mosque has 85 domes and hundreds of columns, its architecture is remarkable.
It was built by Khan-i-Jahan Junan Shah, a prime minister under the Mughal ruler Feroz Shah Tughlaq between 1351 and 1354.
The entrance to the mosque is sometimes locked, but during the day there's a guard and for a small fee (INR 100) he'll let you inside.
Make sure you do this, it's really worth it – just watch out for the puddle of guano when you first enter. Only neigbourhood locals seem to know about the mosque, it doesn't get any visitors.
Khirki Masjid is located in the middle of the urban village of Khirki, near Saket. While you're there, walk over to Satpula Bridge, an ancient stone bridge with seven arches built in 1354.
Hours and admission: 7:00 am to 7:00 pm, daily – free
22. Museo Camera
Museo Camera is the largest crowd funded museum in South East Asia. It's also one of the coolest museums in the Delhi area.
The entire museum is about photography and has over 3,000 items. It documents the history of photography over the last 200 years.
Even if photography isn't your thing, it's so well done you'll be impressed. The museum regularly hosts visiting exhibitions and various workshops. There is a Perch café on site.
Even though the museum is located in Gurugram, a suburb of Delhi near the airport, you can get there easily by metro or car.
Hours and admission: 11:00 am – 7:00 pm, Tuesday to Sunday – INR 300
23. Feroz Shah Kotla Fort
Built in 1354 as part of the ancient city of Firozabad, the fort is as famous for its impressive ruins as for its current residents – the djinns.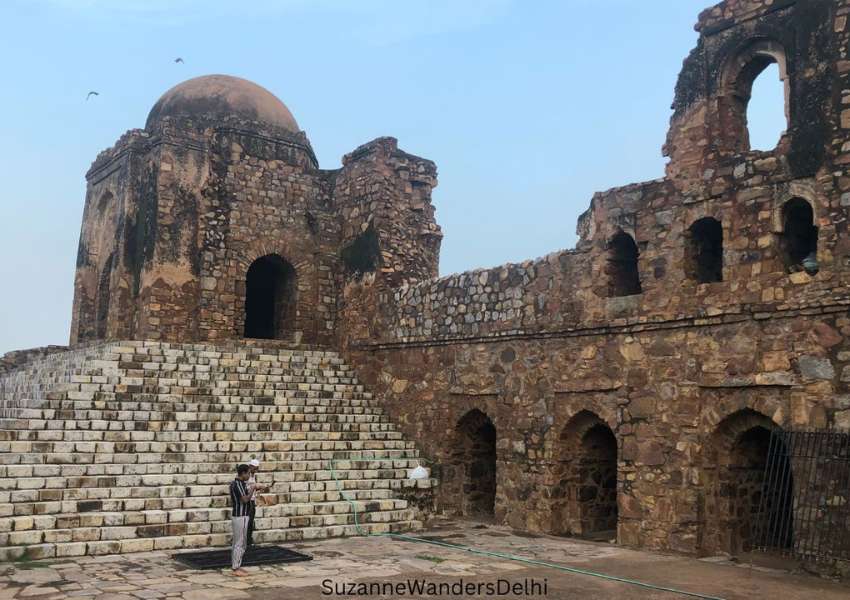 Djinns are supernatural creatures stemming from ancient Islamic belief.
They are believed to have many powers, including the ability to grant wishes and communicate with Alah. It is widely accepted djinns live at Feroz Shah Kotla Fort. Locals leave offerings and photocopies of their petitions for the djinns.
Apart from the djinns, the fort is impressive. It has a citadel, secret chambers, a unique circular stepwell, one of the oldest active mosques in the world, and a 3rd century Ashoka Pillar called the Minar-e-Zareen where it is believed the head djinn lives.
When visiting, make sure to remove shoes and women should cover their heads before entering the mosque, even though it looks like a ruin.
Locals may urge women to cover their hair when exploring the fort – it is believed djinns are attracted to women and can attach themselves to long hair.
Hours and admission: 7:00 am to 7:00 pm, daily – INR 300, children under 15 free
24. Tomb of Abdur Rahim Khan I Khanan
This tomb was the inspiration for the famous Taj Mahal.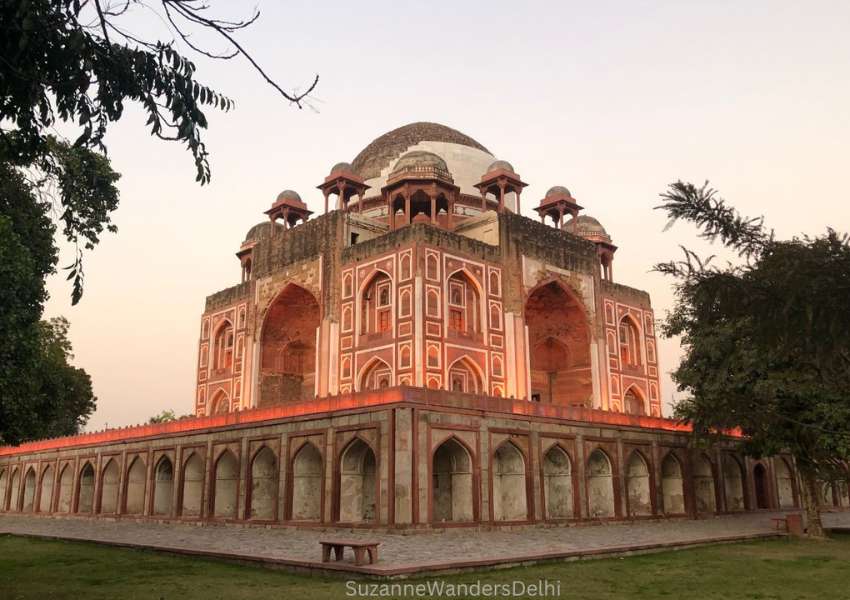 It was built in 1598 by one of Delhi's most famous poets who was also a high ranking official in the Mughal court, Abdur Rahim Khan I Khanan. Rahim built it for his beloved wife, and they are both entombed there.
Until recently the mausoleum was in a ruinous state and in danger of complete collapse. At one point it had even been used as a stone quarry.
A huge restoration project began in 2014 and now the mausoleum is one of the most beautiful in Delhi.
Hours and admission: 10:00 am to 5:00 pm, daily – INR 300 (foreigners), children under 15 free
25. ISKCON Temple Delhi (Sri Sri Parthasarathi Mandir)
ISKCON is a worldwide movement, devoted to Krishna, one of the most important gods in the Hindu faith.
The temple in Delhi is a joyful, happy place; attending an aarti there is an unforgettable experience.
You can visit the temple anytime – it's very interesting and home to the largest printed sacred text anywhere in the world (the Astounding Bhagavad Gita), but joining an aarti is a unique experience, especially here.
The mood is exuberant with devotees singing, dancing, clapping and priests showering the crowd with holy water and rose petals.
It can get a bit mad with the crowd surging forward to get as close to the priests as possible, but it's a happy, welcoming atmosphere.
Aartis are held throughout the day but the evening ones are the most lively. There's a good vegetarian restaurant on site, Govinda's.
Hours and admission: 4:30 am to 1:00 pm & 4:15 pm to 9:00 pm, daily – free
Wrapping up: 25 Hidden Gems of Delhi
Delhi is such a huge and old city – there are many more hidden gems you can uncover.
It's the kind of city that never ceases to surprise, and always has something new to discover. So explore, have fun and you'll probably find your own hidden gems to add to this list.
ABOUT THE AUTHOR
Contributed by Suzanne of Suzanne Wanders Delhi. Suzanne is a Canadian who lives in Delhi with her dog.